Ryburgh Remembers
Sergeant 16082 Thomas Henry Allison
1st. Battalion Norfolk Regiment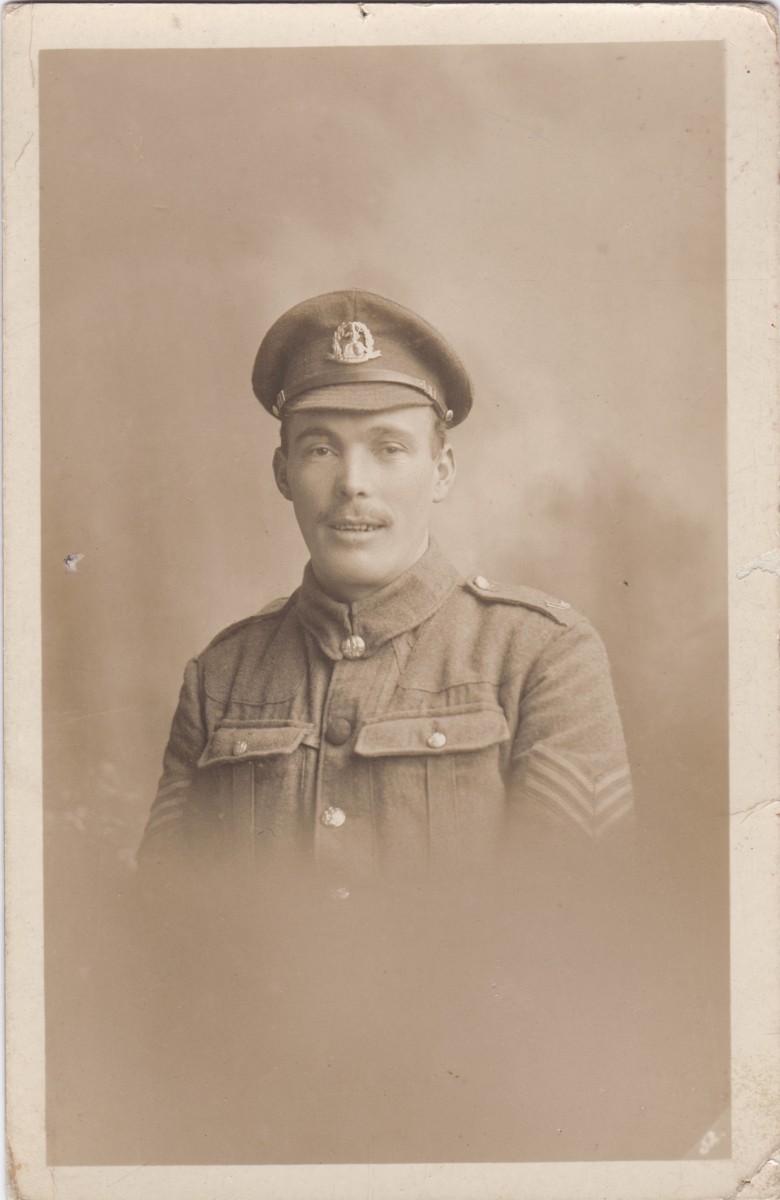 September 16th. 1889- April 22/23. 1917
Thomas Henry Allison was born in Stibbard in 1889 and
baptised at St Andrew's on November 9th that year. He was the
5th of the 11 children born to parents Thomas Henry Allison (the
son of John Allison a shepherd at Pensthorpe) and Elizabeth Maria
Kerrison of North Elmham.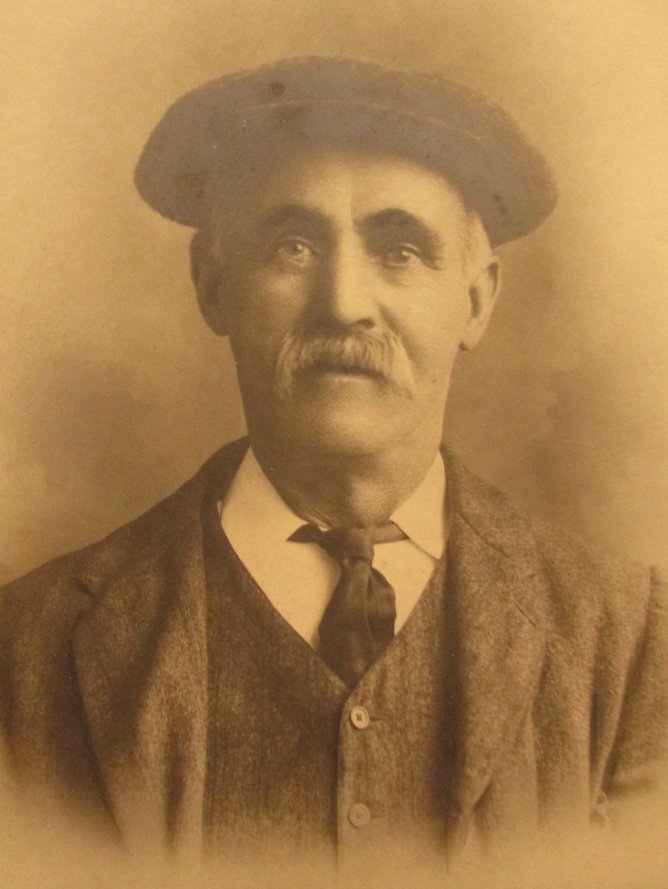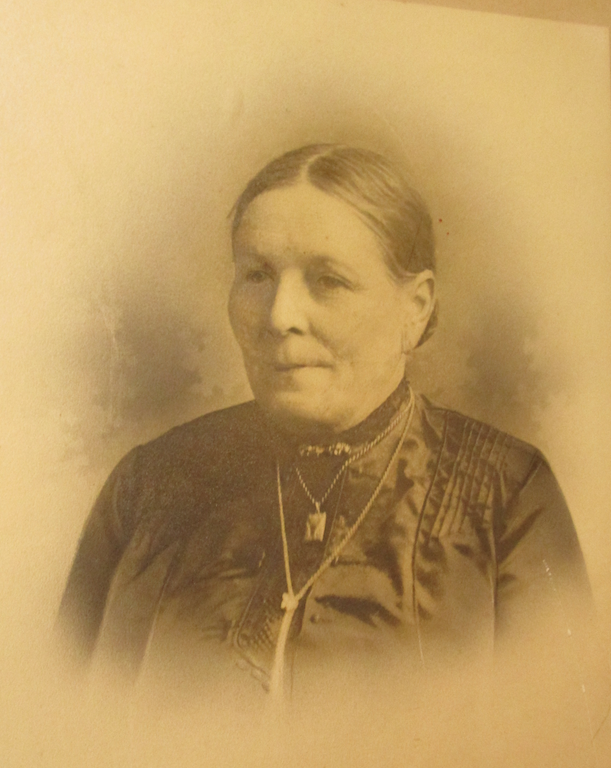 Thomas and Elizabeth Allison
Thomas Allison had also been baptised at St Andrew's by George
Tatham in April 1859 and even though the family moved between
Great and Little Ryburgh, Stibbard and Fakenham,10 of their 11
children were brought to St Andrew's to be baptised.

At the time of Thomas' birth, the Ryburgh registers tell us that
his father Thomas was working as a Maltster. (one assumes for F
& G Smith)
The family moved several times following their marriage at North
Elmham in 1883 where their first child, Charles Allison Kerrison
(b. Nov 1 1881 baptised 7May 1882) was born. First to Great
Ryburgh between 1885 -1889…..a brief spell in Stibbard when he
is first described as a Maltster's labourer in the 1891 Census and
then on to Little Ryburgh. The family was still resident there in
March 1898 when their 9th child, Violet Mabel was born. By 1901
they were living in Barningham Terrace, Fakenham and his father
was now employed as a "general labourer". They remained in
Fakenham and the 1911 Census shows father Thomas was now
employed as a gas stoker and the older children working in the
print trade. Aged 21, Thomas, still living at home, was working as
a groom prior to his enlistment as Private 16082 in the Norfolk
Regiment.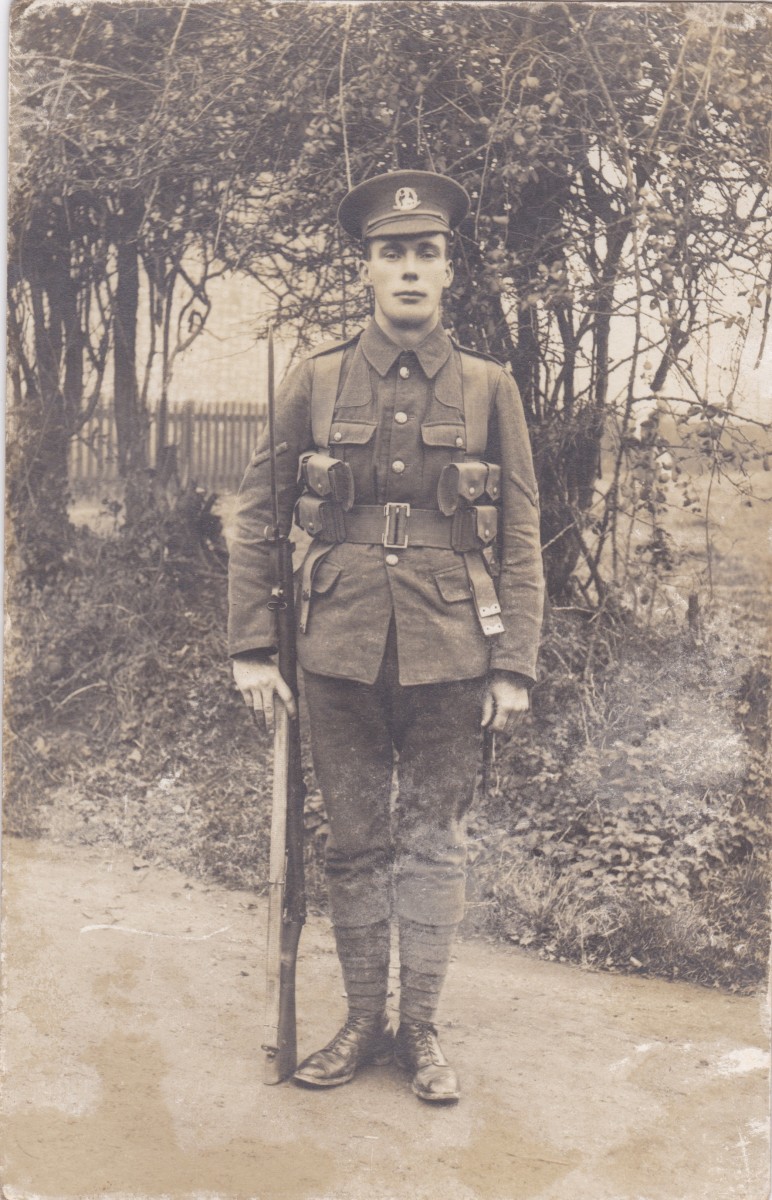 He was posted to France on March 25th1915 and was killed in
action in an attack on the Thelus Vimy Line which took place on
April 22nd and 23rd 1917. This was the same action that claimed
the life of Percy Henry Neale who had also been born in Stibbard
and lived in Ryburgh. The following extract from the 1st Norfolk's
War Diary outlines the events of the day:
22nd April 1917
At BERTHONVAL WOOD in the morning but moved up at 5.30pm to relieve 15th R
Warwick Regt in the line. Commenced relieving at about 8.30pm. 1st Devons on
our left 52 Can Regt. on our right: difficult relief owing to very dark night, and the
fact that the Regt. we relieved had only been up about 24 hours and their guides
were not at all sure of their way to the Coys.
23rd April 1917
Attacked German position in the THELUS VIMY LINE in front of COULOTTE at
dawn.
Report on attack and operation orders attached.
Officers 7 killed and 8 wounded out of 20 who took part in the attack About 200
ORs killed wounded and missing. Were relieved in the evening by 1st R.W.Kents.
and withdrew to BERTHONVAL WOOD. Very good relief by West Kents who
seemed to take in the situation at a glance, also had no difficulty with guides, as
several men in each Coy had been running all day between Coys and batt H Qrs.
Relief complete at 1.15 a..m. Weather very good.
22-4-17 10 O.R. Wounded
23-4-17 30 O.R. Killed
124 O.R. Wounded ( including 10 wounded -at Duty)
22 O.R. Missing
2 O.R. Wounded and missing
Lt. Col. J W V Carroll commanding the 1st Norfolks ends his report of these two
days with the following:
"I account for the failure of the attack to the uncut wire, even if only the artillery had
cut two or three gaps in the wire where we could have got in the Germans would
have surrendered, as on our reaching the wire the occupants of the German front
line all held up their hands."
Lt Col. Carroll was himself wounded October 5th that year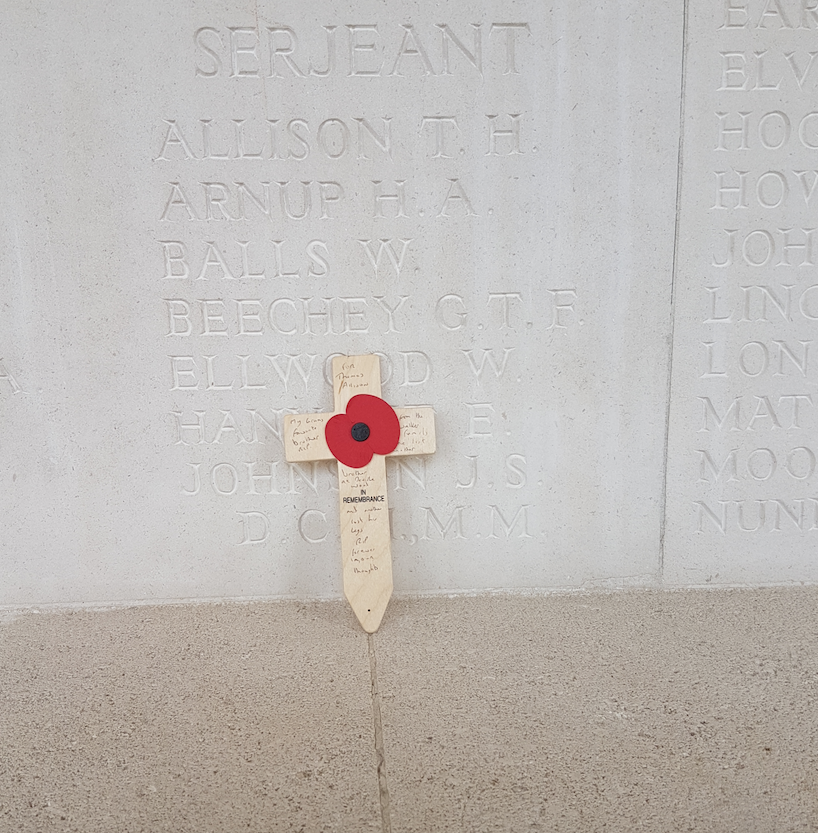 Thomas was awarded the 1915 Star, British War and Victory
Medals and is commemorated in France at the Arras Memorial.
During the 3rd quarter of 1915 Thomas was married to Margaret
M. Colman, As he had been posted to France at the end of March
earlier that year, it was presumably when he was on home leave.
As his widow and sole legatee, Margaret received an initial
payment of £6-14/-4d in August 1917 and a further £15 War
Gratuity in 1919.
We currently know nothing further of Margaret except that a
Margaret May Allison married Abijah Grand a Railway Fireman
from Melton Constable in 1919 and emigrated with him to
Australia. She died there in New South Wales in 1972.
Like his brother Arthur, Thomas also sent their sister Rose
embroidered postcards and again we are indebted to the Walker
family for sharing these precious mementos: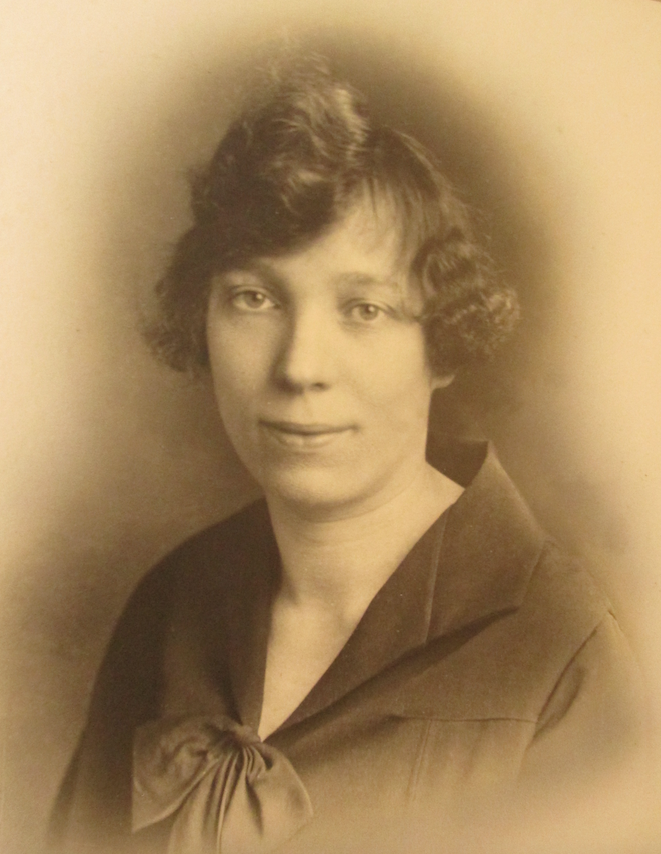 Rose Minnie Maud Allison
photograhed in the late 1920's
The recipient of the embroidered cards below who would have
been aged 14 or 15 when she received them.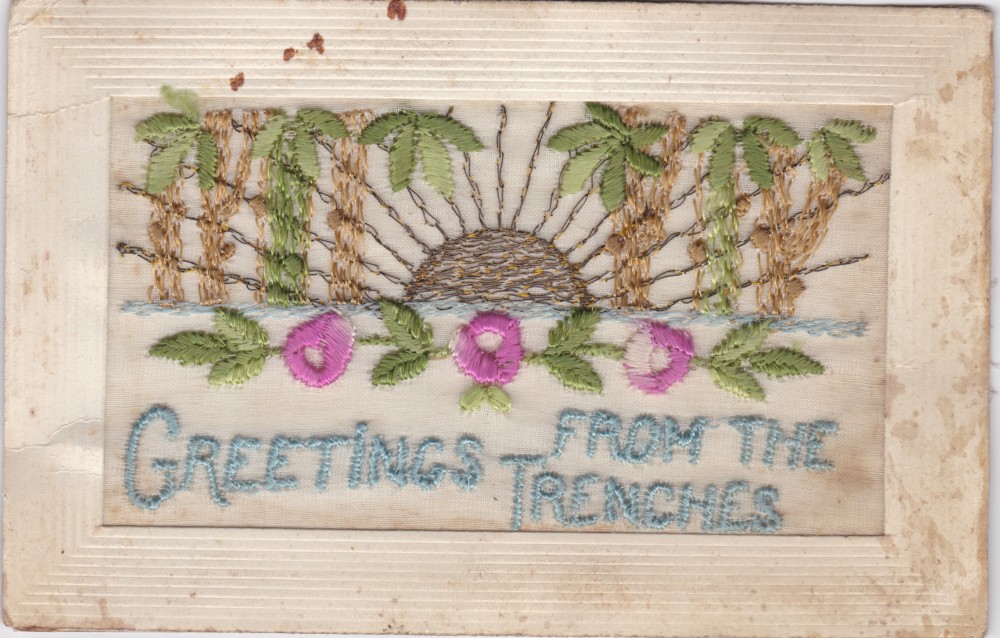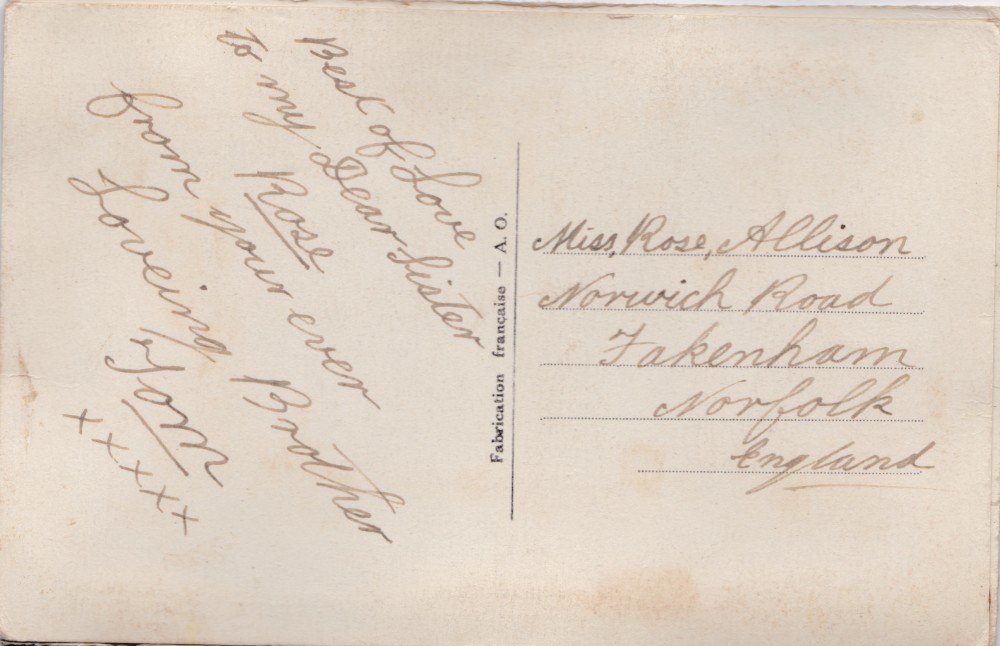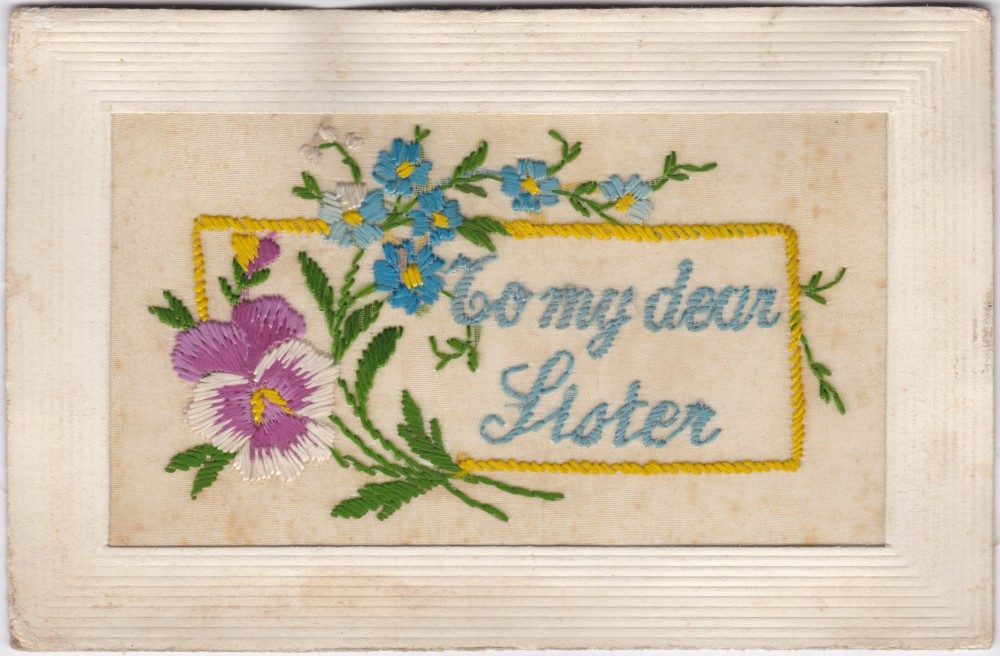 Thomas appears not to have been commemorated on any local
War Memorials. This is even more reason to remember him,
together with his brother Arthur, as part of this village's sacrifice
100 years ago.
***************
copyright 2016