Ryburgh Remembers
51009 2nd.Lieut Anthony Edgar Hammond, 12thLancers.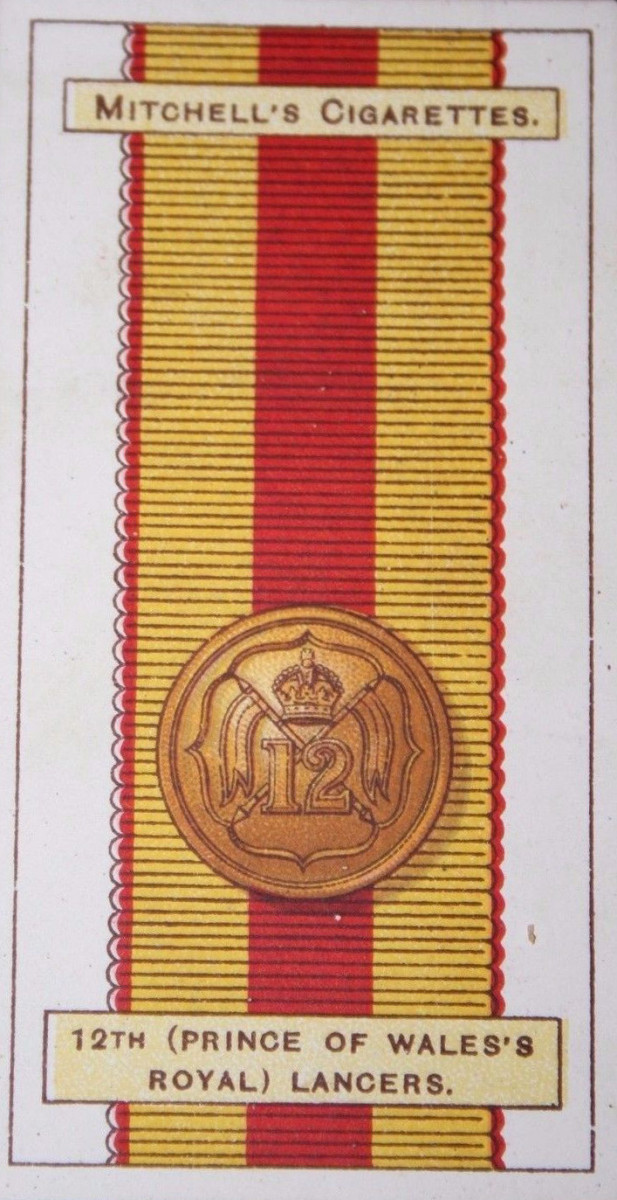 Formerly 51009 C.S.M. Princess Patricia's Canadian Light Infantry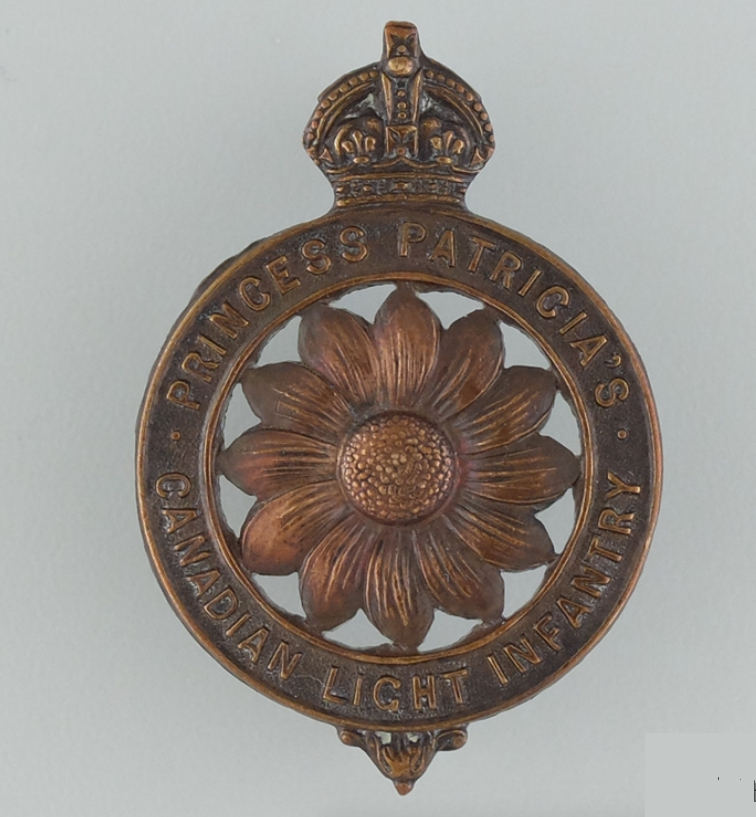 18th January 1891- 28th November 1917
In the year 1890, when the Ryburgh bells were commissioned, the younger of
the two Smith daughters, Edith was married.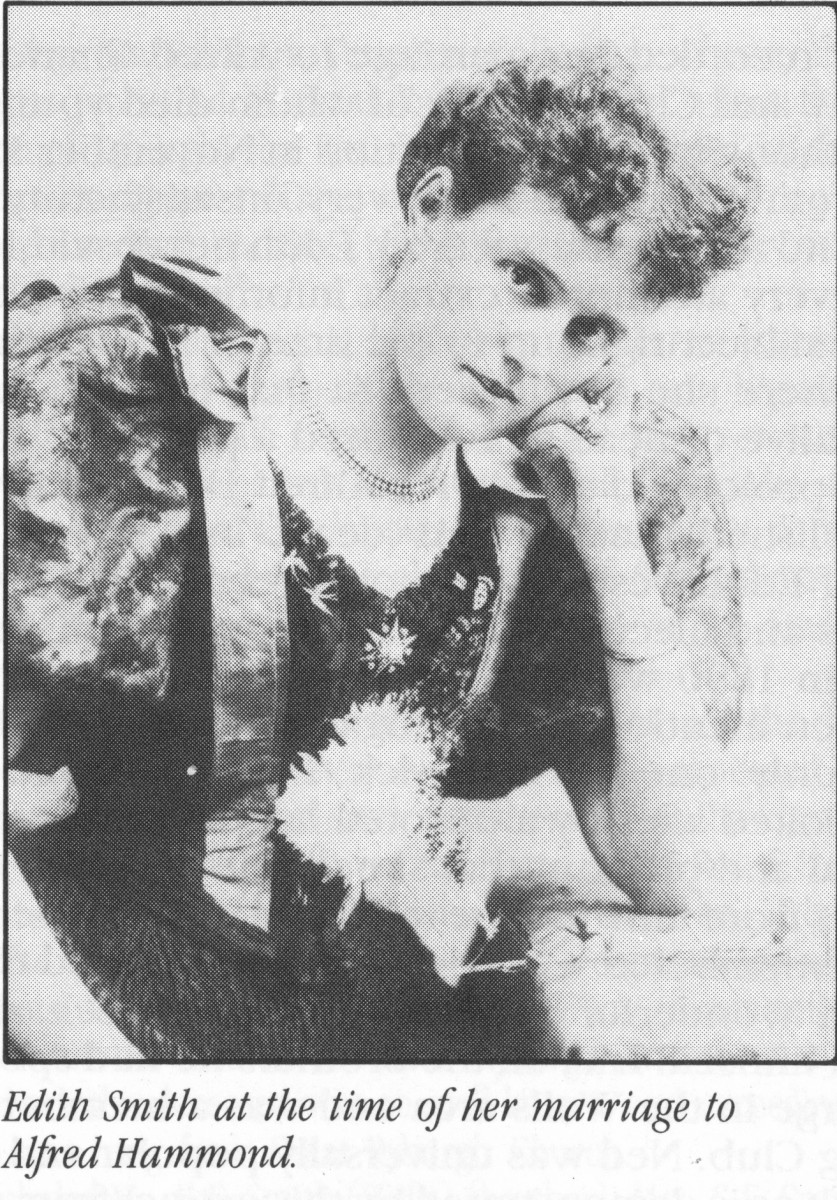 The wedding took place, according to the Marriage Certificate, at the
Kensington Register Office on Saturday January 18th when 21 year old Edith
married 33 year old Alfred Charles Hammond. On the Certificate he is described
as "Gentleman", son of Anthony Hammond deceased, a Clerk in Holy Orders.
Edith's address is given as Hotel Metropole Charing Cross and her husband's,
26 Redcliffe Square Kensington.
On Monday February 3rd the following article appeared in the EDP, reprinted
again on the 8th in the Norfolk Chronicle: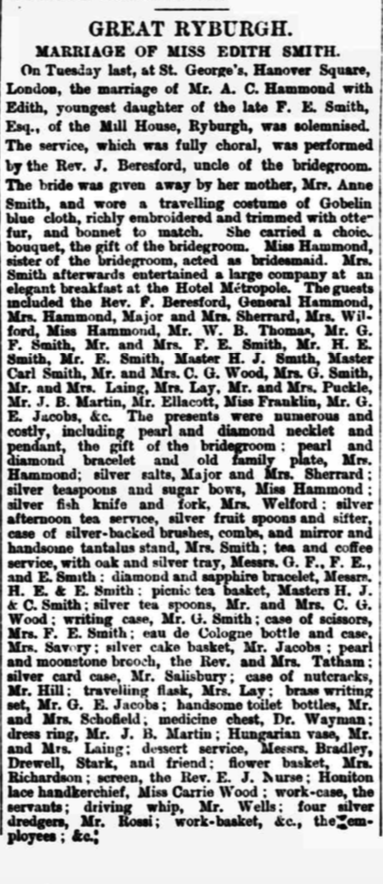 This press cutting was preserved in the Smith Family Bible where the date of
the occasion is given as January 28th 1890 along with the menu for the
wedding breakfast.
The couple sailed to South Africa following the wedding.
Anthony Edgar was born on January 18th 1891 and baptised in Wandsworth on
March 23rd.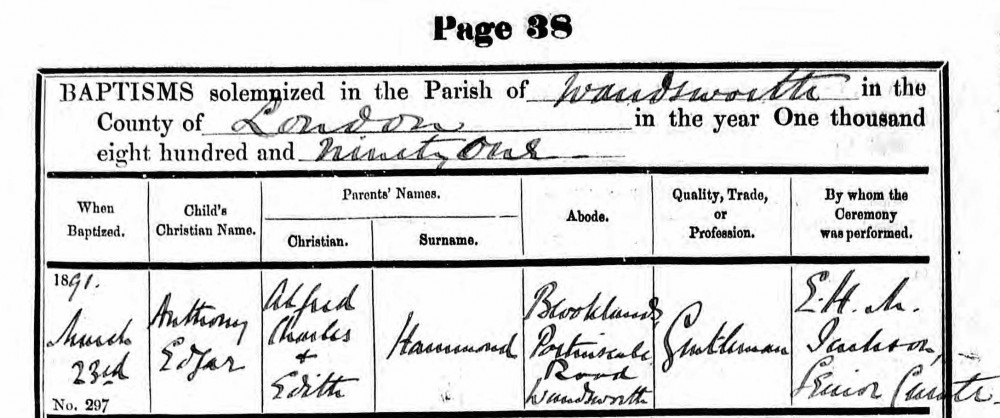 A further son, Charles Herbert was born on March 6th 1894.

The marriage was not a success and Edith finally petitioned for a dissolution of
her marriage in June 1910 on the grounds of desertion (in February 1905 when
Alfred Charles went to Canada) and adultery "with various females" as well as
one specifically named, "in and during the years 1904 to 1910".
The Decree Absolute was granted on June 19th1911.
Anthony Edgar was educated at Haileybury (Colvin House) 1905-1907 and
thereafter the next trace of him is in Los Angeles in 1914.
This is given as his departure point when crossing the border into Canada on
September 4thbound for Winnipeg. Here he gives his age as 30 and his
occupation is very dificult to decipher.
It is then on Christmas Eve that he enlists to join the newly formed Princess
Patricia's Canadian Light Infantry and in a clearly typed attestation he gives the
following information: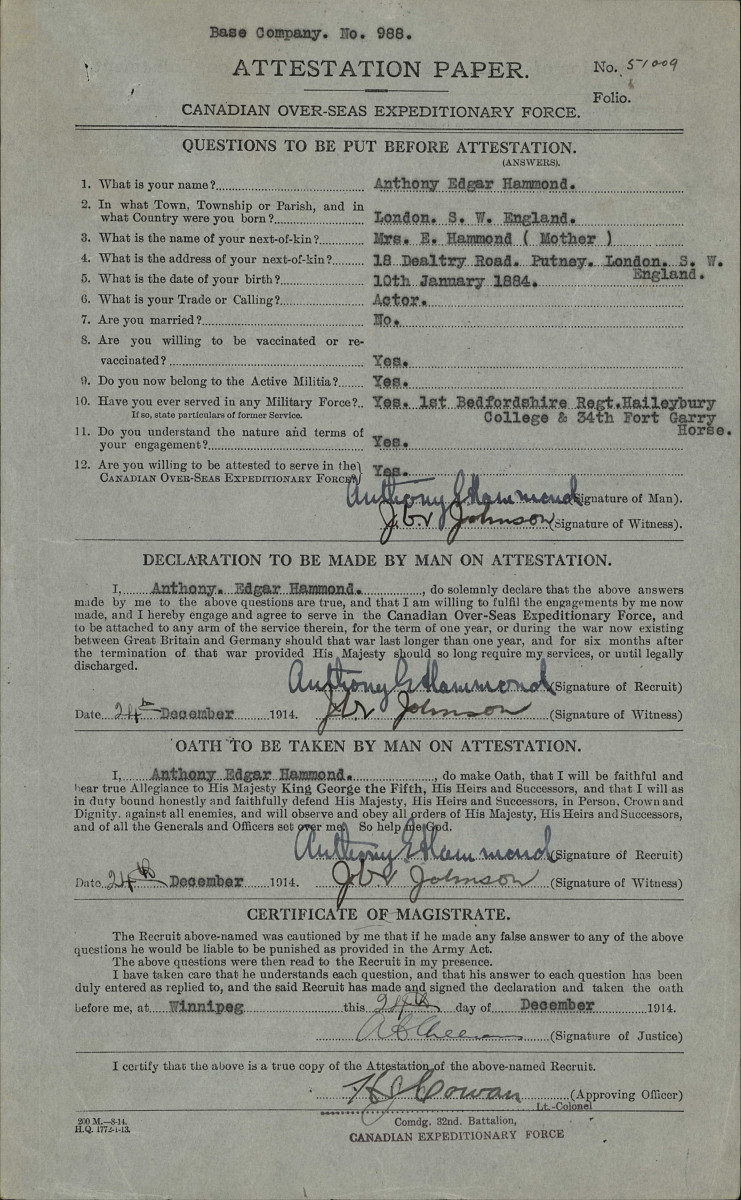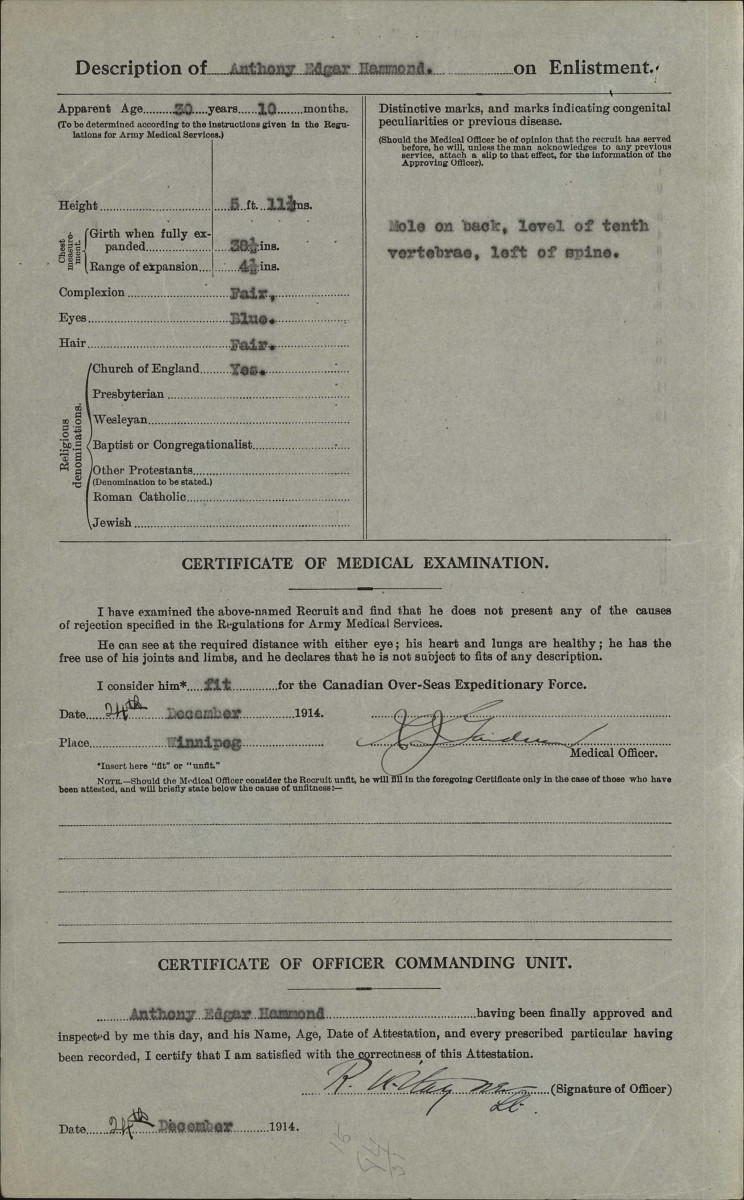 According to the final section of the above papers, whatever the truth about
his age and occupation, he must have been a convincing actor!
This also meant that due to his professed previous military experience he soon
found himself (on January 1st) with the 32nd Canadian Infantry Battalion
arriving in France on February 23rd and joining the P.P.C.L.I. in the field on March
1st by which time he was now ranked acting Company Sergeant Major. On
Saturday April 24th he received a severe gunshot wound to his right forearm
whilst in the trenches at Polygon Wood. By May 1st he was back in England in
hospital in the No 5 Northern General Leicester. He was discharged to furlough
June 22nd and discharged from the P.P.C.L.I. on September 1st and promoted to
2nd Lieut. or as his record says:
"Struck off to Comm. in New Army"
as seen in this extract from the London Gazette:

According to Canadian Records, he joined the 21st(Empress of India's) Lancers
but there is no evidence to support this from their surviving war diary for the
period prior Wednesday 27th September 1916 when he joined the 12th (Prince
of Wales's Royal) Lancers in the field. From the 12 Lancers War Diary we can
find mention of his name several times. He returned on leave to England on
Wednesday 10th January 1917. There is no mention of his return but he was
back in France attending the Regimental Sports on August 18th. His final
mention is on November 28th in the Fins area of the Somme battlefield:

His body was never recovered for burial but he is commemorated on the
Cambrai Memorial Panel 1, Stone "C" at Louverval in France:
There is a brief paragraph in the Parish Magazine in January 1918: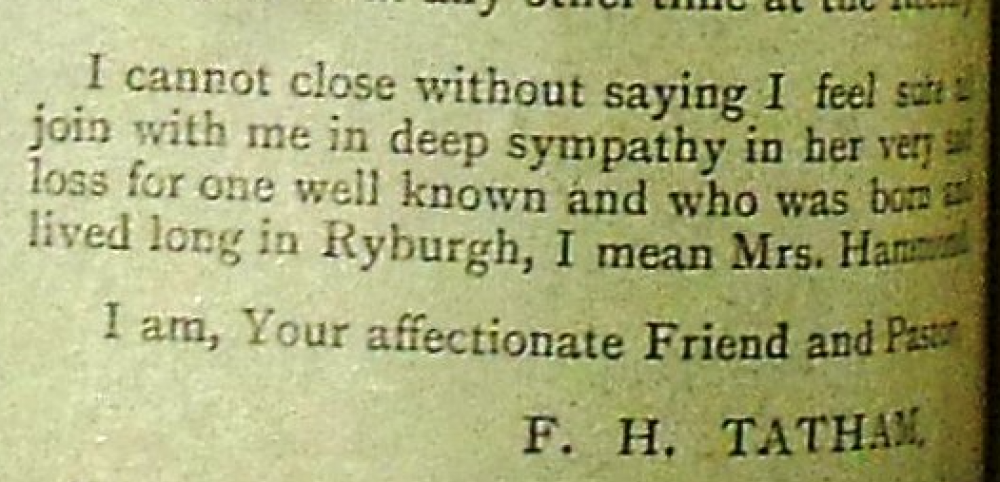 His Medal Index Card shows he was awarded the 1915 Star, British War and
Victory Medals The contact address on the card is that of Mr Harry Gould
(Father's executor) who was F&G Smith's solicitor and financial advisor.
There were two probate notices published following Anthony's death. The first
on 2nd February 1918 leaving "Effects" to his father :

The second on November 9th 1921 revoking the first:

What happened to his father and why the effects should have increased so
substantially is not known. Edith refused to speak of him again to the family
and when she died in 1942 efforts were again made to find him so that her
estate could be wound up:

The second probate notice needed to be investigated and so a copy of the will
was sent for and it reads as follows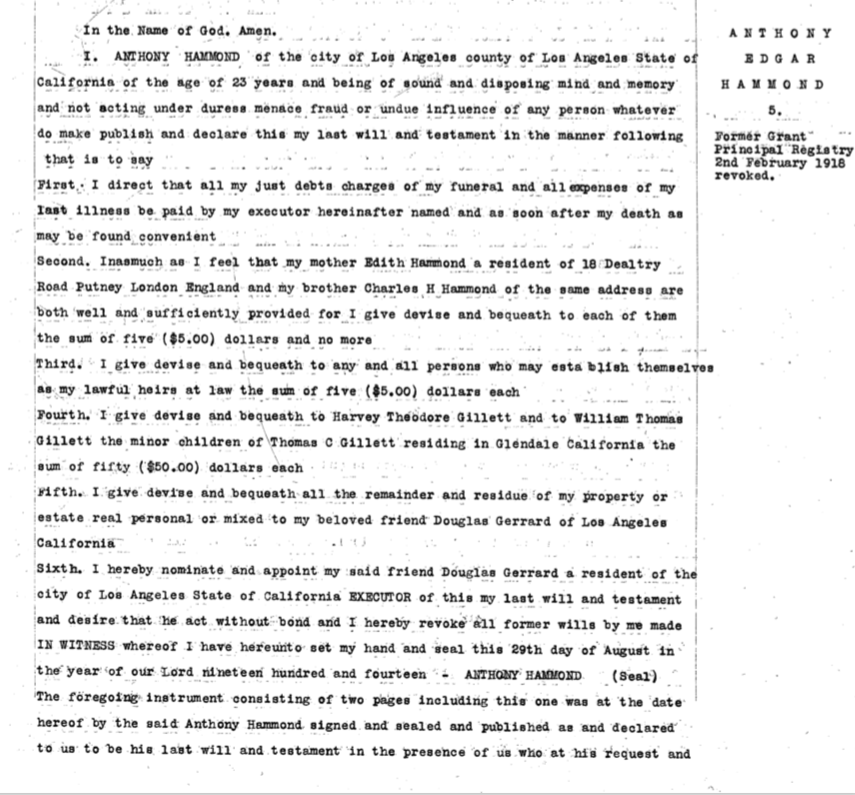 A search for Douglas Gerrard comes up with the most likely candidate in the
form of an Irish American Hollywood silent film actor and director, with 126 film
credits with 23 as director in a career that lasted until 1949. It has been
written however that his 1920 film The Forged Bride "was the last time the
man's directorial abilities earned him a paycheck"
Gerrard lent $25 to and befriended actor Rudolph Valentino before he rose to
fame and a search online reveals quite a lot about him one way or
another......running away to join a troupe of actors and having a BA from Trinity
College Dublin just part of his backstory!
He died of injuries following a fall on June 7th. 1950. The New York Times has a
report but seems only to be accessible to subscibers and sometimes one just
has to leave these things to others to find out!
This feature from Moving Picture World (page 1459 published March 6th 1915)
appeared soon after Anthony Hammond had left Los Angeles to join up: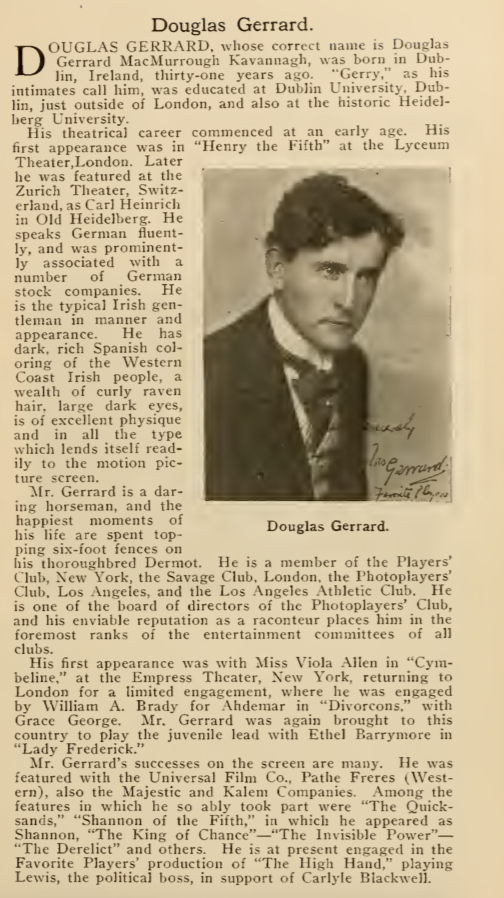 The full facts of Anthony's story will probably never be known but it seems
from what we have so far gleaned that the lives of this branch of the family
were far from straight forward.
In Betty Wharton's Smith family history she reports that his younger brother,
Charles Herbert, married one Bromwen Swainston but that he died in
May 1915 aged just 21.
Anthony's name is also inscribed on page 577 of the Canadian First World War
Book of Remembrance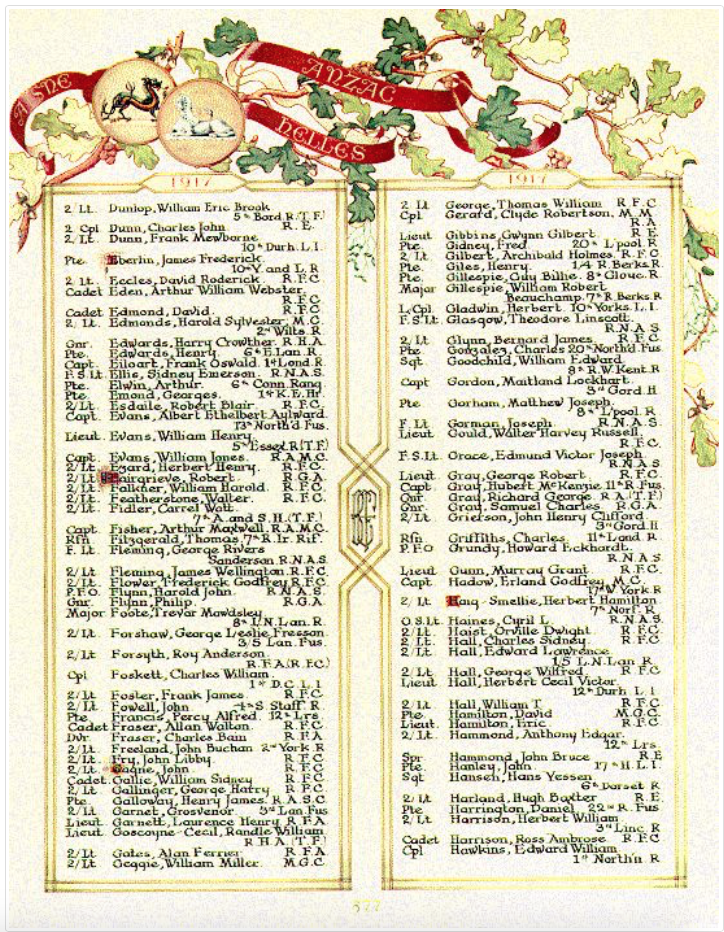 His name is recorded on the Haileybury Roll of Honour but not on the Budleigh
Salterton War Memorial ....the place where his mother Edith lived at the end of
the War until her death in 1942