Book 1:
September 7th. 1918 Southampton - November 10th.1918 somewhere in Bulgaria.
The diary of the
Reverend Stanley Roots Carden
(1918-1919)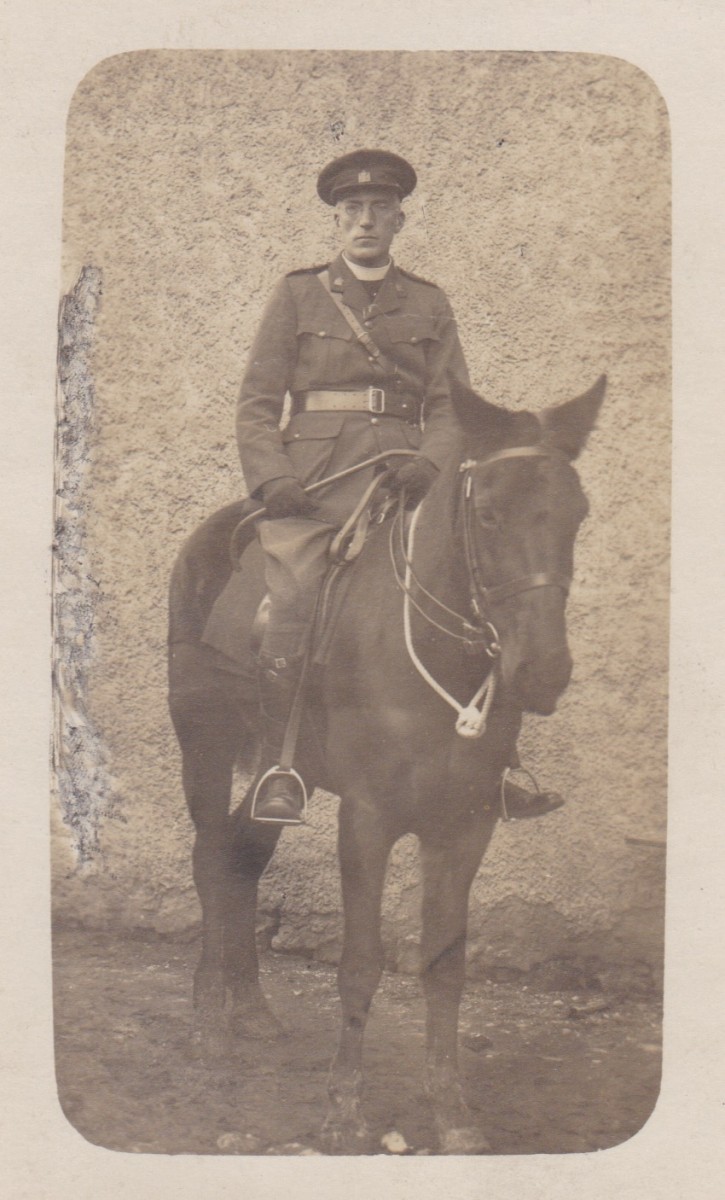 Page 1.
Southampton Docks. Sept. 7th. 1918
Sitting on my luggage waiting for the lorry which is to take my kit to the ship.
Met a very friendly Major. Chummed up. Arranged to divide provisions & to have dinner together. Awful boat – a mere hole. Very small.
Sept: 8th.
Crossed by night. Slept on deck huddled up to the funnel.woke up at Cherbourg. Landed 7.a.m. arrived in habour hours before. Good wash & shave in an officers' hut at the docks. Fearful job looking after kit. Had to carry it myself.no porters no orderlies. Got pass out of docks & had cafe au lait, jambon & omelette with two other Padres. Secured railway carriage with the Major, another Padre Ed.[ward Maitland] Bald, & a Major friend of his. Pouring with rain & has been ever since we landed.
Sept: 10th
Impossible to write when the train is going. Italian carriages.not smooth running. Early morning at a "Halte Repas" Able to get a wash & shave. Sheds erected out side of railway line. Water laid on. Tin basins. Officers have a shed to themselves. But there are many. & crowding over one another. We have been lucky. Our
Page 2.
carriage has four of us. But we have wangled a spare compartment for sleeping. So I have a whole side to myself at night. We run a sort of mess in addition to rations we draw on the train. We bought a lot of stuff before we started.
Progress very slow. A troop train.carrying a lot of men in trucks. The men most cheery, how they sleep I don't know. We stop again & again. There are reasons, which I cannot explain, by which we are held up in certain districts. The people of the country come to the train &talk & offer fruit etc. Our carriage stopped for a long time yesterday outside a market garden where grapes & melons & tomatoes were growing. We bought melons & tomatoes & had them for a mid-day meal. Feeling surprisingly well.
Sept.11th.
A rest camp in France. Arrived during the night & walked up. Officers ablution sheds & joy!! hot shower baths. No bath of any kind since I left London until now. Slept splendidly at night in the train. Train thoroughly disinfected while here.
Sept. 13th.
Out of the train (thank goodness) for 12 hours at an Officers Rest-Camp in Italy
Train-travelling really very trying. One great
Page3.
discomfort is being so dirty. Washing is hopeless. Except at a Halte Repas or a Rest Camp.
* Here (Faenza)a lovely place. Every effort made for our comfort. Sit-down breakfast. Luncheon & afternoon tea . A string orchestra to play to us, towards which we each subscribed 1 livre. Hot shower bath. Wandered through the town with Padre Bald & Major Smythe (A.S.C.). Heat from 90 to 100 degrees.
I am sick of the train because I can't keep clean. A young officer accosted me & asked me whether I was not the Vicar of Okehampton.- Tracey Milne He is in the ordnance at Taranto.
Sat outside a Cafe this morning & had drinks (lemon squash).
Sept. 16th.
Our train journey is over. What a relief! We are now on the sea*( Taranto to Ithaca). Wonderful day. Cloudless skies.& the sea the wonderful mediterranean blue. Absolutely no motion (except our forward progress) & we might be on a river for all the movement we get. I am sitting on the deck using a life preserver as a cushion. We are all bound to have life-belts. It is so funny seeing every officer & man walking about each with his own. bringing them to luncheon. taking them everywhere they go.
Page4.
A few are wearing them. We have a few sisters & nurses on board. A little torpedo boat which goes twice as fast & more than we do keeps on circling round us with a watchful eye for submarines. Aeroplane overhead. Every precaution seems to be taken & we have all been fallen in and appointed our boat-stations in case of anything happening. It is all very interesting. Really! The sea looks so inviting that I shouldn't a bit mind having a dip, even if an enforced one. My only regret would be the loss of my kit. Our last two days on the train were very interesting &very hot. When I got on board ship I spent the whole morning sorting out things in my valise, & joy! I had a hot bath, shave & a total change of underlinen & socks (which I had worn all the journey so far). I feel more like a decent human being. The meals on board are good, it is nice to sit at a table again.
Saturday & Sunday Sept. 14th& 15th.
On Saturday we reached the sea-coast & at one place*(Cantalamare)
halted for 2 hours & all officers & men had a glorious bathe in the sea +(Adriatic). I never had such a warm sea-bathe in my life. It did me good & I felt much cleaner after it. We then ran on down to X (Taranto) our destination & arrived there (last) Sunday night.
Page 5.
We got off the train at about 10.30.p.m. & went to the Officers' Rest Camp where we got a little refreshment.
We had a few hours sleep in the train & were wakened at 3.30.a.m. when we collected our light baggage & after a long weary wait on the beach in the moonlight, embarked on a motor-lighter for our ship. We got on board 6.30.a.m. They got us a nice breakfast at 7.a.m. I have a very decent cabin with Padre Bald two other men. I have a top berth, having got there first & had first choice.
Sept.18th.
At a Rest Camp in Greece (Bralo)
Arrived Ithaca last night & were disembarked straight away. Such a job to get off the ship after collecting kit. It is no use leaving any of the kit to look after itself, one has to identify it on every possible occasion. I was lucky enough to find mine & to get it on to the lighter. I have not seen it since. We landed & an advance party, myself of the number, were sent straight away in motor lorries to the East side of Greece (Bralo). We started about 8.20 p.m. & got here at a little before midnight. The journey is indescribable. We started in bright moonlight through seven miles of olive-groves & gradually climbed & climbed & climbed over a wonderful road made by the British
Page 6.
and French, zig-zagging up & up & up through deep gorges & valleys & over the mountain passes. At the highest point we stopped & stretched our legs & looked over the panorama below us in the bright moonlight. The only discomforts were getting caked with dust & very sore from the shaking & bumping of the lorry. At one place where we passed over a bridge, a lorry which had come in the same afternoon having broken through the side of the bridge, was lying wrecked on its back below. Happily it was not full of men. It had 4 men in it. They are not killed, but are still lying unconscious in Hospital. This is a flat plain, thick with dust, with mountains all around. The panorama is very fine indeed. I am in a bell-tent with Padre Bald & to day is simply scorchingly hot, tempered by a bit of breeze from the mountains. So I have got out my helmet, & am thankful for the shade it affords. There are mosquito curtains provided for the tent but I suppose the season is late for them so we did not use them & had no mosquitos. Glad to get a cold shower bath this morning. The shower baths are terribly public at all these places, but I care not as long as I get them. I washed all the dust away & was very fit for
Page 7.
breakfast. There is an Officers' mess here, good food. We pay about 2s/6d a day. At about 10.30 this morning Padre Bald & I said matins with our batman (a Roman Catholic) in the Church tent.
We may be here for a day or two, or a week or two as far as I can gather.
During the latter part of our journey on board ship we were ordered to "stand to" with lifebelts on for two hours. Nothing happened.
Sept.21st. Salonika
an advance number of our party were sent off from (Bralo) on Thursday. I was resting on my bed in the tent & an orderly came to say that an officer had gone sick & that I was detailed to go in his place. My heavy kit was to be got ready at once, in fact the trolley was waiting & I only had enough time to get my lunch & be off. I was in my Khaki-drill tunic & slacks & had to get into my old breeches & tunic because it is so dirty traveling in the drill & it thoroughly spoils one's lighter clothes & I never did such a quick change in my life. Very soon we were whisked off, sitting on top of our kit, in a lorry to the railway. Then another day & night in a train.
Page 8.
wonderful country all mountains – gorgeous views – but Oh! So hot & although we did get some biscuits at a wayside Y.M.C.A. we had our dinner at 1.a.m. You cant imagine what it is like getting through one's toilet in the trains. One gets water at stations where the train stops, and it stops very often. & you stick up your glass in carriage or corridor or anywhere & shave. ( I have not shaved in hot water since I left England) If the train is stopping a decent time at a station, you get out your water-bucket, strip to the waist and in sight of an admiring crowd of Italians or Greeks or French, as the case may be, you wash as best you can. But I am become perfectly impervious to all this , my natural modesty(!!) has soon found that in such situations modesty means dirtiness and after all cleanliness is next to godliness.
From Southampton to Salonika, not withstanding all strenuous efforts to keep clean, I have never been so dirty in my life,
At last passing through wonderful mountain scenery, over deep gorges, by the famous pass of Thermopylae (famed in ancient history) & at the
Page 9.
foot of Mt.Olympus, we got to Salonika * [approaching Salonika (late evening) heard the heavy guns at the front in action]
We were trollied away some miles to a rest Camp+ [ General Base Depot] , but there was little peace. (By the way "we" are Padre Ferris & myself. Bald was left at Bralo. Ferris is a Rector in Sussex, Rector of Jevington, near Eastbourne, & we have mutual sympathy in that we both are married. Bald is a younger man & an Assistant Curate.
I said we have little peace. On arriving at the Camp, we were ordered to report at once & our baggage would be dumped in the road outside the Officers' encampment. We reported to a nice Colonel who was very kind & gave us instructions. We arrived 3.p.m. This was our programme. Gave all particulars about ourselves to Colonel. Found tent & got kit there. Tea in Mess 4.p.m. Called on Senior Chaplain. Saw Medical Officer. Jolly good bath. Dinner 8.p.m. then real glad to 'turn in'.
We found a Corporal batman who took us in hand for tent etc & unpacked & put up our beds. Orderlies got our kit up. Reported again to Colonel – who told us to be up at 6.45 a.m. to go through an anti-gas course before
Page 10.
breakfast.
Sept.23rd. Monday
The anti-gas course was at 6.45.a.m. We drew gas-masks from the stores, were instructed how to put them on etc.etc. & were taken into the gas chamber which had lachrymatory gas in it, not harmful if breathed for a few seconds. We were all right inside, but were told to take off our masks & walk out of the chamber. Immediately the mask was off I had severe smarting at the eyes & running with water, I staggered to the door & got out in time to expectorate
outside. It was simply beastly. This was done just to show us the importance of the use of the mask. I couldn't eat my breakfast.
After 'breakfast' we went to see the principal Chaplain who was not in his Office at General Head Quarters, but we saw the Asst. P.C.
he was very nice & gave us an idea of what we were going to do. He said that we should receive orders this week. On Saturday we had a good look round Salonika & went into some of the Churches. Anything after the 5th. Century is modern here. The Churches are interesting
Page 11.
because they were taken over by the Turks & used as Mosques & now they are taken again by the Greeks & are Christian once more. I was very interested in the style of the Greek Churches – mostly pictures & no images. On getting back to G.B.D. on Sat. evening, we were tackled by the Senior Chaplain up there & detailed for work on Sunday.
I took Celebration 6.15.a.m. at an A.S.C. Depot & had breakfast there & then walked across to another A.S.C. Motor Transport & took Parade Service. The early Celebration necessitated my getting up 5.a.m. when it was quite dark & starting to walk to my destination just as the dawn was overpowering the rays of the moonlight. Yesterday afternoon it was piping hot & I lay down upon my bed from luncheon until tea. After tea - a bath & then walk over to take the Evening Prayers at the Depot where I took the early service at 6.15. I had dinner there with the Officers in mess & was motored back to G.B.D. by their kindness in ordering a Car for me. The Evening Service was voluntary & very well attended. 5 Officers were present & I quite enjoyed it. All arrangements were made
Page 12.
yesterday for my being inoculated against typhoid at 9.30.a.m. this morning. I was inoculated for Cholera on Saturday. This Cholera inoculation did not make one feel ill, I only had a sore arm.
In view of my inoculation this morning, I got up at leisure at about 7.30 & went to breakfast in 'slacks' as I would lay by for at least the day. While at breakfast orders came through that the Principal Chaplain at G.H.Q. wished to see me and Ferris & the motor lorry would start at 8.30. I hurriedly finished breakfast, made a quick change, & was out at the lorry 8.35.
I am now at the Officers' Rest House in Salonika having seen the Principal Chaplain – a Presbyterian with the rank of Brigadier-General. He was very nice, & having learnt from the Asst. Principal Chaplain whom I saw on Saturday, that I was at Okehampton with gunners, he very kindly said that he happened to want a Chaplain for gunners very badly, & that he would send me to the 26thDivision. So I am most fortunate to get up the line & in the fighting, which is lively just now. Bald & Ferris, who are much younger than I am, are full of chagrin at
Page 13.
being appointed to Hospitals in Salonika.- very disgusted that the old grey-haired man is the one chosen to go up the line.
Our fellows have been doing well during the last few days so reports say. The General-Officer Commanding has sent dispatch riders to all the wounded in the Hospitals out of this last stunt, to congratulate & thank them all for what they have done. So at last the Salonika Force has had a little recognition of its efforts. There was some feeling that it was rather forgotten. I understand that we are just driving Billy Bulgar well into his own country.
The P.C. said that if I find the work up the line too strenuous, he would do all he could to find me another sphere. I told him that probably I should be crawling before it came to that!
I think that the whole of the Expeditionary Force here & all up the line are very bucked over the great news of victories during the last few days. We have heard the guns here distinctly. They have had a fairly big scrap. People won't call us "an army of occupation" any more. To hear that was what they were called at home was a bitter pill to the fellows here.
Page 14.
according to all accounts, they have an awful time what with the climate etc. & really Salonika itself is about the outside limit. The camps outside the town are on wide expanses of burnt -up dusty earth & what with heat, dust, mosquitoes, flies & other things, it is a wonder that the men can keep going.
The appointments at G.B.D. (where I am) are very poor. The messing is poor & the situation is featureless & might be depressing. But I am wonderfully well. I don't hurry anywhere unless I've got to. I expect to be sent up to the line either tomorrow or Wednesday.
Ferris has a nice little bottle of smelling-salts. They are awfully refreshing in the great heat. But soon the heat will be much less, & in another month I understand that we do not wear our sun-helmets, but chuck them for the winter. But, indeed, we need them now.
I am to be inoculated for Typhoid after I have got up to the line.
Back at G.B.D.
Reported to Colonel who ordered inoculation for typhoid at once. So it is done (5.45.pm.).
Page 15.
now they can't move me up the line for 48 hours, & I shall have a rest-day tomorrow.
Last Friday night was the 1sttime I have ever slept in a mosquito net.
The batman brings me a cup of tea each morning at 7.a.m.
I shall want a wool helmet up the line as winter comes on, the temperature goes below zero.
Tues. Sept.24th.
I have stood the anti-typhoid inoculation splendidly. I have lain by all day & feel quite fit this evening, only my arm a little sore. I shall be quite fit tomorrow & expect to go up the line tomorrow afternoon. I expect to get to rail-head eventually where there is a rest-camp.
I expect I shall be moving on because Billy Bulgar is in full flight, & we are chasing him.
Poor Ferris is in a cubicle with me & has succumbed to malaria. He has a temperature of 104 & cannot go to his job – but will go into hospital tomorrow. Don't worry about me. I feel very well & am really surprised at myself. One of the Padres here wished me to hear his
Page 16.
confession, which I have just done & now go to dinner 8.p.m. & to bed to get up to an Early Communion tomorrow morning in the Church Tent 7.15.
Sept 26th1918.
I am in a tent 11.10a.m. lying on my back. It is awfully hot. However we have got the sides of the tent up & there is something of a breeze. We are on the lines of communication & came up by train in the dark last night. At about 2.30 this morning the train simply stopped at a place which seemed nowhere & some of us & our baggage were dumped at the side of the track in the moonlight. Our heavy kit was left where it was & carrying the rest, (haversack, hand-bag, gas mask, communion vessels, 'tin' helmet, water bottle & trench coat) we walked over to a camp about a mile away. Things were heavy, so I was jolly glad when we arrived. On the journey we got into an Expeditionary Force Canteen at one of the stops & I had filled my Thermos with hot tea. When my tent-companion & I got into the tent allotted to us, we ate a few biscuits & drank the hot tea, were thankful & turned in. I slept well & got up at about 7.30.a.m. The
Page 17.
Camp is short of water so I shaved in the water in my bottle & washed in my mug!!
It seems that that is all the wash I shall get today. Our heavy kit was left in charge of an N.C.O. & man. I haven't seen mine yet. My tent companion is a decent young fellow in the Signals Corps. I don't know his name yet.
A pretty little lizard as long as this sheet of paper ran out from under my companions blanket just now. We are just behind the old British Line where it has been for a long time. The very front line must be about 20 to 30 miles ahead of us just now. As far as I can tell, my Brigade of Artillery is chasing Billy & I am to chase my Brigade. I expect I shall be sent up some distance in a motor lorry. Things are quite interesting here now. There is a rumour this morning that the Turks are sueing for peace. I hope it is true. We seem to have cut them up considerably in Palestine. If we make terms with Turkey, I think that this stunt will come to an end very soon. I believe that the Bulgar has "the wind up" & is somewhat demoralized,
Page 18.
although there is talk of him having a reserve line where he will make a stand.
Posters were found in the towns showing that Germany has much more food than the other nations & that the U boats have nearly conquered England. So they know how to tell taradiddles to hearten up the Bulgars.
Our infantry advanced so quickly that they had to leave a lot of their kit behind & I fear that several officers have lost all their kit because some rascally Greeks have plundered a lot of it. I don't know how true this is, I have only heard it. Of course it would only be Greek country folk. The contours of this country is not unlike Dartmoor only more barren & burnt up. There has been no rain here for 6 weeks. Of course, the vast waste is on a larger scale than Dartmoor altogether,& no heathers & furze, only burnt-up coarse grass. I don't a bit know when I shall move from here, perhaps tomorrow. It all depends whether I can get into communication with my Brigade. There are a lot of horses
Page 19.
here & the poor things are terribly teased by flies. I am a strict teetotaller out here. I am sure it is best. My staple drink is lime juice & soda. I have been talking to such a nice boy officer here. He was in the Artillery Cadet School at Exeter, & such a boy. This is his first bit of active service. He is in the next tent to mine.
Sept. 30th1918Somewhere in Greece.* (Janerh)
I have moved from the Camp where I was when I wrote last. A friendly Major of a Heavy Battery offered to run me here where I am now in his Car. This morning I took a service for the Camp where I was yesterday+ (Kalinova) in the Theatre which had been constructed for the entertainment of themen when they came from the front line for a rest. Last night we had a fearful storm of wind & some tents were blown down, happily mine wasn't, but when I woke up in the morning all my things – clothes, everything myself included, were covered with a layer of fine dust. Well, I got up & was just finishing dressing when Major Edwards put his head in at my tent door & said he had the Car ready in the Camp for me, the
Page 20.
arrangement had been that I should walk over after breakfast to see if he really could take me. However, he wasn't in a great hurry. So I had some breakfast, packed up all my belongings & off we went. Over hot, dusty, rolling plains in the Car, bump, bump, bump. They drive anywhere & over anything here & how they don't smash up Car & all I don't know. The Car had a bullet hole right through it – so it had been under fire.
Here I am close to advanced base General Head Quarters, but even now I don't know definitely where my unit is, & I am still chasing round to find out. It is a business.
What is going to happen, I don't know. We have official news today that the Bulgar has given in & that hostilities cease at 12. noon today. So I don't know what this Expeditionary Force will be at next. We may be sent on to Austria, one never knows.
It is still very hot here, but the wind tempers the heat a bit. I know this, that I wouldn't go to this part of Greece for a pleasure trip. I expect ancient Greece is more interesting.
Page 21.
Yesterday, Michaelmas Day. Perhaps now that the Army ceases chasing the Bulgars, I shall be able to get to my unit. Nobody seems to know where anybody is, or even where he is himself.
The telegraph & telephone wires are all being used & one can''t get a message up at all. If only I could find out where my unit is. I could make a shot at getting to it. Altogether it is a rum go.
October 2nd1918
When I got to the place from which I wrote last I was able to get a wire through to the Senior Chaplain of my Division. I received an answer yesterday at about 3.p.m. ordering me back here where I was before, to take temporary duty. So I 'phoned to my Major who had brought me over in his Car & to my joy he said we would send the Car for myself & kit right away & here I am back again * (Kalinova) There is a very young Major in command here, a very nice fellow. I reported to him & in a very little while he had a fatigue party out & put up a tent for the Padre. So I have a nice bell tent all to myself & what is most satisfactory, my superiors of the Chaplain's department know where I am. Before I got into communication
Page 22.
with the Senior Chaplain of my Division, they did not know where I was. I was just chasing my Unit. The reason why I have not gone on to my unit is that no one knows what is the next move. Peace has been declared between us & the Bulgars & we don't a bit know what is going to happen next. In his wire to me the S.C.F. said he was writing to me. Perhaps I shall gather from his letter what he is going to do with me. At any rate I am here temporarily. Everything is in a state of flux. All movements of troops were cancelled on Monday night. At the place where I was yesterday, there were several officers absolutely stranded, not knowing where to go. Some back from leave, others like myself , joining for duty. All considered one very fortunate to get a wire through to my S.C.F. for the lines were very much engaged & they were refusing files of telegrams at advanced G.H.Q.
By-the-way advanced G.H.Q.were at the place where I was yesterday. I expect that they have moved again today. I went up there & found myself amongst a crowd of "brass-hats"
Page 23.
The Commander-in-Chief had his H.Q. there but was off up the line in his Car.
Here we are now very much out-of-the-way & communication is difficult. If I have the chance, I hope to walk up the hills to our old line of trenches & to have a look at what was the battle-line for more than 2 years.
I note heaps of game, especially birds, about here & all very tame. Our car put-up a covey of large birds yesterday (not partridges) & at a ford over a stream I saw some birds very like large Snipe. Some very large birds are sometimes seen. I saw one or two eagles.
It is still very hot, only not so hot perhaps, as it was a day or two ago. I hear that in England you are having a great deal of rain.
There is a rumour that Turkey is sueing for Peace but nothing certain. If so, I think Austria may follow, then Germany will have to give in. I hope so. But Peace must be signed at Potsdam. We are able to give the Bulgar fairly easy terms but from Germany we must exact full retribution.
Page 24.
Supplies are still going up the line, so I suppose that troops are not moving back – possibly they may go forward – no one knows. The flies are a perfect nuisance & are giving me no peace as I write.
October 4th1918.
I am trying to get busy, but it is difficult to be landed in an out -of-the-way place,& to be told to minister to Troops in the vicinity & to find them all out, to arrange for Services etc.etc., knowing nobody. However as I haven't got a horse yet, I have borrowed one & I am going to scour the countryside to find what troops I can rope in for Sunday. I am only with certain details of my Division, which will shortly be joining the Division itself & then I shall be with my Unit.
We had a grand person come to see us yesterday, red-tabs & all, brass hat etc. The A.A.Q.M.G. of the Salonika Expeditionary Force, a Colonel in rank, & he got things moving here. He was able to give us an idea of what our Division would be used for. If for the purpose he indicated, our work will be very interesting & we expect to
Page 25.
have a long journey.
Possibly, tomorrow, another officer here & I will get into the saddle & ride over the battle-field where our Troops began this 3rd. & last battle of Dorian.(sic)I understand that it will be interesting, though somewhat unpleasant, perhaps, but I don't want to miss it.
I think that the O.C. here, who is shortly going up to join his regiment, (a Scotch regiment) will hand over to me his horse, saddlery equipment & groom. He has kindly suggested it & I hope it comes off.
Here, where I am now, it is most difficult to get anything, and you may be sure that tobacco & cigarettes are always welcome if anybody feels generously inclined.
It is cooler weather today, with a wind – rather strong – which covers everything one possesses with dust, a fine layer over everything. You cannot imagine how uncomfortable it is.
Line & lines of Troops, guns & transport are passing over the plains in the distance, one gets peeps of them
Page 26.
through the clouds of dust. Some Greek batteries passed quite close to us this morning & they were driving pigs and sheep before them, their guns were being drawn by bullocks. I think there is still fighting going on in Serbia against the Austrians, but of course we know very little.
This is the first day I have not had to wear a helmet, now about 20 minutes to 11. I may have to wear it in the heat, somewhere after mid-day, but I think the wind will temper the heat considerably.
The A.A.Q.M.G. said last night that the whole War will be over by Christmas. I sincerely hope & pray that it may, but I have a sort of sneaking feeling that I should like to see a 'scrap' before I come home.
I have had most interesting descriptions of the advance from men who took part in it. They will speak quite freely, talking amongst themselves & say much that they would never say at home. One officer went through without a scratch, but is the only one left of his whole battalion. No doubt War is an awful thing. Somehow it seems all wrong & not worthy of civilized humanity. So many brave and splendid fellow have laid down
Page 27.
their lives, & it is sad to hear their comrades talk of them & where they saw them last – now most of them are buried under 6 inches of earth & and over many there is but a bit of wood, a piece of a ration-box or anything that came to hand recording simply "British Soldier unknown". Saddest of all for their relatives. How glad they all were that the Salonika army "got a move on" at last. I am told that so eager were they, that they were in danger of rushing into our own barrage & it was all that the officers could do to keep them back.
I am still in splendid health. I am anxious to be of some use now I am out here.
Saturday Oct. 15th.
I have not gone over the battlefield today because things are too busy here. I have arranged services for tomorrow 6.a.m. H.C. 6.30p.m. Evening Prayer 7 sermon. I am hoping to have a nice lot of men. As far as at present arranged, I go over the battlefield with some officers of the Scotch Brigade & return at about 2.p.m. So it will not interfere with my services. I expect to join my unit somewhere about the middle of next week.+ (some hopes!!) Everything here is in a terrible state. When the advance took place
Page 28.
several officers left their kit here & Battalion representatives have come down with lorries to pick it out.
Sunday October 6th.
I have just been censoring letters. Could not go over the battlefield today as my mare has a loose shoe. I am not sorry as the rain has come & we have had rain all day yesterday & today.
October10th1918. In a Bulgar Ammunition Hut.
I have made a move & am now on my way up to the Division to which I am posted. Soon I shall be in Bulgaria. I left the last place where I was in a convoy of lorries, & we came here 2 days ago. We ought to have started on Monday last, but a Vardar wind was blowing, with rain & it was awful. The wind quite unlike anything in England. My batman was continually attending to my tent all day & at night it blew &blew until at 4.a.m. I felt the tent flapping on my face. I got up & found most of the pegs on the windward side out of the ground. In wind & rain, with pyjamas, gum-boots & trench coat on, I went round & drove them all in as best I could. Fortunately it stood until morning, but I woke up with the tent on top of me all wet and beastly. The Vardar wind
Page 29.
blows at intervals. In minutes it is a blizzard with snow. On Tuesday it abated, & we started off & got here & up to today have had continual rain. However, we are not allowed further on the roads until the sun has dried them up to a certain degree. The roads we have come along hitherto have been bad enough & at places the lorries, or most of them, had to be helped by several men pushing them.
On our way here we passed through the old line of battle which ran across the road & I saw the old trenches & the barbed-wire in front of them. Happily, there has been time to clear up the battlefield & to get the salvage collected. I have a Bulgar bayonet which I hope to bring home as a memento. We passed through a town* [Dorian sic] in which there was not a whole house standing. It was partly smashed up in the former Balkan War & now the ruin is complete.
There was nowhere to put up in this place. We had 3 days rations, each of us. The men & some officers slept in the lorries, but the Major in command of the convoy (Major Passmore. Devon Regt.), a Doctor who is cousin to Mrs Adams of Banavie+[St Mary Church] (four others & myself explored around & found a
Page 30.
Bulgar ammunition hut where we have taken up our quarters. We are doing everything for ourselves, cooking, washing-up, fetching water, etc.etc. We have a brazier made out of an old Petrol tin, in which we burn charcoal, which we get near by. Fire-wood is made out of ammunition boxes chopped up, which the Bulgars have left all over the place, some of them full of live shell. We sleep on the ground, with blankets. The floor of the hut is just earth. I should sleep better if I were not attacked by live stock!! Unfortunately we have to sleep in our clothes, & except boots & puttees, collar & tie. I have not had my clothes off for 3 days & it seems as we cannot get off until tomorrow at the earliest. The Doctor & another are our cooks. I am tweeney-maid, & wash up. The Major is a great sportsman, quite young, he comes from Barnstaple, or near by. He was first up this morning & fetched water. We have picked tomatoes off some plants growing in profusion over a large plot of land. A soldier has given us some onions & we have bully beef & bacon. Our hut is hidden in an extensive grove of mulberry trees. The Doctor's name is Dawson & it was very
Page 31.
interesting to meet him. He has stayed at Banavie & has been to our Church. There is a Field-Ambulance near by where I was last & he slept there. The weather was so awful that he me a bed there, so we slept, with another man, in a large marquee on stretchers & the night orderly brought us an early cup of tea. Naturally Dawson is very interested & it is strange we should be spending days together in this gipsy-fashion. The officers are really splendid. Certainly this life is about the roughest of the rough but we are all cheery & keep wonderfully well in health. I begin to think that I have a great amount of Stamina. I seem to be able to stand anything. For nights & nights I have not had proper sleep & have awoken every hour or so but I am very fit. I wish I could get a good wash but I am learning to think nothing of being dirty.
October 14th. 1918.Somewhere in Bulgaria.
We have come further up & are now in a valley between mountains. There is a light railway rail-head here & we are waiting to get on to it. I have been sleeping in a lorry for 3 nights & now the lorry has dumped our tuff down at the rail-head & we
Page 32.
have no house or home. However, I was very fortunate, my batman, who is also my groom, had been sent on to take my horse by road & when I got here, I found him here expecting to start off on his journey again the next day. But I am keeping him for as long as I am here & he is attending to our wants. My horse -a mare – is a very nice one. I got it from a man who is in the Scottish Rifles. She is up to my weight & comfortable to ride. I have called her "Polly" I should think she is about 10 or 12 years old. I am now sleeping in an old Bulgar cattle-shed. It has no sides to it. We sleep on the ground & I sleep in my clothes, trench-coat & trench-coat lining & one blanket. There was a hard frost the night before last & I had a very wakeful night – it was so cold but it is very hot in the daytime. On the whole I should sleep well if it were not for the fleas & I have little red-spots all over my body where they have bitten me. My air-cushion is invaluable & I don't know what I should do without it. The horses are in the same shed with us, so Polly & I are bed companions. I am still remarkably well. There is a stream near here & for the last 2 days I have had a bathe.
Page 33.
so delightful, & lovely mountain water.
Yesterday a Gunner-Officer & I got on our horses & went to a village to see what we could get in the way of food. We only knew "Yeitzer" (I spell it euphonically) which means "eggs". They all answered "Neunner" which means that they had none. Then we said "Anglische" & when they knew we were English the shook our hands & went in and fetched out Yeitzer – the taradiddlers. We wanted to pay for the eggs, of course, but they would not take any money & we got 8 eggs & a lot of tomatoes & chestnuts. We have knocked down several eating chestnuts off the trees. They are very good & as we draw only bully beef & ration biscuits& bacon, tea & sugar, we are glad of a change. I sometimes wonder if I shall ever see bread again! They cannot get supplies of bread up the country yet. Cigarettes are frightfully scarce & unless an officer (ASC) had raided some canteen stores in his charge, I should have been entirely without tobacco, but he gave me a tin to-day.
I have met 2 Devon men here. One lives in Daison Cottages Teignmouth Road- just out of our Parish – name – Corporal Courtier.(51687CorporalCecil James Courtier,Royal Engineers. Baker and Confectioner before the War. First posting was to France 13thJuly 1915)Another, Kelly,
Page 34.
lives at Cornwood, a Private I think. I had a talk with both of them. I think they are both R.E. & at work on the Railway here. This is not a village – merely a rail-head dump.
I understand that the R.T.O.(Railway Transport Officer) will send this letter off for me & as I hear that we go on the next train & I have to pack up and go, I am in a great hurry.
Oh for - 1. Sheets to sleep in.
2. bread to eat.
3. a table to have meals upon!!!
October 15th1918 Somewhere in Bulgaria.
I have at last reached Divisional H.Q. * (Krupnik) of my Division.(26th) although I haven't got to my Unit yet. I am here as guest of the S.C.F. of Division, Mr. Brereton, until the Artillery catch us up. I came by the light Railway – open trucks with no sides to them, piled high with kit, on top of which, with other officers, I spent the night. You can guess what a night it was. The little engine burning awful coal, puffed in our faces & covered us with soot. So I spent the night thus under the stars – very cold, part of the night, but I kept warm in Trench -coat,
Page 35.
Trench coat-lining, thick gloves & a blanket.
This place is at the head of a very long gorge through the mountains, scenery very fine but my enjoyment rather spoilt through great discomfort, not having got rid of the fleas. Also at about 1.a.m. on the train, I woke in the moonlight to find , to my horror , my brown hand-bag gone. Either it was stolen by Bulgars at a station, or it simply dropped out on to the side of the track* [I heard afterwards that several things had been stolen. One officer had his Mackintosh pulled from under him. He saw the thief running away across country & took a pot-shot at him with his revolver, but did not get him.] The R.T.O. here is very kind & has wired down the line & is doing all he can to recover it. If I lose it, I lose my Daily Office Book which was given me by Mr Ponsonby. I have said my offices from it for years. I lose a suit of pyjamas with the case May worked for me. My boot and belt cleaning outfit. All my clerical collars, Thermos flask, Enos, 2 doz. boxes of matches, which are priceless here, a towel &several small and infinitely useful things - scissors, pipes etc.etc. And my cheque book & advance pay-book, also several letters. Some of them had addresses of men I was to look up for Miss Mills & others. I am disgusted. However I may get the bag back.( my cavalry cooker was attached to it) but I fear the worst. Well it can't be helped, more
Page 36.
of the officers here have had to scrap heaps of kit, for we are not allowed on this march to take more than is absolutely necessary.
On arrival I found the S.C.F. who is very nice & who was most surprised to see me. Had no idea I should get up so quickly – horse and all. A feather in my cap!!
I was provided with a bivouac or "bivvy" as we call them. It is a tiny tent – something like what in the Scouts we call a "Patrol Tent' it is like this:

The sides come right down to the ground. Transport will not allow of big tents. Or but few. We mess in a bell-tent, but we have a table! & proper knives & forks & plates & to my delight, some Bulgar bread, which our Mess President was able to get.
I have high hopes now of marching into Sofia with the Division. It is intended, I believe, to make a demonstration by marching our Troops through Sofia, no doubt it will impress the Bulgar mind. Here to my joy, I have a servant, who has unpacked my kit & tonight I shall sleep in my bivvy, in
Page 37.
pyjamas– what a delight! I have not slept in pyjamas for a week.
October 16th1918
I am lying on my chest in my bivvy. It does not admit of my sitting up. I have had about the best night I have had since I came out here. Slept in pyjamas, in sleeping-bag with blankets underneath & on top. A fine night, with heavy dew. Glorious day to-day, rather hot. No fleas.
I am glad to hear that proposals of peace came from Turkey this morning. My Division is to form the Army of Occupation & we shall sit down outside Sofia until all is settled. I fear that evacuation cannot take place for at least 6 months after Peace is declared all round. The organization of the Army is wonderful & you can have no conception what the movement of Troops on the march means. I am amazed at the way in which things are done, supplies are brought up & transport arranged for every department.
Our camp here is very picturesque – mountains & fields & trees. Our H.Q. is camped on a little plateau from which there is a wide view.
Page 38.
The different encampments look most picturesque with the horse & mule lines alongside. A Division is composed of several Brigades of Infantry & Artillery & other details. The Artillery to which I shall minister will be something like 3000 men for me alone & that is only one department. There are Devons in our Division.
I am still surprisingly well & seeing that mosquito time is over, we are not in malarial districts, I feel that I am safe on that score.
Our meat is mainly bully-beef but there are whispers of fresh meat to-day. I have just seen a sheep cut up at the cook-house. I am particularly conceited about my health for several other fellows have been ill or poorly. I am told that the older men stand it better than the young.
October 18th1918. St Luke's Day In Bulgaria.
Divisional H.Q. moved up yesterday & left me behind to pick up the gunners. They did not arrive until late afternoon, so I had to wait about but the Devons were not far off, so I walked over to see if I could find any Devon men. I found Major Passmore there & spent quite an interesting
Page 39.
morning. I went down the lines & found Dymond of Okehampton, grandson of old Mrs. Dymond who lived in Church Hill. I had a long talk with him about Okey. I also found Lance-Corporal Beer who lives at Plainmoor, St. Mary Church, & had a talk with him. Major Passmore had to go & fetch some Bulgar marquees which were a few miles along the road & so he & I got on horses (one was lent to me by a Capt. Whitehouse) & went to fetch them with two wagons & a fatigue party. They were in charge of a Bulgar Officer who was drunk & who said that he would report at his H.Q. that we had taken them by force. The matter had all been arranged previously by our Staff with the Bulgar authorities. So Major Passmore walked them off. I had luncheon with the Devon Officers' Mess & then waited for the gunners. My poor batman (Westhead) sat on my kit by the side of the road from 9.a.m. until late evening. When the gunners arrived, there was difficulty in placing me & the Staff-Capt. Proposed that I should go to the Field-Ambulance. But the Doctor had no mess & was quite alone
Page 40.
so I did not know what to do. However, I wasn't going to be done, so I went straight to the General* [Tommy Bruce] and reported myself. He took me over to an ammunition column, to which I ought to have been attached & they were already over strength in Officers and although they were delighted to see me, had no means of transport for my kit. However, they put me up for the night & this morning I was sent to a Heavy Brigade and that is my home for the present. The other gunners will go on at 9.45.a.m. this morning & the Heavies don't start until 2.p.m. so having got up at 6.a.m. I soon found my home & made myself known to my Colonel & Adjutant & now find time to write.
My horse is still on the road with my groom & I am now sitting on a tree-stump at the road-side in case he comes along. If I don't catch him here he will go to Divisional H.Q. which is ahead & will be sent back again to me.
We are having glorious weather – heavy dews at night but English summer days. I slept in a tent last night on my camp-bedstead with a Capt. Booth. A very good night, with
Page 41.
no fleas.
We have several more miles to go until we arrive at our destination where, I expect, the whole Division will remain for the winter. In case of Peace all round, which seems imminent, I think we shall be here for at least 6 months, occupying and policing the country. A menace, if there should be a hitch – or if Johnny Bulgar does not behave himself.
We are hoping for an issue of bread to-day, as the bakers have arrived.
Ration biscuits are very hard, break some fellows teeth, & are a poor substitute. Breakfast this morning was porridge & bacon, so we did not do badly.
An army on the move is a wonderful sight. One hour after the gunners arrived yesterday, the kitchens were going, bivvys & tents up, & they looked as if they had been there for days. Now all is packed up again & they are off.
I fear that I shall not recover my bag.
October 21stMonday.
We, the Heavies, were moving on Friday & Saturday.
Page 42.
On the march, I am with the Orderly Officer riding with the Colonel. He rides up and down the Column & we follow him wherever he goes. By-the-way I was most fortunate. My vigil at the road-side was rewarded, for my groom & horse came along after I had been there for about an hour. So I had "Polly" for the trek. I now have a groom anda Batman. My groom's name is Putz. & he is a Driver R.F.A. Westhead, the batman, is a Private in the Lancs. & Yorks Regt. So I am well looked after. They are both experienced men, not boys, & very useful. They devise all sorts of little arrangements to make me comfortable & sleep in a "bivvy" together. All the men sleep 2 in a "bivvy" & how they manage, I don't know. A "bivvy" is all too small for poor me. I have devised an arrangement with a ground sheet at one end so that I sleep lengthwise & not from side to side, as most do. In this way I am all under cover & don't have either head or feet sticking out. I sleep on my valise (unrolled of course) with sleeping-bag on top with blankets. It is cold at nights, Undressing & dressing in a "bivvy" is difficult. It isn't more than
Page 43.
4 ft. high at the middle & some of my dressing is done in a turned-up-chicken kind of way. I have my bath outside in the mornings, regardless of admiring(!) Tommies who seem to have a "lick & a promise" in the early morning. It is a chilly operation but I create a warm glow & with a rub down I feel as fit as a fiddle. If I felt really cold and shivering, I should stop it. My batman scrounges me a cup of tea before I get up. We have our meals in the open air outside the Mess Tent, which is a bell-tent. When the sun gets up, it gets hot & we gradually gradually skin off our clothing until we are walking about in shirt & breeches. What a "bivvy will be like when it rains, I hardly like to imagine.
Yesterday all were much too busy for services. I spoke to the Colonel about it, but the men were so busy, it was impossible. Evidently the Padre can do but very little when the Army is on the march. I have made friends with some of the men, particularly the blacksmiths. The men are really splendid, all eager for news & hoping to get home before long.
Directly we get anywhere our signal-officer gets his lines going & we are in telephone communication
Page44.
with Div'l H.Q. & other units immediately. It is really wonderful. We get communications about the situation in France, news from England & all the fronts, by wireless, everyday.
Fellows are wondering about Christmas & what Christmas parcels they will get from home. I expect that you can find means of sending some little luxuries. Our luncheon & dinner both are composed of bully beef. Plain at lunch, stewed with vegetables at dinner. Same every day. Sometimes sardines at dinner. Jam & Bulgar bread for sweets. There seems no probability of the Canteens reaching us . Bulgars stole our breakfast bacon yesterday & we had tinned kidneys for breakfast this morning. We have a guard now, keeping all moving and inquisitive Bulgars out of the Camp. Yesterday morning, while I was having my bath, to my horror! some peasant women came strolling past, quite unconcerned! I have given up my bag for lost or rather – stolen. ( Here a long list of requirements to replace what was in the bag).
Yesterday the Colonel took me for a drive in the Brigade Car to visit R.A. Headquarters, which are
Page 45.
about 30 miles ahead of us. It was most interesting, driving through a conquered country & seeing all our units along the lines of communication. The Colonel is really very nice. He has spent most of his life abroad & is a regular Officer, & I should say, a very good soldier. He is very kind & nice to me, & friendly. This is the best encampment we have had. It is in an orchard, & the Camp looks quite picturesque with the bivvys dotted about amongst the trees. We also have green grass, which is luxury & reminds one of dear old England. A fairly large river runs nearby with mountains beyond.
October 26th1918 In Bulgaria.
When I last wrote I was with the heavies. Now, as they have parted from the Divisional Artillery, I am ordered back to the Brigade Ammunition Column & they are told that they must make transport for me. They have managed it, & here I am. We have been pushing, pushing on every day, no time for anything & now I have only a few minutes before dark to get a letter written. Candles are scarce & there are no means of obtaining them. We dare not use them but for barest necessities………….
Page 46.
Our destination is now quite a different one. We do not really know what it is, we know in what direction we are going, but no more. There must be a different "stunt" on now, and we are to take part in something. Rumours of Peace are persistent. According to the latest wireless, Germany seems to be "singing small" but we are absolutely in the wilds now & it is difficult to get into communication with anywhere. The O.C. the Ammunition Column is a Capt. Booth. He has a Lieutenant (Lees-Jones) & Sub-Lieut. (Pates) These 3 & myself compose our Mess. Of course, on the march, we follow the Batteries etc. in one long line, & the Bulgar's eyes open to see our Column (one Division of R.A. only) nearly 2 miles long. I ride with the Captain sometimes. Sometimes with the other Officers. I ride up and down the Column & talk to a man here & a man there. We made a fine show through a fair-sized town today. The first British Troops to come through. Crowds turned out to see us.
October 28th1918
We don't go very far every day, but go surely if slowly.
Page 47.
always at a walking pace, & rest every hour.
We have been through wonderful defiles & over passes, some of the hills have been terrible & it is marvellous how the teams pull the guns up & down. On our march to where we are now, I made excursions in to the country each side of us & gathered quite a respectable lot of mushrooms. We have had them this morning for breakfast. We have now arrived at a Railway, on which we shall entrain.
I wish I could say where we are [you would be surprised, but I expect you will know by the papers before you get this, but what the papers will not tell you is that I am in this particular show.]
I am appointed "scrounger" to the Mess & when we are going anywhere I go to farms etc. to try to get food. I go with a Bulgar conversation & word book in my hand. I have great fun.
At our last place my Comrades were delighted when I appeared with a nose-bag full of apples, potatoes & cheese. I also got some salt, quite good, but it is a sort of rock-salt in a crystallized state. We had run out of salt.
Joy! To-day we have procured a goose! Unfortunately, one can't roast a goose on a camp-fire, so we must boil it.
Page 48.
My servant is picking it now & as we have had nothing but bully-beef cold, bully-beef stewed, bully-beef in rissoles etc. etc. except twice when we bought some sheep & were served with fresh mutton, we are licking our lips!! However as we ate the mutton on the same day it was killed, it was very tough.
It you want to know what Division I am in, it is the Division in which our Tenant at the Vicarage was the CO of the RA9CRA to be correct) when the War broke out. I believe he took the Division to France. If you ask him, perhaps he will tell you the number of the Division. I must not tell you more. It is rather a coincidence that it should be this particular Division.
[I should like some Dr. Scotts Pills. Mine were among the things stolen with my bag. I shall want some thick wooly socks badly. I shall soon be in dire need of toilet soap.]
The nights are very cold & we are still in the mountains. To-day is very cold with a piercing wind. It is hard enough to keep at all warm. I am writing this sitting up on my camp-bed with my trench coat on & my feet rolled in a blanket and a blanket on top of all.
We get up at about 4.30.a.m. to-morrow – ugh! & it will be dark too. We are to entrain at 6a.m. Don't I wish I were home now sitting by a nice warm coal -fire. I wonder if I shall be in tents all the winter.
Polly is very well. I go & see her after breakfast every morning & give her ration-biscuits. She looks for it now & knows my voice. I wonder when I shall get any more letters! I have had none since October 15th. That is a fortnight to-morrow.
I believe we shall be in the train 36 hours & we are not looking forward to it by any means, amongst other things, I expect it will be very cold. As we are not moving to-day, I have got the cook to boil me a "dixie" of water and I have luxuriated in the first real hot bath I have had since I left England on Sept.7th. Soon I shall have to write my letter for the December Magazine. Mr. Jones – or rather - "Lees-Jones" is his name – has some most remarkable medicines in packets. I am very taken with them – They are called "Laminets" and are sold by Savory & Moore. They go in a case like a small pocket-book & are in squares in envelopes. Do see if you can get them for me. He also has medicines in form of tabloids in glass tubes in a tin box from "Boots" These dark nights I miss my electric torch very much. I don't know when I shall ever get any Sunday Services in. None yesterday because we were moving.
I wish I had brought my camera. It wouldn't have mattered a bit. But there, perhaps it would been in the bag & stolen.
October 29th.
Awfully cold night. I am using those khaki socks which I said were rather coarse & hurt
Page 49.
my feet, as bed socks!!! a new thing for me!! but it is very cold. I cover my head entirely with my blanket in bed but it makes it rather close for breathing. I wish I had the Wolseley helmet. Snow on the mountains around us this morning. The man were paraded & made to double up & down the lines this morning before they did their grooming.
We have not moved. Late last night we had orders to stand fast. We may move to-morrow or the next day. Happily the sun is getting up & I hope it will get warm. I am writing after breakfast having said my Office. This weather would be better if one got up at 9.a.m. but we are called at 6 a.m. every morning & one begins to hear weird noises from the horses & mules waiting for their breakfast. The bray of a mule is something between a donkey's bray & a horses whinny, result – rather a mournful note.
Mr Lees-Jones & I hope to get on our horses when it gets warmer & go & try to get some bread (we are on ration biscuits, I wonder all my teeth are not broken) some mustard, candles & if possible, a stove for the train journey. I fear that we shall not have much success for there is only a village near by – nothing near the railway-station. How the poor men exist in bivvys & with only two blankets, this weather I don't know. Of course they don't undress.
We had our goose last night, but I missed the savoury roast – no stuffing of course , or the usual adjuncts, but we enjoyed it for a change.
Rumour says that Turkey has made peace - & that is what exercises our minds just now with regard to our business here.
In 'A' Battery I have become acquainted with a Lieutenant who is the brother of Madge Titheradge: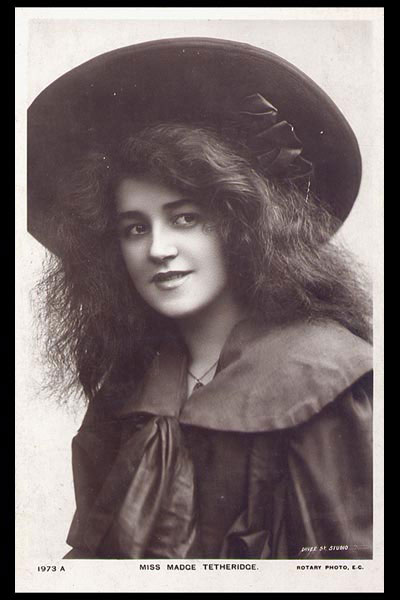 the actress. Doubtless you saw her in "By Pigeon Post" He is also brother -in-law of the Cobbler in "Chu-chin-chow" - a very decent fellow.
I think that we are held back today because some infantry are entraining before us.
October 30th.
Still here. We may move to-morrow. I am very glad we do not move to-day.
We are having sleet & snow, most unpleasant,
Page 50.
much discomfort & no communication with the outer world. The men go sick in batches & we are 30 to 40 under strength. Capt. Booth's servant is "knocked out" to-day. Simply the cold I think. I am very well. Nothing matters as far as I am concerned, if only I keep in good health. I am continually surprised at myself for my fitness.
Later. After luncheon the bad weather abated & I went for a walk to get warm. We went up to a village in the hills, almost up to the snow-line & there we "scrounged" for eggs. We got eleven & were very pleased with ourselves, the first eggs I have got since the time I spoke of them last. We also got some Bulgar bread, baked by the cottagers. Something like our whole-meal bread but terribly gritty, & that spoils it. However we were glad of a good tea with the bread & some jam when we got back. I really don't know how we should get on without an old gramophone we have which has been through all the "stunt" and the journeying with us. However we always try to keep one another cheerful & on the whole
Page 51.
succeed, though perhaps a little 'forced' sometimes. Lees-Jones & Pates kindly say it has been much better since I came.
The one great topic is speculation about the end of the War. So many of these dear fellows have not been home for 3 &4 years much worse off than I am. Divisional H.Q. have been gone on 2 days & we are now not in communication with the outside world, so no news of anything & no mail.
I don't think I told you that we have some live stock a hen with a brood of chicken, 7 another hen. Also 2 rabbits. They live in a tiny box which is divided into 2 by a partition. (Hen and chicks in one part, rabbits & the other hen in the other. The other hen sleeps between the two rabbits. It is very funny to see hem. They go on the old lumbering limber when we are on the march. When we stop, they are let out & never stray far – always come back to the box for the night.
It was rather fun this afternoon, visiting the village & trying to talk to the people. They are very unsophisticated peasants & are quite pleased to see the English. One man was
Page 52.
quite communicative & by signs we gathered that his wife was his second wife & between his 2 wives he had 5 children. I gave a tiny girl some Bulgar coppers & she kissed my hand. Capt. Booth
has today got an old tin made into a small brazier & we have now a charcoal fire in our tent & it gives a grateful warmth. I am most thankful. I get on with Booth all right, I am thankful to say. He is an old soldier, was in the S African War & is from the ranks. He is very decent to me
Things might be much worse. I hear now that we may be here for at least 2 more days. I am very sorry, for this is a cold bleak place, but I think that it is very bracing and healthy, & if I can only stand it in present conditions I think I shall be healthier , if anything than I have been in my life. I forgot to say that Lees-Jones & I had a most pleasant excursion on our horses yesterday afternoon. We went to a town a few miles away & although we did not get all we wanted, we came back with our groom loaded with cabbages, leeks, onions, apples, mushrooms,
Page 53.
carrots & candles. The vegetables we took out of a large garden which looked like a market garden Some Bulgar soldiers came to help us to get them & we paid – nothing. Did I tell you that the people almost expect us to plunder & loot & are surprised that we don't. At one place we made a tremendous impression because we didn't. For when the Bulgar (their own Army came through, they looted everything they could lay hands on. Whenever we get anything we try to pay for it, but sometime they won't accept payment. On our way back yesterday we cantered and galloped & got home in no time. The going was good Polly jumped well. She would make quite a good hunter for me, but is a little slow.
October 31st.We don't move to-day, no, I think to-morrow. An awfulnight last night. Rain. Rain. Rain. Streams of rain & thunder & lightning. Happily our charcoal stove helped to keep our tent dry & I didn't get into bed so 'perished' as I have done. I had quite a good night. To-day is quite pleasant, not too much wind & bright sunshine. So all feel better &happier. Rumours to-day
Page 54.
that Austria has given in, but only rumours. Lees-Jones & I may go out on our horses this afternoon & do some more 'scrounging' for eggs. 10.15.a.m. now & the sun quite genial & warm. It would be about 745a.m. in England.
Later. had a nice walk with Lees-Jones to another village. Lovely sunshine & the mountain air most exhilarating. Got seven eggs. Lees-Jones took a photograph of a Bulgar family with me in it. I do hope it comes out all right. Snow on the higher mountains around us to-day. Talk of our morning to-morrow. Our cook has gone sick. However we have found a man who says he can cook, & we are hoping for the best for dinner. I do hope as more to-morrow. We may get a mail when we join D.H.Q. Glad to have kept warm to-day & all the men have been able to dry themselves & their clothes. I expect it will be cold when the sun goes down. You would have smiled this morning to have seen me mending button holes on my tunic which had become very frayed. I don't think I made such a bad job of it. I can't darn socks because I have no wool.
Page 55.
I want wooly warm socks (high up the leg) very badly.
November 1stAll Saints' Day.
Rather a wet morning, but the sun is trying to shine. Also rather cold. We have not moved. Until late last night we had orders to move to-day, but at the last moment they were cancelled. So here we are still, & getting a bit 'fed up' with staying in such a place for so long. However we must put up with it. No news from anywhere.
All Saints & Babbacombe have their festival. I was with them preaching the last 2 years. What a contrast! Their Festival Services & this! No communion to-day & no service. I can only say my offices make an act of Spiritual Communion. Pates is not very well to-day. I hope he is not going to follow the lead of our Cook & the Captain's servant. I think they must have influenza. I am very well. Just heard – man going down the line will take this.
(HERE SOME PAGES OF LETTERS MISSING)………………………...
Page 56.
ending………...to-day , but we have high hopes of his coming to-morrow.
It is now 5.30 p.m. & getting dark , so I can hardly see to write. On account of darkness & the cold (it gets very cold as the sun goes down) an evening service is out of the question. Lees-Jones & I are planning to go to-morrow to bathe in some hot natural springs not far from here. It will be delightful if we can manage it. Yesterday we visited a mountain village which was the most picturesque I have seen as yet – a most remarkable place - & very pretty – although dirty. Some of the country we went through reminded me of Devon – water running down over granite boulders. We asked for butter , but were met with smiles of denial. There seem to be plenty of cattle, but no butter to be got. Oxen are used for all their agricultural work, draw the wagons & ploughs etc.etc. It is surprising that they do not make butter. We got some apples &pears.
November 4th.4.15.p.m. no mail yet, so we are rather disappointed, but we hear that a train ought to arrive at 5.30. so we hope on. The man must come back sometime.
Page 57.
Lees- Jones & I went to the hot springs this morning & took luncheon in our pockets. They are up a ravine behind a village in the mountains. They have made a bath there & tiled it. The water flows in through three spouts one end. The bath is square, about 4 ½ feet deep & I can swim two strokes across it. The water must be about 100 degrees steaming hot it has sulphur & iron in it. We took soap & had a thorough wash. Then we lay on couches in a cooling room until we were dry. It was really very refreshing. We got thoroughly cool before we dared to go outside. We took our grooms, one to hold the horses & one to mind our clothes while we were in the bath. It cost 3 livres each. I made my groom go in. He quite enjoyed it. & I am sure he wanted it. He went in after we had come out. I took my silver identity disc off to go in & to my deep sorrow, I could not find it anywhere afterward. I say I took it off but I may not have put it on this morning, but if so, it is the first
Page 58.
time, & we cannot find it anywhere in the tent. If I wore it, it either broke on my wrist when I fell down by the mountain stream near the bath amongst the boulders -(I really came a 'cropper' & rather hurt myself & have a big bruise on that- the right-wrist)- I looked for it there, but could not find it & I looked for it where I took off my clothes, but came to the conclusion I could not have ben wearing it. Now I cannot find it here, I think it must be at the baths. I am going over to-morrow to see whether they have found it, but, unfortunately, the Bulgars are terrible thieves, & cannot be trusted. I am so upset about it. It has been a lovely warm day. When we returned from the baths we had tea outside our tent, but when the sun goes down it will be cold. I am writing this just after tea – the mountains look lovely just now with their snow caps. This morning at sunrise, one of the distant ones had quite a pink Alpine glow upon it.
If the mail comes in at 5.30 we shall be
Page 59.
improvident in candles I am sure. I wonder where I shall be at Christmas! It won't be long now.
November 5th. 1918
Still no mail, but hoping for a train about 5.p.m. It is now about 4.30. I had to perform a sad office this morning. One of the A Battery men died in the Field Ambulance this morning of Bronchial Pneumonia. It does seem hard , as all are now feeling that they are in sight of home. I am not surprised, for the men have endured much hardship. I fear that one more of A Battery, & another at least of our column will not be long, and perhaps Jones, the Captains Servant, for he is veryill poor boy - & only a boy. I am writing to the dead man's wife & to Jones' mother. We buried Bailey *on the top of a hill up the mountain-side – a wonderful last resting-place commanding a glorious view of the surrounding mountains – some of them snow-capped.
* Gunner 174199 Frank Abbott Bailey 116 Bde. Royal Field Artillery widow Elizabeth Leonard married 1916
Page 60.
and the great plain on which we are encamped beneath. The service seemed to me most impressive. I rode up on my horse, with my groom beforehand & say that the grave was all right. We lined the bottom with green turf,& there, high up the hill we buried him, & the three volleys fired by the firing-party echoed over the mountains. Note No coffin – none available – no wood for the purpose – Body sewed up in an Army blanket.
This afternoon we found that a Motor -transport had some Canteen Stores & we went to but some. We got some sardines, biscuits, pine-apple (in tins) chutney, milk (in tins) kidneys (tinned) etc.etc. - also some drinks. Also some cake (in sealed tins 14lbs.) So we feel that we shall have some variation in food. I also got a bottle of Eno's Fruit Salt – I was not aware I could get it from Canteens, so if you have not sent any – don't. But I want the Dr Scott's pills all the same & I very much want more tooth-powder I was rather sad to hear a rumour that all the troops but our Division are going out of the Country – which possibly means
Page 61.
home – but perhaps it is not true – in any case, I don't see the reason why we should be kept here for long.
We are wondering where we shall spend our Christmas. I do hope the mail comes to-night, it really is time it came now. On account of the getting Canteen Stores, which we had to bring back to Camp, I was too late to goo after my identity disc – so I go if possible, to-morrow morning, but first I have to visit Bailey's grave – see the cross fixed, & wire enclosure. & to bury a bottle with particulars at the foot.
A lovely day to-day – quite warm, in fact sun hot & we have had luncheon & tea outside the tents in the open air. We hear that Austria & Turkey have both given in – so there is less reason for our staying here. This is officially reported. Surely Germany cannot hold on now. We shall not go now to the "destination" I mentioned on page 1 of this letter.
Page 62.
November 6th1918
I hear that I can get this letter off to-day, so am just finishing up. No mail yet. I am writing "first thing" in the morning. Very cold night, but sun getting up warm.
November 6th1918.In Bulgaria
The mail has arrived, & not a letter for me. Unfortunately. There are no letters for anybody in this mail which are dated later than the last week in September. Isn't it disappointing? I believe one Officer has one, of the first week in October, so mine are still on the way, I suppose. Perhaps we shall have another mail shortly, but we are so out of communication with everybody that I suppose we must put up with it, but I think that the authorities might be kinder & push up the mails, for they mean so much to us all.
It has been another lovely day. I visited the Field Ambulance this morning & 3 more of my boys are desperately ill. It is all the result of thecold & wet we
Page 63.
had about a week ago. I fear that we shall have more deaths. Isn't it sad? Some have not had leave for over 3 years, they have come through the "stunt" and escaped being killed or wounded, & now they are to die. I am so sorry for their people – one's heart bleeds to see the boys just laid on stretchers in a room in a paper factory with just Army blankets over them, & fighting for life. I am particularly sad about Jones, Capt. Booth's servant – such a nice boy. Pates & I rode to the Hot Springs this morning & found no trace of my identification disc. I am hurt.
This afternoon I walked up to the grave of the man I buried yesterday. It was beautifully arranged by his Comrades & quite pretty with green turf & granite stones. I buried a bottle at the foot under a large stone (according to instructions issued to Chaplains) with full particulars.
All sorts of rumours as to where we are
Page 64.
going now, but no one really knows. We were to go to the Danube, but understand that Austria has given in, & so we all think that we had better get home quick sharp, but whether the authorities will take that view is another matter altogether. I shall now have to hope on for a mail. Naturally I am rather "down -in-the-mouth" about having none.
November 7th1918
A dull, drizzly, morning, but fairly warm. Poor Jones*, the Captain's Servant, died yesterday evening & another man of A Battery also. I am to bury them together at mid-day. It is terribly sad. They will be buried in the same place as the other man. We cannot see the mountains to-day, they are entirely shut off by mist. It is early yet, only about 9.30, but I had an early breakfast, went up to the top of the knoll to see the position & digging of our grave, & then on to the Field Ambulance from which I have
* Pte. 81807 Llewellyn Penri Jones R.A.M.C.
Page 65.
just returned.
Our R.A .General is here just now inspecting the Battery & Column horses. He has brought R.A. Divisional Head-Quarters back here, & we are supposed to be staying here for about another 4 or 5 days, & then we go ---------where?-------- we have no idea whatever. We hear this morning that Germany has accepted our terms & that the Kaiser has abdicated, but we are rather suspicious about these rumours. Nothing seems good enough to believe unless one has it in black and white-
Later. We buried the two poor fellows with full military honours, & I very much fear that we shall have another to bury to-morrow, for poor Jepson is dying fast. I cannot say what I think here, but I sure that much will be said when we all get HOME. All the 4 who have been buried here were cases of Bronchial Pneumonia.
Page 66.
This afternoon I have been busy about getting reports of burials off, & visiting the Field Ambulance again. After luncheon, I had my hair cut by our temporary Cook outside the tent in sight of all the Camp!! He has cut it quite nicely. Rumours that we move somewhere in 4 or 5 days are still persistent. The sun came out at mid-day & it has been fairly warm. The sun is just going down now. I went to R.A. Headquarters to-day enquiring about my mail, with no result – So I have written to the Senior Chaplain at D.H.Q. & asked him if he will kindly enquire whether my letters are there & not sent on.
November 8th.
News to-day that R.A. Head Q are going on to-day to ----------. I suppose that we shall follow in a few days. If we are on the move again I am much less likely to get my mail. So that is cheering. I have not done much
Page 67.
to-day. The man Jepson* died early this morning & we buried him at 2.p.m. to-day. I do hope that this will be the last death. Our Cook has come out of Hospital to-day & I am glad that he has recovered so soon. He does not look very fit now. But we have had no more of the really bitter, sleety weather. I do trust that we shall move to better quarters before we get real winter, for I am sure that, as they are now, some of the men will not stick it.
I hope to go to the Hot Springs to-morrow with Mr Pates this time I expect that if only I had a mail, I should have a lot to say now, but to-day has been uneventful.
I really don't see why a whole Division must go where we hear we are going. Certainly it will prolong our absence from HOME – but there , we know nothing & the authorities, no doubt know best.
* Dvr. L/8965 Samuel Jepson R.F.A.
Page 68.
How I do long to be home. I dreamt last night that Mary had got restless & had answered an advertisement in the paper & gone to a fiendish place, & we had lost her. I do hope she is all right & contented to be a help to her Uncle. I suppose you are at Abberley now. Tell me about Paul – but there, I suppose you have already done so, only I haven't the news. I rather laugh at myself keeping back the number of our Division, when, of course I have already told you to write letters to it. But at any rate, we are not to repeat our address when once given, if possible to evade it. The funny part of it is that all our enemies know exactly where the numbered & named Divisions, brigades & Battalions are. A map was captured with the positions of them all correctly entered at the places where they were.
Don't forget tooth-powder, a couple of
Page 69.
collar studs would be very useful as a reserve, toilet-soap invaluable. A collar pin to go under my tie, or two of them would be a help. My collars seem to cover up my tie, & I don't look as well as I might about the neck. Any little things that you think may be useful, are always acceptable. Our great trouble is that there is no Expeditionary Force Canteen nearer than miles away, we can buy nothing.
November 9th Lord mayor's Day. I wonder if General Holley is again Mayor of Okehampton. A fine day, dull at first. I went up this morning to our little cemetery with one of our men & buried a bottle at the foot of each grave with full particulars inside. This is according to Army Instructions & I am responsible. This afternoon Capt. Booth & I rode to a distant village & "scrounged" for eggs. We got 114 eggs, some potatoes & about 2 lbs of butter. The butter
Page 70.
is rather "cheesey" but quite nice. We paid about 4/-4d a lb. The eggs are 1 leva each – a leva corresponds to our 1/- but 37 ½ levas go to a sovereign English. The Greek Drachma is equal to a French franc & roughly 25 to an English sovereign. So the Bulgarian money is very much down in value. It is practically all in paper from 1 leva upwards. I found out about the butter because we made friends with a family at a farm. They were very interested & by signs & odd words here & there, we got along fairly well. I shewed them the photographs of my wife & my children!! They were very impressed. They called me "Kapitan" because of my 3 "pips". They gave us a drink of lovely milk fresh from the cow. The first un-tinned milk I have had since I left England.
It seems fairly certain that our Division is to go to a port on the Black Sea - & rumour has it – for 8 months!! If so,
Page 71.
no hope of home until July or August next year. Another Division, it is reported goes to Turkey, another goes back to Salonika. The idea is – to occupy these places until the countries are somewhat settled down after the War. Of course all this is only rumour, & may not be true. We hear all sorts of rumours.
Sunday to-morrow, & I have arranged for services. I do hope that our men will now stand the climate better & that we have no more bronchial-pneumonia. I don't want any more funerals.
November 10thSunday.
Wet drizzling morning. Mountains invisible covered in mist. Mist everywhere. My Services – a "wash out". So I am in my tent, cold & damp. However we put as cheerful a face on things as possible. The Qtr.master Sergeant went to Division a few days ago to try & get some more clothing for the men. He may bring back some mail, so I have a slender hope.
Page 72.
A mail to-day would just cheer me up. It seems that the 8 months idea which I mentioned yesterday was only speculation on the part of Booth. So we can hope that we shall not be wanted. If you ask Arthur for the Greek for "wisdom" & also for "The city of Philip" you will be able to gather that I am on the Railway–line between the two. Our rabbits and chickens cause much fun at evening-time. We let them out during the day. They are very tame, & don't run away – but Billy & Susan (the rabbits) love the evenings & we have a great chase to get them into their box to the amusement of the Camp. I believe the rabbits enjoy the fun, & they are not really a bit frightened, although we slay our caps & all sorts of things at them. They love to run into our tents & when we think we have got them, to escape out under the sides. I had rather fun buying some flour from a mill yesterday. The mills are turned
Page 73.
by water-wheels. I believe that there is some system of rationing amongst the Bulgars & it was a long time before I could persuade them to give me any. I had an orderly with our Mess sack, & he was as much amused as I was. At length they gave in & filled our bag. Then came the question as to how much the bag held & it took a very long time to send for a weighing lever. At last it came, & then came payment. It was over 7 kilos at 5 levas a kilo. The payment was to be 35.50 I had 6 five leva notes & nothing else but 100 leva notes. Great trouble and consternation as they had no change. Change was sent for & then we all sat round in a circle on our haunches (so to speak) & The money was counted out on the floor. Consternation again about the odd 50, which ended in letting me have the bag for 35 levas & ignoring the 50- altogether. The whole transaction took the best part of an hour and then – they were evidently very
Page 74.
anxious for me to go out the back way!! I am getting a reputation as a "scrounger". Booth was killingly funny when I took him to the village yesterday. I always make up to them, give them cigarettes & the children coppers & get into conversation & when we are thoroughly satisfied with each other & on good terms, out come the "yeitzer" (eggs). Booth's method was simply to sit on his horse & roar yeitzer at every curious man or woman who approached us. Needless to say, with no effect, except "nemmer – nemmer" (no.no) on all sides. Booth has a big voice & is a big burly man with a very red face, so you can guess how funny it is. As a matter of fact, he is a splendid soldier, & from Sergeant – Major was promoted to Lieutenant on the field in France for some very fine work under a murderous fire where several others had failed. The Major of A Battery told me this & I have
End of Notebook 1
Book 2:
November 10th. 1918 - December 10th. 1918
Page 1.
respected Booth rather more since. He is not a bad hearted fellow – a rough diamond. I laugh at him & he and I get on A1.
By-the-way, if you think you can send the Camera & some films, it would be really nice. I feel so sorry that I am missing a pictorial record of my travels. Lees-Jones has a Camera & no one minds a bit. Please send me two pairs of stockings. My gum-boots are very cold with only socks. Nice thick woolly stockings would keep my legs & feet much warmer. I am now wearing two pairs of socks with gum-boots on this wet day. What will it be in the snow & cold weather of January & February! According to rumour, we are going to one of the coldest places in Europe.
November 11th.Monday
I have found my identification disc! Pates & I went to the hot baths to-day & the man there gave it to me just as I was beginning to undress. It had been
Page 2.
found outside where I had fallen down. My wrist, which has a nasty bruise, had hit a boulder & broken the link which links the disc to the chain. I was overjoyed & so delighted to get it again. I gave the man 5 levas & he was very pleased.
The Quarter-Master is not back yet so no sight of a mail, even if he has one. We had a lovely bath to-day & revelled in the hot water. It is quite the thing to use soap, so we had a good "clean down". It takes some time to ride there & back. We reckon 5 hours in all including the bath, so it took up a good deal of the day & I haven't done much else. Unfortunately the day is cold & sunless, so we did not dawdle over our lunch. We hear from the wireless that the Germans have accepted our terms for an Armistice. So this is really the end I suppose. Our destination is again altered, but this may alter everything again. It is so strange – not knowing what may happen
Page 3.
to us from hour to hour. I wish I had some books to read. None to be got here & we have no playing cards. Do send me two packs. I am afraid that you will smile at all my wants but one is so fearfully helpless about getting things. Wherever we go, I hope they put in houses or factories or something of the kind for winter. The men musthave more adequate housing if they are going to survive the winter.
November 12th– morning.
I am just going to try to get this letter off. I understand that I can get it off at the Station. We may move in about 2 days now, but no one really knows anything certain. Rather a better day to-day, the sun is trying to shine. I enclose a paper about a Gillette razor sharpener. I should so much like to have one. It would save razor blades. Capt. Booth has had one for some time, & uses only one blade in 6 months. He gave me this, so that I
Page 4.
could send it to you. Unfortunately, it has no address upon it, but you might be able to find out where to get it.
In Bulgaria. November 12th1918.
A mail came to-day, but none for poor me. You may now address my letters
116 Brigade Ammunition Column R.F.A.
Salonika Expeditionary Force.
Capt. Booth says that they won't get any quicker to me, but it is considered safer, for we may get separated from R A Head Quarters, as we are now.
We have been very busy to-day with Canteen Stores. A Unit of the A.S.C. bought for our Column some 2000 to 3000 levas worth. We took all we wanted to the Officers' Mess, & then held "shop" outside our tents all the afternoon, 7 the men came to buy. For the Men, we got drinks of course, tinned kidneys, sausages, sardines, pineapples etc. We also got biscuits, cigarettes, toffee, Quaker-oats, & such like - quite a lot. We also got
Page 5.
playing-cards. So if you have not sent them, don't. To our great regret, we could not get candles or toilet-soap, but we were very glad to get some cake & golden syrup. You cannot think what real luxuries all these things are after our very poor fare. Do you remember how I used to despise tinned things? and Camp Coffee?They are all very acceptable now. I hope you don't think that we think a lot of our food - but it is really quite natural seeing that we have so little comfort & have been faring on very plain diet. I fear that this & the accounts connected with the whole show have taken up the day, so have no more to tell you about to-day. I hope you are getting my letters regularly.
November 13th.
At last, it seems we really are moving, (if orders are not cancelled at the last moment) and you may imagine me to be on the banks of the Danube, but still
Page 6.
I believe that we shall be 3 days in the train. We have to split into two. One half of the Column go first on the day after to-morrow with Capt. Booth & Pates. Lees-Jones & I follow with the other half. We all hope that when we get to our destination, we shall be in billets of some kind, with a roof over our heads. It is said that there are factories and warehouses which we shall be able to occupy, but of course, no one really knows.
Not much doing to-day. Dull & rather cold, but happily, no wind. Looking at a "Daily Sketch" sent to Lees-Jones to-day I lighted upon the enclosed. I suppose you were there. I wonder if Paul got a prize! I don't remember Cadet-Capt Milward. It is quite a good photo of old Sir Thomas, but I note that they call him DAvitt not Devitt. Strangely enough, the Cadet is the only uniformed figure in the picture. Booth and
Page 7.
the other two are now arranging what details go in the first lot, so they are very busy. I am not writing you about Christmas yet, for I hope to be able to get a letter to you at the right time. I see in the English papers that the time is shewn when to post letters &parcels for the Salonika E.F. but of course, that means that the details about Salonika will get them. They will take a week longer I should think, at least to get to us
November 14th.
Snow, snow, snow, all day. It is all very well to have snow when one can go out & come in to a nice warm fire, but we have no fire & having run out of charcoal several days ago, have no warmth in the tent. It is certainly no joke being in a tent when it snows. What the poor men feel like in bivvies, I cannot think. My bad writing is accounted for by my being in my sleeping-bag on my bed, fully dressed with cap on, trench-
Page 8.
-coat lining & those woolen gloves we bought for which I am more than thankful. It is not easy to write with a woolen glove on, lying on one's back with a candle on your chest between you & the paper.
This afternoon I was desperate to get warm, so I went for a walk & for an object tried to get some flour. At one mill they would only exchange for a pair of boots or a coat & I could not spare those. Boots are bought in Sofia for 500 levas – we are told - & they are glad to give that. I then got some flour from the place I went to before. I took my servant (Westhead) to carry it, so I had company on my walk. I came in quite warm, I jumped into my sleeping-bag. I am still warm. It still snows hard (6.p.m.). I shall go another walk in the dark to get properly warm before I get into bed. Booth & Pates & half the Column entrain at 7.30 to-morrow morning. I am sorry
Page 9.
for them & only hope that on the following morning when we entrain, it will be better weather. How cold the train will be! We are all earnestly hoping for billets when we get to our destination. The feeling is that if we were fighting, we could put up with anything, but there is only monotony now & nothing to stir our spirits not even knowing anything definite about our future Home still seems a long way off.
November15th.
Freezing night & morning, but the sun came out about midday & made things cheerful but not had much effect upon the temperature because of a strong and biting North Wind. I am, as yesterday on my bed, but it is not quite so cold under shelter& I have not my glove on. How I wish I had the woollen helmet & the nice muffler which is, I expect, on the way by now. As I lie in bed, my breath condenses on the rug which covers me & makes it quite wet. Booth & Pates are gone, with half the Column & this great plain among the mountains is tenanted now by only our little section. One tent (for I have moved into Lees-Jones' tent, Pates having evacuated) & a few little bivvies with 2 men in each. We have scrounged all the wood we could lay hands on are making a huge fire outside the door of the tent. As we go to-morrow, we shall not require to save up any wood. I shall not be able to get this letter off from here, because we are practically the last unit to leave. So I must get it off when I get to the Danube - to our destination.
Now that Peace is practically arranged (we have had news of The Armistice by wireless) we wonder how long they will require us here. I suppose that we are to represent the mailed fist of Britain until the terms are finally settled. Certainly we have many interests in Roumania – but of course, all is conjecture.
Page 10.
Thank goodness we have only one more night here. We have reveille at 5.a.m. to-morrow, ugh! & entrain at 7.30.a.m. It was painful washing this morning, but I put off the shave until the others had gone – after breakfast Lees-Jones & I are rather happy to be alone together. He has been called to the Bar. He was "called" soon after he got his commission, having passed all the exams. He is such a nice-natured unselfish fellow. Pates is an awfully good fellow too, & I should say, from his conversation, a farmer's son. We speculate as to how we shall go home, if we are to go home from where we are going to. Possibly by sea, through the Dardanelles & the Mediterranean. I rather hope so, for it would be so much better than another Troop-train journey & I should like to see the Bosphorus & Constantinople if only from the water. By-the-way, about the playing-
Page 11.
cards, a couple of miniature packs of "Patience" cards would be most acceptable. I believe the men may be served out with sheepskin coats for the Winter. If so Lees-Jones says that he will try his best to scrounge one for me. Another Sunday will be lost travelling in the train. It seems so strange.
November 22nd. Friday.
We started on Saturday last from our Camp & fortunately had fine weather, with sunshine but very cold. We cleared up everything & were ready to entrain at 7.45.a.m.
Lees-Jones & I travelled with two other Officers (of a small arms detachment) in one of those continental trucks which take 40 men or 8 horses. In the truck we were 4, our servants & a cook. The Officers slept one end of the truck & the servants the other. Lees-Jones & I had our beds put up, but the other two slept on the floor. Oh the cold! Except in bed, I was not really warm for the whole 5 days. We travelled through mountains – snow everywhere, but less
Page 12.
snow as we approached our destination. This was a large town on the Danube. We got tea etc. by lighting fires at the side of the Railway track when we stopped anywhere. The stoppages were many & very long. We ran out of fuel for the Engine & had to wait until some was got up to us. The worst of it was that one never knew how long a stoppage was to be & the train moved off without any warning. I really must say that it was very funny when the train began to move & one or two men had retired behind the bushes. Amid the cheers of the men on the train, they ran for all they were worth holding their trousers up!! & they had to jump on a (happily very slow) moving train.
We came through Sofia & got there in the early evening. So we had a fairly decent dinner in the buffet at a price which worked out at 8/-4d.each in English money. The only really good thing in the dinner was the omelette.
Page 13.
We arrived at the big town *(Rustchuk) yesterday. D.H.Q 7 R.A. Headquarters of our Division are billeted in fine houses in the town. Several other units are also billeted in the Town. We arrived at about 1.30.p..m. & it was a long time before we got limbers & wagons & horses & mules out of the train & we detrained into a sea of mud. We could not get straight & ready to move off until about 4.30.p.m. & then it was getting dark. We were to go to a village 20 kilometres away, - between 11 &12 miles. Imagine a dark night , a very slowly-moving column of transport moving at a walking pace, very cold, snow lying about here & there just upon freezing-point, but not quite. Mud over the horses feet, frequent deep & unexpected pools of water this for eleven miles & more.
Gradually, as I rode along, my feet got like ice, towards the end of the journey the cold extended to my knees. Also
Page 14
we were very hungry. We had ben given 4 days rations & as we were over 5 days on the journey, we ran out. In the morning we had some porridge & tea - & for the rest of the day just cake & a few biscuits. I must confess that, towards the end of the journey, I thought I should collapse & fall off my horse & in the pitch darkness would be run over by the guns & wagons & horses. I talked to Lees-Jones, & sang & tried to cheer up the men, telling them that we were going to billets & that we were surely approaching the end of our journey. I am quite sure that if I hadn't made the effort, I should have utterly given way. However, at length, we got to some houses at about 8.30. & Jones lifted up his voice & asked if there were British Troops about. A voice answered "Yes Sir" Then - "Who are you?" To our relief the voice replied "The Column 116" - "Is Capt. Booth there?" "Yes" So
Page 15.
we were at our journey's end. I stumbled into the Cottage & there was a fire & the Capt. made the Cook do us a stiff rum & milk – hot – for which I was truly thankful. Lees-Jones had to go out again to billet men in a large schoolroom - & also to see to the billeting of the horses & mules. Then – we ate such a meal! I woke up this morning – fit as a fiddle & fresh as a daisy! It has been freezing hard all night & a fierce wind is blowing. After saying my office & getting a bit straight, I tried to walk down to the wagon lines through the village. But the wind & cold beat me & I had to turn back. I have never met anything like it in my life. We have to draw 6 days rations in advance, for it is probable that we may be snowed up for a week together & no communication could be held with anywhere, much less rations drawn from 20 kilometres away.
Page 16.
We are housed in a small house on the outskirts of the village. We have a farm-yard attached & stabling. The house was quite bare & empty. Lees-Jones & I are in a room rather smaller than a tent & by management, we were just able to get our beds in. The Captain & Pates have another small room. Then there is the kitchen with a large fire-place and another room where we feed. The Cook & the Captain's servant sleep in the Kitchen. My servant & groom & others sleep in an outhouse. The horses are nicely stabled in a sort of cow-shed place & Polly is quite happy there. 116 Brigade are in the village – i.e. Brigade H.Q, A.B & D Batteries & our Column & a small-arms Section. So I can only minister to half my charge, for 115 Brigade are in the town also Divisional R.A. Head-Quarters. How I am going to do my work is another matter. I am going to try & make friends with the
Page 17.
village Priest, who will be either Armenian or Greek Church, & perhaps he will lend me the Church
Any warm woolies would be invaluable to me now. I understand that we may be here for 2 or 3 months, & then I hope we shall be making our way home, but no-one knows anything for certain. At any rate, it is a blessing to have a roof over one's head once more, although the house is cold & we have only the one fire in the kitchen. No doubt I shall be able to tell you more about the place when I have seen more of it. I am writing this in our dining-room & have got very cold. So I am about to repair to the kitchen for warmth. I am glad to say that Capt. Booth has drawn a leather jerkin for me from the Quarter Master's Stores & it is wonderfully warm and keeps out the wind. The men have now been able to draw jerkins & an extra blanket, & I am so glad for them.
Page 18.
November 23rd.
I am going in to the big town to-day on Polly with Putz, to scrounge things for the men. I shall also call at D.H.Q. & perhaps be able to see Mr Brereton, my S.C.F. I shall also enquire about mails & sincerely hope to get some letters at last. How I long for them! It will be a long ride, but the wind has dropped & there is bright sunshine, although it was very cold last night. My sponge was quite frozen this morning in my bedroom. Happily, my servant is able to get me hot water for washing & that is a comfort. I am going early, so must close up this letter, for I hope to be able to post it. There is no doubt that our Division is to be the Army of Occupation as far as the British are concerned, but we are under the French General here & there are large bodies of French Troops here. I expect that we are here for the Winter, but no one can tell. I am very fit & well.
Page 19.
In Bulgaria. On the Danube. Sunday November 24th1918.
I was able to go into the big town yesterday & I visited D.H.Q. & first asked for a mail. The Post office Corporal (* A fellow member of St. John's Lodge, Torquay, although I did not know it at the time, but we met at Lodge after we were both home again. His name Charles.William.Dyer.)(Listed as a telegraphist and joined the St. John's Lodge in June 1920. Stanley Carden moved to St John's from the Obedience Lodge Okehampton in October 1919)told me that he had just sent some letters for me down to the Office near the Railway Station, so off I went there & received a letter from you from Abberley dated October 27th and evidently sent off a few days after that date. It spoke of your being left in charge there & Arthur & Maudie going to Blackheath. Evidently there are letters due to me previous to this one I hear that there is a mail for the Division coming up the line – so I hope it will arrive shortly, but it was simply delightful to get this one. I am hoping that in the mail I have missed will be the cheque-book from McGrigors'. I posted my letter to you describing our journey here. With your letter, I received "The Torquay Directory" date October 9th, presumably from Mr. Laxton, it looks like
Page 20.
his writing. Also a letter from Laytons with a document for Power of Attorney to you, to sign – That was all.
I bought several things for the Mess, saw Mr Brereton, my S.C.F. & as I was walking along the main street, a young captain came up and introduced himself to me. I recognised him after a moment, it was Percy Ashton. He looked very fit & I should not have known that he had a glass eye. I asked him about his eye, & he said "this is the one" pointing to it. It was wonderfully like a real eye. He had up the Mons ribbon & the M.C. ribbon. We shall probably meet again as the Duke of Cornwall's (D.C.L.I.) in which Regiment he is, are in this Division(Infantry). The ride in was very trying for the roads are covered with ice, & the fields & the country at the side of the roads not much better, & very rough. I bought several things. A lamp-wick and
Page 21.
chimney – 10 levas – but no burning oil to begot anywhere. So the lamp is not much good to us. Short candles, 3 levas each! One frying-pan at 30 levas & a small enamel saucepan -35 levas. A hair comb for Pates, 12 levas. Cakes of toilet soap were 12 &10 levas each but we were forced to buy them or have none at all. So you see, the prices are very high. No services to-day as The Brigade has not yet settled down in the Village quite yet. I am going to visit the Priest to-morrow, with an interpreter & ask him to lend me the Church for my Services. Not quite as cold to-day, but several degrees of frost last night – no sun. It is very difficult to keep warm. In fact all day, except when walking, my feet are always cold. But I am very fit & "stick it" splendidly. It is said that we are here for a fortnight & then we go further North to occupy a piece of territory *(The Dobrudja) which was somewhat disputed between Bulgaria & Roumania, a big piece of which, the German treaty
Page 22.
with Roumania bagged for Bulgaria. How long a job that will be, I don't know – no one knows - & all is conjecture.
I rather hope we do not stay in this village. We are 15 Kilometres from the big town, 11 or 12 miles - & it is very cold, & really there is little for me to do. I don't think I have ever done so little real work as since I have been in the Army & I feel sure I should be much more useful at home. Of course what I am able to do is quite all right, but one gets so few chances of definite work. Of course it was very different for the Padres when the Troops were in the trenches & holding a line, but on the "trek" it is very difficult. When will it all end! I wonder – often and I do want to be home. Later. A big mail for the Column to-day, but nothing further for me. Being Sunday the villagers have come out in their bright-coloured native costumes which are very picturesque. They seem to wear such old rags on week-days. The girls &
Page 23.
women have wonderful hair, trailing down their backs, generally some way below the waist – some very long. I am just about to have the luxury of a hotbath. No baths mornings now. Can't be done, only in ice-water & I daren't try that. A hot bath now & then is a real treat. Sunday – cleanliness next to godliness!
November 25th.1918.
This must be my Christmas letter. I am allowing exactly one month for it to get to you- - - - - - - - - - - - -(certain Christmas wishes & thoughts here and directions about Christmas presents). - - - - - - -
It was very annoying to have my bag stolen(with my cheque book inside).One Officer on the Light Railway, on the same night felt his mackintosh pulled off him & awoke to see 2 Bulgars racing across the fields with it(& my bag), from the Railway track. * (took shots at them with revolver – but missed)
On our train-journey here, several men
Page 24.
had kit & things stolen & many bags of rations ave ben stolen off the trains, notwithstanding guards were set on the trucks. The things were stolen n the dark of the night.
November 25th.
I am getting your letters backwards, so to speak. After writing & sealing my letter to you this morning, I received a letter from you dated October 20th. You were at Abberley Hall & had evidently just sent off a previous letter which I have not received. I note that you began helping Arthur by teaching on October 21st. & that Mary is helping too. You had also received a letter from me dated October 5th.
General Milne is the Commander-in-chief out here. I have not met him. I have not met Colonel Hare either. Indeed, we do not get tobacco or cigarettes. Right up here & especially on our journey there have been no Canteens or Y.M.C.A.S.& I have not received the muffler yet.
Page 25.
Evidently, by your letters so far, you have not heard of my bag being stolen, but I hope you got the cable about my cheque-book. McGrigors ought to have sent it in time for me to get it soon. I am just going to Brigade Headquarters for tea. The Brigade Adjutant is going to try to get me an interview with the village Priest of the Orthodox Church with a view to his lending me the Church for Services. No Romanism here, but * Eastern "Orthodox" Church (* As a matter of fact, I was wrong. The Bulgar Church then was an offshoot of the "Orthodox", a sort of Non-conformity. I think I am right in saying that now [1947] they have been joined up again for some time.)
November 26th.
The village Priest was in town yesterday & I did not see him. I am going to see him this evening accompanied by an American-speaking Bulgar as an interpreter. You wonder how it is I do not meet more people I know. At home you can have no idea of the disposition of our Forces. 115,000 are scattered all over the place & I may pass by unit after unit & not see people I know who may be there. Down at the Base, units are scattered
Page 26.
over the country for miles round Salonica. All along the lines of communication are others. Some are now gone to the Dardanelles & that way. It is practically impossible to see any but those in this Division & the Division is also scattered over many square miles of Country round here. If we move from here, the units will be many miles from each other. One lives one's life in one's own little unit, now confined to one Brigade of Artillery & there is no one near us here for 11 or 12 miles. As for General Milne, he is the "top dog" of all & it would be a very unusual event which would take me anywhere near him & if I even stumbled upon Advanced Head Quarters, it would not be possible for me to seek him out merely to claim a mutual acquaintance. HisHeadquarters are the H.Q. of the whole British Army. It is difficult to approach our Division H.Q. & when I have been there, I have never seen the Major-General in
Page 27.
command of the Division once & he was on a hillside at some distance from me. I expect that Col. Hare is in another Division of R.A. He is not in this one. No one here seems to have heard of him. I saw about Mr. Wrey's funeral in 'The Torquay Directory" & I am writing to Miss Wrey. I noted that Owen was mentioned as "representing The Vicar of St Mary Church who is in Salonica". I smiled, for I was 100's of miles from Salonika.
The only tobacco we are receiving now is "issue" tobacco provided by the Army Authorities. I have even smoked mouldy tobacco, for one issue was mouldy, but what can one do when there is nothing else! This week they issued Bulgar tobacco which is very light & burns the tongue. It is not really meant for pipes. The Bulgars roll it into cigarettes. Gold-Flake cigarettes are a luxury. Our Brigade Headquarters got hold of some Woodbines, & their Mess, from the
Page 28.
Colonel downwards, have been smoking them. Lees-Jones is fortunate, for he gets a regular consignment of tobacco & cigarettes from home & he is very generous with them. But one hates scrounging on other people all the time. I want my boots mended, but although we have a boot-maker in the Column, there is no leather to be got anywhere. I shall be reduced to buying a new pair of boots from Army Ordnance & goodness knows how long they will take to get to me. Boots in the big town may be had for about 500 levas a pair. Naturally I'm "not taking any". There is no frost to-day, a real November-day, mist & rain & the roads thick with indescribable sticky mud. The "roads" are really tracks with big stones dumped down anyhow & the carts and wagons bump, bump along & sink deep in the mud, so traveling is very uncomfortable & miserable.
Later. Rain, rain, rain. I puddled
Page 29.
over to the other end of the Village to see the Priest & I was unfortunate for he had gone to minister to a dying farmer 10 miles away. The mud is awful. But although the roads are so bad & the village tracks & streets, I am glad to find the People remarkably clean & they keep their houses beautifully clean.
This afternoon I have been selling horse-skins. Our poor horses have had an awful time, work, work, work & underfed the whole time through. I wonder that there are any left. 3 of the Column
died last night from nothing but exposure & overwork & underfeeding. One died to-day. That makes 4 & others are sick. The Captain is very upset about it. They were dragged together, poor things & I sold the hides. When I had sold one, the Bulgar who bought it (1st paying the money on which I insisted) made the sign of the Cross in a very devotional
Page 30.
manner & then started skinning the animal.
November 27th.
Still a miserable day and mud, mud, mud – seas of mud. If I walk ot I wear my gum-boots. I went to see the Village Priest to-day at about 12. noon & he received me most hospitably. He brought forth wine & cheese & bread which we ate & drank. He was very nice & the upshot of our conversation was that he himself would be very pleased to lend the Church for the soldiers but he must write to the Bishop in the big town. *(The Bishop of Rustchuck) This he has done & the Colonel is sending the letter in by an orderly to-morrow. I visited the Field Ambulance to-day which is dumped in the School, quite a modern building. The Ambulance is full up & the out-patients increasing in number as well as the in-patients. One poor fellow, I fear will not live long, he has the old trouble, bonchial -pneumonia. Brereton, [Eric Hugh Brereton] my S.C.F. has been here today
Page 31.
to see me. He motored from the big town. He was able to bring me 20 Service books & I have a brigade!! of men. We are fearfully stuck up for matches & I do hope that you have sent some lighters and spares. We cannot get burning-oil & the ration for us 4 Officers & 4 servants is onecandle a day & we want 1 candle for the men , 1 for the Capt.'s & my bedroom, one for the other bedroom & one for the kitchen which is also the bedroom of 2 of the servants & is only just big enough for them to get down on the floor to sleep.
November 28th.
After Breakfast. The sun is rising through a thick mist & I think we shall have a bright sunshiny day. It is colder & if we have a clear day it probably means frost. I do hope that some thick socks are on their way to me now for I want them badly & I should be so thankful for two pairs of thick stockings.
The latest rumour is that all regular
Page 32.
Officers are to go on leave for one month – that means that they have one month in England. When they return, the occupation of the country is to be undertaken by regular Troops & all temporary Officers & men to go home. It is only rumour but I hope it is true. In that case I ought to be home in 3 or 4 months. It is something to look forward to. No doubt we shall know definitely because it would come out in orders. I am writing several Christmas letters now & have already written to the Bishop of Exeter & to our Archdeacon. I hope to write to Miss Mills, The Asst. Clergy & the Churchwardens & others. I don't think you need fear that tobacco & cigarettes will not reach me. I think it best to sew parcels up in canvas or something like that. Lees-Jones cigarettes & tobacco came through all right. I am very greedy for mails, for I know that there must be several
Page 33.
back mails somewhere for me, but it is so nice to have had some letters recently. I wish I were at home for the Peace Celebrations. We get a certain amount of news by wireless in a type-written communique which goes the round of the messes. We call it "Comic Cuts"! Our latest papers from England are October 27th. Lees-Jones gets the "Daily Mail, Mirror, Sketch, Tatler & the Manchester Guardian. My last Torquay Directory is October 23rd. I have only received two in all. We've bought a goose for 25 levas but he's a poor bird & we are fattening him up – We have him in our yard tied by the leg & I've christened him "Thomas". I am sure you would smile at our housekeeping, but Ginn (or perhaps Jinn), our Cook is really quite a good cook it is quite wonderful what he makes of "bully-beef" - stews & rissoles & and other tasty morsels it seems hard to think that poor old Thomas is destined
Page 34.
to die in due course. Putz, my groom is ill, so I am trying not to use Polly. I have arranged for my Servant & Mathie – a Scotchman, Lees-Jones' & Pates' servant to sleep with the grooms in a billet across the road. There is a really nice old Bulgar there, an old man & his wife is nice & they look after their lodgers like a father & mother. Westhead & Mathie were in an out-house, very cold & damp. The Capt. is just now superintending the building of a causeway of big stones from our door to the road through the mud, it will certainly be better for our boots, but the road itself is awful. Going across to the Field ambulance the mud is 'liquid' one walks through it as through a river, in gum boots.
The sun was beaten this morning (I am writing now in the afternoon) & the mist has descended & blotted out the landscape. 20 tons of
Page 35.
of Canteen Stores are supposed to have arrived at the big town, so we are looking forward to having a few extras in the way of food – soap, candles etc.etc. We have applied for so many geese, turkeys & Christmas puddings but we doubt whether we shall et any. We want them for the men of course as well as for ourselves.
In Bulgaria.November 29th1918.
I sent my last letter off in a hurry this morning in order that it might get away to Brigade with the others.
Nothing has transpired to-day except the arrival of another member of our Mess – the Veterinary Officer, who has been down at the Base with dysentery. His name is Wolff. I visited the Priest again, we may use the Church on Sunday. That makes things much easier for me. I don't remember whether I told you that, to my deep sorrow, I lost my stick with padre on it, some weeks ago.
Page 36.
I have now broken my yellow one, & march about with a cricket stump. When I get into the big Town, I shall buy one if I can. You would hate this place for the farms & cottages where the men are billeted all have dogs & very fierce ones indeed. The dogs are half-wild. One must have a stick for self-defence. Going to a farm without a stick the other day, 2 dogs attacked me, one on each side & I had all I could do to keep them at foot's length. Happily the farmers came out & sent them off, but they were veryfierce. Even down in Macedonia the dogs are wild & in the winer hunt in packs – sometimes with wolves. No more news about the rumour about going home.
December 1st.
I could not write yesterday. Early in the morning I started for the big Town with Lees-Jones. We only heard late on Friday night that the Field Cashier had come to the
Page 37.
big Town & we all wanted money. He does not come again until January. We started in fair weather, but ran into a fog & when we got to Town it started raining & rained all day. We rode back in the rain, which was misery. But I managed to keep dry. I had my leather jerkin on, & trench-coat over that. As the Trench coat is made for riding, it is very useful. I have indented, however from Ordnance, for a fur-lined "British Warm" & for a pair of thick boots, for more weather is to come. From Ordnance, one gets things very cheap. To-day, Sunday we had the use if the Church & a very nice Parade Service with Holy Communion to follow. Being in a Church, it was so nice & the surroundings were helpful. I did not use the Greek Altar, but rigged up a table outside the Screen.
The Adjutant read the Lesson & several Bulgars attended – out of curiosity I expect. I buried a poor fellow from D Battery this afternoon. He died in
Page 38.
the Field Ambulance of Bronchial-pneumonia. I was able to minister to him before his death. We buried him in the Bulgar cemetery & several Bulgars attended & wept copiously in sympathy. It was rather nice of them. So much for my doings . And now for an expression of real joy in receiving much back mail to-day. I have been so happy, having a nice Service & Holy Communion & all these letters. I will tell you which they are.
They are.
One– dated October 1stenclosing note about Miss Eleanor Jones. Another from Edwin Smith & a leaflet.
Next, (numbered 2) October 6thfrom Cary Castle enclosing one from Dear Mary – with the smelling salts.
Next, (numbered 3) October 10th, enclosing printed account of prize-day at Pangbourne.
Next, (no number) October 15th,from Summerlands, then I received -
1. Mr Anthony Cobb. 2 Mr Owen
Page 39.
3. Mr Tippet (John Roberts Tippet, postal Clerk from Okehampton), with Freemasons' notices.
4. Another, Sept. 29thfrom Mary
5. Another from the Padre who travelled to Taranto with me (he is invalided home)
6. A letter from England about a soldier who died before I joined the Division.
What a mail! Guess my joy – especially of course at getting your back letters and Mary's
And now to make comments -
I am glad you got my telegram saying I had arrived. I have not known whether you received it until now. Evidently you were very busy while at St. Mary Church. How jolly to see Paul on the film! You were very wise about the Income Tax People. Major Flint maybe R.A. or he may be Brigade-Major to a Brigade of Infantry, but I have not run across him. I think there is little hope of seeing Miss Eleanor Jones If I were ill & evacuated, it would probably not be the 43rd. General Hospital – and that
Page 40.
may be anywhere now. It may be advanced up the line , but I don't think that the "General" Hospitals are. By-the-way, talking of Hospitals, I met Teddy Watkin in Town yesterday. He is, as you know in the R.A.M.C. & I had a nice talk with my old Okehampton Boy-Scout. I have not got the sweater yet. I must write to Archdeacon Sanders with regard to his kind invitation. I liked Paul's speechverymuch. I wish I could have heard him deliver it. You must have been quite proud of him. How kind of Sister * (The Reverend Mother. Community of Our Lady St Mary- then "Sister Mabel".) & Miss Tatham to give Mary such a nice present. I am glad you went to Miss Mills. She was no doubt very pleased. I have not yet received the socks from Miss O'Donoghue. I think that these comments cover all your letters & now I hope to receive more soon – for I am verygreedy for mail. A very happy day.I am very fit & well.
December 2nd.
I went out early on Polly with Putz & accompanied Mr. Pates' section
Page 41
to the watering of their horses. They water them some distance away. Pates & I visited a farm where we bought a goose (patka) for 20 levas. They only had 4 ducks & we tried to get a duck (gaska) but they would not part with one. Had a nice canter over the turf. Snowed a little this morning, but nothing much. Putz brought the goose back under his arm on horseback. I have called her 'Susan' so Thomas now has a companion. Tiny bit of a cold to-day, but I don't think it means to be much. I have stayed in since about 11.30a.m. After tea I have to go to B battery Mess to see the O.C. & get particulars of the man I buried yesterday.
It is remarkable that the two Padres I knew best before I came up the line, both went sick. Ferris was taken to Hospital from G.B.D. before I left there, & Bald, with whom I travelled all the way to Taranto, had malignant malaria after being at work only 4 days & is now in England, at least
Page 42.
he was starting in a few days after writing to me, & that was October 22nd. - Fancy! He wrote to me from Salonika on that date & I have only just received his letter.
December 3rd.
Rain, rain, all day. I went out on Polly this morning with Putz on the other horse & saw to the grave at the Cemetery & buried the bottle with particulars. Afterward, to the Field Ambulance. My small cold seems better to-day. I think I have kept it down by some quinine Lees-Jones gave me & by the smelling salts you sent me. This afternoon I went to Brigade Head Quarters & had tea with the Colonel – luck man – he goes on leave to Blighty to-morrow. Oh the mud! Coming back in the dark! Just short of my knees in places. I had my gum-boots on.
The Colonel told me that it was out in orders that we may say where we have been. So you must out with a good map & you can follow my route from Taranto. We landed right
Page 43. from here the hand changes ….believed to be Revd. Carden's widow of his second marriage. There are now both pages of an opening with text.
Up the Gulf of Corinth at Ittea,by motor from there to Bralo. From Bralo by train through Atlanti
Lan---, Larissa ,Platan----- to Salonika. From Salonika to Dudular ( part of Salonika) from there to Ce---- walked to Kalinova. Then to Janes, back to Kalinova then from there by motor-lorry by Gugu--- Doiran, Sistova Kostivino, Sku—itsa, Jennikoi. From there by light railway throughPetrich to Krupnik, then through Sunitli, Karasukoi, Dju-aja, Dupnitza, S----kov Malala Kostanik – by road. From Kostanik by rail through Sofia and Plevna to Rustchuk (Rustchuck is the "big town" that I have spoken of so often recently) From Rustchuk to this place (14 ilometres) which is called Cervenovoda, and means "Red Water" You will not perhaps find all these names on the map and they may be spelt differently. The "bone of contention" is the Dobrudja,
and that piece of territory is responsible for our being here. From Kostanik we nearly went to Mustapha Pasha and plans were made for attacking Adrianople, and then there was talk of our going to Constantinople, but another Division has gone that way, and after some of Division had gone to Mustapha Pasha, they were recalled. Our orders were cancelled, and we came straight up here. Some units have gone to Bucharest in Roumania, some to Silistria, some to Verna. The 7thInfantry Brigade have gone to Odessa. So now you [know] something of the stunt we are on.
December 4th.Nothing particular has transpired to-day, excepting that I have had the delight of a hot bath – in my canvas bath, of course -I do find it so horrid not being able to get a bath of any kind more than once a week – It is unfair to expect my servant to
Page 44.
boil the water etc. more often. I am writing this in the evening, for we have a decent light now, there having been an issue of paraffin. The vet. Officer – Wolff has been to Rustchuck to-day and brought back 5 tins of butter! So we are quite pleased. The first butter I have had out here excepting only the rather cheesy butter I bought at Kostanik. Rain practically all day to-day.
December 5th.A very dull day this morning which turned into rain. I plop-plopped about in mud and visited the Field Ambulance, where I am happy to say there are now no serious cases. The men I am most sorry for are the poor Indians who are muleteers in the small arms section.They suffer from the cold terribly and four or five have bad trench feet from the wet and mud. Of course they "put it on" a bit and look at me most pathetically and like a lot of sympathy. One of them offered me a cigarette, which I took, of course, and lighted off his. They do look really miserable. Alas! I have broken one of my two only remaining pipes, and I have only one small one left. The Bulgars stole my other two in my bag. I have arranged with my American speaking Bulgar to take me to their Service on Sunday at 8a.m. They will have ben going at it for two hours before I get there, and they go on until 9.30. I shall have breakfast at A Battery Mess which is close to the Church and be there ready for our own Service at 10.30. I am writing this just after tea, while there is just enough light, and two little Bulgar boys are listening to the gramophone (which is going) outside, smoking cigarettes
Page 45.
and dancing. They are very funny. They have just called two more to listen. One has just gone plop on his face in the mud!
December 6th.
The Priest has sent me over a bottle of wine to-day. He has 15 acres of vineyard and has his own brew. It is very nice of him. I asked the messenger to thank him. Iy is no use writing a letter , because he couldn't read it if I did. I understand that the Bishop of Rustchuk has kindly given permission for our Services to be held in the Church. So that is all very satisfactory. More horses dead – altogether the Brigade has lost twelve horses and mules while we have been here. It is rather serious and I think the vet department have "the wind up" about it. We are told that the A.D.M.S. (one of the Staff Doctors) has said that he can' be responsible for the health of the men if they are kept much longer under these conditions. I don't know how true this is. If true, I hope it will help the authorities to make up their minds to send us home.
December 7th. Sunday
I got up early this morning to go to Church. As my Bulgar friend did not call for me, I strolled down towards the Church. I met a wedding-party and behold! My friend was in the procession and I asked him how it was he had not called for me, and he said that his uncle was getting married! What I can't understand is that on Thursday when I arranged for him to call for me, he apparently knew nothing about the uncle's wedding. The wedding processions are rather funny. At the head, two men, one playing a quaint repetition of a few notes on a sort of violin, accompanied by the other on a very primitive kind of bag-pipes,
Page 46.
evidently home-made. The procession follows in a staid manner behind. All the girls look very nice in their bright aprons and coloured costumes, and the men too. My friend's costume was – a fur cap something like astrakhan – the hats are very picturesque – He had on a sort of double-breasted blue quilted coat which comes right up to the neck and ends at the waist. I cummerbund twisted round his middle – baggy, very baggy brown trousers – or breeches rather, braided in fantastic devices down the sides, not at all shaped to the figure, and sort of puttees bound round the legs, claret-coloured. Soft shoes made of hide (home-made) bound on with thongs of hide.
There was another wedding after our Service, and I found it very interesting. The Church has no pews and whenever anything is going on the people crowd round, so that it is difficult for the old verger to keep a space for the priest to do his job.
First the couple arrive at the Church porch with (I take it) her or his mother and father. They sign a Register or document in the porch, then the Priest retires to put on his Cope. He is attended by a boy (in ordinary clothes) who holds his Censer for him and keeps it alight. The party – Bride, Groom, Father, Mother and the Priest – all hold lighted tapers which are distributed and lit by the old Verger. Then prayers – the Priest censes them, and then there is some putting on of rings – on both bride-groom and bride as far as I could see. The rings were placed on the first finger in each case – then I think I saw the rings changed from one to the other – then back again – then more
Page 47.
prayers. Then all repair to a table in the middle of the Church – whereon is a book, a Cross (lying down) and a glass of wine and two crowns ( made of some white metal). The crown for the bridegroom with two hoops the one for the bride with only one: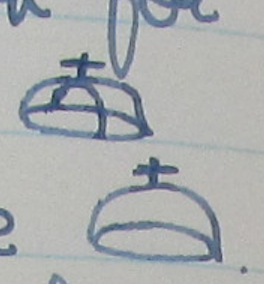 Then prayers, they all kiss the book and the Cross and cross themselves etc. and then more prayers. Then they are crowned, the crowns are kissed and put on – then the crowns are interchanged by the Priest crossing his hands, then put back as originally. They all drink from the glass of wine. Then all four take hands and bow to the Priest on one side of the table, and so at all four sides, he censing them the while. This is done three times, and with some more prayers the ceremony is over.
It is dull today, and very cold, but no rain. We all think we shall probably have a heavy fall of snow soon. I have a nasty cough – but otherwise am pretty well, only a cold.
December 9th.
I have nothing much to report to-day. I don't feel up to much. My throat a little swollen etc. I have a thorough cold, but it is passing and I was well enough to go out with Mr. Pates to help drive his horses in from grazing. This involved a long walk, so I can't be very bad. Mr. Pates, lucky man, goes home to Blighty on leave, and starts to-morrow! How I envy him! Now the Colonel has gone, Major Hepburn of A Battery is O.C. of the Brigade. He has been here to-day and hints that we are not to stay here for the winter, but to go to a place in the Dobrudja. I asked if it was as cold – and was told – colder. So that's all right – and we know what to expect, don't we? Of course
Page 48.
it must be remembered that I am B.I. and I can claim to go back to the base if I like. The Principal Chaplain at Salonika told me at my interview with him, that if I found it too much for me up the line, they would recall me to base, but of course, I shouldn't think of giving in unless invalided back. The anxiety I have now, and not a selfish one, is that if there is going to be demobilisation during the next 3 or 4 months, I felt I certainly ought to be in an important Parish like St Mary Church at such a time – and also in the midst of all the after the war problems in England. Of course I have the 2 years contract, but I contracted to assist my country in Wartime, and not in Peace. There must be several younger men who were Assistant Curates who could take my place and who would be only too glad to do so – for they are better off in the Army than in a Curacy, and have no home ties or the distraction of an important benefice. In fact, unless they seem disposed to move me towards home – say by March or April, I think the St Mary Church people might well petition the Bishop to interfere. If I felt that I was really doing work of real value, I would not write like this, but there is no possibility of getting at the men – not even in my own unit. There can be no possibility of recreation – rooms. There is no Y.M.C.A. - nothing. The men are scattered in billets, and after dark inaccessible. I can merely visit the Field Ambulance (which has about 2 dozen bed-patients now) and take Services on Sunday – I simply have no opportunity of doing more. I can't help feeling
Page 49.
that it is a terrible waste of time. I have no books and can't improve my mind even, and I have only newspapers a month old. My companions are good fellows, but we never talk anything beyond horses, harness, canteen stores, domestic affairs, the movement of troops, and Blighty. If I could get among the men it would be so different – I'd give anything for a Y.M.C.A. Purfleet, as regards my work, was Elysium to this.
December 10th.
I have read over what I wrote last night and fancy that I must have given rein to a fit of depression but at the same time, I let it stand, because it is true after all. I am happy to say that I felt better before going to bed, for I received some mail last night. I am glad to know that you have really heard of the loss of my bag. My socks are in holes now - and there is no wool to mend them with. I shall indeed be glad of the things you are sending – no doubt they will arrive in time if carefully packed. I am so glad the influenza is abating, what an awful scourge it is I wonder what is really the cause. I think it must be of a more virulent type because everyone is underfed. I wonder when we are to move from here, if we are to move! At any rate, I hope that the time will pass quickly. I suppose the Armistice ends tomorrow. If so, surely the Peace terms are settled – for Germany won't go on – she can't. We are hoping that if the terms are settled it will not be necessary to keep us here and that demobilization may begin. We understand that no reinforcements are coming up now, and no one expects those who are going on leave to return
End of Notebook 2
Book 3:
December 10th. 1918 - May 6th. 1919
Page 1.
unless they are regulars, and even then perhaps they will not be wanted. I feel so much happier to-day.
December 11th.
A most lovely day. I arranged to go and visit 115 B.A.C. at Strokless. Seven miles across country – Putz and I started out on Polly and Billy this morning, and we have had a lovely day. I was very pleased with myself, for between us and Strokless there are no houses or signs of human habitation, all wild. I steered by the sun and tracks over the country but so many tracks that they were but little guide. I went straight to my destination. I saw Capt. Stokes and the officers there and had lunch with them. I arranged to go over, after our Service on Sunday, to hold a Service for them. I reckon to get there about 2.p.m. One of the officers there is a Lieut. Hill, who lives at Eveshaw. He is second on the list in his brigade, to go on leave, and expects to be on the way in a week or two. He tells me that he also had a bag stolen on the Railway. I did not remember it. He went back on the railway a little way, and I think it took place then, after I had left him. Being such a beautiful weather, it was such a nice ride, and Putz is a very nice man, and quite a companion. He is a very sensible fellow and a great acquisition. I do hope we get some more days like this. It puts one in a better frame of mind. Sometimes I get (well – not exactly depressed) but "fed up" as we say. Sometimes I feel I don't know what I should if it were not for Lees-Jones. I'm just going to have a hot bath, which is always a great joy. It seems quite certain that we go on to Dobritz in the Dobrudja. Capt. Stokes says that the wagons go by barge along the River Danube, and the horses by road – and that we shall not have to camp out, for billets are arranged for us in the villages en route. I am much better in health to-day.
December 12th.
A fine day, but no sunshine. However it was nice for riding, so Putz and Billy and I and Polly went out for a canter, calling
Page 3.
at the Field Ambulance on the way. The Demobilisation Scheme has been sent round, and the Army will not be demobilised by units, but men will be sent home bit by bit so to speak. The scheme seems very sensible and workable, but nothing is said in it about officers – only men.
There must be.
1. Transportation systems.
2. Distribution of labour.
3. Buildings and factories to receive workers.
4. Agricultural production to be considered.
Men cannot be returned home indiscriminately. There is the question of the organisation of a New Army to be considered – storage of armaments – disposal of surplus animals – stores & equipment.
Men at home and abroad will be demobilized by equal numbers daily & according to the requirements of industry. There will be a priority list – selection according to the length of service in the field or soldiers enlisted before the war. Married men to be demobilised as rapidly as possible consistently with priority of industrial groups. Men will be sorted abroad into collecting camps. The actual process of the demobilisation of each individual man is described. It will be a big job, and doubtless will take a long time. Of course I have no idea whatever what will happen to me as the process goes on. The one thing about ourselves here seems to be that, at present, we are really wanted for occupation of the Dobrudja.
Page 4.
Here is Mathie, the mess servant, our Scotsman, to turn me off the table for tea.
December 13th.
I went into Rustchuk to-day - Being a nice sunshiny day, it was a pleasant ride. I wanted particularly to see Mr Brereton, my S.C.F. and I found him at his Mess. He asked me to luncheon, so I stayed. I wanted to see him especially with regard to my changing my unit for Mess and living. I explained the position & told him that the situation here had been nigh on intolerable. He was most sympathetic, & I expect that before long I shall go either to brigade H.Q. or to one of the Batteries. However it is merely a change of Mess, & I still minister to the Divisional RA Brigade HQ & all the Batteries of 116 are all in this village. I don't want to leave the Brigade, but only the Column.
With better weather, things have looked up a bit, & everybody seems more able to endure the conditions under which we live.
If I move from here I hope I shall have the use of a horse for Putz, for without it, I shall lose his help and attendance whenever I go anywhere. I am very fit and well again & my cold seems to have quite gone. I hope that we have some more of this nice weather, for it will shorten the winter considerably. After Christmas I propose to write an application to be sent home on a plea that I ought to be in my Parish as the process of demobilisation takes place. One can
Page 5.
but apply – for no one will think of it by themselves, nor give it a moment's consideration, unless it comes up before them.
December 14th.
Cold rain with a N.E.wind – most unpleasant. However Putz and I braved it and exercised Polly & Billy this morning. We had a horrible night. One of the Veterinary Officer's horses died in our yard at about 11.30p.m. Poor thing – it had a bad time, & just at the last broke out of the stable, turned somersault in the yard & died. We were all in bed but the V.O. & there was nothing for it but to leave the carcase in the yard.(The yard is the side of the house where Mr Jones sleeps – on the ground-floor, there is no upstairs) At about midnight, dogs gathered - & the noise was awful – growling & fighting & shrieking & barking. In the morning the horse was half eaten and I said to Lees-Jones – surely there were a dozen dogs there – He said "a dozen" there were four dozen. He guessed their numbers at about fifty (he saw them in the moonlight) so you can imagine – no, I don't think you can imagine what it was like! The servants daren't go out in the morning. They said that if they had done they would have been eaten – However, with daylight, our visitors dispersed. Lees Jones said he didn't use his revolver out of the window because he thought we should "get the wind up" but we should have been thankful. I do hope that the weather will be
Page 6.
better to-morrow, for I have to take a service at Strokless as well as here. We lost our geese to-day – eleven in number now – but we went after them & somehow have driven 14 home!!
December 15thSunday
Putz and I feared that we should have a bad journey to-day as it rained hard last night – but to-day, although dull was fine overhead & the wind had dropped. I had a nice service here in the Church: followed by H.C. with a nice number of Communicants. Putz brought the horses to the Church & I went straight off to Strokless. We ate sandwiches & biscuits on the way, for lunch, and got there in nice time for 2p.m. Service. Very hearty, the men sang so heartily. We had "All people that on earth do dwell" as a thanksgiving for Victory & Peace & I preached on "Thy Kingdom Come" I was very tired when I got back here but a good dinner has put me right again. I shall go to bed early - But I generally go to bed at about 9p.m. - after getting in, read awhile & settle down just after ten. Westhead brings a cup of tea at 7 & I generally get up at about 7.30. So I get very good rest. & I really think I am fatter than I was. I hope that they won't move us before Christmas now, for we are settled here & the Services will come all comfortably on Christmas Day.
Papers arrived yesterday for some of the others & we have read about the doings in London when peace was declared. What a time they must have had
Page 7.
December 16th.Monday.
Great joy to-day! I have been transferred to Brigade Headquarters – as I wished.
Putz & I went out about 10.30a.m., with our lunch in a Haversack, & explored. It was a very raw day & the wind was cold – but we faced it & rode across country about 7 miles in a S.E. direction. We came to nothing for a long time, but topping a hill out of a deep valley, spied a village, so we made for it. I picked out the best house & we went straight in to the farm-yard. An old lady came out & I explained that we wanted a shed for our horses. She soon understood & we put their nose bags on & got out our own lunch. A Bulgarian soldier then appeared & was most friendly. They got fodder for the horses & invited us into the house. The soldier explained that he had been a cavalryman & had fought against Roumania in the Dobrudja. We had a lovely warm by the fire & they brought out cheese, hot bread & beans & vegetables & we made a good lunch. They would not think of taking payment. We had quite a nice lunch & a smoke, attended by the old lady, son & 2 daughters. One daughter and the old lady sat spinning. Coming back again we were quite warmed up, & with our backs to the wind did not feel the cold. On arriving back I found a letter from the Brigade Adjutant transferring me to the Brigade Head-quarters & saying that he had a nice billet for me, and would be glad to see me at dinner. So I got one of the Column carts & transferred self,
Page 8.
2 servants & kit here – and Polly, of course. I have a large room in a house with very nice Bulgar people, most kind and attentive. Adjoining my room, communicating by a door, is the Ante-room – where Putz and Westhead have taken up their abode. So we are all together and very comfortable. My room has a real double-bed, pictures, eikons & curtains to the windows. A nice table with a table-cloth, on which I am writing now – chairs, and everything so nice and all to myself. Putz and Westhead have gone to bed and now the other side of the door. We have a stove and have had a lovely fire and we have made ourselves tea with the tea-tablets which have come in so useful at last – do send me some more if you can get hem. I was welcomed most heartily at the Mess. The members of the Mess are the Colonel (but he has just gone on leave to England, he is a Regular, and a D.S.O.),the Adjutant – Captain Stimson, the orderly officer of the Brigade – Lieut. Chievely and the Doctor – Captain Galetly. As the Colonel is away the Major of A battery has come to H.Q. but just now he happens to have gone on a jaunt to Bucharest – he is a nice man. We were very jolly and all is so changed – I am simply delighted – I am quite sure that life will be much more tolerable now – the S.C.F. soon fixed it up – in 3 days – and I am very grateful to him. Added joy – to-day I received from you the helmet which
Page 9.
Mary has made – and letters from all my dearest ones. Also a parcel from Miss Mills with mittens, muffler, washing soap, two tablets, toilet soap, woolen balaclava cap, Treasury of Devotion, Calendar, Daily Office Book, from Mr Owen, parcels etc. all so useful. I am so pleased – so have had a very happy day & am so thankful.
Cervenovoda– December 17th.
I have had a fairly quiet day to-day, enjoying my new billet & setting things in order. However a rather important matter came up this afternoon. All Officers in the Brigade were ordered to attend at the Brigade office at 4p.m. Three things were considered-
1) Lectures to be given to the men who desired to take them, on any subject that a lecturer could be found for.
2) A choir for the Church services.
3) The obtaining a piano from Rustchuk, with a view to entertaining the men with concerts in the School, where the Field Ambulance is. The whole Brigade could not be entertained but probably 2 Batteries could be entertained together. The lectures are the outcome of a scheme drawn up by the authorities for educating the men in order to impart knowledge on a varied number of subjects. Of course I was descended on at once with the suggestion that I should lecture on History and English – of course it is frightfully difficult without any text-books. Fancy having to give ten lectures out of my silly old head! But I'm going to try – all the lecturers will be in the same cart – the Doctor
Page 10.
is going to lecture on medical diseases and sanitation and health, the Adjutant on elemetary mathematics. I am sure I shall have some fun out of this.
I thought it awfully nice of major Hepburn (O.C. Brigade) & Major Shaw (D Battery) to be keen on the Church Choir. It is really decent of them. We have an organist and choirmaster, a Bombardier in D Battery, who will take Choir Practice – with no instrument of course – but we shall sing parts – the Bombardier is doing them in MS. In any case, these attempts will somewhat brighten the men's lives and create interest. My little "flat" is very comfortable, and Putz and Westhead are very happy. We have scrounged quite a nice lot of wood for our fire. I have a kettle of my own, and I am going to Rustchuk tomorrow to buy a small tea-pot and a pan for boiling bath water in. I believe that when I go to dinner at Mess to-night, Putz and Westhead mean to have a beano, for Putz came in to-night with a tin of "herrings in tomato sauce" which he has evidently scrounged from some Battery or – perhaps – the Brigade canteen.
December 18th.
A fine day but no sun. I went into Rustchuk with the Adjutant & got a few things I wanted – I bought a small teapot. Putz was rather upset, for he lost a nose-bag , with a feed in it on the way. I gave notice at the Division Post Office that I was transferred to Headquarters. In the E.F. Canteen I actually saw some British sailors! It was so nice to
Page 11.
see the Bluejackets. I couldn't help clapping one on the back and telling him how glad I was to see "Jack". He was awfully pleased & I had a chat with some of them. They were from Mudros & are on British ships on the Danube. One of them knew Lieut. Watts (Jack) by name, but none knew him personally. I saw my S.C.F. and he has sent me 50 Hymn-books so I have 75 now & I am delighted. Services have been difficult with so few Hymn-books but, considering, we have had very hearty singing. Lots of men have given their names in for our choir – men from all over the Brigade – I am to have a choir-practice on Saturday night at 6p.m. The Adjutant bought a tuning fork, so, with an organist and choirmaster to lead us, we shall have some fine unaccompanied singing on Sunday – I am delighted. My new new quarters and my Mess are still very jolly – and I am much happier that I have been since I joined the Brigade.
December 19th.
A fine day with sunshine. The Orthodox Church seems to keep St Nicolas today and it is a public holiday – all dressed in their best - After lunch we had great fun. The Adjutant set the gramophone going and the people in the house came out and the girls joined hands and danced. They seemed to enjoy it thoroughly. Yesterday Mr. Brereton (S.C.F.) told me something about British troops having to occupy Germany because of the menace of Bolshevism, and demobilisation to be delayed. Of course
Page 12.
we know nothing certain, but I hope it won't affect our demobilisation. We hope to stay here for Christmas now, and perhaps after Christmas we may go to Dobritz, but one never know, it may all be cancelled. Several Officers have got passes and leave to spend 3 or 4 days in Bucharest but I shall not apply as I have come out so recently and also, I hear that it is a tremendously expensive business, not less than £20 or £30. The Doctor goes tomorrow but he is invited to a banquet which is to be given by the Roumanian Medical faculty to British Army doctors. The King and Queen are to be present. British Officers have been received with enthusiasm at Bucharest. They seem to have had a real rag the other day dining with Roumanian Officers, great joy in Roumania at their release from the Boche. Bucharest also seems noted, according to those who have been, for very pretty girls!!! It is a glorious night but no frost. We have had the "Barcarolle" from "Tales of Hoffmann" on the gramophone to-night but not the same record as ours, however, it brought memories.
December 20th.
Not much today. My landlord lost a little pig yesterday and it was seen at the school (the Field Ambulance). 3 women are supposed to have seen 5 soldiers, one of whom picked up the pig and put it under his arm. The Adjutant and I made enquiries but with no result. So the Adjutant paid for the pig out of Canteen funds. I was very sorry about the whole thing
Page 13.
for these people are very nice. The wife is the daughter of the priest who ministered here before this one and who died five years ago.
No other news except a rumour that we leave here on the 27th December. Now I am so comfortable, I don't want to move. I go to Choir-practice at 6p.m. and am looking forward to it. Christmas is so near now and I cannot realise it one bit. I fear that whatever takes place here I shall be rather a sad old thing at heart. Ah, well, patience – patience – and all will be right one day.
December 21st.
To-day has been uneventful, the usual routine. A satisfactory choir-practice this evening – we ought to have excellent singing to-morrow. The adjutant is very good and helpful. This evening both he and the Brigade orderly officer – Cleverley – came to choir-practice. The Colonel being on leave Major Hepburn, Commander of A battery is O.C. Brigade and lives with us at H.Q. he is an extremely nice man – Major Hepburn has been to Bucharest, & his description of his experiences is most interesting. I like my room more and more & am very sad at the idea of having to leave these quarters soon – we expect on the 27thor 28thinst. We ought to have another mail soon – I have not had any parcels yet. The D.A.D.V.S. came & lunched with us today. He said that the Christmas mail left Salonika 3 days ago, that means that we don't get it for at least another week. He also said
Page 14.
that he has been to Dobritz & that we shall be quartered there.
December 22nd.
A lovely day, we have been really fortunate on the whole, in weather since we came here. I still have a nice number of communicants, Putz and Westhead are both communicants and both help me to get the vessels ready and the altar fixed up – quite good at it.
We have definite orders to move on Friday morning next. On Christmas Day all Brigade Mess dine with A Battery because Major Hepburn is O.C. of A. & the A. fellows want him for Christmas. On the following evening all the O.C's of the units are to dine with us at Brigade. Coming back this evening we came by the dancers on the village green. On Sundays and holidays practically the whole village (young people) men and maidens turn out and dance. The dance is very simple – they all join hands in a circle and dance a sort of two-step in towards the centre and out again, the piper moves up and down inside the circle piping on a sort of glorified wooden-whistle. I shall be quite sorry to leave the Church here and the priest, as I have come to feel quite "at home" here. I am rather hoping for a mail tomorrow.
December 23rd.
I simply cannot realise that tomorrow is Christmas Eve. My landlord killed a pig today and is very pleased with his work. They have a strange way of preparing the carcase after killing. In England we use boiling water for scraping off the hairs etc. Here they dig a small trench in which they light a fire,
Page 15.
& the animal is put over the fire, which burns the hair off & all the while the scraping with a knife goes on. They made me some flour cakes to-day, boiled in fat, they were quite nice. We know now definitely that we leave here on Friday at 10 a.m. and entrain at Rustchuk for Dobritz. I suppose we shall be able to say that our location is in Roumania. At any rate we shall be in Dobridja, which has been disputed territory. The Bulgars are all being hoofed out.
They are no doubt preparing for Christmas at St Mary Church. No cribthisyear. I wonder whether Bob and Maud will be at home at Woodhill! How I shall think of you on Christmas Day.
December 24th.
Of course it doesn't seem like Christmas Eve. There was a mail yesterday and I hear that there is another up to-day. None for me yesterday, I don't know about to-day's yet. I understand that we ought to get to Dobritz on Saturday evening. We travel Eastward from here & branch off before we get to Varna on the Black Sea - I were going home from Varna through the Dardanelles.
What a time they must have had in London when peace was declared! The King seems to have been popular through it all. We have just had the London papers (sent to Major Hepburn) with Mr. Lloyd George's election speeches in them. Of course the election is all over now, or I suppose so.
I fear I shall feel a bit miserable to-morrow. I have one thing to be
Page 16.
thankful for – I am very fit and well.
Later Another mail up to-day and the other members of the mess got letters at tea-time, and parcels. I couldn't bear to see them opening their letters and things, so I came away rather sad. However I have sent Putz to the Column to see if anything has gone there for me. When I got back here I had my bath, and now I have been thinking of past Christmases and I have read your letters and Mary's and Paul's over again to console myself. Mary really writes a very dear letter and tells me such a lot. I am afraid I don't feel very consoled but rather miserable and don't know what to do with myself to-night. And yet how unreasonable I am (I tell myself). There are men and officers here who although they have been home on leave, have not been home for Christmas for the past five Christmases. I am not grumbling at all – only very miserable. Putz has just come back – nothing for me.
Christmas Day.
Last night while we sat at dinner in the Mess we actually had carol singers outside, who turned out to be the Sergt. Major and 7 or 8 others. They sang very nicely and it was really homelike to hear "Hark the Herald" etc. we had them in and gave them drinks & wished Merry Christmas all round. Major Hepburn made a little speech. The Service this morning was
Page 17.
very nice – Holy Communion only – and we had quite a lot of communicants – the Adjutant seemed very pleased. The soldiers have had a real "off" day. They had their dinner mid-day & all our Mess went to visit them, theO.C. making a speech. Then there were "they are jolly good fellows" from the men & cheers for the O.C. and all of us not forgetting 3 for the Padre´.
The men have had a fine time in the village the whole afternoon. Up & down the road singing and jollyfying, some dressed up in Bulgar women's costumes ( where they got them from I don't know) & the villagers have been staring at them open-mouthed. They changed hats with Bulgar men & one could see a Tommy in one of those fur hats & the Tommy's hat on the old Bulgar – I laughed and laughed at their fun & it all seemed quite harmless.
I have had two Christmas presents, one a vessel full of wine from the Priest, & a sort of towel woven & worked by the "landlady" of the house where our Mess is. It is very funny how if they do anything with me they always kiss my hand as they do their own Priest, & they know I am a priest so when I shook hands and thanked her, the old lady kissed my hand.
The Priest has given me his card with his address on it and I hope to correspond with him. He also gave me a photo of himself standing among his beehives. He seems very keen on bees and he has a vineyard
Page 18.
of 15 acres & makes his own wine. He is married and has children – but somehow I think I have told you this before.
Soon I go for dinner with my Mess-mates, to A Battery, so I am writing this now as I don't know when I can expect to go to bed to-night. I don't like to dwell much upon the fact that it is Christmas day – of course I try to think of you and the children and of what you may be doing. I am glad that I know Abberley and have been there for it helps me to picture your surroundings.
Dobritz – December 30th.
You see that we have moved and are now in the Dobruja. We moved on Friday & were in the train until Sunday (yesterday) morning so I have not written since Thursday last.
Our move was accomplished fairly comfortably. Mr Brereton (S.C.F.) came out from Rustchuk & stayed with me at my billet on Thursday night. It was very nice having him, and we said Evensong together and had quite a long talk before we went to sleep. He really came out for the Brigade Concert which we had got up for Thursday night. He was in my place as RA Divisional Chaplain before he was promoted and went to Division H.Q so he was amongst his old comrades. He and I rode in to Rustchuck on Friday together & lunched together. I went to the Post Office in Rustchuck and there found a mail for me , one dated Sept 21st.; then to my great joy – Parcels , one containing 2 suits pyjamas, gloves
Page 19.
etc.etc., a lovely lot of tobacco and cigarettes; from Wippels- collars etc – so I am able to wear a clerical collar once more.(still going strong. For a history of the Company see: http://www.wippell.com/downloads/1-10.pdf)
I was overjoyed with the lovely gauntlet glovs and the others are such nice ones. The pyjamas are very nice size. I wore the blue ones for the first time last night and fairly fancied myself in them, you bet. The nail cutters are so nice and the soap – everything was so acceptable. By-the-way I hope some socks are coming for I can wear none but what have holes in them now, oh, no, excepting 2 pairs – but they will go shortly. Even my bed socks are out at one toe.
All this mail and parcels I had put into a bag & I slung them on my back and walked off for the "ramp station". A "ramp" is a platform adapted to entraining & detraining horses & guns & wagons. I missed my way of course, & walked for I don't know how long. I thought I should never get to my destination & my or sack was not light-weight. I perspired & dragged along – but at last found my objective. I shared a compartment with our O.C., a partition dividing us from the Doctor & Cleverly. The Adjutant had gone on in a previous train to see about our billets etc.
We are billeted in a large house in one of the main streets of the town, which was formerly a Bank. Our kitchen & Mess-room is on the top floor & very nice & convenient. The Adjutant & I have a large room on the first floor with a balcony over the street. The Doctor and Cleverly are next to us
Page 20.
and the O.C. has a billet in a private house – the residence of a Bulgar General. As the Brigade Office is in the house too, all is very convenient and compact. But – our horses are nearly a mile away in some barracks stables and the men are also in the barracks & that makes it very inconvenient. This is a fair-sized town with shops which seem to have plenty of stuff to sell & not wanting in food-stuffs. The confectioners are very nice & we can get sweet cakes and marcaroons & "creamy things". The town is peopled by Bulgars, Roumanians & Turks. The Roumanians took over on Saturday last. A British Infantry Brigade, under General Wingate, has been here for about three weeks – consisting of the Worcestershires & the Berkshire Regts principally. There are several other units – A.S.C., Field Ambulance ( B section 79th) Royal Engineers etc. General Wingate is "O.C.Troops" Our whole Brigade is here now, as A Battery arrived this afternoon. There is another Padre´, a Mr Rothwell (Frederick Rothwell)who is Padre´ to the Berkshires, also a Non-conformist Padre´with the Worcesters and an R.C. with the Machine Gunners.
This morning I visited the Infantry Brigade H.Q. and had a chat with the General & the Staff Captain. The General was very nice and I liked him. I got from them where to find Rothwell & after visiting my units I found Rothwell at his billet – the Hotel Boris – then went to lunch with the Berkshires & inspected the town with Rothwell in the afternoon
Page 21.
& brought him to tea here. We are going to try a united voluntary Service in the cinema theatre on Sunday nights, if we find it practicable. I am to meet him to-morrow & we shall try to settle up what we shall do. This place isn't at all bad – only it would be better if the stables were nearer to us. However we are connected with them by telephone from the Brigade Office – as far as I can see, we may expect to be jere for some considerable time.
The town is quite nice – clean pavements to walk on, thank goodness, although the roads themselves are very muddy. The Bulgars seem very timid of us and everybody takes care to get out of our way on the pavements. However, I believe that they have "wind up" much more about the Roumanians than about us. Of course, the Bulgars treated the Roumanians very badly and are in fear that the Roumanians will take revenge. We seem, so far, to be able to keep the peace but I shouldn't be a bit surprised if there were a row. I shouldn't very much care – either – to be about the streets late at night. I should think one might easily get a knife in one, by mistake perhaps, but in the darkness anything might happen. The Bulgars are being pushed out of Dobrudja, & our infantry have been occupied in scouring the country because the Bulgars tried to take everything with them that they could lay hands on. We have secured 1000's of cattle and sheep, implements & machinery & food, which they were "pinching". They were very troublesome on leaving here last
Page 22.
week & there was a lot of desultory firing of rifles and revolvers at night. They were in the barracks which we have taken over & before they went broke the windows. Wrenched off doors & left the barrack-rooms so indescribably filthy that I am unable to tell you what they did and we seem to make no row about it. I really think they ought to be punished. They ought, at least, to be made to send a company of men back to clean the whole place up. The whole proceeding was simply disgraceful. We think that they thought that the Roumanians were going to take the barracks.
The Roumanian officers seem very nice fellows – very grand uniforms, reminding one of "The Prisoner of Zenda" type. They are very enamoured of the English and very courteous. Roumanian soldiers all salute us. The Turks seem to keep quiet, to keep out of trouble as much as possible & to just trade & make money while others quarrel – Of course the Romanians hate the Bulgars & hate is usually reciprocated. But anyhow the Bulgar backed the wrong horse this time and the Roumanian is top-dog!
December 31st.
It is difficult to imagine it to be New Year's Eve. It has been a very bright sunshiny day and quite warm. I have gone about the streets without any trench-coat on. Cleverly is going on leave to-morrow and I am appointed Mess President or rather , I suppose in this case, Mess Secretary. Naturally the O.C. is President but in any case now leave to do the scrounging & cooking etc.etc. And am responsible for all meals. I started today by buying eggs, cabbages, carrots
Page 23.
a table-cloth and a lamp for the cook. I go around making my bargains & Westhead follows with a haversack to put things in. I went into a cobbler's shop to-day, Westhead carrying my heavy pair of boots. I wanted them soled and heeled. PRICE for that was 600 levas – only over £12. As a matter of fact they can not get leather and this man happened to have some. I tried several shops. I took Polly out for exercise this morning and Putz and I had a nice gallop on the turf but it is a great nuisance the stables being so very far away. It is interesting having a Padre´ here, but I am afraid I do not take to him much.
I have no intimation at present that the war being over makes any difference to me at all. Certainly British troops will be here in the Dobrudja until Peace is signed, I feel quite sure about that and certainly Peace won't be signed until next June. However, I applied some time ago (before Christmas) to be released. In the unsettled state of this country, I quite see that we should be very foolish to leave these people as they are. If we turned our backs now, they would be at each others' throats immediately. The only thing I have to say is, that that will probably happen in any case and it might as well be sooner as later. As a matter off fact, this is not common sense, for if they fought again in the Balkans, the Powers would be bound to interfere.
January 2nd1919.
I was so busy
Page 24.
yesterday that I was unable to write. We had rather fun on New Year's Eve. There was a Bulgar concert in the Cinema & lots of officers went. It seemed to be a sort of Choral Society Concert. Pianoforte solos – songs, a recitation and dancing in Bulgar Peasant Costume. After the concert we were all invited to the Bulgar Club next door, and there was a dance with a (rather primitive) band of Music. The Dances consisted of waltzes & Bulgar national dances – just like the dances we saw in Cervenovoda on the Green. Just before 12 midnight one of the Bulgars made a speech in French and wished everybody a happy NewYear. We drank healths in very light wine and ate bits of fresh pork impaled on wooden skewers accompanied by hunks of bread. At 12 midnight all the British officers and some of the Bulgar men and girls joined hands (crosswise) and we sang "Auld Lang Syne". The the men of the Bulgar Choral Society sang "God save the King" in English – and cried "Vive England". They then sang the Bulgar National Anthem and we responded with "Rule Brittania!" - altogether a most remarkable affair, seeing that we are still in a state of War with them and Peace not signed. The Bulgar Club is really out of bounds but was put in bounds for the one night. The proceedings were most proper and orderly, no one could drink too much seeing the wine was so weak in alcohol. The girls were all most modest & proper in their behaviour & there was nothing of impropriety
Page 25.
of any kind. Of course I only looked on at the dancing. I should say the people were the better-class bourgeois. The Mayor of the town was present. I went back to my billet at about 1a.. but they had not finished. Some of the officers went back at about 4a.m.
Yesterday I was so very busy. Rothwell & I held a Celebration at the larger Cinema of the two in the town & we had a congregation of one Tommy. Afterwards we said Morning Prayer together. "A" Battery are at an Agricultural College a little way out of the town. I visited them in the afternoon and had tea there at the Mess.
Last evening there was a British Concert at the Cinema to which we all went. The usual Tommy's Concert. There were some excellent turns however. The General was present. Today I visited all the morning up at the barracks & this afternoon have been buying stuff for the Mess.
We have had a little excitement the last day or two. One of the villages not far from here resisted the entry of the Roumanian Gendarmerie. They were found to possess a machine-gun and other arms. Our infantry have been out there today to put things right. The Brigade-Major of the Infantry Brigade went yesterday with detachment & the people said that they didn't mind how many English were sent there but they would not have Roumanians. To-day the job of the Infantry is to clear all the people out of the village – men, women & children - & then to search every house for arms etc. The
Page 26.
Roumanian gendarmes are to be installed & then the people can go back if they like. Our Howitzer Battery has all kit packed & 7 days rations & is ready any moment to follow up & drop a few shells in the village & knock a few houses down if there is any nonsense. As Tommy would say "That's the stuff to give 'em".
I am still very well & certainly happier in my surroundings since I came to Brigade H.Q.
January 4th.
I sent a letter yesterday morning and didn't seem to get time to write yesterday. Certainly there is a good deal going on here & the men being so far away, it takes so much more time to get around. "A" Battery are at about 20 mins on horseback from here (the Brigade H.Q.) from "A" to the rest of the Brigade is about half an hour, and the barracks are also about ½ an hour from here, so it is a sort of triangle. This morning I did some preparation for tomorrow's Services. At 5.30p.m. we all went to the Cinema, which had been taken especially for the British Troops. The films were films out from England & were very good The General (Wingate) was present and kindly nodded to me across the Theatre. Just now I am writing in the Mess & the O.C. is running the gramophone so it is a little difficult to gather one's wits for writing – I have written the Parish Magazine letter, & finished it this morning so it ought to be in time for the February magazine. Only I have to copy it out in a fair copy, it is at present "in the rough".
We are having marvellously warm weather with bright sunshine. We
Page 27.
wonder how long it is going to last. All seem to expect that soon we shall have deep snow and very cold but it does not come.
Of course we are living practically under Peace conditions, & for the life we live we might be in barracks in Blighty, i.e. for the Army life we lead. Of course the surroundings are interesting and picturesque but I do want to come home, so much. I should feel I was contributing to the welfare of the soldier more usefully if we were really at War. But there, it is no use troubling about it. If they send me home I shall be thankful. If not, I must plug on at my work and be patient. In all respects I am as happy ( at Brigade H.Q.) as possible under the circumstances. I am greedy for another mail now, & hope to get one tomorrow or the next day.
January 4th.-the Epiphany.
I had a fairly busy day yesterday (Sunday), the busiest Sunday I have had. Rather sad thing happened. "A" Battery are getting wood from a deserted collection of houses – a small village near the Agricultural College, where they are quartered. A man from "A" Battery was inside one house when the roof fell in upon him. He is not killed, but is terribly bruised & cut about & so swollen that they are unable to tell whether any bones are broken or not. I have seen him to-day and he is conscious, we hope he will come through it, but he is awfully bad. By the way you will be interested to hear that the 2 lumps on my left hand close to the wrist have quite disappeared.
Page 28.
I only noticed it the other day. After having them for so long, you can imagine my surprise at seeing them gone. To-day I haven't done much except visiting the Field Ambulance. I went for a walk this afternoon round the town outside. We had a dull day yesterday but bright sunshine to-day. This evening is Christmas Eve to the Orthodox Church. The Bulgars have been fasting (they all fast before Christmas) & to-day have been buying meat , & every other person in the street has been carrying joints and lumps of meat.
I have had a little touch of liver I think, yesterday, but am better to-day. Otherwise I am very fit – this was merely a passing indisposition. The Doctor has given me some Bulgar stamps which I enclose for Mary. We are told that there are two mails on the way, one from Rustchuk & the other from Varna, so I am looking forward hopefully to their arrival.
January 7th.
I have received your letter to-day in a parcel with 2 prs. of socks & the 4 Dr. Scott's pills, for all of which I am deeply grateful – the socks have come just at the right time, & the Dr. Scott's pills too. I am so delighted with the things. You can't tell what a joy it is to have them, and somehow to receive a parcel seems to tell of the Love and Thoughtfulness at home. I look forward very much to the Fortnum & Mason parcel, which hasn't come yet, I note that you wrote to General Flint about the Division. He did not command the Division he commanded the Artillery in the Division, i.e. he was C.R.A. The
Page 29.
General of the 26thDivision is Major-Gen. Gay. The Brigadier-Gen of the Artillery in the Division is General Bruce. General Flint had Gen. Bruce's job.
Mr. Owen is too sanguine about my return. In my opinion I shall be very fortunate if I am home by Easter. Unfortunately we cannot make any plans. In the Army you cannot tell where you will be from day to day. If I am sent home I shall certainly not have more than one day's notice. Of course all kit etc. is perfectly easy to pack & I have often had to pack up in only ½ and hour, Westhead of course doing most of it.
I am glad that Paul and Mary take an interest in Polly. She's a perfect dear, and I scrounge biscuit or toast from breakfast every morning for her. Putz thinks she has been a pet in former life. Putz is a very nice man, and a splendid groom. He turns out Polly certainly the best horse on the line. The O.C. particularly remarked on how well she is turned out. Putz takes great pride in her. Of course she knows me well & always muzzles about my hand or my pocket for biscuit. She has travelled many many miles now – all the way up from Kalinova. She is looking very well now – I long to get a photo of & me & Putz. Putz has another horse now to the one he had a day or two ago. The one he had before was called "Petty".
Today the O.C. & I went out riding together to try & find the wood where wood is being cut for firing for the British troops. We started at about 10.30 a.m. with our two grooms, & did not get back until
Page 30.
nearly 2p.m. it was a nice ride – some way out in the country. We have had a bothering Court-martial here today. A man struck a sergeant - & the Brigade Office not being very convenient, the Court sat in the adjutant's and my bedroom. This evening has been so brightened up by the receipt of your parcel. Parcels invariably take much longer than letters. Lees-Jones used to say that you can never really expect a parcel to take less than a month longer than a letter sent at the same time.
January 10th.
Yesterday we were somewhat excited by sounds of firing outside. There was a fracas between the Roumanian Police & some Bulgars. Several shots were fired, & it is reported that one Bulgar was killed.
The weather here is rather cold & foggy – rather unpleasant, especially as we never have a fire in the Mess until evening.
January 12th
yesterday I was not able to sit down to write as there were a lot of men in & out of the mess. Titheradge came to dinner at 6p.m. & we went on to the Concert held in the Cinema in the evening at 7. The concert was a very good one. Titheradge did a good deal in it. He is himself an actor- a very good fellow. Yesterday – to my real regret – I lost Westhead. All colliery workers are called home, & he is one. It was quite sad parting. He has given me his photograph, which he has had taken in the town & his address is written on the back. I hope to see him again some day. He has gone through all the worst of the hardship with me. Putz & I were very down-in-the-mouth
Page 31.
at having to say "good-bye" to him. The adjutant goes home in a week or two under Group 43 as he is a school-teacher. I am sharing his servant for the time being, & when he is gone I shall have the servant to myself. The servant's name is Lewis & he is a very good fellow. He acts as Mess waiter in addition to his other duties. I don't know what the Brigade will come to now, for no less than 61 men have gone who were miners. There are the same number of horses & mules to look after- & if the men are being demobilized, we shall have to reduce animals somehow. The O.C. is going to Varna (where Division is) to see the General (Gay) about it. Unless something is done we cannot carry on . I have had nice Parade Services today & quite enjoyed them- but the weather is still raw, foggy and cold. I am sending some Bulgar postcards for Mary, & I have sent one through the post.
January 14th.
Nothing particular has transpired. The last two days we have had bright sunshine & today is quite warm, although there is frost at night. This morning Putz and I rode out into the country for some miles. We brought back a live goose which I bought from a village, Putz carrying it under his arm. A most lovely ride in perfect weather. Today is the Bulgar New Year's Day & it is a public holiday.
The children go about with branches of trees decorated in coloured papers. All the shops are shut.
The Roumanians definitely assumed administration of the Dobrudja yesterday. Some trouble was anticipated and all
Page 32.
troops were "standing to". However as far as I know, there has been no disturbance. We have an idea now that if the Roumanian administration settles down quietly, there will be no need to keep us here. It simply means that all things revert to "status ante bellum". But we can only speculate. We are told nothing & we have no foundation for any of our surmises.
Today is like a warm Spring day. I do hope we have plenty of this weather. People are actually sitting at tables on the pavements outside the cafe´s. It seems so strange having little or no news of what is doing in the West. We have no newspapers later than December 15th. We do get a little wireless news, but practically nothing about what is going on in England.
January 15th.
I went for a ride with Putz this morning – no sun, but quite nice weather. This afternoon 116 Brigade R.F.A. played the Berkshires (Infantry) at football and we beat them 2 goals to nil – much to our delight. There has been a good deal of football played between our Batteries and we were well able to choose what men should play for the Brigade.
I have heard today, officially, that those Chaplains who desire release should apply through their own Bishop. So I am writing to the bishop of Exeter forthwith. I have very little doubt that he will put the matter through.
January 16th.
Today we have experienced a sudden change in the weather – or rather during the night. The houses & streets are now covered in snow -
Page 33.
but only about an inch or so, and it snows at intervals. A dull cold day, very different to what we have been having. I have duly written to the Bishop of Exeter. I expect that my letters take about a month to get to England. So he will not be likely to get it until well into February. Whether I shall be released by letter or wire I cannot tell. I have little doubt that the Bishop will wish me home. If all goes well, I ought to be able to get home before easter! It seems too good to think about!!
January 17th.
Still snow, but not too cold. I went for a ride this morning & finished up at the barracks, & then visited round the barrack-rooms etc. News of a mail which ought to arrive by train this afternoon, but trains arrive or not as it suits them.
To my sorrow, ,we are losing our Adjutant. He is going home under group 43- School-teachers and students. He will be a great loss to the Brigade. The new Adjutant will be a man named Curran, a Roman Catholic, a nice fellow, risen from the ranks of the old army. He will of course live here at Brigade H.Q.
All the men one speaks to talk of nothing else but "Blighty". I do hope that they send them back soon, they deserve it. They have been out, some of them, 3 ½years without leave, & they have gone through a lot of fighting and real hardship. I am hoping, very earnestly now, to get home before Easter. If the Bishop of Exeter really thinks I ought to get back there should be no difficulty about it. But I can't possibly hear for several weeks yet.
Page 34.
We have made our mess Room quite gay with pictures out of the Christmas numbers of the illustrated papers, and the room is quite comfortable. The only things we really need now are easy chairs. We are very spartan, & even in this cold weather, do not think of having a fire before about 5p.m. ( after tea). I am glad to say that I am still very fit and well. I feel particularly well today – no doubt the climate & the life both suit me – but I long to come home.
January 18th.
I have received today you letter – the Fortnum & Mason parcel has not arrived yet, but I am told that they sometimes take quite 2 months, if not more.
I am so glad about Peter Pedrick's M.M. and that he has come through all right. I am sure that the War will have made a man of him.
How nice to hear from you. I do long for Home. I had a letter from the Bishop of Exeter to-day in answer to my Christmas letter to him, & he says "I am applying for your demobilisation as soon as possible but I am afraid we must wait some time" So he has already taken the matter in hand – I do hope they will let me go soon – I had a lovely hot bath at the Turkish Bath in the town today. We have commandeered the Baths for our troops 3 days in every week. The officers got in today from 4.30 to 5.30. One could not have a proper Turkish bath, but I had a good wash down with very hot water in a very hot room.
To-morrow after Church!! (don't be shocked) we are having a wolf hunt. Some
Page 35.
wolves have been after the sheep & cattle in one village. They are in a big wood, & we are going out to shoot them. Sunday is really the only day that we can spare. Football matches everything of the kind all take place on a Sunday. We expect to have some real sport.
January 19th.
I have had the usual services to-day, & after the one at the barracks went over to the wolf hunt. Titheradge met me at 12noon and ½ -an-hour's ride brought us to the wood. It was very extensive, made of scrub and trees & we scoured the place for some time before we came on the shooters, & then it was all over. The beaters were on horseback. No wolves were seen. But there were foxes and hares. The guns shot 5 hares. We were very disappointed at not finding wolves. Two were seen at one corner of the wood last night, by the peasants. We got back at about 4p.m. for tea. After which the Doctor & I went for a walk.
Of course my demobilisation order might come any day now – if the Bishop of Exeter applied before Christmas, but there is one important consideration which might militate against an early demobilisation i.e. that there is a very real scarcity of Padre´s in the Salonika Army.
January 21st.
The weather is rather cold & raw, with a nasty North wind – very disagreeable. The Dr. & I rode out yesterday afternoon, to about 5 kilometres on the Balzic road to inspect and test some water. In the evening we invited the Roumanian liason officer, attached to the General Staff here, to dinner. He was very entertaining and amusing, & speaks
Page 36.
fairly good English. H was delighted to be amongst us, for he is an artillery man. We learnt a good deal of Roumania's point of view about things, & especially the Dobrudja. Being Mess Secretary, I was anxious about the dinner – but it turned out very well. We ate the goose which I bought the other day. To-day the Adjutant & I went out early, in the face of a biting N. wind, to view some water on another road. It was a very disagreeable ride but doubtless healthy. Really the days pass now in usual routine & things are very quiet here. We just endure the mud etc.etc. And live in hope of better things. All are agreed they never want to see Bulgaria again. A few books have arrived from the Red Cross Society, & we are glad to have something to read. We are very sorry to hear of the death of Prince John, the King's youngest son. We heard it yesterday by wireless.
January 22nd.
Hard frost today & very cold. I visited at the barracks in the morning. I very much wonder , day by day, or I might say hour by hour, how soon orders will come through for my demobilisation in response to the Bishop's application. I don't expect them however for a month or so at the earliest. The Adjutant & O.C. are doing physical exercises in the Mess while I am writing & the Doctor is looking on & criticising. It is really rather funny & rather distracting. We have just finished a game of Bridge. I had a letter to-day from the brother of one of the boys I buried at Kostanik. The family were so grateful for my letter and sketch of the grave.
Page 37.
January 23rd.
Exactly a month since the Bishop wrote to me. I wonder whether they are moving in the matter. Last night, going to bed, I was wondering what you would say if you saw mw getting onto my narrow bed of blankets, with socks on and Miss Mills' woolen cap on my head!! It is very cold just now - & there was hard frost last night. We "got the wind up" to-day because the C.R.A. (General Bruce) intimated that he was coming to inspect to-day. I was particularly anxious, because I had to provide luncheon. However, a telephone message came through that he had postponed his visit because of the severe weather. The Adjutant goes to Bucharest on leave to-morrow, when he comes back he goes to England.
January 24th.
Great joy to have your letter to-day and to hear that I am high on the list for demobilisation. Letters are, of course, very uncertain. Transport from here, even for letters, is difficult. To-day we have snow & cold - & it is not very comfortable. I went out this morning up to the Barracks walking, in order to get warm, although Putz brought the horses down. I change my servant again to-day as Lewis is Mess-servant & has a great deal to do, so a gunner Marlow has arrived whom I am going to take on. Every day I look for orders to set my face homewards, but I know that really cannot come yet.
January 26th– Sunday
Yesterday evening was very full. I went to the Turkish Bath & had another bathe there after which we had an early dinner & Concert afterwards. I was very tired last night – a bit of a cold & cough. I was able to get a ride
Page 38.
by way of exercise yesterday, but to-day we are hard frost-bound. The mud in the roads & water in the deep, large puddles is all frozen hard, & as the mud is liquid the roads are simply glass. I went out of the town to take Service at A battery this morning riding on the pavement. From A I go across country to the barracks & that was not so bad, but very slippery & hard & bad going. It is very cold to-day, & it looks as if it would last for weeks. At the Barracks I have Service in a hut & we have a roof over our heads, but there is no glass in the windows, & the wind blows right through. After the Celebration I could not feel my fingers. No heating or stove of any kind, so you can guess that it is fairly frigid. I had a printed leaflet from the base yesterday with reference to demobilisation. It said that all under contracts would finish out their contract unless the responsible authorities of my denomination should advise my release on the ground of exceptional urgency of need for the return to civil life. So I hope that all will be well. There is no prospect now of things happening to disturb the daily routine here, & one can only get through day following day & hope that time will have strong and fleet wings. We have another Roumanian officer coming to dinner tonight, & we are cooking the hare which we obtained from the "Wolf-hunt" shoot last Sunday.
January 28th.
Yesterday morning, feeling poorly, I did not get up. The Doctor found I had a slight temperature & a feverish cold. I stayed in bed all day, & got up at about 3 this afternoon, much better – but I have pains in the back (slight) – I should think a thorough
Page 39.
cold all through. The weather is atrocious very cold. Snow & wind – so I am not missing anything by not going out of doors. I shall just stay up for dinner, & go to bed again, early. A camp bed is a miserable place to feel ill in, sure enough, & I was thankful to get out of it. In this campaigning stunt it doesn't do to feel poorly. Sometimes I wonder if anything is being done about my demobilisation. I know that Padre´s are very scarce here, & they will hang on to me as long as they can. But I am getting really fed up, & long for it all to come to an end. Feeling a bit poorly, perhaps makes me feel it more.
January 29th.
I am much better to-day & hope to go out tomorrow. The weather is still simply awful. Snow & wind. It is rumoured that the Colonel (Heneage) of the 114 Brigade R.F.A. is on the way to take command of us (the 116), the 114 being disbanded. Demobilisation is in the air, officers and men are filtering away in batches.
January30th.
I have been out today and am quite well except for just a bit of a cough. The weather continues the same. It is quite interesting to see how the Bulgars have discarded the wheels of their carts and put sleigh-runners in their stead, & they drive about in sleighs. The boys skate on the pavements & all is hard frost, snow & winter. The wind makes it very cold to the face & ears when one goes out. We are indeed having our winter now. I see by the papers that there has been snow & frost in England. I see too that some of the soldiers at home have been making a fuss because they are not demobilised. This seems to us ridiculous. How about men who have been far away from home, without
Page 40.
leave, for over 3 ½ years as some of our men have been!! I wonder these fellows don't cut up about it. But they realise, being in an enemy country, that we are still at war, & the job must be finished. There is no doubt about that. The only question here is whether it is really necessary to keep so large a British Force out here, for there are many French as well. No news come through about any Padre´s being demobilised.
January 31st.
More snow. The train from Varna, with supplies, is held up 40 kilometres down the lines & can't get further. We are to-day put on reduced rations. I went up to the barracks to see the horses this morning & the cold is such as I have never met with before. A very keen & piercing wind, with frozen powdery snow blowing across from the North. Very uncomfortable for ears & noses, & I thought I should get frost bitten. How thankful I am now for the mufflers and wooly gloves. I don't know what I should do without them. Fur caps are issued to sentries & other men on out-of-door duty. I do hope we have a thaw before long. It will be awful if this continues for any length of time – especially as our fuel ration is also reduced – the wood-fatigues are unable to go out to fetch wood. I fear if this lasts we shall have some men go sick. The fact that supplies are held up is very serious both for the men & horses. There is very little food in the town for the civil population themselves, so there are no resources to draw upon.
February 1st.
A whole month of 1919 gone, and seemingly, I am no nearer to coming home. Snow & frost continue & everybody seems to
Page 41.
be settling down to it. No hope at all of trains with supplies. Officers are buying fur hats & we look very wintry people. The hats are this shape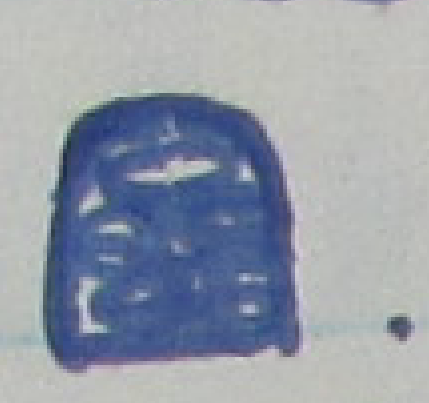 Oh how thankful I am for the helmet Mary made! I went up to the barracks this morning & was delighted to find that I could preserve ears & chin quite nice & warm not withstanding a bitter, bitter wind. Polly, I am glad to say, is very fit. She has a heavy coat on. She is clipped army -fashion – simply straight round the middle – not body or legs at all. Putz has christened his horse "Dolly". Both Polly & Dolly were very greedy this morning & smelt my pockets & pushed their noses at me. So at last I took out the biscuit I had for them. They are both very loveable animals, but Polly best of all. Dolly is heavier, harder and bigger-mouthed & coarser altogether than Polly – Polly is pretty & graceful.
You would be amused to see me when I have on
1. My trench-coat lining
2. Leather Jerkin
3. Trench coat
4. Woolen helmet
5. Fur cap
6. Big woolly gauntlet-glove.
I look fairly rigged up for a cold day.
Have I told you about the quaint old wooden tower nearly opposite us? I don't think so. A man lives up in the tower & strikes the time on the bell every ½ hour. Evidently the work is done by more than one man, for the hours and half-hours strike day & night. Just now the snow rather deadens the sound, & the bell sounds quite dead & does not sing at all. I roared with laughter in bed at 7a.m. the other morning. He tried to strike
Page 42.
the bell, but evidently the frost and snow had put things out of gear. He got 3 dead strokes out, & then one heard bangs without any ring of the bell. The time he keeps is also amusing. Sometimes it is 20 minutes out from our (Brigade H.Q.) time, which is very accurate & received by wire from Division. Then all of a sudden we hear that the bell has jumped back into our time once more. It is a jolly good job we take no notice of the "Town Clock". I believe that the tower is also a watch-tower, & fire-alarm.
February 2nd.
Sunday Feast of the Purification. Still frost & snow. However I was able to get to A battery where I held Parade Service & Communion in the Dining Hall at the Agricultural College. Service was impossible at the Barracks. My "Church" was covered with drifted snow on the floor, and as it has no windows the men could not be asked to come to Parade Service there. I walked out to A with Mr. Curran – the new Adjutant – and Putz. We are still isolated – no trains. We possess a few chickens, so we are killing them off to supplement out rations. The hard weather is bad for wild life. The little crested larks, which abound both here & in Macedonia, sparrows, rooks and jackdaws have been very tame. Up at the barracks yesterday I saw one of our Greek muleteers picking something. I went to see what he was doing. He had caught two sparrows, was picking them and going to add them to his dinner rations!! There are always clouds of jackdaws here. Every night & morning they have a good fly round – for exercise I suppose - & almost darken the sky. Going towards A Battery this morning we met an officer who
Page 43.
advised us to take stones as ammunition of of defence against dogs. The dogs – some of them ½ wolves – are going about scrounging in packs. One or two horses died up at the barracks a day or two ago. Their carcases were taken to some little distance – and the Sergt.-Major told us that there were at least fifty dogs quarrelling over them all night long. We nearly chartered a sleigh (2 horse) to take us out to the College this morning – but on second thoughts we thought the walk would do us more good. It is very difficult to keep the Mess warm, we are supplied with some chips of wood & "slack coal" & the stove gets choked.
Late evening There is a rumour that a train has pushed through & may return to Varna tomorrow.
February 3rd.
A train got through last night & arrived at about 10p.m. but during the night we had another heavy fall of snow so, of course the train cannot get away again. The snow is really very deep now, and in some places in the streets the drifts are banked up to 4 or 5 feet. I went up to the barracks this morning but getting about is most difficult & walking very slow work. Up at the barracks it is very bad because the wind blows very cold there & the snow & wind fairly freeze one's face although I wear Mary's helmet & a Bulgar fur cap. Happily the train brought stores & some food but we are isolated again. And of course we receive no mails, so we are not in a very happy frame of mind all round, although we manage to keep up our spirits.
February 4th.
Snow everywhere, but gorgeous sunshine – a most glorious day & a great change from the last few days. The sky is clear & all the snow seems
Page 44.
to have fallen. The sun being very warm, the snow has begun to melt, but it will freeze at night again. They have got another train through, so we are hoping there may be a mail on board. My visit to the barracks this morning was a real pleasure – a nice walk – and I got quite hot walking. My "British Warm" and my new pair of boots came yesterday & I am very thankful for both of them – the boots are simply splendid, 27/9 the pair - Certainly things one gets from Ordnance are very cheap.
February 5th.
Ugh!ugh!ugh! A thaw, slush, liquid mud! Now, towards evening it is inclined to freeze again. No sunshine, but fog. However, trains may be able to get through now, & perhaps we shall get a mail tomorrow. I hope so. There is a Variety show on at the cinema, given by 26thDivision men, who composed the caste of a "Company" behind the lines before the advance.
The programmes below were amongst the effects of Stanley Carden. Unfortunately they are undated but, if not the actual performances he attended, most certainly absolutely typical of what he describes.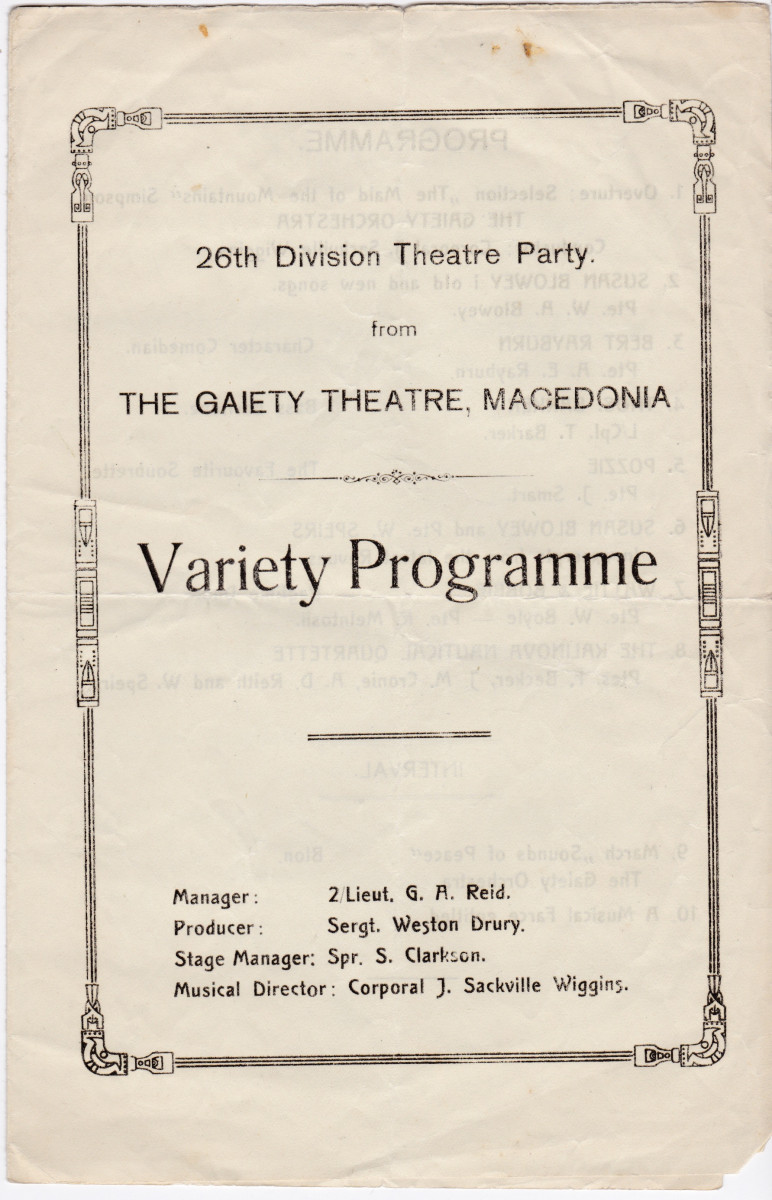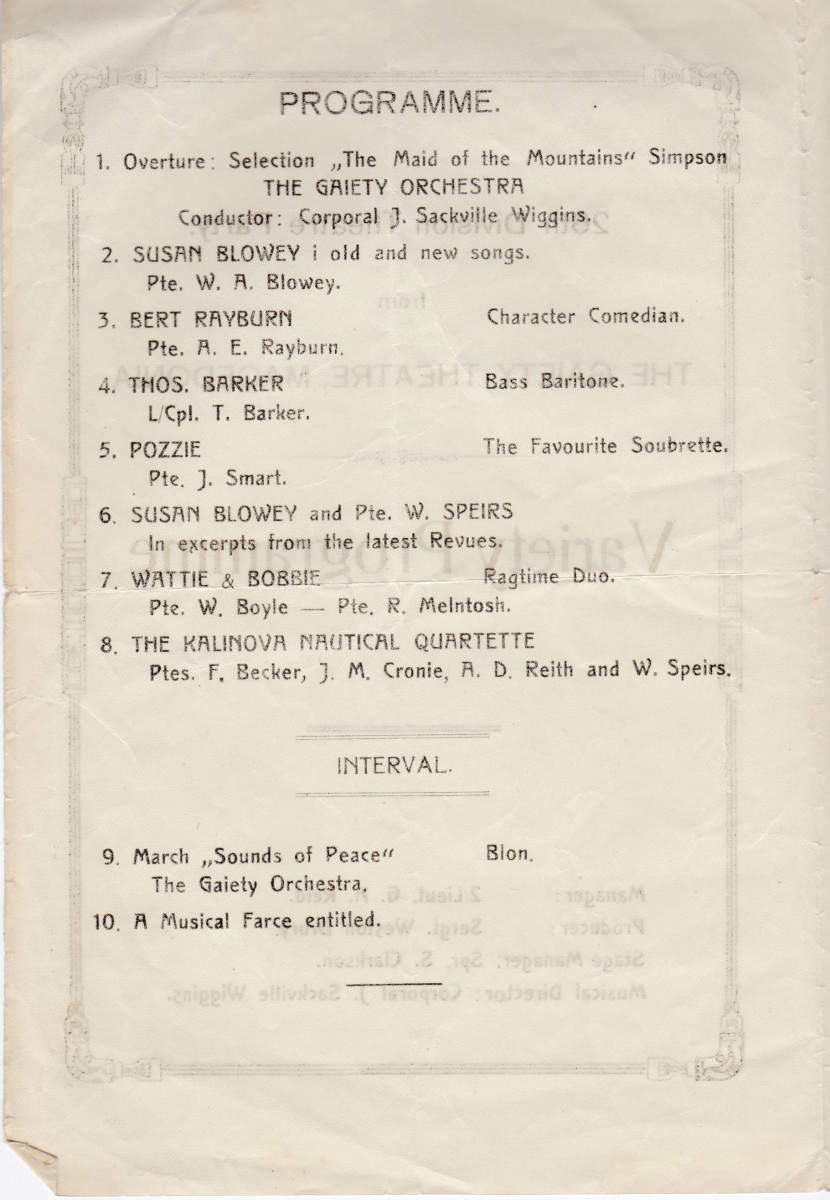 They are very good, & the men who take the girls parts are really quite clever. 78thBrigade (Infantry) H.Q. are getting up a dance for Saturday in the big cinema. There may be a few girls – Roumanians only – but mostly "the girls" will be men in their girls costumes from the show. I sha'n't go, it won't be much - & of course I don't dance. There is a jolly row going on in the Mess just now – gramophone, & visitors jigging around so it is rather difficult to write. I am a bit late with the Parish Magazine matter, but I hope to get that written this evening.
(PAGES MISSING HERE)
Monday February 10th.
I was very busy yesterday. In the afternoon General Bruce C.R.A. came here in order to preside
Page 45.
at a Court-martial on some officers. So everybody in the Brigade is a bit hustled. No trains at all today. Everywhere is frost-bound, & it freezes hard all day & harder at night. It is really very, very cold – However I believe that this extreme cold is healthy. So "its an ill wind etc." For myself I am very fit indeed. But nearly always cold – only really warm in bed at night. I hear that mails are held up at Sofia on account of a breakdown, & we cannot expect them for some days. So that is cheering!! By-the-way, the other name for DOBRITSCH is BASARDJIK. The former is Bulgarian, the latter Roumanian.
February 11th
We are really very isolated in this forsaken place. However, I plug on, as patiently as possible. One can but carry on, & live in hope. From all indications that crop up, I think that this Army of Occupation is bound to be here right on into the summer- past the middle of the year. I hear today that reinforcements, both of officers & men , are being sent up. Of course men (& officers too) are being demobilised, but very gradually. I am wondering whether they mean to keep me until they can find a padre´ to send up here to take my place.
February 12th
A slight thaw set in this morning, but it looks like freezing up again. We have had the salient points of the King's speech by wireless. There seem to be suspicions that Germany may try to play false. Volunteers from the officers have been asked for to go to Russia – I presume to assist the Ukraine people. Mr. Brereton ought to have got to the Base by now. I wonder if he has convinced the Principal Chaplain
Page 46.
that I ought to be released!
February 15th
The thaw which set in has gone on in real earnest – so we are in a nice state of slush and mud, but I must say I don't mind it nearly as much as the bitter weather. I sat on my bed to-day and it broke down so I have sent it to the fitter to be mended- result, I sleep on the floor to-night, but that is nothing to what I have slept on when coming up the line – I have ordered my horse for to-morrow, so it will be nice to be riding again. Polly is very cheery & somewhat flighty. I take her a biscuit every day, which she shares with Dolly. Dolly bit my finger this morning by mistake, it did not really hurt much, but she shewed her sorrow & grief as much as a horse possibly could. I was very amused. At first she was frightened, & thought I should hit her. I shall be able to hold my regular Services to-morrow both at A Battery & at the Barracks.
Sunday February 16th
Septuagesima begins to turn one's thoughts to Easter. Shall I be Home by then? --- who can tell. I have had nice Services to-day & was able to use the horses. The evenings draw out a bit now. It will be nice to have longer days. The snow is going gradually but there is a good deal of it lying about still. There have been small disturbances at some of the villages round about, as there is a great shortage of food – but I think that between the Roumanians & ourselves we are able to cope with them. The Worcesters are leaving here for Vienna to-day – also a machine-gun corps, so there will be fewer troops in this town.
Page 47.
February 17th
Quite warm sunshine. Putz & I were able to get across country to-day although there is a lot of snow & some deep drifts. We got to a village about 6 kilometres away, where I scrounged for a goose, but was unsuccessful. The people are very short of food & although there were geese, they dare not sell them. We are doing very badly for food now – we have had no meat but bully-beef for some days & our tea to-day was dry toast & tea. Supplies don't seem to come along and no Canteen stores are coming up. Lunch today was sardines (which I had scrounged from another mess) bully and cheese.
February 18th
A really bright, warm day with beautiful sunshine – I have been going about without overcoat. Putz & I went for a long ride this morning – nearly all the snow has gone but it has left the country very soft and muddy. The mud in the streets & up at the Barracks is indescribable. A train has come up to-day, but we don't know what has come on it, excepting Canteen stores, for which I am very thankful – for our Mass is down to their very last possession, one tin of salmon & one of sardines! We have General Milne's (Commander-in-Chief's) report in the London papers of January 23rd. We are very chagrined that the splendid work of our Division & its Artillery in the Advance, is omitted. There is no doubt that this Division was in the forefront, & the men have been simply splendid in the hardships of the "trek".
The press clipping below, reproduced by permission of the British Newspaper Archive, from "The Sheffield Daily Independent" on Thursday 23rdJan 1919 is typical of the reports found in the papers across the Nation on that day.
The events described in the despatch from General Milne took place before Revd. Carden arrived in Salonika or whilst he was on his way to his current destination: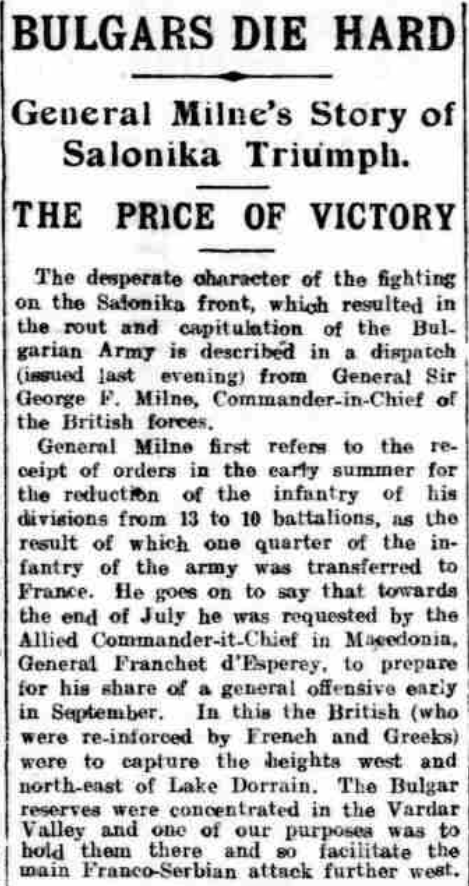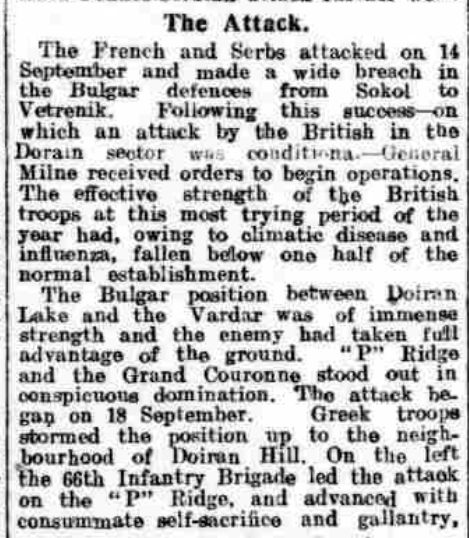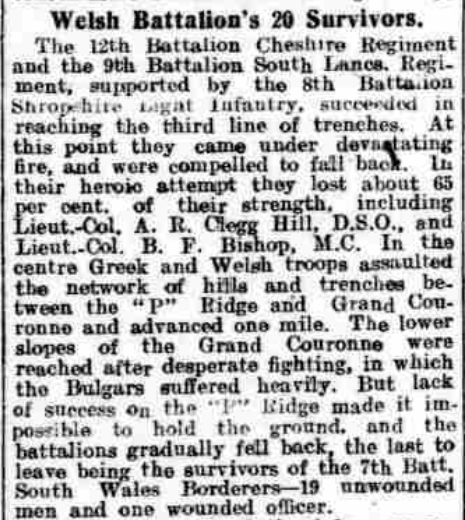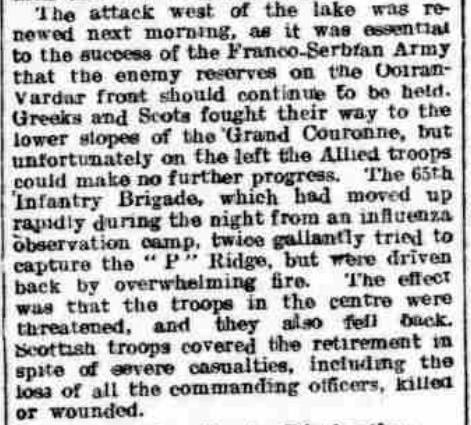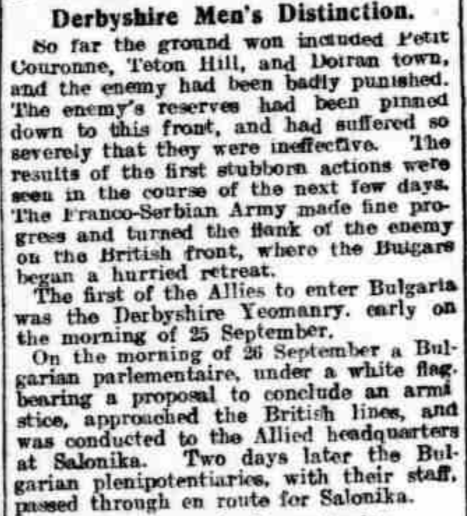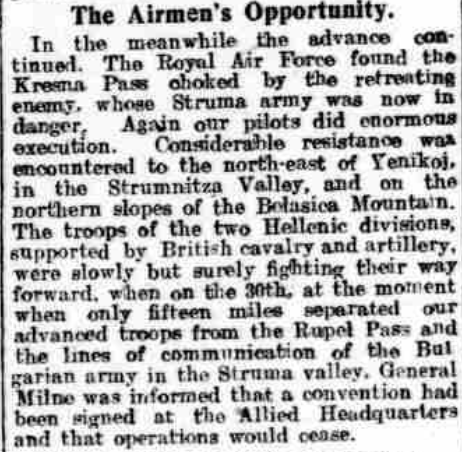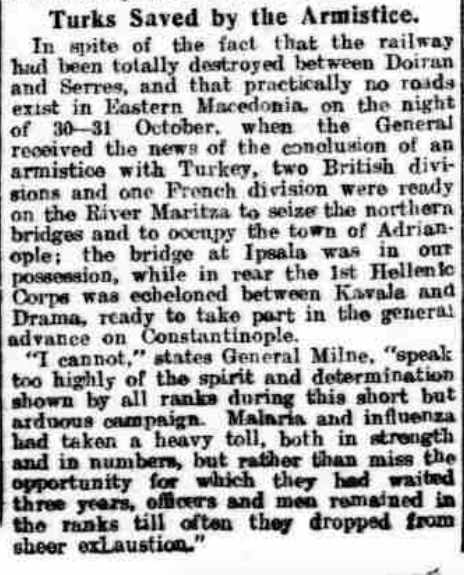 February 19th
Canteen stores are up, so I have been very busy at Headquarters office at the Barracks choosing out what I wanted for the Mess. Still longing to hear about
Page 48.
demobilisation & wondering, wondering whether the order is on the way – or not started yet!! Things take a long time out here.
February 20th
Again there is nothing particular to record. Things are pretty quiet and nothing doing. Certainly the weather is much warmer, & for that I am thankful. We have a map on the wall of our Mess – Europe – I stand before it sometimes and wonder which way I shall be sent home, when I do go. Of course I hope by Constantinople from Verna.
February 21st
To-day I have been out again for a ride – first going up to the E.F. Canteen, which opened today for the first time. They are also establishing a Y.M.C.A. - to my great delight, near the station - & therefore not far from the barracks. It will make all the difference to the men.
February 22nd
Again I am left alone in the Mess, all the others have gone to another dance. Later on the officers of the R.F.A. rather hope to give a dance – then I shall have to go. I think we are losing the Doctor. I shall be sorry for he is a very nice fellow and very conscientious in his work. He is also not indifferent to religion. He slept in our room, for warmth during the coldest nights & always said his prayers. He is very nice in the Mess too. Talking about my Mess – mates – I like the O.C., Major Hepburn, very much indeed. There is talk of a Colonel Peabury coming up to command the Brigade. I should be awfully sorry to lose Major Hepburn out of the Mess. In certain circumstances, it might be almost necessary for me to stay on here for a bit, anyway. I don't say these
Page 49.
circumstances will arise, but if they did, I could not honorably leave my post. The Doc. Will probably be demobilised next Sunday, or rather – that will probably be the day on which he starts from here on his journey Home. I do envy him so.
February 25th
I have been scrounging round all the units to get a violinist to assist piano for the Artillery dance on Saturday night – unsuccessfully. The Y.M.C.A. is open now, & I am delighted I have made friends with the Superintendent. He is a very nice man named Hastings, son of the Hastings who was responsible for "Hastings Dictionary of the Bible". I think I shall be able to have Parade Service in the Y.M.C.A. hut on Sunday, & it will be delightful for they have a harmonium, and one of our Bombardiers is an organist & choirmaster. No doubt we shall also be able to manage a voluntary evening service. This is very cheering. I have had an official communication to -day "The Principal Chaplain wishes to know whether you will volunteer to serve with the Army of Occupation". I have replied "I do not desire to serve with the Army of Occupation".I understand that the personnel of the Army of Occupation will be settled by May 1st so I am hoping that that is the utmost limit of my service here. Of course it does not follow that because I don't volunteer they won't keep me (under my contract) if they cant get sufficient padre´s to volunteer. So I wait patiently - & cannot possibly guess what my fate will be – And oh, I do long for Home
February 28th
A disturbing day – to say the least – My incomparable Putz is to
Page 50.
leave for Blighty by the next train – for demobilisation. I feel really upset for he is my first servant I had out here, understands Polly & me as no one else does - I am very sorrowful at losing him. Also I received the following letter - I think I told you that my Senior Chaplain was going home & promised to speak to the Principal Chaplain for me. "Dear Mr. Carden, I am afraid there is no chance at all for you too get away. I saw the Principal Chaplain & he was quite unable to do anything. Confidentially speaking, any hope of your release must come from the Home Authorities, & they will have to bring very heavy pressure to bear upon the Department. All best wishes, Yours very sincerely, Eric H. Brereton"
I am informing Owen & I hope the Church Council will bring pressure to bear upon the Bishop of Exeter. It is my only chance. All points now to my not getting away until May at least, for all I know – unless pressure, heavy pressure is brought to bear by the Bp. Of Exeter upon the Chaplain General, they may make me adhere to the terms of my contract & keep me for the Army of Occupation. There is no doubt that they are short of Padre´s out here, & it is quite possible that they will keep me if they can. I feel very upset about everything, but I will be patient, carry on, & live in hope. I think it very serious that I shall not be in my Parish while the process of demobilisation is proceeding. Owen cannot act on definite lines without me, and I anticipate that poor old St Mary
Church will be very behind in dealing with
Page 51.
after-the-war problems. There is no doubt that I am wanted there - & that here my energies – such as they are, are running to waste.
March 2nd
Our dance took place last night & was a tremendous success. It went on until 5 a.m.this morning. I left just before midnight. However, I actually danced two dances – with people to whom I could not speak a word. They did not (like several of the Roumanians & Bulgarians here) speak French. We had refreshments in an ante-room, & I captured and regaled 3 fat Roumanian gentlemen, who were effusive in their gratitude. All agree that the Artillery have done the thing handsomely. Of course we all subscribe to the cost. The Artillery Badge was hung up on the wall, consisting of a blanket with the device worked in cotton-wool – which was most effective. I don't think the inhabitants have had anything like it for many years. We got our delicacies etc from the Canteen & the Refreshments were really well done. Some of the Bulgar ladies came in national dress, which was very picturesque.
I have had very nice Services to-day – particularly at the barracks, where we had the Y.M.C.A. & a harmonium, played by a bombardier of D Battery who is an organist & choirmaster. It made such a difference. Putz attended me for the last time & I have said goodbye to him now. He went by the 4.20 train today. I gave him some necessaries to help him on his journey, & things that officers can get but the men cannot. He is really very glad to go Home but sorry to leave Polly & me. We shall have a lot to talk over together when we
Page 52.
meet again.
March 3rd
I think I have secured a groom in Putz's place named Bolus. Putz asked if I would have him, as he is a friend of his, & Putz was sure he would be kind to Polly. We have cold weather again, 10 degrees of frost last night & a bitter wind to-day from the North – it comes I think from the Steppes of Russia.
March 4th
A day of bright sunshine, but bitter North wind. I went out this morning with my new groom – Bolus & he is a very nice fellow, but of course I miss Putz very much. I have also been occupied in arranging dinner to-night, to which we have two Colonels & a Roumanian Captain coming as guests. The O.C. is anxious to do them well. We are having a wild goose and a tame goose for the principal course. The O.C. went out shooting last week with another officer & brought home a wild goose – a good bag. There are a lot of wild geese and duck round here. The geese actually fly right over the town at night, Last night a great number came over in the dark, & we heard them as we sat at dinner. They were flying only just over the roofs of the houses. The doctor has left for Blighty to-day, so we are left 3 in Mess. I am very sorry the Doc has gone – he is a very good fellow – a Scotsman, & we are going to try to meet in England – He has a practice close to Manchester. I have had one of our fellows from B battery very ill with the old trouble – bronchial pneumonia, of which so many died at Kostanik. I am glad to say that I think his crisis is past and that he has fought through. I am very
Page 53.
relieved. It is frightfully sad to think a boy may die out here after coming through the "stunt" & when he is looking forward to going home.
March 5th
A strange Ash -Wednesday. No Celebration – no service. This morning I went for a long ride. A most glorious day of sunshine. Warm in the sun – but very cold wind. We had a very fine dinner last night - & the C.O. complimented me on it this morning. One of the Colonels did not come, so our guests were 1. Colonel Deane, Col of the Berkshires. 2. Captain Lecker (Roumanian) Capt. Cookson (an old Rossall boy) at present acting O.C. of A Battery.
Rossall School was founded in 1844 by Revd. Canon St. Vincent Beechey as a sister school to Marlborough College which had been founded the previous year. Its establishment was "to provide, at a moderate cost, for the sons of Clergymen and others, a classical, mathematical and general education of the highest class, and to do all things necessary, incidental, or conducive to the attainment of the above objects."
Menu
Thick Soup
Salmon Fish-cakes
Wild goose, tame goose stuffed with sausagesPeas – potatoes
Chocolate blancmange with biscuit & jam
(a sort of trifle)
Welsh Rarebit
Dessert
Apples and Walnuts.
What do you think of that for an "active service" dinner! Made possible by the arrival of the E.F. Canteen & Y.M.C.A.!! Col Deane is a North Devon man – knows the Dartmoor Hunt & has ridden in the Point-to-Point races. He knew all the people down there. The O.C. told delightful yarns of Northern Nigeria – lion, leopard, elephant & buffalo shooting etc.
Page 54.
I had a letter from Mr Durham, who is still at St Peter's Plymouth. A little one is expected in August, & I am asked to be godfather! I am so glad.
March 6th
We have had another day of beautiful sunshine, & I went for a nice ride this morning. This afternoon I went up to watch a hockey match at the barracks. I do hope that enough pressure will be brought to bear on the Chaplain-General to release me. I am sure that the Bishop of Exeter could do it if he likes. I am longing to come Home.
March 7th
It has been day of glorious warm sunshine. Bolus & I took lunch in our pockets & sallied forth on an expedition. We had lunch in a wood, where sweet little yellow crocuses were springing under the trees. While we were lunching, Polly & Dolly took fright at nothing and broke away. We had a fine chase after them, the rascals, & eventually caught them. They looked so silly running away because they had their nose-bags on. To-day has been like a day in May would be in England. I wonder if we shall have a return of cold weather.
March 8th
I note from a daily paper that the Archbishop of Canterbury has said that the cry is everywhere raised "Let our clergy now come back to their parishes" & goes on to say that "in many ways the work of the chaplains & the demand upon their energy & reserve are greater and more arduous now than at any period of the War" As regards the work out here, this is not true. He wants to press upon all the best & most active of the chaplains the duty & privilege of remaining with the troops until demobilisation comes. There is a
Page 55.
question – when is demobilisation coming? We are told that the Army of Occupation is destined to stay for several months.
March 9th.Sunday.
The usual Services, & one at the Barracks in the Y.M.C.A. This afternoon a "Rugger" football match, the Artillery versus the rest of the garrison. They beat us 5 points to 3. It was quite a good game, & the supporters of either side enthusiastic. Colonel Deane, of the Berkshires, asked me to tea so I went, & we talked Devonshire. He is quite a good fellow in his way, but brusque, & I should think he has been pretty warm in his time. He seems to have taken to me. I had a letter from Alfred Clarke two days ago. He has had to stay in his Parish during the War, & rather envies me my experience. He is not very cheerful about conditions in the Church at home.
March 10th
The Padre´of the Berks – Rothwell has been on leave to Salonika & has returned to-day. He saw the Principal Chaplain at Salonika, who told him that there were about 200 Chaplains out here & that he wanted 80 for the Army of Occupation. So 120 will be demobilised by May 1st. I am hoping that I shall be one of these – but if I am to be one, there must be pressure from Home. We had rather fun today – a paper-chase on horseback. It was almost like hunting but there being rather a high wind the "scent" laid badly, & after an hour we were beaten. However, it was pretty fast going. Polly was really excited & went splendidly. I think she must have been hunted in her younger days. We have a new member for the Mess
Page 56.
in the shape of an orderly officer who has come up from the Base. His name is Duckworth & he seems a very nice fellow a 2ndLieut.
March 11th
A warm sunshiny day again – I went for a ride this morning, but not far because I wanted Polly to go steady after yesterday's paper chase. I have started my early morning baths again, but have them chilled. I have felt it so much, not having it, but it has been impossible for the cold was too much for anything, & we live in a rough way. Oh, what luxury it will be when I sleep between sheets once more.
March 12th
I have received a letter from the Bishop of Exeter – short & sweet."Dear Mr.Carden – I have been trying to get you demobilized but I will try again. We do miss you very much. Yours sincerely W Exon."
March 13th
Bolus & I went for a long ride, the best I have had since I have been here. We took our lunch in haversacks & tea in water-bottles & set forth. We took a line across country, & to my great delight struck a place of woods & hills & valleys & streams – really pretty country. The day was glorious, bright sunshine with not a cloud in the sky. When we had lunch on a hill-top the sun was really hot & I got browner still than I was before. I went out for a ride this morning with the O.C. - & of course our two grooms. I am really very fond of the O.C. He is very nice, & a nice man to live with. He has travelled all over the world. He is a mining-engineer.
March 14th
Padre´Rothwell came to see me today, & seems quite confident that I shall get away before May 1st. The men
Page 57.
who are keen on dancing have an "At home" from 3 to 7 today – but I don't care about it. No doubt it is good for the young fellows to have the companionship of girls. At the same time one can't help thinking – what girls! I haven't seen a decent looking girl since I have been here. However, some of them will dance with anything.
March 15th
I went for a ride this morning, & this afternoon played in goal at Football for Headquarters against D Battery. H.Q. is a very small unit, & we only have our servants & grooms & a certain number of Drivers to look after our transport, & N.C.O's. Where a Battery has 160 officers & men, H.Q. have only 38. We had a great game, which ended in a draw 2 to 2. They were very bucked to see ann old grey-haired man in goal, & I didn't do so badly, so I am content & none the worse I am glad to say, though a little tired. I never thought I should play in a match again. It is a little pathetic to find one can't do what one used to be able to do. Of course they all make allowances for me. I think they were pleased I turned out.
March 16thSunday.
I have had my usual services. I was rather amused when I went to A Battery. When I get there I am always early because I have to arrange my little altar & get things ready. Sometimes the men are already in the room & if they are (no officers of course) I always say "Good morning everybody" in a cheery way, & then while I get things ready I have a way of keeping up a running conversation. This morning I went in as usual & got the answer "good morning sir" & then somebody
Page 58.
said "3 cheers for the goal -keeper!!" Rather a strange way to begin a Service wasn't it! Some of the men had been at the football yesterday. The soldier is a funny fellow, but he is very goodhearted & is always cheery. This afternoon the O.C. & I went for a ride together. Going out we had the strong wind at our backs, but coming back it was outrageous. However we had a good healthy blow. We are very sad that the Mess Cook has been demobilised, & has gone today. However I have found another in the B.A.C. whom I knew of- but he's a 1914 man & will probably go very soon, in his turn. I wish my turn would come!
March 17th
I woke up this morning to find everything covered in snow again, deeper than before. I fear that we shall again have the trains unable to get up from Varna with supplies & also – no mails, which is worse. It has been snowing all day. Fancy! 2 or 3 days ago I was actually lying on the ground in the sun eating my lunch & getting browned by the sun.
March 18th
No trains up – for they are snowed up – but a thaw seems to have set in & it doesn't seem very cold tonight. Nothing happens - & when we can't have our horses it is very slow. I have so missed the "Church Times" happily Rothwell has had it the last few weeks, so I read what is going on in the Church at home.
March 21st
Titheradge came to dinner at my invitation yesterday, we then went on to a dance held at the cinema, & returned very late. It seems strange , going to a dance in Lent, but there seems reason for relaxing the rule under the circumstances.
Page 59.
What life here would be for the younger officers without these recreations it is impossible to say. I think it is a very good thing that trouble is taken to keep them going, for this would be a deadly dull place without. As it is, it is very trying, the daily routine. The snow is melting & there has been sun today, but not warm. I made my confession to Rothwell this morning, went for a ride this afternoon. I had a letter from the Doc. Yesterday. He is at an embarkation Camp near Salonika, waiting to go Home – Lucky fellow.
March 23rd
I am so glad at a little bit of news to-day. I have been trying to help Titheradge a bit, & he expressed to -day a desire for confirmation. He reads the lessons at A Battery Parade Service for me – every Sunday. He is older than Miss Madge Titheradge, but quite a young man. He is married. An actor by profession.
(From here there is not much to record daily, so interesting items are picked out as they come)
This would seem to be the decision of Revd. Carden's widow who made this part of the transcription of the letters
April 1st
Poor old Polly has a swelling above the fetlock, not serious. We think she must have had a knock or kick. We, Bolus & I took luncheon & went for a long ride – not Polly. We went some miles out & came to a village at about luncheon time & proceeded to a well in the middle of the village to water the horses. There was a bucket and a rope. Bolus got out a couple of buckets of water & then distinguished himself by letting both bucket & rope fall down the well – about 30 feet. A village maiden – Bulgar & two Turk boys became interested in our operations, but although the
Page 60.
maiden wanted water she did not seem seriously disturbed.
April 4th
I spent all morning up at the Barracks at the sale of our horses. They are being bought by the Roumanians & a General, Colonel & 2 or 3 other officers were there to buy for their Government. Headquarters' will be sold to-morrow, and I am afraid – to my deep regret – Polly amongst them. There is movement in the air – much is taking place. The Brigade Major motored from Varna to luncheon here, bearing important communications for our O.C. I don't expect that the horses will go away for a week – so I hope to get a few more rides on Polly. I feel very sad at the prospect of losing her.
April 5th
I went up to the barracks this morning & saw Polly shewn, accepted and branded for the Roumanians. Poor old Polly, I wonder what her fate will be!
April 7th
Yesterday evening Rothwell held a Service at the Y.M.C.A. & I acted as organist. There were not many boys present – there was a football match on at the same time. I expect that all the horses will leave us this week – and then!! as a matter of fact I know where the Brigade is going, but at present it is a secret – am I destined to go with them? I fear that the Bishop's second application has not borne fruit.
April 9th
I went for a last ride on Polly to-day, just for an hour in the morning - & now she is in the train for Roumania, I feel very sad at losing her. She's nothing wonderful as a horse but very gentle and good-mannered & I have had her ever since I have been out here – since September last.
Page 61.
April 10th
The next few days will be weary waiting, & wondering where one will be this time next week. One never knows what the authorities are about in the Army – we leave here, that is certain.
Yesterday was some Roumanian anniversary & it was kept in a very comic way. Of course most of the people here are Bulgars, but the Roumanian authorities sent Roumanian flags round to every ship with the order that they were to hang the flags out to celebrate the occasion!!
April 14th
Great joy! THE ORDER FOR MY RELEASE CAME THIS MORNING. I cannot describe what I feel – I am too excited for anything. I am to move with the unit to Varna, and then proceed to the Base for demobilisation. Oh, I am delighted – another month ought to see me HOME
We ought to move from here to-morrow, & expect to do so, but the railways are not to be depended upon at all. Engines have broken down, & we cannot tell whether it will be to-morrow or Wednesday. I expect to go to Constantinople. I hope so, at any rate. Fancy HOME at last, after all this time. I shall have been in the Army a year on May 7th.
April 15th
We have not left Dobritz yet. We ought to go tomorrow, but the line is(----?) & engines scarce so may not get off. I don't see much chance of being home until the end of May. We had a comic excitement yesterday. The "kitchen" chimney caught fire fire – much horn-blowing from the Tower opposite & the arrival of the fire brigade – to wit 1. A man on horseback 2. A hand pump & hose in a cart 3,4,& 5 Water-carts consisting of barrels filled with water
Page 62.
painted red – or rather there were traces of them having once been painted red. Great crowd out side. Men, with [dramatic?]gesticulations & whistles arrive, get on roof & pour water down [the chimney?] tremendously funny
[The next page except for the words Left Dobritz on Maundy Thursday is indecipherable owing to being spoiled by water]
I was in Camp on Easter Eve, everything all sixes and sevens. The 115 Brigade arrived & the work of amalgamating the two brigades 115 and 116 was in progress. I took Saleeby's 7.a.m. H.C. in the Oxford & Bucks Mess on Easter Day.(Revd. Elijah Solomon Saleebey) This was my only Service – the rest of the day was spent in arranging to go on board the boat (P&O Kashgar) & finally in getting on board. A few of us were able to get on board this day & it was a great comfort sitting down in the Saloon to "civilised" meals, and sleeping between sheets for the first time since I was at the Janesh "Hotel" last September.
All troops got on board by Easter Monday evening & all attempt was made to start, but there were no tugs to pull us out of the harbour, & the strong wind prevented getting the bow of the boat round, so we got alongside the quay again ( we had not left it more than 50 yards). Waited until morning. Boat sheering off from quay-side while I was dressing, the wind having turned to the opposite direction of the compass. I am now writing 9.30.a.m.
Page 63.
& we are in full swing for our journey. Happily a calm sea, with practically no sense of motion. Cold wind – We were paraded with life-belts yesterday, & are to parade again at 9.45. We have to carry our life-belts with us wherever we go. The Black Sea has extensive mine fields not yet swept; & there is a rumour ( only a rumour) that there are 5 Bolshevik Submarines knocking about. Troops on Board – R.F.A., Hants, Oxford & Bucks, Scottish Rifles, R.A.S.C., 5 Padre´s(1 R.C.) Doctors & Ambulances & other Details. Generals Blake & Bruce ( late 26th. Div. C.R.A.). The 26th Div is now broken up. Major Hepburn ( our late O.C.) Major Shaw, Capt. Cookson are all on board for Constantinople. The Padre´going with me is a young fellow, Padre´of the Hants – named Sutcliffe. Four or 5 Sisters on board – one French. Last night the 77th. Concert Party played orchestra during dinner. Everything on board, very comfortable – very nice – like an ordinary P and O passage. Certain regulations etc. disciplinary – necessary of course – The men are forward and aft. I am in a cabin with Saleeby. We arrived at Constantinople on Tuesday evening at about 7.20.p.m. We duly landed between 9 and 10 next morning. Sutcliffe and I got hold of some Turks with a barrow & got our kit on to the Kapurthala, which was to take us to Salonika. I have omitted to describe our entrance to the Bosphorus. In some places the straits were less than a mile wide. Strongly fortified at the entrance. All along the shore on either side, very fine houses and other buildings, really a very fine piece of scenery.
Page 64.
The view of Constantinople from the Bosphorus is remarkable. I have never seen anything so fine. Pera & Galata on the right, Stamboul on the left. Pera is on a steep hill, crowned by a large round tower. The Mosques are very large & picturesque. On the Stamboul side, the mosque of St. Sophia stands out prominently with its 4 minarets, & to the left of it the mosque of Sultan Achmed with 6 minarets, a very fine pile of buildings. The 'golden horn" is a creek running up between Stamboul and Pera. It is crossed by two bridges – the Galata bridge and the new Bridge.
Having got a cabin on board the Kapurthala, together, Sutcliffe and I started out for a walk in the city. The streets are mostly very narrow & were crowded with people, multitudes of them. I have never seen a town or city so crowded with people – very cosmopolitan. One saw British, French, Russian, Italian, Bulgarian, Turkish & other nationalities. The Turkish women wore a thick black or dark blue veil covering the entire face. There were very fine "turn-outs" as carriages. Carriages & pairs with ornate brass-mounted harness. Coachmen with fez & livery & "top-boots" The Turkish man about town seems a very prosperous individual, sleek & well-to-do. He is very much of a gentleman in appearance, quite European but for the fez, which is universally worn. We changed 25 Drachmas into Turkish paper money – pesetas. 390 pesetas to one English pound. Although we reckon 25 Drachmas to £1
Page 65.
a money-changer would only give 350 pesetas for 25 Drachmas.
We made a bee-line for the Mosque of St. Sophia, which is , of course, a converted Christian Church – a very large and fine building. In certain places one could easily see where Christian Crosses & other symbols had been effaced. We were provided with felt slippers over our boots & shuffled about the mosque inspecting the walls & roof. I thought I could trace on some panels figuring as though there had been formerly Christian paintings. Of course we saw the spot high upon the wall where the Mohammedan conqueror had ridden on his horse upon the heaps of Christian dead in the year 1453. As he rode upon the corpses his horse slipped upon them & kicked a piece out of the pillar behind. The rider placed his hand (covered with blood) upon the wall & left a bloody mark of the hand upon it. The shape of the hand has been cut into the stone & remains as a record of the incident.
From St. Sophia we hurried away to the Bazaar, which is a most remarkable sort of market under cover with alleys branching on all sides, & shops of every description. We bought some embroidery & then made our way through the narrow streets back to the New Bridge. At the Stamboul end of the bridge we went into "the Turkish Delight" shop & I bought some "Pabat Lokome". We then went over the bridge & had luncheon at a Restaurant, after which we bought some stamps at a shop & then made our way back to our ship. We cast off at 6p.m. and
Page 66.
started away through the Sea of Marmora, arriving at Chenak, where I am writing this account. Chenak is at the entrance to the narrows of the Dardanelles & we ought to see some interesting places when we leave here. Certainly we ought to have a view of the landing place of our troops on Gallipoli, & the River Clyde steamboat, (https://en.wikipedia.org/wiki/SS_River_Clyde
which is being salved & is to be taken home to England.
We did not stay long at Chenak, (Chanak?)we only had to land 4 mules & a limber-G-S-wagon, & to take on board 29 O.R's. When Salonica is cleared of British, which is to be in less than a month's time, Chenak is to be the place where the concentration & embarkation camp fro demobilisation will be situated.
On leaving Chenak we sailed down through "the Narrows" with the Gallipoli peninsular on our right. To my very deep concern a very stiff breeze was blowing & it promised to be pretty lively out side in the open sea. However, we came to Cape Hellas, where we passed comparatively close to the old steamboat "R Clyde" from which the troops were disembarked for the Gallipoli landing. She stands quite close in to shore almost under the guns of a fort near by. West of her is a large French Battleship which was placed to cover her while landing the troops, & near her again another vessel which was torpedoed by mistake. The French did not want to leave their Battleship there & so a torpedo was launched at her but it hit the other vessel by mistake. Further away west at the other corner of the foot of the Peninsular two other vessels, half-sunken are clearly seen. Looking from the base of
Page 67.
the peninsula northwards one can see the hill Achi-baba (?) It was as far as the base of this hill that our troops penetrated. After getting into the open sea round the Island of Tenedos I had no further interest in anything. Our boat was small and light. The 3rd Officer admitted a "strong gale", we pitched & rolled horribly with a kind of corkscrew motion. I was in a cabin with Sutcliffe, we were both very ill. All passengers were ill, several of the crew were ill, & even the first officer could not eat his dinner. I was desperately ill up to past 3.a.m. when I had some intermittent sleep, but I had to hold on to prevent being thrown out of my bunk. Happily, the sea had gone down the next morning, & we were well in sight of Mt. Olympus. I was able to eat a light breakfast, but felt very washed out. From then, the sea became calmer & calmer, & we arrived at Salonica at about 1.p.m. At Salonica we disembarked at 4.30p.m. A motor lorry came for ourselves and kit & we were rushed off to the "Reception Camp" where we signed our names, passed the Doctor & went on to the "Concentration Camp" here we shewed our papers, signed names, were allotted sleeping accommodation in a large Marquee with several other officers, a batman each, and here we are.
April 26th.
Went to Salonika this morning to report to the acting Principal Chaplain. Found a lorry going in. Got off at "Piccadilly Circus" & walked along the and so to the bank of Athens, drew £20 English Money & went on to the H.Q. Saw the A.P.C. who drove us back to Concentration Camp (5 miles) in his car. All papers etc. are now in order, & we are only sitting waiting instructions to move.
Page 68.
Percy Ashton is here for demobilisation, I just had a word with him last night, but haven't run across him since. There are a heap of officers here, & a very large Mess. A Padre´ has asked me to play the harmonium for Parade Service at 10a.m. to-morrow at G.B.D.
I omitted to mention that as we entered the Bay of Salonica, on a point to the right of us, the S.S. Norseman lay stranded, torpedoed, I think, she had a large number of mules on board at the time. These were cut loose & many saved by swimming to shore.
Saturday April 26th. Percy Ashton had met Jackie Steedman, who is posted for duty, & probably bound for Constantinople. He brought Jackie to me after dinner to-night & we went to a Concert together afterwards. On Sunday April 27th. I went to 7.a.m. Celebration in the Church Tent at the Concentration Camp The Padre´who celebrated was the Chaplain to the Camp named Kryke. At 10.a.m. I fulfilled my promise to play the harmonium at Parade Service at G.B.D. A great many officers & men attended. The Padre´gave an address on St Sophia at Constantinople. On Sunday evening I again went to G.B.D. (voluntary) service at 6.30 p.m. A very good attendance & a nice address on the Resurrection from a young Padre´. To my great surprise, after dinner orders came for several of us, me included to pack up kit & be ready for breakfast 6 a.m. to go to the Embarkation Camp. Sutcliffe, sleeping next to me was included in the number. He and I had planned to travel together all the way to England. About an hour later orders were altered, & to our great chagrin, we were to be separated.
Page 69.
I was retained in the draft, & was the fortunate one, Sutcliffe had to remain behind. We were to breakfast 7.a.m., all kit to be ready by 7.30. Officers parade at 8. All this was duly accomplished next morning. I was up betimes, having had a very poor night. I must confess to being somewhat excited at the prospect of at last leaving Salonica for HOME.
We were not sent to embarkation camp, but straight on board ship. Motor lorry from Concentration Camp, with kit, to the docks, then in a "lighter" to S.S. We started away without much delay at about 4p.m. Fortunately we have had beautiful weather & smooth passage so far. I am writing this in my bunk before going to bed on the evening of Tuesday April 29th. Yesterday we coasted Greece southwards. We passed Mts Olympus, Ossa & Pelion, all renowned in Ancient Greek History. We made Athens about 3 p.m. this afternoon. Here we stayed only for a short time, just enough to land 3 Staff Officers from Salonica, who had come to Athens on leave. However, we had a good view of Athens from the sea- - from Piraeus right up to the Acropolis – also a splendid view - through field glasses, of the Parthenon.
Leaving Athens we made for the Isthmus of Corinth in order to pass through the Corinth Canal into the gulf beyond. The Canal is a most wonderful piece of work. It is a deep cutting through the isthmus, & in places the cutting is no less than 360ft. deep from the water to the tops of the sides. Our ship was just of size to pass through, leaving only a few feet to spare on each side of us. The Canal is about
Page 70.
3 ½ miles long. We came through under our own steam. On getting through the Canal we saw modern Corinth on our left. Ancient Corinth was in a dip of the hills rather at the back of the modern town. I could not help looking at the mountains – the everlasting hills, and thing of how St Paul's eyes must have taken in the very same view of them & marked their bold setting against the wonderful blue sky. In one place a most striking bit of colour was made by a regular carpet of bright red poppies – near by some Greeks were actually carrying hay.
I forgot to mention that we officers came on board before the O.Rs. At Salonica. As the Troops came on board a little later, to my great surprise, I saw several of the men of my own brigade whom I had seen of at Dobritsch station on April 10th. - when I had no idea whatever that I was going to be demobilised. They had gone from Varna to Salonica by train & I had received orders for HOME, came by boat, & actually got on board the ship at Salonica before them. Amongst them is Lewis , who was Mess Waiter at our H.Q. & my batman for a while. He is delighted to see me, as were all our men. Lewis is my batman on board now, and will, I hope, be my servant all the way to England. He is a very good servant & I am lucky to get hold of him. I have a nice cabin, & my companion is a C of E Padre´- E.C. Hudson, a Cambridge – Trinity – man. He holds a living in Yorkshire. On arriving at Taranto, after a comparatively smooth passage which I stood
Page 71.
quite all right, although some of the Tommies were sick, we came in to the outer harbour. A pilot boarded us after some time & on his taking the wheel on the bridge, the steering gear smashed badly. The Captain did not dare to go through the narrow entrance into the inner harbour on the storm wheel, so we lay outside all day & all night. On the following morning, with the help of tugs & using our own steam-power a little & the storm wheel, we got into the inner harbour. We were taken to the Rest Camp, where there were a great many officers, some for Egypt, India other places eastward, ourselves for Blighty.We pushed off by train the next morning. The train journey, so far, has been quite satisfactory. I am now quite used to this sort of thing, & the roughness & dirtiness is not such a hardship as it was coming out. We have had some pleasant halts. A day at Faenza, where the Rest Camp is excellent. I had a lovely hot shower-bath. Music played by the orchestra from the opera, was played during luncheon, just as on the outward journey. The same old Colonel is Commandant – Scott-Harden. He deserves great credit for the way in which the Camp is managed. We arrived at Bologna in the evening, & I went into the town. Hudson and I & the other officer in our carriage – Lt. Davis – had dinner at the Hotel, San Marco, then we walked about the town for some time. As it was evening we could not see much,
Page 72.
but found it very interesting all the same. We left at 11 p.m., found ourselves at Voghern this morning (May6th) and had 2 hours in the town. We went into 2 of the Churches & found them very interesting. I bought 3 handkerchiefs at some stalls in the market, and some stamps for Mary.
Here the diary ends.
copyright 2018