From the Bell Tower: December/January 2017/18
2017 has been the busiest so far in the tower in respect of the commemorative peals. The 16 rung this year have more than doubled the combined total of the previous 3 years meaning more than twice as many men died in 1917 than had done since the start of the conflict. This represents a huge commitment on the part of the 54 different ringers who have taken part to date, ringing to honour our past villagers they never knew. Next year we will ring for another 12 soldiers and it is intended that on Armistice Day 2018 that an additional peal will be rung on the open bells to signify the end of hostilities. Of course that was not the end of Ryburgh's involvement as William Holman was to die in Africa in January 1919 and as previously written, we will also remember William David Howard of Langor Bridge in 2023 who will represent the many other casualties of the War who died outside the official period of the conflict.
Also looking forward to next year, we have to make a start on the Gas House Project. We badly need those new toilet and storage facilities if the life of the Church is to continue to flourish. However, we still need more funds if the work is to start in the Spring, and so any schemes for fundraising would be welcome. To that end, I would like to make a start. …….As you may remember, I undertook with Terry Yarham from Little Ryburgh, the restoration/rebuild of a Farmers Foundry Tumbril which we completed at the beginning of the year and which had its maiden voyage on the village litter pick towed behind Steve Hall's Field Marshall.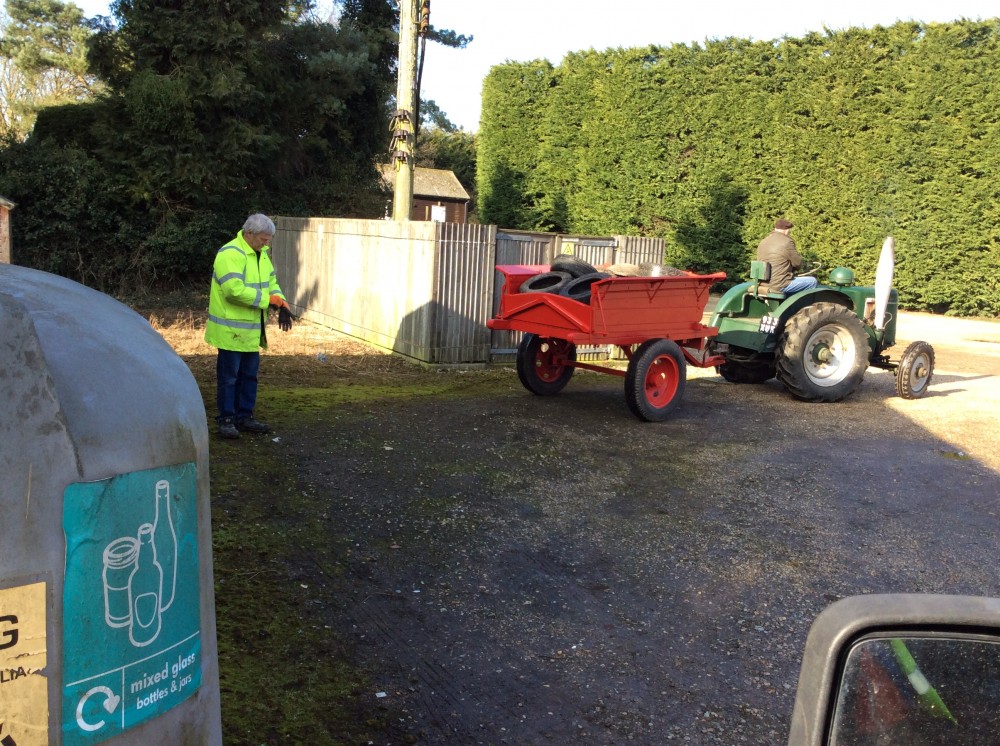 Henry Palmer bringing the tumbril on to the Glebe for its EDP publicity shots: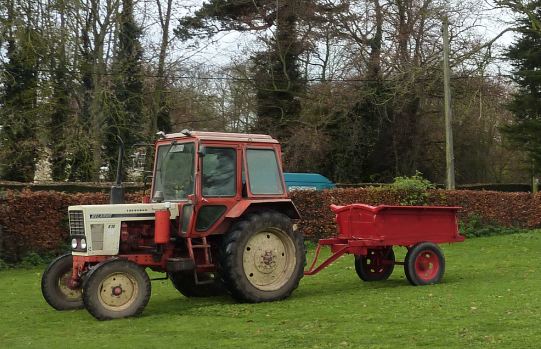 My fundraising idea is that it be sold for as large a donation to the fund as possible.
If I may put it this way, A stranger came in to St Andrew's knowing that someone connected with the Church was interested in and knew about the Farmers Foundry and donated it to that person. That person spent an undisclosed sum and countless hours bringing it back to the point that it could again function as it had when first made. That person is also mindful that they have had huge enjoyment in carrying out the refurb but also that it can't just sit there looking splendid. Yes it needs to be cherished but also put to some legitimate purpose, not necessarily involving turnips or manure, that will justify the restoration.
I have seen original examples in need of differing amounts of restoration selling for under three hundred pounds down to F.O.C. This is not intended to be a guide price because those figures are, albeit examples of market values, way off the mark in terms of what it actually cost to do. All I can say is make us a respectful and realistic offer and help us get this much needed facility underway on time.
If you can come up with a fundraiser of your own, please get in touch.
If you just want to come and ring bells it's Tuesday and Thursday evenings at 7.30 and as the comics of my youth would say "A very Happy Christmas to all our readers"
****************
From the Bell Tower: November 2017
Sometimes I sit at the computer and hope for ideas to write about and other times, like this month, things just line up waiting to be written down. The first concerns the soldiers with a connection to Ryburgh who died during the First World War. Just when you think they have all been accounted for, another one turns up. In this case it is Brisley's Bertie John Doy who died on October 28th 1916. Thanks to Mary Carden we have now been able to add him to our revised and enlarged Roll of Honour. He attended Ryburgh village school when his father Alfred Christmas Doy had been employed at Testerton in the late 1890's. When his mother Charlotte was widowed in 1906 the family were back in Brisley with the older members working at Green Farm. It was two years after Bertie's death, in 1918 that his mother married the widowed landlord of the Marine Tavern, which just happens to be where we live! As Mrs Charlotte Hall, she ran the pub until it closed its doors in December 1930. And there's more… In the course of researching her tenancy on the Norfolk Pubs website, I came across an image, new to me, of the Marine Tavern in 1898 in the condition that Charlotte and her family would have known it when they were first in Ryburgh. You can see this new imageand a whole lot more on the Marine Tavern page of the website :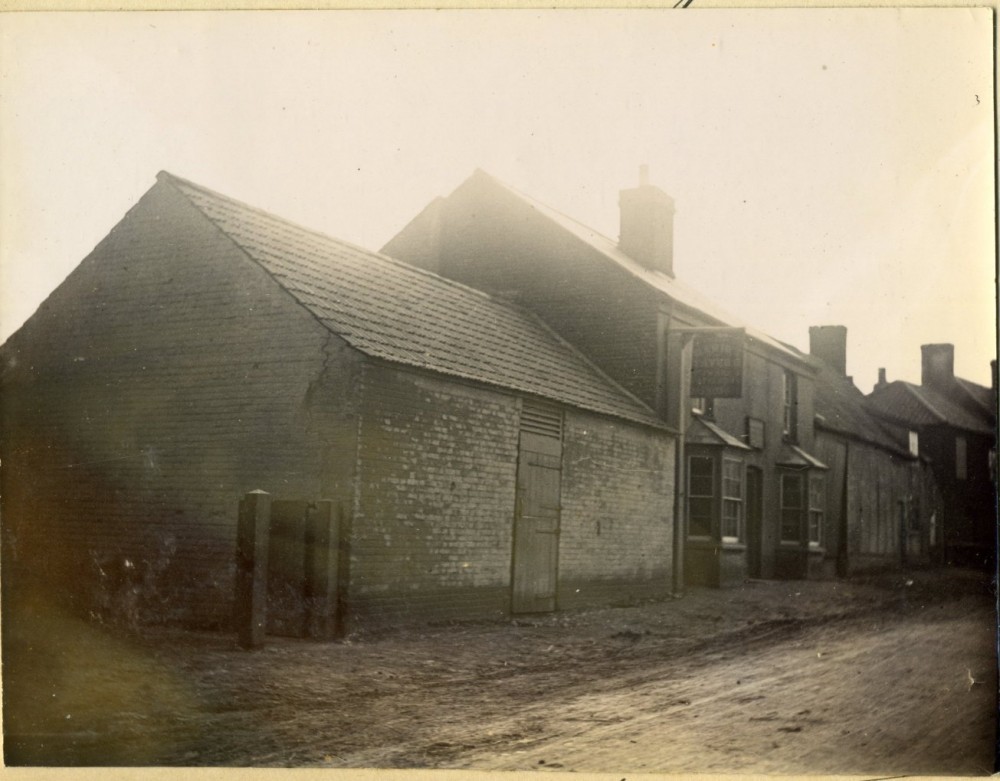 Then of course, work has started on the Chancel roof, which has revealed some of George Tatham's painted roof from the 1858 restoration. What survives is all plain green boarding (in really quite good condition) but disappointingly, the area over the altar is devoid of any boarding which by contemporary description had been painted "Vermillion with Gold Stars".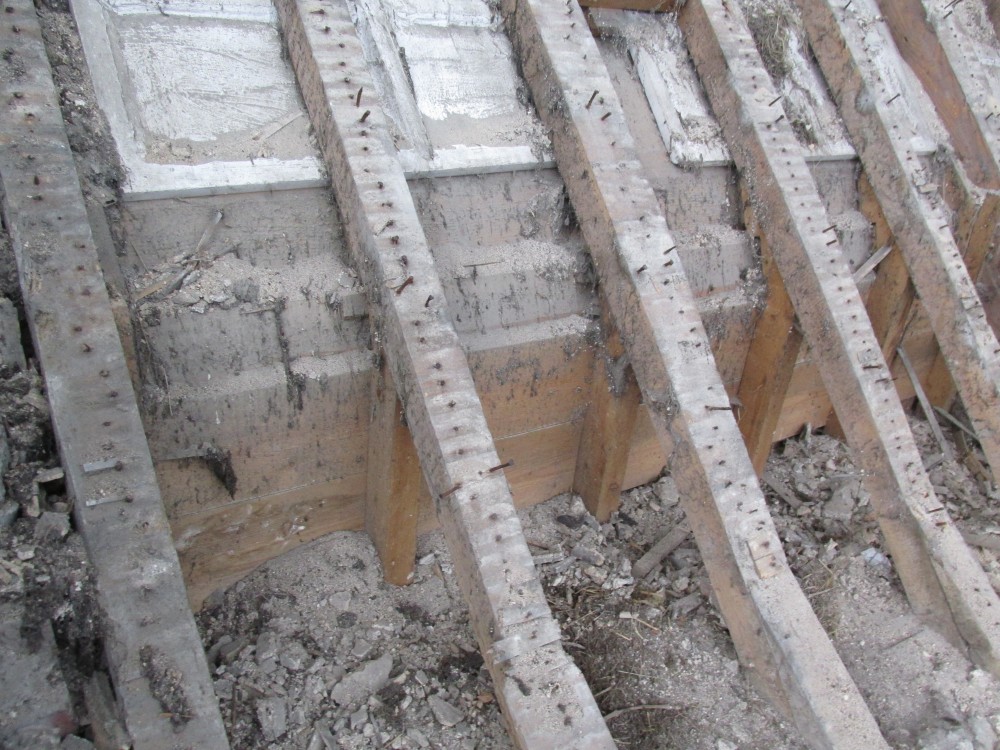 The North East corner of the chancel roof at the eaves. All the Victorian boarding had gone from this area and the lower plaster panels are clarly visible and must have been removed when the Comper roof was put in.
The Victorian ceiling clading still in place over Comper's plaster panels on both elevations of the chancel roof nearest to the chancel arch.
Presumably employees of Fisher the builders who carried out the re-roofing, G Cubitt and W Rix obligingly added the date 9th August 1912 in pencil to one of the green boards before they were covered by the new plaster panels. The same board was also signed in October 1893 and refers to "organ cleand". Before the 1911 restoration, the organ, now on the Comper gallery was immediately beneath this part of the North chancel roof. This is the first time they have seen the light of day since then.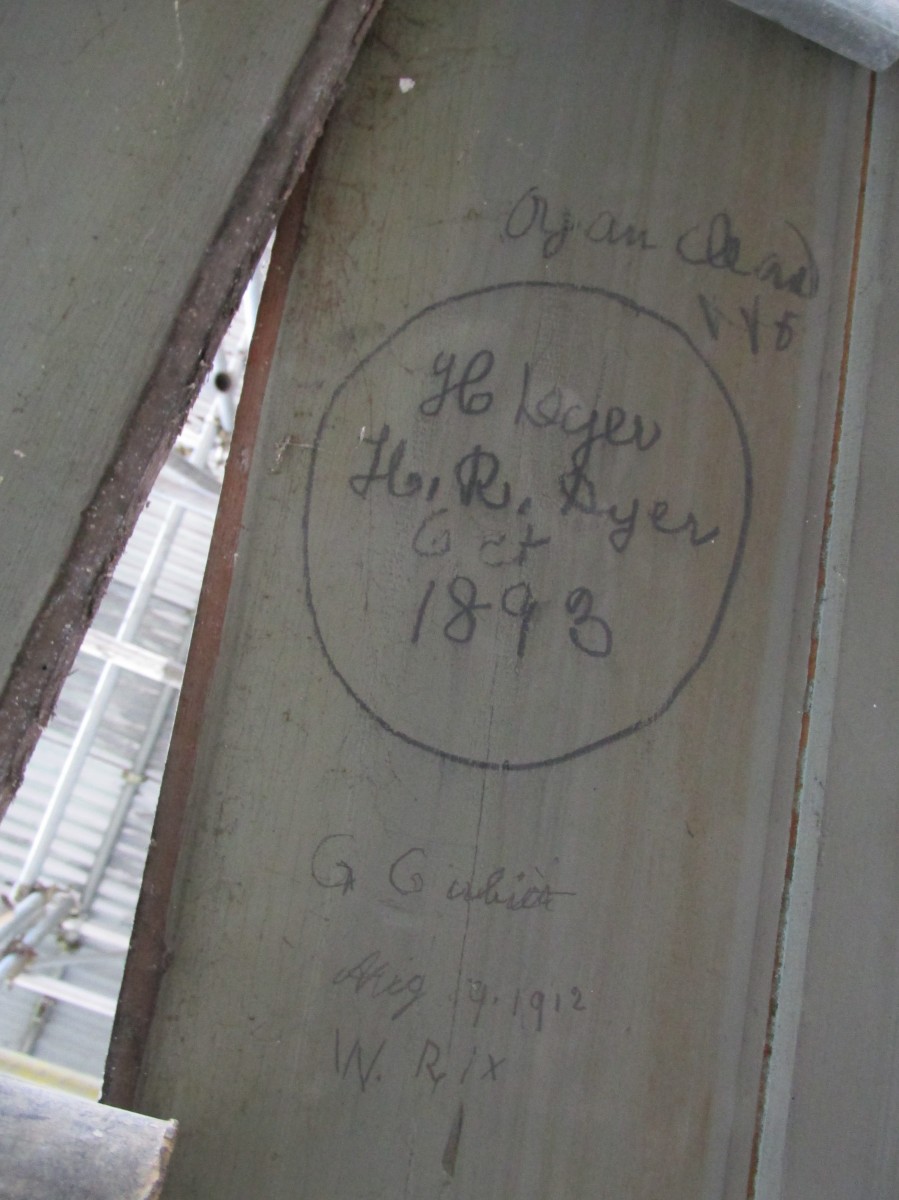 It is wonderful how the old system of bedding the tiles on lath and plaster has kept the water at bay for so long. Interestingly the hair felt underlay specified by Comper in his plan is absent in the finished roof which fortunately hasn't suffered as a consequence.
Meanwhile back to bellringing, and our participation in what is known as a Striking Competition on October 7th at Gressenhall. We entered as combined Ryburgh and Whissonsett teams , which of course includes our 4 person strong contingent from Hindolveston. With such a high proportion of learners we were able to enter two "Novice" teams in the Call Change section as well as a regular "mixed experience" team in the Method section. Everybody was in fine form with the result that we were placed first and second in the Call Changes and second in the Method category. As well as winning the Call Change Trophy we also gained the trophy for the best novice band. I would just like to specifically congratulate Brian Hart for ringing at his best ever which ensured that the novices won the overall call change section, 2 points ahead of our other team and considerably more than the remaining opposition! Proud or what………...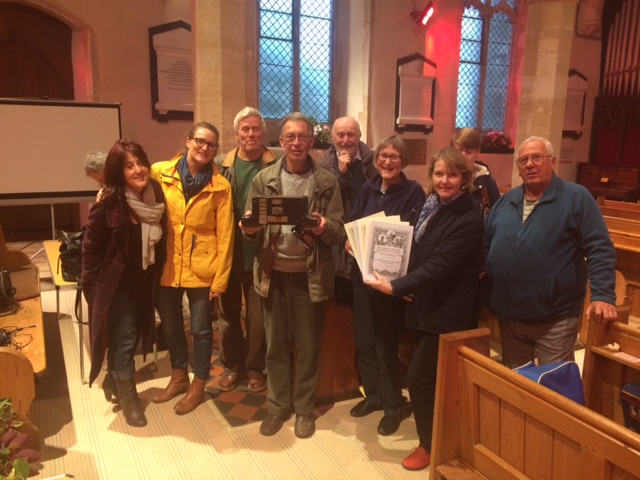 Some of the winning teams.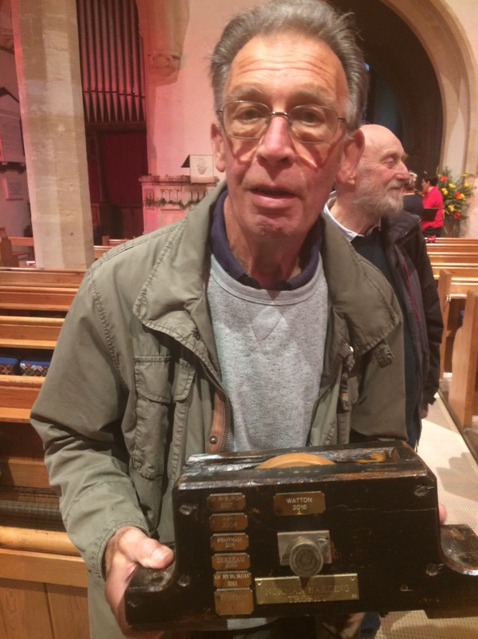 A very proud Brian.
***************
From the Bell Tower: October 2017
I was delighted, in fact more than delighted, to receive a phone call from Horningtoft farmer, Colin Palmer saying he had read of my request for reclaimed materials and that he had some flints that we could have for the Gas House project. I went over a couple of days later to see what he had and found that "some" actually meant potentially sufficient for the whole of the building AND red brick to match too!
I would like to say a very big thank you to him and also those several others who have already donated brick and flint and just how much we appreciate offers like these that demonstrate the community spirit that exists in our local villages. This latest donation is a real fillip for the project which we hope, sufficient funds permitting, (yes, regrettably we also need hard cash too!) to begin in the Spring.
This month we will mark the death of soldiers John Betts and William Doy on the 12th and 22nd October respectively. John's brother Walter Betts died on the 23rd November 1917 bringing the year's total to 15 Ryburgh men who died in this, the worst period of the entire conflict. 1918 however was nearly as devastating as we will be remembering a further twelve men next year.
Cycling around churches in South Norfolk as part of the NCT Sponsored Ride we inevitably came across bells and were able briefly to hear the 3 bells at Morningthorpe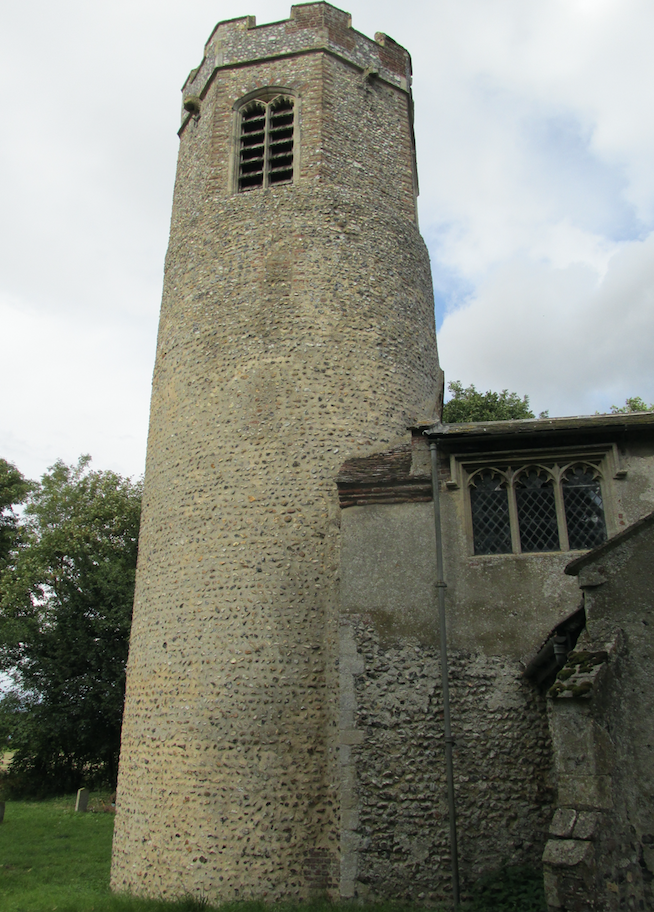 Morningthorpe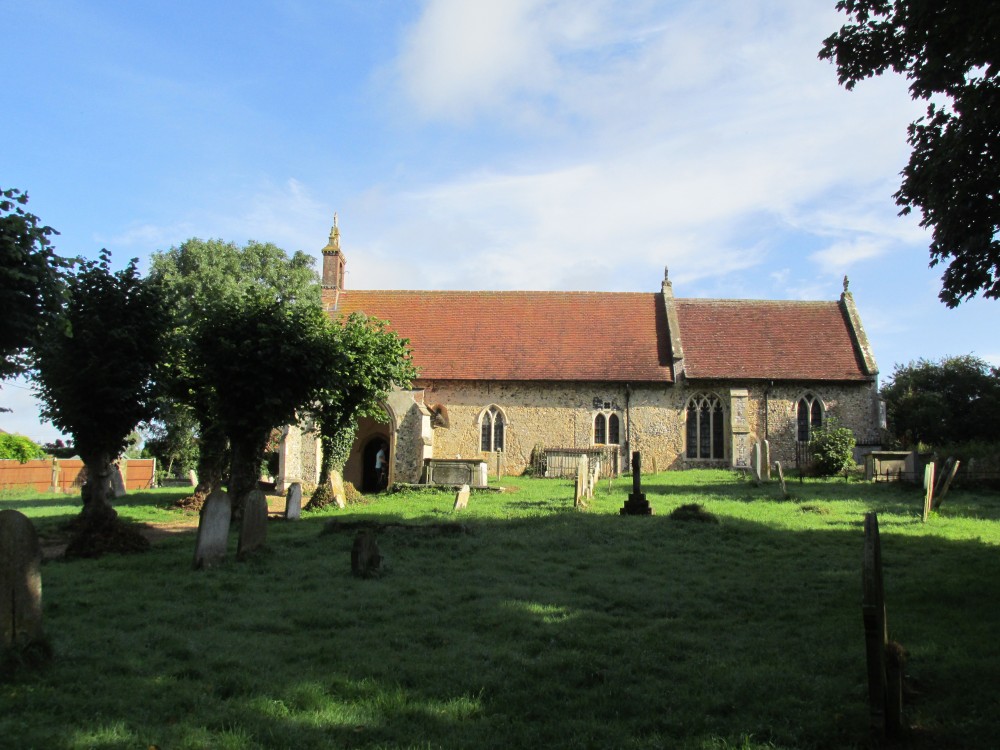 Flordon
and individual bells at Flordon and Great Moulton. Also unsurprisingly we came across ringers (Aslacton) and those related to ringers who were at the various churches welcoming riders.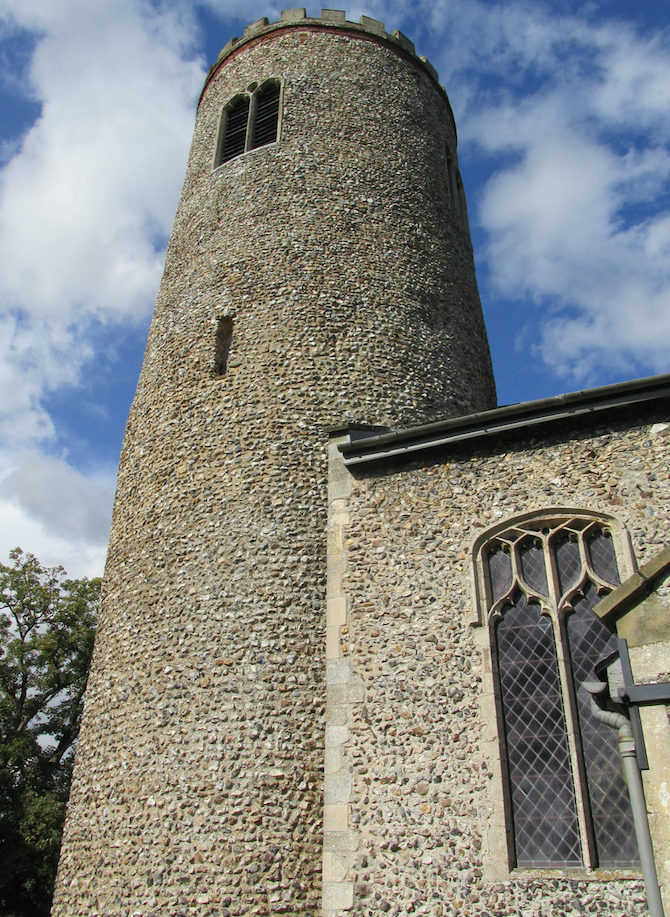 Aslacton
It was nevertheless quite a coincidence to see the name of Harry Duffield (one of a dynasty of ringers of that name) on peal board at Forncett St Peter and then be welcomed by his non-ringing niece in the Evangelical Chapel at Great Moulton. This new Chapel replaced the original "Tin Tabernacle" that can still be seen as it was donated to Museum of East Anglian Life at Stowmarket. In contrast the parish church of St Michael' Great Moulton was also memorable for its recently restored C17/18th painted (oil on canvas) pair of the Ten Commandment (Decalogue) Boards.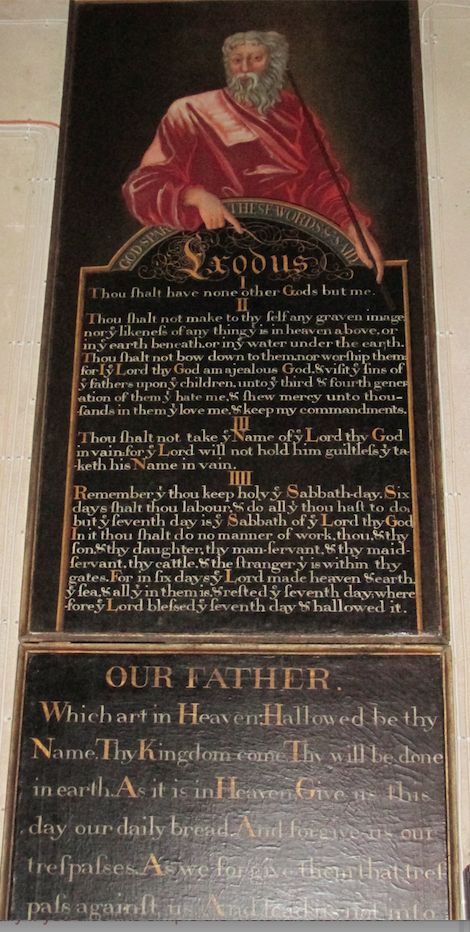 These had been almost unreadable on the West wall either side of the tower arch until a year's conservation work revealed the colourful, imposing figures handing down the full text. Well worth a visit especially if you also like simple the Victorian stencilled wall painting that decorates the East end.
From the Bell Tower: September 2017

Following on from last month, I soon discovered that our Rev John Christian was the Rev. Charles Mordaunt's Curate here at St Andrews from 1781 until his death, and he did indeed have a Curate, Rev. Hugh Hill, to take care of his Parish at Knapton. Furthermore, the Heraldry on the ledger slab denotes an Isle of Man connection, his ancestors having been hereditary "Deemsters" (Judges) on the Isle since the 14th. Century. His branch of the family moved to the mainland in the 16th Century and his Grandfather (another John) lived at Ewanrigg Hall in Dearham Northumberland. His 1st cousin was the infamous Fletcher Christian of "Bounty" and Pitcairn Island fame. ……….Small world isn't it!
The 28th day of this month sees the resumption of our WW1 casualties as we remember, with a peal on the bells, Charles Thomas Steward who was baptised at St Andrew's on July 11th 1883.
He was the 6thof 8 surviving children born to Robert Steward (1840-1899) and Ann Wilkin (1851-1921) both of whom were Ryburgh-born to Ryburgh families.
He is unusual in that of the 43 servicemen we have researched, he was one of only 7 men not to die on the Western Front. What is more, he is one of the handful of these 43 not described as "Killed in Action" or "Died of Wounds." He is also just one of three that died whilst not fighting a battle and the only one to succumb to disease whilst serving abroad. Fortunately his service record has survived which briefly charts his military career from rural Norfolk to his burial in Iraq.
He was aged 32 years 6 months when he enlisted with the Norfolk Regiment in Norwich on Dec 3rd 1915 for the duration of the War. On October 15th 1916 he embarked at Devonport en route to Sheikh Sa'ad via Basra arriving on November 21st, twelve months to the day of his enlistment.
6 months after his arrival in June 1917, there began a narrative of admissions to hospital in Baqubah, first with Diphtheria and 3 months later with Sandfly Fever which led to the Bronco Pneumonia from which he died.
The Service Record also tells us that he was 5' 7" tall, he had married Laura Jane Hooke at Rougham Parish Church in April 1912, that when he enlisted they were living in Ryburgh, where he worked as a [Maltings] fireman and also that he was trained as a bomber with the Norfolk Regiment.
Army form W.5020., a certified statement of the living relatives of a deceased soldier, says he had no children and that his father had died, but his mother was still living. It also lists his 5 older brothers: Fred, William, John, Herbert, and Robert. Also his two sisters, Annie Balderstone and the unmarried youngest, Alice. All of this was verified by the Revd. F.H.Tatham. in May 1919.
He was initially buried in the Baqubah Cemetery but later reburied in the Baghdad North Gate War Cemetery
There are a further 3 casualties before the year's end, more of whom in a future issue. In the meantime, don't forget, we have bell practices onTuesdays and Thursdays at 7.30 p.m.
************
From the Bell Tower: August 2017
When George Tatham arrived in Ryburgh in 1858 he described a dilapidated "Georgian" church and set about modernising it. As a result, there is not a huge amount of the Georgian past that survives, but what there is most prominently, is to be found on the floor of the Chancel and North Transept in the form of several large black ledger stones.
Three of them are inscribed to clergymen who died : Rev. John Spencer A.M., Rector 1687-1720 Rev Francis Burton Rector, Rector 1745-1758 and Rev John Christian A.M. died 1788 and who is not the Rector. The Rector from 1760 on is listed as Charles Mordaunt and curiously he is listed for a second time in 1779 and served through to 1820. So who was this Christian gentleman? What does the Heraldry on the ledger signify? Why does he not appear in the Burial register?
As it happens, I had already garnered some C18th press clippings, the most poignant of which from August 9th 1788 reads as follows:
The following Accident happened at Ryburgh, near Fakenham, Norfolk:- As the Rev. Mr. Christian was taking down his gun to shoot Birds in his Garden, it unfortunately went off, and shot him through the Head. On Monday last the Coroner's Inquest sat upon the Body, and brought in their Verdict Accidental Death.
That explains how he got into the Chancel tomb but doesn't really explain what he was doing in Ryburgh at the time. Several other press notices from the 1780's contain his name as a contact in Great Ryburgh dealing with creditors and debtors to named deceased persons. The marriage register at Pakefield in Suffolk where he married Mary the daughter of Surgeon Thomas Machin in June 1781 describes him as being "of Great Ryburgh".
A search into the Directory of Cambridge Alumni tells us that he was the 2nd.son of the Vicar of Docking , Rev. Humpfrey Christian and his wife, Elizabeth Brett. Admitted to Peterhouse in 1769 at the age of 18 , he gained his BA in 1773, becoming Fellow in 1775 and A.M.(MA) in 1776. This also states quite clearly that he was the Rector of Knapton from 1781-1788, that he is buried in Great Ryburgh and died without children.
Blomefield records that his father, Humpfrey Christian was presented by St Peter's College Cambridge (Peterhouse) in 1759. A press clipping from June 1781 confirms John as Rector of Knapton when announcing his marriage and the Gentleman's Magazine in 1837 publishes an obituary of the Rev John Coleman who was presented as Knapton Rector by Peterhouse in 1788.
The notice of his death talks of his Garden in Ryburgh and later that year in September the following advert appears in the Norfolk Chronicle:
To be SOLD by AUCTION, By HENRY TAGG, On Monday next, the 29th Inst. And two following Days,
ALL the neat and genuine HOUSEHOLD FURNITURE, Plate, Linen, China, Glass, and the valuable LIBRARY of BOOKS, of the late Rev John Christian, at his House in GREAT RYBURGH, deceased: consisting of Four-post, Tent, and Bureau Bedsteads, Mahogany Pillars, with Check and other Furnitures, Festoon Window-curtains, fine Goose Feather-beds, Mattrass, Blankets, and Counterpanes, three Sets of Mahogany Chairs with hollow and other Rails, finished in plain sattin Seating and brass Nails, six long Stoels to match, neat inlaid Card and other Tables, inclos'd and open Bason-stands, Drawers, Writing Desk, and large Book-case, oval , pier, box and swing Glasses, a Scotch Carpet, a Floor-cloth, three capital Fowling Pieces, beautiful Bed and Table Linen, handsome Tea China, a brown japann'd Tea and Coffee Urn, Plate, Glass, and earthen Ware, four Dozen of old Red Port, 18 Dozen of Glass Bottles, a pottable Barometer, a silver Watch, an eight-day Clock, a strong screw Range, iron Jack, and every Kitchen and Brewing Requisite. Also a very handsome riding Mare, perfectly gentle, and trots well, and a new and neat Pleasure-cart, lin'd, with Cushion and Harness- The Whole of the above new within six Years.
The valuable Library of Books, which is annexed to the Furniture Catalogue, are removed for Conveniency of Sale to the Crown Inn, in Fakenham; and will be SOLD by AUCTION, on Thursday the 23rd of October 1788. Catalogues may be had at Fakenham, Rainham, Weasenham, Elmham, Dereham, Holt, Wells, of Mr. Bowles, Ryburgh, and of the Auctioneer, Walsingham.
The Goods may be viewed the Saturday preceeding the Sale.- Each Day's Sale begins precicisely at Ten o"Clock and finishes before Dinner.
The advert implies that he set up a completely new household in Ryburgh around 1782?
It does however tell us nothing about where in the village the house was and more importantly what provision he had made for his wife Mary who was certainly alive 6 months earlier when she was witness to a marriage in St Andrew's. Was he sub-letting the Knapton living and sub-contracting the Ryburgh one? So many unanswered questions and scope for further research without doubt.
On the other hand, if you want to do some research on bell ringing, you'll need to visit us on Tuesdays or Thursdays at 7.30 p.m. or pop in to the "open tower" morning at the end of Open Churches Week, August 12th 10 a.m.
I was so intrigued by this story I did make further researches and the results can be found here on the website. needless to say there is still more to be discovered!

**********
From the Bell Tower: July 2017
Over the past month I have had the chance to visit two Norfolk belfries that I have long wanted to see. They each have 4 bells by Norwich founders William and Alice Brend and date from 1623 at Tittleshall, and at Walcott from 1633. These are just 8 of some 300 surviving bells from these founders who were working at a time when heavy rings of older bells were being traded in and melted down to produce lighter rings with more bells better suited to the developing science of full-circle change ringing.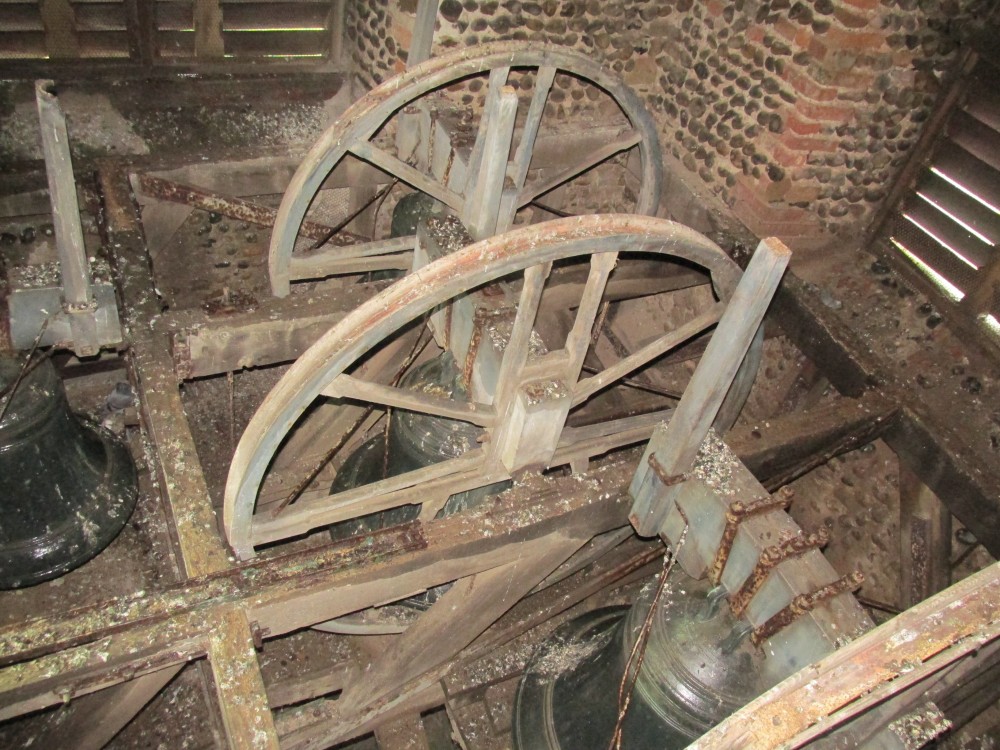 Walcot Belfry
It is thought that those at Walcott were intended as the front bells of a heavier ring of six, something that seems never to have happened. They were however augmented to five in 1878 with the addition of a new treble, creating rather a curious scale. Unfortunately, the frame, though not particularly ancient, never seems to have been sturdy enough to cope with the demands of the bells themselves or the corrosive sea air that gusts freely through the belfry and which has rusted important tie-bolts, bracing and even the clapper staple of the tenor, which became so wasted it fell out leaving, the stump in the headstock! Whilst there has been much time and effort spent until quite recently keeping these fine sounding bells in use, they have finally reached the point where, without renewing everything, these will have to fall silent as a change ringing peal.
Tittleshall Belfry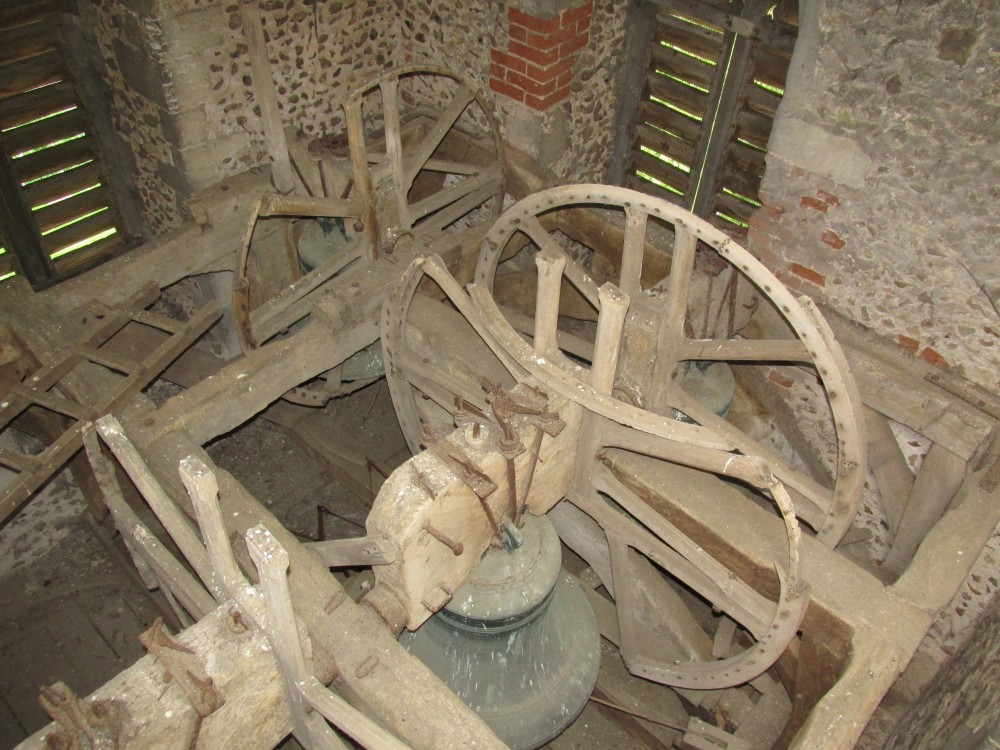 Tittleshall would seem to have been an example one of those above mentioned "trade ins". The belfry houses the original 15th Century (possibly earlier) 3 pit frame built for some much larger bells than are now hanging there, which has a Tenor of 11/ 12 cwt. This frame has vestiges of its first incarnation and would have had "short-headed" frame sides connected with transoms across the braces to the king post, very much like the one that survives at Gateley and intended for swing chiming the bells. It was later adapted for the 3 bells providing a much more stable design with long frame heads and corner posts which would have enabled the bells to have been rung up. This is very much how the frame survives today, except that when the four bells were cast in 1623 the end dividing bracing between two of the pits was rather brutally cut away to provide a 4th pit to house the extra bell which swings at right angles to the other 3. The situation is very little changed from when this major alteration happened with the exception of various repairs to the structure and the provision of iron corner bracing and supports to the various end and king posts. The ringing fittings are all decidedly derelict and oozing 17th Century features which vividly demonstrate the precarious nature of keeping bells tight on their headstocks for full circle ringing when all the "bolts" are connected with wedges (hammered through slots in the bolts) and not nuts as was the case from the 19th C on. Though a very much dilapidated installation, the bells are held sufficiently tight in these ancient fittings and the original clappers, in the course of time, have rolled around the lips of the bells wearing them quite extensively. They are however suspended in place by just enough! The frame is plenty sturdy enough to bear the bells' dead weight and the bells themselves are fine toned and all in good condition. It is impossible to say when they were last rung full circle, but at least a hundred years I would have thought. They have been clocked for many years by ropes attached to the clapper balls, but even this has now ceased. The clock is set up to strike the hour on the 3rd bell but that too has ceased due to the clock hammer no longer striking the bell correctly. So Tittleshall also falls completely silent and 8 of William and Alice Brend's best bells no longer do what they were cast to do nearly 400 years ago.
BUT they could …...and it is my hope and has been my suggestion to both these towers that if it can be afforded, they consider rehanging both these rings of bells as an Ellacombe chime. This is the cost effective system that South Creake and Anmer have both employed in the fairly recent past to make the most of their bells so they can be heard together for the first time for very many years, whilst continuing to preserve the ancient remains with the minimum of intervention.
Anmer Belfry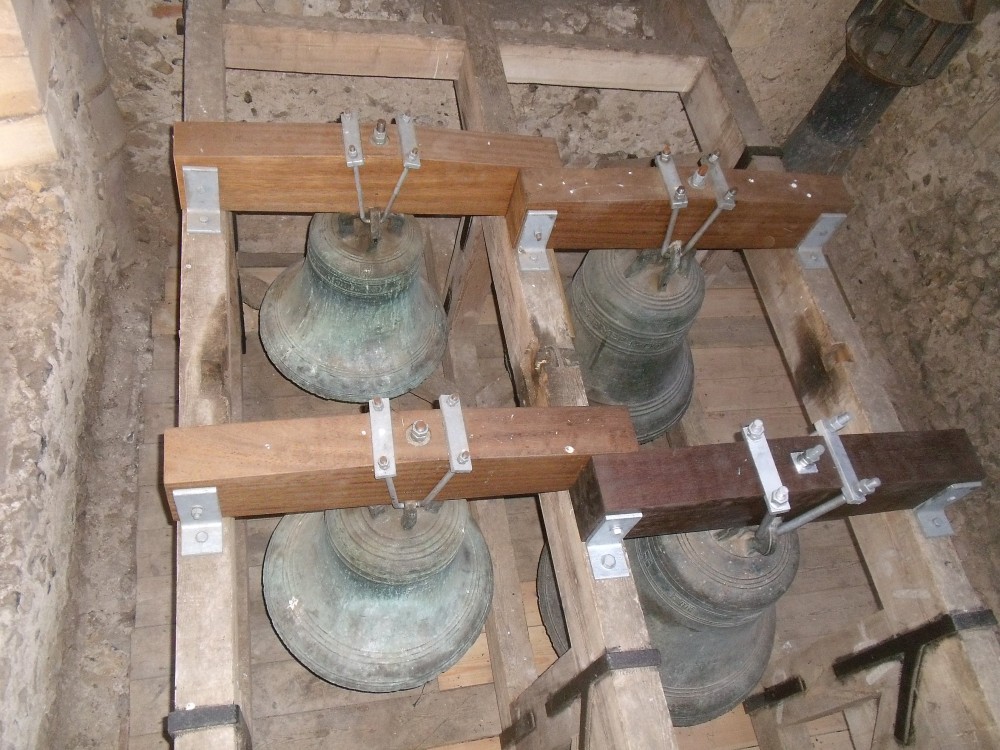 The Ellacombe system requires just one ringer to ring all the bells and to paraphrase a different sort of churchmanship "It's ringing Jim. but not as we know it". Click here for a sound file of the bells at South Creake St. Mary. If you want to find out about that, you'll need to visit us on Tuesdays or Thursdays at 7.30 p.m. when we will happily "beam you up" and show you the ropes.
**************
From the Bell Tower: June 2017
I am hoping that all readers will by now have heard of the "Gas House Project"
If not, it is quite simply a plan to convert the old Acetylene Gas House that is built on the South wall of the churchyard into a store incorporating a new entrance from the glebe land into the churchyard and linking, over the top of that new entrance to an additional store and toilet facility for the church and creating a new off-road parking area in a part of the glebe field adjacent to the South wall. At a budget figure to build of nearly £173.000, this would seem an enormous amount to find for a facility that could once be used for a penny-in-the-slot!
When examining the costs one then finds that over a third of this sum is apportioned to make an all weather car-park over the whole of the proposed area, so already ways to trim the cost start to be evident. Anne Prentis has already spoken of the kind donations of roof tiles and I believe that subject to final approval of the planners we have enough collected to tile the proposed new building. For those who remember Horningtoft's Millenium project for the churchyard wall, the large quantity of demolished stone required for the bulk of the wall was kindly donated by John Drew at the adjacent farm and a working party of villagers sorting and cleaning on a Saturday morning made it possible to use…... saving a cost of what in today's prices is effectively over £300 per tonne to buy from quarries.
I have already been collecting stone of all sorts (as I do any way) but for this we would require a further 12 tonnes. So……..I make an appeal to readers…….. if you have even just an annoying heap of stone you have dug whilst gardening or better still have an area of flint wall that you are wanting to demolish please get in touch as I'm sure most of it would be able to be recycled into the new building. (The plan is to have solid flint construction as with the existing wall and building and anything not suitable for facing stone would be used internally and in the core of the wall….. so at this stage I'd love to hear from you and I can also make arrangements to collect it from you. Ideally and in due course, volunteer labour and trades or trades willing to work for the " living wage" to help reduce the largest single cost, that of wages, will be needed but that will be next year……..meanwhile fundraising goes on, but the fruition of schemes intended to gather materials continues to give real encouragement.
P.S. I have neglected to mention reclaimed brick for the buildings, because size, colour and condition are crucial factors and will either be approved and permitted by the planners and architect or not, but if you think that you may have a wall or building that would produce sufficient (probably around 3000) of a consistent quality (An Imperial 9" x 2.5" dark orange/red brick, we'd be delighted to hear from you.
And what has this got to do with bellringin?….this is just one of the many activities that take place in St Andrew's that need just such a facility as this!
*************
From the Bell Tower: May 2017
As we all know it is an ill wind that blows nobody any good and whilst seeing the church boiler house with its flue wrenched off might have given rise to the thought that this might be the exception to prove the rule, in fact a whole lot of good has come of it.
Seeing what is a very expensive boiler in such a vulnerable situation really meant that it was high time to make the building that houses it a little more worthy of the task. Fortuitously, Terry and Ann Hawes had recently and most kindly donated a quantity of sound tiles salvaged from their re-roofing and there were just enough of one particular profile to cover the roof area of the boiler house which had become very dilapidated over the past 100 years. With the old tiles removed the felt was shown to be in tatters and more than half the rafters rotten and barely able to take the weight of the existing and certainly unable to survive the retiling process. By using salvaged timbers, apparently useless ends of felt rolls, leftover insulation and tile batten that had formerly been used for other purposes, odds and ends of plasterboard and a new LED strip light, it was possible to completely renovate this curious little half-sunken building. People's generous cash donations covered the major expense of the refitting of a replacement flue and just a fortnight after the malicious theft, we were up and running, in a boiler-house very much more fit for purpose.
Originally the building seems to have been made of an assortment of flints and dressed stone including a very crisply carved Ogee corbel in soft Bath stone which had survived because it was turned into the wall and so just looks like a rectangular block from the outside. The original coke fired boiler was a part of the original heating system put in by Fisher's in 1911. There is still plenty of sooty evidence to bear this out and the anecdotal evidence of the late Hector Middleton who describes it thus to David Howe who recorded him back in the 1980's:
"When I first started work in the foundry (1925) and up till that I finished they'd make them stoves in the foundry for an ironmonger at Dereham….. grating in the floor and the cast iron top and the bottom and the firebars and everything, but Tatham, he had the furnace and that outside the church in the little building that's still there and that was a very good appliance and that used to burn coke"
Hector Middleton (photo courtesy of the late Rod Rawlings)
It was bell captain, Fred Jude's job as furnace attendant to fire the boiler, for which he was paid £4-10/- per annum (in the 1924 church accounts).
It was in the course of the re-roofing that I found a piece of rolled-up newspaper, circa 1916, from the Daily Mail that had dropped down behind the wall plate and was, I would perhaps (fancifully) suggest, a spill for lighting the furnace, lost there by Fred Jude for me, the current bell captain, to find 99 years later! Much of it is still quite readable and I thought I would pass on a couple of snippets. One complete item is entitled:
BLOWN INTO A TREE.
West Kent Private Unhurt Except for Being Dumb
"A rather peculiar incident happened to one of the regiment in the person of Private T. Corps" writes a non-commissioned officer in the Royal West Kents.
"While we were at Missy, a shell burst very close to this man, the concussion of which shot him up into a tree about eight feet. A sergeant, noticing the man up the tree, asked him – in military language – what he was doing up the tree, and got quite angry until he had been quietly informed.
When the man was extricated from the branches it was found he was quite unscathed, except for a slight shock, but apparently struck dumb. He remained in the trenches, and three days later was wounded and returned home to England. Later news says that he is still without speech."
The other article, incomplete due to a tear in the page and regarding "Changes That Must be Made in Recruiting and Payment" makes me want to find the rest:
(3) The Religious Question.- The narrow prejudices that lodge in the minds of some Army officers are finding expression in even these late days. In many regiments soldiers who are Nonconformists are not receiving such treatment as they have the right to expect. An old story has it that a commanding officer gave the order at a church parade, ' Church of England to the right; Roman Catholics………..fancy religions to……………………. And there the page is cut off…... Perhaps I'll find it one day.
************
From the Bell Tower: April 2017
March and April 1917 were bad months for Ryburgh which had claimed 9 local lives in the War. However Percy Neale was the last soldier who's death was to be marked with a Requiem Mass at St Andrew's and it makes me wonder if the village had reached a breaking point in its ability to cope with the horrible reality of the conflict and thereafter continued in a routine of stiff-upper-lip acceptance? I don't know, but certainly 1917 was the worst year of the war for the village up until then.
I have written before about Herbert Fox (9th April), Stanley Curson (19th April), and Percy Neale both of the 1st Btn. Norfolk Regt. and killed in the same action on 23rd April. and you can read again about them on their respective pages on this website.
April 23rd also claimed a 3rd life in a different section of the Arras front, that of William John Hall who had been born at Langor Bridge where his father Noah had been a platelayer on the railway. His schooling along with his brothers and sisters would have been at Ryburgh School, but the registers, begun in 1902, only show the names of his younger siblings. After leaving school he worked as a labourer at F & G Smith's steam-powered flour mill.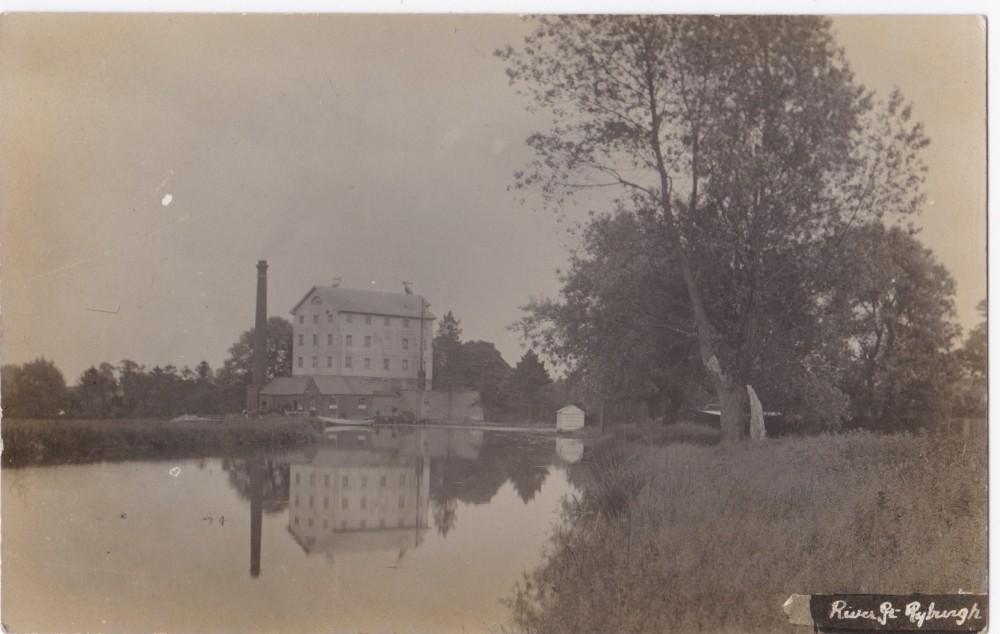 By the time he had enlisted in Kings Lynn he was living at Little Walsingham and working as a farm labourer and it is there that he is commemorated on the War Memorial. To Ryburgh headteacher, Albert Foster, the Hall family were a Little Ryburgh family and so we remember him along with the 41 other Ryburgh men.
The logistics of trying to mark with a commemorative peal each of these three service men on the same day and in the same place was simply not practical and yet to "double them up" was simply not on. So the arrangements are that on Sunday 23rd April at St Andrew's there will be a peal for Thomas Allison on the 10 restored Ryburgh handbells starting at 12 noon, to be rung in St Thomas Chapel.* Please do come in and listen to the mesmerising quality of this very particular music.(quietly needless to say, as this requires a huge amount of concentration on the part of the ringers) When they finish at 3 p.m. a different band of ringers will ring the peal for Percy Neale on the tower bells at St Andrew. Meanwhile, at 4 p.m. another band will ring the peal to commemorate the death of William John Hall at Whissonsett, the birth place of his father Noah Hall. Noah was born in London Street in 1851 to Mary Hall the eldest child of William and Celia Parker. Mary Hall/Parker married James Pawley and the remainder of Noah's siblings bear the Pawley surname. Are any of William's extended family still in the area? If you are a Hall, a Parker or a Pawley then the bells ringing at Whissonsett may be of more significance than you might have thought? Please get in touch if this is the case and you find that you are descended from the family.
* Regrettably, the restored bells were not sufficiently "run in" for the ringers to feel confident in achieving a successful outcome to the peal attempt but managed a fine performance on a set of their own bells with which they were more familiar.
*************
From the Bell Tower: March 2017
I have been In the process of transcribing the war diary and letters of Roger Carden's father written during WW1 when he was a Chaplain to the Forces with the Salonika Expeditionary Force: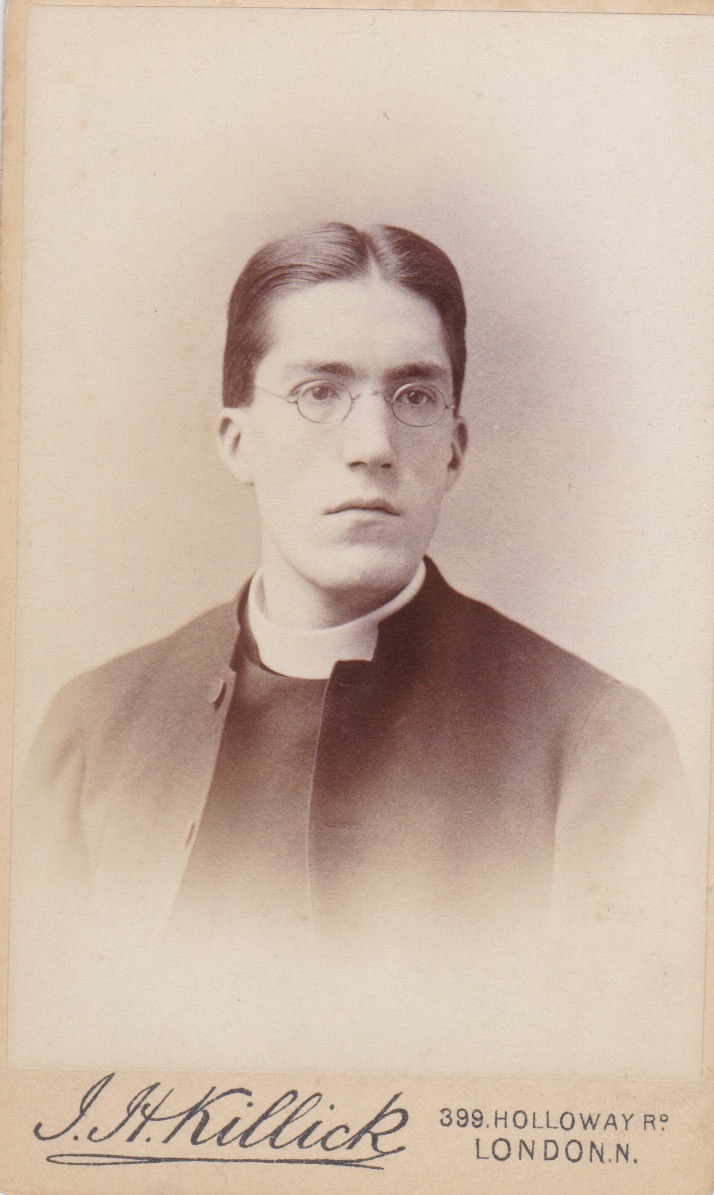 The Revd. Stanley Roots Carden
I came across the following entry written on February 1st. 1919. and all I can say is, that I'm glad not to be tower captain there!
Have I told you about the quaint old wooden tower nearly opposite
us? I don't think so. A man lives up in the tower & strikes the time
on the bell every ½ hour. Evidently the work is done by more than
one man, for the hours and half-hours strike day & night. Just
now the snow rather deadens the sound, & the bell sounds quite
dead & does not sing at all. I roared with laughter in bed at 7a.m.
the other morning. He tried to strike the bell, but evidently the frost
and snow had put things out of gear. He got 3 dead strokes out, &
then one heard bangs without any ring of the bell. The time he
keeps is also amusing. Sometimes it is 20 minutes out from our
(Brigade H.Q.) time, which is very accurate & received by wire
from Division. Then all of a sudden we hear that the bell has
jumped back into our time once more. It is a jolly good job we take
no notice of the "Town Clock". I believe that the tower is also a
watch-tower, & fire-alarm.
This year's commemorative peals start again in March, a month in which we will remember 4 men, beginning with Herbert Albert Chastney. Herbert was serving with the Essex Regiment when he was killed in action and his name is to be found on the Thiepval Memorial. He was from one of Ryburgh's Primitive Methodist families and his father Thomas Chastney, a Maltings employee, was at one time a trustee of the Primitive Chapel. This family saw Herbert's two younger brothers, Alfred and Charles join the fighting. Charles was taken as a prisoner of war on 21st. March 1918 when he was reported as missing. However according to the Parish Magazine, he would have returned to Ryburgh by December 1919. His sister, Agnes also joined up with the Women's Army Auxiliary Corps, significantly on March 12th1917 and began service in September 1917 as a waitress in canteens at Camberley, Aldershot Wokingham and Pirbright military camps. She was discharged in August 1919.
I have written in the past of two of the others Robert William Barker (March 4th) and Walter Francis Fenn (March 30th) and you can read about them on the St Andrew's webpages.
The 4th. Casualty of the month who died on March 14th 1917 was Joseph Thomas Baker. He is another of those about whom we know very little save that he was married to a Little Ryburgh woman, Edith Nobes born in 1895 and the daughter of labourer James and Emma Nobes. Edith was working as farm servant to Henry and Louisa Toll. Toll is a name associated with Willow farm and they lived somewhere near to that area but it would seem that Willow Farm as we knew it prior to its demise in the 1980's only existed as that separate single entity from 1920 when the glebe land together with farmyard and its land were purchased by Henry Toll's younger son Louis George, Magistrate from 1925 and long time chair of the Parish Council: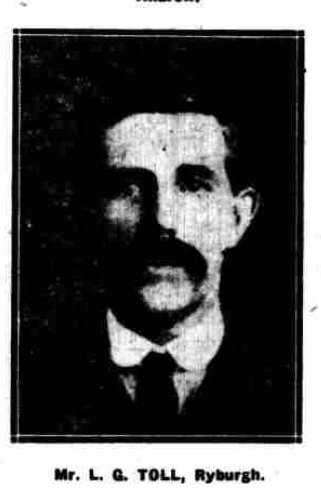 The peal to commemorate Joseph Baker's death is to be rung on Friday 17th at 2.00 p.m. and not on Tuesday 14th due to an error on my part and regrettably it is too late to alter the existing arrangements. This highlights to me how difficult it must have been 100 years ago to get these things right but at least, Joseph Baker has not been forgotten altogether this time which was one of the objects of this particular endeavour.
Meanwhile back in the tower, our newest learner, Sue from Hempton is doing very well and keen to master the whole business, one which she'd no idea at the time would have been so challenging and enjoyable!
***************
From the Bell Tower: February 2017
It seems a long time since I sat down to write and this first snow of the winter is as good a time as any since working outside is not really an option. The start to the year brings about the conclusion of several things that have cropped up in past pages.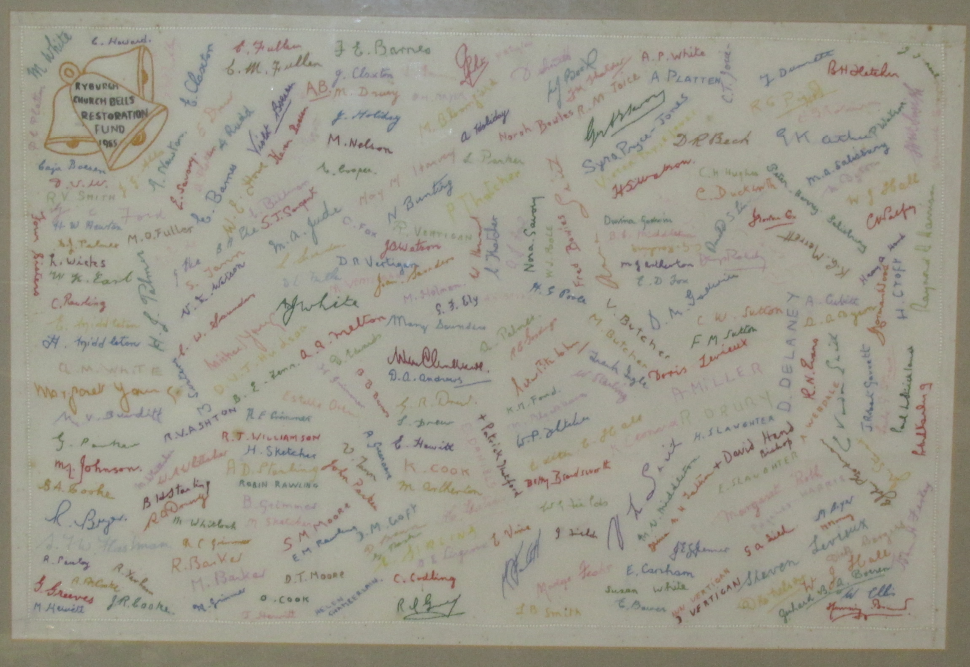 The return to Ryburgh of the 1955 bell restoration embroidered tray-cloth that I wrote of in 2013 has inspired a 21st Century fundraising version. Signatures and donations were collected and the new cloth that Hazel Hall has so skillfully and painstakingly worked is now completed, framed by her son Kevin and is on display in the North Transept. It is, like the 1950's version a real labour of love….. thank you Hazel.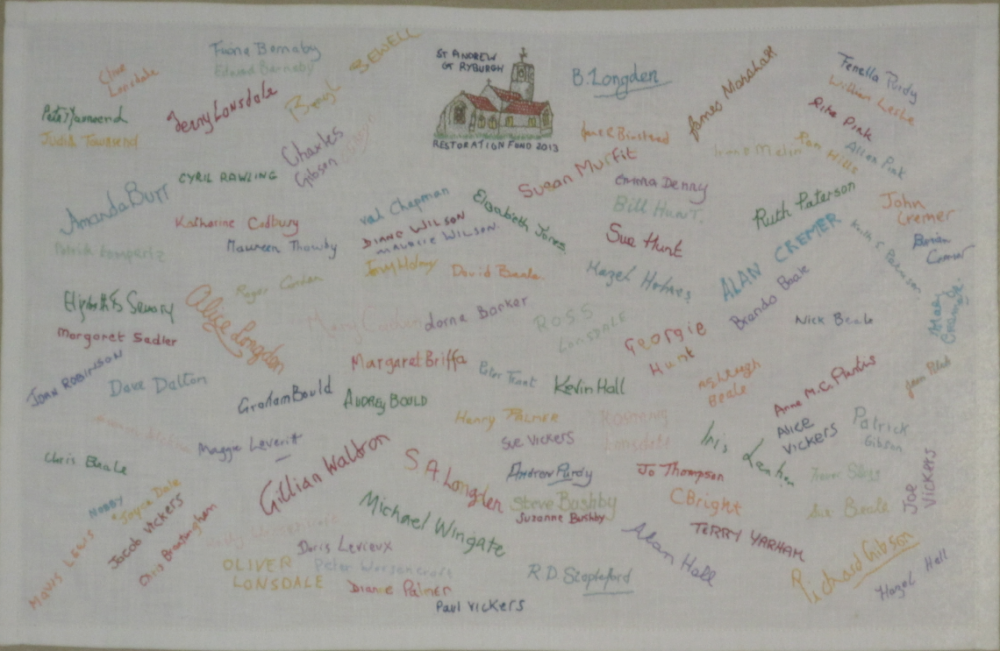 The set of William Rose handbells that I have written of more recently have just returned from Whitechapel Foundry. The are now a fully operating set of 10 bells technically Tenor size 16B. All the clappers have been completely refurbished and there are new leather handles on the 6 largest bells. The front 4 still retain their Warner (circa 1910) handles stiffened to make them usuable . Further tuning and showroom-finish polishing has not been carried out. This is an historic set and, as with old tower bells, it is important that some of these historic sounds should be retained if possible.

The refurbished set with new caps and handles on the back 6 bells.

The back six clapper pegs have a felt cover to help the balance with the front bells. This reduces the resonance, enhancing the clarity.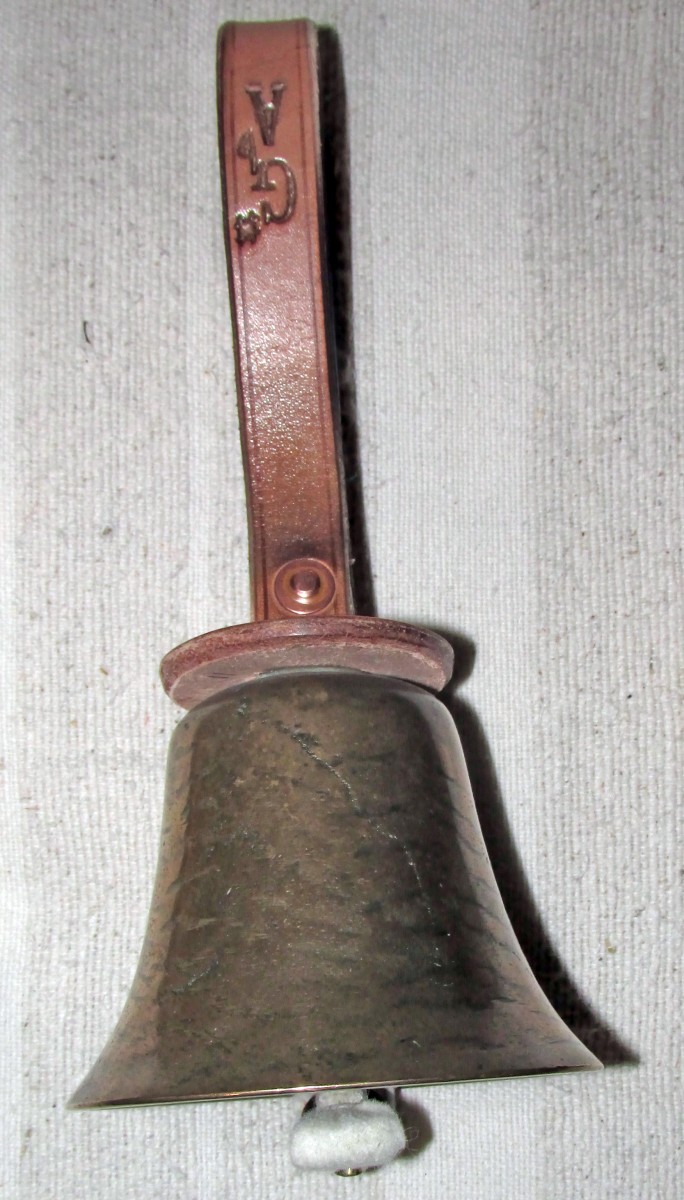 The stripy pattern of the original filed tuning marks on the 6th bell.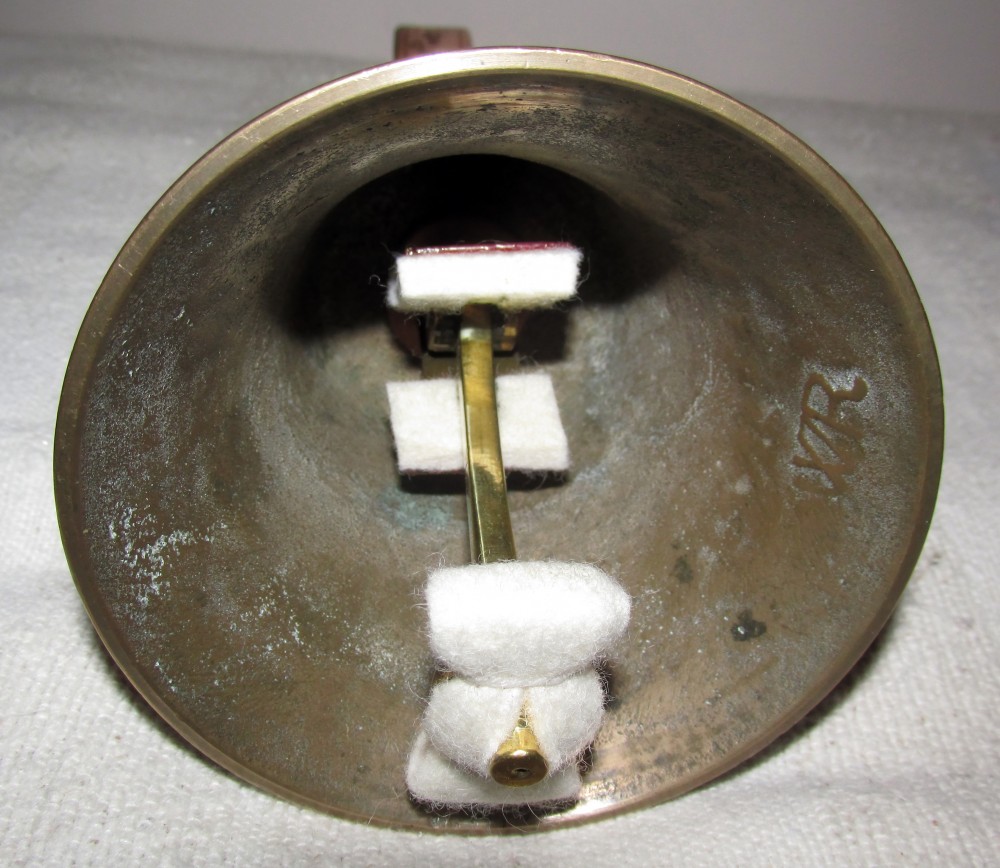 The refurbished inner workings of the 6th bell with William Rose's foundry stamp being clearly visible
It is hoped they will make their peal debut in St. Andrew's on April 23rd. to commemorate the death of Percy Neale. I am so pleased that we were able to get them refurbished at Whitechapel, as you may have heard that the Foundry that has been operating there for so long is to close. Alan Hughes, whose family have had custody of the firm since 1904, is retiring this year but as yet there is nothing published as to the future plans for the business.
The Farmers' Foundry Tumbril is finally finished, complete with backboard, details of which were taken from a photo supplied by Stan Judd who, as a former Farmers' Foundry employee, has been such a help in getting it right!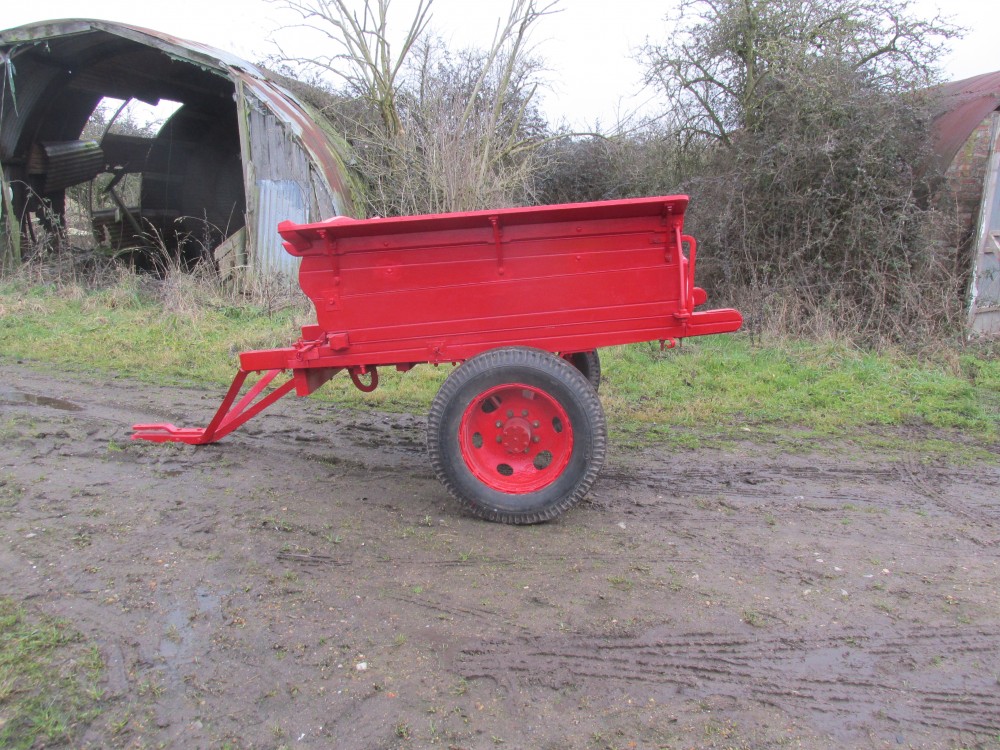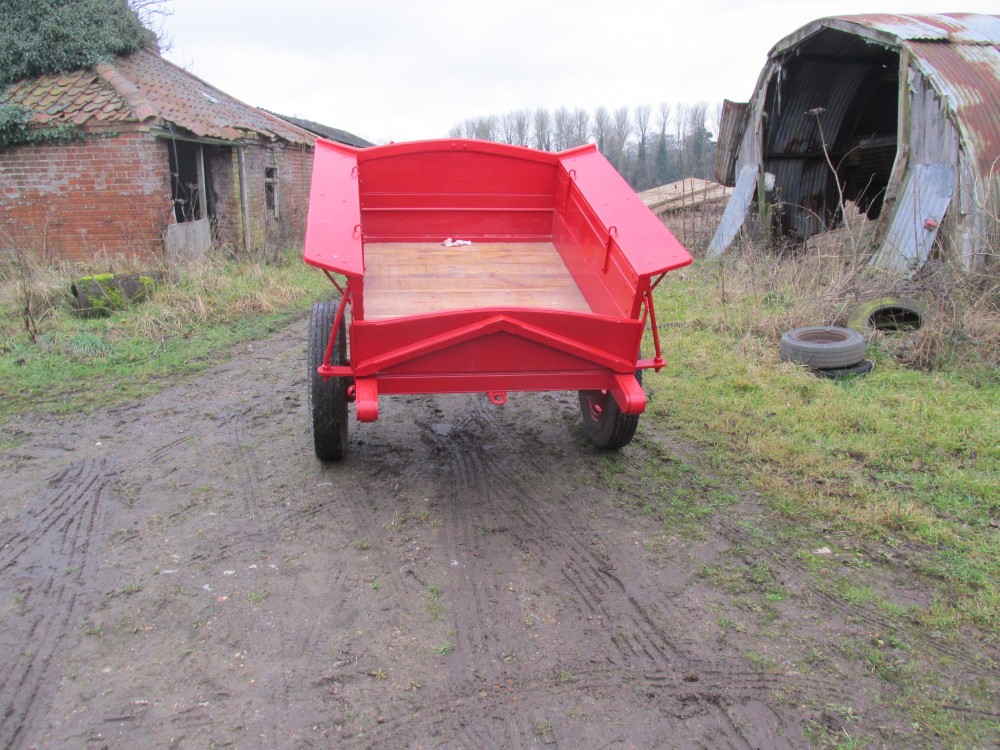 The recent offer of a 1949 Fergusson tractor to pull it is too good an opportunity to turn down, so at some stage I hope to out and about with it………..now that would be a novel Ringers' Summer Saunter.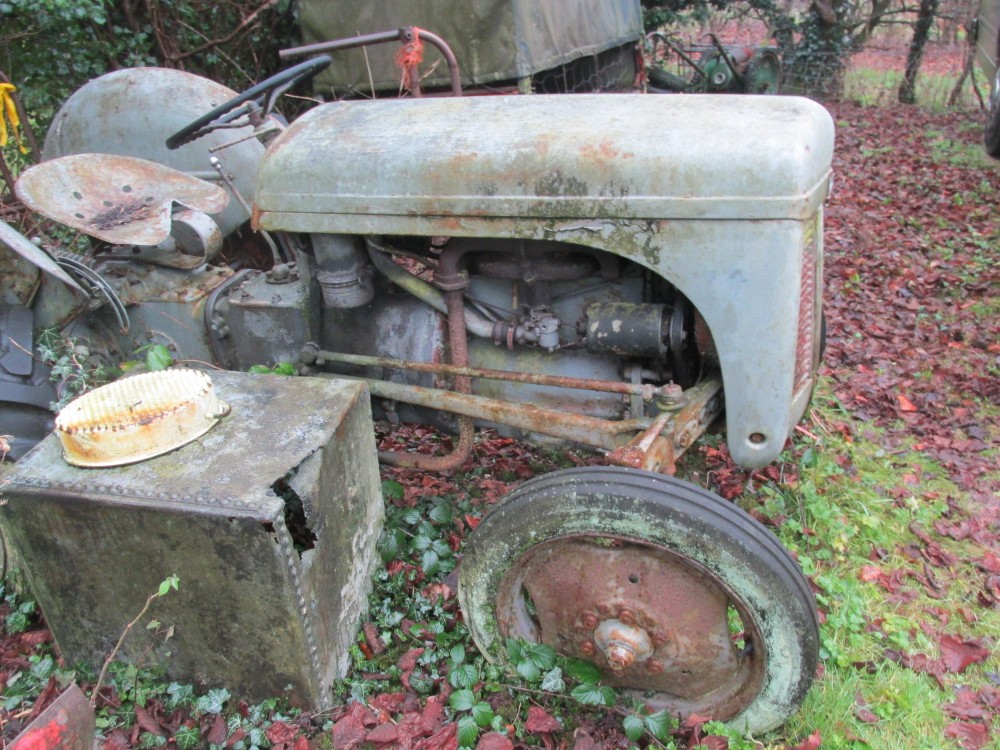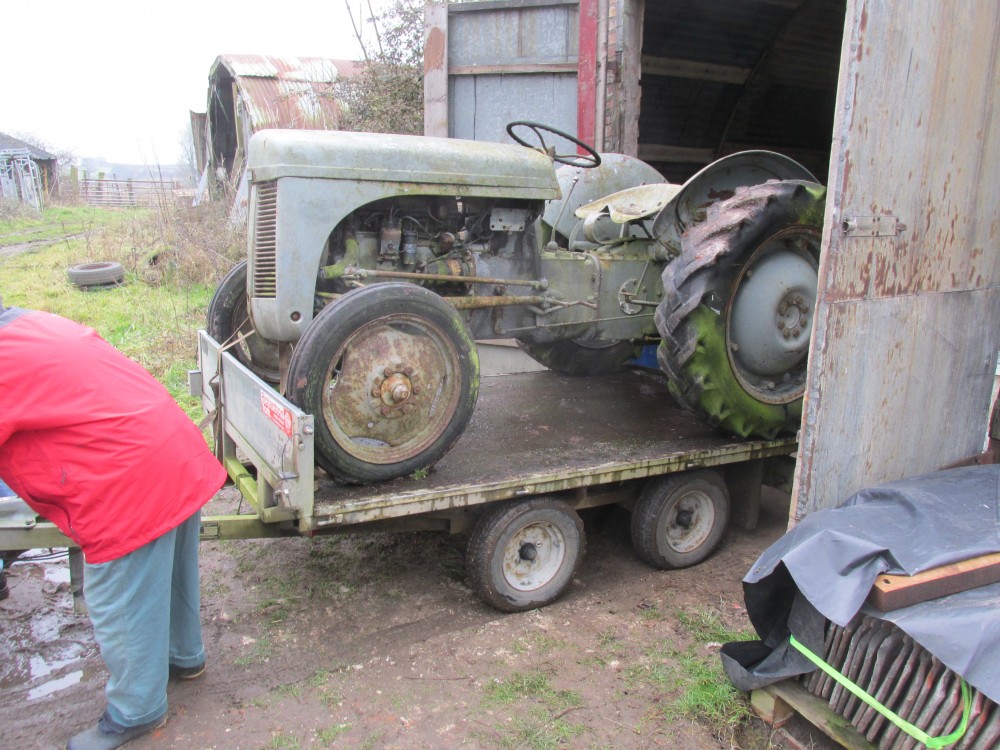 Meanwhile, Mr. Tom Cook has the remains of a R.F.F. tractor-drawn tipping trailer of a similar vintage that is in need of some real t.l.c……. so watch this space.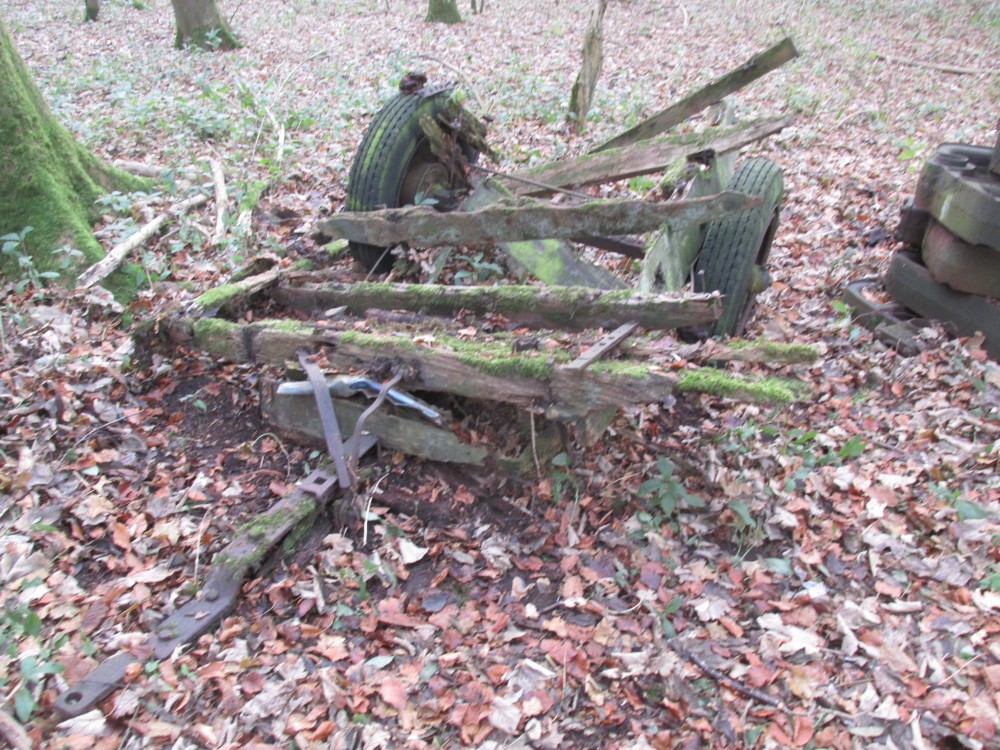 Some very robust R.F.F. cast-iron staddles have also recently turned up too in Hertfordshire, which is another product new to me…….it still amazes me just how versatile and productive they were in their 70 odd years in business.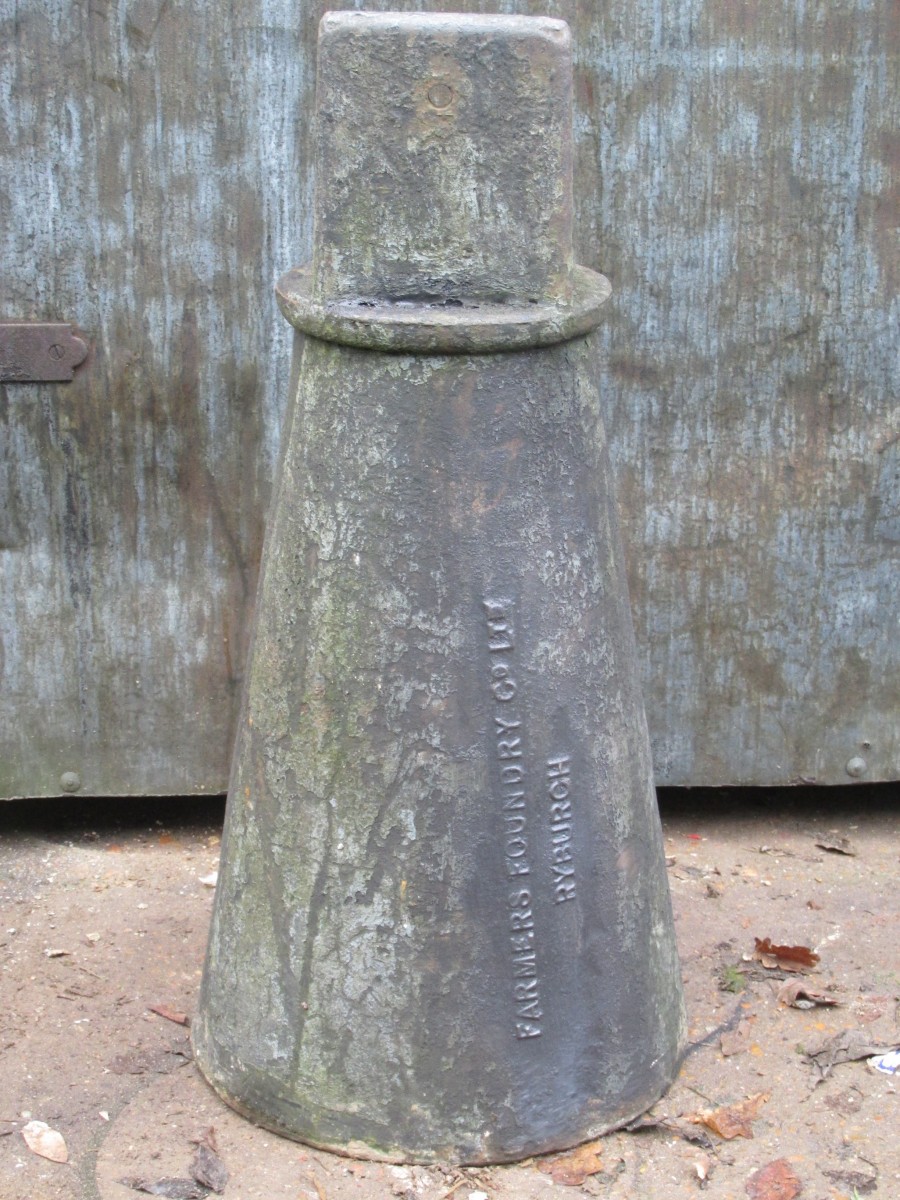 Meanwhile, on the ringing front, Helen Jones from Colkirk who started to learn with us at the end of last year achieved her ambition to be able to ring in rounds by Christmas. A very well done to a very determined Helen and thanks too to Rosemary for her teaching commitment. This year has already started off with another new learner, Sue Massingham from Hempton, who has made a most promising start. More to report there next month, I strongly predict.
*************