THE THIRD SUNDAY AFTER TRINITY
" Be joyful in God, all you lands".
For the beauty of the earth
For the glory of the skies
For the love which from our birth
Over and around us lies
Lord of all, to You we raise
This our hymn of grateful praise
For the joy of ear and eye
For the heart and mind's delight
For the mystic harmony
Linking sense to sound and sight
Lord of all, to You we raise
This our hymn of grateful
For the joy of human love
Brother, sister, parent, child
Friends on earth and friends above
Pleasures pure and undefiled
Lord of all, to You we raise
This our hymn of grateful praise
For each perfect gift divine
To our world so freely giv'n
Joys bestowed by love's design
Seeds of earth and fruits of heav'n:
Lord of all, to You we raise
This our hymn of grateful praise.
The collect for the Third Sunday after Trinity
Almighty God, you have broken the tyranny of sin and have sent the Spirit of your Son into our hearts whereby we call you Father: give us grace to dedicate our freedom to your service, that we and all creation may be brought to the glorious liberty of the children of God; through Jesus Christ your Son our Lord, who is alive and reigns with you, in the unity of the Holy Spirit, one God, now and for ever.
The First Reading: Isaiah 66:10-14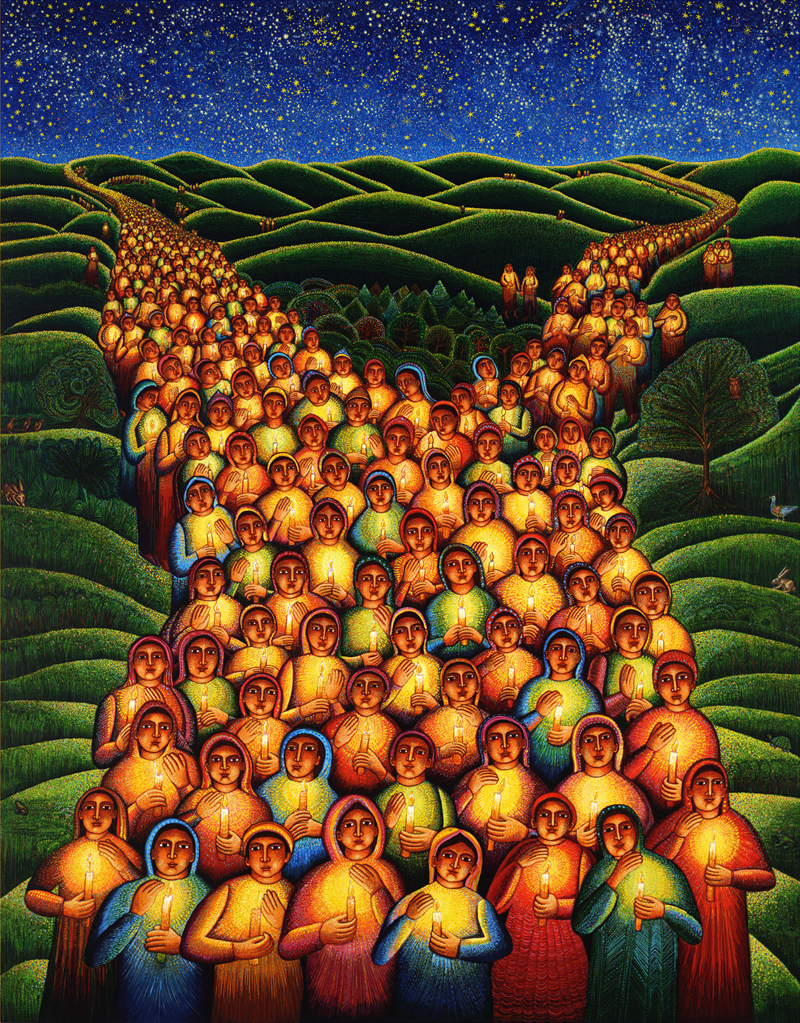 Rejoice with Jerusalem, and be glad for her, all you who love her; rejoice with her in joy, all you who mourn over her – that you may nurse and be satisfied from her consoling breast; that you may drink deeply with delight from her glorious bosom. For thus says the LORD: I will extend prosperity to her like a river, and the wealth of the nations like an overflowing stream; and you shall nurse and be carried on her arm, and dandled on her knees. As a mother comforts her child, so I will comfort you; you shall be comforted in Jerusalem.You shall see, and your heart shall rejoice; your bodies shall flourish like the grass; and it shall be known that the hand of the LORD is with his servants, and his indignation is against his enemies. Festival of Lights John Swanson
Psalm 22:18-27
Be joyful in God, all you lands; sing the glory of his Name; sing the glory of his praise.
Say to God, "How awesome are your deeds! because of your great strength your enemies cringe before you.
All the earth bows down before you, sings to you, sings out your Name."
Come now and see the works of God, how wonderful he is in his doing toward all people.
He turned the sea into dry land, so that they went through the water on foot, and there we rejoiced in him.
In his might he rules for ever; his eyes keep watch over the nations; let no rebel rise up against him.
Bless our God, you peoples; make the voice of his praise to be heard;
Who holds our souls in life, and will not allow our feet to slip.
The Epistle: Galatians 6:7-16
Do not be deceived; God is not mocked, for you reap whatever you sow. If you sow to your own flesh, you will reap corruption from the flesh; but if you sow to the Spirit, you will reap eternal life from the Spirit. So let us not grow weary in doing what is right, for we will reap at harvest time, if we do not give up. So then, whenever we have an opportunity, let us work for the good of all, and especially for those of the family of faith. See what large letters I make when I am writing in my own hand! It is those who want to make a good showing in the flesh that try to compel you to be circumcised – only that they may not be persecuted for the cross of Christ. Even the circumcised do not themselves obey the law, but they want you to be circumcised so that they may boast about your flesh. May I never boast of anything except the cross of our Lord Jesus Christ, by which the world has been crucified to me, and I to the world. For neither circumcision nor uncircumcision is anything; but a new creation is everything! As for those who will follow this rule peace be upon them, and mercy, and upon the Israel of God.
The world is in greater need than ever of people who are inspired by the vision of Isaiah 66 to create a world in which peace, justice and joy can flourish. We may be tempted to give up in the face of the global issues that confront us all but no, St. Paul exhorts us to "work for the good of all" and to do our bit. For we do not do it on our own, we do it with the help of of the love of God.
Gospel reading: St. Luke 10:1 -11,16-20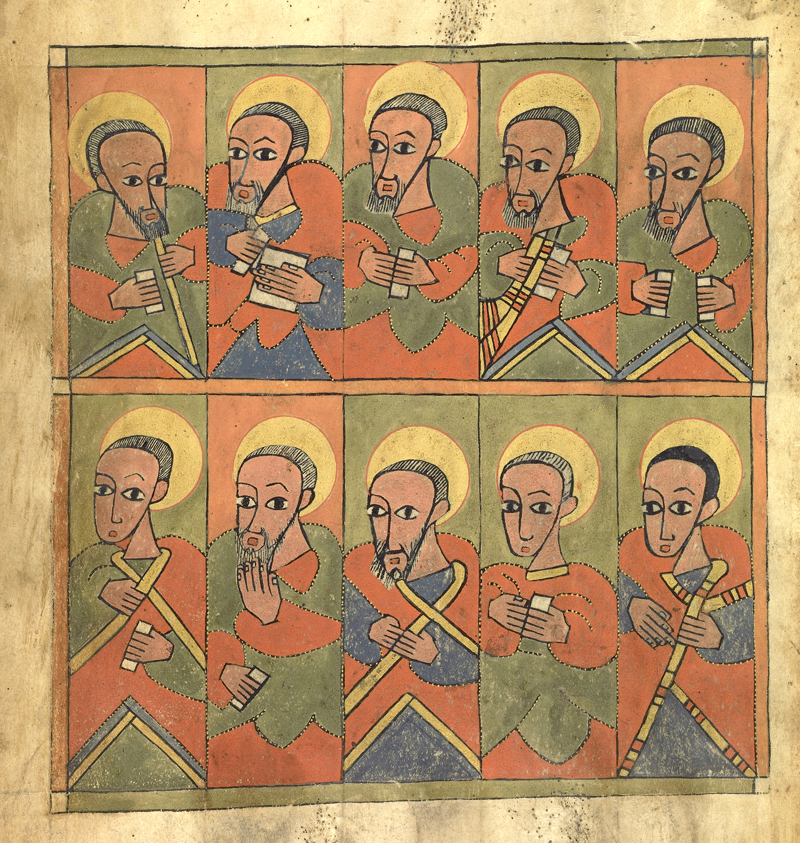 The Lord appointed seventy others and sent them on ahead of him in pairs to every town and place where he himself intended to go. He said to them, 'The harvest is plentiful, but the labourers are few; therefore ask the Lord of the harvest to send out labourers into his harvest. Go on your way. See, I am sending you out like lambs into the midst of wolves. Carry no purse, no bag, no sandals; and greet no one on the road. Whatever house you enter, first say, "Peace to this house!" And if anyone is there who shares in peace, your peace will rest on that person; but if not, it will return to you. Remain in the same house, eating and drinking whatever they provide, for the labourer deserves to be paid. Do not move about from house to house. Whenever you enter a town and its people welcome you, eat what is set before you; cure the sick who are there, and say to them, "The kingdom of God has come near to you." But whenever you enter a town and they do not welcome you, go out into its streets and say, "Even the dust of your town that clings to our feet, we wipe off in protest against you. Yet know this: the kingdom of God has come near."
Whoever listens to you listens to me, and whoever rejects you rejects me, and whoever rejects me rejects the one who sent me.'The seventy returned with joy, saying, 'Lord, in your name even the demons submit to us!' He said to them, 'I watched Satan fall from heaven like a flash of lightning. See, I have given you authority to tread on snakes and scorpions, and over all the power of the enemy; and nothing will hurt you. Nevertheless, do not rejoice at this, that the spirits submit to you, but rejoice that your names are written in heaven.'
Seventy Disciples Ethiopian Liturgy 1480-1520
In Genesis we read that 70 Gentile nations were descended from Noah. Jesus is sending out the same number of messengers as there are nations to ensure that the Gospel reaches people of all cultures and backgrounds. The disciples spread the message by both their words and their deeds. Words go hand in hand with acts of kindness and compassion.
Christ has no body but yours, No hands, no feet on earth but yours,
Yours are the eyes with which he looks compassion on this world,
Yours are the feet with which he walks to do good,
Yours are the hands, with which he blesses all the world.
Yours are the hands, yours are the feet,
Yours are the eyes, you are his body.
Christ has no body now but yours, No hands, no feet on earth but yours,
Yours are the eyes with which he looks compassion on this world.
Christ has no body now on earth but yours.

Teresa of Avila (1515-1582)
Heavenly Father, we thank you for the beauty of the earth and for the wonders of the natural world. We pray that we may never take it for granted but cherish and nurture it.
We thank you for the gifts of the Spirit, for love, joy and peace. We pray that as we go about daily lives we may share them with others and play our part in the building of the Kingdom.
We continue to pray for Ukraine and for all living in war torn countries where peace and freedom seem so very distant and far from their reach. We pray that the leaders of the world may act with wisdom and integrity and exert their influence to rebuild trust, dialogue and cooperation.
We pray for all in our own country who are struggling with financial pressures that are affecting their welfare and that of their families. We pray too for our politicians as they seek ways of rebalancing our economy.
Loving Father, we ask you to heal the sick, thinking especially of ................................... May they find comfort in your never failing presence. We ask you, Father, to strengthen and encourage those who care for them.
We pray for the repose of the soul of those who have recently departed this life, thinking especially of .............. Compassionate Lord, comfort the bereaved in their distress.
The Apostle Paul encouraged the Galatians not to grow weary, but to use every opportunity to work for the good of all. We pray that we will be given grace to do likewise.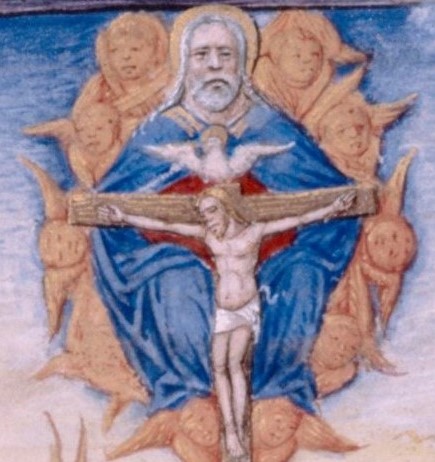 O God, whose beauty is beyond our imagining and whose power we cannot comprehend: show us your glory as far as we can grasp it, and shield us from knowing more than we can bear until we may look upon you without fear; through Jesus Christ our Saviour. Amen .
A prayer for Ukraine….
Lord, you promise us a future in which the weapons of war will be transformed into instruments of peace.
Today is not such a day, as missiles rain down on Ukraine and innocent people take refuge underground..
You taught us to pray your kingdom come on earth as it is in heaven,
and so we pray that you will restrain the aggressor, grant courage and wisdom to the resistance, and bring peace to this part of your world.
Look with mercy on the peoples of Ukraine and Russia, and grant our leaders wisdom and courage to seek a resolution that will allow truth and freedom to return to these lands.
Grant Lord, that through this conflict that we would have unimaginable six weeks ago, we may recognise anew our need for you, and live to thank you for answering our prayers.
Amen