CHRIST THE KING
And the king will answer them, 'Truly I tell you, just as you did it
to one of the least of these who are members of my family, you did it to me.'
1 At the name of Jesus ev'ry knee shall bow,
ev'ry tongue confess him King of glory now.
'Tis the Father's pleasure we should call him Lord,
who from the beginning was the mighty Word.
2 At his voice creation sprang at once to sight,
all the angel faces, all the hosts of light,
thrones and dominations, stars upon their way,
all the heav'nly orders in their great array.
3 Humbled for a season to receive a name
from the lips of sinners unto whom he came,
faithfully he bore it spotless to the last,
brought it back victorious, when from death he passed.
4 In your hearts enthrone him; there let him subdue
all that is not holy, all that is not true;
crown him as your Captain in temptation's hour:
let his will enfold you in its light and pow'r.
5 Surely this Lord Jesus shall return again,
with his Father's glory, with his angel train;
for all wreaths of empire meet upon his brow,
and our hearts confess him King of glory now.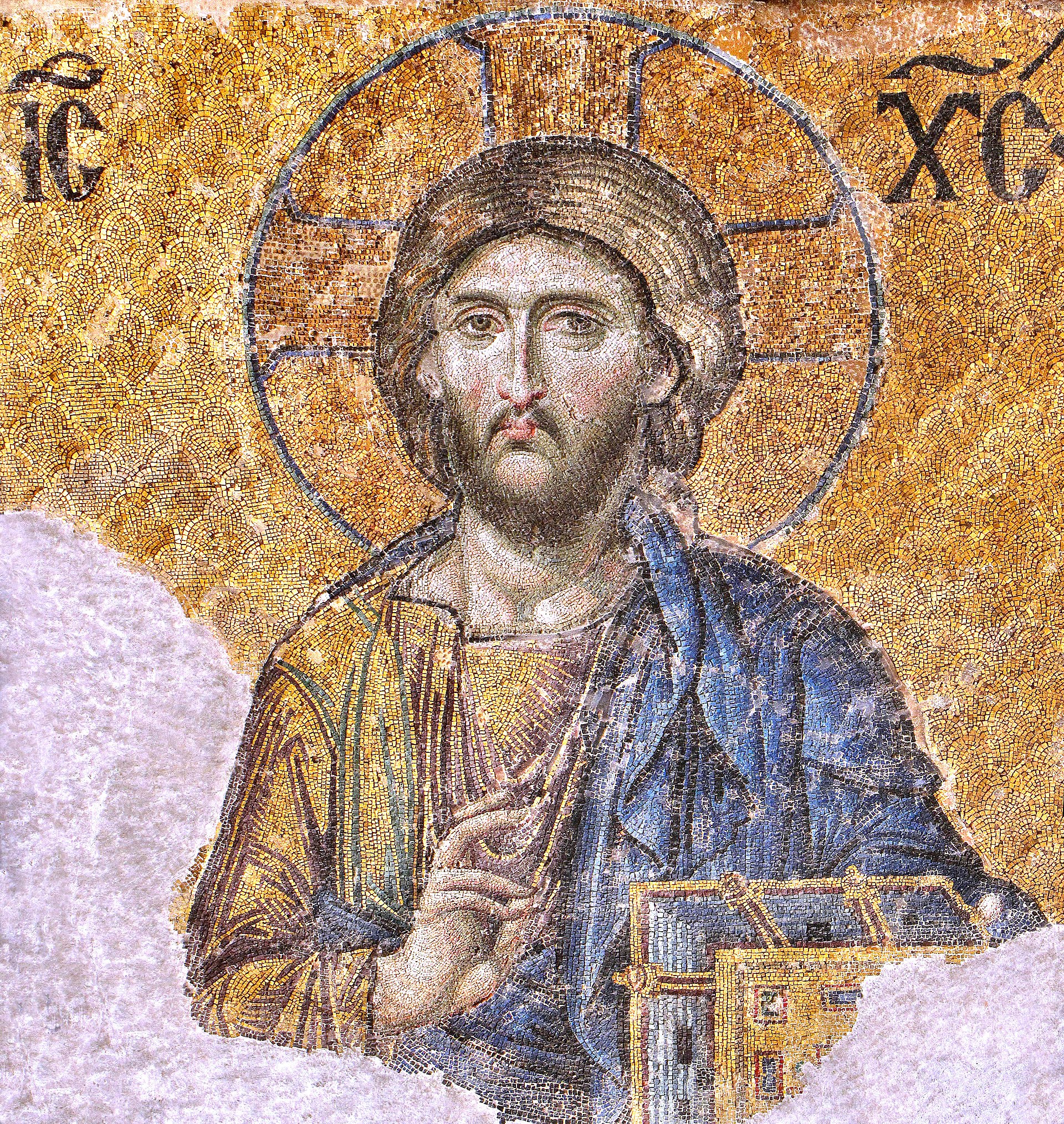 Mosaic from Hagia Sophia C13th
The collect for Christ the King.
Eternal Father, whose Son Jesus Christ ascended to the throne of heaven that he might rule over all things as Lord and King: keep the Church in the unity of the Spirit and in the bond of peace, and bring the whole created order to worship at his feet; who is alive and reigns with you, in the unity of the Holy Spirit, one God, now and for ever. Amen.
A Reading from Ezekiel 34:11-16, 20-24
Thus says the Lord

God

: I myself will search for my sheep, and will seek them out. As shepherds seek out their flocks when they are among their scattered sheep, so I will seek out my sheep. I will rescue them from all the places to which they have been scattered on a day of clouds and thick darkness. I will bring them out from the peoples and gather them from the countries, and will bring them into their own land; and I will feed them on the mountains of Israel, by the watercourses, and in all the inhabited parts of the land. I will feed them with good pasture, and the mountain heights of Israel shall be their pasture; there they shall lie down in good grazing land, and they shall feed on rich pasture on the mountains of Israel. I myself will be the shepherd of my sheep, and I will make them lie down, says the Lord

God

. I will seek

the

lost, and I will bring back the strayed, and I will bind up the injured, and I will strengthen the weak, but the fat and the strong I will destroy. I will feed them with justice.
Therefore, thus says the Lord God to them: I myself will judge between the fat sheep and the lean sheep. Because you pushed with flank and shoulder, and butted at all the weak animals with your horns until you scattered them far and wide, I will save my flock, and they shall no longer be ravaged; and I will judge between sheep and sheep.
I will set up over them one shepherd, my servant David, and he shall feed them: he shall feed them and be their shepherd. And I, the Lord, will be their God, and my servant David shall be prince among them; I, the Lord, have spoken.
Psalm 95: 1-7a
Come, let us sing to the Lord; let us shout for joy to the Rock of our salvation.
Let us come before his presence with thanksgiving and raise a loud shout to him with psalms.
For the Lord is a great God, and a great King above all gods.
In his hand are the depths of the earth, and the heights of the hills are his also.
The sea is his, for he made it, and his hands have formed the dry land.
Come, let us bow down, and bend the knee, and kneel before the Lord our Maker.
For he is our God, and we are the people of his pasture and the sheep of his hand.
Gospel Reading Matthew 25:31-46
Jesus said, "When the Son of Man comes in his glory, and all the angels with him, then he will sit on the throne of his glory. All the nations will be gathered before him, and he will separate people one from another as a shepherd separates the sheep from the goats, and he will put the sheep at his right hand and the goats at the left.
Then the king will say to those at his right hand, 'Come, you that are blessed by my Father, inherit the kingdom prepared for you from the foundation of the world; for I was hungry and you gave me food, I was thirsty and you gave me something to drink, I was a stranger and you welcomed me, I was naked and you gave me clothing, I was sick and you took care of me, I was in prison and you visited me.'
Then the righteous will answer him, 'Lord, when was it that we saw you hungry and gave you food, or thirsty and gave you something to drink? And when was it that we saw you a stranger and welcomed you, or naked and gave you clothing? And when was it that we saw you sick or in prison and visited you?' And the king will answer them, 'Truly I tell you, just as you did it to one of the least of these who are members of my family, you did it to me.'
Then he will say to those at his left hand, 'You that are accursed, depart from me into the eternal fire prepared for the devil and his angels; for I was hungry and you gave me no food, I was thirsty and you gave me nothing to drink, I was a stranger and you did not welcome me, naked and you did not give me clothing, sick and in prison and you did not visit me.' Then they also will answer, 'Lord, when was it that we saw you hungry or thirsty or a stranger or naked or sick or in prison, and did not take care of you?'
Then he will answer them, 'Truly I tell you, just as you did not do it to one of the least of these, you did not do it to me.' And these will go away into eternal punishment, but the righteous into eternal life."
6th century mosaic in Basilica of Saint Apollinare Nuovo, Italy
Those of us who were brought up in the Church of England may know this last Sunday in the Church's year as "Stir Up Sunday": it is the call to make Christmas pudding and cake so that they are at their peak for the 25th ! The feast of Christ the King, now adopted for this Sunday in the calendar of many parts of the Christian Church, was established just after the First World War by Pope Pius X1. Very troubled about the ongoing threat of war and totalitarianism, he sought to assert the power of Christ in the world and to encourage people of all nations to put Jesus at the centre of their lives and to build up the Kingdom of Heaven with its promise of hope, peace, joy and love. We can perhaps see similarities with what is going on around us now which makes Christ the King all the more relevant to us today.
The Old Testament reading and the psalm both speak of God's love for us, the love of a devoted shepherd looking after his wayward sheep. It is not easy to grasp fully the wonder of this love when it is expressed in this way, especially when we have to put the image back into the context of O.T. times, but when we experience it, we respond to it spontaneously through sharing that love through simple acts of kindness, reaching out to others, welcoming the stranger and recognising in him/her the presence of the Spirit that binds us together when Christ is King.
"Christ has no body on earth now but yours, no hands but yours, no feet but yours; yours are the eyes through which he looks with compassion on the world; yours are the feet with which he walks to do good; yours are the hands with which he blesses all the world." Teresa of Avila (1515-82)
O God, our Heavenly Father, give us a vision of our world as Your love would make it:
a world where the weak are protected and none go hungry or poor;
a world where the benefits of civilised life are shared, and everyone can enjoy them;
a world where different races, nations and cultures live in tolerance and mutual respect,
a world where peace is built with justice, and justice is guided by love;
and give us the inspiration and courage to build it, through Jesus Christ our Lord. Amen.
Church of Scotland
We pray for our local church community that we may have the eyes to see those who are in need and be ready to welcome them.
We continue to hold in our prayers the many throughout the world whose lives have been torn apart by war. We pray for those who are working for the restoration of peace that they may persevere.
Heavenly Father, we pray for those in need, asking you to heal the sick, strengthen the fearful, befriend the lonely and guide the perplexed. We pray in particular at this time for ..........................................

We pray too for the repose of the souls of those who have recently departed this world, thinking especially of ......................................... May those who mourn them know the strength & loving reassurance of God's saving power.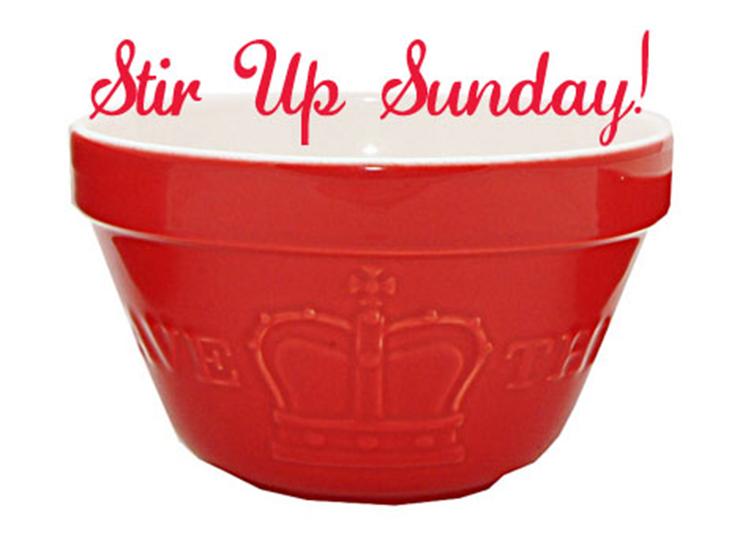 Stir up, O Lord, the wills of your faithful people;
that they, plenteously bringing forth the fruit of good works,
may by you be plenteously rewarded;
through Jesus Christ our Lord. Amen.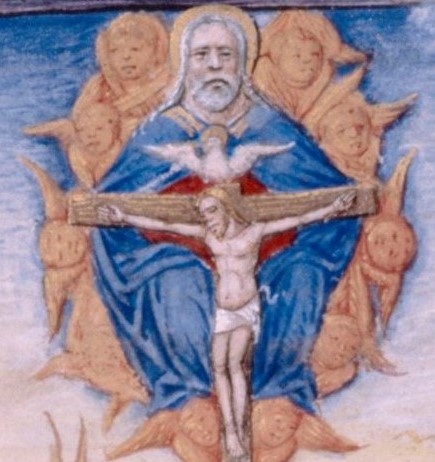 Gracious God, send us out into the coming week ready to show our gratitude for your many gifts and for your continued loving and reassuring presence with us . Amen.
Prayer from Archbishop Hosam Naoum of Jerusalem
O God of all justice and peace we cry out to you in the midst of pain and trauma of violence and fear which prevails in the Holy Land.
Be with those who need you in these days of suffering; we pray for people of all faiths – Jews, Muslims and Christians and for all the people of the land.
While we pray to you, O Lord, for an end to violence and the establishment of peace, we also call for you to bring justice and equity to the peoples.
Guide us into your kingdom where all people are treated with dignity and honour as your children, for to all of us you are our Heavenly Father. In Jesus' name we pray. Amen.
A PRAYER FOR UKRAINE
Lord, you promise us a future in which the weapons of war will be transformed into instruments of peace.
Today is not such a day, as missiles rain down on Ukraine and innocent people take refuge underground..
You taught us to pray your kingdom come on earth as it is in heaven,
and so we pray that you will restrain the aggressor, grant courage and wisdom to the resistance, and bring peace to this part of your world.
Look with mercy on the peoples of Ukraine and Russia, and grant our leaders wisdom and courage to seek a resolution that will allow truth and freedom to return to these lands.
Grant Lord, that through this conflict that we would have unimaginable two years ago, we may recognise anew our need for you, and live to thank you for answering our prayers.
Amen