Sent from Blakeney Dec 15th 1911: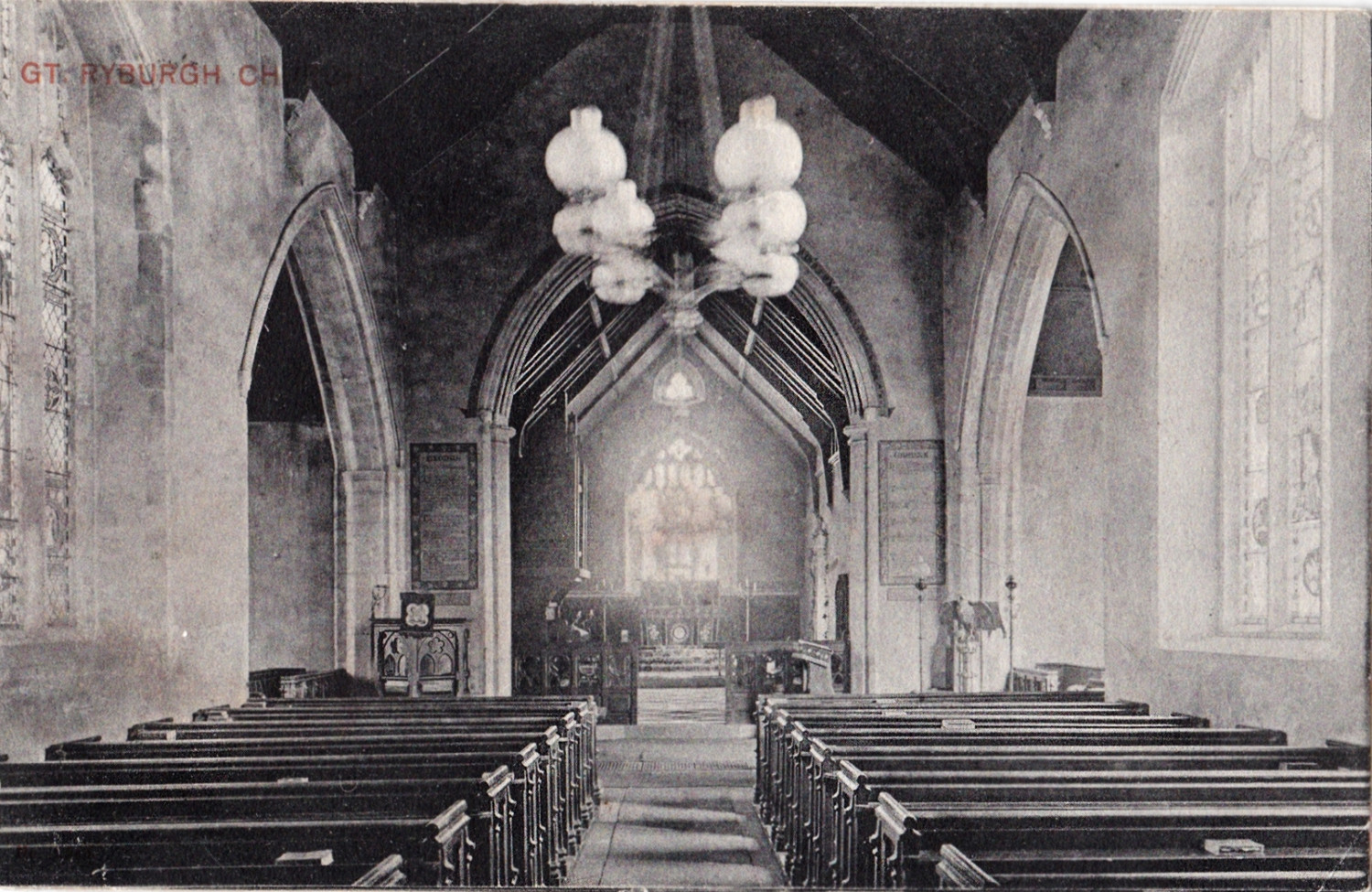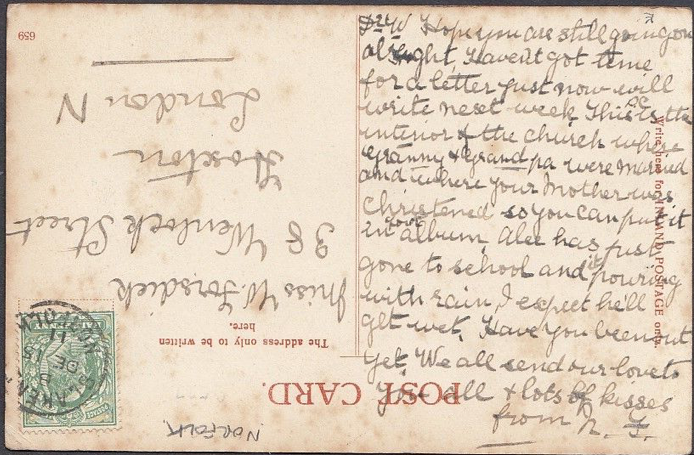 This reads:
Dr W Hope you are still going on
alright, haven't got time
for a letter just now will
write next week. This P.C. is the
interior of the church where
Granny & Grandpa were married
and where your mother was
christened so you can put it
in your album Alec has just
gone to school and its pouring
with rain, I expect he'll
get wet. Have you been out
yet. We all send our love to
you all & lots of kisses
from
H F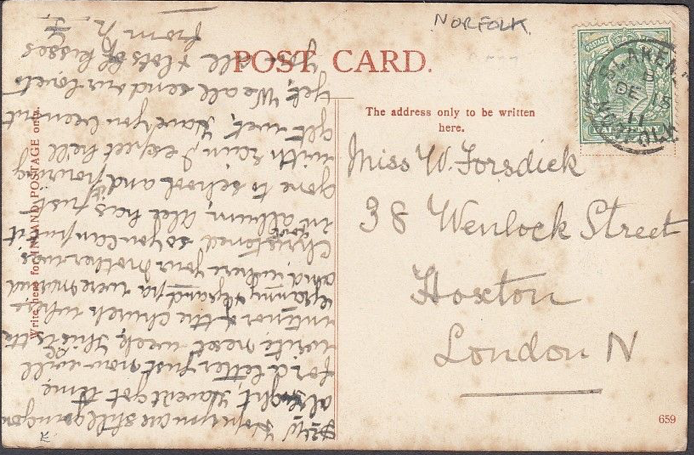 Miss W. Forsdick
38 Wenlock Street
Hoxton
London N.
There is a good deal of information on this card to help trace the source of
the card and the Census of 1911 finds a family of the right name in Blakeney:
An elderly couple John and Emma Forsdick aged 70 and 60 respectively,
together with a 29 year old daughter, Helen Emma (Charlotte) Forsdick
and grandson 9 year old Edwin Alexander Forsdick. If the initials of the
sender are indeed H.F. and Alec is the grandson of the Census then we
have hit the jackpot quite quickly! However the other information needs to
be checked and cross examined:
On the supposition that John and Emma are Granny & Grandpa then the next
thing was to locate them in the Ryburgh registers and indeed they too were
easy to find, being married at St Andrews on December 21 1870. She was
Emma Spearing the daughter of a Bailiff, David and John was a gamekeeper,
as was his father, Benjamin. He is recorded as a widower and ten years
Emma's senior.
His late wife Jane Watt 29, and 16 month old daughter Louisa Maud were both
buried in 1868 at St Andrews within a space of 3 months. John and Jane had
married in 1862 on May 2nd. at Killin in Perthshire where John was working as
an under-keeper at Margmore Glenlochay House. They had two daughters,
Christina and Sarah, born whilst in Scotland before they moved south to
Sennowe. But there is no trace of John Forsdick's Scottish family in
Ryburgh which brings home just how hard life was for very many in those
not so far off days.
Ten years after his marriage to Emma Spearing misfortune hit John
in the course of his work as Sennowe gamekeeper, reported here in this
press clipping from The Peoples Weekly Journal, otherwise known as the
Dereham & Fakenham Times for October 30th 1880 :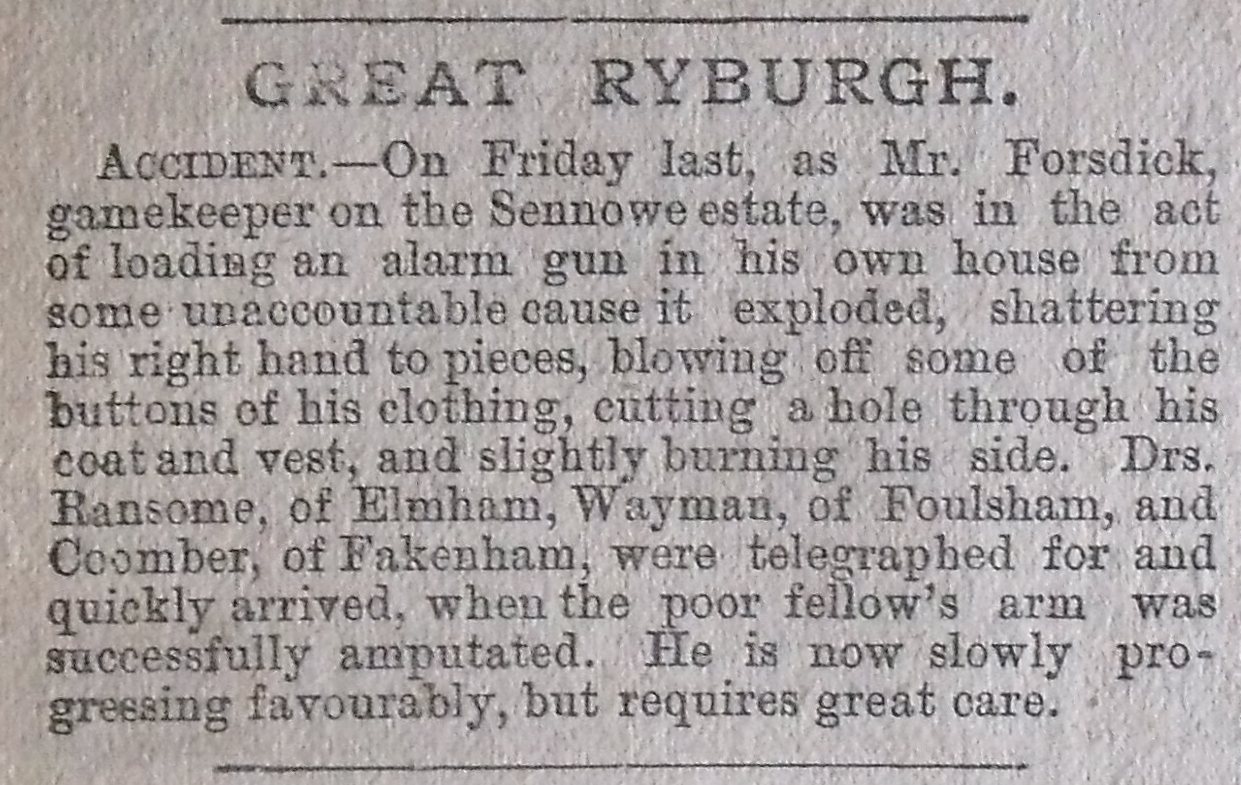 Following this accident the family moved to Blakeney to run the White Horse
Public House for ten years from May 1883- 1893. after which time he seems
to have returned to work as a gamekeeper. He is described thus in the next
two Census returns.
Checking the register for the daughters of John and Emma Forsdick (and
therefore the potential mother of the card's addressee) who were
christened at St Andrew's we find two: Ada Rachel, and the younger
sister Helen Emma Charlotte, who we think may have written the post card.
The next port of call was 38 Wenlock Street, Hoxton, London N. where in the
1911 Census we find Ada Rachel married for 12 years to James William Jarvis
from Blakeney. They had no children, except that 11 year old niece,
Miss W(inifred Emma) Forsdick is living at the same address as the post card
testifies to some nine months later. This adds to the evidence that the writer of
the card might be Winifred's mother and her daughter is being raised by her
childless sister in London.
However, looking back to 1901 we find Helen and Ada's older brother
Edwin Spearing Forsdick (a coachman in domestic service who in later years
went on to be a chauffeur) and his wife Annie living in London with their
family of 5 children the youngest being 1 year old Winifred. 1901 was the
year that Annie died and there now seems two plusible hypotheses :
The first is that Helen was the mother of Winifred, born when her mother had
been in service. (She was in service as a kitchenmaid in Hove in 1901)
Edwin and Annie take the child at the time but after Annie's death, she was
brought up by Ada and James Jarvis.
The second hypothesis is that with 5 children under 7, Edwin needed help so
that Ada and James took the baby Winifred to live with them. Edwin remarried
in 1903 and the 1911 Census says that there are 3 children of the new
marriage. Edwin is named as Winifred's father on her marriage certificate to
William Chapman in 1926.
John Forsdick died in 1922 and Emma in 1929. Helen married Walter Allen in
1927 and together with Ada and James, who had returned to live in Blakeney
by the time of the 1939 Register, they are now close neighbours.
Returning to the Alec of the card, without consulting the child's birth
certificate, it is not possible to say anything definitive about his parents
except to say that from investigating the families of Edwin, Alexander
and Harry Forsdick, (the three brothers of Ada and Helen) they would appear
to have had no child of that name and age. Inevitably one is drawn to the
thought that Helen is the mother of Edwin Alexander and this card represents
a family communication of a mother and her two children who are possibly
half siblings.
In my own family in the past, different parts of the family dealt with just such
a situation differently so that each could accept it in a way with which they
were most comfortable or deemed it socially acceptable, whilst never turning
their backs on the child and family. Today the climate is very different, and to
very many, it just does not matter!
Whatever the truth behind all the relationships that this card has revealed,
the overall story conveyed is one of a family caring for each other whatever
the situation, as do the majority the world over.