Ryburgh Remembers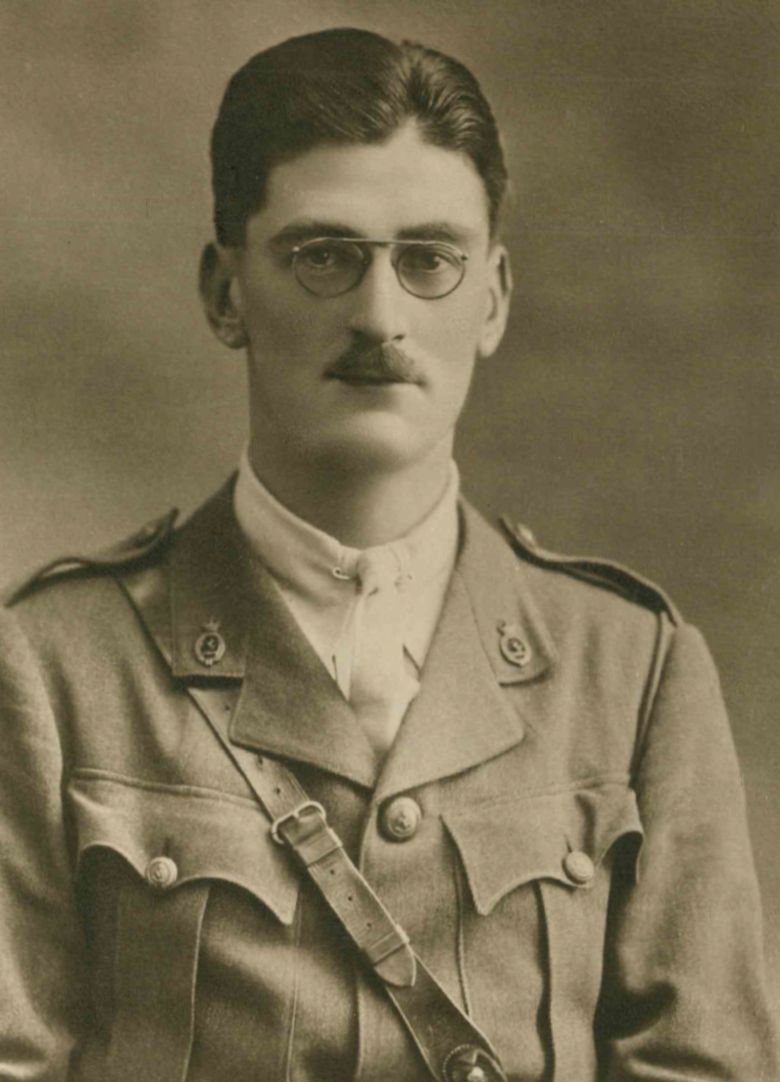 (photograph courtesy of Malvern College)
Frank Noel Tuff
26/11/1889 - 5/11/1915
On page 54 of the "Smiths of Ryburgh", Betty Wharton writes of the children of Frederick Edgar Smith whose name is listed on the Tenor bell in the tower at St Andrew's. He was one of the donors of the those bells. After Frederick Edgar died in 1906, his widow Carolin and their two children Herbert Frederick Edgar known as "Effie" and Muriel Mary took up residence in the Manor House in Ryburgh (which was purchased later by the F & G Smith Company in 1911 for £1350)
Of Muriel, Betty writes the following:
Since this was written, the Internet has made far more information available to us and so we are able to fill in some of the missing detail regarding the brief life of Frank Noel Tuff, a Ryburgh soldier by marriage and it seems, an accidental casualty of the Great War.
De Ruvigny's Roll of Honour provides us with the following information:
TUFF, FRANK NOEL, 2nd Lieut., 1/1st Royal East Kent Yeomanry, youngest son of Charles Tuff of Westfield, Singlewell, Gravesend,J.P., late M.P. for Rochester, by his wife, Marian, daughter of George William Gill; born Rochester County of Kent, 26th November 1889; educated The Abbey School, Beckenham; Malvern College, and Brasenose College, Oxford, and was studying for the Law. He received a commission in the Royal east Kent Yeomanry 1 June 1915; went to the Dardanelles with his regiment in September; was seriously wounded in a bomb accident at Helles on 23rd October, and died in Malta 5th November following. He was a prominent athlete. At Malvern he was in the cricket and football elevens for several seasons, and represented Oxford at Association football in 1909, 1910 and 1911, and played at Lord's at cricket in 1910. He also played football for the Corinthians, and cricket for the Free Foresters and band of Brothers. He married at St Michael's Chester Square , SW., on 11th December 1812, Murial Mary ( Uplands, Singlewell Road, Gravesend), only daughter of the late F.E./Smith of Oxwick;
His older brother, Capt. Cecil Thomas Tuff, 1st Battn. The Royal West Kent Regiment, was killed in action near Ypres buried in an unmarked grave near Hill 60 on 15th or 18th April 1915
In December 1915 Revd F.H.Tatham reported in the Ryburgh Parish Magazine: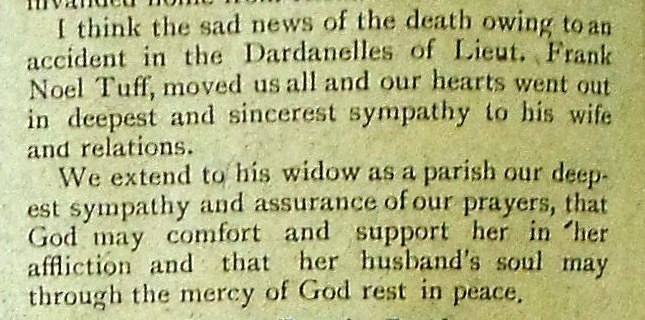 He was buried in the Pieta Military Cemetary Valetta Malta:

Probate was granted in 1917 as below:

His 3 medals were claimed by his widow now remarried as Mrs Lawrence and her address was given as the Manor House Great Ryburgh in 1921: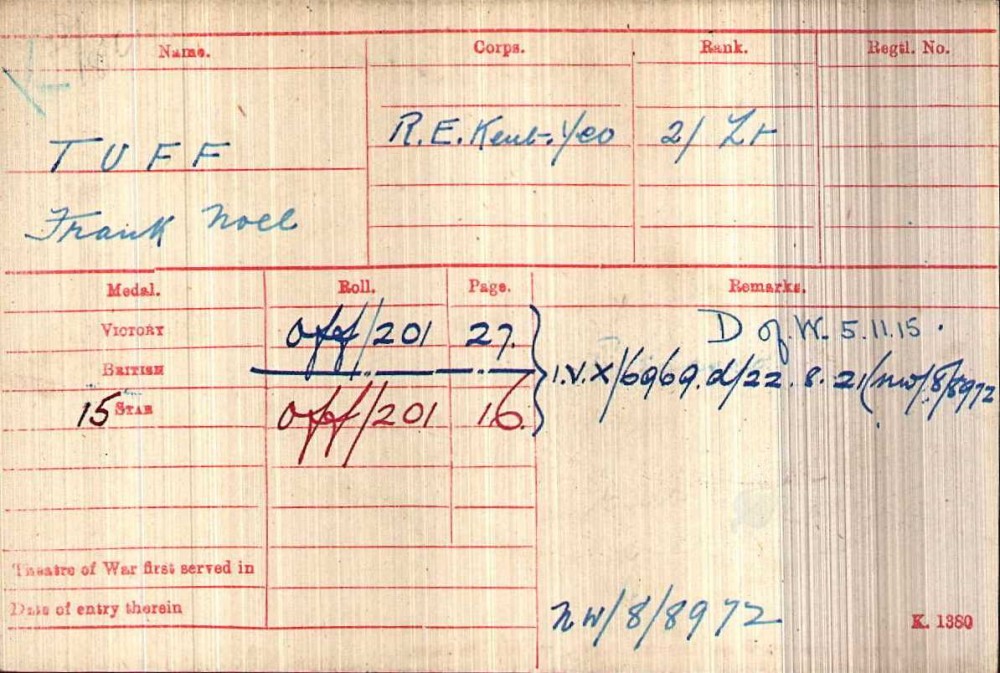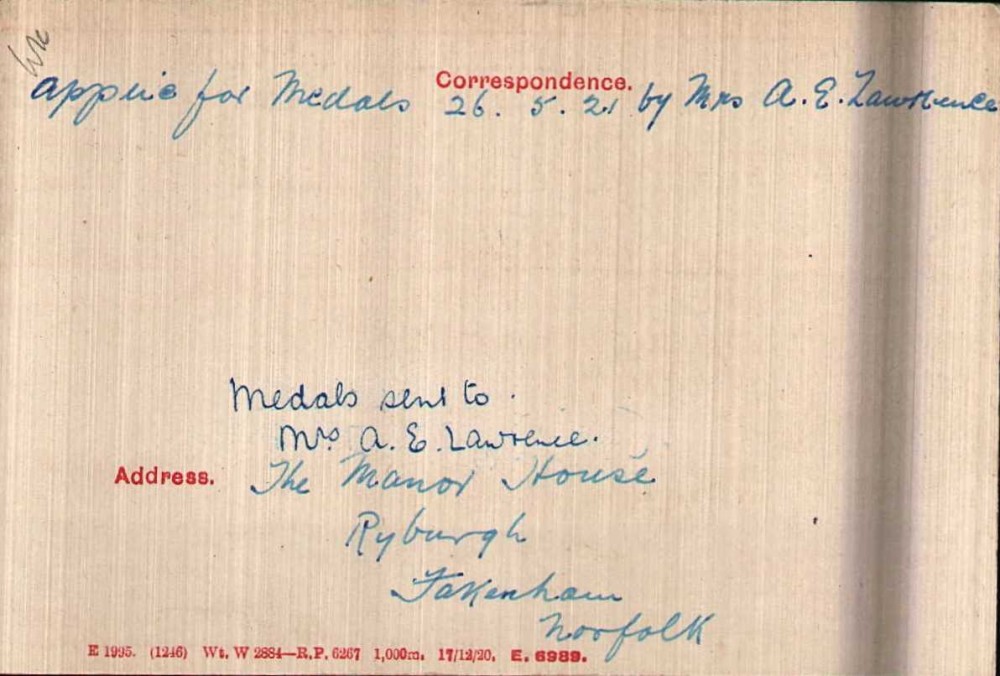 In April 1921 from the London Gazette we see that all was still not settled:
Re Second Lieutenant FRANK NOEL TUFF Deceased.
Pursuant to the Act of Parliament 22nd and 23rd Vic., cap. 35, intituled " An Act to further amendthe Law of Property end to relieve Trustees."NOTICE is hereby given, that all creditors andother persons having any claims or demands against the estate of Second Lieutenant Frank NoelTuff, late of Uplands, Singlewell-road, Gravesend, in the county of Kent, deceased (who died at Malta of wounds received in the Dardanelles, on the fifth day of November, 1915, and whose will was proved in the Principal Registry of the Probate Division of His Majesty's High Court of Justice, on the 24th day of January, 1917, by Muriel Mary Tuff, Charles Tuff and Bertram Tuff, the executors therein named), are hereby required to send the particulars, in writing, of their claims to us, the undersigned, the Solicitors for the said executors, on or before the twelfth day of May next, after which date the said executors will proceed to distribute the assets of the said deceased amongst the persons entitled thereto, having regard only to the claims of which they shall then have had notice; and they will not be liable for the assets of the said deceased, or any part thereof, so distributed, to any person of whose claims or demands they shall not then have had notice.—Dated this 12th day of April, 1921.
ARNOLD, DAY and TUFF,
Solicitors for the Executors, The Precinct, Rochester, Kent.
In 1922 the Manor House was sold by F&G Smith without the land for £1,070 to a Colonel and Mrs. Rose Holland
*****************
Steve Bushby thought he had come across Noel Tuff 's name before and the reference to the Corinthians and a search through his Who's Who of cricketers came up with this further information:
Frank Noel Tuff Amateur. b. 26/11/1889, Rochester, Kent. d. 5/11/1915, Imtarfa, Malta. He died of wounds. Lower order right-hand batsman, right-arm medium fast bowler. Sch Malvern. Team Oxford U (1910-11, blue 1910)
Career batting
Matches 11, Innings 20, Not out 7, Runs 190, Highest score 35, Average 14.61, Hundreds 0, Catches 6.
Bowling
Runs conceded 670, Wickets 25, Average 26.80, Five Wickets in an innings 2, Ten Wickets in a match 0, Best bowling in an innings 7/47
His final first-class match was for Free Foresters in 1914. He played soccer for Oxford and Corinthians.
There was an obituary in the 1916 edition of Wisden. In Wisden on the Great War, Tuff's obituary is on page 183. as yet to be examined

He is commemorated on the Memorial at St Mary of Antioch Ifield Kent
Steve found further information on him and his family in Kent. (see pages 9 and 10 of the pdf document)
This report was from the Whitstable and Herne Bay Times from November 1915;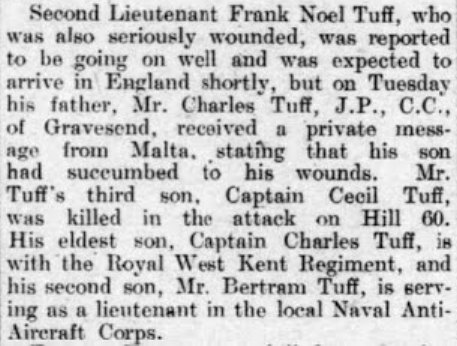 Noel is remembered on the Roll of Honour in the boardroom at the Corinthians club. He had
played in the Corinthians team on the very influential tour to Brazil in 1910.
*****************