On the Tenor bell in the belfry at Ryburgh the following inscription is to be seen:
THIS PEAL OF SIX BELLS WAS GIVEN BY
GEORGE FREDERICK SMITH,
FREDERICK EDGAR SMITH,
HERBERT EDGAR SMITH,
EDGAR SMITH,
ANNIE MARY SMITH,
EDITH SMITH,
HARRY JACOB SMITH
AND
CHARLES GEORGE SMITH.
Throughout the second half of the C19th., the name of Smith to many was arguably synonymous with Great Ryburgh. They certainly influenced the lives of a good many families in the village. It seems almost a surprise to find only H.F.E. Smith (son of Frederick Edgar) on the Roll of Honour, but that is partly due to the ages of respective family members in relation to the War years.
Of the children of Frederick and Annie Smith who donated the bells at St Andrew's in their memory, most were in their 50's by the war years. Frederick (junior) had died in 1906 and Edgar "Ned" died in 1914 and the eldest George in 1917 aged only 56.
George had looked after his younger brothers Harry Jacob b. 1875 and Charles George b. 1876 and from the pages of Betty Wharton's book "The Smiths of Ryburgh" we learn that Harry Jacob had emigrated to Tasmania around 1911 and enlisted there. His service record is held in the Australian Archives and from that we learn that when he enlisted he was married and living at the following address:

What is more he gave his occupation as professional soldier with the following service:
He saw service in Egypt, and France and returned to Australia in March 1918 for the termination of his appointment. His record showed that he applied for this both because he had been passed over for promotion several times in spite of having had a satisfactory record and because his wife had been dangerously ill. After the War and the death of his wife Muriel he married his brother's widow, Alice May after Herbert's death in 1921.
You can access his complete service record through the National Archives of Australia if you wish to learn more about Harry Jacob.
Edith Smith, born 1868, married Alfred Charles Hammond at Kensington Registry Office on January 18th 1890. He was 12 years her senior and had left Edith for Canada in 1905 leaving her to bring up their two sons, Anthony and Charles Their marriage ended in divorce in June 1911 on the grounds of desertion and adultery. Charles died in 1915 and his brother Anthony was killed in action on November 28th 1917 serving with the12th Lancers.
The most closely associated with Ryburgh, Herbert Edgar Smith was 49 when War broke out. He lived at the Mill House after his mother died,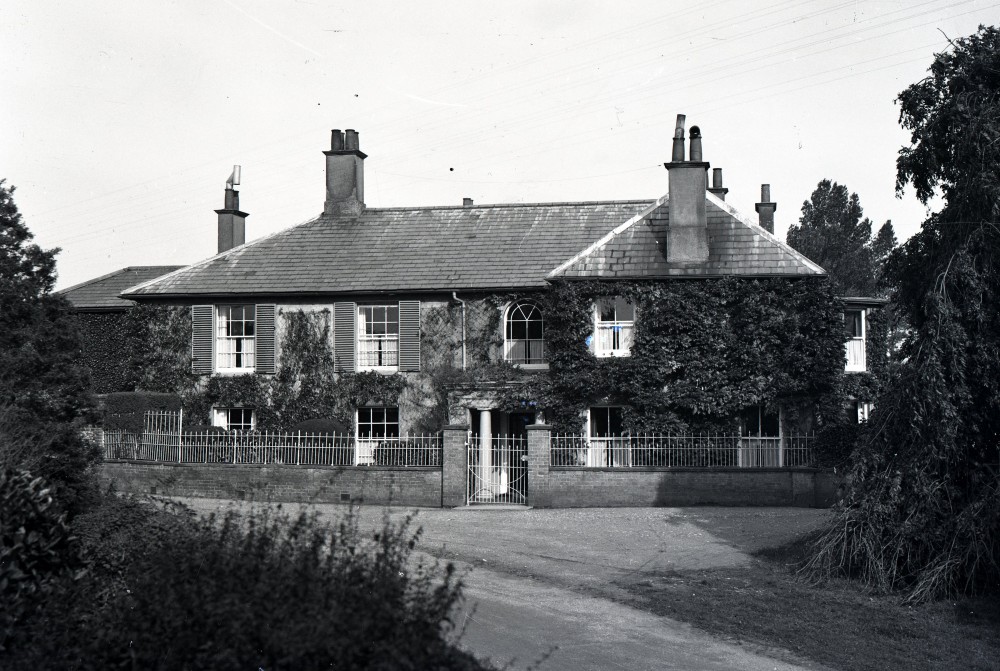 The Mill House
Herbert had played his part in the South African Wars and his eldest son Malcolm was just 16 in 1914
Of Herbert's two older brothers:
George's eldest son, George Frederick Edgar, known as Geoff, had been born in and lived at Wells. He died and was buried in France in 1918. You can read his biography here and access his complete service record through the National Archives of Australia if you wish to learn more about Geoff.
George's youngest son and Geoff's brother, Edgar Ladas Smith was" Gazetted" Temporary 2nd Lieut. On 19th September 1914 on a list from the Cadets and ex Cadets of the Officer Training Corps. According to Betty Wharton's book "The Smiths of Ryburgh", he was in Salonika for 3 years where he contracted a bad case of Malaria and was invalided out of the service.
He joined the Prince of Wales Volunteers South Lancashire Regiment and was probably with the 9th (Service) Battalion.

The Long Long Trail gives the following information about the 9th Battalion:
Formed at Warrington in September 1914 as part of K3 and moved to Seaford, under
command of 66th Brigade in 22nd Division. Moved to billets in Eastbourne in December
1914. Moved back to March 1915 and on to Bourley (Aldershot) in May.

Landed in France on 7 September 1915 but sailed from Marseilles 29 October, landing at
Salonika 5 November 1915.
Malaria was recurrent thereafter until his death in 1929 by his own hand.
copyright 2015