Ryburgh Remembers
Pte. 13497 John William Doy
8th.Btn. Norfolk Regiment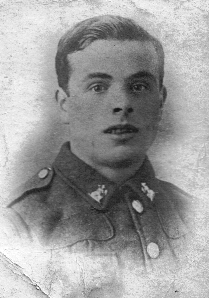 August 24th. 1894 - October 22nd. 1917
William, as he was generally known, was the only boy in a family of seven children born to Arthur Doy and Harriet Ainger. They were married in1888 with their eldest daughter born that year:
Bertha Elizabeth 1888
Ruth 1889
Thirza Helen 1891
Emma Laura 1893
John William 1894-1917
Bessie Elizabeth 1897-1902
Alice Belinda 1900-1900
Tragically the death of Alice Belinda was also the occasion of their mother Harriet's death.
Suddenly being left with 6 children to look after was more than their father could cope with, but various family members took the children under their respective wings.
By 1911 the family was spread out:
Bertha was working as a general domestic servant at Weybread Hall. She married later that year.*
Ruth was living with her Aunt Mable in Stibbard an "unengaged barmaid"
Thirza was in service as a housemaid in Aylsham.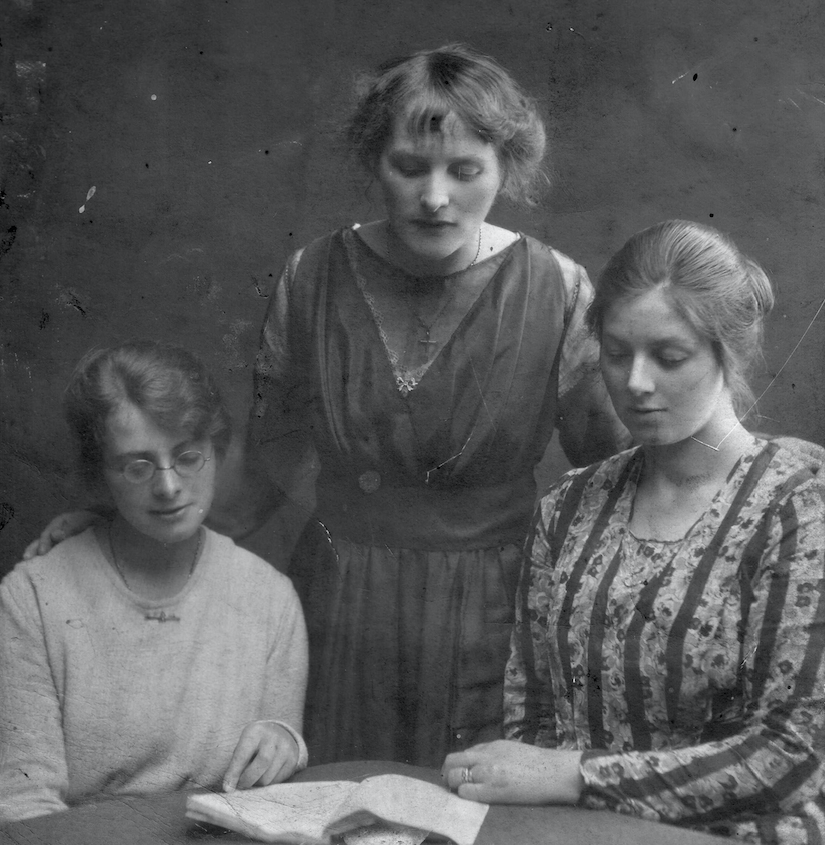 Thirza, Bertha and Ruth
Emma was a single mother and living with her Uncle James and Aunt Amelia Ainger and 2 month old daughter Dorothy Phyllis in Wilby
William was was boarding up at Testerton and working as a groom. He had been taken in by his Aunt Georgianna Nelson (nee Doy) after his mother's death and grew up with his cousin Ernest Nelson who was to be a casualty of the conflict the following year.
In common with many of the "burnt records" of WW1 soldiers, those surviving for Willam Doy are not in very good condition but quite a lot of information can be gleaned from them and it is very readable that a 5' 4 ¾" tall, brown-eyed young man with light brown hair enlisted soon after the start of the War on September 3rd 1914, signed up by Sgt. Waterson in Fakenham. Consequently he endured the War for 3 years and 50 days until his death, of which the first 325 days were training at home. On 25th July 1915 he was sent to France and for nearly a year survived without harm until July 3rd 1916 when he was admitted to hospital with a gunshot wound to his left thigh. First at Folkestone and then a day's assessment at Shorncliffe before convalescing at The Grange, a group of 5 or so large houses in Deal that were adapted for the purpose. He was discharged from there on August 24th 1916 and remained in England until January 30th 1917 when he was returned to France for the last 265 days of his life.
His Conduct sheet records him being confined to barracks for 7 days for overstaying his draft leave on Jan 11th. 1917, an indication that he was not too enamoured at the prospect of going back to the misery and dangers of life in the trenches. The record also shows that he had done something similar prior to his original embarkation although he was just "admonished" on that occasion. There were two other minor disciplinary incidents during his training period at Colchester giving an indication that he was not entirely comfortable with Army authority!
His sole legatee was his Aunt Georgianna and she received the £20-4/- 8d. owed to him by the Army on his death. She also signed the receipt for his three medals. In 1918 the Army made efforts to find his father at the address in Poplar given in his record, but the result was that no one of the name Doy had lived there for at least the past 3 years. Georgianna received William's medals in November 1921. Arthur Doy did enquire about why he had not received his late son's medals in June 1925 but was told that according to War Office instructions they were disposed of to the "Legatee under the WILL of the late deceased soldier"
Arthur had by now re-married and was living in Canning Town. It is believed that he went on to have two further daughters with new wife Verena Osborne. The picture below dates from the latter years of their life: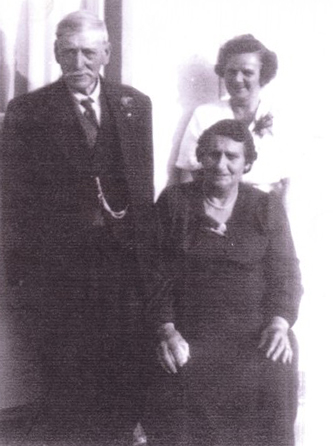 The Regimental War Diary for the period is available on-line and from this we can follow events during the last few days of his life:
TUNNELLING CAMP
Oct 18th
Battalion spent the day cleaning up and refitting. Rifle, kit and camp inspections were held by all Companies.
Oct 19th
Battalion carried out practice attack.
Order No 17 issued for move on 20th
Order No 18 issued for part to be taken by Battalion in the POELCAPPELLE Operations
Oct.20th
Battalion left TUNNELLING CAMP at 9.45a.m. and marched to RAILHOEK SIDING, arriving there at 10.10am.. Bn. Entrained at about 10:55 a..m. and arrived at IRISH FARM SIDING, the detraining point, at 1:45 p.m. from whence Battalion marched to CANE TRENCH, bivouacing there for the night.
Oct.21st
Battalion remained at CANE TRENCH during the day, Battle stores were drawn and issued and Bn. Moved up into Assembly Positions, leaving CANE TRENCH at about 9 p.m.
Oct.22nd
Battalion carried out an attack in vicinity of POELCAPPELLES. For part played by Battn during this operation, see Narative attached (Appendix 59)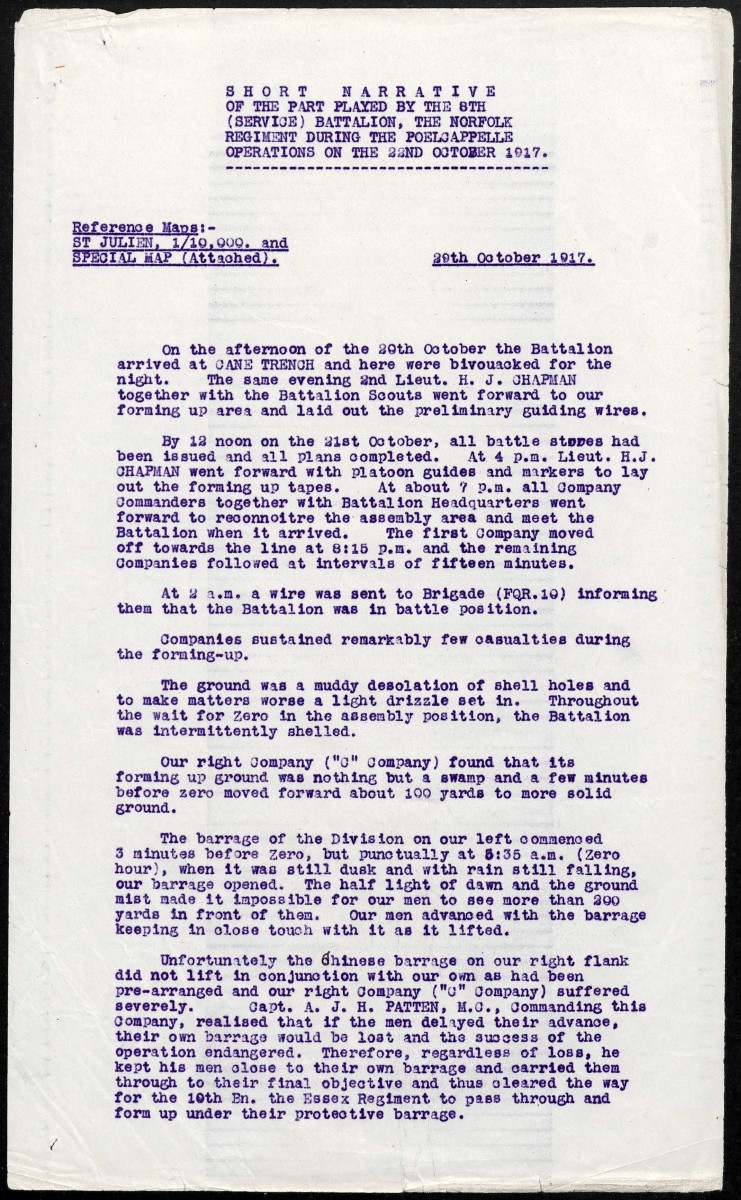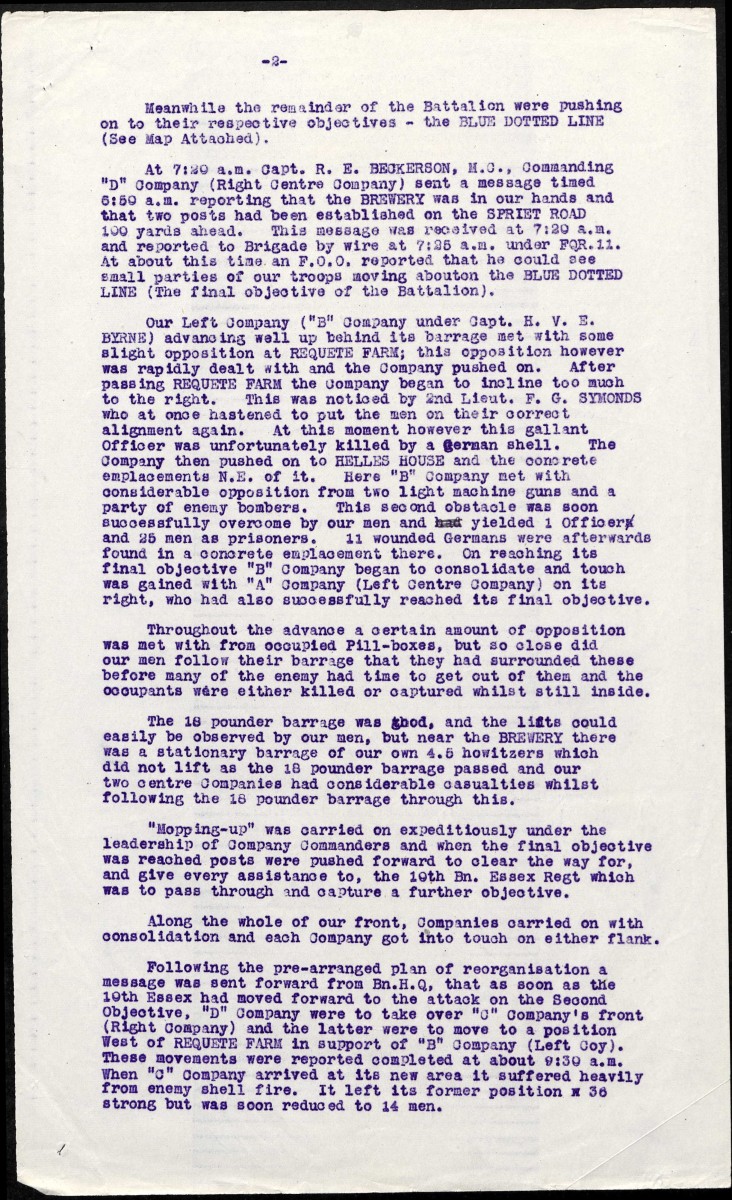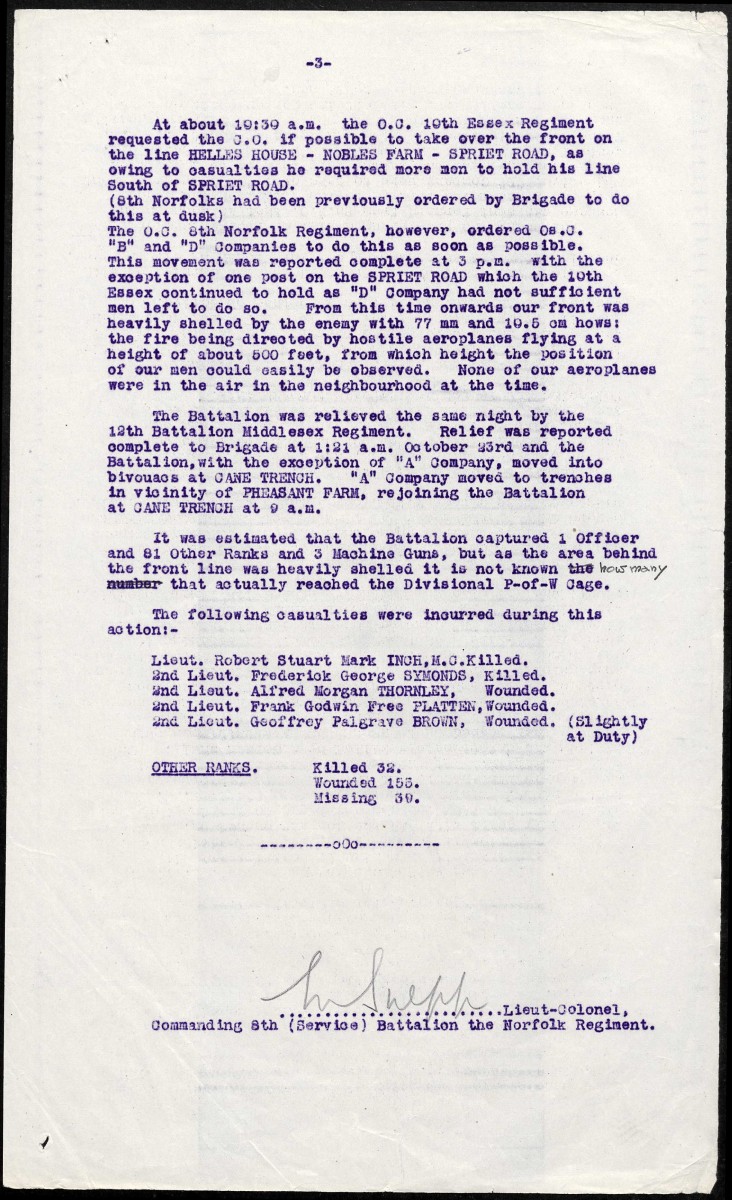 William Doy's body was never recovered for burial and thus is remembered on Stone No 34 of the Tyne Cot Memorial, the Village Hall, the Think and Thank Screen and the Village Obelisk: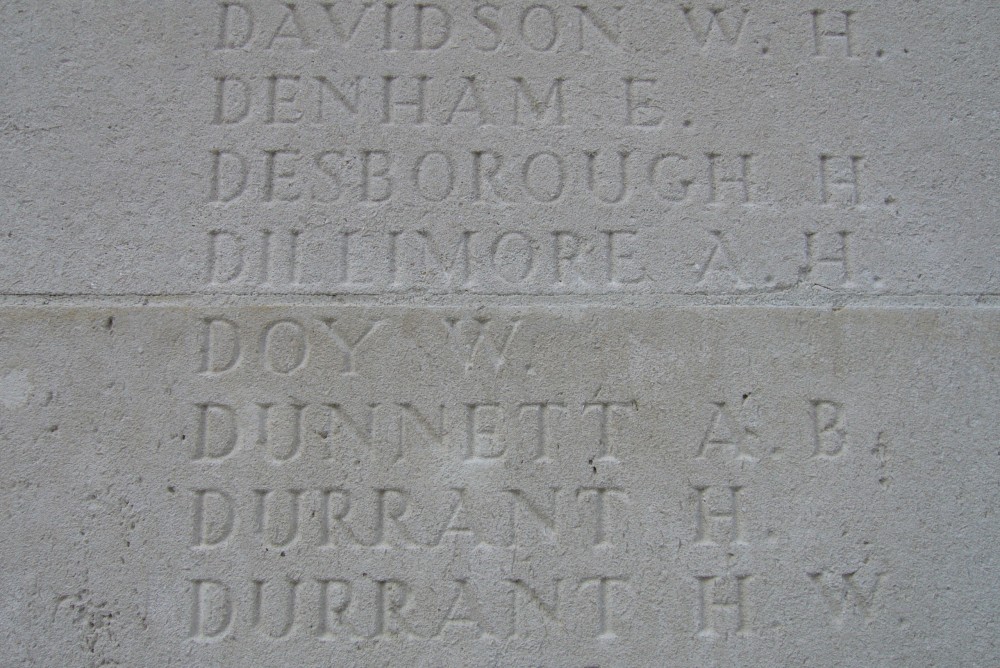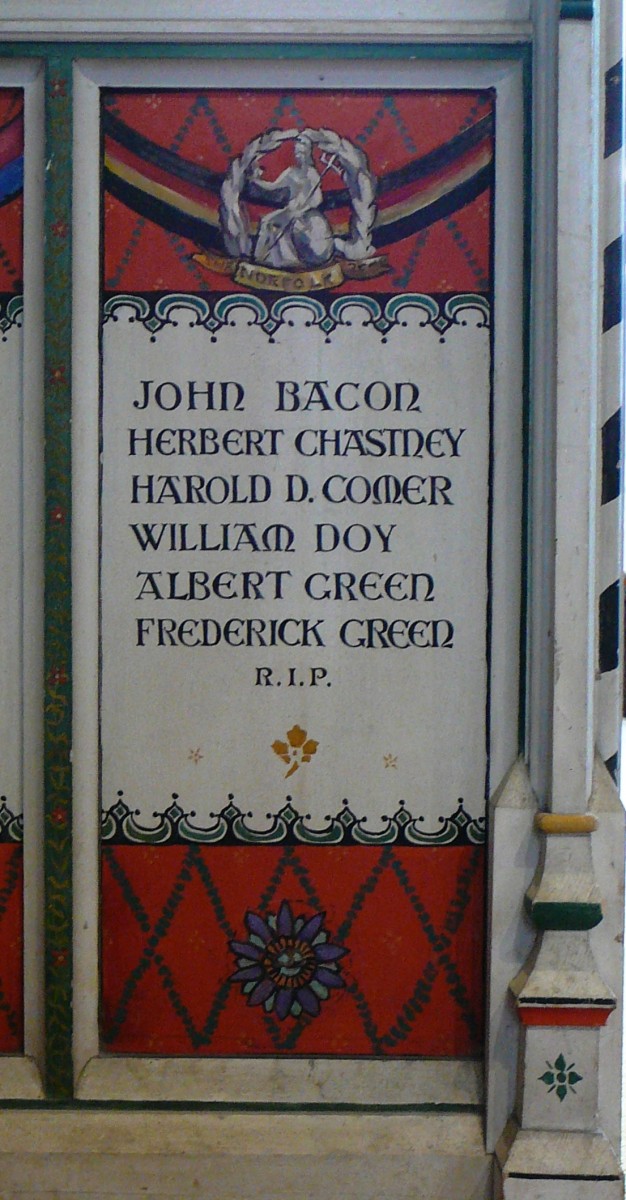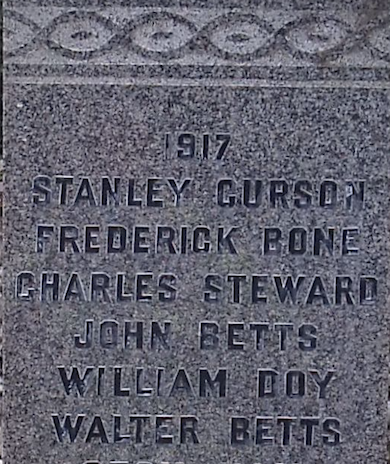 *The information about Bertha was taken from this press clipping below: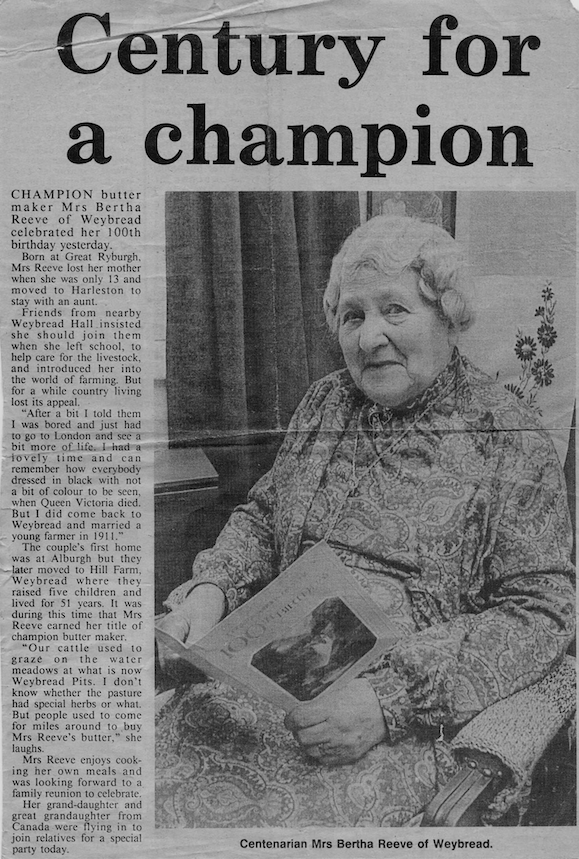 Herbert died in 1967 and Bertha in January 1990.
copyright 2017