Ryburgh Remembers
John William "Charles" Cremer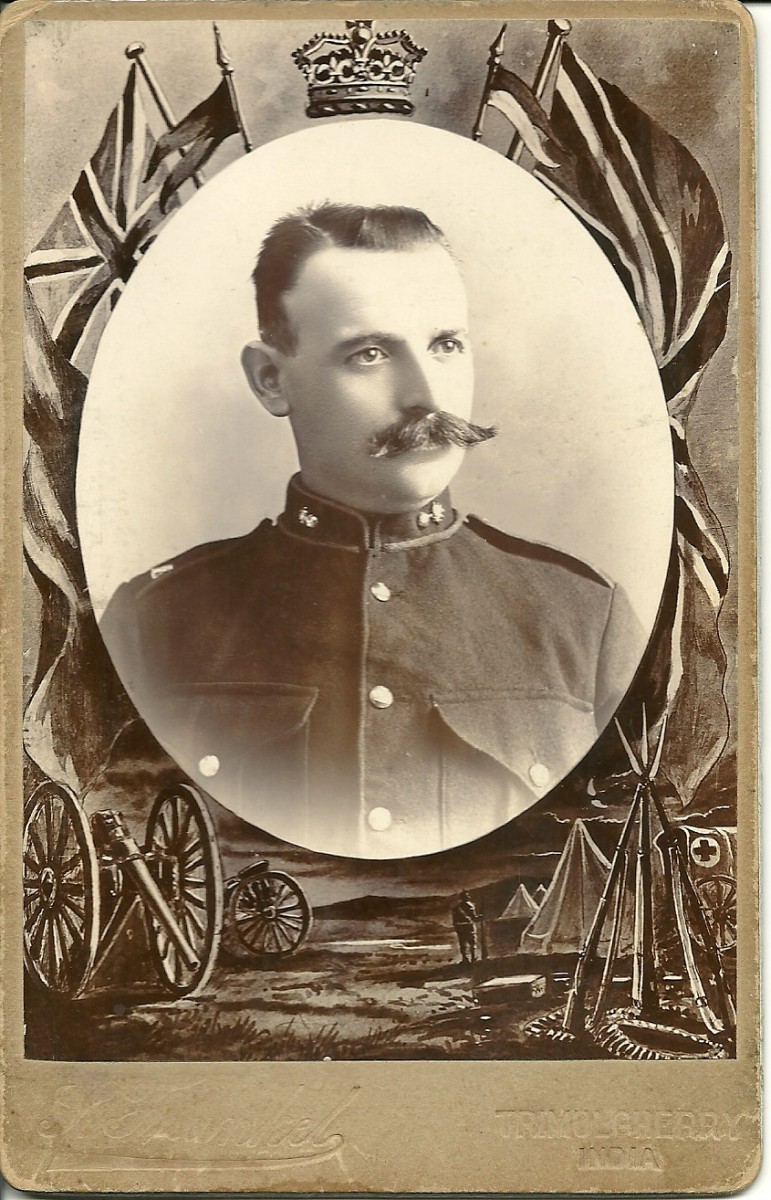 4th April 1869 - 1st November 1914
The War Memorial was erected according to Kelly's Directory for 1933, "in the main road in 1921, inscribed with the names of those from Gt. and Lt. Ryburgh and Testerton who fell in the Great War 1914-18;"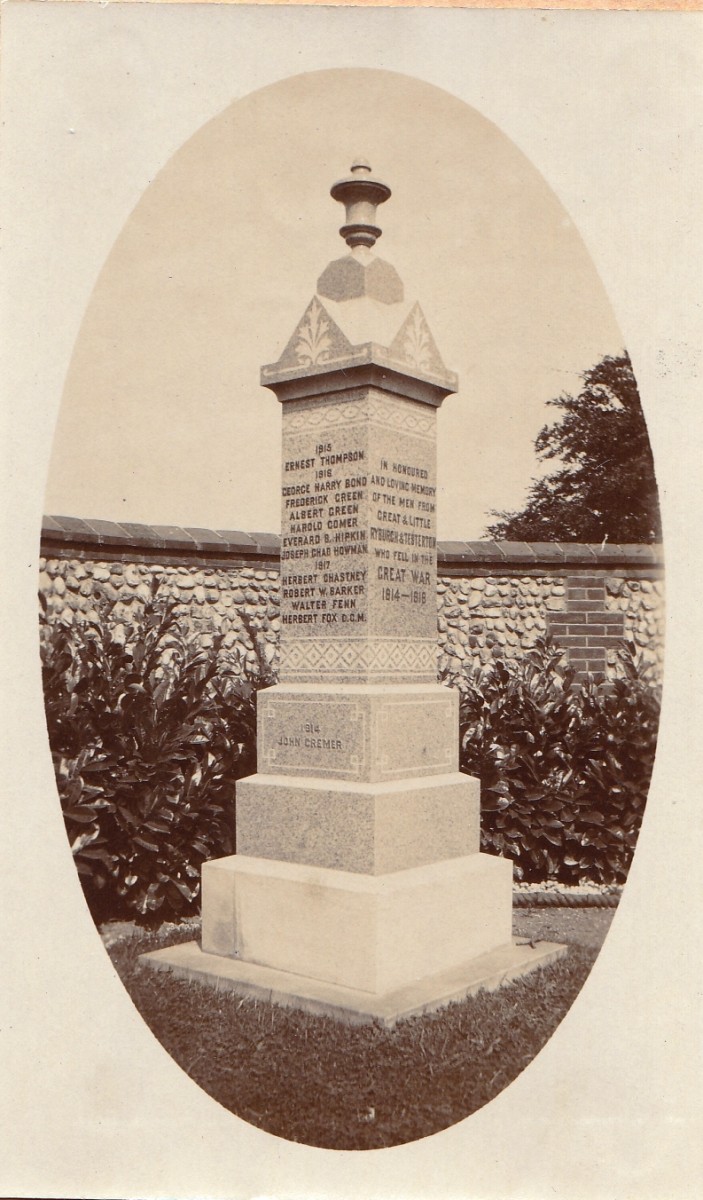 This has just one name inscribed for the year 1914, that of John Cremer. This shows up the first discrepancy amongst the "names of the fallen" in Ryburgh because he does not appear on the "Think and Thank" Screen in St Andrew's. Again according to Kelly's 1933 "in 1921 a beautifully designed screen, containing on the front panels the names of the fallen under their regimental badges, and on the other side the painted figures of saints, was erected across the south transept at a cost of £240, as a memorial to those who fell in the Great War, and a thank-offering for those who returned". Neither is he in the Church on the hand decorated Roll of Honour of those who served.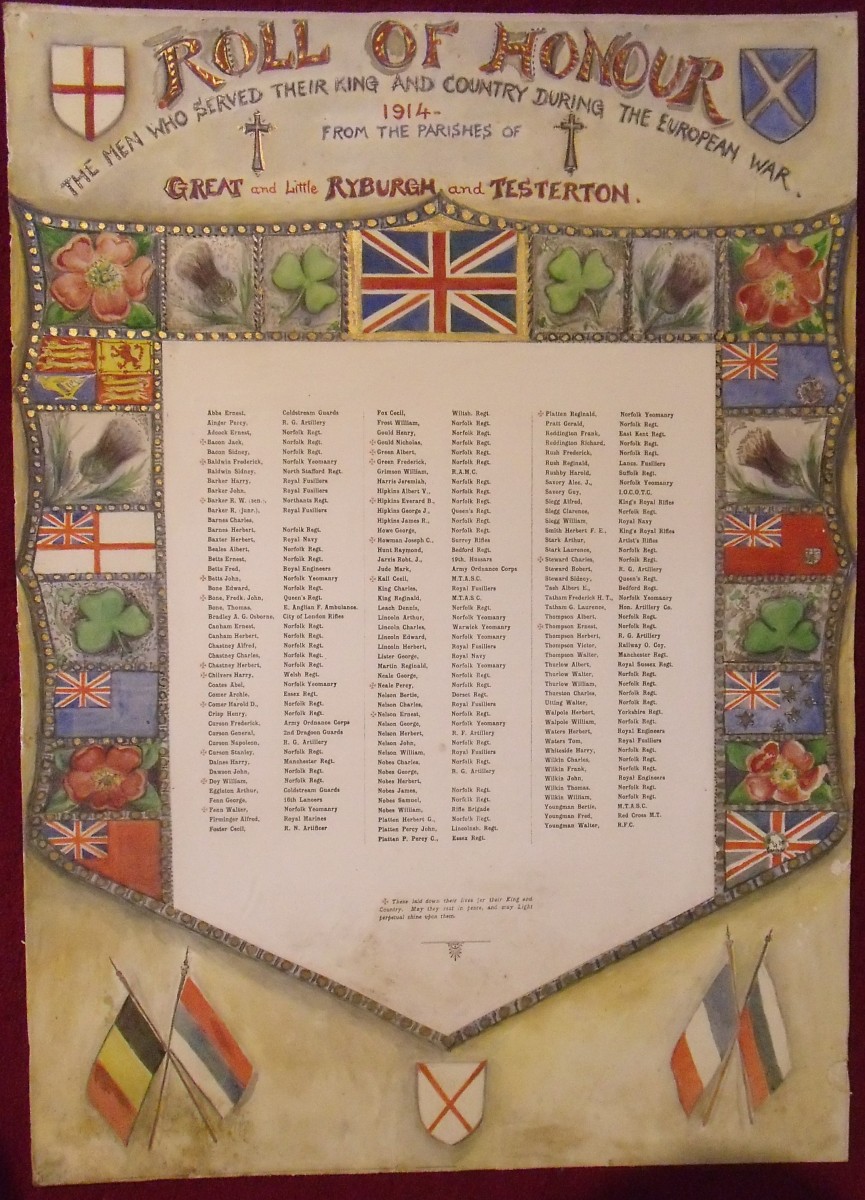 Cremer was a familiar name in the Little Ryburgh Census over several decades and our village archive has a copy of a photo of Esther Elizabeth Cremer born in 1853 in Lt. Ryburgh and who died in 1918: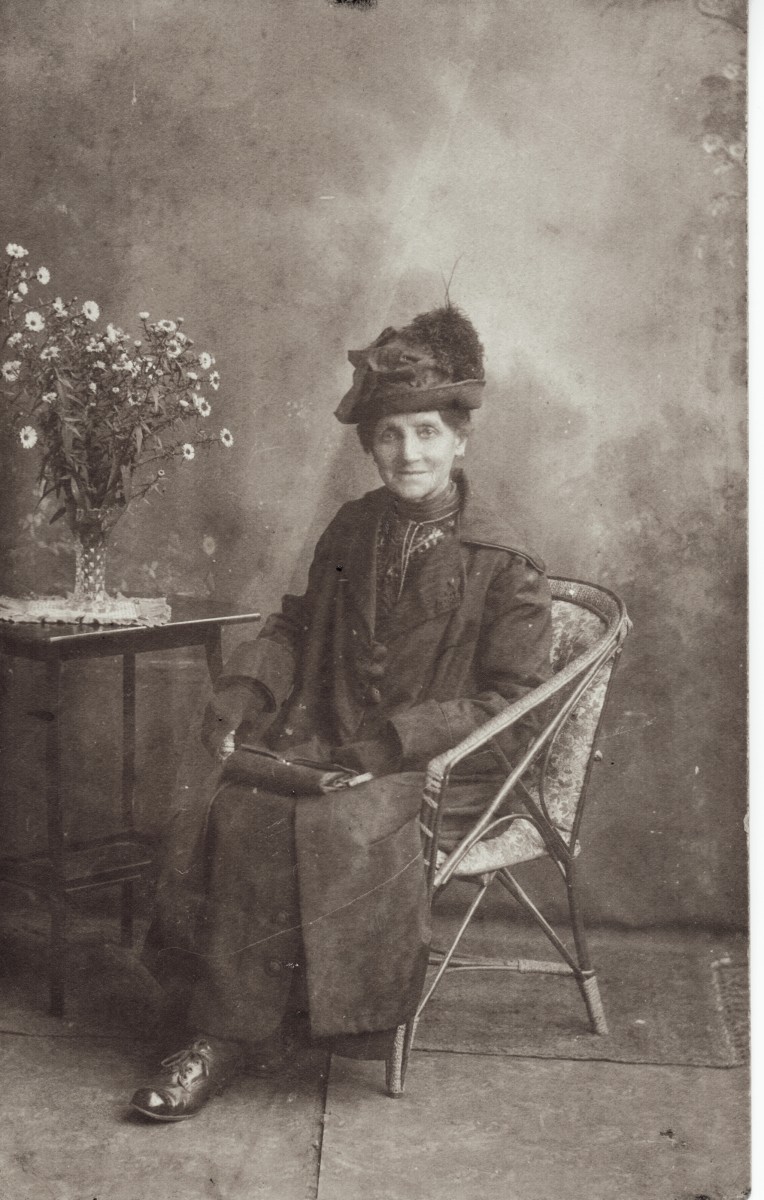 A look at the 1871 Census finds Esther then aged 17 with her youngest sibling John W. aged 2 in the collection of households in May Green Lt Ryburgh. Their parents are James (Ag.Lab) and Frances. Ten years on Frances is staying with her married daughter Evelina Lingwood in Sculthorpe and father James and 12 year old John live in the collection of cottages known as Old Toll Bar.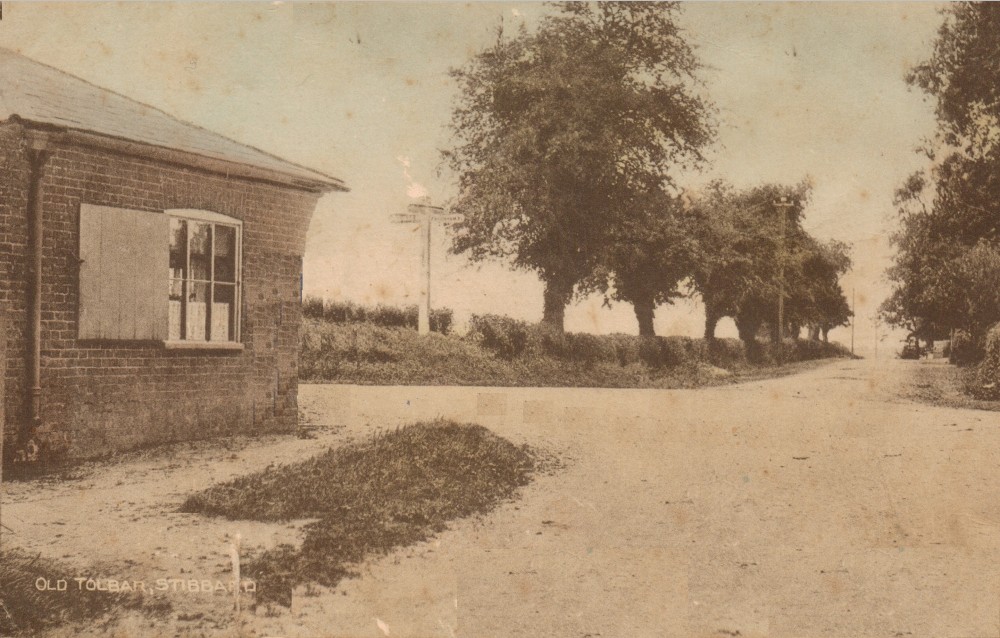 This would seem to be the collection of cottages around the Stibbard crossroads and the old Toll Bar itself is seen in an early C20th post card occupying the corner plot diagonally opposite the cottages of today on the Stibbard side of the crossroads. John then seems to disappear from any further in the Census collections.
Working backwards from 1914, the records say that the only Cremer from Little Ryburgh to be killed in 1914 was a Charles Cremer a Saddler Sgt. No 82522 in the Royal Field Artillery, a regular soldier who served with the 47th Battery of the 44th Brigade of the Royal Field Artillery in the Expeditionary Force in France, Killed in Action 1st November 1914.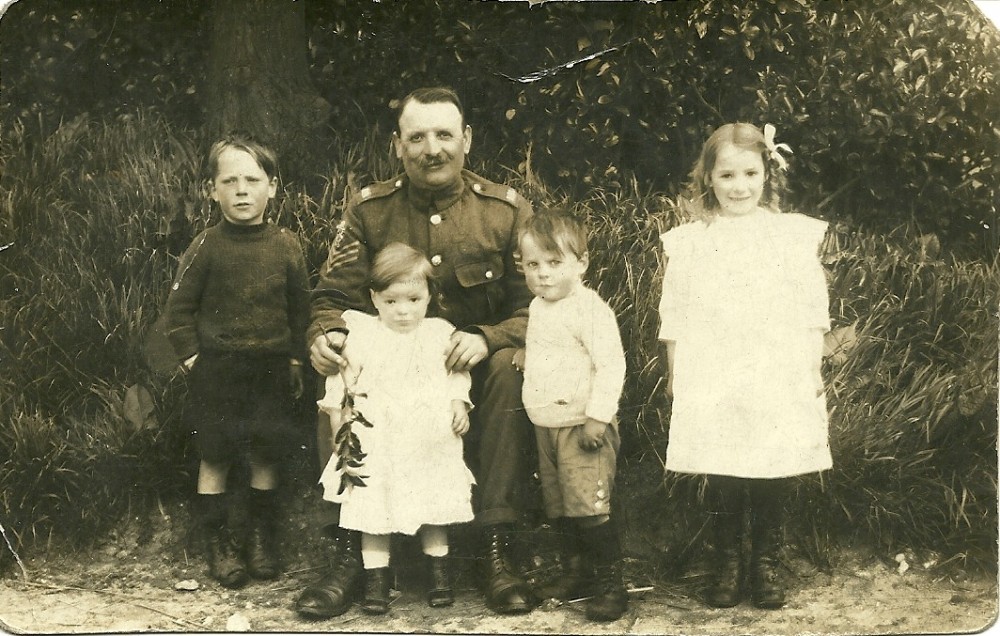 In April 1911 this same man is living in Countess Weir in Devonshire with his wife Mary from Old Castle County Meath in Ireland. Charles and Mary Cremer had 4 children in the first 6 years of their marriage up to 1911,
Bert William born c1905/6 Frances May born 1907 Edward born 1909 Lionel James born 1910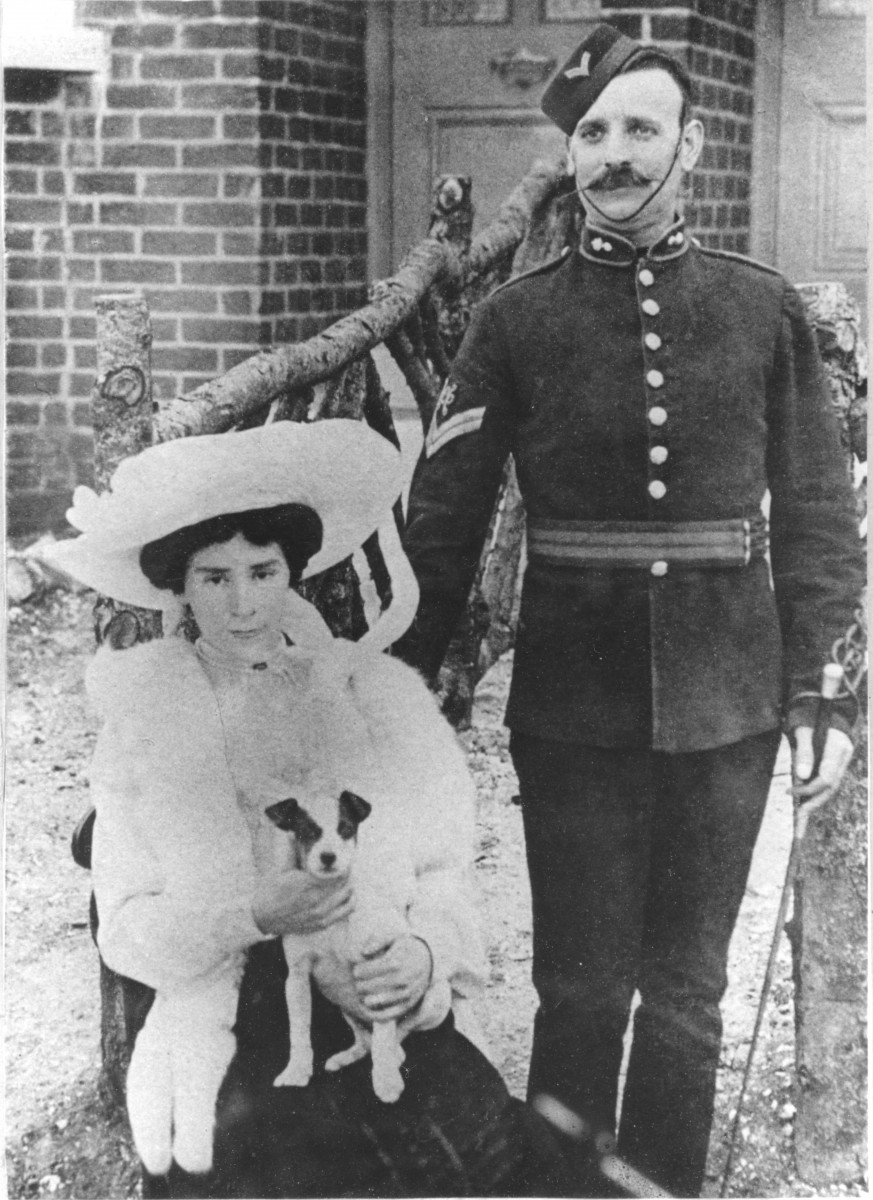 John and Mary Cremer c.1905
Charles Cremer (b. Ryburgh) is a serving Gunner in the 1891 Census, but as yet not found in 1901 ,
Having recently made contact with his Great Grandson, we have been able to find out much more information and are very grateful to him for allowing us to make use of his family history from which the following is drawn:
He enlisted into the Army as a Gunner in the Royal Regiment of Artillery (with the regimental number 82522) in the first half of 1888, most likely signing up on the Long Service terms of 12 years with the Colours with the option of signing on again after the end of the term for another 6 or 12 years.
Within days after enlistment, he was sent to the Artillery Depot at Woolwich to be issued with kit and to begin his basic training as an artilleryman which would, initially have consisted of the basic soldiering skills of drill, musketry and physical fitness along with instruction upon the wear and upkeep of uniform. From here, he was sent to Hilsea in Portsmouth to continue his training (here, more specialized training appropriate to his role –in Charles' case, the role of 'Saddler' - would have ensued) and, after a few months, to be part of the artillery garrison that was present here. Charles was still here in 1891 and it would appear that he was, at this time, part of 37 Field Battery Royal Artillery (a 6.5in Howitzer battery) who were to remain here until 1896 when they were dispatched to North East Africa where they were soon to take part in the Sudan campaign.For his service in this campaign, Charles would have received the Queen's Sudan Medal and the Khedive's Sudan Medal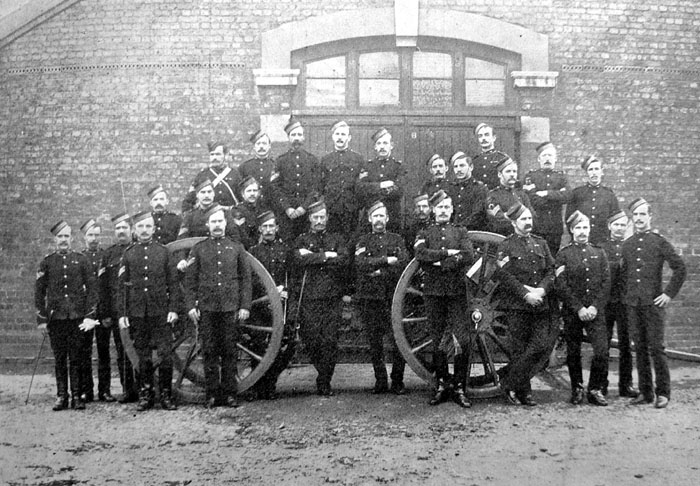 Officers and NCOs of 37 Field Battery Royal Artillery c 1896
On 1st July 1899 the Royal Regiment of Artillery was split into the Royal Horse artillery, the Royal Field Artillery and the Royal Garrison Artillery. Charles became part of the Royal Field Artillery and, in March 1900, after signing on again for a further 12 years service, he was transferred to the newly formed 149th Battery of the 50th (Howitzer) Brigade serving in the UK (at this time including Ireland) for the next number of years (37 battery had , after the Sudan campaign, been sent to South Africa to take part in the 2nd Boer War but Charles, being very nearly 'time served', had returned to the UK and was stationed at the Artillery Depot at Woolwich before re-signing). From this point, after a short spell of service on Gibraltar and/or Malta he was based at Bulford until the end of 1907 by which time he had been promoted to Saddler Corporal (he was also married in the first quarter of 1904 and became a father to two children (Bert and Frances) whilst here thereby moving out of barracks and into the Army families accommodation there) before being sent back to Hilsea, Portsmouth (possibly in an instructional capacity) where his third child (Edward) was born.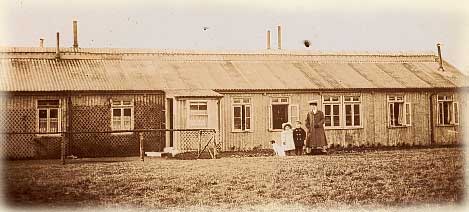 The Cremer's home at Bulford Camp
In January 1909, he qualified for the issue of the Long Service and Good Conduct medal.
At some point during 1909/1910, he was promoted to (Saddler) Sergeant and moved to Exeter (living at Countess Weir by 1911). Whilst living here, he was probably employed at the Okehampton artillery camp and ranges during the week.
In 1913, 149th Battery was disbanded when the make up of artillery units was restructured (reducing the amount of artillery brigades to 40 (with a further 4 on reserve)) and it would appear that the men of the battery were all transferred to 44th Brigade (47th, 56th and 60th Batteries) with Charles, himself, being transferred to the 47th Battery As Charles appears to still have been serving at this point (under normal (long service) terms of enlistment, he would have entered the reserve in 1912) it would appear that he had either re-enlisted (again) under 'short service' terms at this point or he was, indeed, a reservist who was possibly still in the part-time employment of the army.Whatever the case, just over a year later, he was mobilized for active duty within the 44th Brigade RFA upon the Declaration of War on August 4th1914 and, a few days later was with his battery at Brighton.
The position of 47 Battery leading up to John/Charles Cremer's death can be traced in the 44th Brigade War diary for 1914 now available online from the National Archives.
24th October
The 60th batt starting at 5am returned to the position vacated by them the previous evening, but later in the day join up with the 56th Batt near the HALTE. The 47th Batt also rejoined & came into action R of EKSTERNEST. About 7p.m. the 56th Batt was sent to support the 7th Division near GHELUVELT. The 47th and 56th remained in action for the night. Bde HdQrs staying in a house near the HALTE.
25th Oct.
In the evening about 4 pm both the 47th &60th Batts moved forward to a point about half a mile NE of the 2nd T(rench) of EKSTERNEST & dug in. Bde HdQrs moved to 1am (or arm) S of the R of EKSTERNEST. The detached section of the 56th rejoined its battery.
They stayed in this position until November 1st.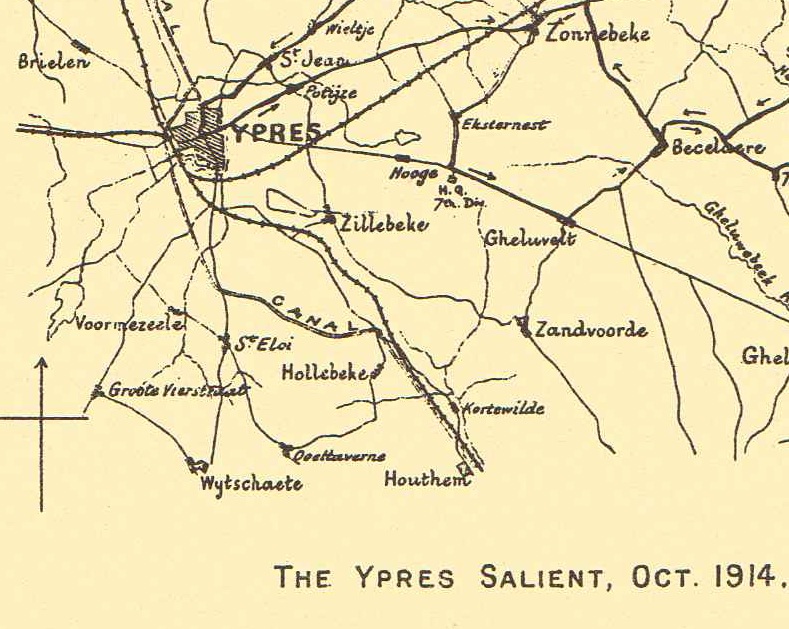 A brief entry in the War Diary for the 47th Howitzer Battery, Royal Field Artillery for November 1st 1914 reads as follows:
Shelled trenches in front of 6th Inf Bde and 4th Guards Bde. Fired at hostile Batteries by map and compass. "Black Maria" into our wagon line Sadd. Sgt Cremer, Dvr. Pitters, Dvr. Rudge, Dvr. Woodey, killed. Cpl. Jeffs, Dvr. Calder, Dvr. Crossby, Dvr. Kaye. Br Diehl wounded, 5 horses killed, 4 wounded. Bivouacked in action.
Brief though this entry is, it is unusually detailed about the personnel involved, perhaps because in relative terms this incident was not as chaotic as an "over the top" action as described in many other entries. Additionally many of the troops involved at this stage of the war were established regular and territorial forces with a long term history as a fighting unit. Indeed in 1911 both Sgt Cremer and Driver George Rudge were both based at the Topsham Artillery Barracks, at Heavitree, Devon. [When Charles Pitters and Albert Woodey enlisted has not yet been established although coincidently they were both employed in brickyards in 1911 in Hampshire and Gloucestershire respectively.]
Further information about his death is found in a letter written to his wife Mary from a serving colleague Q.M.S. R. A.Smith. It reads as follows:
Q.M.S. R.A.Smith,
47th Battery R.F.A.
44th Brigade, R.F.A.
2nd Division,
British Expeditionary Force.
3/11/14
Dear Mrs. Creamer,
I am writing you these few lines to express to you the deep sympathy felt by all the N.C.O's and men of the battery as your terrible loss to you and your children, of such a splendid husband and father. The Sergeants and myself feel the loss of such a noble comrade very keenly, myself especially , as I was very much attached to your husband, in fact we always slept together since I joined this battery, and he always saw that I was quite comfortable before he would think of himself. He was the life and soul of everyone around him, and such a splendid soldier. He was our oldest soldier in the whole brigade, and also the oldest member of this battery; nothing seemed a trouble to him; he always did his work thorough, so his loss to the whole brigade is felt very keenly. Poor Charlie never suffered much agony; he died in a few moments, and he has been buried with three more of his comrades that served in the battery at home: Rudge, Pitters and Woodey; perhaps you will know them. We have made them a very pretty grave and erected a cross with their names on it. Capt. Dickson has promised if possible to take a photograph of it. If he is able to do so I will forward you one as soon as possible, so Dear Mrs Cremer I do hope you will be brave and bear this terrible blow. I am sure your dear little children will be well looked after, and you know how very sorry my Wife will be to know the sad news, and if you are ever needing any help go to her or write, she will be only too pleased to help you. I will enclose her address. So I will now draw a close, hoping that you may have health and strength to bear this terrible shock.
I remain
Your sincere Friend
Sd. Q.M.S. R.A.Smith.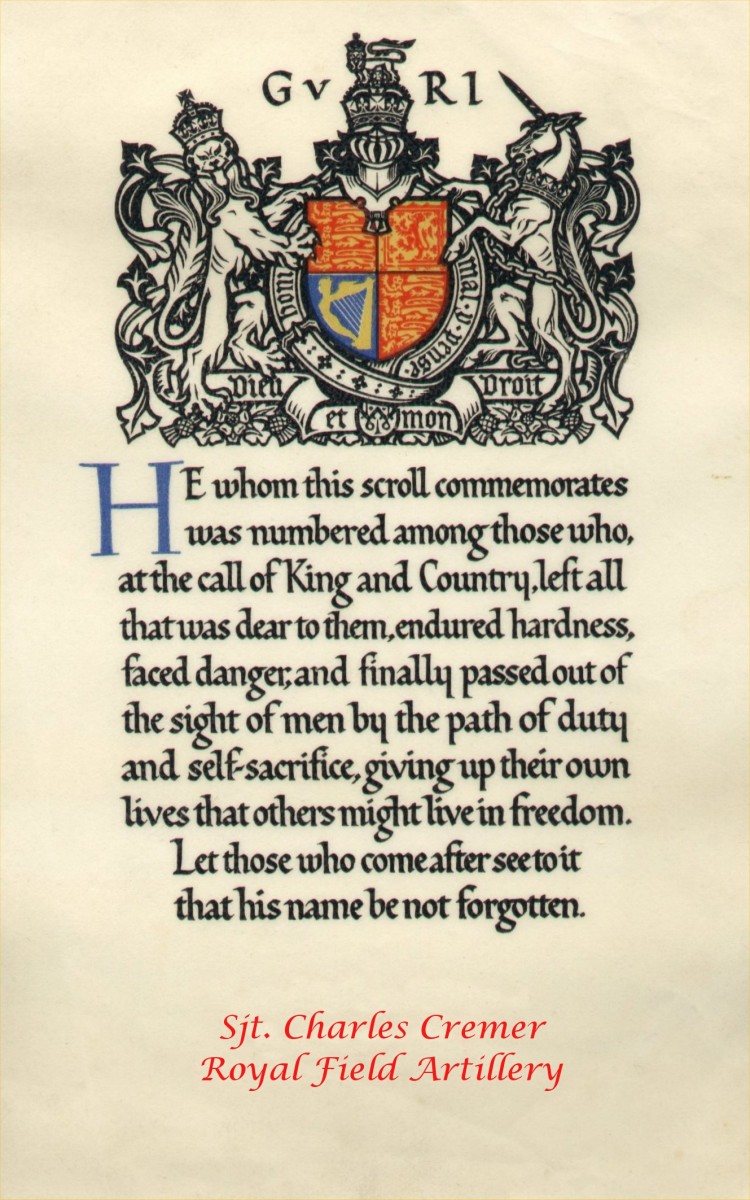 It is to be hoped that Mary Cremer did manage to see a photo of her husband's "pretty grave" as during the course of the next 4 years the site and his remains became lost. He is therefore remembered at Ypres on the Menin Gate, Panel 5 & 9, just one of 54609 names of men who have no known grave.
Copyright 2014