Ryburgh Remembers
650417Acting Sergeant 2100 Joseph Chad Howman
21st London Regiment 1st Surrey Rifles
baptised April 15th 1891- died October 8th 1916.
Joseph Chad was the youngest of the 5 surviving children of Joseph and Eliza Howman and was born just a little too soon to have been entered into the new registers. It is assumed he attended the school when Albert Foster was relatively new to the job about the year his older brother Walter enlisted for the first time.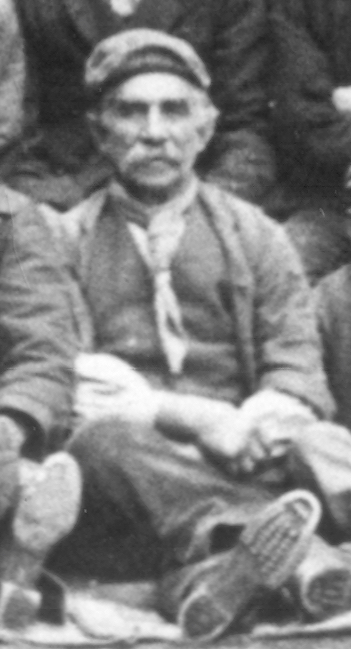 Joseph Howman
photographed with maltings workers in 1901
What he did immediately on leaving school until he is identified as a maltsters labourer like his father in 1911 can only be conjectured. Also unknown is his reason for joining the London Regiment prior to his first posting to France on March 16th 1915. He returned to England two months later on 16th May having been wounded, although the nature of those wounds is not known. It was during the ensuing period of his recovery that he married Phyllis Violet Everett a schoolteacher's daughter from Dover. In 1911 she had been working as a draper's assistant in Lavender Hill and they were married at St James' Knatchbull Road Camberwell on September 4th 1915. Joseph's address was given as Flodden Road Camberwell, both these addresses are very close to what today is still the HQ of the London Regiment Territorials. It is interesting that he upgraded his father's professsion to Manager on the marriage certificate The Dover Express carried the following piece on Friday 10th with thanks to the British Newspaper Archive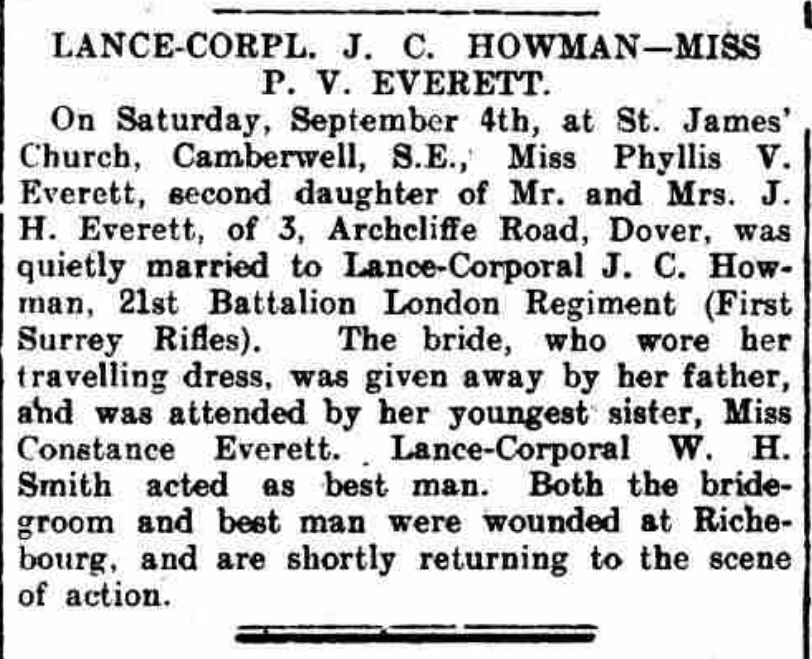 Thetford and Watton Times December 2nd. 1916

This is really almost as much as there is to know about either of them. Joseph did indeed return to the fighting on 9th October 1915 and lasted but one year until his presumed death on 8th October 1916. His wife recieved his back pay of 13/11d. and recieved a further War Gratuity payment of £12 at the end of August 1919. He is remembered on the Thiepval Memorial and on the Think and Thank Screen in St Andrew's. Unlike his older brother Walter Uttin, there were clearly some issues over his pension and which elicited a Parliamentary question from local M.P. George Edwards as reported in Hansard vol 138 from February 22nd 1921:
Mr George Edwards asked the Minister of Pensions if his attention has been drawn to the case of Mrs. E. Howman, the mother of the late Sergeant Joseph Chad Howman, No. 2,100, 21st London Rifles, who made application for pension in October, 1919, which, after repeated applications, was granted from June, 1920; and whether, in view of the fact that the original application was first made in October, 1919, he will have inquiries made as to the reason this pension was only granted from June, 1920?
************
copyright 2016