Ryburgh Remembers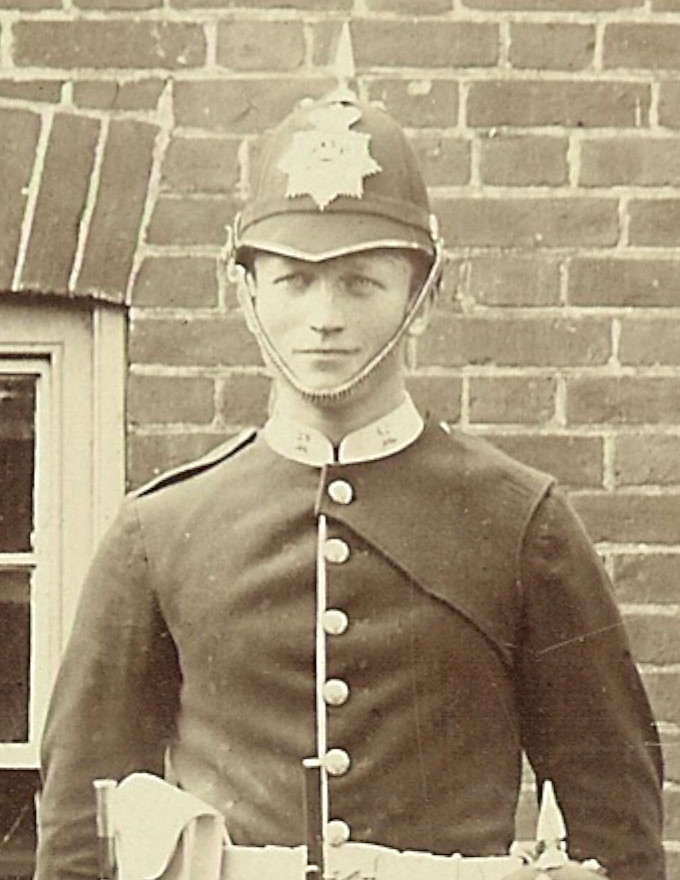 Robert William Barker.
29th July 1875 - 4th March 1917
Robert William Barker was born on 29th July 1875 and baptised on the 7th June 1876. He was the son of Arthur Barker a Merchant's Clerk of East Dereham and Martha Ann Platten daughter of Carpenter John Platten. They were married at St Andrew's Church on November 1st 1874.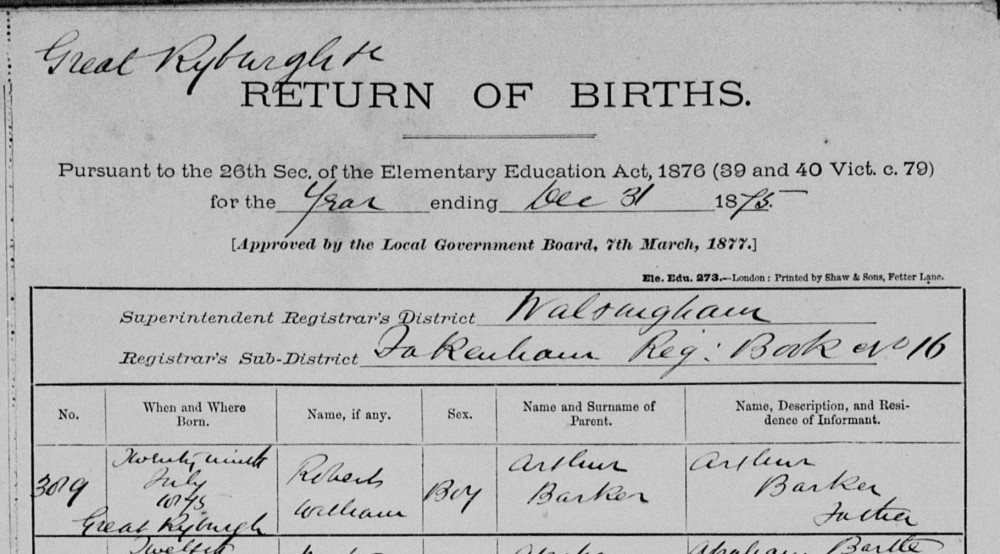 His father Arthur died on the 29th December 1887 (aged 34). After his death of it would seem as if Robert as the eldest at 11 was soon to be the breadwinner of the family and the Census's show how he kept the family together even after the death of his mother on 12th September 1900 (aged 50) and when his siblings had all but reached maturity. This was probably only made possible by the close help of his Uncle William Salisbury who was a well respected and faithful employee of F& G Smith for 45 years. Robert is listed as a corn merchant's clerk in 1891 and as a foreman miller in 1901

Extract from 1891 Census
In 1894 Robert answered the call for volunteers to form a Ryburgh Detachment of the Fakenham D Coy 3rd Volunteer Battalion Norfolk Regiment. This report appeared in the Fakenham & Dereham Times on February 10th 1894: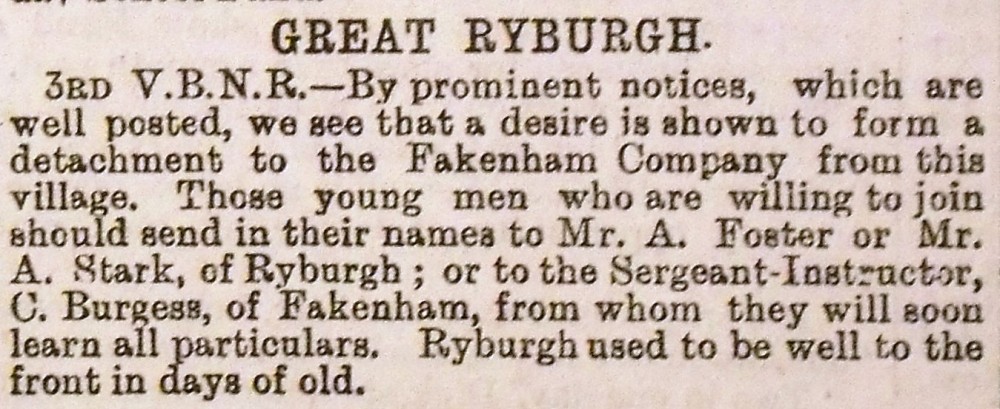 His involvement with the 3rd VBNR means that his image has been captured on at least two photographs of the period in uniform once in 1894 where he is back row centre. This photograph is part of the archive held at the Gressenhall Museum and has just four names penciled in on the back.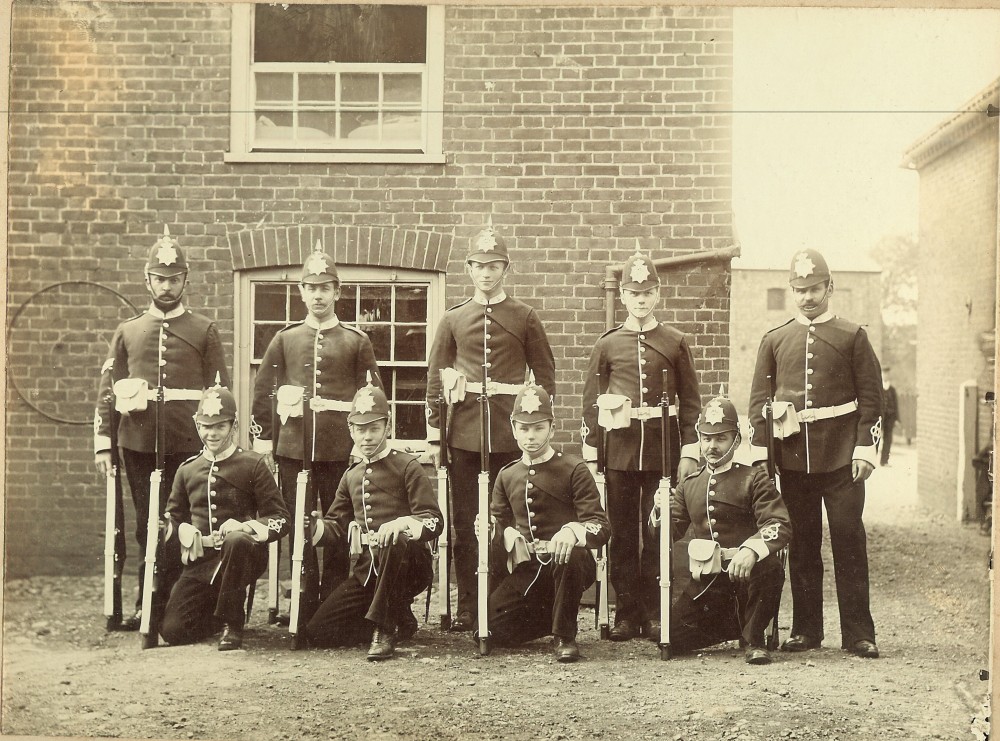 and again in 1901 backrow left this photograph is also from Gressenhall: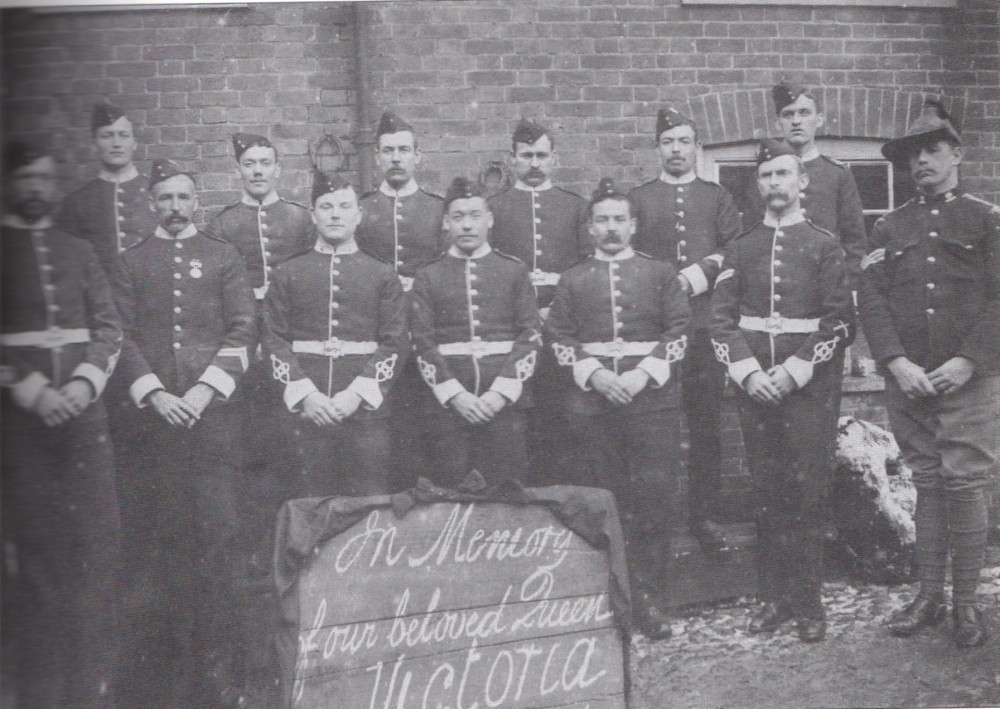 He also appears in the Ryburgh cricket team photograph as Mid Morfolk Shield winners in 1904 Back row centre: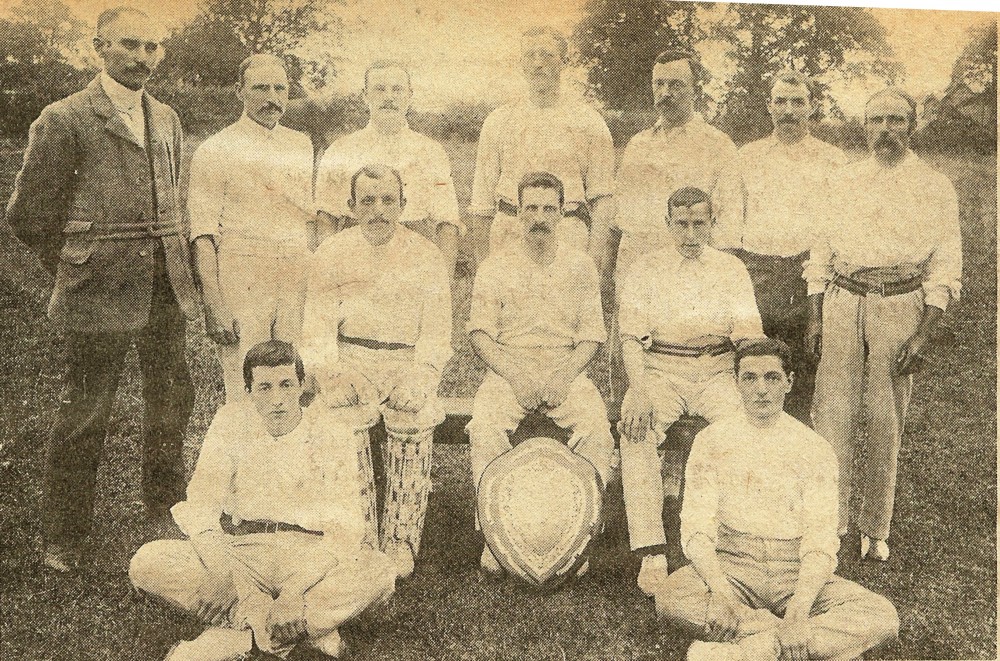 which makes him the most independently photographed of our Great War dead

The 1911 Census shows that after his marriage to Maud Rush daughter of Boar Licensee, Frederick Rush in 1905, they relocated from Malting's premises near to the Crown in the Fakenham Road, to the cottages (No 3) in Bridge Road owned by Ryburgh Farmers' Foundry Manager, Tyrell Cooke.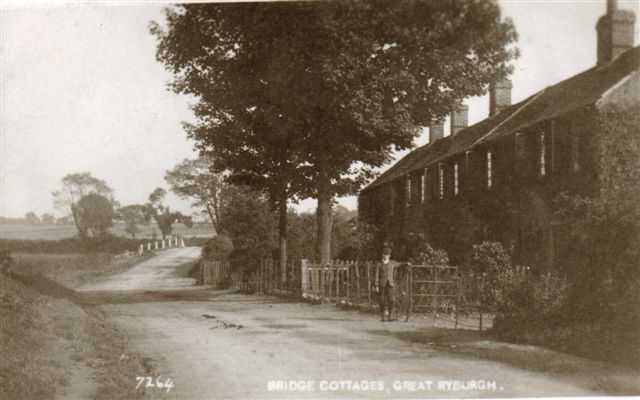 The 1911 return doesn't list Frederick William the eldest of the Barker's children at Bridge Road, only his younger sister Rhoda Maud and also Robert William's younger brother Arthur.
Instead young Frederick was living with his Great Aunt Mary-Ann Salisbury at Stanley House (now a part of the Maltings Offices). After she was widowed in 1906 F&G Smith purchased Stanley House in order that the wife and family of one of their most trusted employees William Salisbury could continue to live in comfort. Robert William's mother and Mary Ann Salisbury were sisters, the daughters of carpenter John Platten whose father John Platten Snr had kept the Boar in the 1830's and 40's. and farmed at Hill farm Little Ryburgh. This family link meant that RW Barker and R.R Platten on the War Memorial were second cousins.

Robert's working life was inevitably linked to the Smith family, his employers and landlords for much of his life. His occupation was as a Miller according to the 1911 Census at the F&G Smith's Steam driven Roller Mill adjacent to the Mill House. It was his close family ties with Smiths that probably obliged him to volunteer to learn to ring the new bells when they were installed in 1891. He seems not to have continued very long in that capacity and was probably better known as a local cricketer, playing in the winning team in the recently inaugurated Mid Norfolk Cricket Shield competition in 1904. Curiously, at the time of his enlistment he had become a groom and gardener for the rector, Revd. F.H. Tatham.
Robert's surviving but probably incomplete service record is fortunately found amongst the so called "burnt records". It confirms the date January 31st 1905 as the date of his marriage at Fakenham Registry Office and shows that he went to enlist on Dec 4th 1915 and finally joined up with the 2nd Battalion Northamptonshire Regiment to become 19730 Pte. R.W.Barker on 19th June 1916. His training in England lasted until November 30th . and he was posted to France on December 1st. 1916 for the last 3 months of his life. He was "Killed in Action" on March 3rd 1917. The report of his death was not reported until March 24th in the Dereham & Fakenham Times

In his Army will made on November 25th. 1916 he left all his "property and effects" to his wife
It was Hugh Tatham's letters to the army as preserved in Robert's service record that show how the Rector tried to help his widow Maud recover her husband's missing effects that never reached home after his death:
April 16th 1917
Dear Sir,
I am informed by the War Office that application should be made to you with regard to any articles of private property belonging to the deceased Private R.W.Barker 2nd Northants Regt. He was killed in France on March 4th1917 and I have been informed by the Adjutant of his regiment that certain things belonging to him (R.W.B.) have been forwarded to this country through the usual official means & I hold a list of them on behalf of his widow. Would you kindly let me know on her behalf whether you have received them or not & when if so she may expect to receive them? I am more especially interested in this case as the man in question used to be my gardener etc.
I am yrs truly
F.H.Tatham
June 9th 1917
Re Effects of No 19730 Pte R.W.Barker
Dear Sir,
The widow of the above has been away from home & now has returned & tells me she has received the parcel contacting the private property as notified by you on Army Form B 104-126- but this list does not agree with the list as supplied to me by the adjutant in France whose letter & list I have. There is missing 5/- P.O. and a cigarette case. These were sent together with the other effects from France. Will you please make further enquiries & if not forthcoming, will you kindly inform me as to where I shall apply on her behalf for compensation? I do sincerely trust every effort will be made to trace the missing effects as I think it iniquitous to know that effects were sent off safely from France & yet lost since
Yrs truly
F.H.Tatham
His service record has confirmation of other personal material:
The names and dates of birth of his 3 children are given as:
28/12/1904 Frederick William
10/1/1906 Rhoda Maud
10/11/1914 Herbert Laurence
The service record also includes a sworn statement, made in July 1916, that he was the father of Frederick William, born before his marriage. It is as well that this had been made so there was no dispute about paying the widow's pension of 26/3d per week for Maud and her three children from 17th September 1917
The two elder children were certainly at the school when their father died but in common with all other bereaved families, there is never mention of these devastating personal tragedies in the School Log Book. The register records Fred Barker's:
Date of last attendance, " 10th August 1917",
Cause of leaving, " Consumptive" ,
Remarks, "Gone to London"
The April issue of the Ryburgh Parish Magazine has the following paragraph: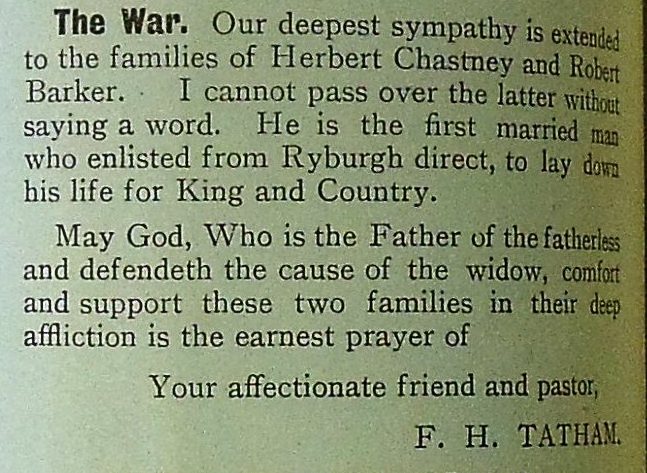 The Magazine for September 1920 illustrates how Robert Barker's widow was actively involved in what turned out to be the protracted campaign to raise funds for the Think and Thank Screen in the Church
"Any who wish to subscribe can send their donations to me or the collectors, Mrs. Alfred Neale and Mrs. R.W.Barker of Riverside (now Bridge) Cottages. However small the contributions may be they will be thankfully received and any who desire to be anonymous can intimate the same to me and I will see that their contributions are so treated." F.H.T.
Robert Barker, as a probationer member of the Norwich Diocesan Association of Ringers from 1891, has recently been added to the Roll of Honour of the Central Council of Church Bell Ringers. The Great War Memorial Books are kept at St. Pauls Cathedral in London and the page below is reproduced by kind permission of the Steward of the Rolls of Honour, Mr. Alan Regin. Alan rang in the peal for Harold Douglas Palmer Comer in 2015 and will be ringing again as we remember Albert Green on August 1st 2016.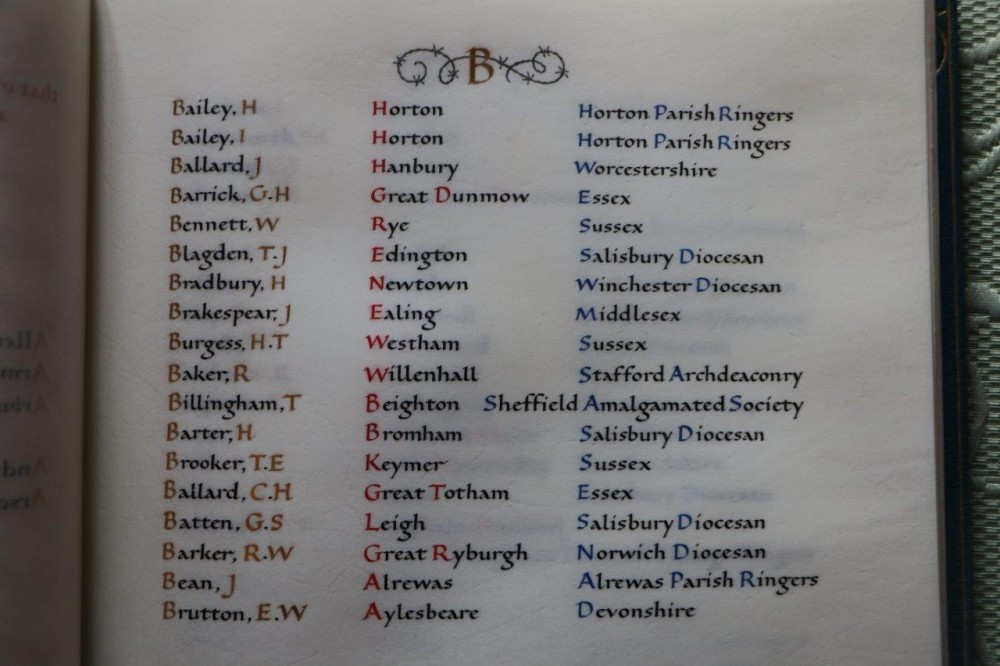 ********************
copyright 2014