Ryburgh & Colkirk Remember
16063 Pte.Alfred Benjamin Clements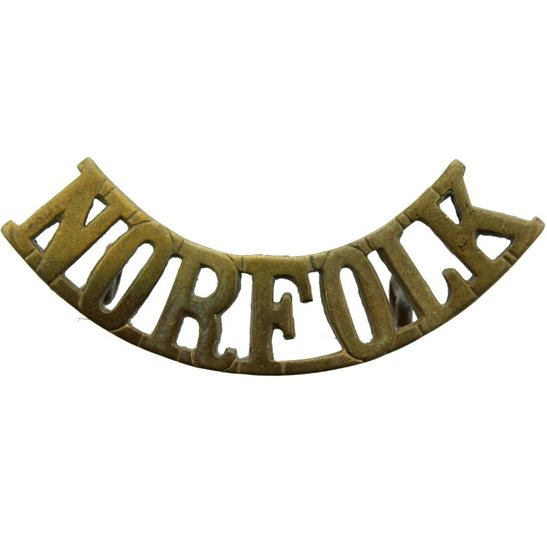 7th Battalion Norfolk Regiment,
30th. April 1890 - 13th. October 1915

The 7th Btn. Norfolk Regiment was raised in Norwich in August 1914 as a part of Kitchener's First New Army joining the 35th Brigade in late August. Final training began in February 1915 and they proceeded to France at the end of May. By late June, they were in the front line at Ploegsteert Wood. They were in action during the Battle of Loos and in its aftermath, on October 13th took part in what became known as the Action of the Hohenzollern Redoubt. The British attack on 13 October failed and resulted in 3,643 casualties, mostly in the first few minutes. The "British Official History", compiled by Brig. Gen. J. E. Edmonds records that "The fighting from 13–14 October had not improved the general situation in any way and had brought nothing but useless slaughter of infantry".
A little internet research, as shown above starkly illustrates the military life and death of Alfred Clements, whose name came to our attention because of its inclusion on the F&G Smith (Maltings) Roll of Honour.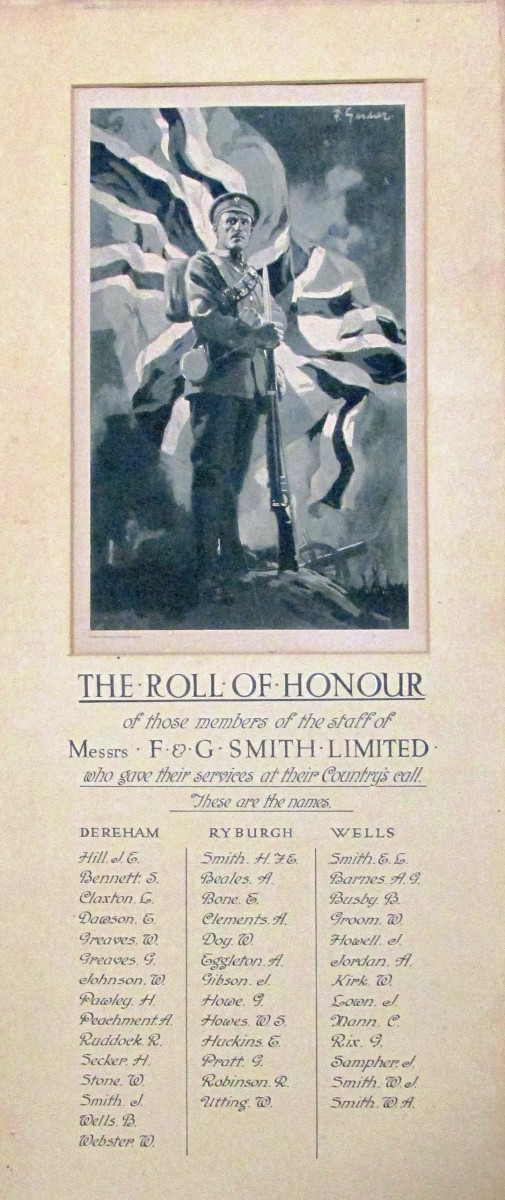 He was not a Ryburgh inhabitant, but he was soon traced to Colkirk where his work-mate Edgar Huckins also resided. Alfred's story also bears a similarity to Edgar's in that they both married local girls and in Alfred's case it was to Alice Margaret Daws, born 1891 and baptised in Colkirk on 3rd June that year to Ryburgh born parents, John Daws and Caroline Frost.

Alfred was born in and grew up in Finchley Middlesex (now part of Greater London). His father, Henry a labourer was a true Cockney, born in the City of London and his mother Rebecca was from Chesterton in Oxfordshire. By the time of the 1911 Census Alfred and Alice were already married (in the 1stquarter of 1910 at Barnet) with a daughter, Kathleen born August 29th 1910. Alfred is described there as a "nurseryman" as also on Kathleen's baptism entry in the registers of St Paul Finchley.

Another daughter Caroline was born in November 1911 and the birth registered in the Wayland district of Norfolk. It is possible that domestic service took Alice Margaret to London and that a growing family and an impending war brought the family back to Norfolk and Hall Lane in Colkirk where the youngest of their three children, Doris May was born 30th January 1914.

She was baptised at St Mary's on 22nd March 1914 by the Revd. Arthur Robertson Hoare: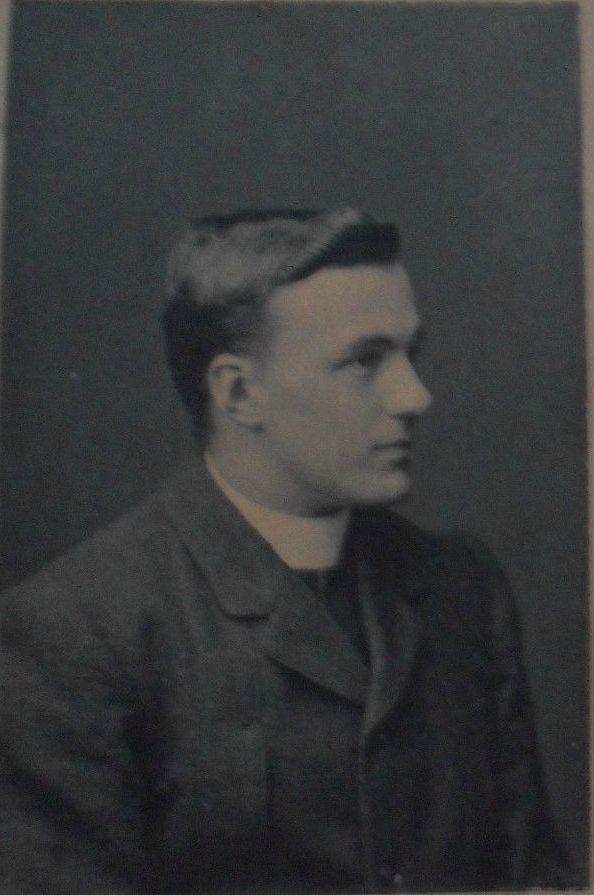 Revd. Arthur Robertson Hoare, Rector of Colkirk
It was pure chance that Alfred's great grand-daughter Penny Griffiths came into St Andrew's seeking the whereabouts of the grave or indeed any evidence of John Daws her maternal great great grandfather who the Census says was from Great Ryburgh. At the time of speaking to Penny I had not begun looking at Alfred but when I found the connection we made contact again and she very kindly brought a copy of the photo below with regret that an image of Alfred has not as yet surfaced within the family. The photo must have been taken very near to the time of Alfred's death and shows Alice Margaret Clements seated with Doris May (Penny's grandmother) on her lap. An unidentified boy stands behind Kathleen and Caroline, the two older daughters with Alice's older sister Ann Mary seated on the right.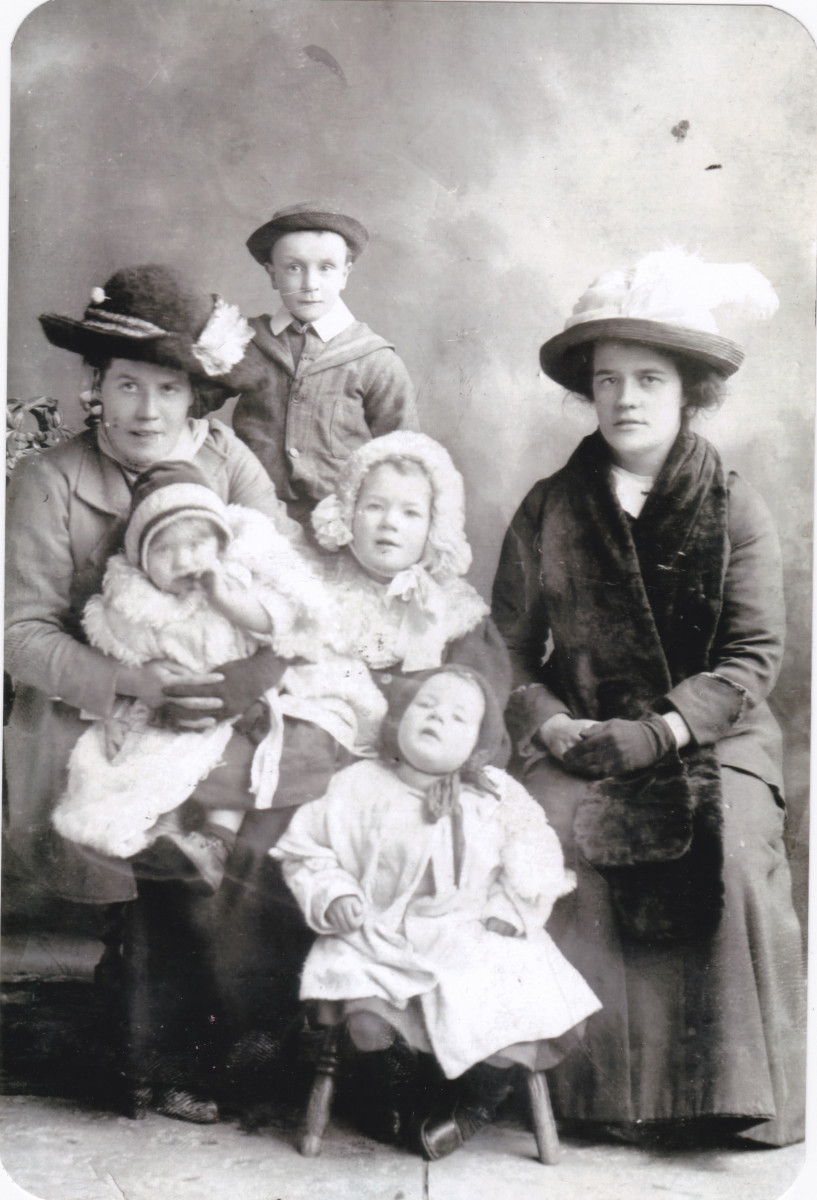 Alice received, according to the Register of Soldiers Effects, the princely sum of
£6-18/-7d which was his back pay and War Gratuity payment:
Part of his service record survives but was badly damaged by the devastating fire in the blitz in WW2. and only the first page has been retrieved. One other small piece of the story can be found in the record where it says:
Killed in Action Place unknown
The last 5 pages as they appear on the online film strip clearly belong to someone else i.e.23897 Clement A.E. Norfolk Regiment
Along with the death plaque and scroll, Alice should have also received the usual trio of medals as indicated on his Medal Index Card.
The Brigade War Diary shows that Alfred was one of 370 men of the 7th. Norfolk Regt. O.R's. Killed, Wounded or Missing that day and his body was never recovered for burial, occasioning an inscription on Stone 31.A of the Loos Memorial in France
He is remembered on the Colkirk War Memorial and again at Great Ryburgh