The following extract is to be found, among other places, in the Bury
and Norwich Post on January 25th. 1837 and made available through the
British Newspaper Archive . It seems a thing quite shocking when
reading the transcript of a letter (held in the National Archives) to the
Poor Law Commissioners from the Overseer and Vestry at Gateley in
1836 which follows the press cutting: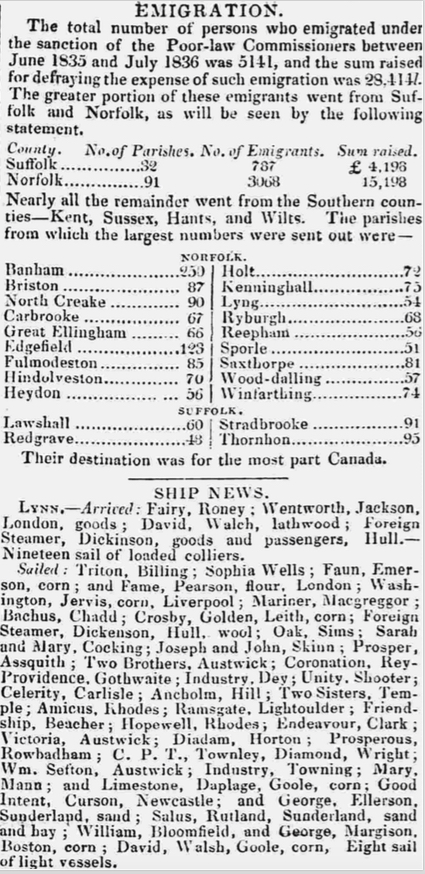 Written to:
The Poor Law Commissioners
Somerset House,
London
and posted from Guist
Gateley Nr Elmham Norfolk
Gentlemen,
I hereby acknowledge the receipt of you letter dated 20th Sept '36 No 3713-a. and have paid every attention in my power to the same & inclose the proceeding of the meeting as directed-with respect to the costs incurred it was the lowest we could possibly get them out at & parish would gladly have paid doublet sum to have been rid of two such Characters. As the end of the Qtr. is now about, your early sanction would greatly oblige
Oct 10 1836. Your hble servt & Gent
C Elgar Overseer
[Gateley, Mitford and Launditch Poor Law Union]
Proceedings of the meeting:
A notice was given ( on Sunday Oct 2 1836 by the Overseers) to convene a meeting on Thursday Oct 6th of Rate Payers and Overseers of this Parish.
This is to certify that such meeting has taken place and we the undersigned hereby declare that a Vestry meeting was held at our Church April 7 1836. When it was agreed to emigrate Robt. Utting & Robt. Bangay Junr. single men in company with others of G Ryburgh our adjoining parish & the business was managed by G. Ryburgh Overseer & the accts. in question were paid him by Gateway Overseer & we further declare ourselves perfectly satisfied with the account and are fully agreeable to the amount being charged in the poor rate of our parish.
Signed:
J Thompson.................................... Minister of the Parish
Susanna Sharrock......................... Rate Payer and owner
Money Griggs
W.O. Chambers *...............................Churchwardens and Rate Payers
Robert [Eastfield]
Wm. Howell
Thos.Hawes......................................Rate payers
Walter Hawes..................................Rate payer and owner
Dated at Vestry
Octr. 6 1836
*William Ord Chambers (1789-1857) lived and farmed at Hill House Farm Gateley and was the uncle of John William Chambers (1815-1880).who farmed at Westwood Farm in Great Ryburgh.
With many thanks to John Griffin, descended from John William Chambers' younger brother William James Chambers, for clarifying this relationship.
In the Norfolk Record Office there is an Indenture, made on May 18th 1836, between Martin Bell, Churchwarden at St Andrew's and the Great Ryburgh Parish Overseer, John Gamble (of the first part) and the Rector the Revd. William Ray Clayton (of the other part ).
This legal document provided for Ryburgh Parish to borrow £400 at 5% per annum from the Rector ,that would be charged to the poor rate for the following 5 years, to defray the expenses of the Emigration of " several poor persons having settlements in the said Parish"
The document was witnessed by Joseph Thompson Clk. (the Minister at Gateley)
There is no list of names with this indenture, but such an official list will exist somewhere which will, we hope, lead to more on this page. If you have any information to contribute or can help with this fresh village topic, please get in touch through the
Contact us page above.
copyright 2016.