From the Bell Tower: December/January 2016/17
This year on Armistice Day I was privileged to stand by the gravestone of William David Howard in
Fakenham Town Cemetery as 11 o'clock struck on the Church clock. I was there to meet with his
niece, Bridget Boehm who had previously let me know that he was buried somewhere there. It had
taken several visits in order to locate the stone which was rather overgrown and mossy. I wrote
about William Howard of Langor Bridge in the May edition who died in 1923 essentially from
wounds received during 1918. There must have been so many more and it would be an impossible
task to account for them all. However given the brief encounter with his sister Miriam who died
aged 108 earlier in the year it feels fitting that William Howard be remembered with the 42 other
names that have emerged from the past during this investigation into, what was at the outset, a list
of just 23 Ryburgh men.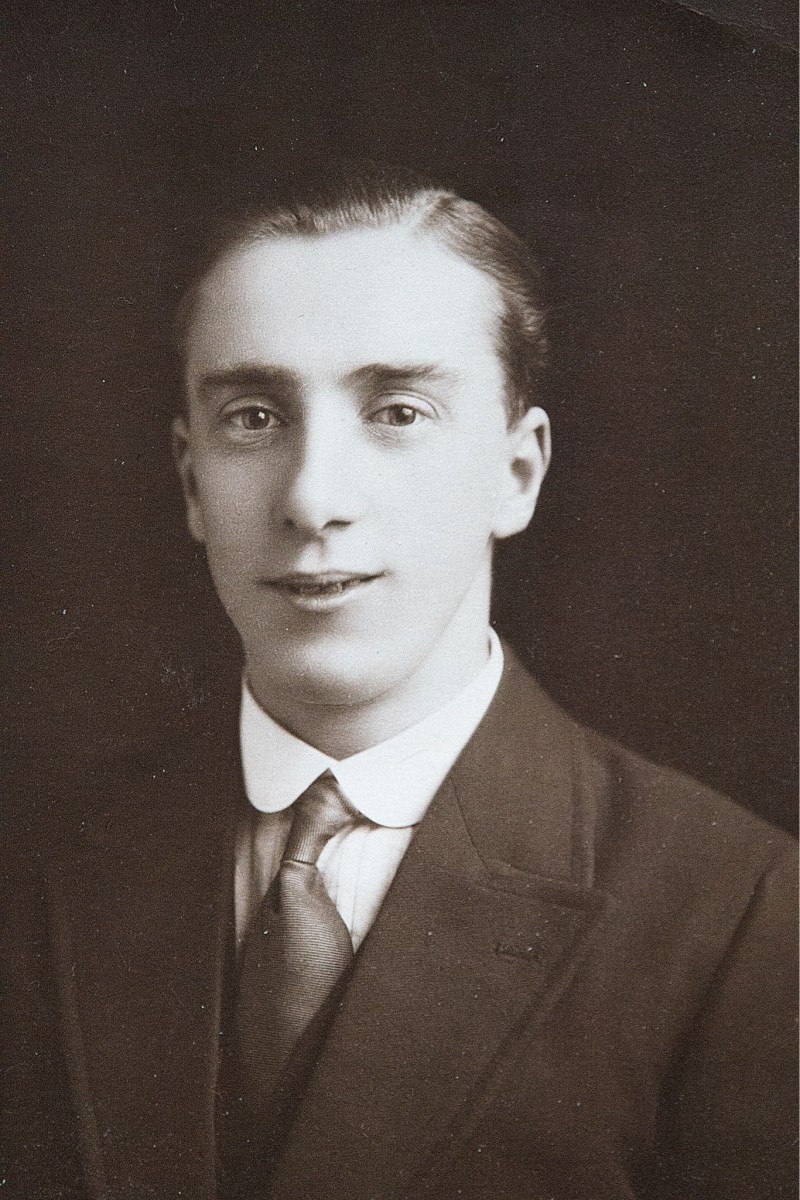 William David Howard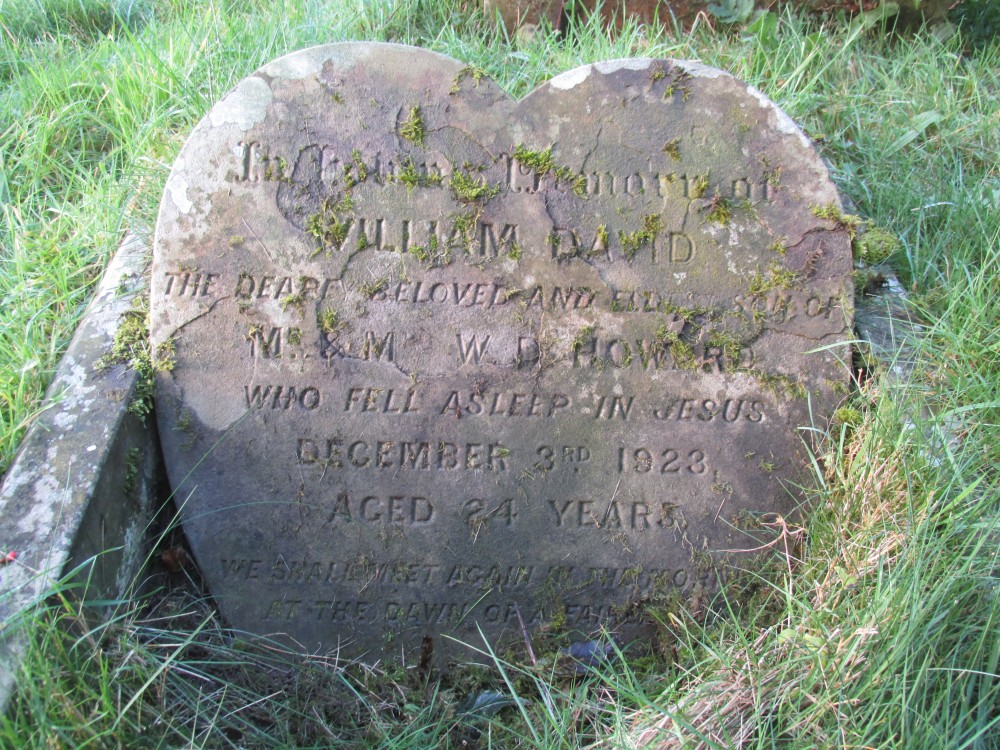 The series of peals on the bells has created a good deal of interest and support from the
nationwide bell-ringing community. To date all 14 of those who died 1914-16 have been
remembered by a specially dedicated peal, where the ringing has been of a very high standard and
each occasion has been of significance to the ringers even though none have had any personal
connection with those men. If you "do the math" as our US friends would say, there are 29 more
soldiers to be equally remembered and the reality is that 1917 saw the sacrifice of the greatest
number during the entire conflict, with 15 men who died. 1918 was nearly as devastating with the
deaths of a further 12 men. Below is the provisional list of names and dates: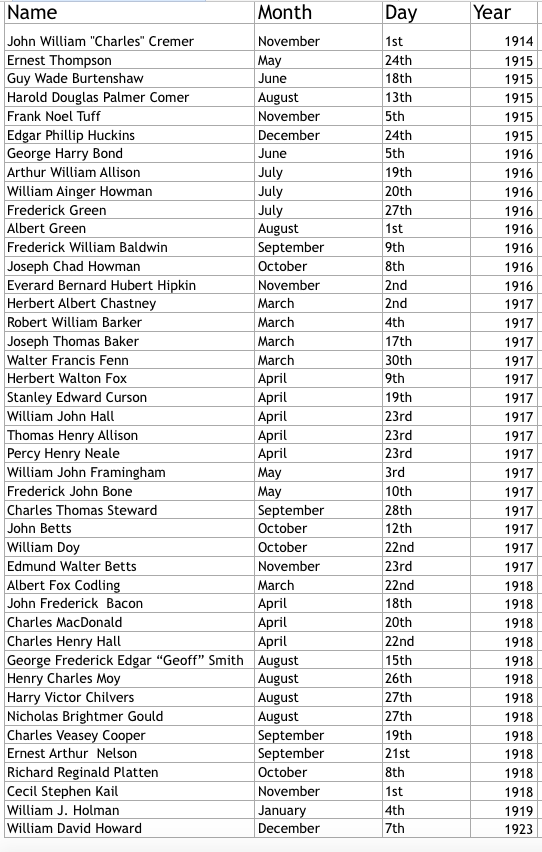 The first 1918 Ryburgh casualty is one Albert Fox Codling who is remembered on the War
Memorial at Stibbard where he was born. There had to be a reason why Hugh Tatham made more
than one reference to him in the Parish Magazine and was also cited on his Red Cross record as
a named contact. True it was, that Tatham was also looking after Stibbard Parish whilst Anthony
Fenn was serving as a chaplain but I thought there had to be another connection. And indeed
there is. In the register of a deceased soldiers effects Albert's widow, Louisa is cited as the sole
legatee. This was the first time I had found reference to him being married. Searching for this
information was made a little more difficult as optical recognition technology produced Lemian as a
Christian name and also Vertigals as a surname. However it would seem that in the last quarter of
1917 Albert married Louisa Ellen Nelson (nee Vertigan) who was the widow of George Nelson who
died in April 1912 aged 28 and so briefly became stepfather to Gladys, Ernest, Victor and Reginald
Nelson………..and that is the real Ryburgh connection.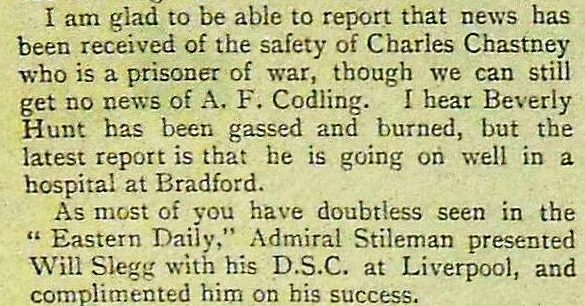 It has been another good month for Ryburgh post cards with two sent during 1915 with reference
to the war, one of which was yet another previously unseen image of the interior of Ryburgh
church. Curiously, the other 1915 card promises to next time send just such a Ryburgh image!
Our Church interior card was sent by Private 206399 Richard Panter, a Bucks Hussar to his
mother and shortly before they were posted to Egypt…...unfortunately he forgot to post it but it was
sent by some one else according to a brief note at the top of the card!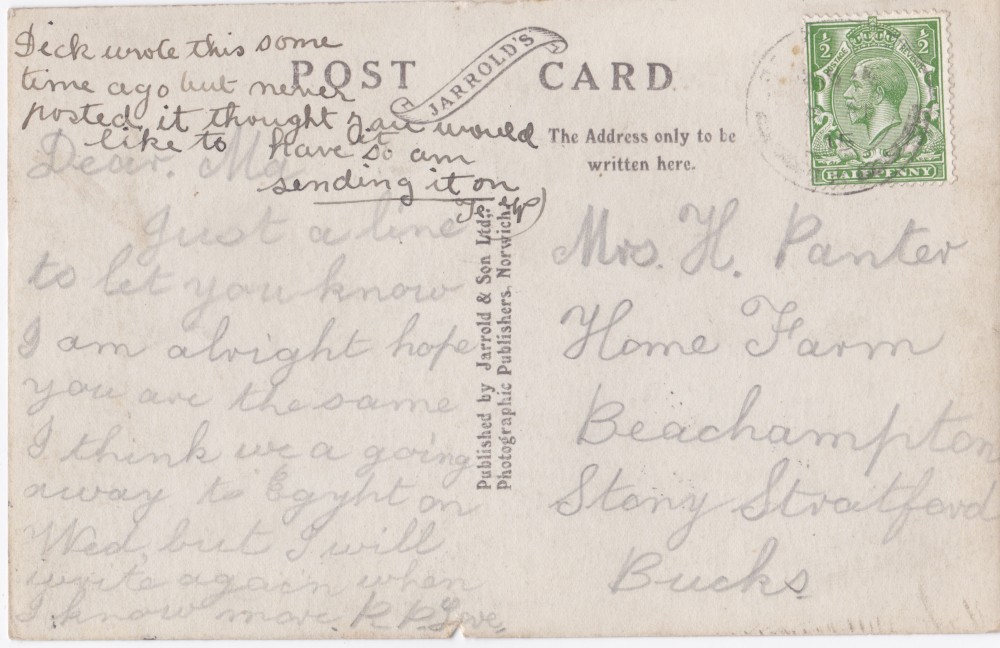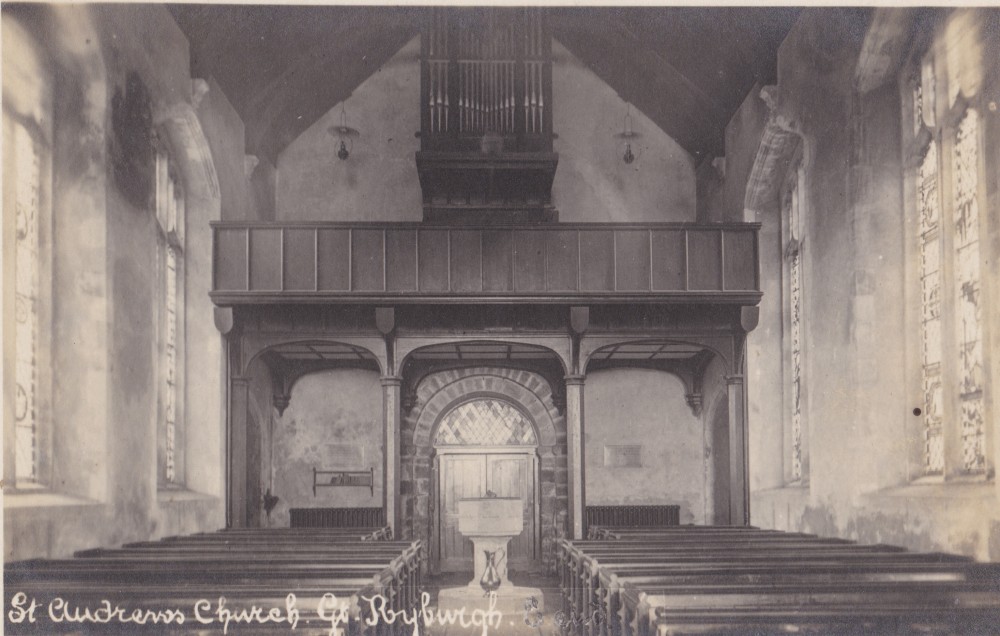 The detail and date of the card is such that it must have been taken perhaps in the summer of
1914. It depicts a new looking Gallery though the church still has oil lamp lighting. Most interesting
of all however is that before the font was put into its current position, I had always assumed that it
was in front of the blocked North doorway as shown on George Tatham's 1860 plan. However this
clearly shows that it has moved to the central aisle in front of the new gallery. To accommodate this
the 3 rear pews have all been shortened to allow people to pass either side of the font. Only the
rear pews are still like this today, as then, because of the gallery pillars. There is still clear
evidence when you look at the next two and see the joins where they have been reinstated to a full
width, presumably when the font was moved to its current position. The tower opening is filled with
a pair of double doors with a plain coloured, diamond-quarried, glass panel filling the arch above.
These are clearly the vestry doors that were put in when the South porch and bells were installed
at the time of the 1890/1 Smith family legacy. Some of that same style of coloured glass remains in
the lower tower window. Equally exiting is the thought that this may just be 1 of 2 or even 4
Ryburgh Church interiors published by Jarrolds. Who knows what will turn up in 2017!
********************
From the Bell Tower: November 2016
Having just marked the death of Ryburgh's 13th serviceman to die in WW1 and begun to realise that next year we will be remembering as many and more again, another new name has to be added to the list.
On July 19th Arthur William Allison was the focus of the day and of the ringing of a fine peal by members of the Oxford Diocesan Guild. It was following this that we were contacted by David Walker a great nephew of Arthur Allison who told us that not only had Arthur's brothers all served in WW1 but that his older brother Thomas Henry Allison was also killed on April 23rd 1917, the same day as Percy Neale and William John Hall.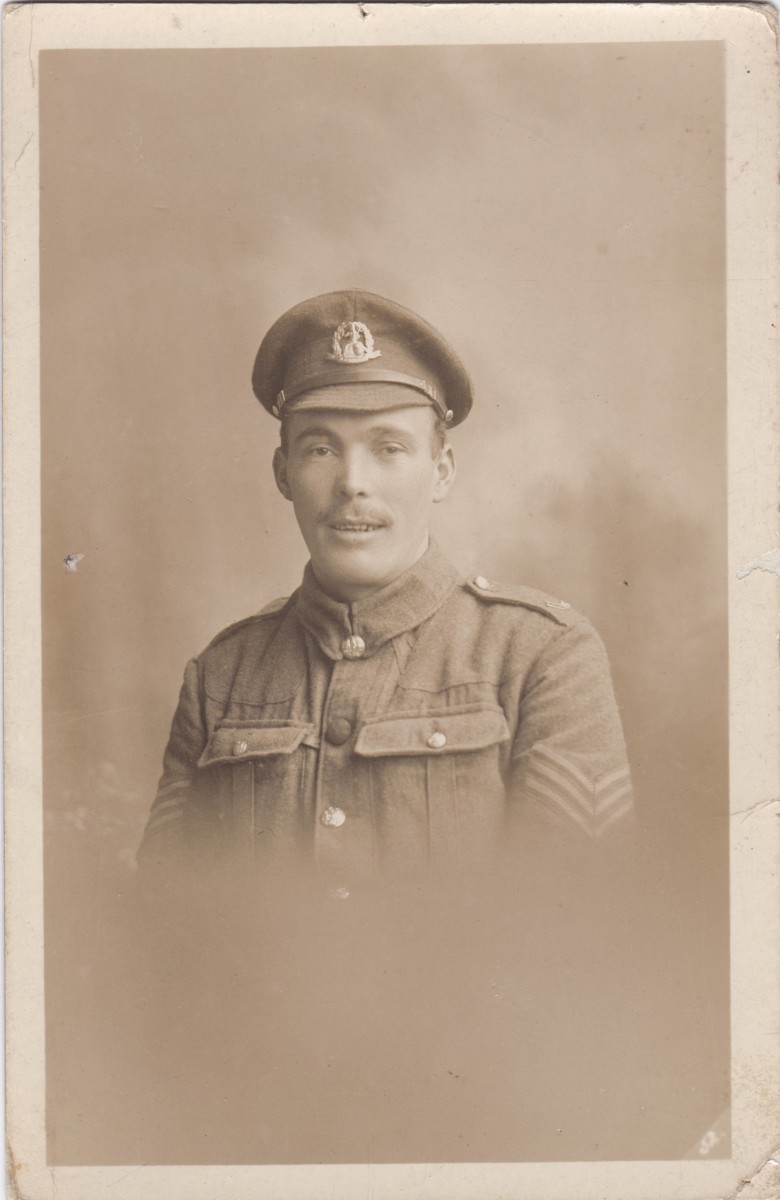 Thomas Henry Allison
We now know that Thomas and Percy Neale were in the same Regiment and died in the same place, in the same battle and who knows possibly in the same company and platoon? Percy is on all our War Memorials and Thomas seems to be on no local memorials at all. Arthur is remembered in Fakenham where the family were living but not Thomas.
He had married Margaret May Colman from Briningham in the 3rd quarter of 1915, presumably when on leave, as he had first been posted to France at the end of March earlier that year. Where and how they met is not yet known although in 1911, Margaret and her older sister Maria were both in service together in Wimbledon, she as a cook and her sister as parlour maid, whilst Thomas was still living in Fakenham and working as a groom.
As his widow and sole legatee, Margaret received an initial payment of £6-14/-4d in August 1917 and a further £15 War Gratuity in 1919.
We currently know nothing further of Margaret except that a Margaret May Allison married Abijah Grand, a Railway Fireman from Melton Constable in 1919 and emigrated with him to Australia. She died there in New South Wales in 1972.
Thomas and Arthur Allison were just 2 of the 11 children born to Thomas and Elizabeth Allison. With the exception of the their first born, all the children were baptised at St Andrew's whether they were living in Stibbard Little Ryburgh, Great Ryburgh or Fakenham as had their father before them. Clearly they thought of Ryburgh as home and it is fitting that we are able to remember them.
If any readers have any further information about their brothers, especially Phillip John Allison who was a fruiterer in Fakenham and died in 1954, we would be pleased to hear from them.
November 2nd sees the 100th anniversary of the death of Everard Barnard Hipkin of Testerton and was, as far as we know, the last of Ryburgh's soldiers to die in 1916. There will be a commemorative peal starting at 2.pm and if you have any connection to or information about Everard Hipkin and his family please let us know and better still pop in to the church on the afternoon of November 2nd.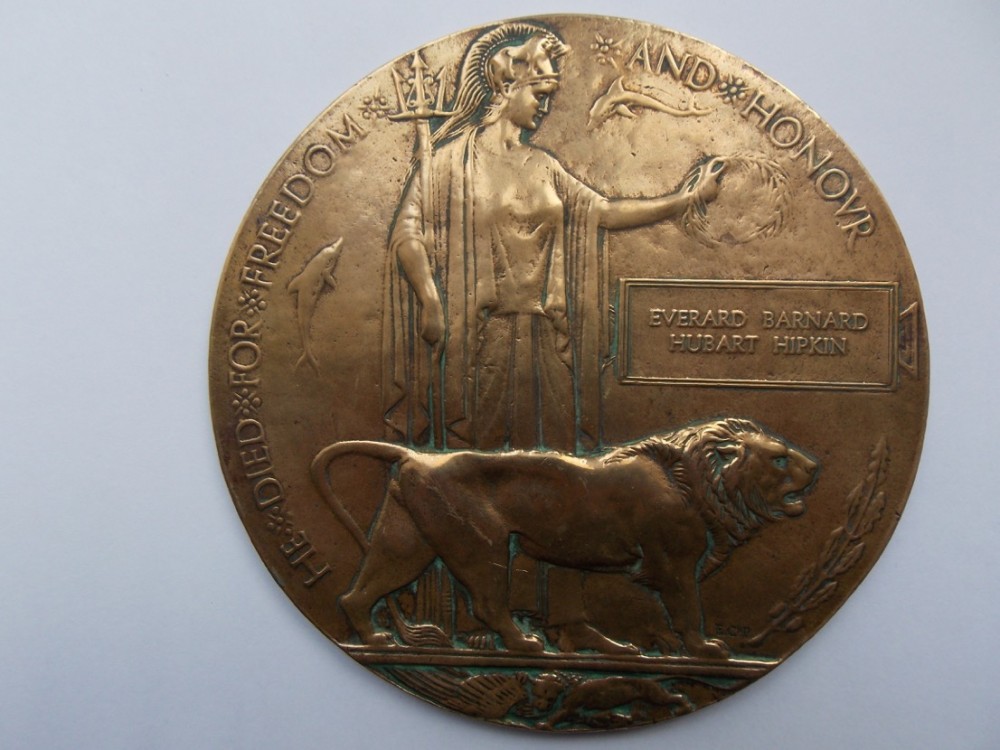 photograph kindly supplied by Tim Poole
On the ringing front, you may have seen on the national news about the sacking of York Minster's entire bell team including Alice Longden as she was known when she learned to ring at Ryburgh. All ringing has been suspended until Easter by which time the Minster authorities seem to think a new band will have been appointed and trained . Alice started an online petition to allow the sacked ringers to ring for Remembrance Sunday and Christmas. As I write it already has 15,000 signatures. Good for Alice say I and deep shame on York Minster politics. There are underlying issues but this cannot be the best way to handle them. They clearly have no real idea of what goes on up and down the country to train ringers, some of whom, like Alice, will one day be privileged enough to ring the bells of such towers as theirs.
***************
From the Bell Tower: October 2016
The Howman family played a significant part in the Military life of Ryburgh both in the
Boer War and the 1st World War. We remembered William Ainger Howman in July this
year and on October 8th we must honour the death of his second cousin Joseph Chad
Howman. The July commemoration was in the form of an extraordinary public
performance of a handbell peal of Bristol Surprise Maximus in St Thomas' Chapel. You
can hear a short extract on the Audio page of this website.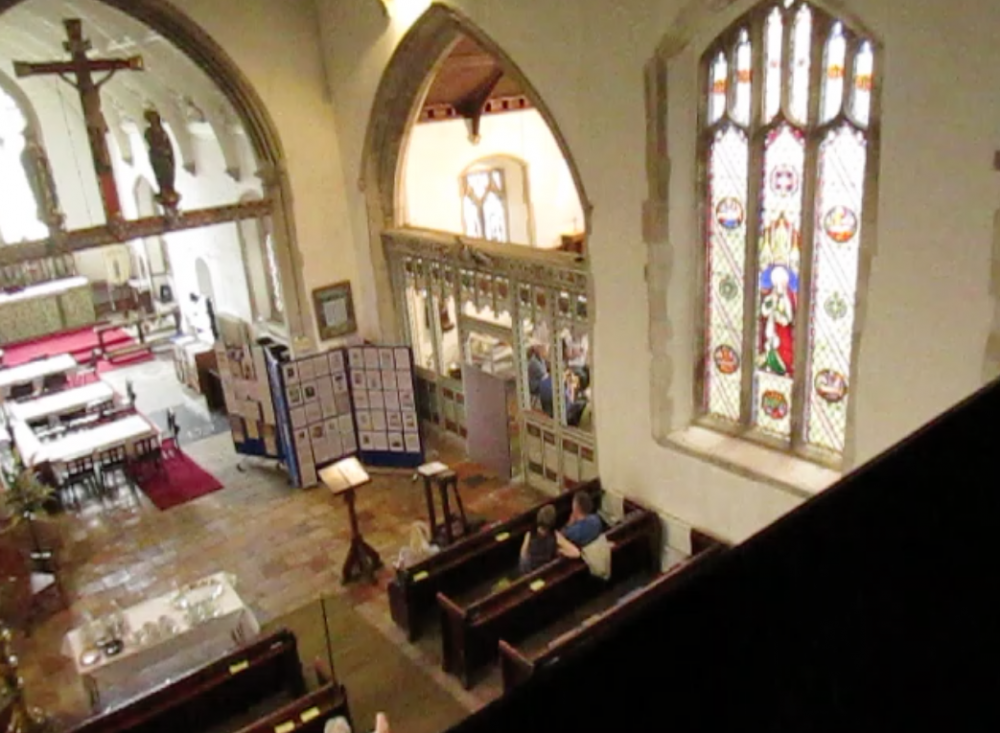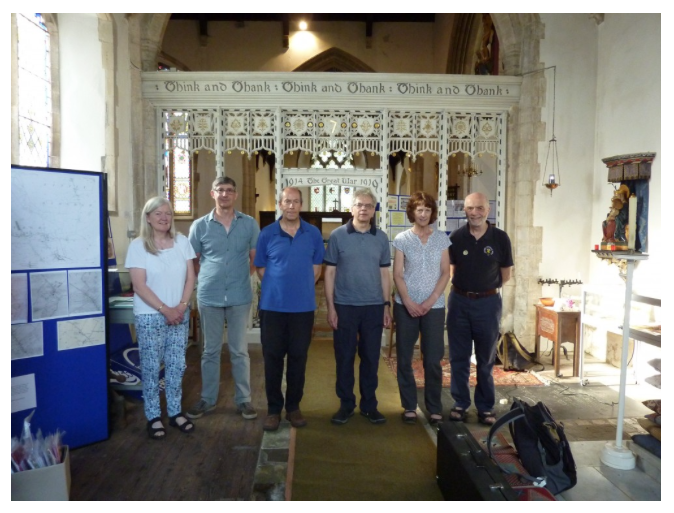 The handbell ringers immediately after the peal
We have been fortunate to have made contact with descendants of these men, both
locally and in Australia where 3 brothers emigrated from Ryburgh in the 1860's
founding the Southern Hemisphere's branch of the family. There is a two volume family
history that was published in 1983 and which was very kindly posted to me from
Australia by a descendant Teresa Gemmola to look at. She had come to Ryburgh at the
start of the Think and Thank project and has been very appreciative of our researches.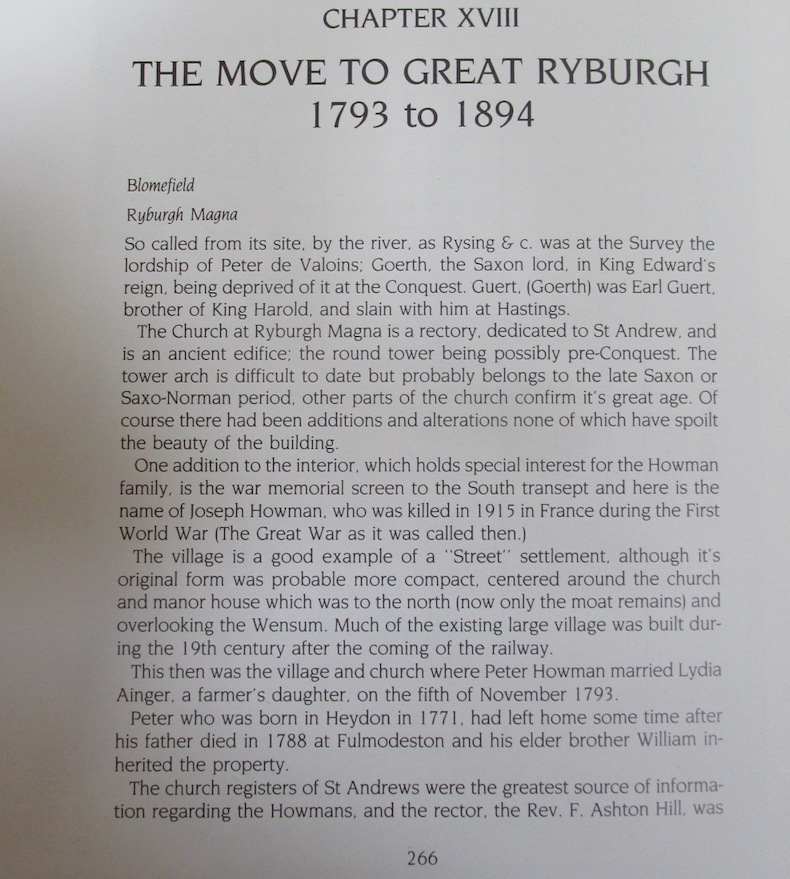 In spite many enquiries, it has unfortunately proved impossible to arrange for peals to
be rung in Australia for this branch of the family. Their region of the country in Victoria is
just too many miles away from the centres of ringing that could manage to ring a
presentable peal for the occasion of the planned family reunion that is to take place on
October 8th at Wangaratta. You can read more of the Howmans on the St Andrew's
website.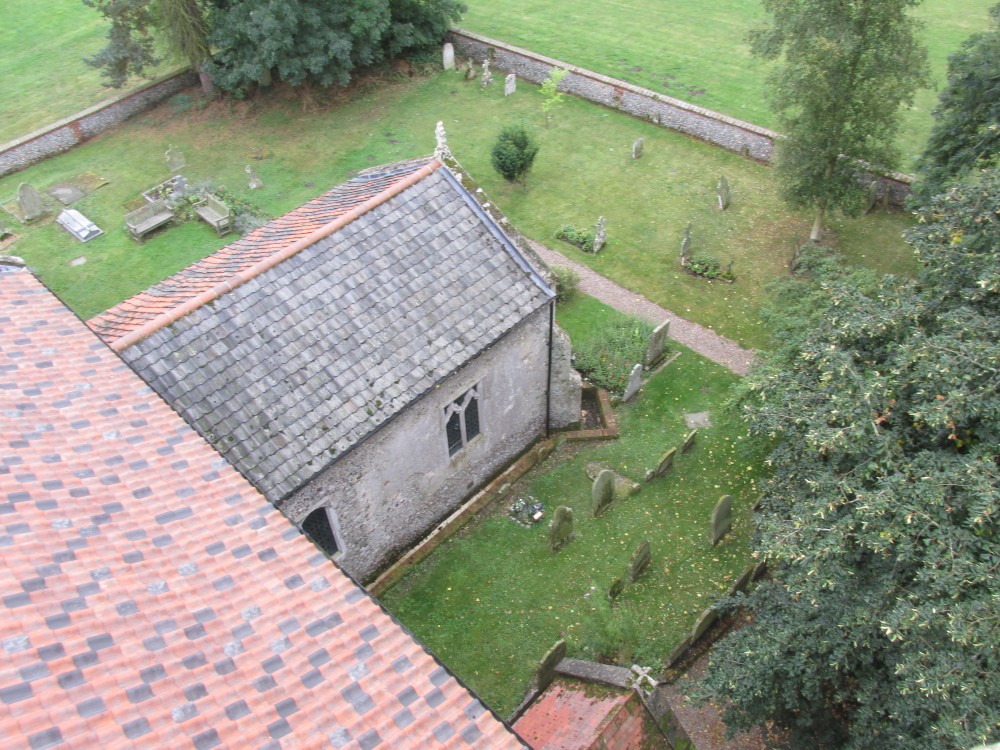 One very noticeable offshoot of the tower this year can be seen in the churchyard. In
fact it is the churchyard, which everyone remarks is looking so very well cared for. This
is in no small measure thanks to the tireless energy of Anne Prentis, churchwarden and
ringer, aided and abetted by two "Gentlemen Mowers", Edward Barnaby, ringer and
organist and Dick Greenbank, a former ringer (and the first person I taught to ring last
century) who enthusiastically cut the grass each week.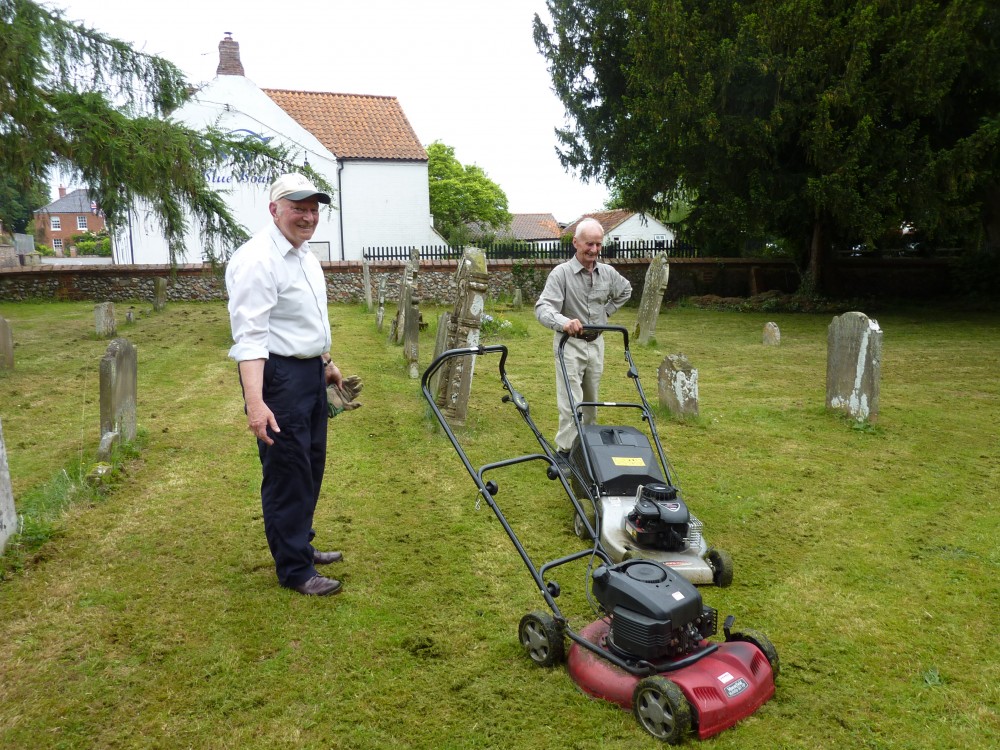 These three also braved the elements and the torrential downpours to take part in the
Norfolk Churches Trust Sponsored Cycle Ride to raise money for the church. We are
indeed fortunate to have such quiet dedication and vitality in our community.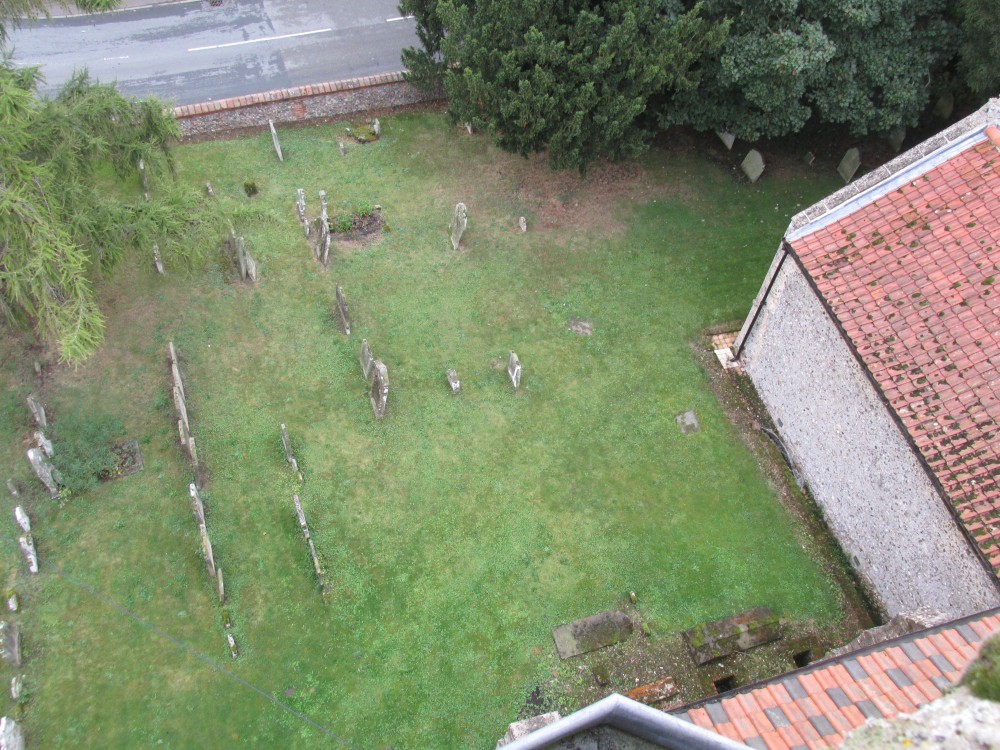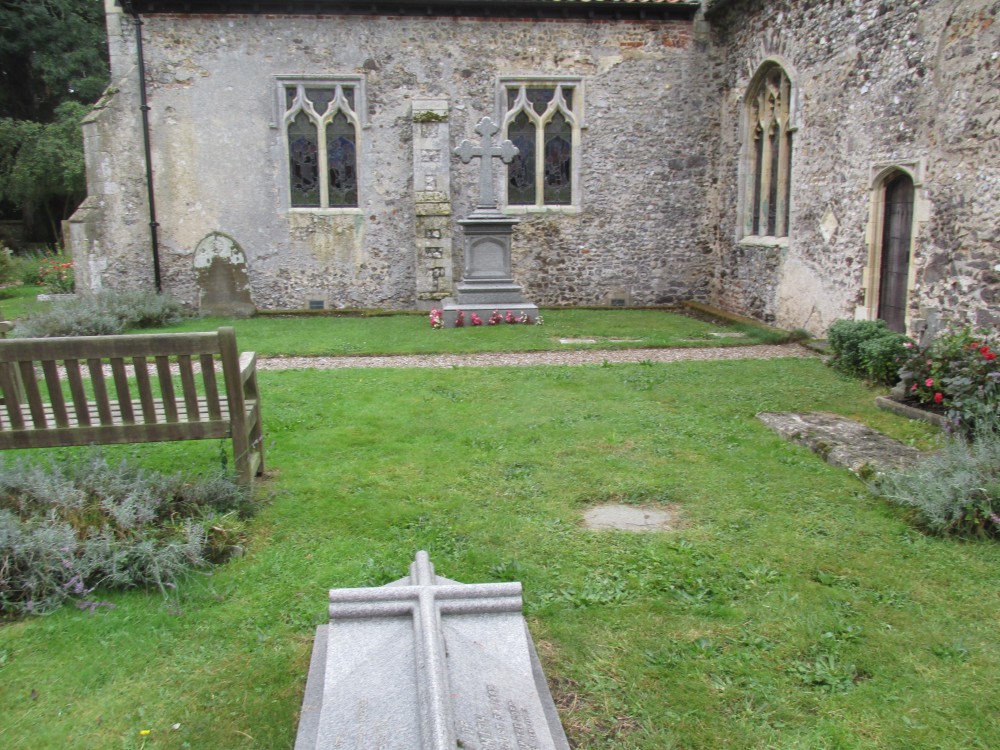 The Farmers Foundry Tumbril is literally on the move. It has new(s/h) tyres on the old
split rims that had been strengthened before Major Tyres braved the refitting of a tyre
on them. The entire chassis is complete and fully "tipable" after Nigel Barnett kindly
forged up a couple of replacements for missing parts. It is very nicely balanced so that
when tipped, it requires little effort to bring it back to its locked position AND we have
just started to fit the sides so it really does begin to look like a cart again!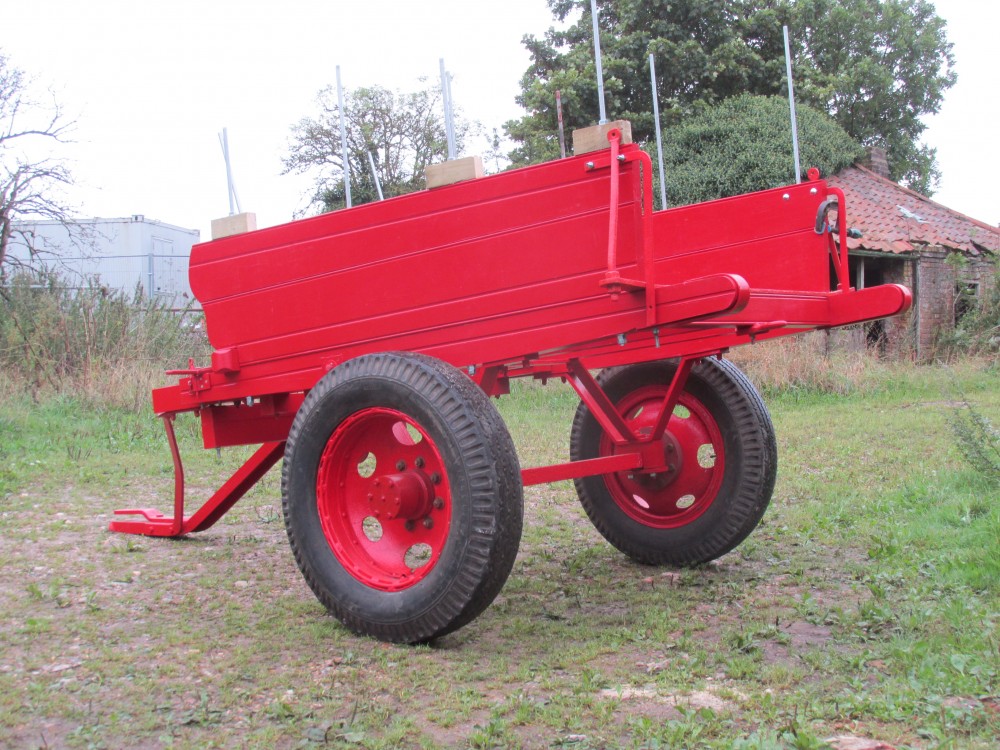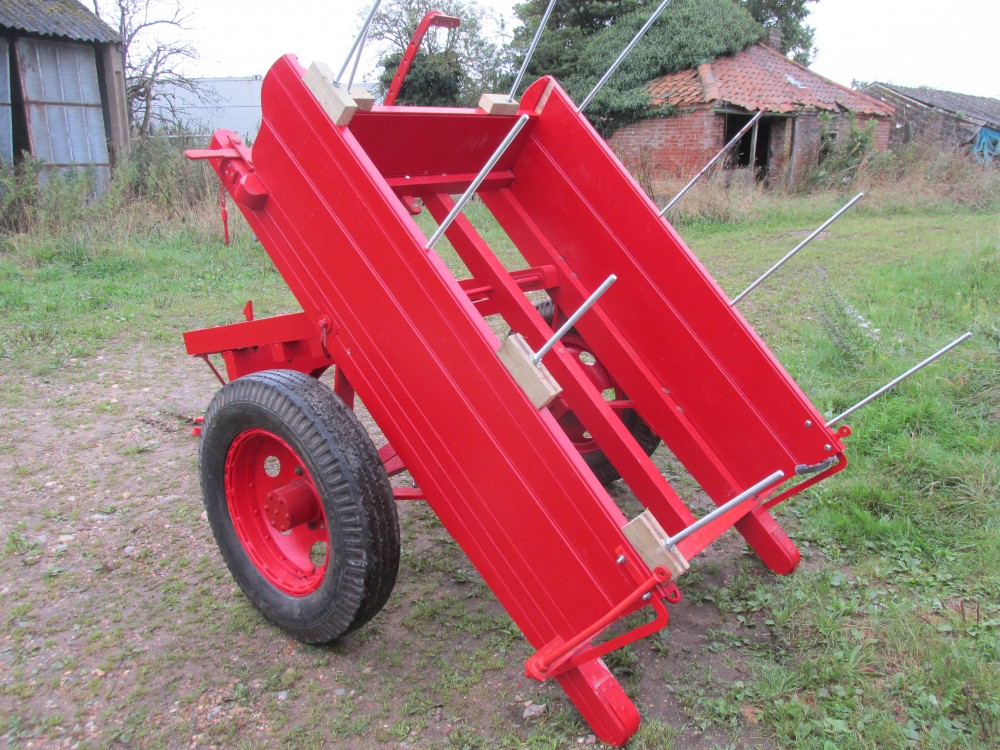 As these things happen, Steve Hall had recently told me of a similar tumbril that a work
colleague of his had rescued. Last week I was finally able to go and see it and it could
not have come at a more opportune time. Amazingly, this has answered, I think, all the
unknowns concerning the final missing parts of our cart as they are more or less
complete on this vehicle and also shows that the four unexplained holes in the sides of
our cart once held what appear to be be fixing loops for tying down a load. This other
tumbril, due to its historical location may well have been made by the Walsingham
Foundry and is of similar or perhaps slightly earlier vintage, it having cast rims with a
pneumatic tyre and perhaps more wagon influence in the construction and decorative
lining details.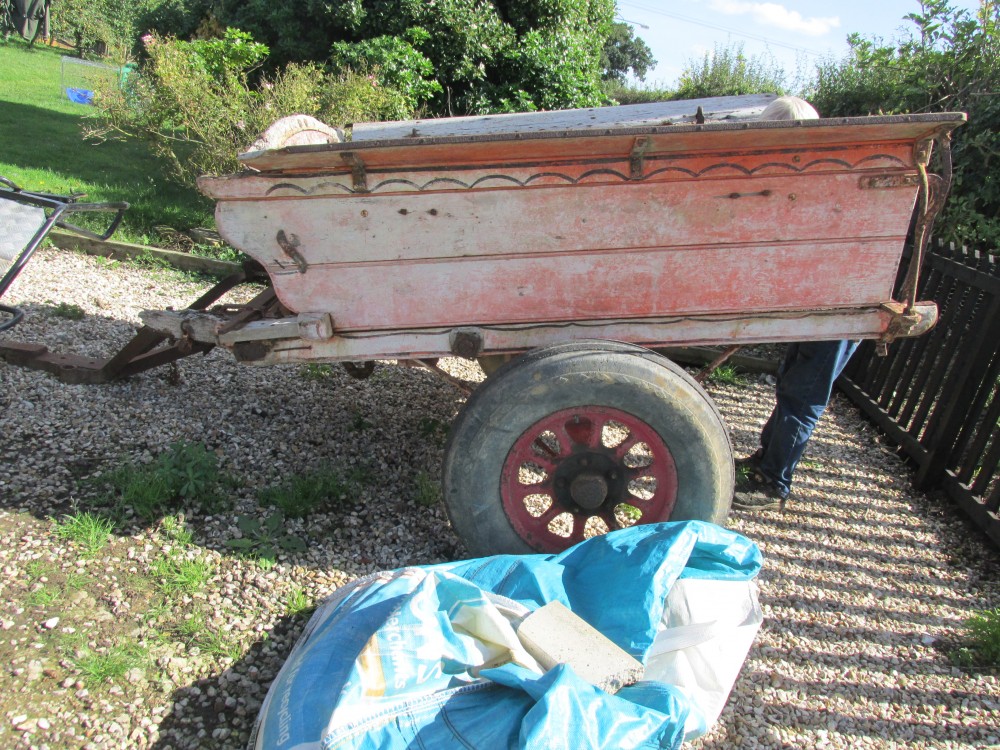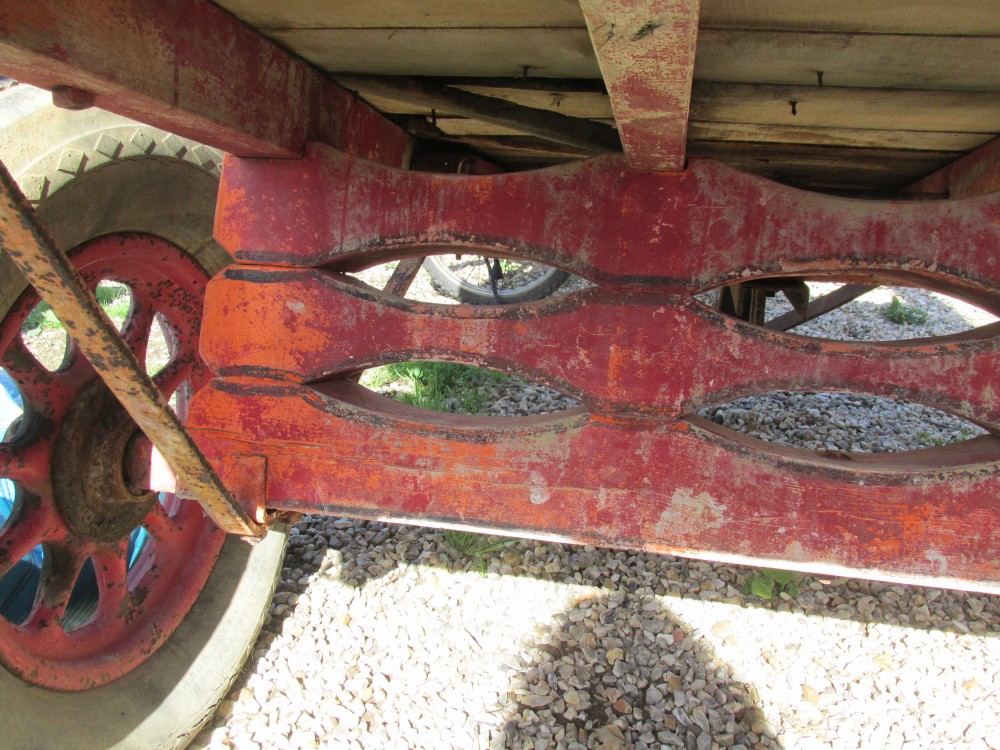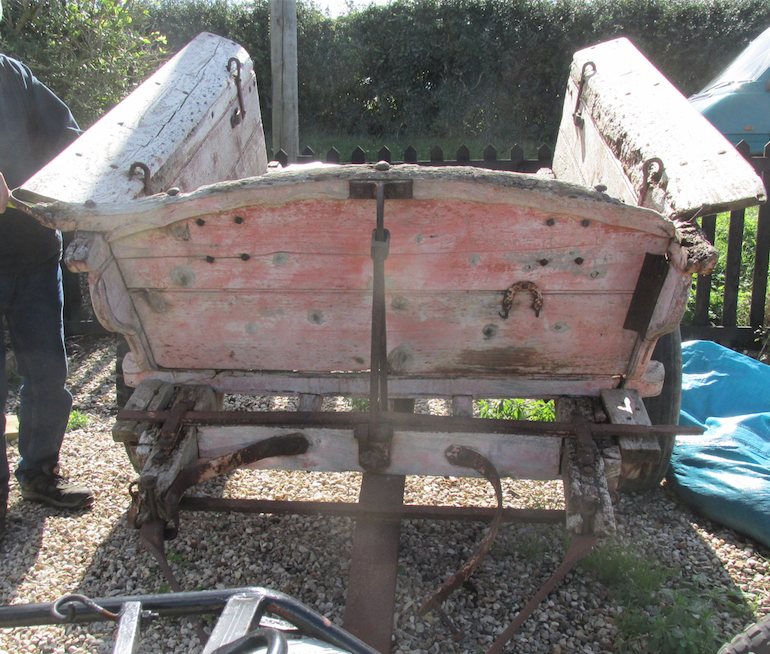 I have to say I was secretly glad that that it wasn't another Farmers Foundry example,
at least not until this one is finished! It should be full steam ahead to the finish now and I
suppose the next thing is to find a suitable tractor to pull it!
*************
From the Bell Tower: September 2016
One of the themes of this year's Open Churches Week was the "Church in the
Trenches", and in particular chaplains with a specific connection to Ryburgh,
then and now. In 1916 Revd. F.H.Tatham was called upon to look after Stibbard
parish when the incumbent, Revd. Anthony Fourdrinier Fenn enlisted. He was in
service for the duration of the war and had the misfortune to be gassed in
October 1918. At the same time, Hugh Tatham had to cover as Diocesan
Inspector for Schools in the place of Revd. Arthur Robertson Hoare at Colkirk.
As well as former Curate, Revd. Henry Collingwood Staveley, I was also keen to
include the families of present day church members whose antecedents had
served as Chaplains. They included Anne Prentis' maternal grandfather, Revd.
Charles J.C.Wright who served from July 1917 and was gassed at Arras in April
1918 After treatment and a posting to Brocton Camp. he returned to France in
August 1918. Here he is, the central figure standing. The reverse of the card
gives an explanation of who's who.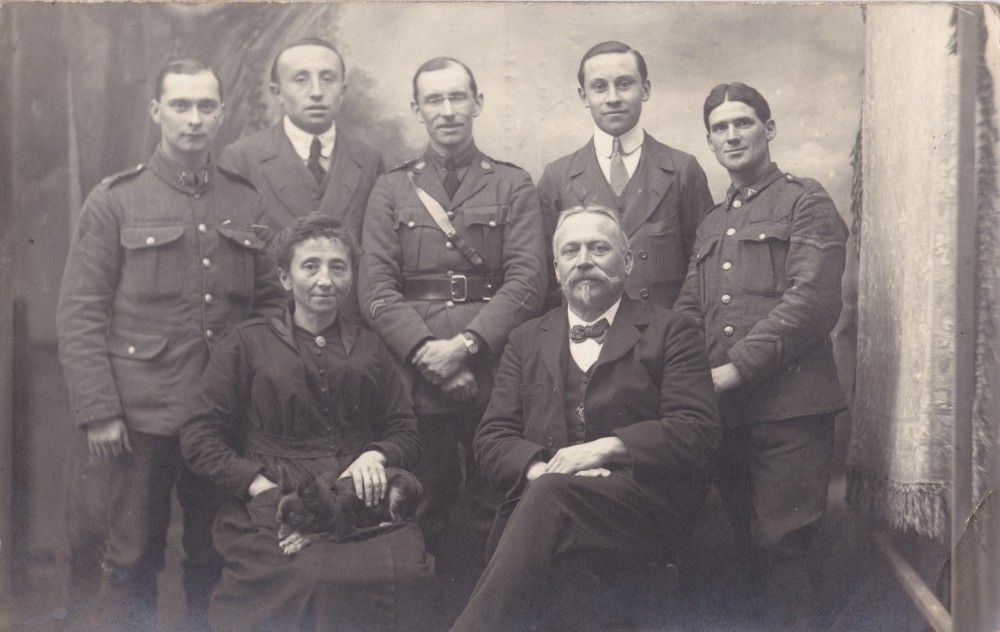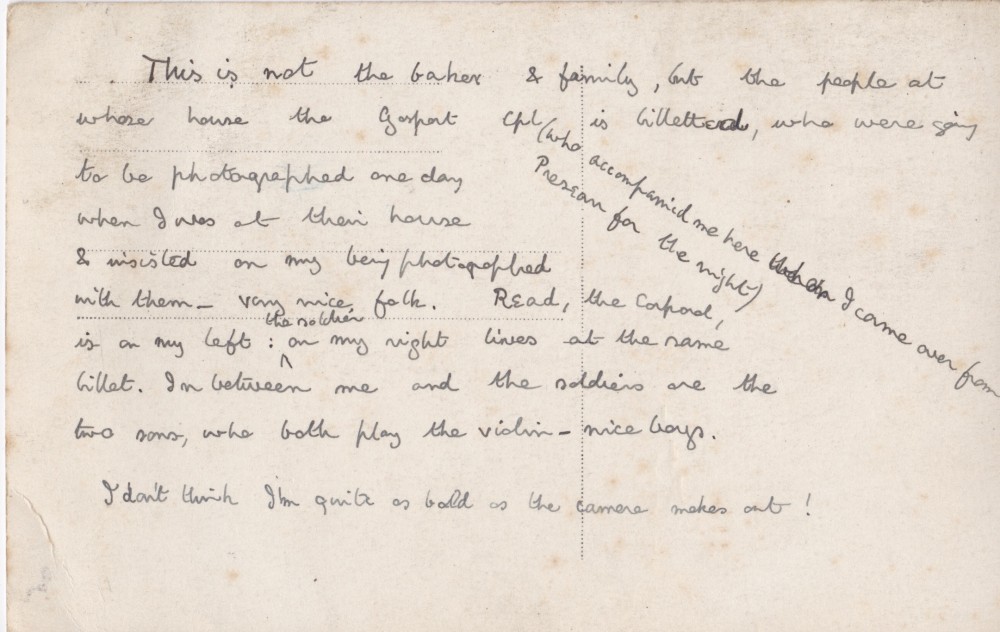 Revd. Stanley R Carden, Roger Carden's father, was the Rector of Okehampton
at the beginning of hostilities. He is pictured below with "Polly", the horse he
purchased from another officer who was returning to England.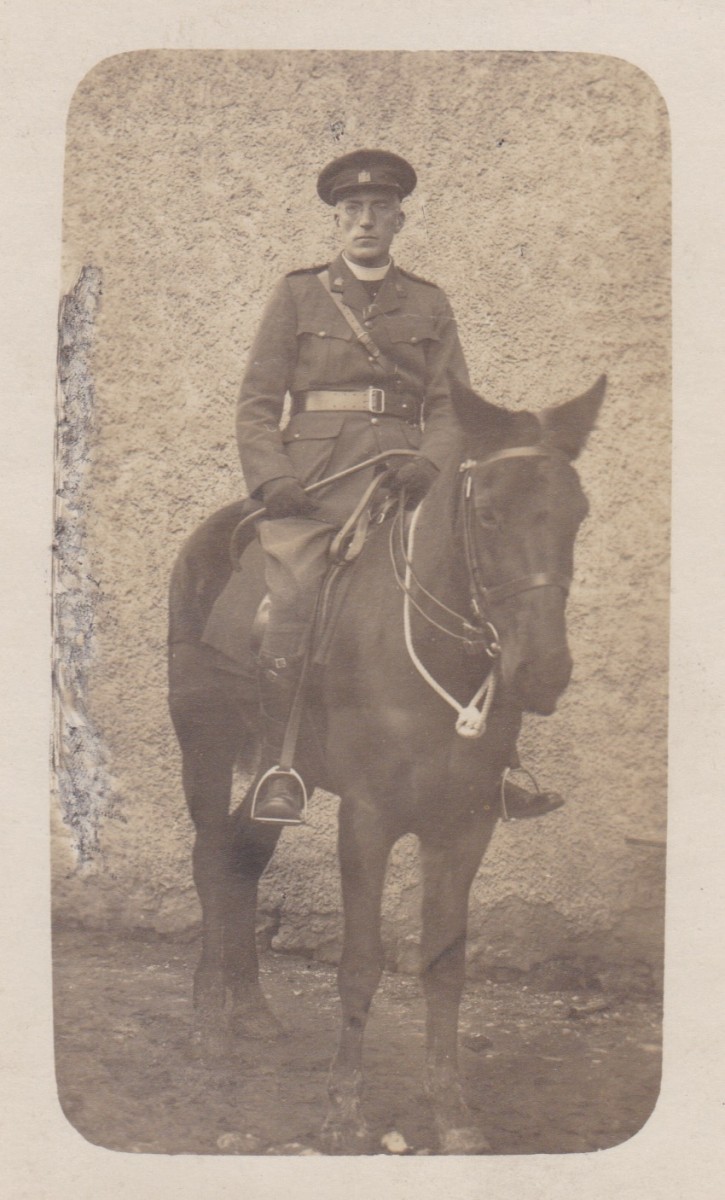 He already had a connection with the military at the local Artillery training
camp. He was posted to Salonika in September 1918 finally returning in May
1919. Throughout this period he kept a diary and corresponded with his family.
When he returned he started to transcribe these documents, a task that was
completed by Roger's mother after he died.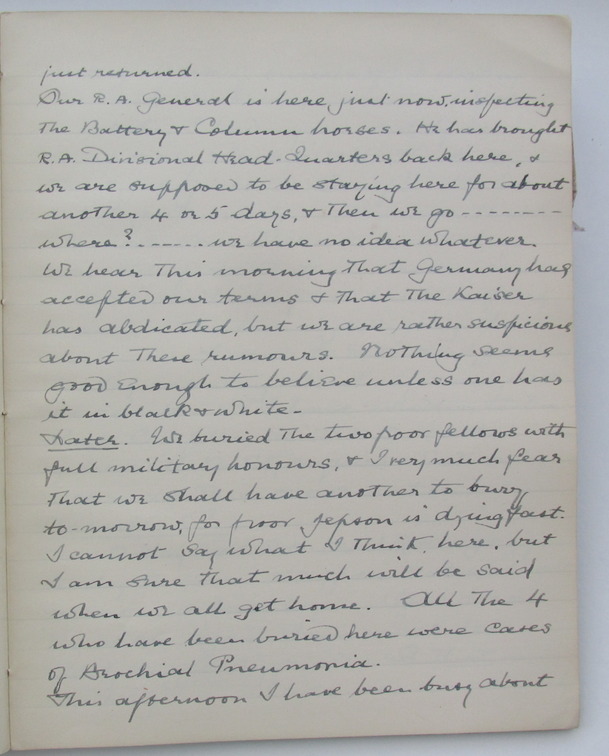 They form a fascinating 3 volume, hand-written account of the closing days of
the war and of the sights he saw and the work he had to do. Rather
unexpectedly one entry tells of his having to sell the hides of some of the
Brigade horses that had died and in another he colourfully describes a local
Bulgar wedding. I am currently in the process of transcribing these volumes
and so hope to report more fully in the future.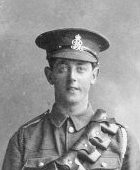 Private Frederick William Baldwin
On September 9th we remember Fred Baldwin, yet another to be found on the
Thiepval Memorial as his body was never found. The peal will commence at
4.00p.m. Fred was the eldest child of Ted and Louisa Baldwin. His brother
Sidney also served, but survived. Ted was a carpenter/joiner at he Foundry and
was probably responsible for the woodwork of the Tumbril which turned up last
year and which is still undergoing restoration.
We have just held our Open Tower morning which we have done in previous
"Open Churches" weeks and I am pleased to say we had one enthusiastic taker
from Colkirk who we hope will be starting to learn to ring on their return from
holiday in September. It would be good if others in Colkirk wanted to learn to
ring too as has been the case at Whissonsett and more recently at North
Creake. So, don't be shy, come along and keep Helen company.... Tuesday
and/or Thursday.7.30p.m.
****************
From the Bell Tower: August 2016
The following information is to be found on the website of the Central Council of Church
Bell Ringers and is particularly pertinent to our Memorial Peals at Great Ryburgh.
The Great War Memorial Book of Church Bell-Ringers who fell in the Great War 1914-
1918 is generally on display in a bookcase on the way up to the ringing chamber at St
Paul's Cathedral, London. Alan Regin, as Steward of the Rolls of Honour, is
responsible for its safe-keeping. It bears the following inscription: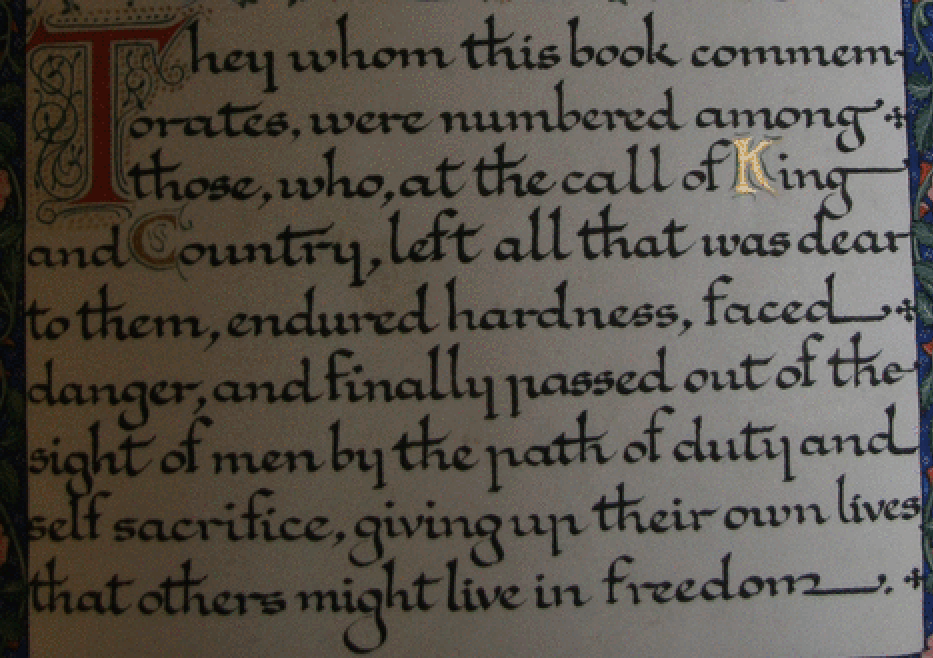 Following the name of each man will be found that of the Parish or Township in which
he gave most of his service as a Church Bell-Ringer before joining the Forces, and
also that of the Society, Guild, or Association to which he belonged.
Alan Regin, for some time, has been undertaking research to find out more about each
of the men listed. This includes finding where each of them is buried/ commemorated
and any other details that can be found. Across the UK and beyond many ringers
have been helping with this research.
Initially, the roll consisted of a list of about 950 names. By 1923 this had grown to
almost 1,100. The Memorial Book was completed and presented to the Council during
the 1924 meeting. The inclusion of two subsequent Addenda in the Memorial Book
brought the total number of names to 1133.
Work is now under way to correct and update an electronic copy of the Book entitled
Great War Casualties.
Alan came to Ryburgh last year and rang in the peal for Harold Comer. At the time he
took away details of our one known ringer casualty, Robert William Barker who was
killed in March 1917. He was subsequently added to the Central Council Memorial Book
and an image of the calligraphic entry is here: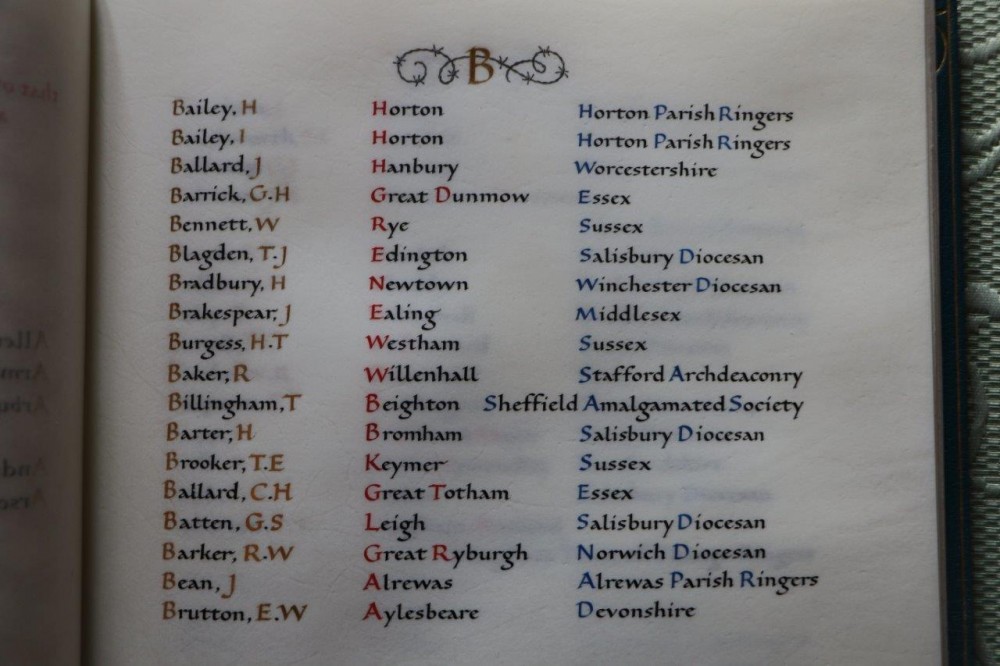 and on Robert Barker's page on the church website.
Alan is coming again to Ryburgh with a band to ring the peal for Albert Green on August
1st. so again this month you will hear ringing of a very high standard indeed.
As for Ryburgh ringers, we have just returned from our annual Summer Saunter when
we journeyed into deepest Lincolnshire. I should actually say " highest" Lincolnshire
because we rang at Boston St Botolph's, otherwise known as "The Stump".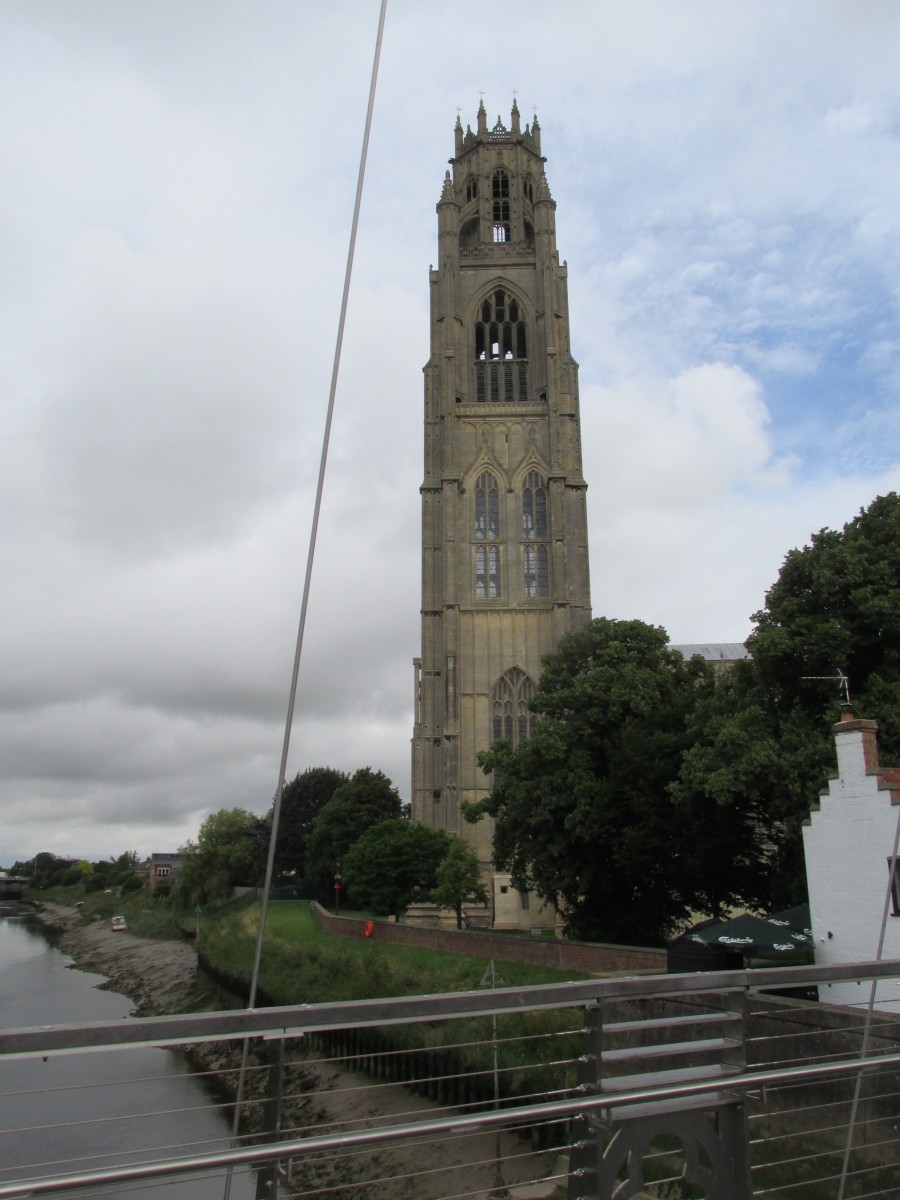 Emily Ringer counted 209 steps to the viewing area outside the belfry louvres. The
ringing chamber itsellf was about 10 steps below that, but the few extra steps were well
worth the view in spite of it being a little hazy.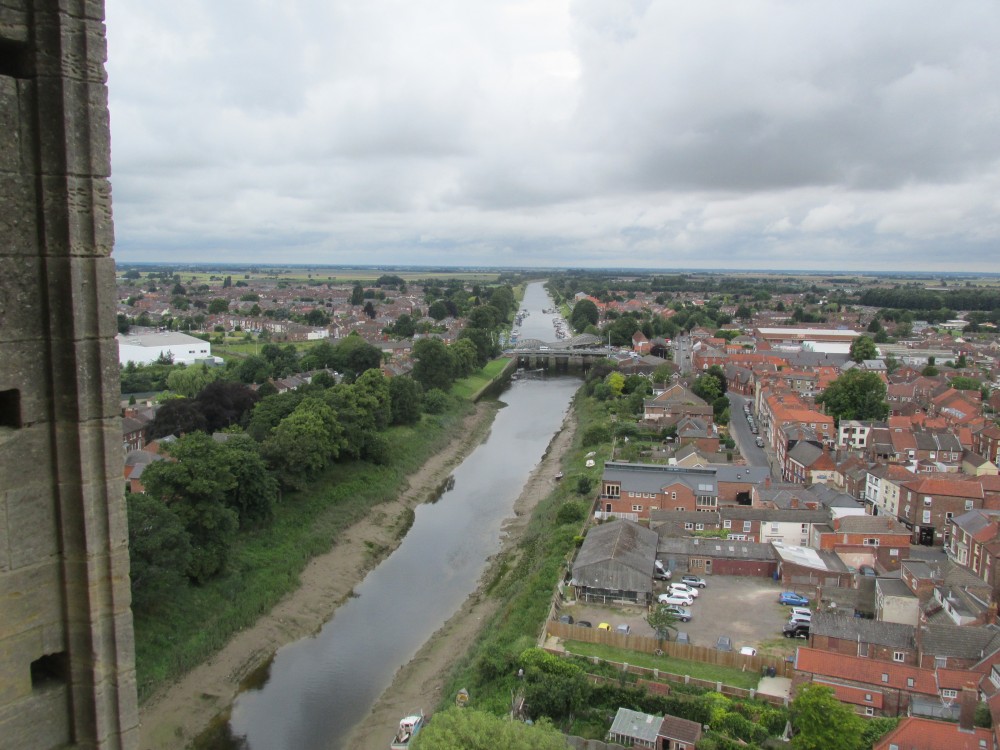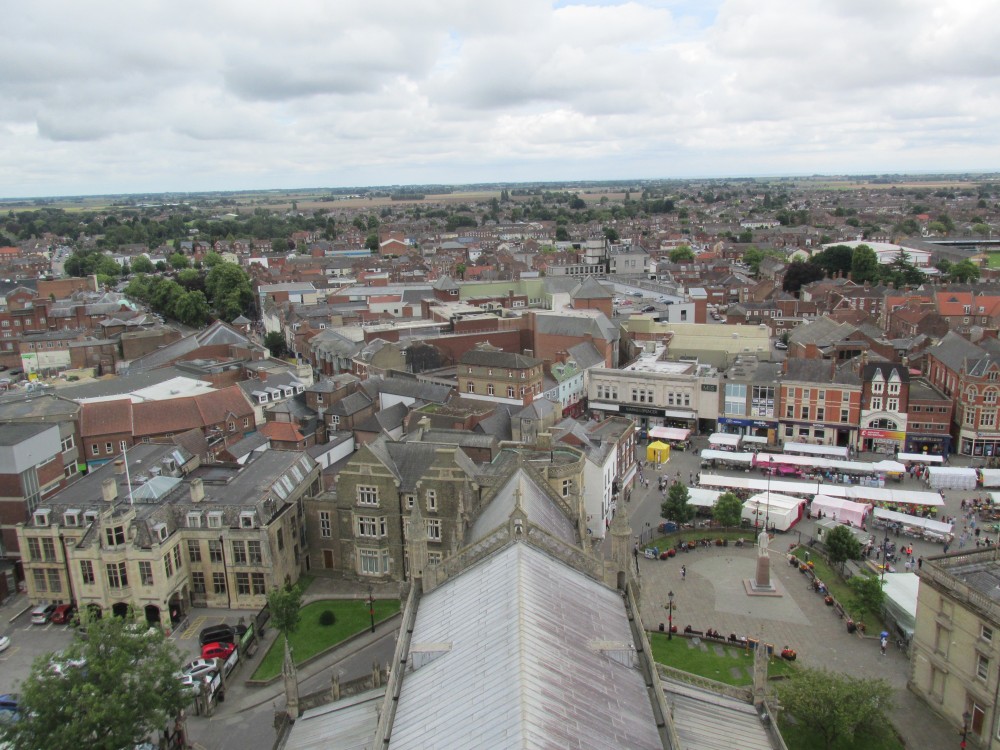 The ringing chamber itself is extraordinary, as you are ringing in the space above the
domed arch-work of the fan vaulting of the tower ceiling.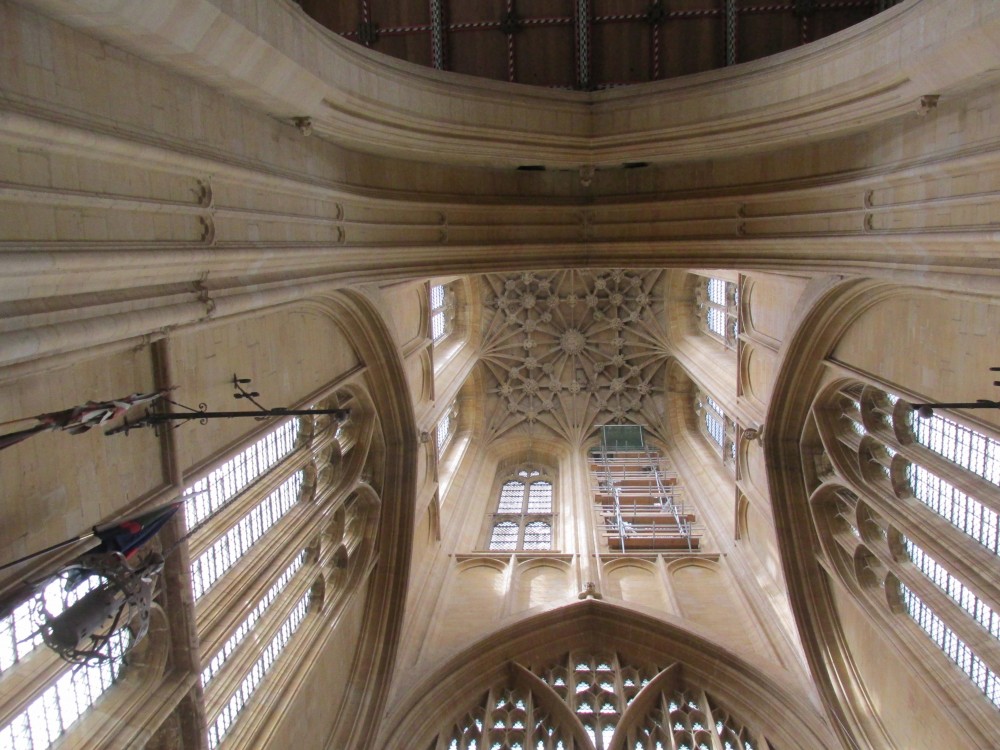 The illustration below is from the 19th.Century when the bells were a ring of eight and
when the "floor" was lower. The joists over the ringer's heads have since been removed
and the ringing arrangements a little more user friendly!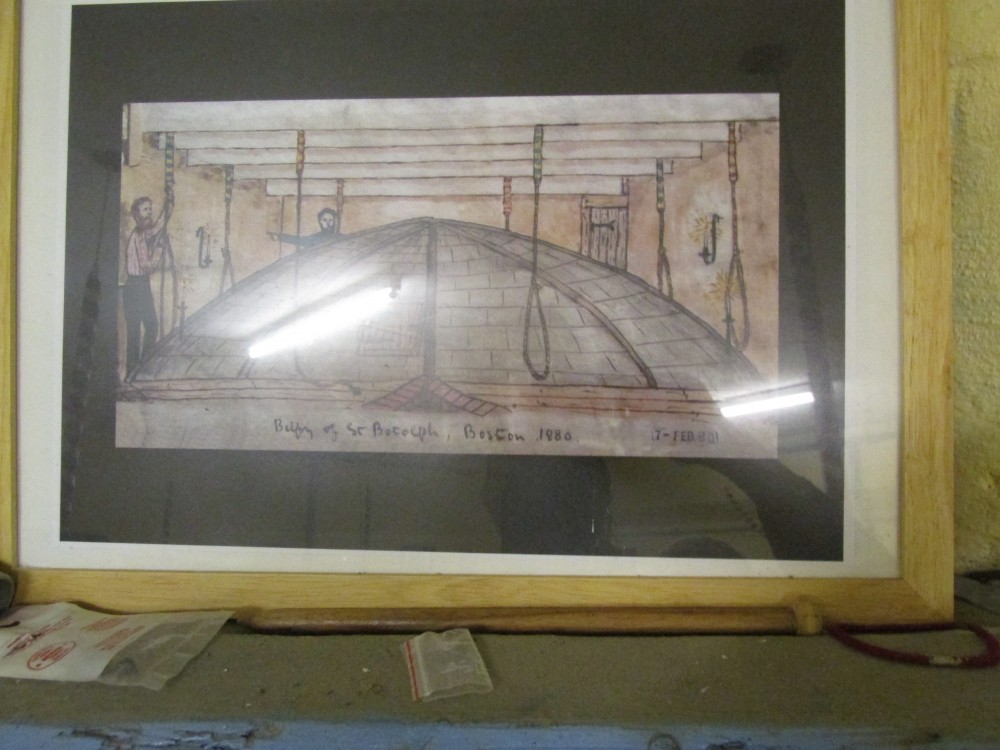 The 10 ropes hang along all four walls of this huge space but there is probably just 3
feet of walkway around the walls on which to stand to ring before the dome rises out of
the floor. There is a door in the dome that permits an impressive glimpse to the floor
below, though not for the faint-hearted!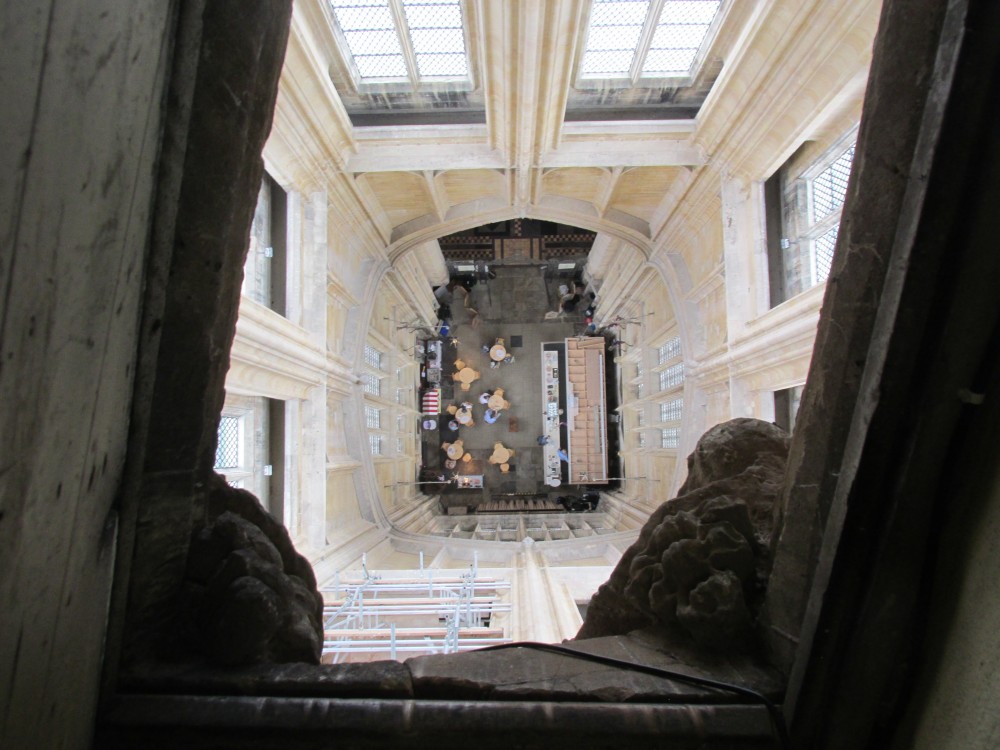 Another curious feature is that the rainwater (from the viewing area on the four belfry
sides) joins guttering that is inside the tower above the ringer's heads on each wall, with
the downpipes dropping down the inside wall. It must be very interesting ringing in a
heavy storm. To explain to the uninitiated, the photo below is of the ringers at backstoke
not captive ringers in a Lincolnshire dungeon!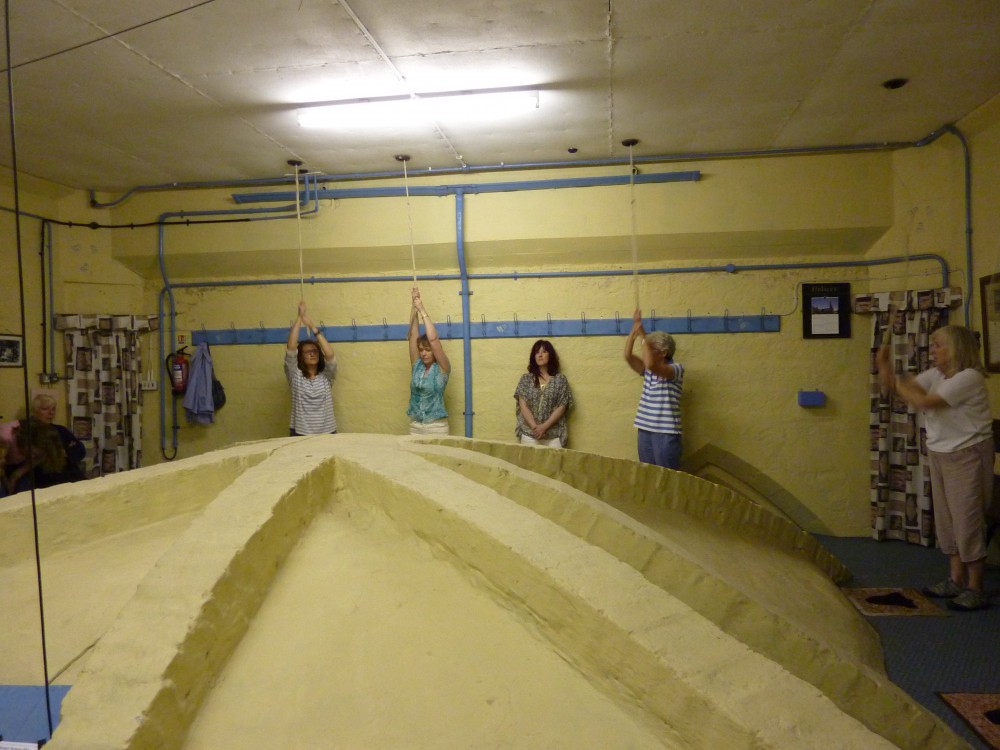 The 10 bells however were magnificent but challenging and considering
our collective inexperience in these things, I don't think we publicly disgraced
ourselves too much! We also rang at Wigtoft, Frampton and Kirton where I think we
produced the best ringing of the day on the 18cwt. 8 bells. We were again joined by
Revd. Robin and had our customary sumptuous picnic at the RSPB Reserve at
Frampton Marsh. A really good day out enjoyed by all 17 of us!
***************
From the Bell Tower: July 2016
July 1st. 1916 saw the start of the Battle of the Somme. It lasted until mid-November some 141 days later and claimed the lives over a million men. On the first day alone, 58,000 British troops were killed or wounded.
Great Ryburgh mourned the loss of four men in the first month and so we will remember Arthur Allison on July 19th , William Ainger Howman on July 20th and Testerton brothers, Frederick and Albert Green on July 27th and August 1st respectively. Their brief histories are to be found on the links above
A peal will be rung at St.Andrew's for each of the men on the centenary of the day they died, as we have already done for the 7 servicemen who had died since the start of the War in 1914 I am very conscious that this is quite a lot of ringing in a short space of time but I trust it will not be the cause of too much aggravation in the village as a very small audible reminder of the carnage suffered and endured by so many. The half-muffled peals have been entrusted to a variety of visiting ringers (many eminent in the ringing fraternity) who have already set a very high standard of performance. The peals on 19th and 20th will be rung by the same band and conducted by David Brown who is assistant conductor at Westminster Abbey. They will ring the 6 bells in the tower on the 19th but on the 20th they will ring a peal of Bristol Maximus on 12 handbells in St Thomas' Chapel.This will be a very rare opportunity indeed to see and hear handbells being rung in public. Handbell ringing demands an enormous degree of concentration and we are very privileged that this band are to remember one of Ryburgh's lost serviceman in this very special way. All are welcome to come and listen.
Although many men are being honoured with commemorative ringing throughout the country, Great Ryburgh would seem to be the only place where all the men connected with the village and who died are being so remembered throughout the period of the conflict.
The extraordinary gathering of descendants generated by the remembrance of George Harry Bond and just as much, if not more so, the church devoid of any family for some of those we have already honoured, is the reason for all this happening. We must not forget.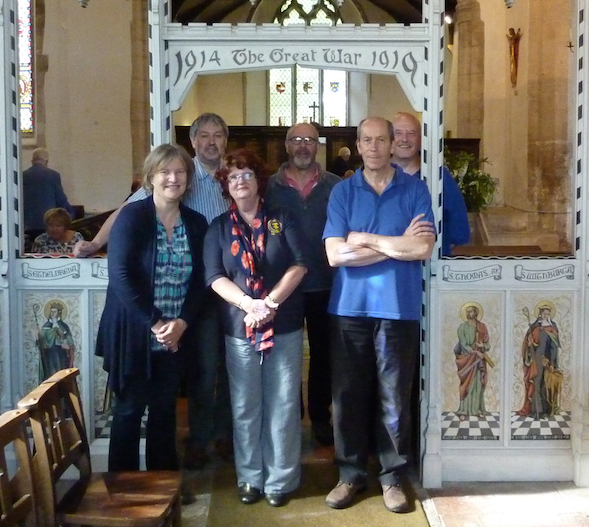 The band that rang the peal for George Harry Bond.
left to right:
Gill Knox, Simon Rudd, Ruth Curtis, NeilThomas, David Brown(conductor), PaulCurtis
The following is an article written in 2008 for the Ringing World by Neil Thomas and tells the story behind the set of handbells to be rung in the peal for William Ainger Howman: Neil with the beard and David Brown who will conduct the peal are in the photo above.
After almost 100 years a set of handbells has come to light, a set of fantastic tone which belonged to a ringer, who in his time was one of the exercises "greats". The following paragraphs are a little insight into the life and bells of Mr. Alfred W. Grimes 1880 – 1917.
Blofield Garden Club is a long established society and indeed I was a member from 1978 until 1985. My mother still plays an active part and a chance conversation between her and another member, Mrs. Joy Foulger, led me to discover an extraordinary ringing story of a long forgotten ringing great.
Members of the Garden Club, many who still know me, are well aware of my career developments and: "So, your son in involved with bells?" Yes. " Well although I was never much of a ringer I did come from a ringing family and I have some ringing artefacts. Would your son be interested in seeing them?"
I was put in touch with Joy and so the story began to unfold.
Joy was the only child of Ernest Grimes of Debenham, Suffolk. Ernest was an active ringer in Suffolk; he was secretary for the St Edmundsbury district of the Norwich Diocesan Association from 1919 until the formation of the Suffolk Guild in 1923. He died in 1937 and I guess this was when Joy inherited the ringing artefacts. Joy's husband had died and she was concerned, only having a grandson left, that if she died tomorrow the house would be cleared and most of the contents would end up in a skip. She was keen to see the ringing bits and pieces from her families illustrious past preserved.
I was shown not only her father's peal book, but also those of her grandfather, William Grimes, and William's brother Alfred. All were prolific ringers of their time but it was Alfred who went on to great things. Following this I was shown a set of thirteen handbells, these bells I will return to after looking back at the life of Alfred Grimes.
Alfred learnt to ring at Debenham and rang his first peal in 1896 at Thorndon. In 1909 he started ringing in London and around that time he took a pub, the George IV, Brunswick Street, Haggerston. Haggerston is situated about 1½ miles north of Whitechapel and ¾ mile north of Shoreditch in an area bounded by Kingsland Road to the west and Hackney Road to the south.
Brunswick Street ran north from Hackney Road and became Haggerston Road just before it crossed the Regents canal. On this road stood the pub and also the church of St. Mary, a stunning building built to the design of John Nash in 1822-6. Sadly the street was largely destroyed in the 2nd World War. The site of the church is now a playground between Queensbridge Road and Thurtle Road. This is all I have been able to find out about the Alfred's home.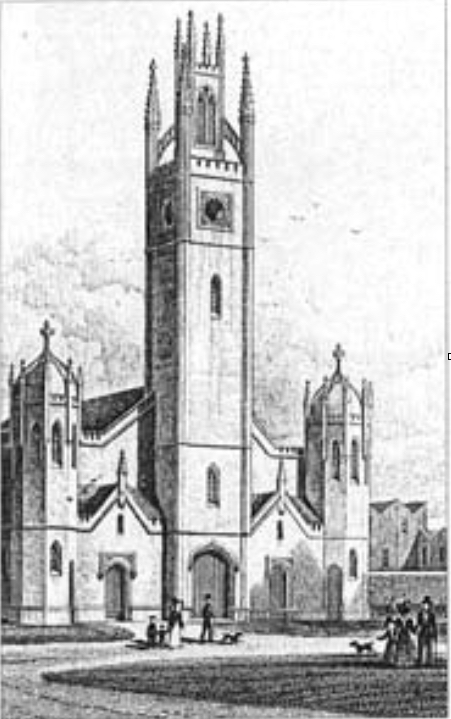 St. Mary Haggerston
It was not until 1911 that peal ringing took off for Alfred and in 1912 he rang a total of 114. The following year he became the peal record holder, ringing 136 peals, the record of 127 formerly being held by James Washbrook . This made 250 peals in total in those two years!
The Ringing World of January 3rd 1913 carried a full page on his ringing achievements, it starts off :
"Never was there a year in which so much ringing was done as in 1912, and it surpasses all previous records, to find some remarkable individual performances. To Mr. A.W. Grimes, mine host of George IV, at Haggeston, whose burly frame and genial countenance are so well known in the ringing circles in and around London, has fallen the opportunity of making the biggest "bag" of the year. Mr. Grimes rang no fewer than 114 peals between January 1st and December 31st – a truly prodigious number for one man to accomplish. They cover the whole gamut from Grandsire Triples to Stedman Cinques, and from Bob Major to London Surprise and Cambridge Royal, and a goodly proportion have been rung on handbells, while the tower bell peals were rung in 50 churches.
In the issue of January 9th 1914 the same photograph appeared and again a near full page spread began thus.
" When in 1912, Mr. Alfred W. Grimes rang 114 peals in the year, it was looks upon as an extraordinary performance, but in 1913 he has achieved an even more remarkable record, for between January 1st and December 31st he rang no fewer than 136 peals, which easily constitutes a world's record for one man. In the two years he has rung thus been in exactly 250 successful attempts, and nothing approaching this has ever been previously accomplished."
Alfred's last peal was on February 15th 1916, Stedman Caters in hand with William Pye conducting. Sadly for Alfred, the burly landlord, his ringing career was cut short by influenza when he returned to Debenham, most likely to visit the family. He remained there until he died on January 3rd 1917 aged only a mere 37. It was ironic as it was barely a year before the 1918-19 pandemic, which killed more people across the world than the whole of the First World War. Who can guess what further achievements Alfred would have aspired to had he lived?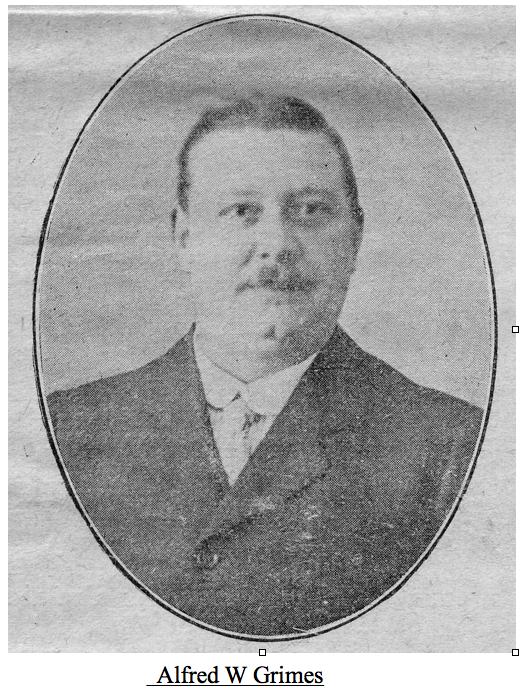 Returning to his handbells:
It can be seen from this story and his peal book that he bought a set of his own from the nearby Whitechapel Bell Foundry. These bells were regularly pealed in the pub. The first peal in the pub was in March 1912 of Stedman Triples. By November they rang Stedman Cinques. In March 1918 they rang the record length of Stedman Cinques in hand, being 6068 changes. I can't be sure which peals were rung on these bells but having bought a set many surely were.
Many tower bells are linked to ringing history, for example those at St. Peter Mancroft, Norwich but rarely do you hear of handbells in the same light, so this set, I feel, are historically important. Having had these bells passed onto me I have taken them back to the foundry and their provenance holds up. The tenor cap shows the mark of Bert Oliver who was the hand bell tuner during that period. The bells were sound but in need of total refurbishment and this I have undertaken. The bells came home for Christmas and the transformation is amazing!
While they have been tuned to modern standards, Steve McEwen has left the tuning marks and imperfections from a hundred years ago and also the dints and marks of being used. This set of bells has a unique and complete history and having being hidden for sixty years have now come to light. Restored they sound fantastic.
A huge thank you to Joy Foulger for bringing this important piece of ringing history to light and to Steve and the team at Whitechapel Bell Foundry for a great restoration.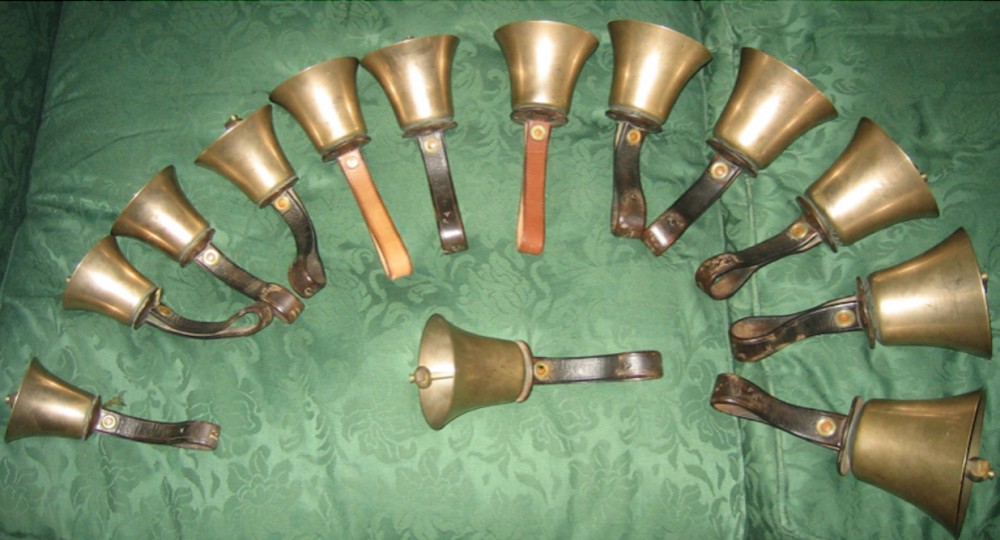 Prior to restoration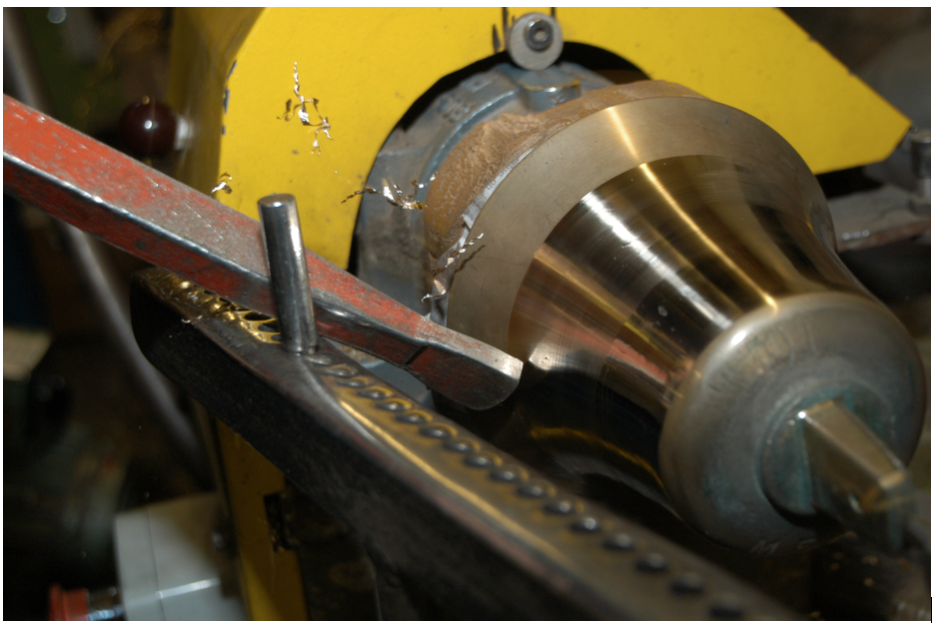 Tenor being tuned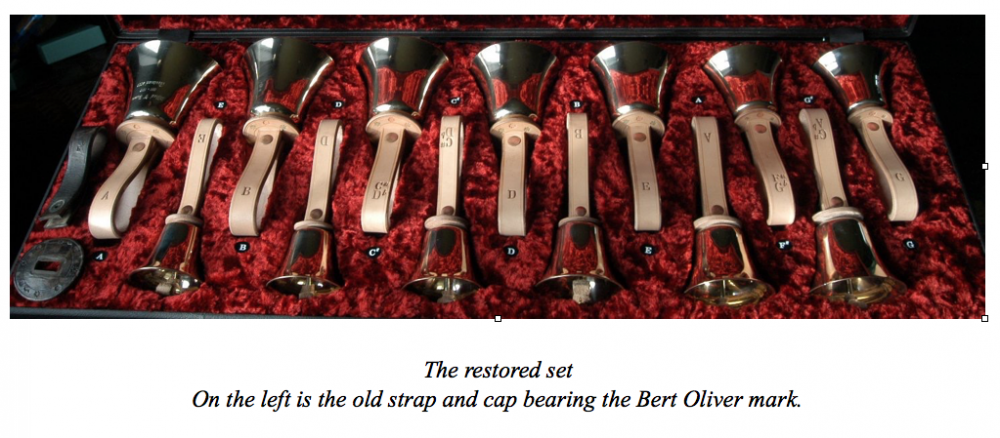 T
Copyright: Neil Thomas March 2008
***********
From the Bell Tower: June 2016
As you may have noticed, something new to the "Ryburgh Archive" turns up on a regular basis fortuitously providing me with copy and this month is just so. It started with a phone call from Paul Watson the son of former churchwarden Jack Watson of Winter's Farm Gateley. Going through things, he found and polished up a trophy that had been presented annually from 1953 to the most successful bowler of the Boar's bowls team and is inscribed with names right through to 1973. There is a photograph in circulation of the Boar's bowlers showing the cup and many of the men named on the cup. Paul wanted it to come back to Ryburgh, and so it joins the football/school sports trophy that turned up last year on display in the church.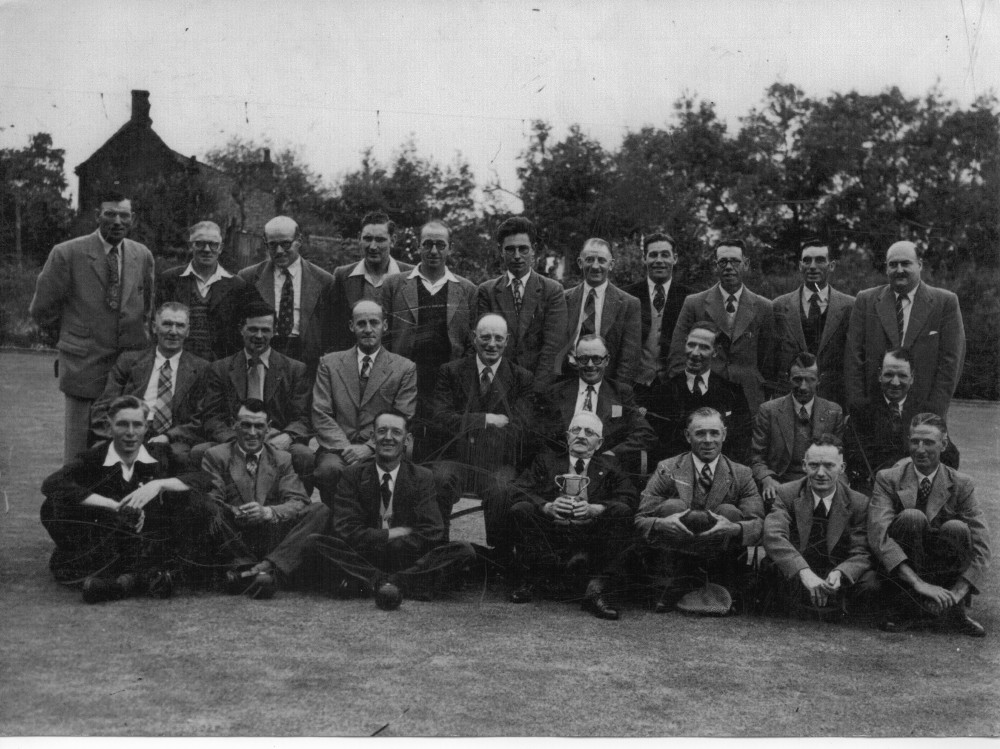 The Boar Bowls Team
Back Row Left to Right:
George Bird, Stuart Neale, Denny Fuller, Ernie Scott, Stanley Tann, Cyril (Bonus) Rawling, Charlie Clarke, Ben Nunn, Jack (Jocky) Rawling, Alfred( Hoofy) Harris, Ben Riches.
Middle Row Left to Right:
Ernest Abbs, Frank Myhill, Fred Whiteside, Ronnie Riches, Jack Watson, George (Rollocky) Rawling, Joe Hamblin, Albert (Shinbag) Rawling,
Front Row Left to Right:
Fred Vertigan, Frank Howe, Ernest (Trinny) Nelson, Ted Baldwin (with cup), Arthur (Puddin) Vertigan, Hector Middleton and Billy Hall.
We were able to exchange photos and he provided a new image of a presentation to the late Ryburgh Rector the Revd. Geoffrey Ford in which Jack Watson is making the presentation with Henning Boesen looking on.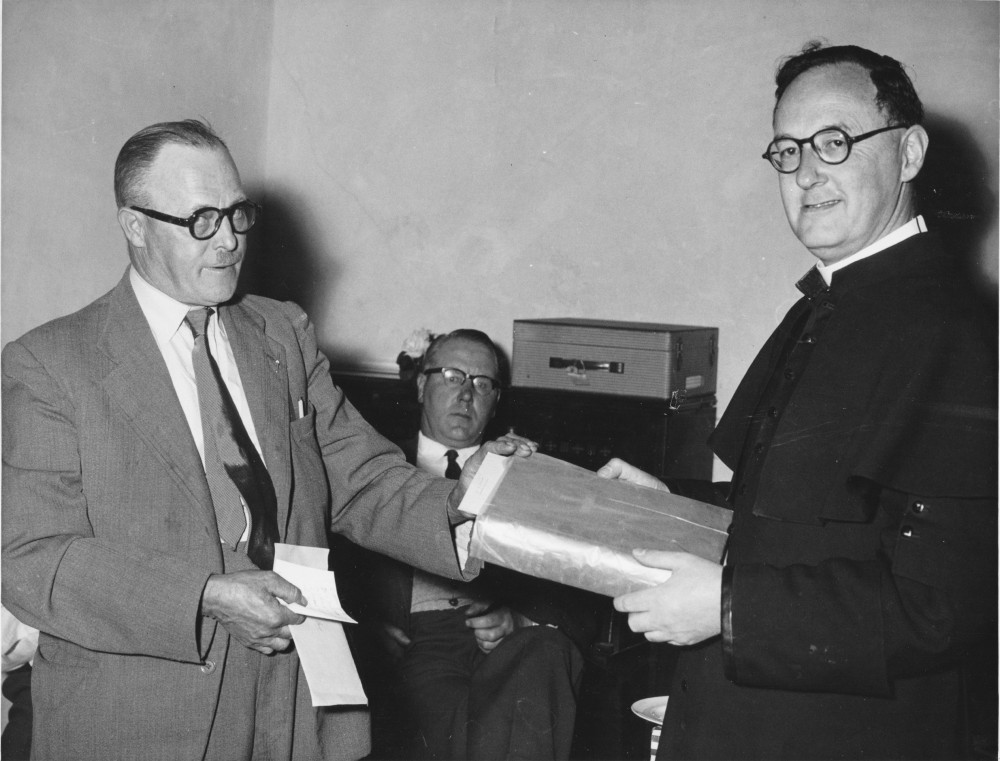 All in all a really nice glimpse of Ryburgh in the 1950's so thank you very much Paul.
The other new image to turn up is a postcard view of Mill Road taken from the Railway line looking across the field to the wall of the Mill Farm and St Andrew's beyond.It would seem that at this time, there was a length of wall on the West side of Mill Road opposite the Mill farm running parallel with the section that remains today. It was posted in 1916 and is really special as it depicts two teams ploughing and featuring men who might well have been in the trenches by the time it was posted.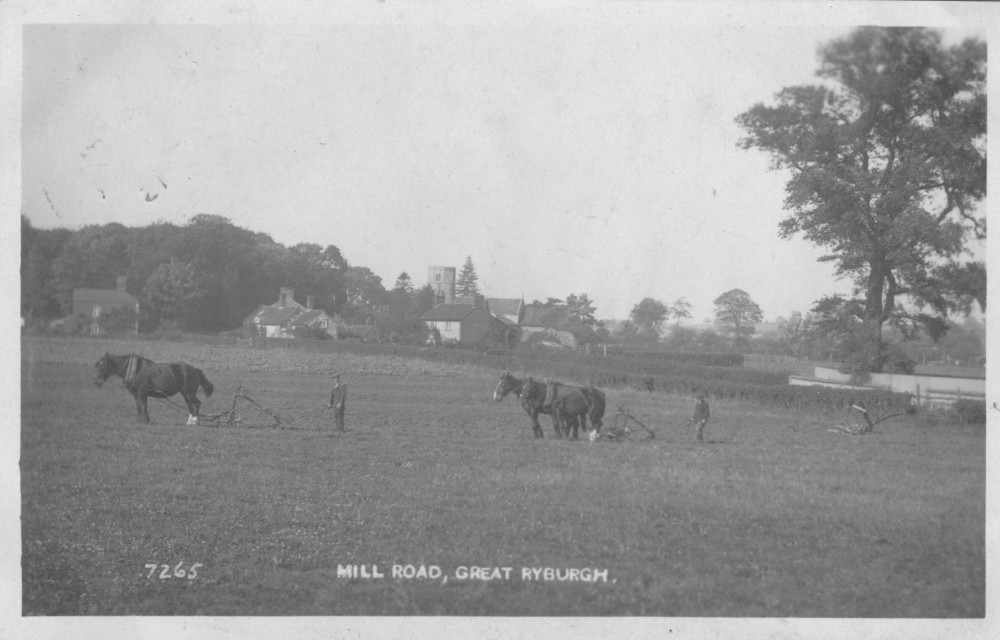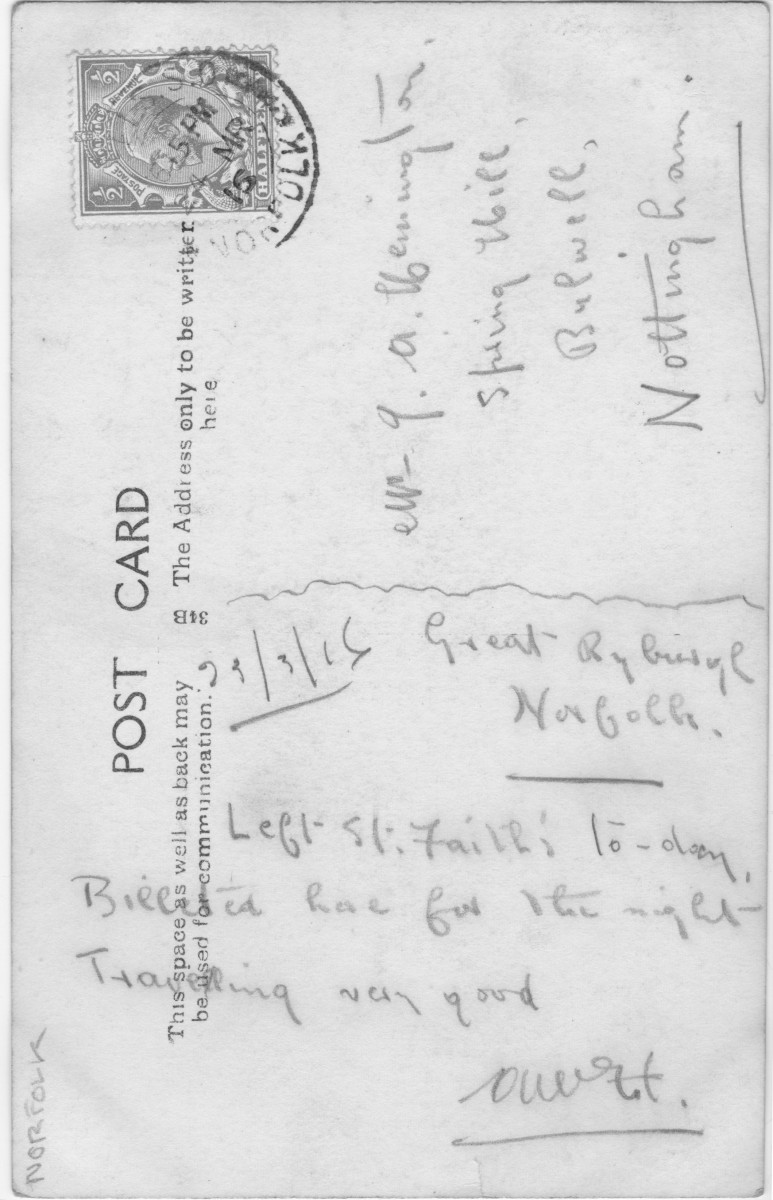 There is enough information on this card to be able to identify the sender, one Lieut. Albert William Hemington of the South Notts. Hussars, who was writing to his father who farmed at Spring Hill in Bulwell Nottinghamshire. He survived the War and died in March 1952.
A little updating is also required this month to several past bell towers…….starting with a few words about the Farmers Foundry Tumbrill. It is in the process of being completely rebuilt with all new timber and all the original ironwork except the nuts and bolts which had reacted typically with the old oak timbers. The cart bed and the whole tractor draw-bar arrangement has been reassembled, and the sides are now ready for drilling and fitting. The original wheels which where in poor shape have been repaired so that the replacement tyres can now be fitted, the wheels put back on and the whole thing made easier to manoeuvre. When these stages have been completed, we will be back to the state, though not the condition in which it was found. The next task will then be to reconstruct the missing portions.To be continued!
The hand bells about which I wrote earlier in the year are still at Whitechapel undergoing refurbishment, however they will not feature in the peal for which they were intended because to avoid one of the six ringers (who are coming specially to ring the peal the previous day as well) "sitting on the bench" they are going to ring the peal on 12 rather than 10 handbells as a public performance in the church on the afternoon of July 20th. It will be absolutely not something you'll hear every day of the week anywhere. The 12 bells are an historic set dating from 1912 and belonging to Norfolk's Whitechapel bell hanger Neil Thomas, about which more next time.
The internet has been buzzing with activity in regard to the George Harry Bond commemoration on June 5th. We are expecting the largest gathering to date of his family's descendants to join us on the day, from home and abroad. To give some idea how this comes about, just one of his sister's marriages produced 125 Great Grandchildren by the time those parents died and George had five other siblings!
A very long time ago I wrote about the band from North Elmham who came to ring the first peal on the Ryburgh bells in November 1902.The following year that same band went to Foxley and rang the first peal on those bells after the 5th was recast and they were rehung. In the way these things come about, a band of ringers who have been ringing in the WW1 peals here at Ryburgh had the distinct pleasure of ringing the first peal at Foxley since the recent rehanging of the bells. This was also the first since the early 1950's when they were last rung to a peal and Jack Watson presented the trophy to those bowlers from the Boar.
**************
From the Bell Tower: May 2016
From the Bell Tower.
On the Comper Organ Gallery, the panels of the balustrade have been hung with a facsimile type of Think and Thank Screen Panel to bring into the church some of the names of those that died and who were not included here at the time on the Screen itself.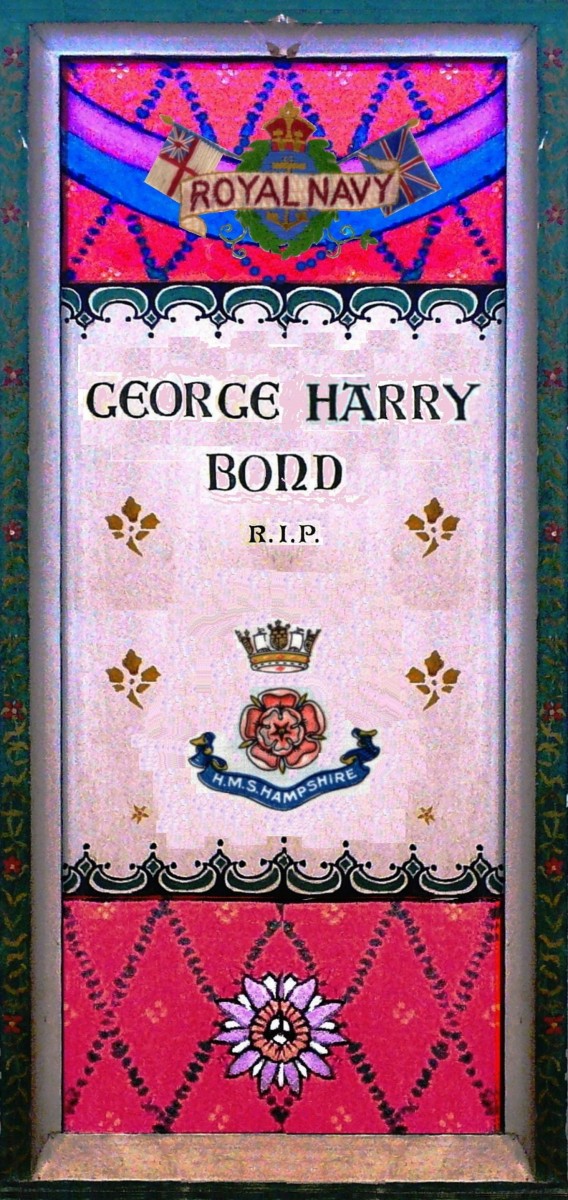 This is the reason for a panel marking the death at sea of George Harry Bond who was born in Redenhall on June 26th 1881. He died on June 5th 1916 whilst serving on board H.M.S. Hampshire. The sinking of this ship was a national disaster at the time (though played down for obvious reasons) because it claimed the life of the illustrious British Commander-in-Chief, Lord Kitchener. The Ryburgh School Log Book records this particular event but sadly makes no mention at any time during WW1 of any village casualties. In this case it is possible that it was not even known at the time that Ship's Corporal George Harry Bond was on board. His name is inscribed on the village obelisk in Station Road under 1916. His family moved from Redenhall to Ryburgh probably in 1893 when Harry Bond Snr. a stationary engine driver, started work at F an G Smith's newly modernised flour mill in charge of the Mill's power plant. Young George Harry Bond may have completed his last two years at Ryburgh school, but unfortunately the Registers don't go back that far to confirm this.
Having been in touch with descendants over the past few months, a picture of George Harry and his extended family has been assembled and can be seen both in the church and on the St.Andrew's webpages. A commemorative centenary peal attempt will be undertaken on Sunday afternoon June 5th this year, the first of eight dates during the coming year to be so marked and we hope to welcome several of George Harry Bond's descendants both local and from Australia to join us at St Andrew's during the day.
Further soldier's names keep coming to light, the most recent being that of William David Howard son of one of the signalmen at Langor Bridge. Very recently I was able to make brief contact with his sister Ada Miriam, through her daughter Jan Jackson in Wales. Sadly Miriam died at the beginning of February, aged 108 but Jan visited about 10 days prior to her death and they spoke of the past and of some information that I had been able to send:
"She certainly remembered that she lived next door to the Sumpter's and that her brother William received his call up papers and went off to war when she was about 10 years old. She clearly remembered him walking off with her brother and Cecil Sumpter, but she didn't know his regiment or ID no I'm afraid. He was badly wounded and was sent initially back to Scotland. Her mother 'Polly' was very relieved when he finally came back nearer to the family home as she couldn't visit him there with so many in the family to look after. Her brother never really recovered, spending the next 5 years in and out of hospital until his death. She believes he did have some medals but his death was a blow to the family and war service not much talked about.
She also knew he wasn't employed by the railway before being called up, but didn't know exactly what her did."
It was a great regret to me not to have had the chance to meet but I have been able to find a little more about William Howard and also that he is not remembered on the War Memorials at Kettlestone (technically the parish of which Langor Bridge was a part) Fakenham (to where the family moved). Langor Bridge looked to Ryburgh for its school and church and William Howard's father was Sunday School Superintendent at the Primitive Methodist Chapel at Little Ryburgh. Consequently, William will be remembered at St Andrew's since he clearly died of wounds suffered in the service of his country, albeit in 1923. How many more have been forgotten in this way?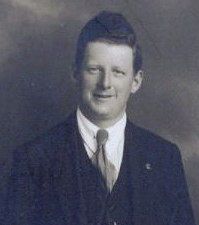 Cecil Sumpter.
Cecil lived at Langor Bridge next door to William David Howard, served in and survived WW1, but not named on the Roll of Honour at St Andrew's.
*************
From the Bell Tower: April 2016
As the proposal to restore the former church Acetylene Gas House and to build new toilet and storage facilities gets under way, it seems a good opportunity to report something of the history of this tiny building that "piggybacks" on the churchyard wall.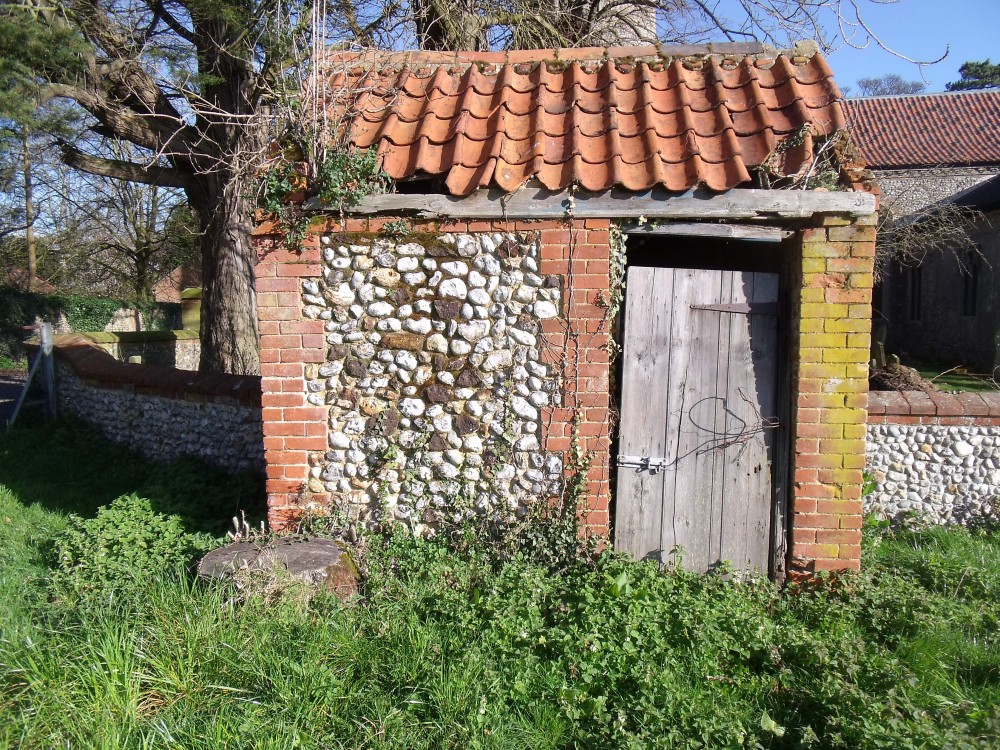 The Gas House was built in 1914 on top of a section of the South facing churchyard wall as a place to generate the Acetylene gas required to light the church following the Comper restoration of 1910-14. It is very much a functional brick and flint outbuilding but essential for the then relatively modern lighting system that was planned. The choice of lighting fittings had been the subject of some correspondence between the then Rector, Revd. F.H.Tatham and John Ninian Comper and can be read in full on the church website pages.
http://www.standrewsgreatryburgh.org.uk/a-cruciform-church-with-a-round-tower/the-comper-work/
From the Easter Vestry Meeting held in 1914 the following was reported in the Parish Magazine:
The Question of the church lighting was brought up, and the Rector showed that he had already in hand £14 7s.9d. and promises amounting to £11 10s.0d. It was decided that the best plan would be to have a separate generator belonging to the church to supply the acetylene gas rather than to have it supplied from the (existing) rectory generator. This would entail further outlay, but it was generally felt would be a better plan in every way. The cost of fitting pipes, supplying brackets, &c. in the church would amount to about £30, and the generator and house for it would probably amount to a further £35.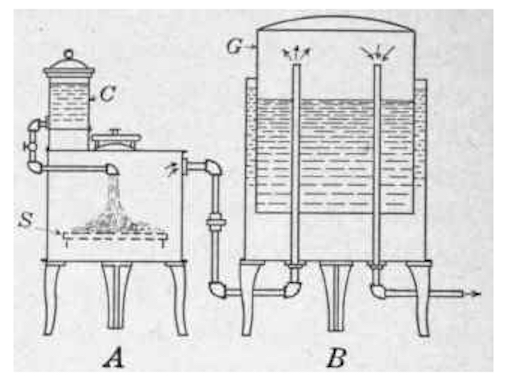 The type of plant that the Gas House would have contained.
In December 1914 the Parish Magazine (The Rector) again reported:
Owing to the great generosity of Mrs. T.A.Cook we are able after all to to have the Acetylene Gas installed in the Church this Winter. I had quite given up all hope of having it under the present circumstances.
The Firm who are supplying the installation hope to have it all fixed and in going order by Christmas Day.
Mrs. T.A.Cook's most kind gift which has enabled us to have it was a cheque for £30.
The February 1915 Magazine reported how all were delighted with the new light but that owing to the rising cost of materials due to the War, the firm that carried out the work were likely to be out of pocket.
The generating plant also supplied lighting for the Rectory Barn opposite and remained in use until the church installed electricity in 1948, due to the prohibitive costs of running the system. (Carbide had risen in price from 10/- a drum in 1915 to £3 by 1948.) Following its closure, it was used as a small store for a variety of items including waste paper, cans and bottles for recycling. The building has now reached a parlous state due particularly to a large Ash tree, now felled, that was allowed to grow on the SW corner. As part of the proposal this little building will be restored and used as a store for the churchyard's use.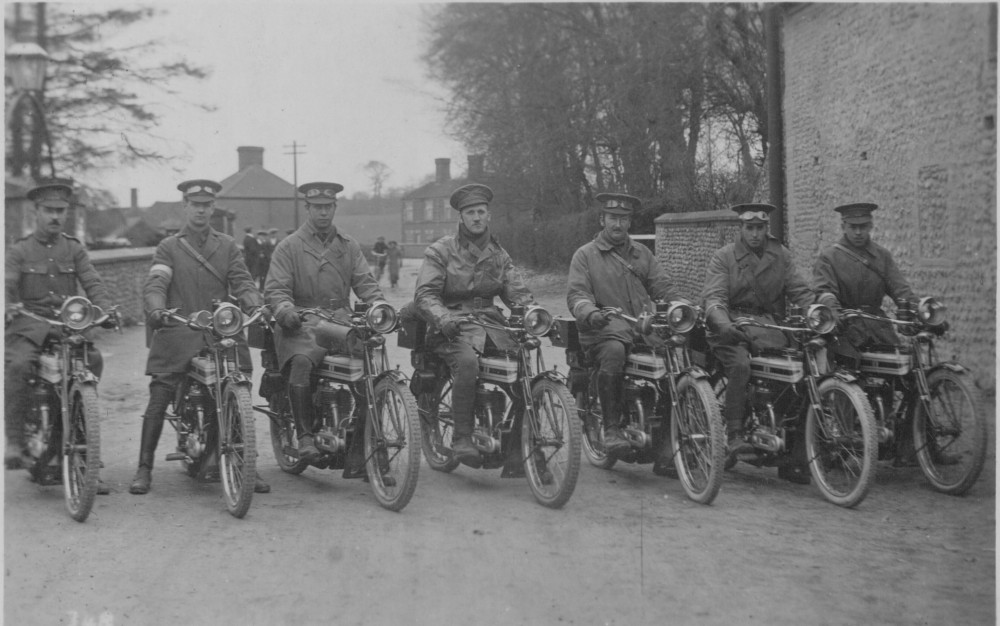 P.S. I have written in the past of a group of motorcyclists photographed across Mill Road at the Church corner. I speculated at the time that the photograph might date from 1916 because of a report in the Parish Magazine that a group of motorcyclists visited the church in June that year. However, the angle of the image is such that the new Gas House would have been clearly in the background if that was the correct date. So as far as that photograph is concerned, we need to think again….. at least two years earlier! Could this date from the time of the billeting of the Bucks Hussars in Ryburgh in November 1914?
***********
From the Bell Tower: March 2016
In July 1915 according to the Parish Magazine, "some of the stone work at the top of the Tower gave way and fell on the roof of the heating chamber" necessitating urgent repairs as "the stonework was in a very precarious condition". I recalled this when being asked recently to read through a draft of an article by Norfolk ringer John Barnes about the eight Norfolk Towers which had collapsed since 1895. I also remembered a couple of postcards that Hazel Hall had lent to me of one of those towers, St Peter North Burlingham. They show the church before and after the collapse in 1906, with the latter being so soon after the event, one of the bells can be clearly seen protruding from the rubble.
Now you see it: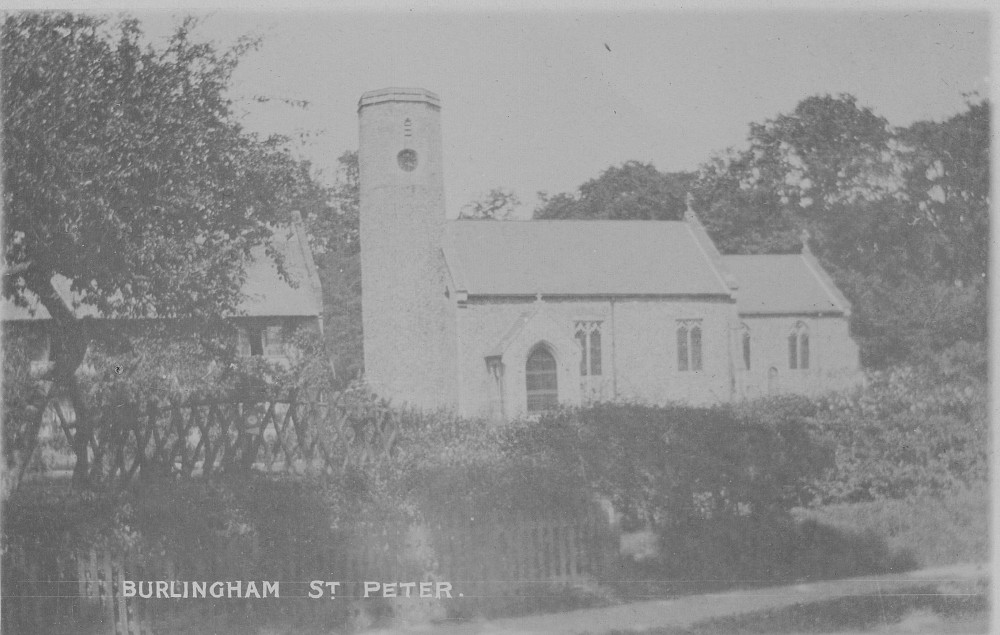 Now you don't: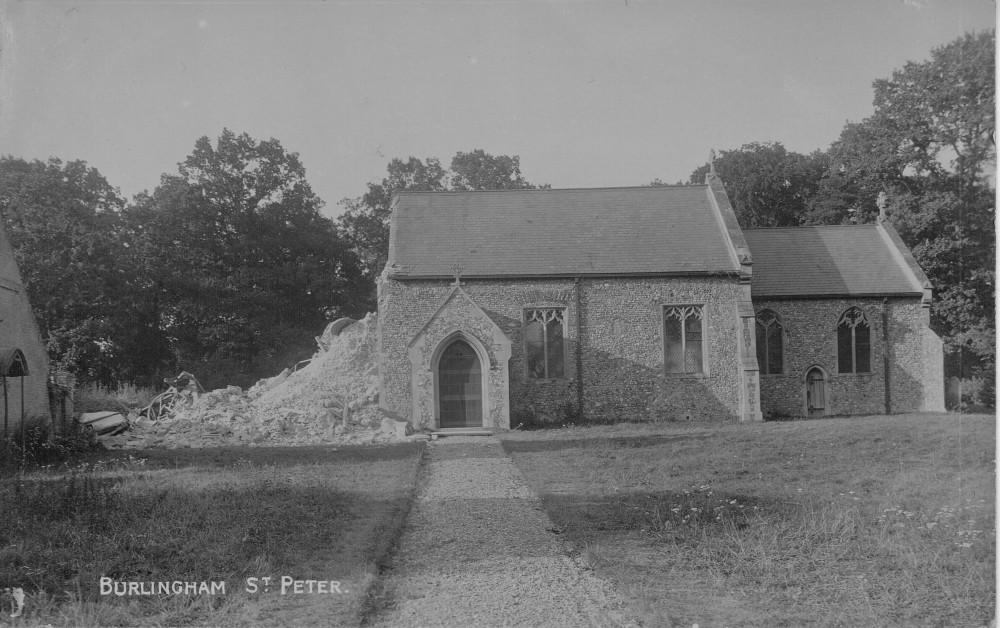 The bells all survived their ignominious descent from the belfry and now ring at St Martin, New Buckenham, after being first housed when the church closed, at the old St Peter Hungate Museum. As ringing was surely suspended at Ryburgh in consequence of this structural problem, then I thought I would take the opportunity to digress into other matters of the War years, as is my wont!
The Revd. F.H.Tatham tells us, again in the Parish Magazine that he had to take services at Stibbard because the incumbent and Rural Dean, the Revd. Anthony Fourdrinier Fenn had joined up as an Army Chaplain in 1916. This set me thinking about the contribution made to the War by such clergymen and why perhaps Ryburgh should remember them as well as all the names on the Roll of Honour at this time.
If anyone reading this knows of a photograph of Revd. A.F.Fenn, please get in touch.
It is fortunate that Hugh Tatham did not have to cover for Colkirk too, as their Rector, the Revd. Arthur Robertson Hoare, who succeeded his father Walter as incumbent, also served as an Army Chaplain from 1916 to 1919.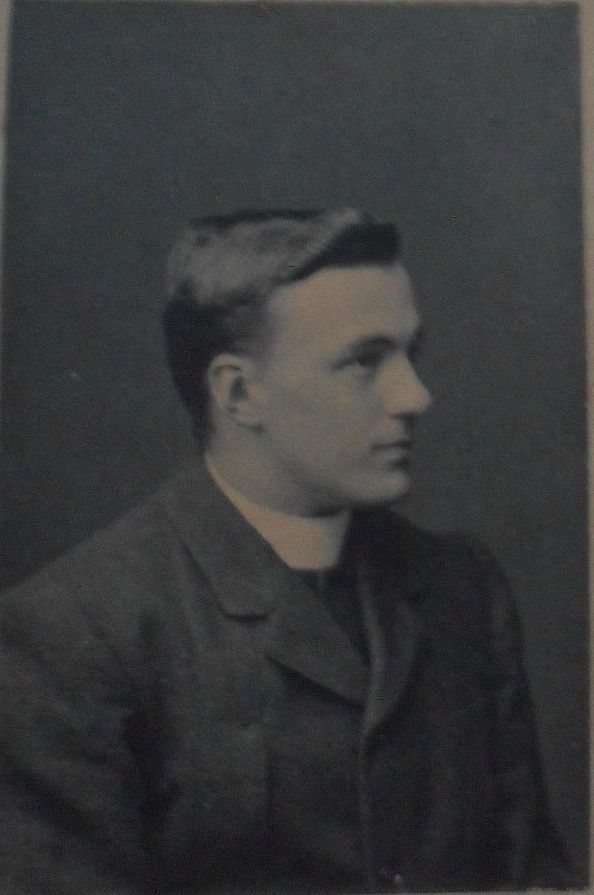 The Revd. Arthur Robertson Hoare
Arthur had been born at Stibbard and both he and Anthony Fenn were also "Mentioned in Dispatches".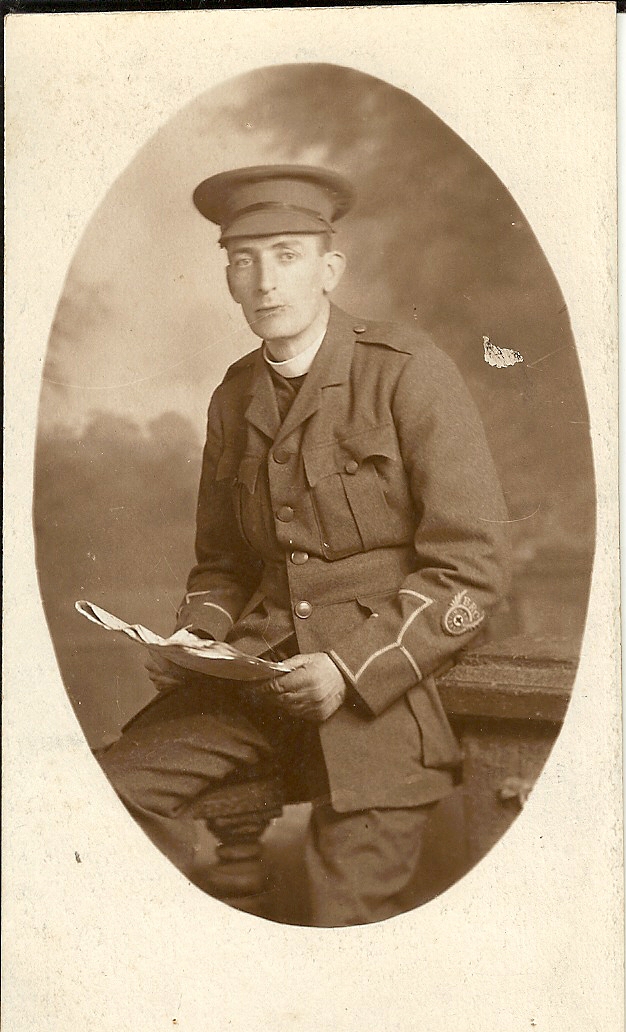 The Revd. Henry Collingwood Staveley
Many thanks to Gill Henderson, Archivist of the Walpole St Peter website
for permission to use this image
I then find the Revd. Henry Collingwood Staveley who had been one of the Revd. Henry Fowler-Baker's Curates at St Andrew's 1901-2. He went on to further curacies at Sandringham, West Newton and Babingley before becoming Rector of Walpole St Peter in 1906. He was the longest serving of the three and joined up as a voluntary driver with the Red Cross Motor Ambulance Unit No 1 on 17th November 1914 until 30th May 1915. The photograph of him above clearly shows his British Red Cross armband and must date from this period.He went on to a Temporary Chaplaincy to the Forces in July 1915. He served in France and again in Egypt from 1917. In September 1918 he was gazetted Hon. Chaplain to the Forces (4th Class). The following details of his War Service are found in a newspaper clipping that reported his funeral at Walpole St Peter in March 1933. He was 61 when he died: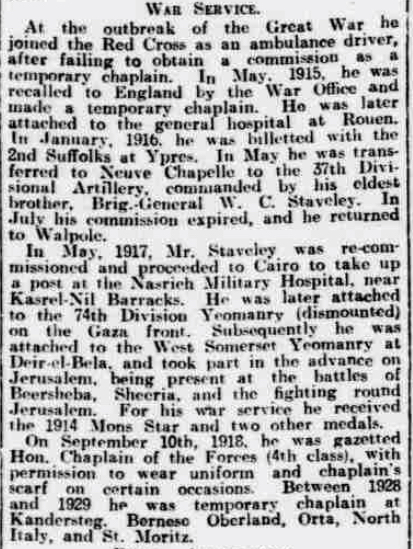 These names were all familiar to me individually but they were all known to each other and surely not just because they all took part in the Service of Dedication on Nov 30th 1912 of the Comper Restoration works.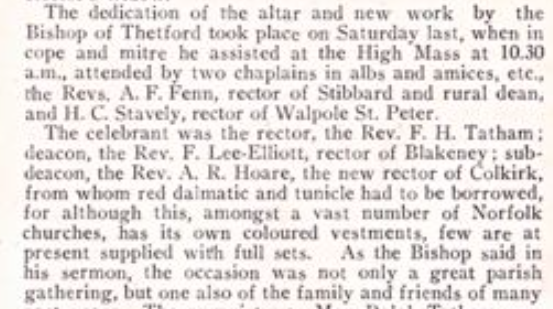 Unfortunately I can not find out if they all met again in similar roles when the Think and Thank Screen was dedicated in November 1921. As I research these 3 local gentlemen further their stories will be added to the website pages.
I would also like to publicise a recent addition to the site……..pages that will tell the WW1 stories of present day Ryburgh people whose own histories are perhaps outside the village but who would like to share them in the same way with the men and women of Ryburgh 100 years ago. Please contact us here if you would like to share your family WW1 stories on the website
P.S.
If you haven't come across "Somewhere in Flanders", the collected letters of Army Chaplain "Heigham Woodbine Willie" a.k.a. the Revd Samuel Frederick Leighton Green, then they are worth seeking out These are edited by Stuart John MacLaren, published by the Larks Press and make a fascinating history of a serving non-combatant.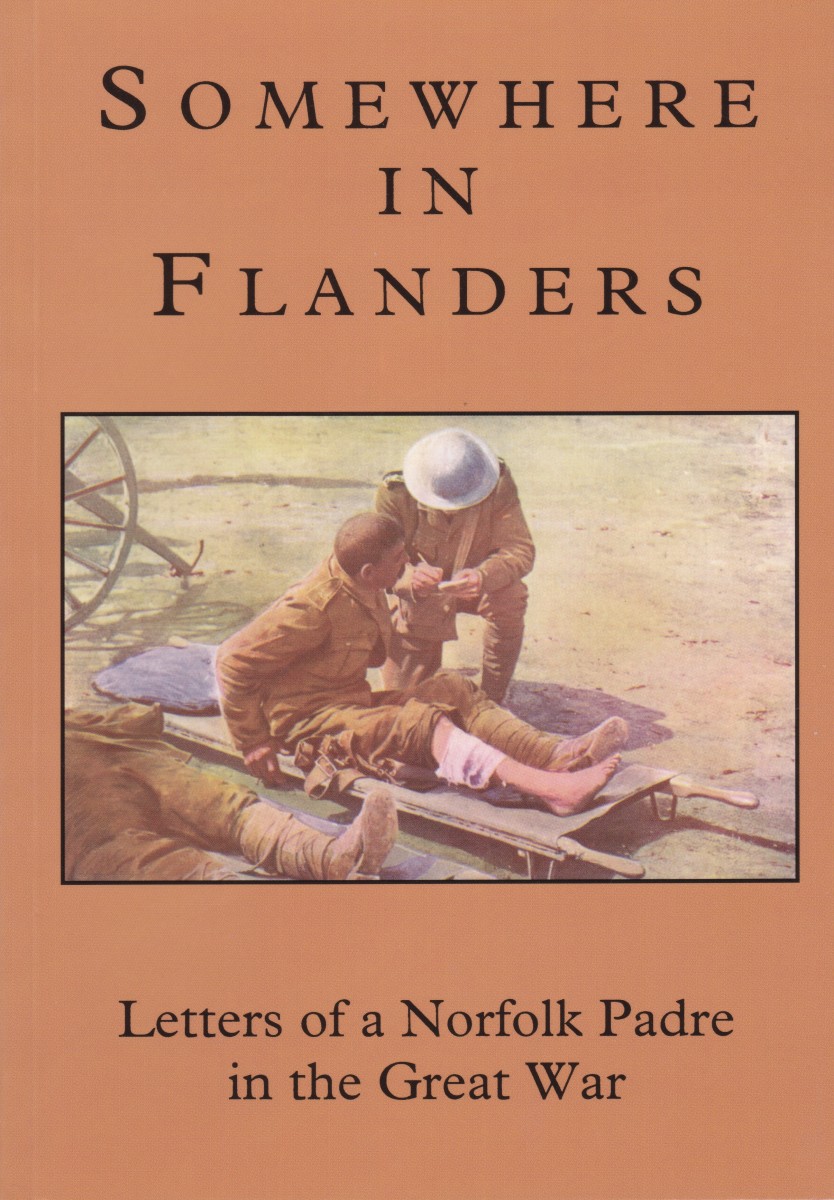 PPS Don't forget we ring twice a week Tuesdays and Thursdays from 7.30p.m. and as far as I know we are not expecting any tower collapses in the near future!
************
From the Bell Tower: February 2016
Towards the end of last year we had a visitor to our practice, an Englishman who now lives in Canada. As we were sitting around the table drinking teas and coffees after ringing he said "Did anybody want a set of handbells" Needless to say, I "registered an interest". He said that he had rescued them from a house clearance because he didn't want them ending up at a dealer who would probably split up the set. They had belonged to a couple who last rang at Aylsham and they had now both died. He didn't want anything for them and they were in the back of his car. So I went with him to the boot, with as much decorum as I could muster whilst in the process of snatching off his hand, and took them into safe custody!
There were ten of them but they were not in the first flush of youth, in fact they were supposed to date from the C18th Century. The first task was to get an opinion locally which confirmed that they needed attention before they could be rung successfully. The next stage involved sending them to the Whitechapel Bell Foundry to have them properly appraised.
They turn out to be quite rare and the work of William Rose of Lambourne: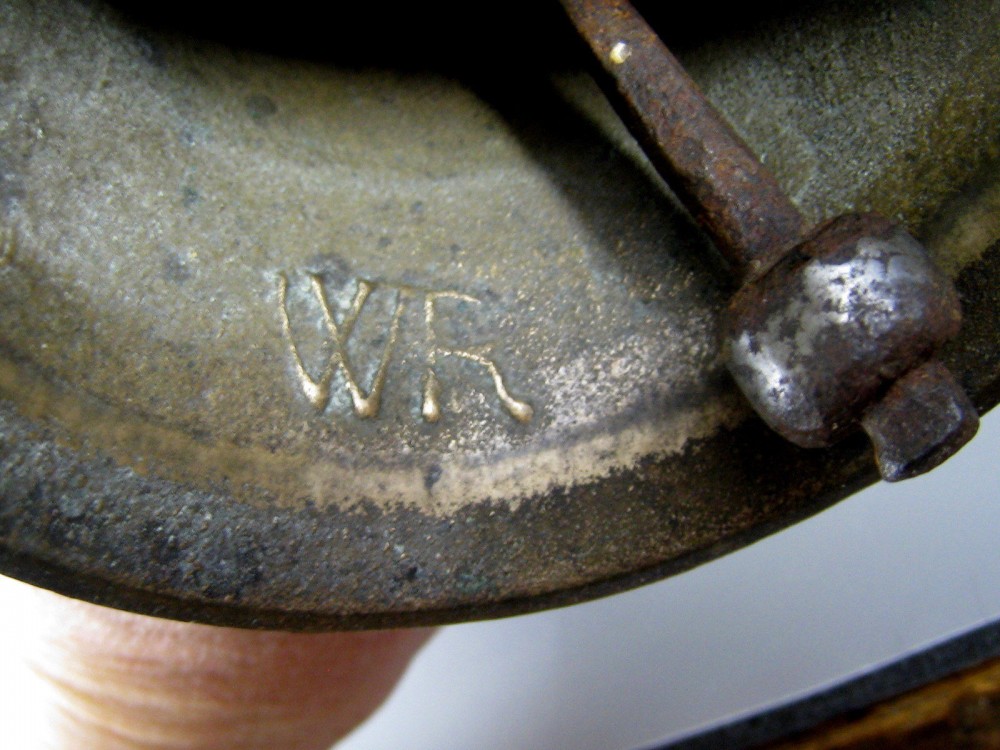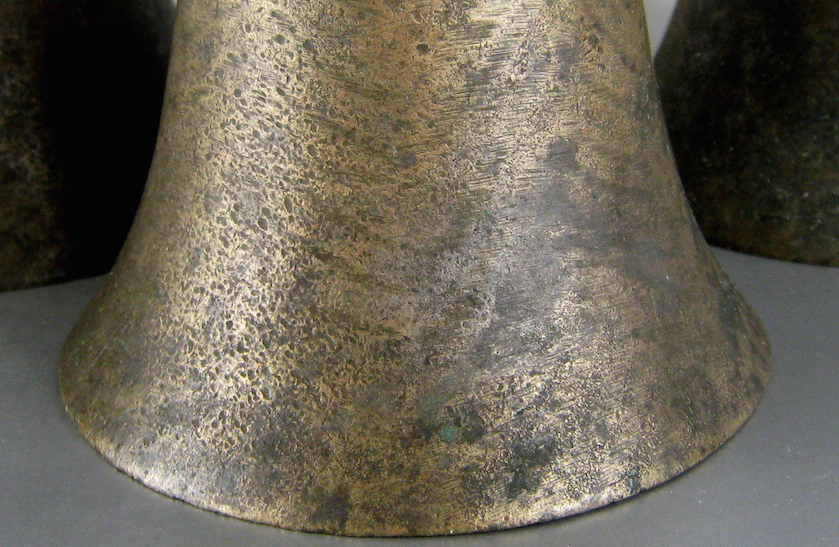 A William Rose Handbell in original condition
They were refurbished about 100 years ago by the Warner foundry (The same firm that cast the Ryburgh School bell and the bell that hangs in the bellcote at Horningtoft) and who also probably attempted to tune them at that time, removing in the process, most of the original filed tuning marks. The bottom line of their comprehensive report is that to refurbish them fully to an "as new" condition (although without altering their historic pitch which is different to the modern standard) would cost nearly £1,900.00. This is quite a lot of money…. however this is only about half the cost of buying an equivalent sized new set! These bells were not necessarily originally intended as a tune playing set, but these have been long used for ringing changes two in hand (i.e. the complete set is rung by just five ringers) which is a very special skill that not many ringers manage to perfect. My first thought was that they could be a set for the tower, followed by my second thought that it was not really something that limited tower funds could finance. I also recalled that there had once been a set in Ryburgh which had over the course of time disappeared. The probable reason for that being there was not the expertise to ensure their regular or continued use after the first flush of interest. They were then lent/borrowed for some simple tune ringing, found to be inadequate for the purpose and are no longer to be found There are also many sets of handbells languishing in damp boxes in towers throughout the county and I didn't want these to suffer the same fate.
In common with all musical instruments, they need to be played regularly or they deteriorate quickly, and these have something of a head start. They are also important enough to warrant keeping that deterioration at bay and so with that gift comes a duty of care.
David Brown, who conducted some of the commemorative peals last year, was keen to be involved in our future peals and he was available for the two peals on consecutive days in July when we remember two of our past villagers. To have two 3 hour peals so close together could possibly be viewed as pushing the boundaries of the goodwill of those in the immediate vicinity, however much it might draw attention to the reality of another lost life. Rather than ring one of the peals elsewhere, I then thought that if one of those peals were to be on handbells, then both the soldiers would have been duly remembered at Ryburgh. David was very keen to do this as he regularly rings handbell peals with a very elite group of ringers. They were also very happy, in spite of the fact that this form of change ringing requires huge amounts of concentration, to have this as a public performance. This has been the catalyst for having the first of a possible three stage refurbishment carried out to the ten bells which will now make their first Ryburgh appearance at midday on Wednesday July 20th this year as we remember William Ainger Howman.
Although there were no conditions attached to the gift I did say to our Canadian friend that if we could not put them to good use here, then I would pass them on to someone else who would appreciate and use them for their intended purpose. I am very pleased to say that we have made a good and very fitting start. There will plenty of notice about this peal nearer the time and if you have never heard the mesmerising music of change ringing on handbells, I would say this is a very definite must for your diary and an experience that you will not quickly forget.
The Warner Bell at Horningtoft before re-hanging.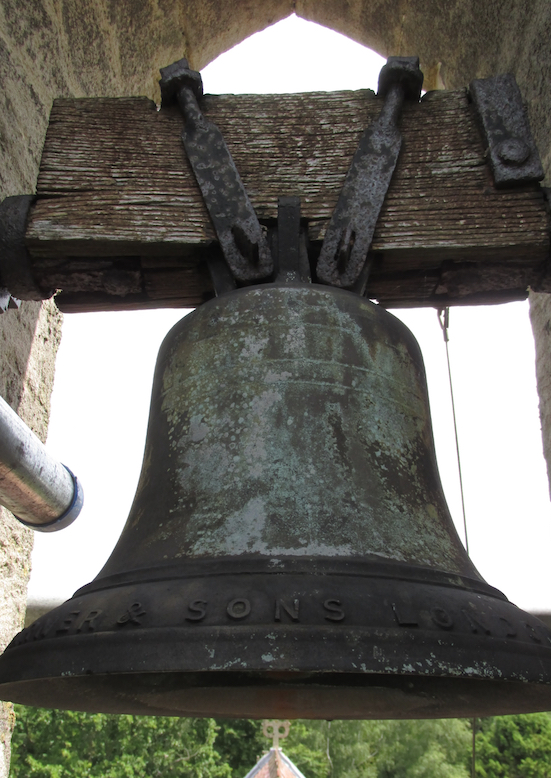 ***********