Ryburgh Remembers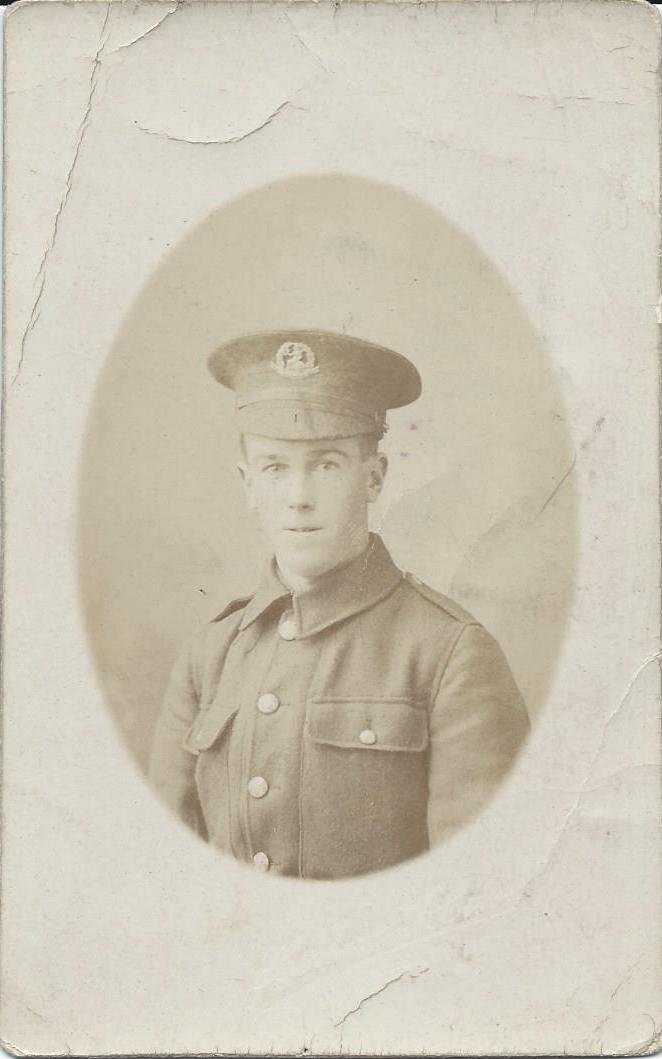 George Frederick Howe.
13th November. 1895 - 22nd November 1970
The Howe family have a long history in Ryburgh. The earliest appearance in the parish registers is on Nov. 18th 1770 with the marriage of John How of Testerton to Mary Hutchinson. By the time of Inclosure in 1810, 3 apportionments of land with dwellings, plots 329,330 and 331 on the map or plan were assigned to "the heirs or devisees of John Howe deceased" together valued at £9-12/-0d on the schedule. The first mid sized plot was "forever hereafter" copyhold from the Manor of Great Ryburgh. The second and largest plot adjacent was later divided by the railway and came into the ownership of Michael Mesney a farmer who had come to Ryburgh from the Channel Islands. The farmhouse later partly housed the Top Shop. The 3rd and smallest plot had cottages, where by 1911, Farmer Barnabas Howe lived with his wife and children at the butcher's shop which had been his father, Richard's business before him.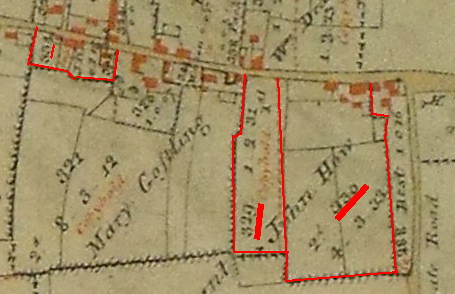 The shop/house property is seen clearly on the 1886 O.S. Map and in the Census of 1911 this property is No 139 on the schedule on the Fakenham Road.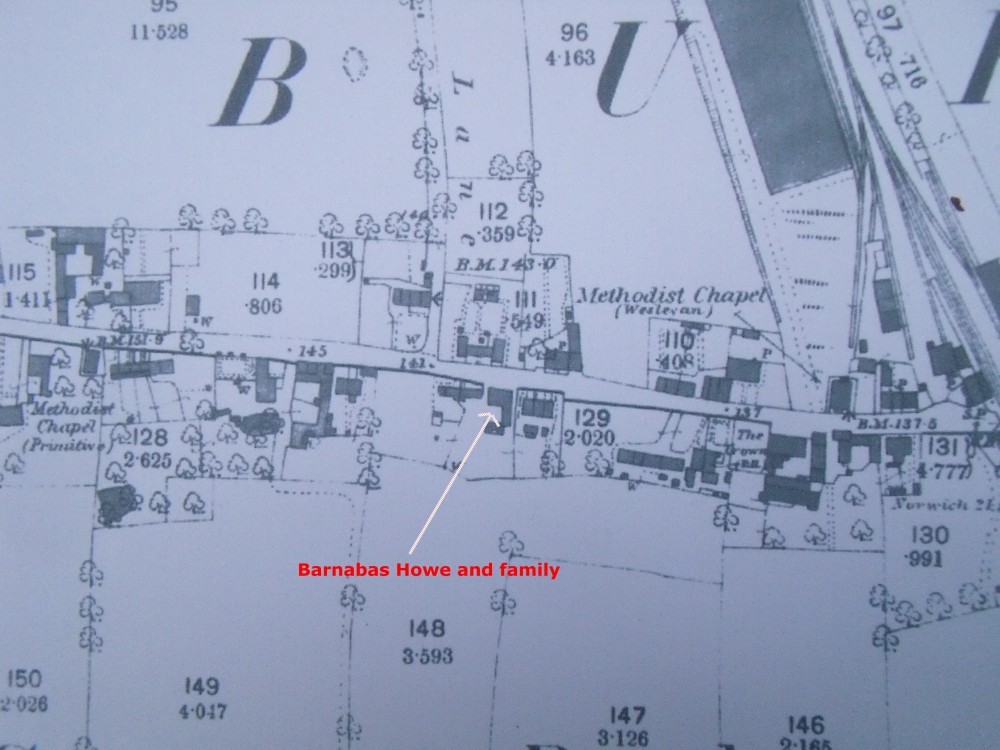 Barney Howe is seen on several photographs at different times during his life and some are reproduced here with the kind permission of the family.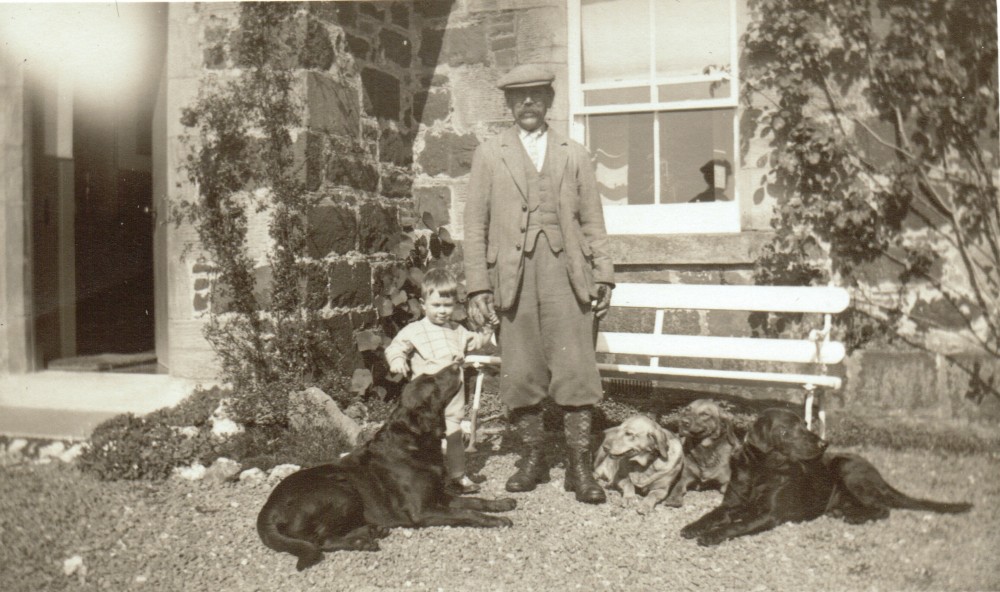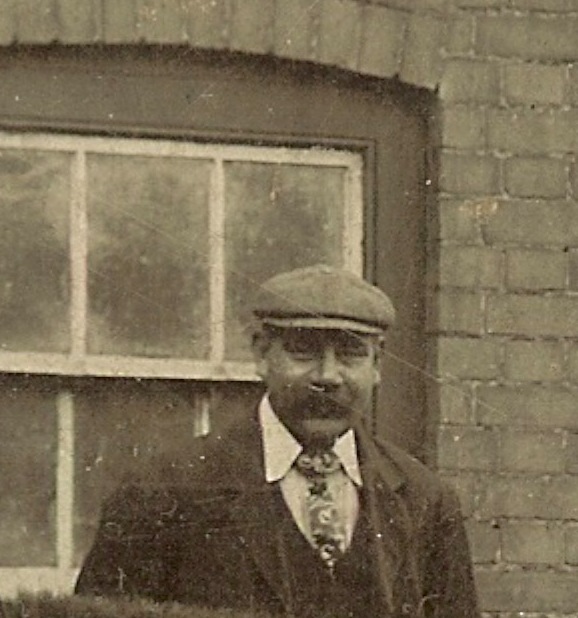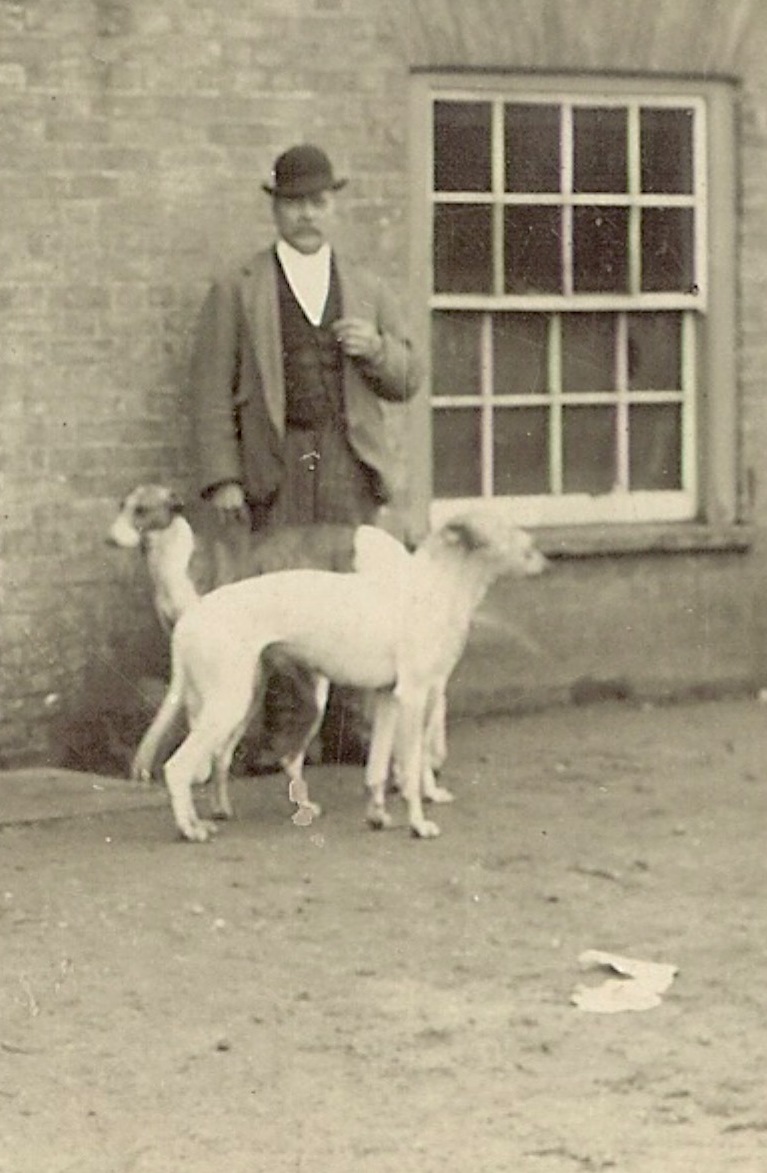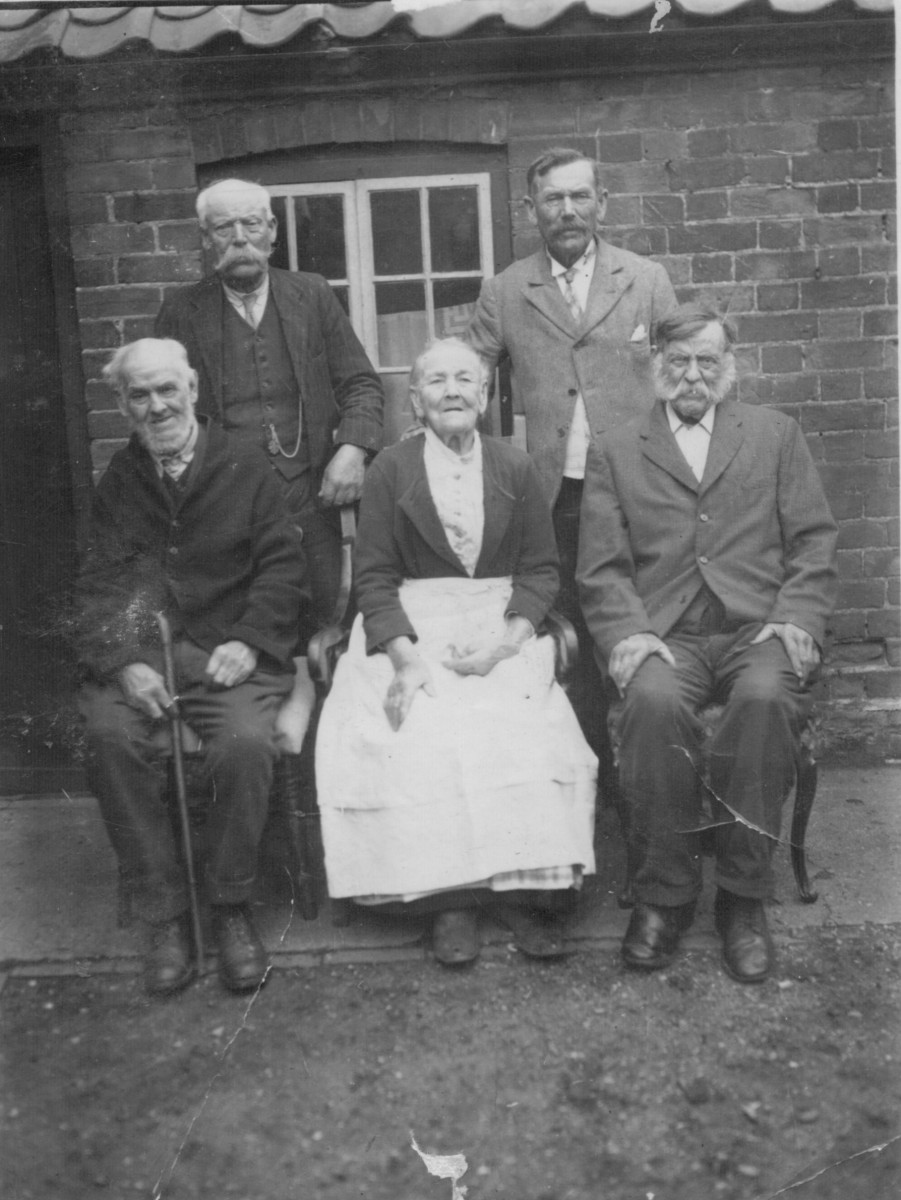 This photograph of Barnabas (back row right) with his brother Samuel (back row left), their mother and her two brothers was taken at the rear of the butchers shop. His mother Mary Ann Howe lived to be 100 and died in 1943.
********************
George Frederick Howe was the 4th of the 11 children born to Barnabas and Martha Ann Howe (nee Martin) born in 1895 and baptised at St. Andrew's by the Revd. Henry Fowler Baker on January 22nd 1896. He attended the village school and is found as No 15 in the new register in November 1900. His entry records that he left to work on the land at the end of July1909. There are no other references to him in the surviving school records .When he enlisted at Dereham on November 9th 1914, he had been working for F.& G. Smith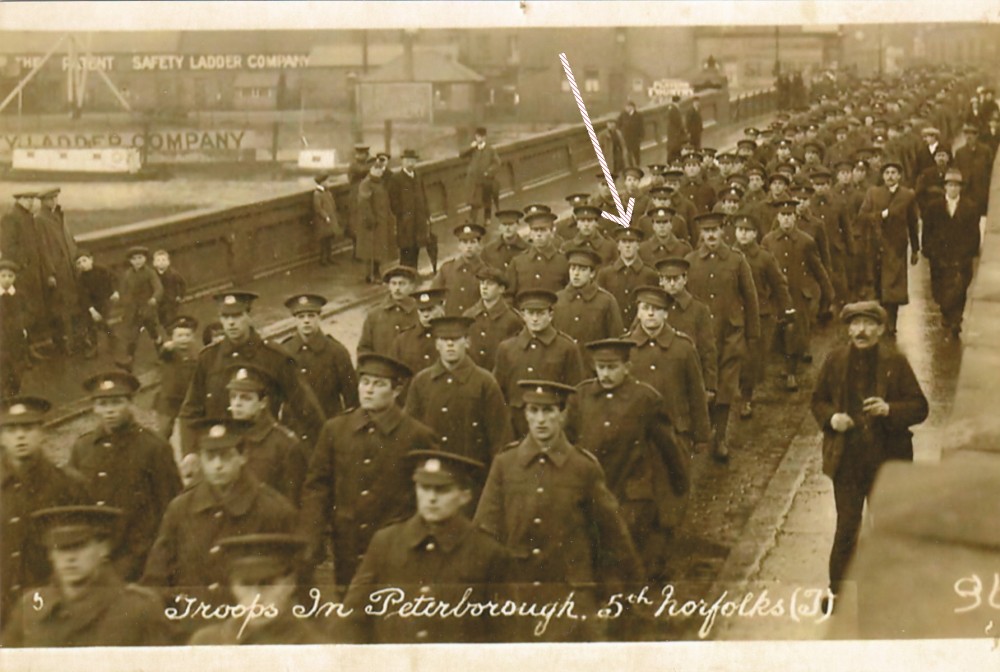 .
The Parish Magazine was published monthly throughout the incumbency of Revd. F. H. Tatham and it is in these pages from the war years that George gets a mention and we can see immediately that although he survived the War, his experience of it was arduous and was to leave a lasting impact.
November 1915
We have good news of most of the boys, but are sorry to hear that George Howe is very ill with Enteric Fever at Malta.
January 1916.
We are glad to hear that George Howe, who has been laid up in a hospital at Malta for so long, is now in England and is in hospital at Bristol.
January 1919.
I think we were all, I am sure, delighted to see and welcome A. Comer, G. Howe, General Curson and Ernest Abbs safely return home after their terrible experiences as Prisoners of War. Thank God they are home and considering all, fairly well. We look forward to welcoming the others shortly.
****************
Armed with this information the search began for George as a Prisoner of War and his International Red Cross record card was soon located online: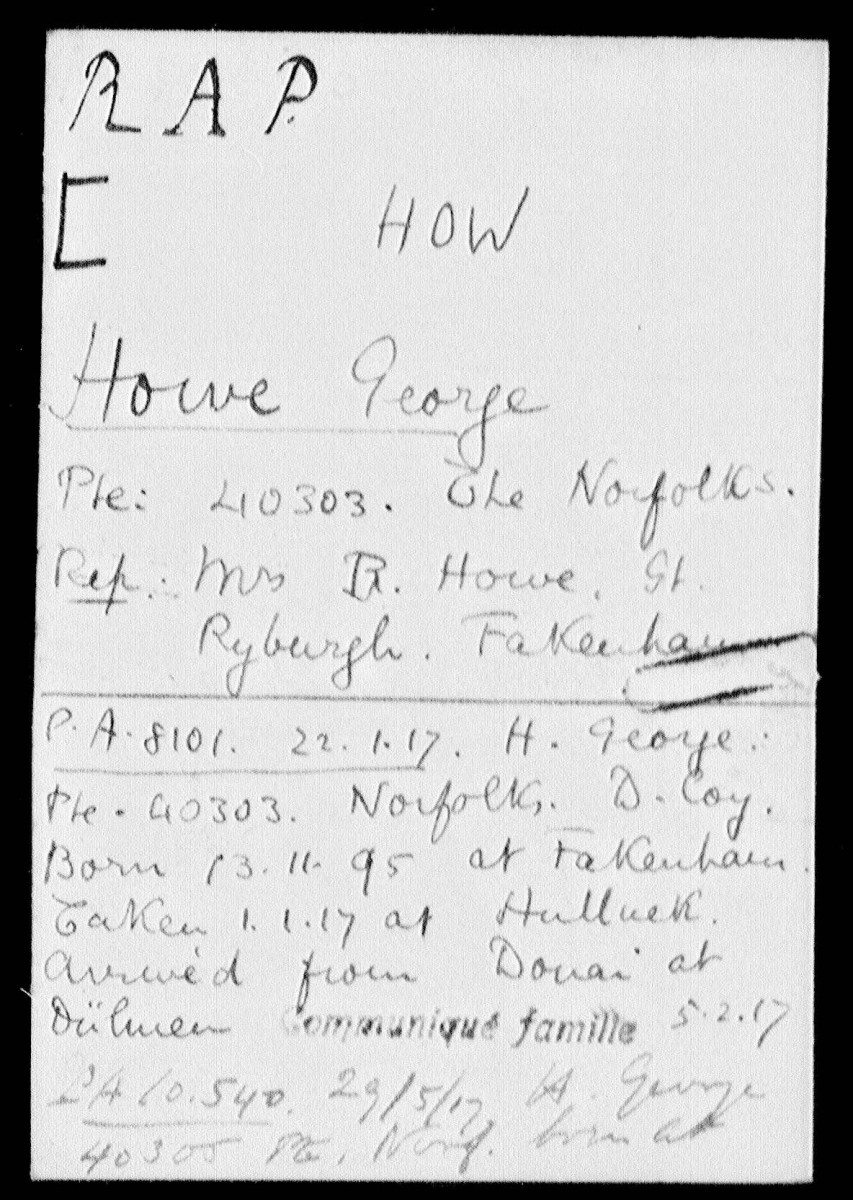 This card proves to be quite informative by confirming that he is the correct George Howe and gives a precise date of birth as 13th November 1895. We now have his army number; Pte. 40303 Norfolk Regiment D Coy, when and where he was taken prisoner; 1st January 1917 at Hulluck part of the 1915 Loos battlefield area on the Western Front, and the camp in which he was held captive; Dülmen in Westphalia Germany arriving from Douai on 5th February 1917.where he remained for the rest of the War.
The Dereham and Fakenham Times reported that he was a prisoner of War on March 24th 1917:

There are trench maps and aerial photos freely available of the battlefield area on the Internet: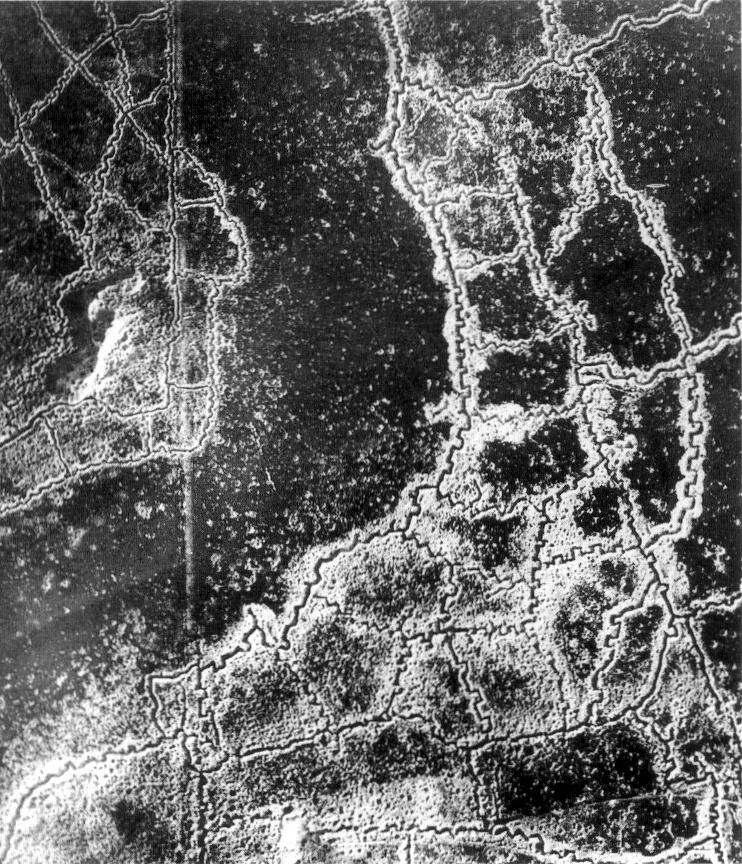 The Australian archives hold a number of views of Dülmen camp which were probably produced for propaganda purposes: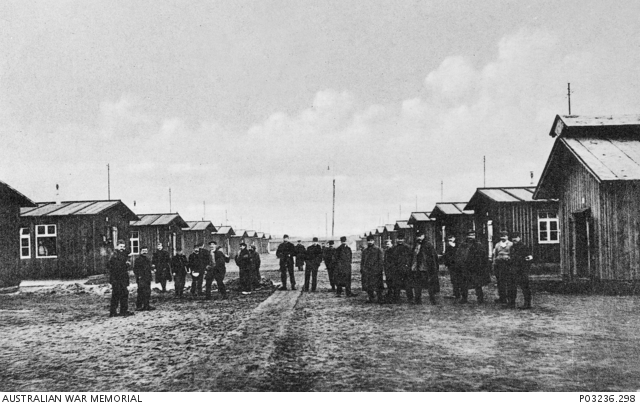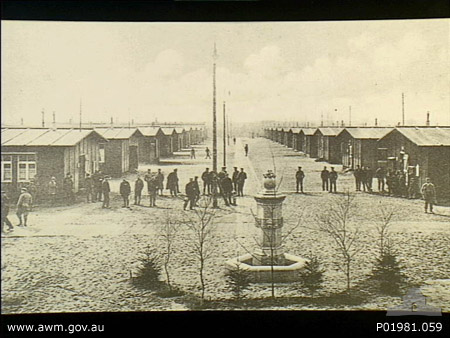 Seeing the above images doesn't quite prepare you for the information revealed in his surviving service record, which on the opening page tells us the following:

Reading through the record we can further understand George's War:
Upon enlistment in Dereham Nov 9th 1914 he joined as Pte 3320 5th Battalion Norfolk regiment training with them until posted to the Mediterranean Expeditionary Force fighting in the Dardanelles , sailing from Liverpool on 29th July 1915 aboard the H.M.Troopship " Aquitania"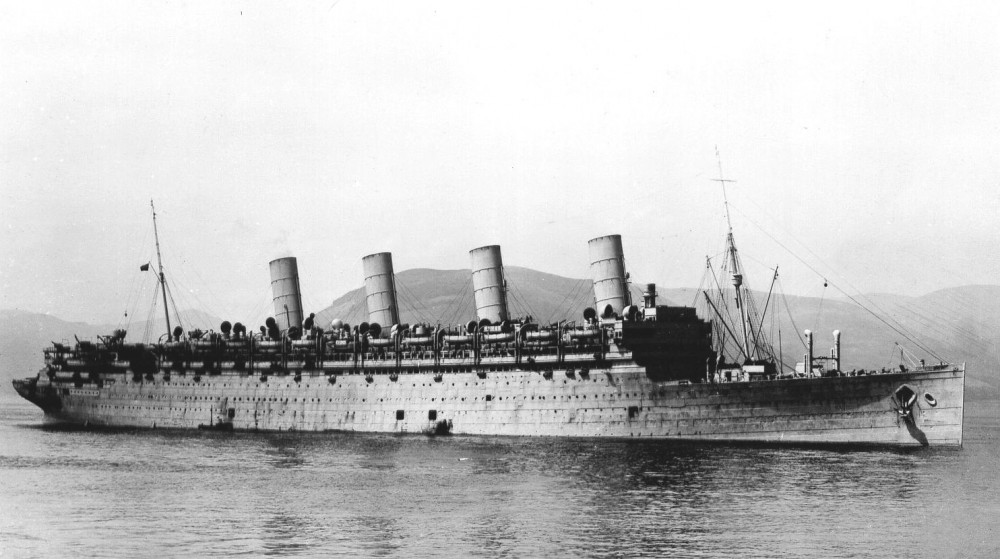 By October 13th suffering from gastro enteritis, he was admitted to the Hospital Ship "Soudan" in Malta.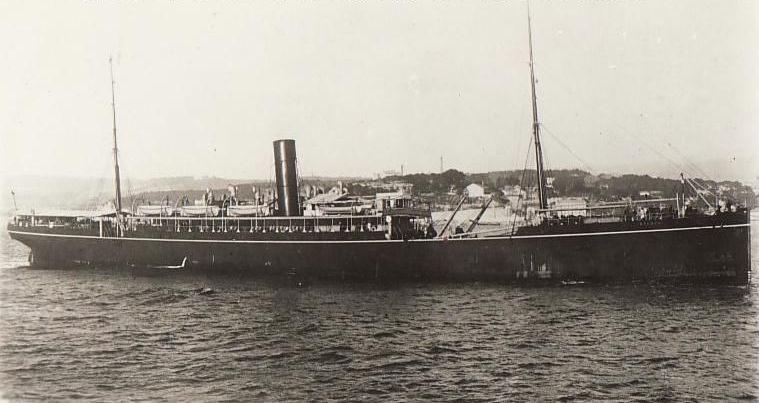 An eyewitness account of the work of the Soudan prior to George's time on board as a patient was printed in the Rochdale Observer on the 11th September 1915
"It was fine to see our ships blazing away at them (the forts). One of our shells set a village behind the forts on fire. The forts were replying, but all their shots were falling short and dropping into the sea. We could see them splashing in the water. One of our shells knocked their lighthouse down, and later in the day two of their forts were silenced. The British guns were of longer range than those of the Turks, which could not reach us. We were lying about two miles from the firing, and could see it quite plainly. After several hours' firing we could scarcely see our ships for the smoke from the guns and the burning village. The ships seemed to have got the range properly and were going at it like fury. We could see the shells bursting over the forts, and it was a wonderful sight.
We were the first British Red Cross ship on the scene and took on board the first batch of Marines after they had got cut up in an attempt to land. There were about 250 of them. After that there was nothing done for practically a month. Next we went to where the first landing of the troops took place and took many of the wounded on board. The simpler cases were treated and transferred to other vessels, and the more serious cases we took on to Malta. We went back to the beach again and did several journeys to Malta. We witnessed the new landing of the Australian and New Zealand forces, and at daybreak we saw them storm the hill and take it. On another occasion we were summoned to another hospital ship, which had taken fire, and transferred her patients to the Soudan. Afterwards we brought a load of wounded to England and landed at Plymouth on July 1st.
After a few days in England we went back and went to the Sulva Bay landing, where we saw the fighting going on. We were within a quarter of a mile of the shore at this place. A Taube flew over us as we lay there and tried three times to drop a bomb on the ship. The bombs dropped anywhere from five to fifteen yards off. We stayed four days at the landing place, and on an average 1,000 wounded men were treated each day. Trawlers brought the men alongside our vessel for treatment, after which they were assisted to the opposite side and placed upon other trawlers to be taken away.
We later proceeded to Alexandria, and we had not been going many hours when, early on the Saturday morning we sighted and passed the Royal Edward, laden with troops. We had passed her about three quarters of an hour when we received a distress signal by wireless from the ship, and we turned about and went full speed to the rescue.
Our ship had never previously done above 14 knots, but we exceeded 16 knots on this occasion, and in an hour's time were on the scene of the wreck. There were seven boats right side up and four wrong side up, and all had men on them. The sea was strewn with wreckage, and men were clinging to all manner of things. We were picking them up for a couple of hours before any other ships appeared on the scene. Then some colliers came alongside, and a French torpedo boat next arrived and picked up a number of survivors. The colliers assisted in the rescue, and transferred a number of men to the Soudan. We had 409 survivors on board. After going to Alexandria we returned to U Beach, and when we had been there five days we got orders to leave for England. We called at Gibraltar for two hours, and then came along home, bringing a boatload of wounded".
Coincidently, this extract describes the events that claimed the life of Ryburgh's Harold Comer, a man undoubtedly known to George.
By the 16th October 1915 he is described as "Dangerously ill" in medical note and it wasn't until November 7th that he was considered "out of danger". One month later he was invalided back to England aboard the H.S. "Nevasa" after a 10 day voyage and spent 23 days over Christmas 1915 in Southmead War Hospital in Bristol with Paratyphoid.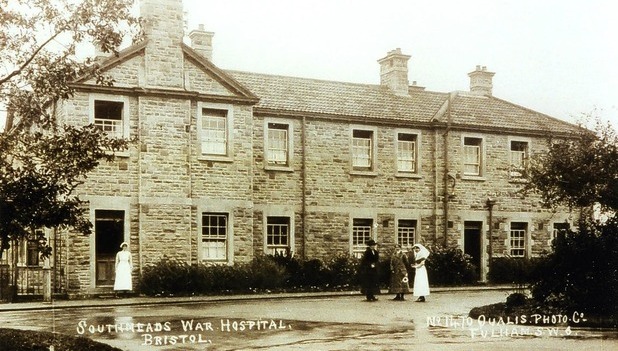 He remained in England posted to the Eastern Command Depot at Shoreham on Sea "doing leg drill, marching and light work".
He was further hospitalized with enteric fever at the end of July and then spent time at Woldingham Camp until September 11th 1916 when he was posted to Etaples. He transferred to the 9th Btn. Norfolk Regiment with the new number, 40303 on 25th of that month. Two days later he joined the Battalion and settled down to life in the trenches on the Western Front. Just over 3 months later on January 2nd 1917 he was reported missing and as we know from above, he had been captured by the Germans on the previous day. He was repatriated on November 22nd 1918 and finally de-mobbed on March 9th 1919.
********************
The date of this photo with George marked is unknown but quite possibly taken during his convalescence in 1916:
This further photograph is taken in a less identifiable context. Could this have been taken at Dülmen? George is marked on the far right: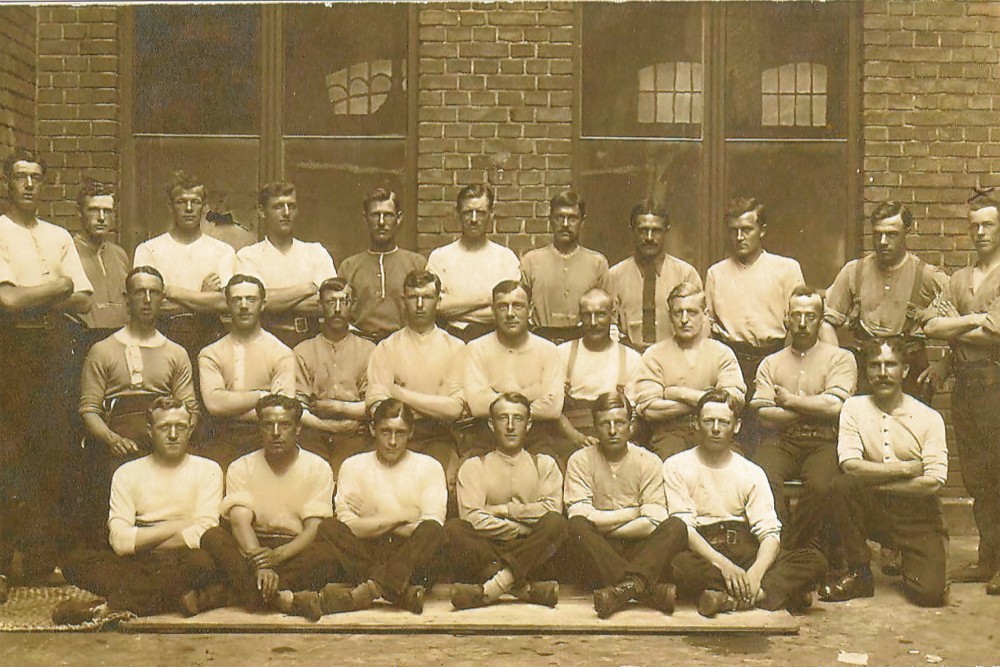 ***************
George went to work for the Post Office when he left the Army and on June 7th 1919 he was married at St Andrew's Parish Church Paddington to Ellen Maud Cox of Amersham.

His Medical Board was held at Aylesbury on April 18th 1920 where he was assessed as 20% disabled with Neurasthenia, attributable to the War and with his disability not in a "final stationary condition" with the "present degree lasting 12 months."
This is the last record that has been located so far and George left this board in the condition as written in his Board notes:
"He complains of nerves breaking down every 3 or 4 weeks when he gets sleepless, trembling legs giving way, lasting 2 or 3 hours and unfit for work for a day or two: In intervals he is fairly well. He gets palpitations and headaches.
We find slight tremor of hands and fingers - tongue most dyspeptic looking - pulse good. Pupils dilated react well- no Romberg -Knee jerks slightly + Body fairly well nourished. Heart and Lungs normal."
He was awarded the 1915 Star, British War and Victory Medals and a Silver War Badge for his contribution to the War effort and with that, it was out into the world, aged 23 to pick up the pieces of his life.
He returned from Amersham to live in the village in 1931. By now George and Ellen had two children. Eleven year old Thelma and six year old Stanley were enrolled on the school register as Nos 920 and 921 respectively on July 13th that year. They lived but a stone's throw from where he had been born on the other side of the road in the end cottage on to Common Lane in the picture below: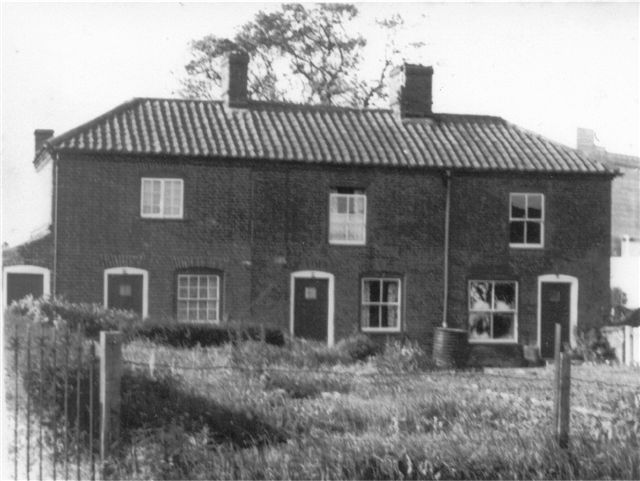 *********************
Our thanks are due to June Clarke, Carolyn Wadley and the late David Howe
for their kind help in preparing this brief history
copyright 2014