Ryburgh Remembers
Pte. 11342 Henry Charles Moy M.M.
11th (Service) Btn. and 2/4th.(T.F.) Btn.
Hampshire Regiment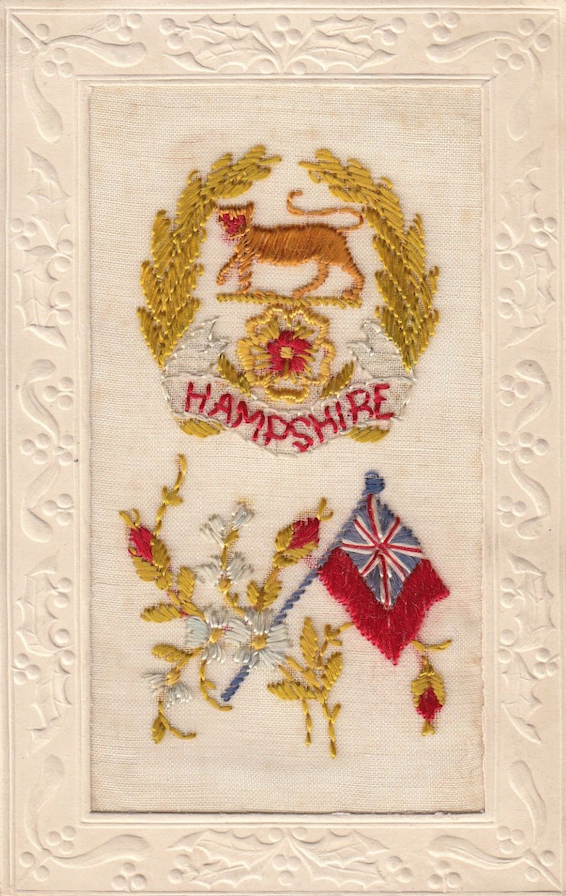 November 5th.1892 -August 26th. 1918
There were Moys in Ryburgh, certainly as far back as the C18th and probably before that. Henry Charles' grandparents, Robert Moy and Susanna Creed were the last of those "stay-put' generations. They appear to have lived in the same spot near to Richardson's shop (Later Starks) and the Boar from the time of the 1851 Census until the 1901 and is most likely the place where Henry Charles Moy was born in 1892.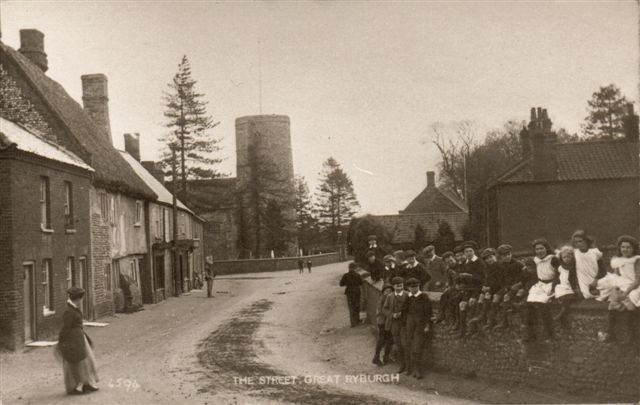 Robert died in 1904 and was buried at St Andrew's though the register says he was living in North Elmham at the time. Susanna had died in 1898. It would seem that they had 5 children, Elizabeth b.1849, Charles 1851, Robert 1854, John James 1856 and William, 1861, all of whom left the immediate area, before or after their marriages.
William, who was Charles Henry's father, was working as a footman at Necton Hall in 1881 and in 1891 was boarding in Deptford where he was working as a gas fitter's assistant. In 1901, we find William (now a traction engine driver) with wife Harriett Payne, living in Thetford with 4 of their eventual 6 children, of whom Henry Charles was the eldest.
It has not been possible to locate the date of their marriage in the 1890's, but circumstantially, after Harriet's father died 1924, a marriage between a William Moy and a Harriett Payne took place in Portsmouth in the 2nd Quarter of 1926. Had the couple kept the secret that they had never married hitherto to avoid bringing disgrace to her family? Was Henry Charles' birth in Ryburgh because Harriett could not return to her parents home unmarried? Pure speculation but not an entirely unprecedented situation! Henry Charles was nevertheless baptised at St John's King's Lynn on September 2nd 1896 when the family were living in Union Street and William is described as a "Labourer"
By 1911 the family had moved to Duddleswell on the edge of the Ashdown Forest in East Sussex. William was now an electrician but Henry Charles had left home and was boarding with his cousin Charles in Ramsey in Cambridgeshire and labouring in the cement yard where his cousin worked as a fitter and turner.
After this we have very little information save that at the time of his enlistment in Canning Town his residence is stated as being Chichester. He joined the 11th (Service) Battalion Hampshire Regiment and first saw service in France on Dec 19th 1915 as noted on his Medal Index Card.
He was treated for 9 days for a sprained right ankle at the end of May 1916 at the No 4 Stationary Hospital at Arques, rejoining his battalion on June 6th.
The medical record says at that point he had recorded 1 year 9 months service, indicating that he joined up at or very soon after the 11th Battalion was formed in September 1914 at Winchester as part of the Second New Army. They were in Ireland for 6 months before returning to England, finally mobilising for war on 18th Dec 1915.
They fought on the Somme at the Battles of Guillemont and Ginchy in September 1916 and it is likely that it was during this period that Henry Charles Moy was awarded the Military Medal, his name appearing in the Supplement to the London Gazette for November 16th. 1916
By the beginning of May 1918 the Battalion had become so depleted that it was reduced to a training cadre due to these heavy losses. It was probably at this point that Pioneer Henry Charles Moy transferred to the 2/4th Battalion Territorial Force of the Hampshire Regiment as Private Henry Charles Moy. This unit had also been formed in September 1914 and had seen service in Pakistan in 1915 and Egypt in 1917 before arriving in France in May 1918, joining the 186th brigade of the 62nd Division and engaging in various actions on the Western Front, including
 The Battle of the Scarpe which claimed Henry Charles life.
The 2/4th Btn. War Diary details the events and the orders given to direct the action.
The following comes from the orders for the 26th August attached to the War Diary:
1. The Battalion will Attack the Trench line -B.29. & H.6 on the morning
of 26th August 1918.
2. Forming up line will be in Sunken Road H.4.a.2.o to B 28.c.2.6.
3. Battn. Will attack on a two Coy. Front.
Right Forward Coy. D.
Left " " B.
Right Rear " C.
Left " " A.
The idea was that the Forward Coys, D&B reach the first objective and the Rear Coys, C&A would capture the second objective "leapfrogging through D&B Coys"


Order No 8 reads:
Barrage will commence 400 yards in front of forming up position where it will rest for 10 minutes. It will advance by 100 yards lifts every 3 minutes. Halt of 10 minutes will be made at first objective. It will proceed to final objective in two lifts resting 11 minutes after 1st lift. After 2nd lift a protective barrage will be raised. Trench on Left Coy will be dealt with specially.
The WarDiary reads:
25 Aug 1918:
Arriving in position atabout 2am. Near ACHET LE.GRAND with Headquarters on the Railway. Orders received to proceed to G.6. b.88 for attack on Trench Line in B.29 and H.6.
26 Aug 1918:
The assembly point was reached with great difficulty owing to rain and darkness and no guides being provided.
The attack starting at 6a.m. was successfully carried out. 1st objective was gained without difficulty, except for enemy barrage which was fairly heavy. Considerable difficulty was experienced in getting the final objective owing to heavy M.G. fire from the road and high ground immediately beyond the final objective. This was especially so on the left, but Captain Cave handled his Coy with considerable skill and by 9a.m. all objectives were gained and the Bn reorganised …………………
…...Total Casualties for the day:
Killed: 1 Officers. 9 O.Rs.
Wounded: 1 Off 39 O.Rs.
Missing 7 O.Rs.
Henry Charles Moy was buried in the Mory Abbey British Cemetery Plot 5 Row A Grave 16. His headstone No 492 bears the additional inscription, FAITHFUL UNTO DEATH, paid at a cost to his parents of 4/-11d. To date, we have been unable to trace him on any War Memorial and it is for that reason back in 2014 that we "created" some new artwork for a panel to be placed on the gallery in St Andrew's: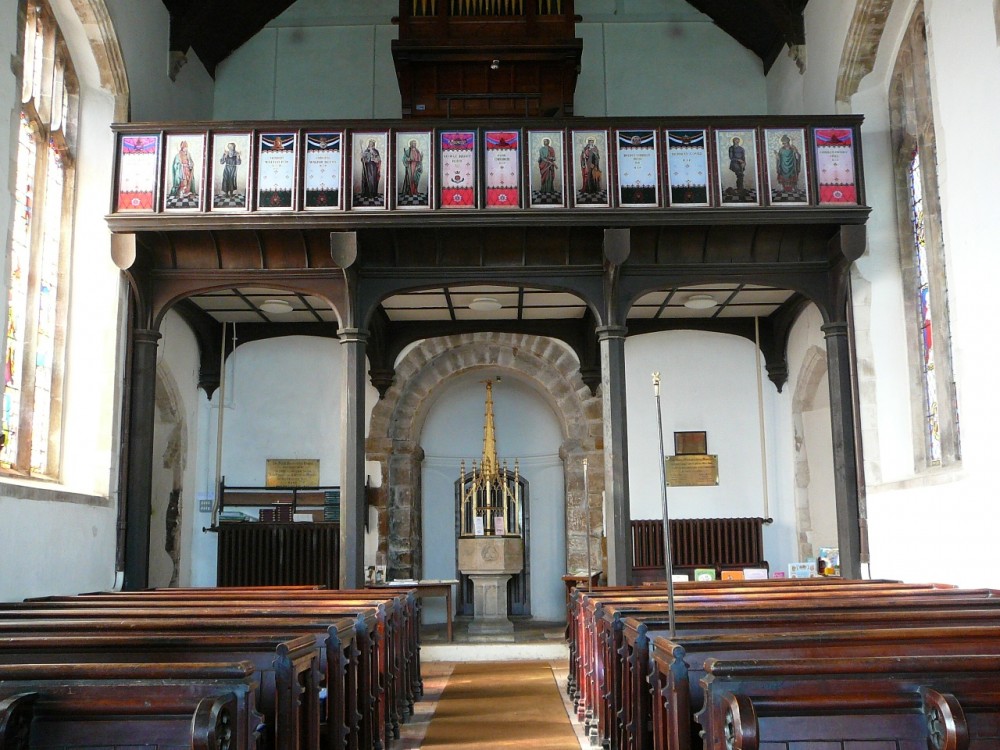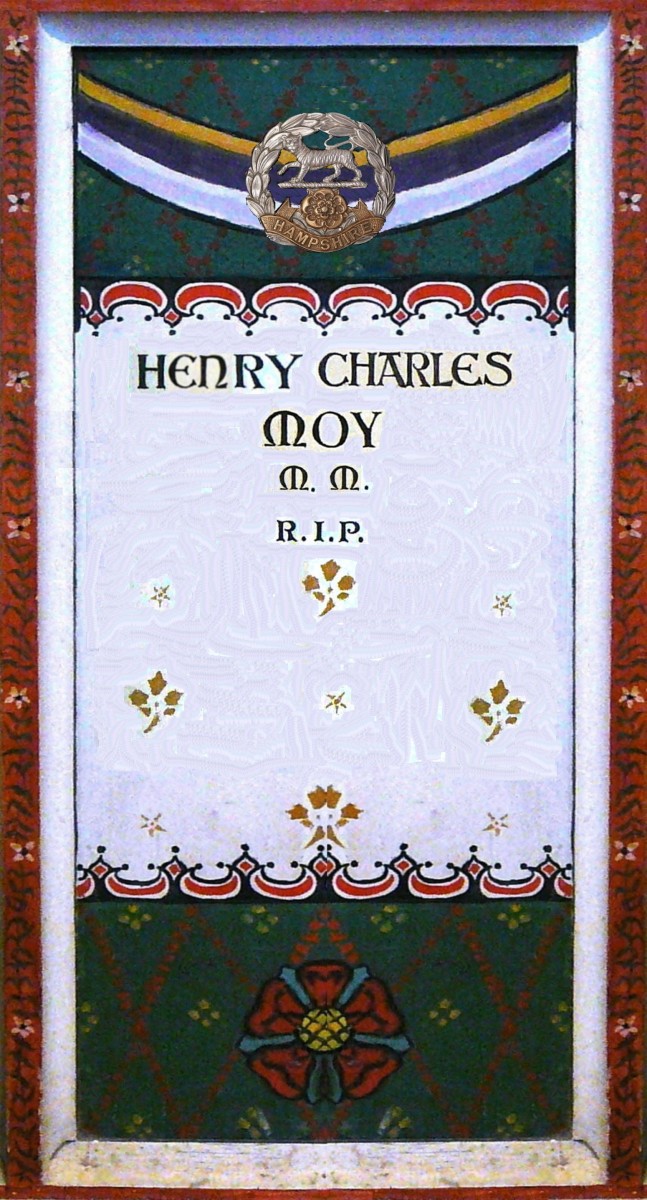 With thanks to Daniel Tidbal, Henry Charles' 5th Cousin for extra information regarding baptism and date of birth