From 1917 Norwich Mercury "Tea Table Talk" for Ladies Column
As an alternative to serving bacon for breakfast:
Fry chopped tomato and an onion.

Add seasoning and a lightly beaten egg.

Stir until thickened.

Spread on toast.

Serve hot.
One egg will serve two or three people.
One dish WW1 Stew (Open Churches Week and 1st November 2014)
Prepare a stew with slow cook beef, onions, carrots, celery, seasonings and stock. Add sliced salad potatoes (uncooked) in their skins 30 minutes before the end of the cooking and frozen peas 10 minutes before the end of the cooking. Serve in mess tins (takeway tins) and eat with a spoon, WW1 style.
(WW1 cooks were advised to serve potatoes unpeeled to gain the maximum food value from the vegetable.)
Chocolate Blancmange (Open Churches Week and 1st November 2014)
2 oz. cornflour
2 oz. cocoa powder
4 oz. caster sugar
1 pint milk
Sieve the dry ingredients.
Mix to a paste with a small quantity of mik.
Whisk in the remainder of the milk, taking care to avoid lumps.
Stir over a medium heat until the mixture is thick and glossy.
Pour into individual serving dishes and allow to cool before serving.
Trench cake ( 1st November 2014 and Remembrance Sunday)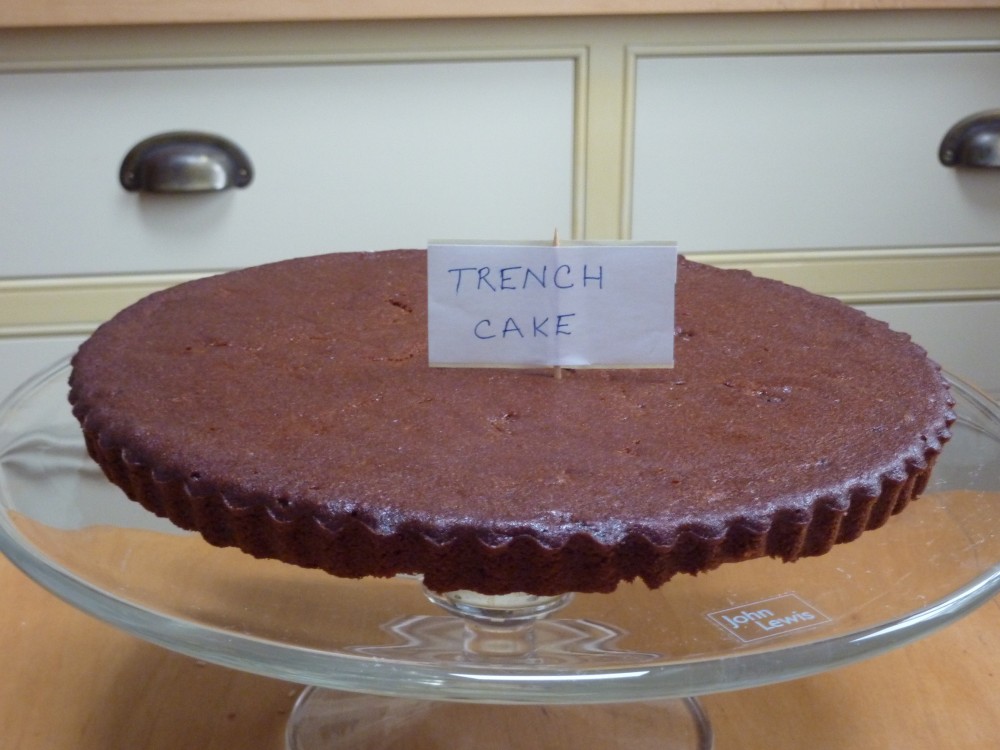 4 oz. butter
8 oz. plain flour
4 tsp. cocoa
3 oz. dark brown sugar
3 oz. raisins
1/2 tsp bicarbonate of soda
1/2 pint milk
1 tsp. cider/wine vinegar
1/2 tsp. vanilla extract
Rub in flour and butter.
Add dry ingredients.
Mix together the liquids and the bicarbonate of soda.
Stir into the mixture.
Pour into a greased cake tin ( 8"-10" depending on desired thickness) and bake for approx. 40 minutes in a moderate oven (fan 150).
These cakes were sent to the troops in France ( 3 days by post to France and 10 days to the front line.)
Anzac Biscuits ( 1st November 2014 and Christmas Market 2014)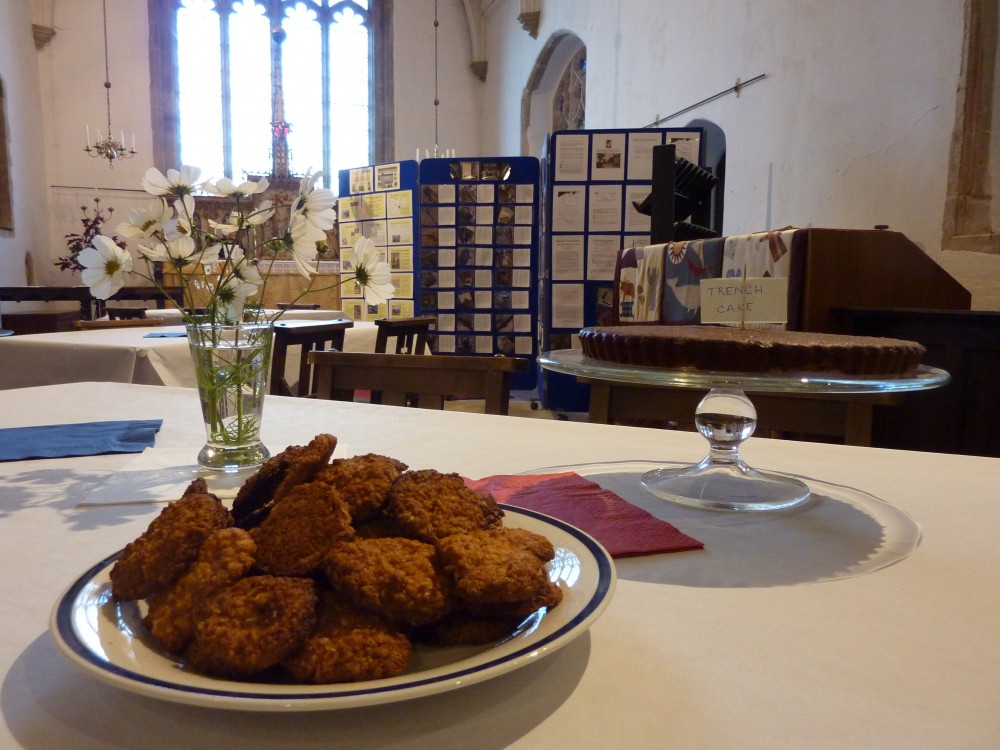 4 oz. butter
1 tablespoon golden syrup
1 level tsp bicarbonate of soda
2 tbsp water
3 oz. plain flour
8 oz. sugar
3 oz. dessicated coconut
4 oz. oats
1 oz. chopped walnuts
pinch of salt
Melt the butter and sugar.
Add the bicarb dissolved in water.
Add all the other ingredients and mix.
Put in small spoonfuls on a greased baking sheet. Allow space to spread.
Bake for 15-20 minutes at 180 C (fan 160).
These biscuits were reputedly sent to the Australian troops in Gallipoli by their families.
Cornmeal shortbread ( 24th and 30th May 2015)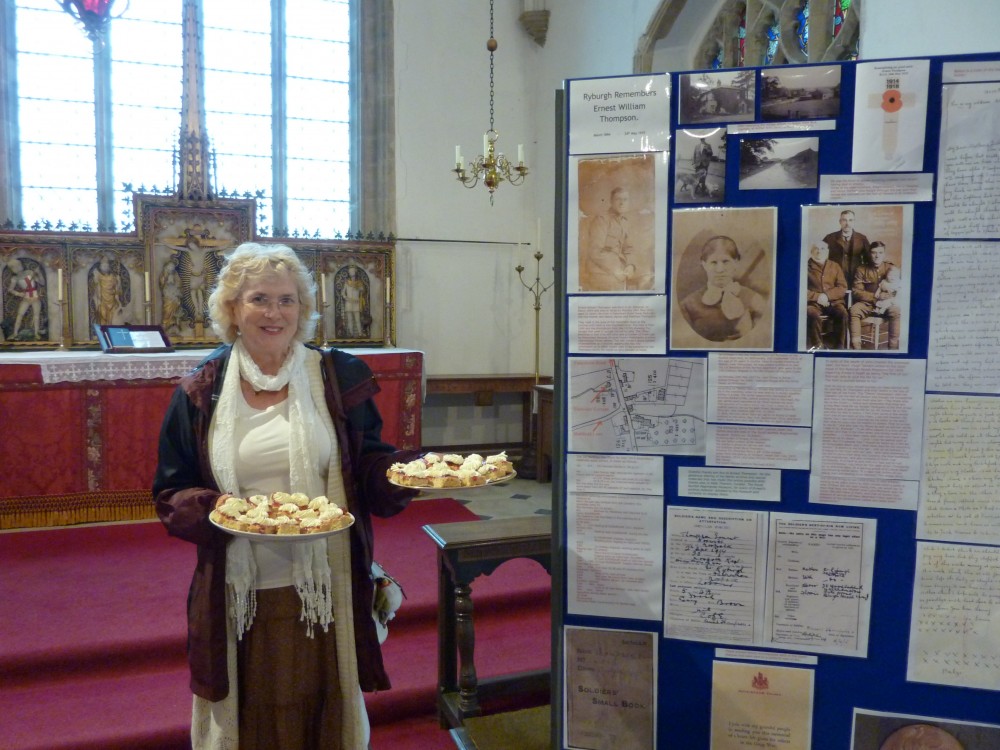 ¾ cup white cornmeal
1 ¾ cups flour
1 tsp salt
4 tsp baking powder
2 tbsp sugar
2 tbsp fat
¾ cup cold milk
½ cup cream (whipped)
strawberries
Sift dry ingredients and rub in fat.
Add milk slowly.
Roll out dough to 1 inch thick.
Brush top with milk.
Bake in hot oven 20 – 25 mins.
Split open and spread with crushed strawberries and cream.
Gingerbread sponge ( 24th and 30th May 2015)
8 oz. golden syrup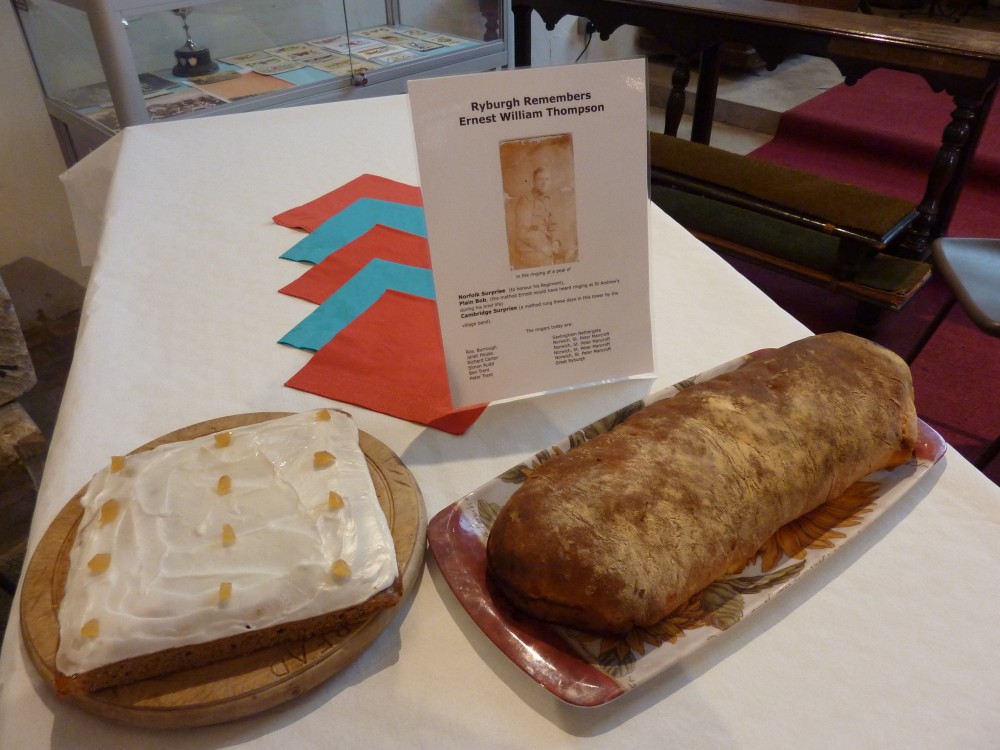 10 oz. flour
2 oz. brown sugar
2 oz. butter
1/2 oz. ground ginger
2 small eggs
2 tbsp. milk
1/2 tsp. bicarbonate of soda
Sift the flour and mix with the sugar and ginger.

Heat the milk, syrup and butter in a saucepan until the butter has melted.

Add the flour.

Dissolve the bicarb. in a little milk and add to the mixture together with the beaten eggs.

Pour into a shallow tin lined with greaseproof paper.

Bake in a slow oven 30 – 40 mins.
In the photograph above it has been iced with lemon water icing.
Apple Roll (24th and 30th May 2015)
Ernest Thompson ( Ryburgh soldier who fell on 24.5.15) wrote home: "Thank you so much for the apple roll and the cake".
What was an apple roll? Was it apple wrapped in suet pastry or was it a bread dough? The apple roll served at St. Andrew's in May 2015 was made with an enriched bread dough rolled up like a Swiss roll and filled with grated apple, ground almond, brown sugar and caramel sauce. Pictured with caramel sauce and creme fraiche for the modern day palate!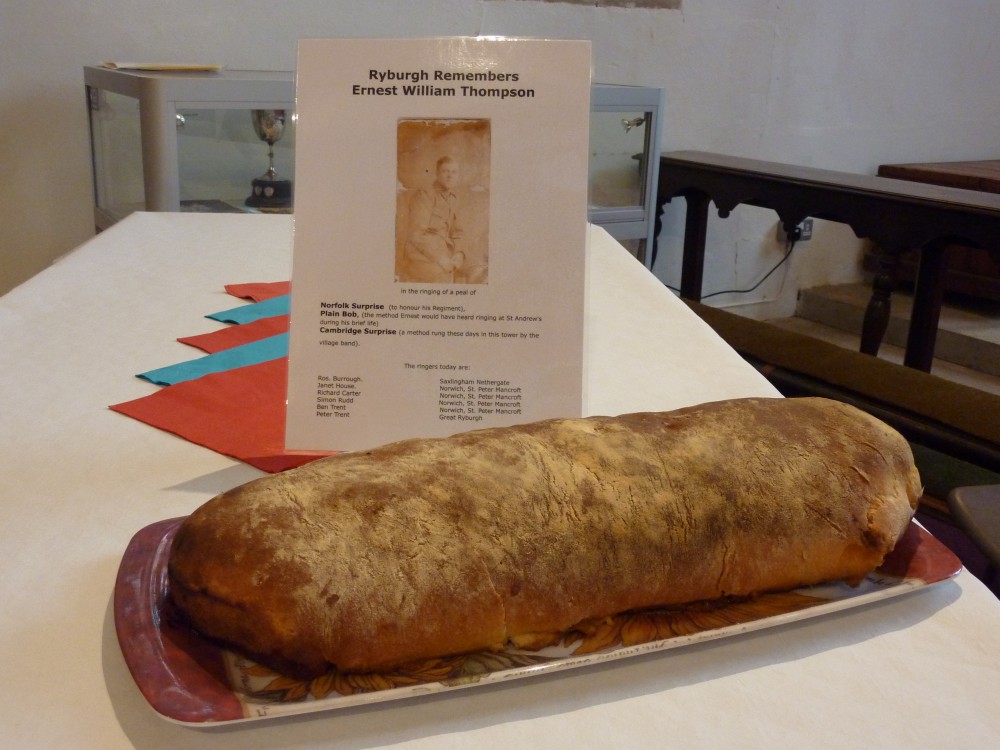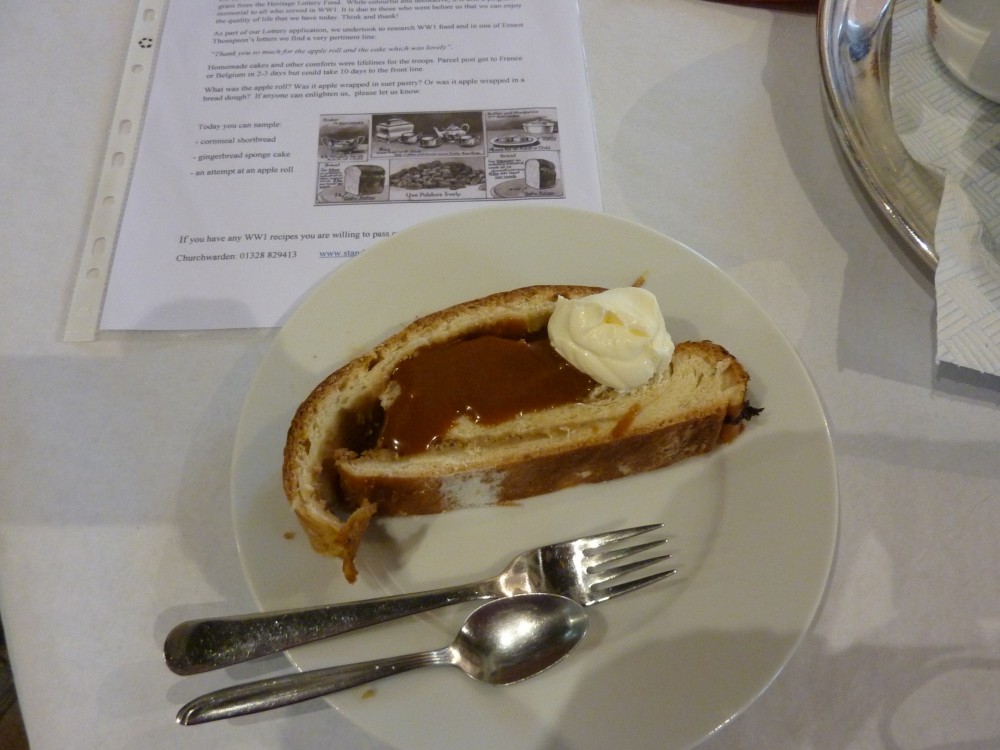 WARTIME RAISIN CAKE (Austerity cake) 8th and 13th August 2015
225g (1 cup) Light Brown Sugar
11 fluid oz (1 + 1/4 cup) of water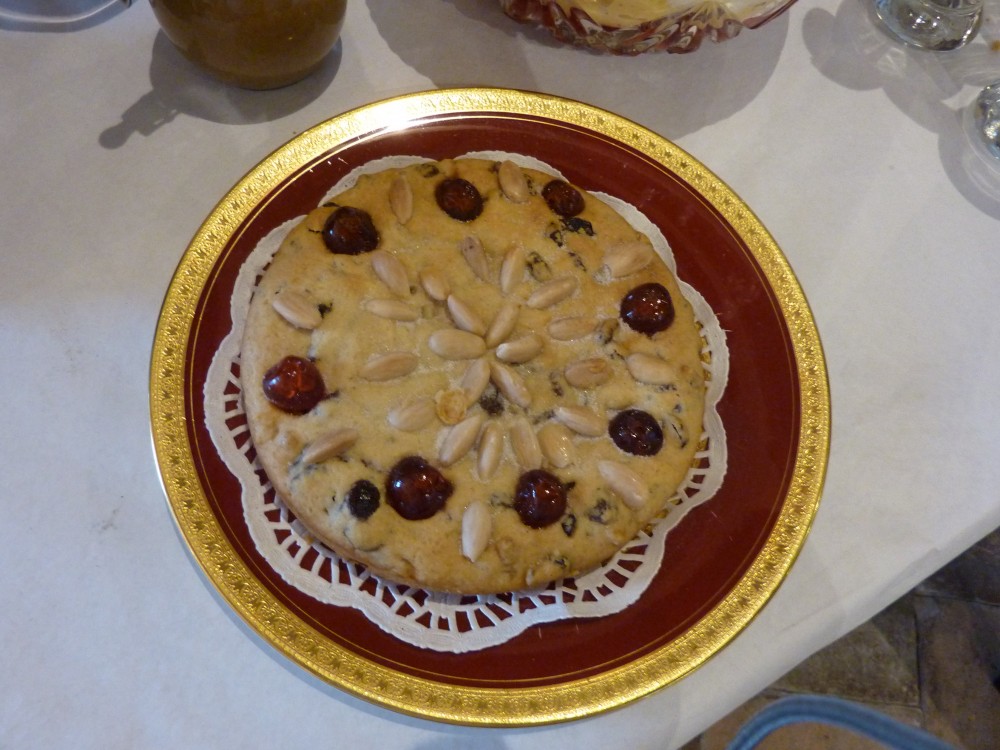 80g (1/3 cup) Vegetable Shortening (Trex) or Margarine.
360g (2 cups) Raisins
2 tsp Mixed Spice
1 tsp Salt
1 tsp Bicarbonate of Soda
1 tsp Baking Powder
300g (2 cups) Plain Flour
First of all place water, sugar, shortening or margarine and spices in a pan large enough to hold all of the cake ingredients, bring to the boil and keep boiling for three minutes, then leave to cool. Serve with a sauce made by heating some golden syrup with butter and adding some ground cinnamon.
Economy Cake ( 5th and 8th November 2015)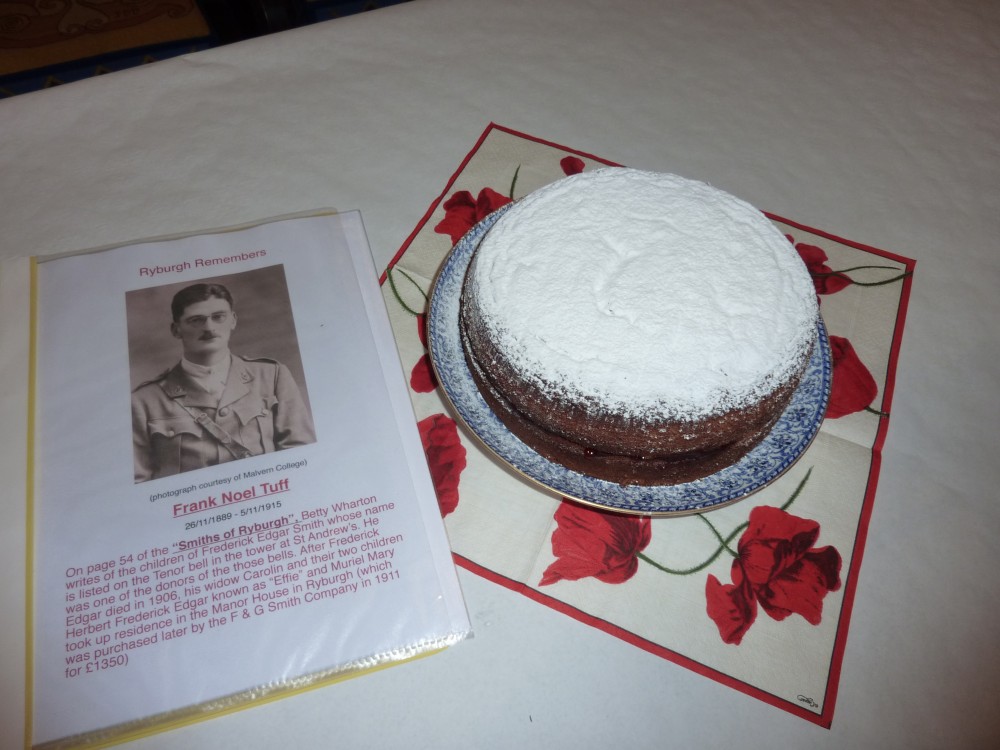 5 tbsp. of self-raisng flour
1 good tsp. of baking powder
1 pinch salt
3tbsp caster sugar
4 oz, butter or margarine
a little milk
1 well beaten egg.
Fill with raspberry jam
Mix all ingredients together.

Spread on two sandwich tins.

Bake in a quick oven 180F 160 (fan) for 25 - 30 minutes.

Sandwich with raspberry jam.