We all know where the Village Shop is today, but what about shops in the past? Do the Inclosure details found in our archives tell us where they were?
Claimant No 81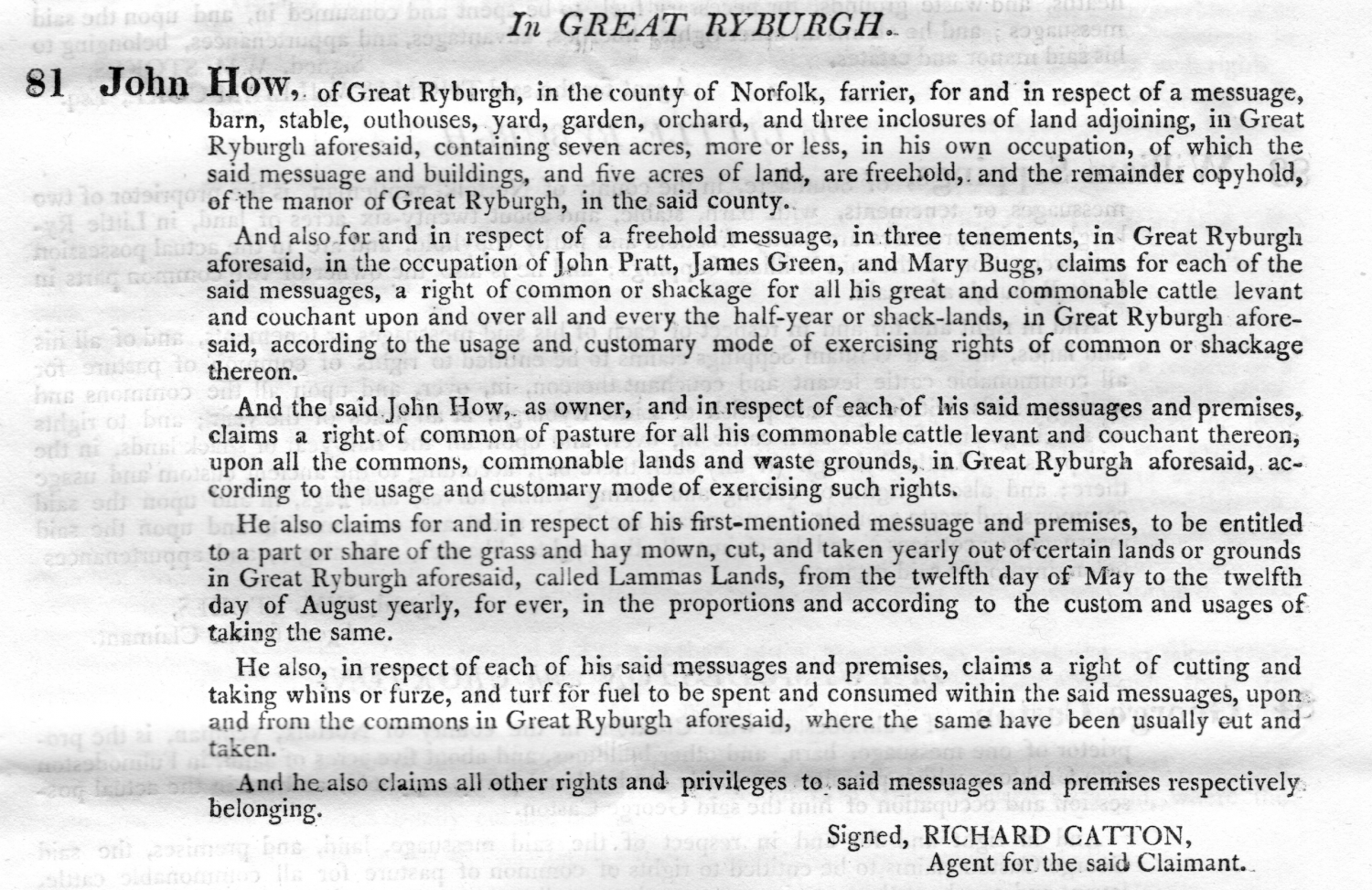 The parish map identifies two very distinct plots of land, the largest of which consisted of 2 adjacent awards nos.329 and 330. This property was divided into two at the coming of the railway, meaning that it is half on the South side of Fakenham Road and half on the South side of Station Road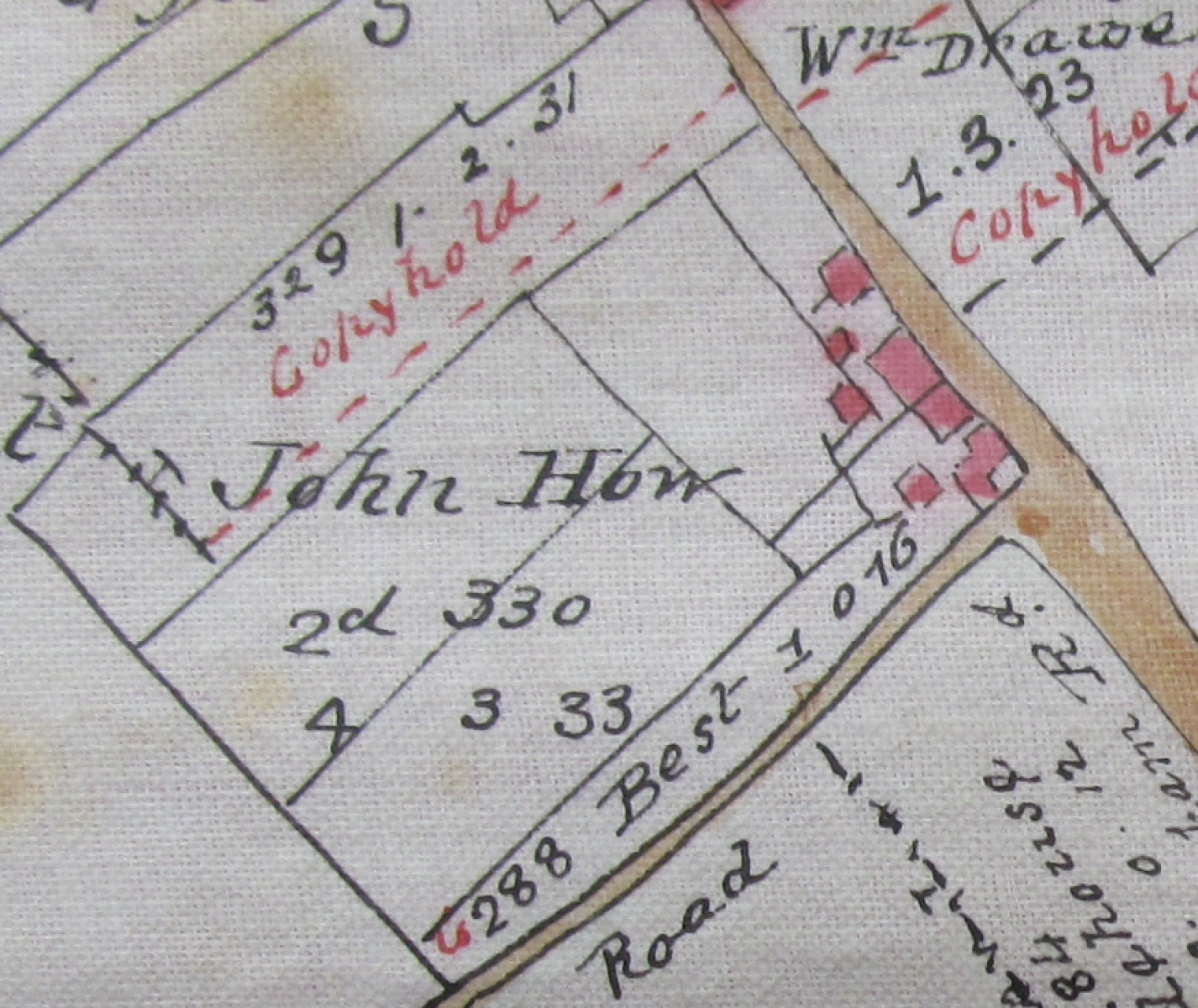 The property is shown on a slightly later map made sometime between1823-1847 that has a connection with the property having been found and retained by future C20th owner. It shows the property had changed owners since Inclosure but the railway had not at that time arrived. Its route is however drawn onto the map in a later hand: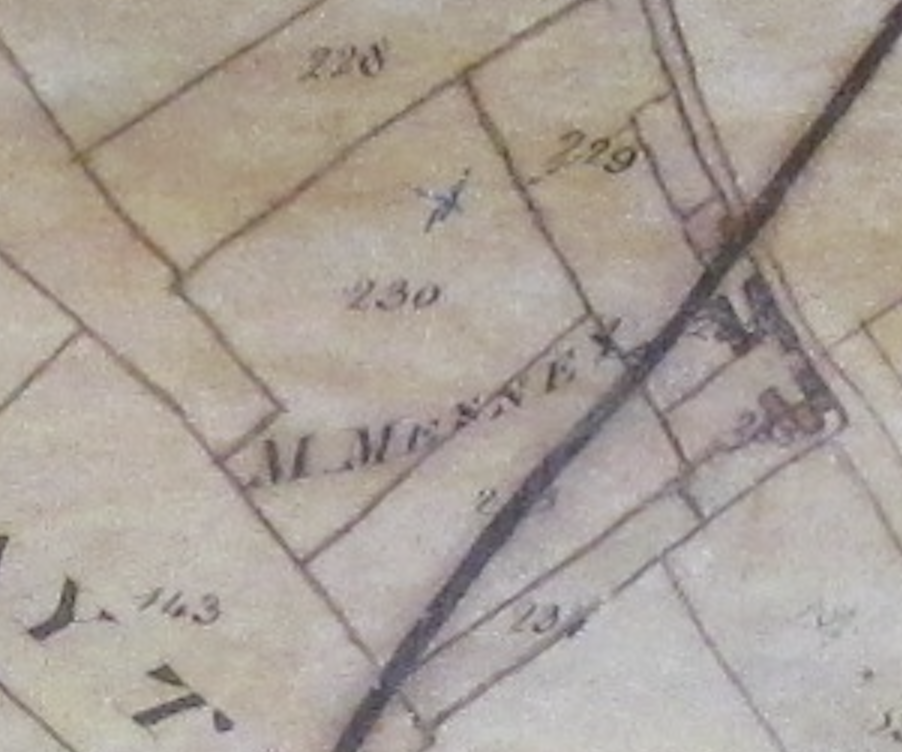 The second much smaller plot with a cottage divided into 3 dwellings was given the number 331 on the map below. This building still survives today as a single dwelling.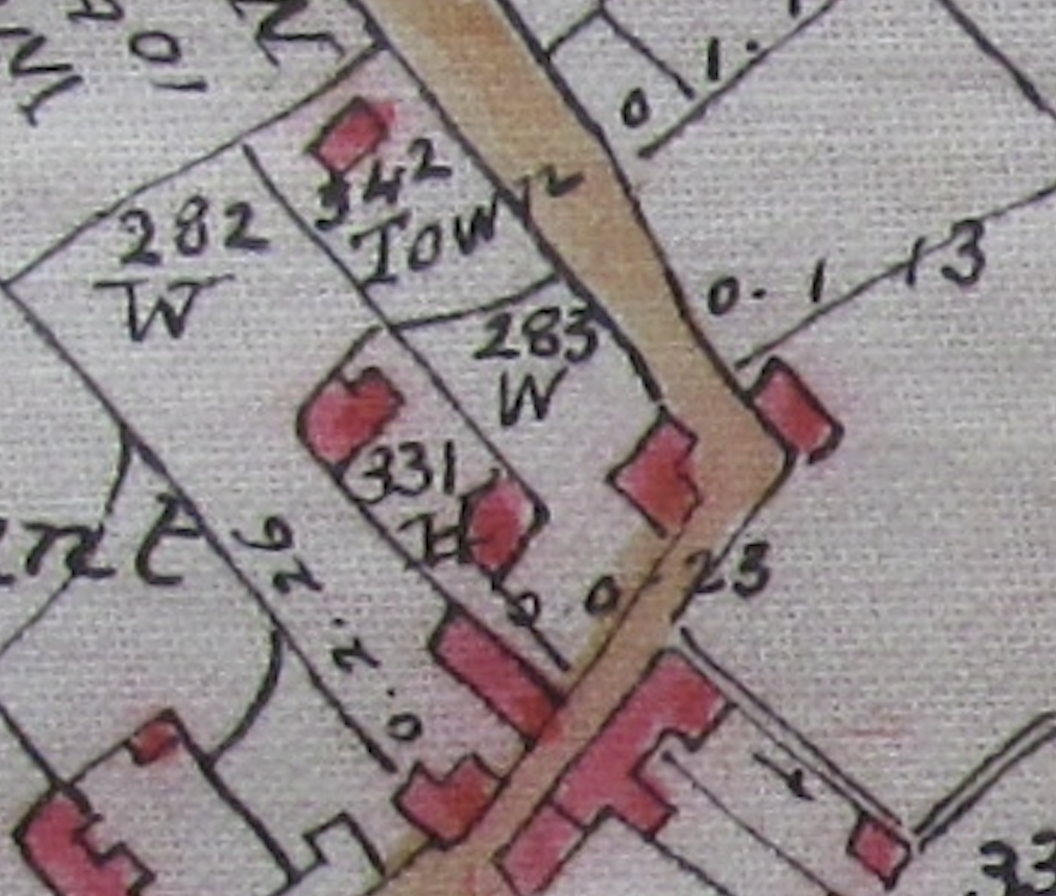 According to the Claim above this is where John Pratt, James Green and Mary Bugg lived.
John How's daughter Sarah married Jonathan Pratt on October 24th 1796 at St Andrew's. This is quite possibly the tenant John Pratt. Also possibly one and the same John Pratt (one assumes) retailing tobacco in 1839 as seen in these receipts that Stanley Judd rescued from the demolition of the old shop premises that used to be next to the Station house on the Fakenham Road.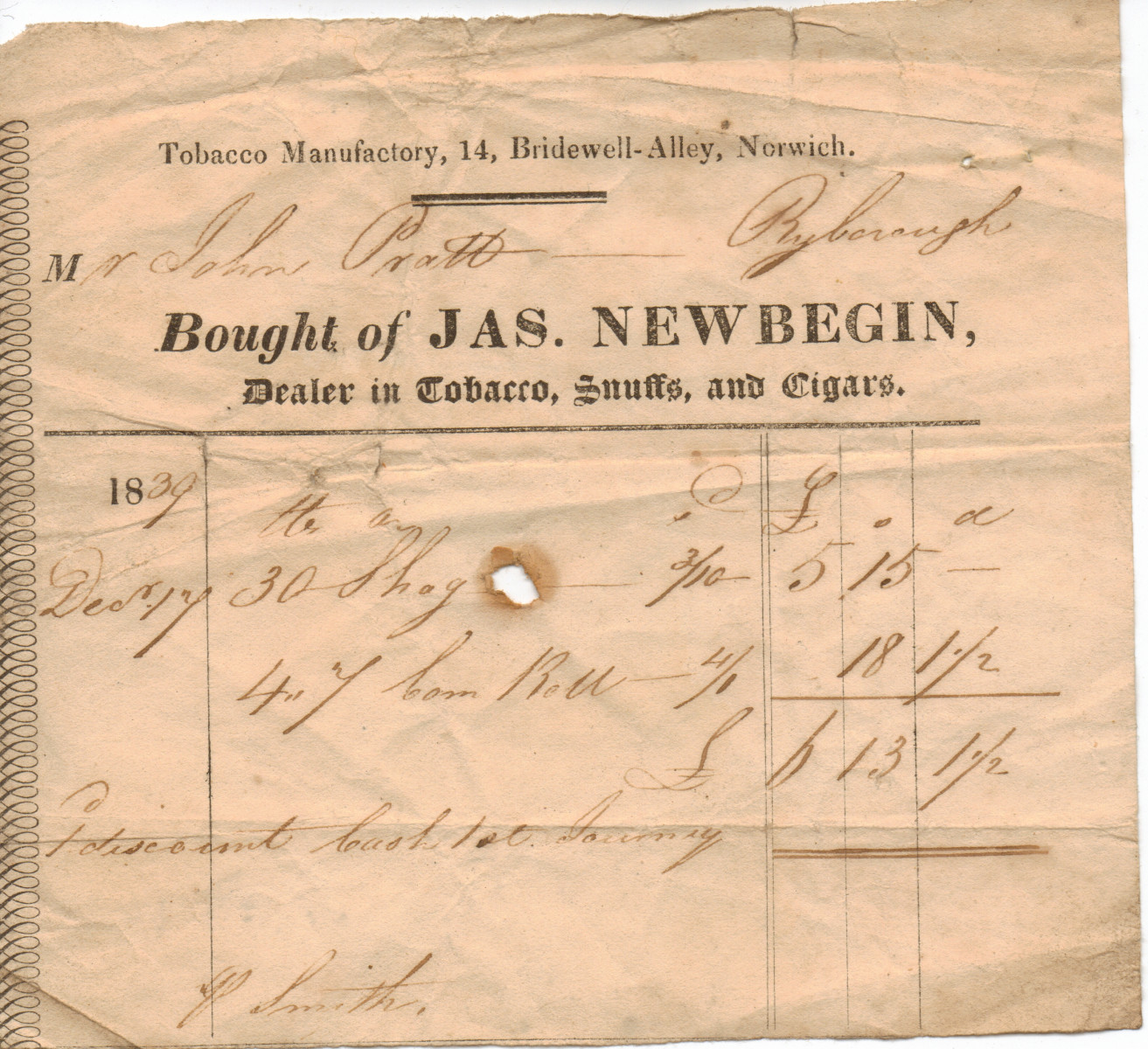 On reading the Award text we find that as well as adding an "E" to his surname, we also learn that he had died during the course of the administration of the Act. It is also from this text that we have to infer that there was no shop premises in operation from the plot number 330 on the map.

And the said Commissioners do hereby assign set
out and allot unto the heirs or devisees of John Howe
deceased the three pieces of land within the said parish of Great
Ryburgh next hereinafter described (that is to say)/ First One piece
of land containing by measure One Acre two roods and thirty
one perches marked on the last mentioned map or plan with the
number(329) and bounded by the first described public road in
the said parish of Great Ryburgh towards the north by the next
described allotment towards the east by land hereby allotted to the said
Rector of Great Ryburgh towards the south and by land hereby
allotted to the said Mary Gostling towards the west Second one
other piece of land containing by measure Four acres three roods
and thirty three perches marked on the last mentioned Map or
plan with the number (330) whereon a Messuage and other
buildings stand bounded by the last mentioned public road in
part towards the north by land hereby allotted to the said
Covenant Best towards the east and on the remaining
Part of the north by land allotted to the said Rector of
Great Ryburgh towards the south and by land hereby allotted to
the said Rector and the last described allotment towards the
west Third and one other piece of land containing by measure
Twenty three perches marked on the said last mentioned map or
plan with the number (331) where on a Messuage or cottage
and other building stand bounded by land hereby allotted to the said
Edmond Wodehouse towards the north and in part towards the east
by the last mentioned public road on the remaining part of the east
and by land hereby allotted to the said Edmond Wodehouse towards
the south and west And we do hereby order and direct that the
said heirs or devisees shall raise maintain and for ever hereafter
keep in repair fences in the said first and second allotments on the
south part thereof against the allotment to the said Rector And we
do determine and declare that the first allotment hereinbefore made
to the heirs or devisees of the said John Howe deceased shall for ever
hereafter be held of the said Manor of Great Ryburgh by copy of
Court Roll the same being made to them for and in lieu of
the land to which the said John Howe now stands admitted
in the said Manor and for and in respect of the rights of common
appurtenant or appendant thereto.
John How, Farrier of Testerton married Mary Hutchinson at St Andrew's on November 18th 1770. Over the following 24 years Mary gave birth to 16 children, half of whom died at birth or early infancy and are buried in the cemetery at Little Ryburgh. John died in January 1809 and under the terms of his will his wife Mary inherited his "said Real Estates for the term of her natural life" which continued to 1832 when she died at Weasenham St. Peter. She was buried back at Little Ryburgh joining John and at least 4 of her children in the graveyard that surrounds the now ruined church.
According to John's will, following Mary's death, his estate should then have passed to sons Matthew and Thomas as "tenants in common" providing that within a year of their mother's death, £10 apiece was paid to his other surviving sons, William and John. Also £40 apiece was left to his (who would seem in 1809 to have been his surviving unmarried ) daughters Margaret, Amy, Judith and Susan.Should any of them die in the interim, the sum should be divided equally amongst that daughter's future "issue"
The freehold portion of John How's property was known as Hallowells and the remaining portion was copyhold of the Manor of Great Ryburgh. Sifting through a rather convoluted abstract of title, it would seem that John How acquired both parts of the property in 1803 and it remained in the family until shortly before Mary How's death. It was then purchased by S J Whitby a grocer from Weasenham St Peter who lost the property through bankruptcy. It was subsequently bought by Michel (Michael) Mesney, originally a Channel Islander, whose family (his son David and grand daughter, Mary and great grandson, Stephen Pearson) farmed and ran a coal merchants, and the shop, either as landlords to Grocers and Drapers businesses such as Edward Soames Green and George Baker Trew or in their own right up until the 1960's.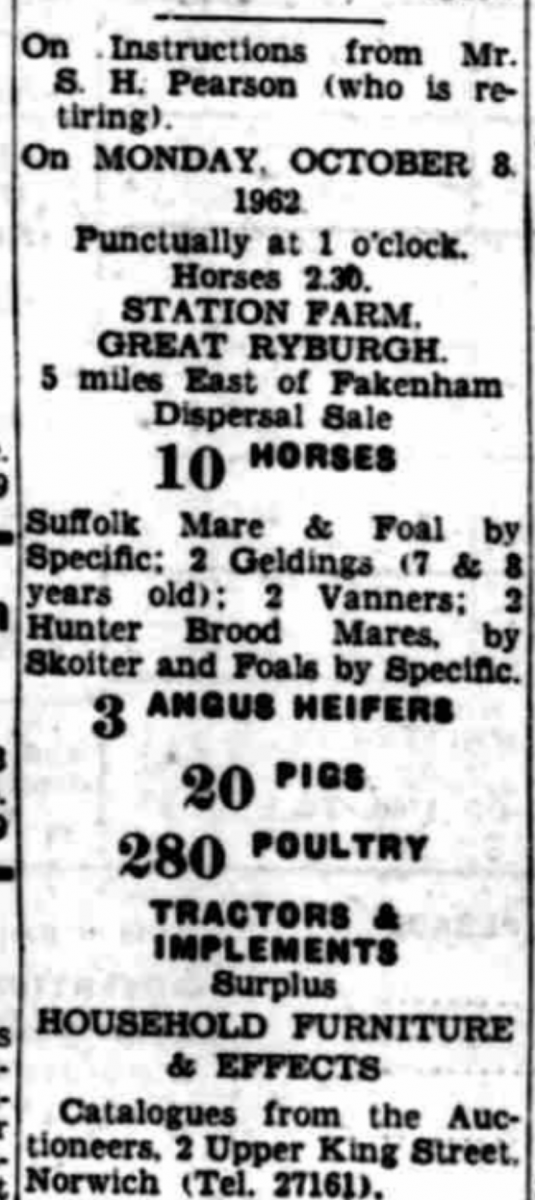 When the farm was disposed of, as seen in the above press notice, it was known as Station Farm. Prior to this the only other name for the property that has been found had been Hallowells. This name is to be found in an abstract of title that had been found along with the 1823-1847 map described above and pictured below.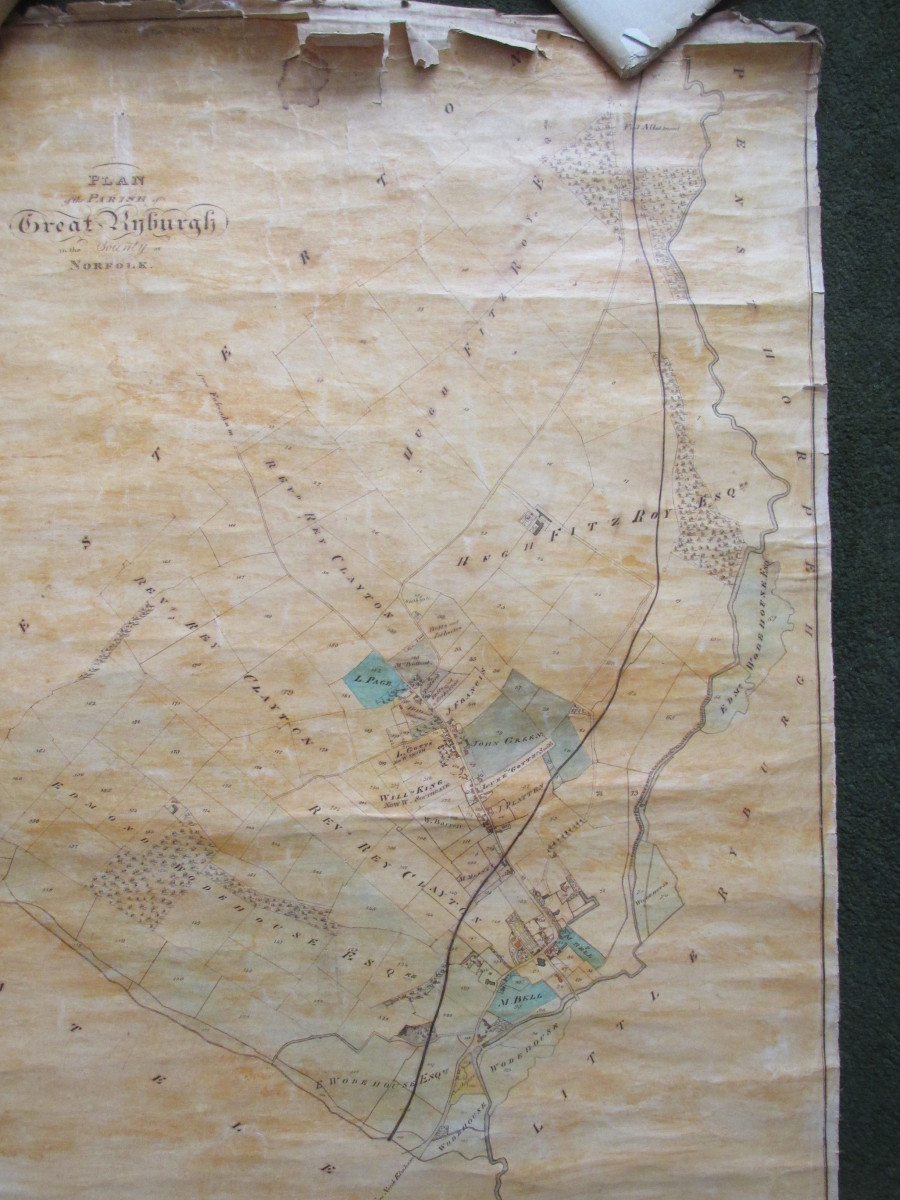 That abstract provides a synopsis of pre-Inclosure history and covers the period from October 21st. 1706 ( to prove the title for Weasenham Grocer John Whitby) when there is no mention then of any specific shop. 1n 1706 the property was owned by Father and Son, James Burcham a worstead weaver of Hilderveston (Hindolveston) in the possession of William Cobb of Gt Ryburgh described as a Tailor. The Burchams "in consideration of £435 did give grant enfeoff and confirm unto the said Wm Cobb" the premises in question. William Cobb died in the summer of 1715 and was buried (i.s.w.o.(in sheep's wool only) at St Andrew's on July 6th.
Upon his death the property passed to his nephew, James Cob worstead weaver of Coslany St Michael in Norwich who sold it in 1736 to Catherine Taylor. The property was in the occupation of William Sudbury and his family unfortunately, it doesn't state his occupation. William Sudbury died and was buried at St Andrew's on 11th April 1783 aged 73.
It changed hands again in 1761 purchased by Thomas Meck and from him it eventually ends up with John How, farrier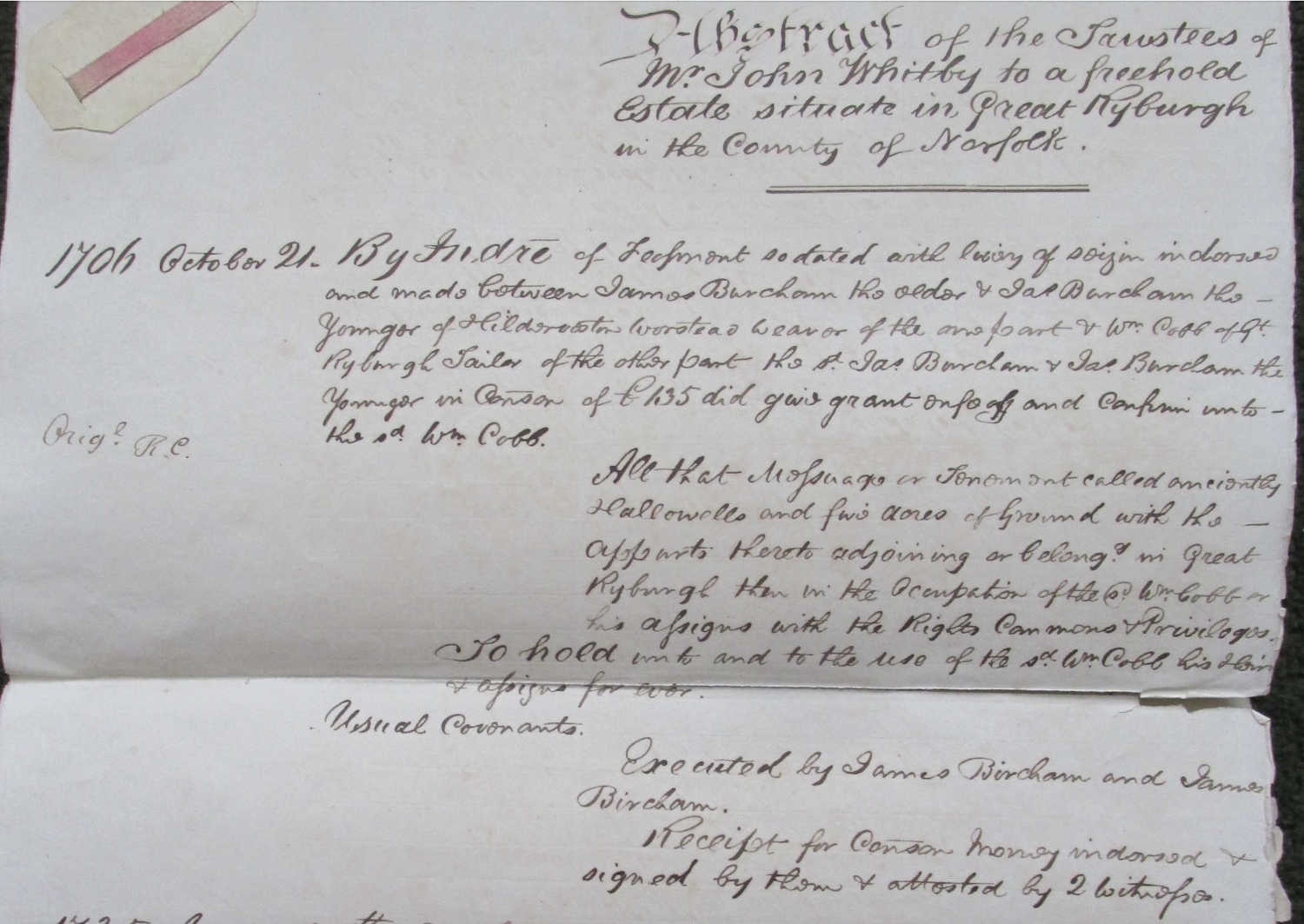 ***************
The 1823-1847 map may well have been drawn up to reflect the situation some time after Inclosure for the benefit of the administration of the Parish by the Rector and elected members of the Vestry, the pre-cursor of Parish Councils.
Michael Mesney, in whose house the map was found came to the village in the time of Revd William Ray Clayton. He then was churchwarden to his successor, Revd. George Tatham. Tatham's father, Meaburn Tatham provided the mortgage that enabled Mesney to purchase Covenant Best's allotment adjacent (No 288 on the map) and build the Marine Tavern on the site of the former "Ranters Chapel".
If we take a look at the Census returns from 1841 on, we can trace a more detailed history of the owners and occupants of the How award:
1841 Census: p5
Michael ( Michel) Mesney aged 30 Shopkeeper
Wife Susan (Ransome) aged 20
Son William (Ransome)3
Son David 9 months
1851 Census: p24
Michael Mesney aged 41 Grocer & Draper & employing 1 man born Hants Alderney?
Wife Susan aged 32 born Weybourne
Son David aged 10 born Gt Ryburgh
Son Alfred aged 7 born Gt Ryburgh
1861 Census: p16
Grocer & Drapers Shop
Michael Mesney aged 51 Coal Merchant and Farmer Grocer born Isle of Alderney
Wife Susan aged 42 born Weybourne
(William Ransome Mesney by now had sailed to Borneo as a missionary from St Augustine's College Canterbury.)
Son David aged 20 born Gt Ryburgh agent
Son Walter aged 19 born Gt Ryburgh miller
Son Alfred aged 17 born Gt Ryburgh
1871 Census: p24

Michael Mesney aged 61 Merchant born Isle of Alderney Hants
Wife Susan aged 54 born Weybourne
Son David aged 30 born Gt Ryburgh Farmer
Son Walter aged 29 born Gt Ryburgh Farmer (then at Keeling Hall Foulsham)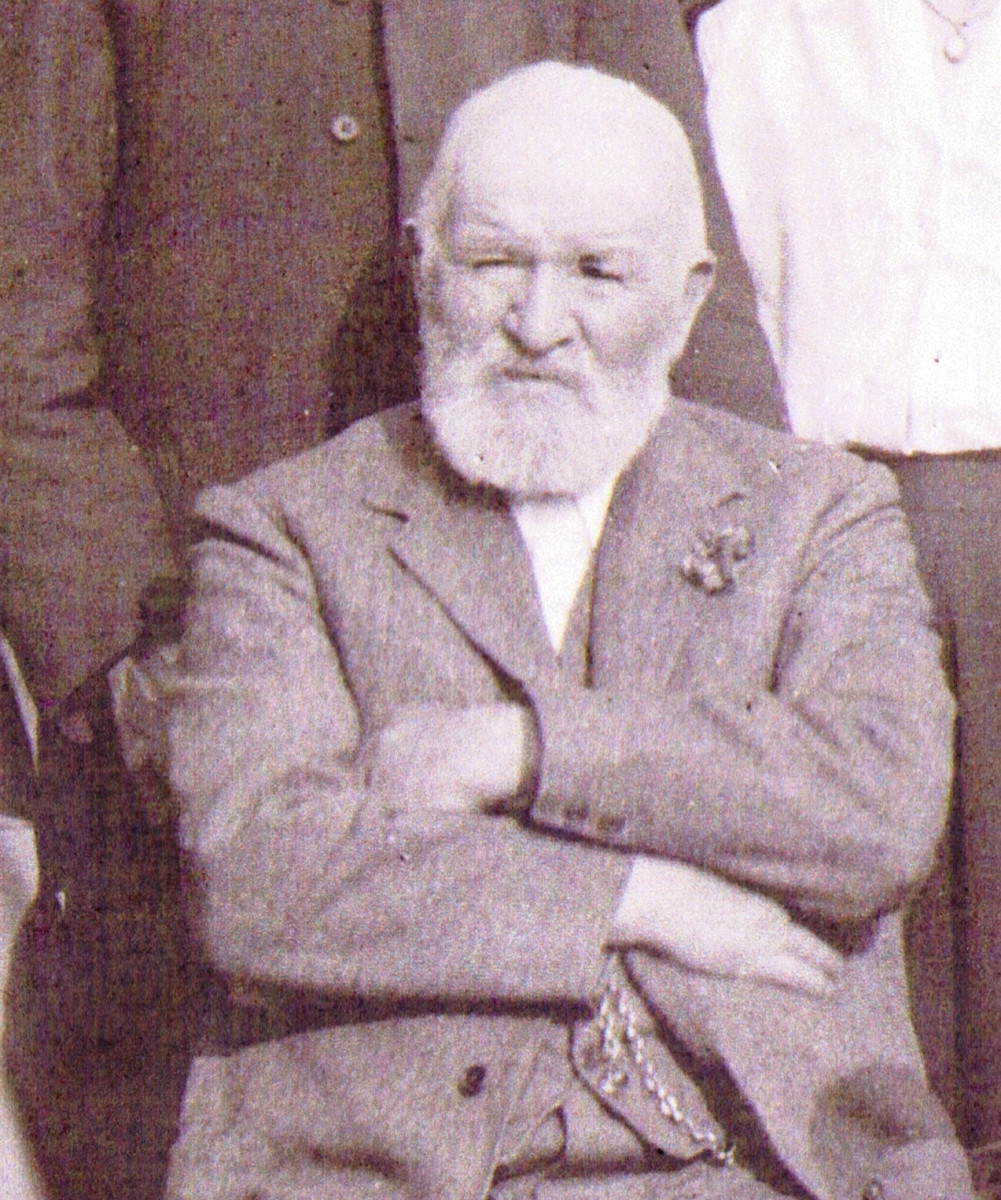 Walter Mesney c1914
1881 Census: p11
William Kendall Grocer and Draper aged 27 (see also Kelly's Directory for Norfolk 1879)
Maria Bell aged 47 his Aunt- Housekeeper.
Michael Mesney aged 71 Merchant born Isle of Alderney Hants (He died in 1889 and Revd George Tatham returned to Ryburgh totake his funeral. Widow Susan is left an estate of £1878-2/-1d.)
Wife Susan aged 62 born Weybourne
Son David aged 37 born Gt Ryburgh. Farmer employing 8 men and 2 boys (David married Mary Elizabeth High from Reymerston in 1882 in Norwich)

1891 Census: p1
Edward S(oames) Green Grocer and Draper aged 28
Elizabeth Green wife aged 26
Elsie Muriel Green daughter aged 3
David Maurice Wilby Grocer's assistant aged 15 (Edward Green's Brother-in-Law)
Susan Mesney Widow aged 72 Farmer born Weybourne (Died 1900)
Son David aged 49 Farmer born Gt Ryburgh (Wife and 2 children Mary and David at Reymerston. Both children were born there.)
Annie Mesney aged 18 Grandaughter General Servant born Borneo
1901 Census: p13
Believed to be the family in this photo
Maurice Wilby Grocer and Draper aged 25
plus sisters Annie (23 )as Assistant Draper and Edith (21) as Housekeeper
and brother Clement (18) as Grocer
from Great Ellingham Clement the youngest born Pulham Market.
David Mesney aged 60 Coal Merchant and Farmer employer own A/C born Gt Ryburgh (He died 1905 leaving widow Mary Elizabeth an estate worth £1750 -14/-6d.)
Annie Mesney niece aged 28 Dairy maid. born Borneo British S' ject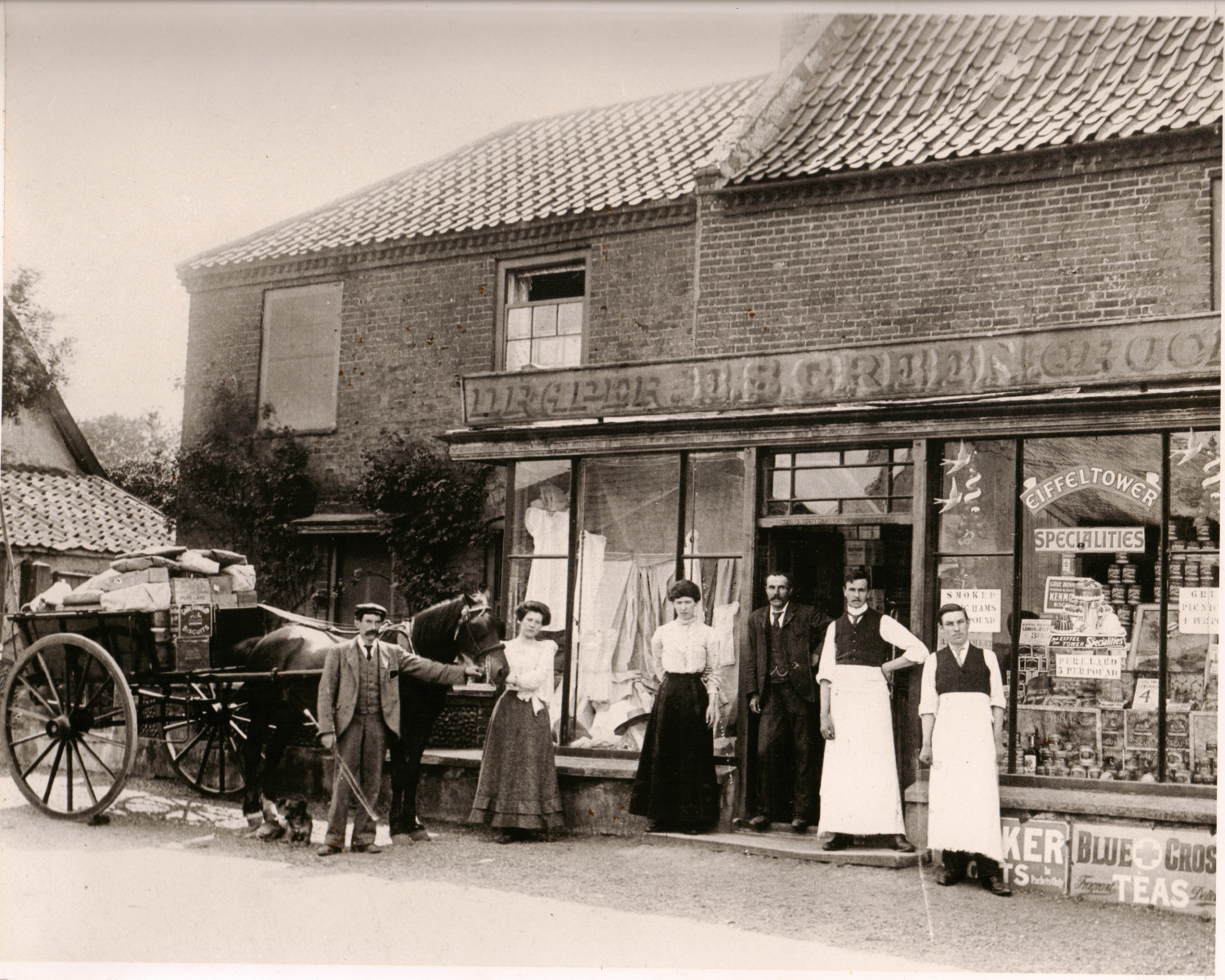 1911 Census: (Schedule Nos 55 and 56)

Private House and shop
George Baker Trew Head aged 32 Married 6 years 1 chiold living Grocer & Draper Shopkeeper Employer born Norwich
Hilda Alice Trew Wife aged 30 born Norwich
Ronald Graham Trew Son aged 5 Born Saffron Walden Essex
Ivy Edith Abbs Servant aged 14 General Servant (Domestic) Born Gt. Ryburgh
(See also Kelly's Directories for 1912, 1916)
Private House
Head: Mrs Mesney
Mary Elizabeth Mesney aged 64 Widow Farmer and Coal Merchant Employer Born Cranworth Norfolk (1846 died 22 August 1924 left an estate of £761-17s- 9d)
Mary Pearson daughter aged 29 married less than 1 year Born Reymerston Norfolk
Albert Edward Pearson aged 37 Farmer and Coal Merchant Employer Born Hockwold Norfolk
The shop front is featured on the postcard image below. One of a series of cards, "Trew's Series" dating from the time of WW1: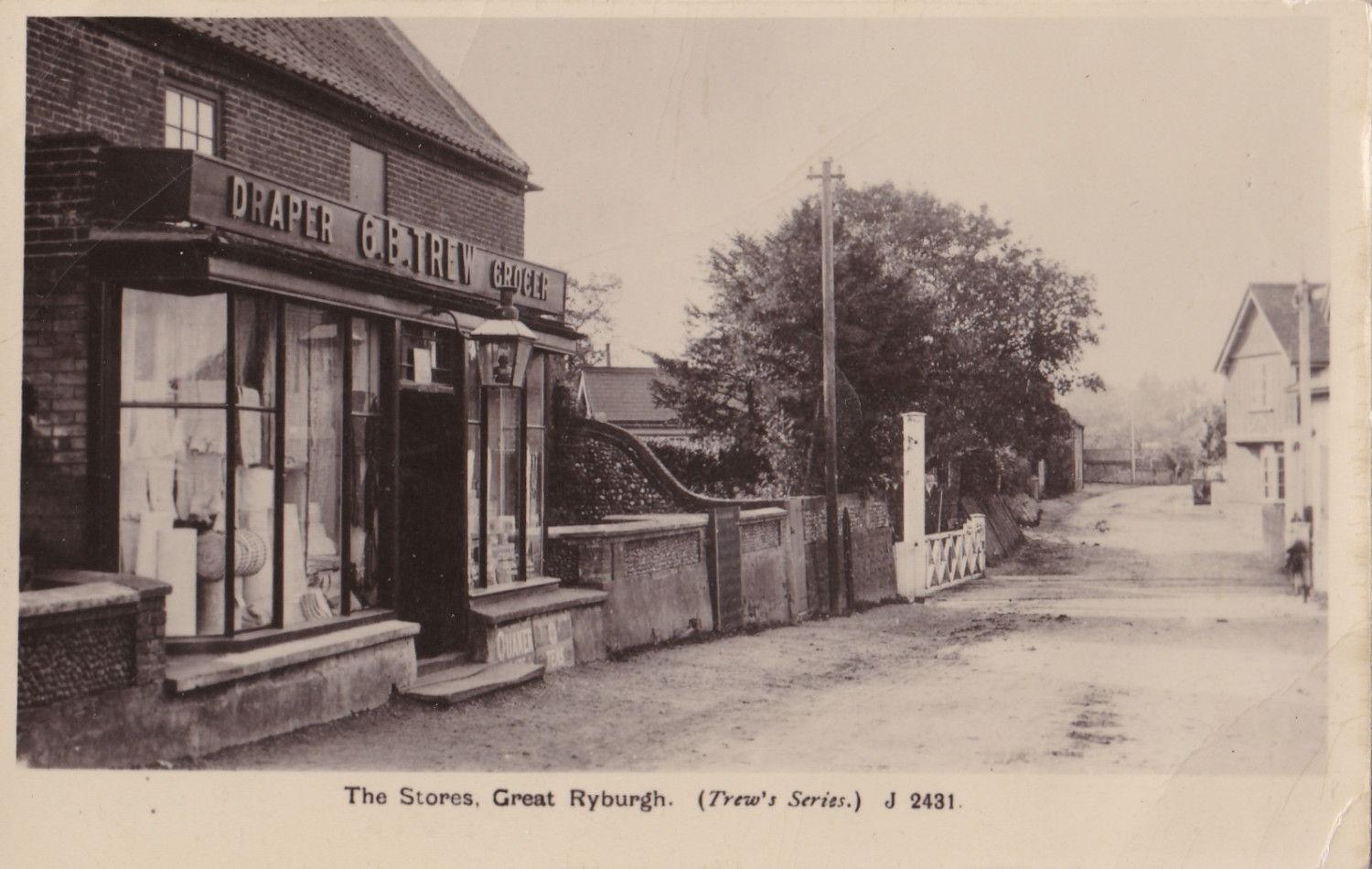 1921 Census: (Schedule Nos 53 & 54)
Albert Edward Pearson aged 46 Coal Merchant Employer Born Hockwold Norfolk
Mary Pearson wife aged 38 Home Duties Born Reymerston Norfolk
Mary Mesney aged 75 Widow Farmer Employer Born Cranworth Norfolk
Stephen Henry Pearson aged 6 Born Gt Ryburgh Norfolk
Joan Mary Pearson aged 4 Born Gt. Ryburgh
George Baker Trew aged 42 General Shopkeeper Employer Born Norwich
Hilda Alice Trew aged 40 Home duties Born Norwich
Donald Graham Trew aged 15 Whole Time Education Born Saffron Waldon
The next 100 years of the shop are ironically not quite so easy to chart without a lot more work but put briefly:
We find Albert Edwin and Gertrude Hudson as proprietors in the 1933 and 1937 editions of Kelly's Norfolk Directory and village reminiscenses recall the surnames of Fuller and Norris.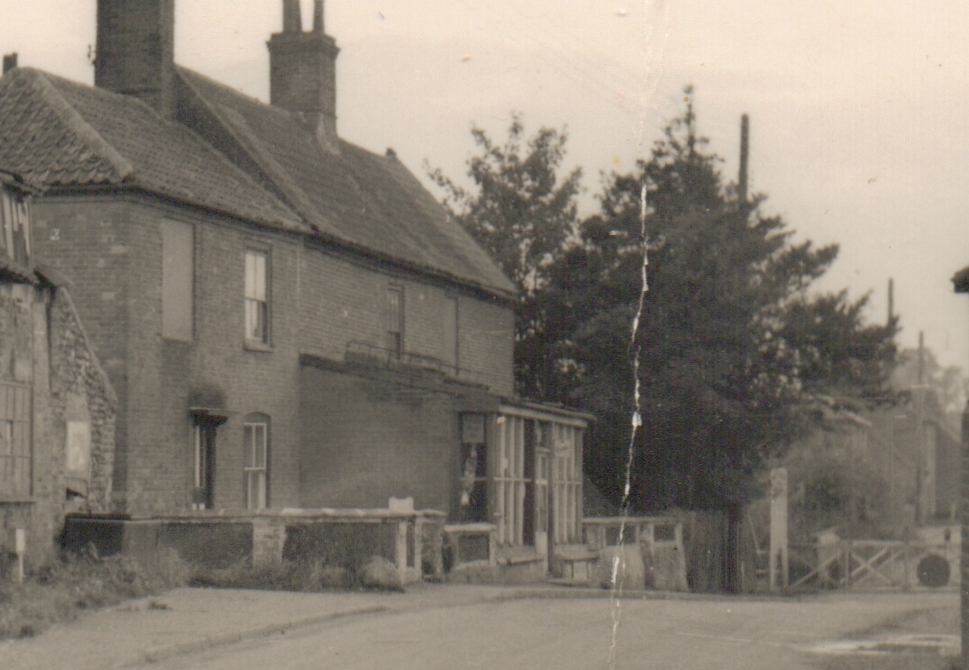 The shop premises in the 1950's from a photograph from the collection of the late David Howe
Thereafter came Norman and Barbara Pruden and family. Norman was a keen bowls player and is to be seen on several team photos: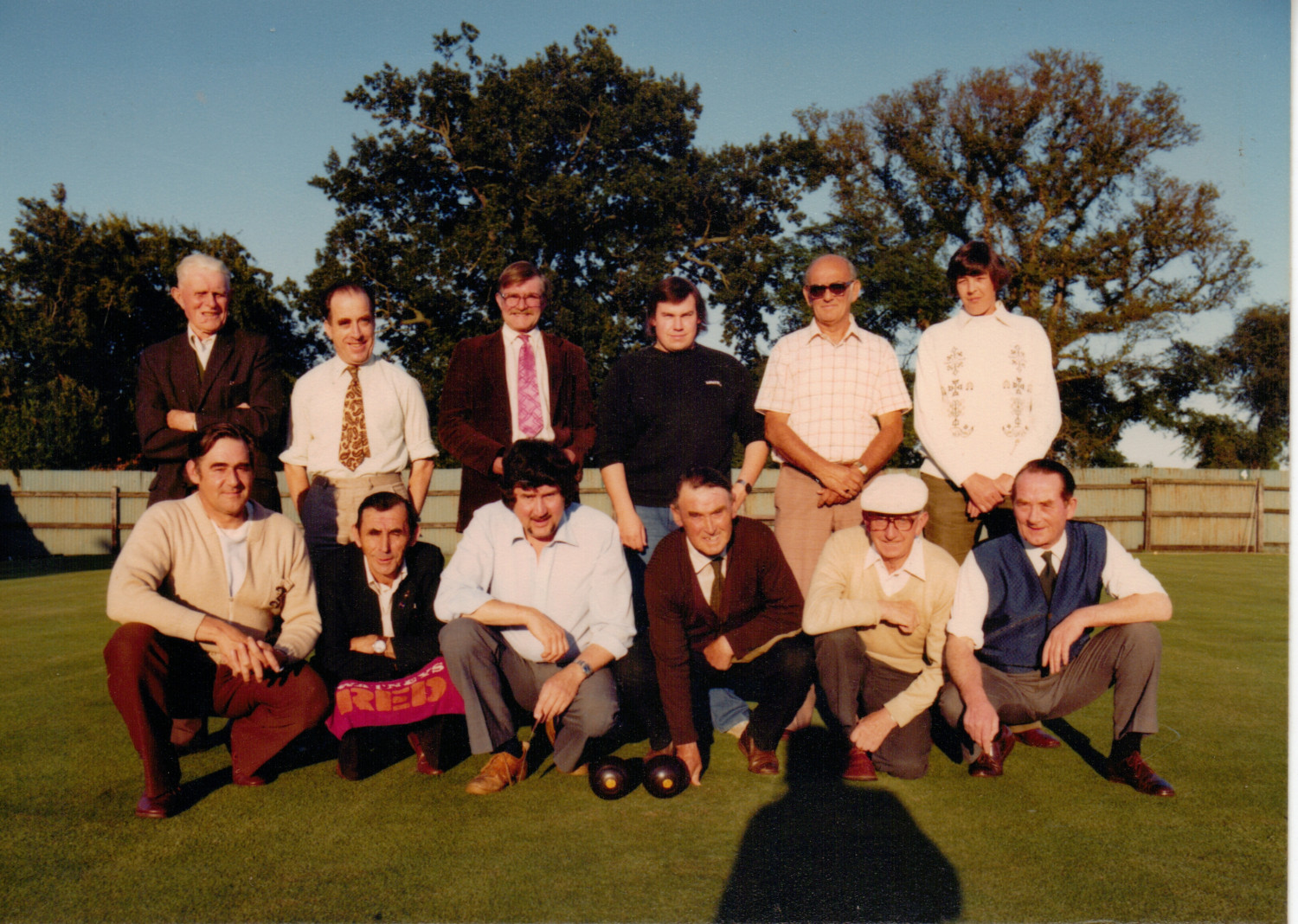 Norman is front row far right on the photo above and front row standing, second on the left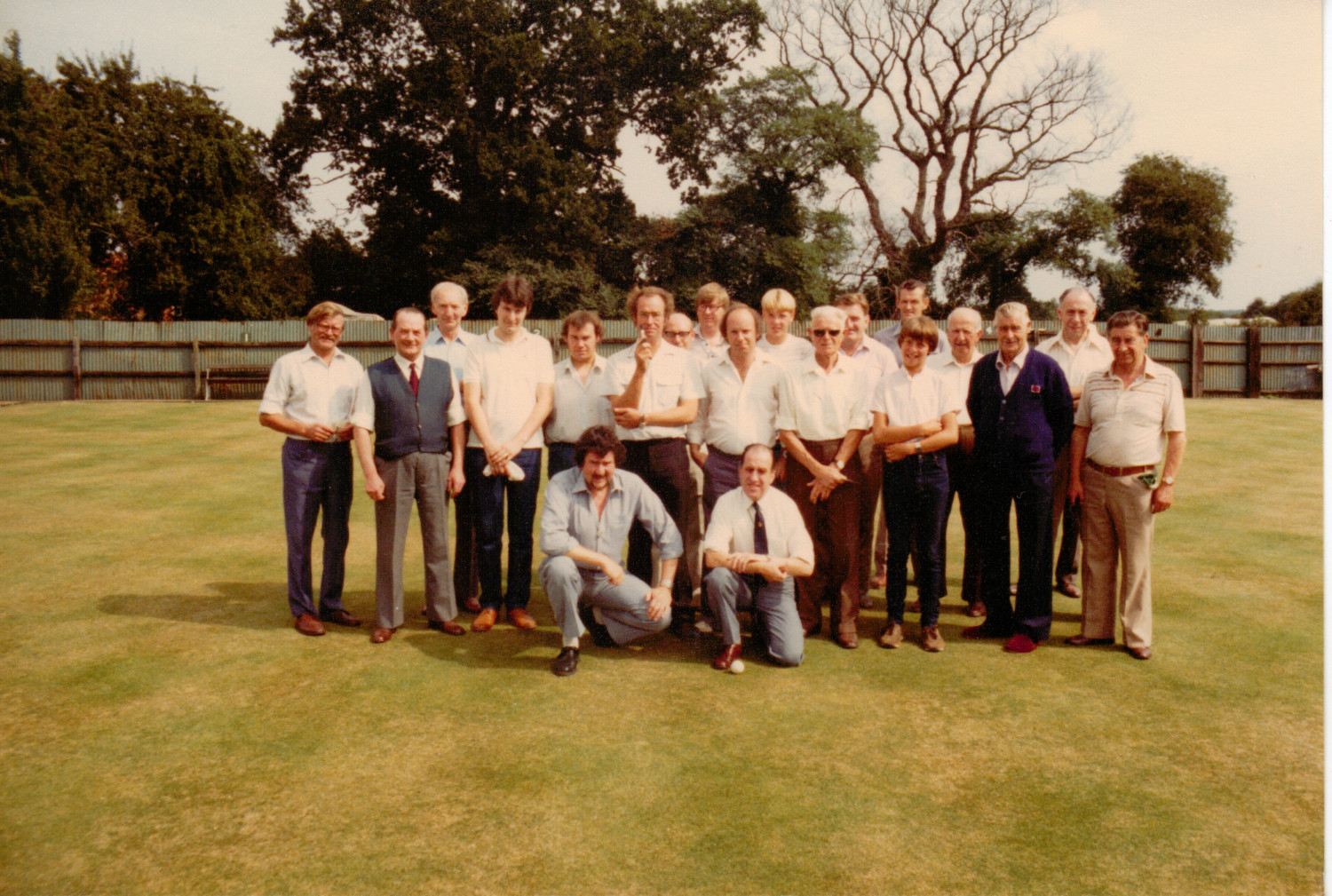 Following Norman's death the premises were bought by Rod and Pat George who subsequently leased just the shop to:
John and Mavis Lewis.
Mavis has kindly shared a couple of images of the shop in action in the 1990's :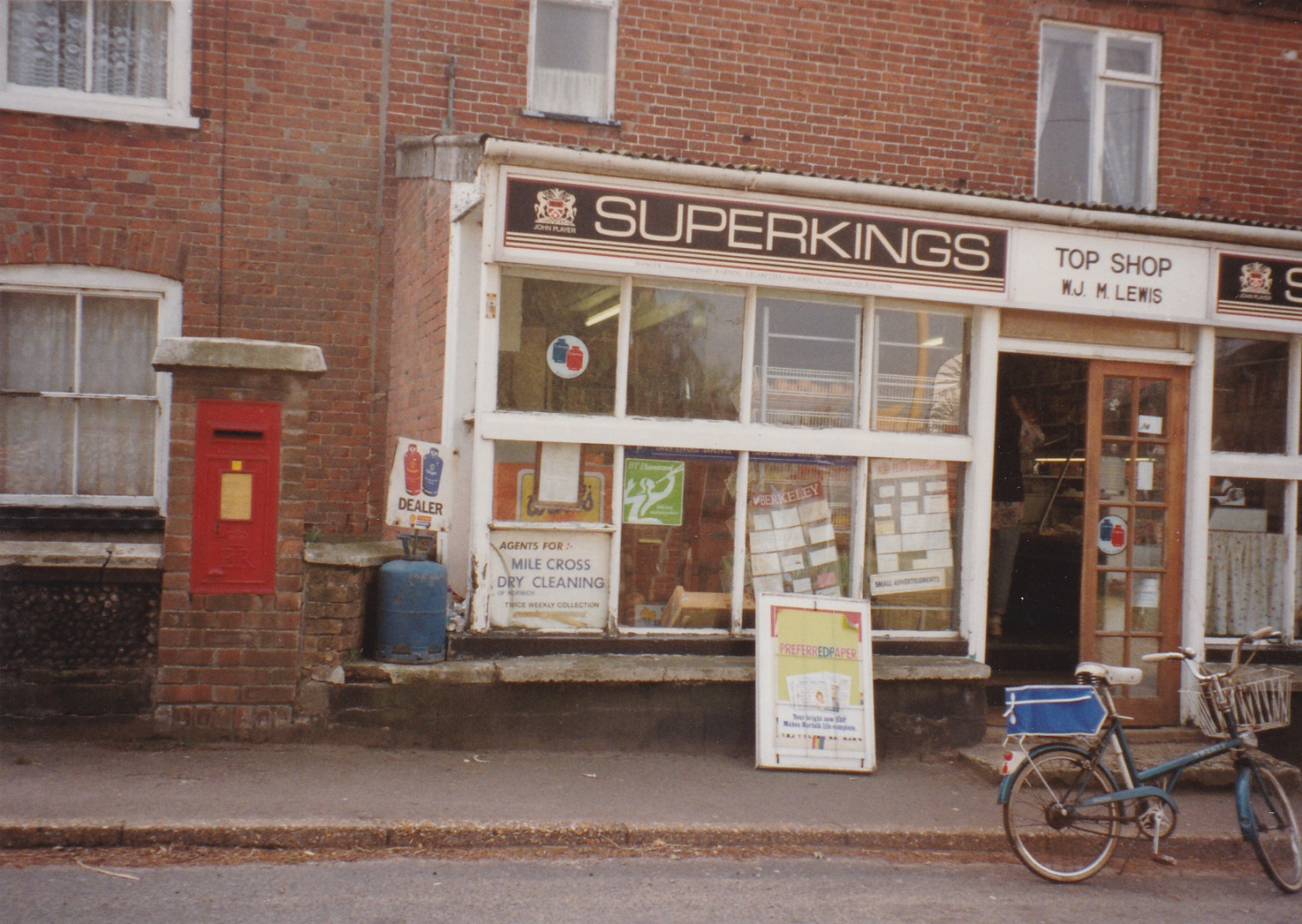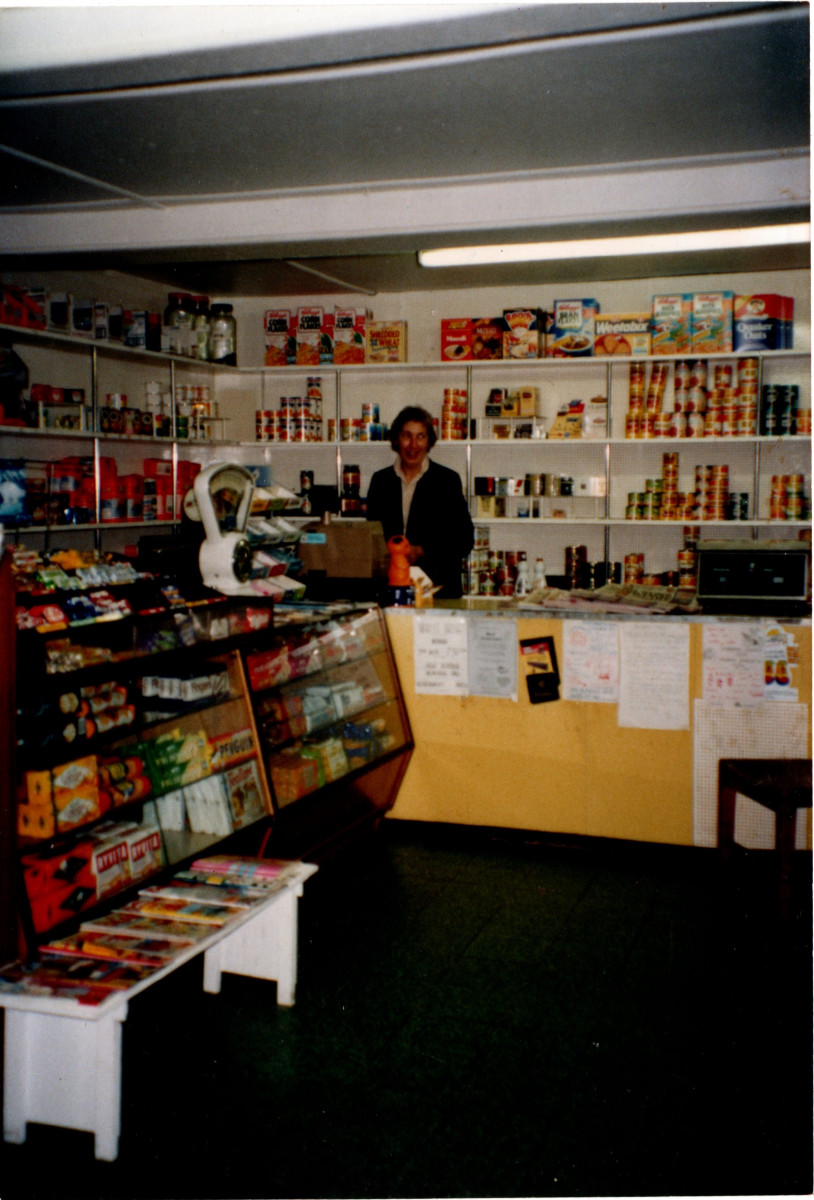 The shop became very run down following the Lewis' retirement and soldiered on until it was replaced in 2012 by the new Community shop premises in the former F.&G. Smith's Granary in the old station yard.
The Granary c.2002 before conversion to dwellings and the Community Shop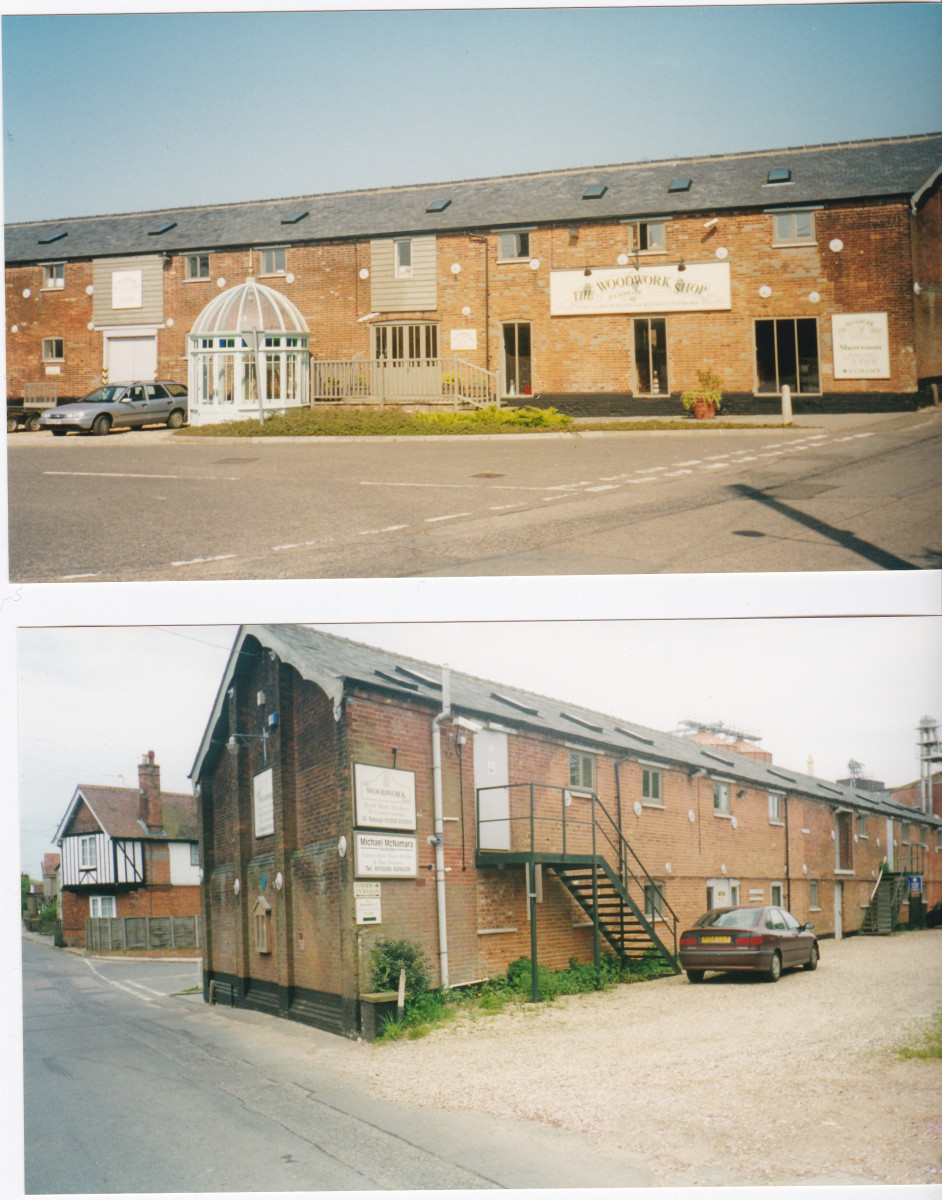 The following photos were taken on the day when the shop moved across the road to its new premises and following demolition as John How's old farmhouse returned to its earlier street-front profile.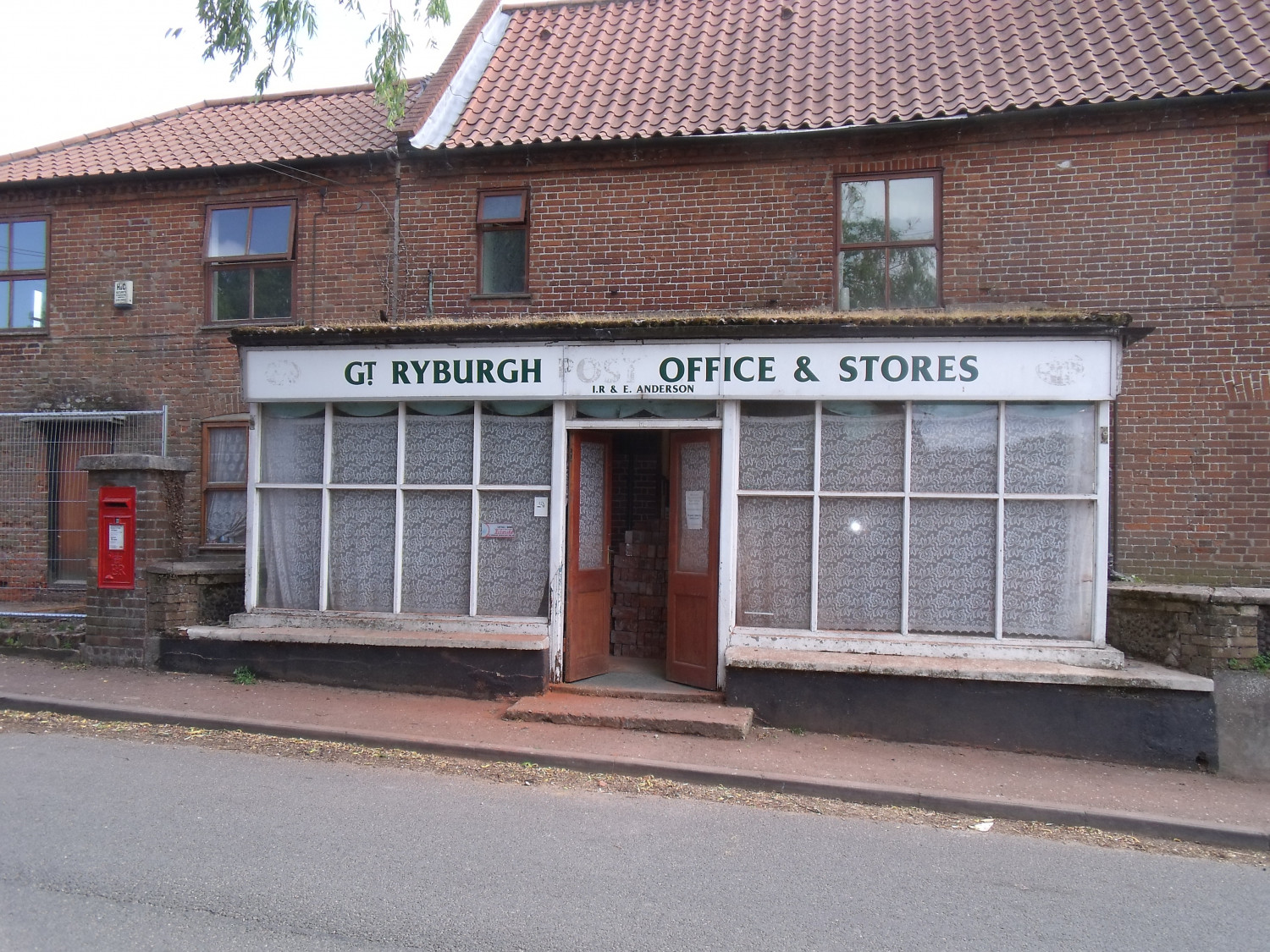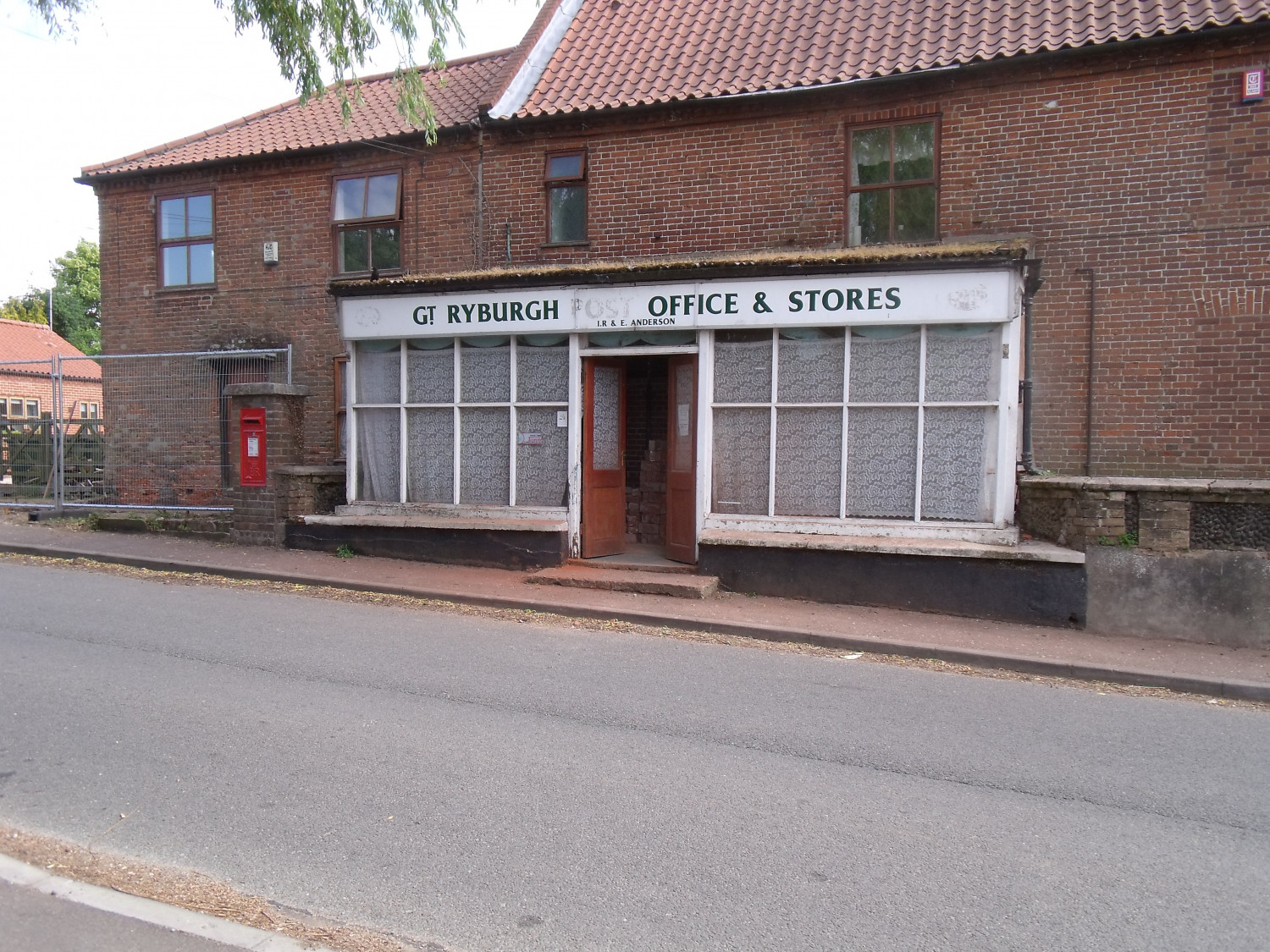 The shop premises May 11th 2012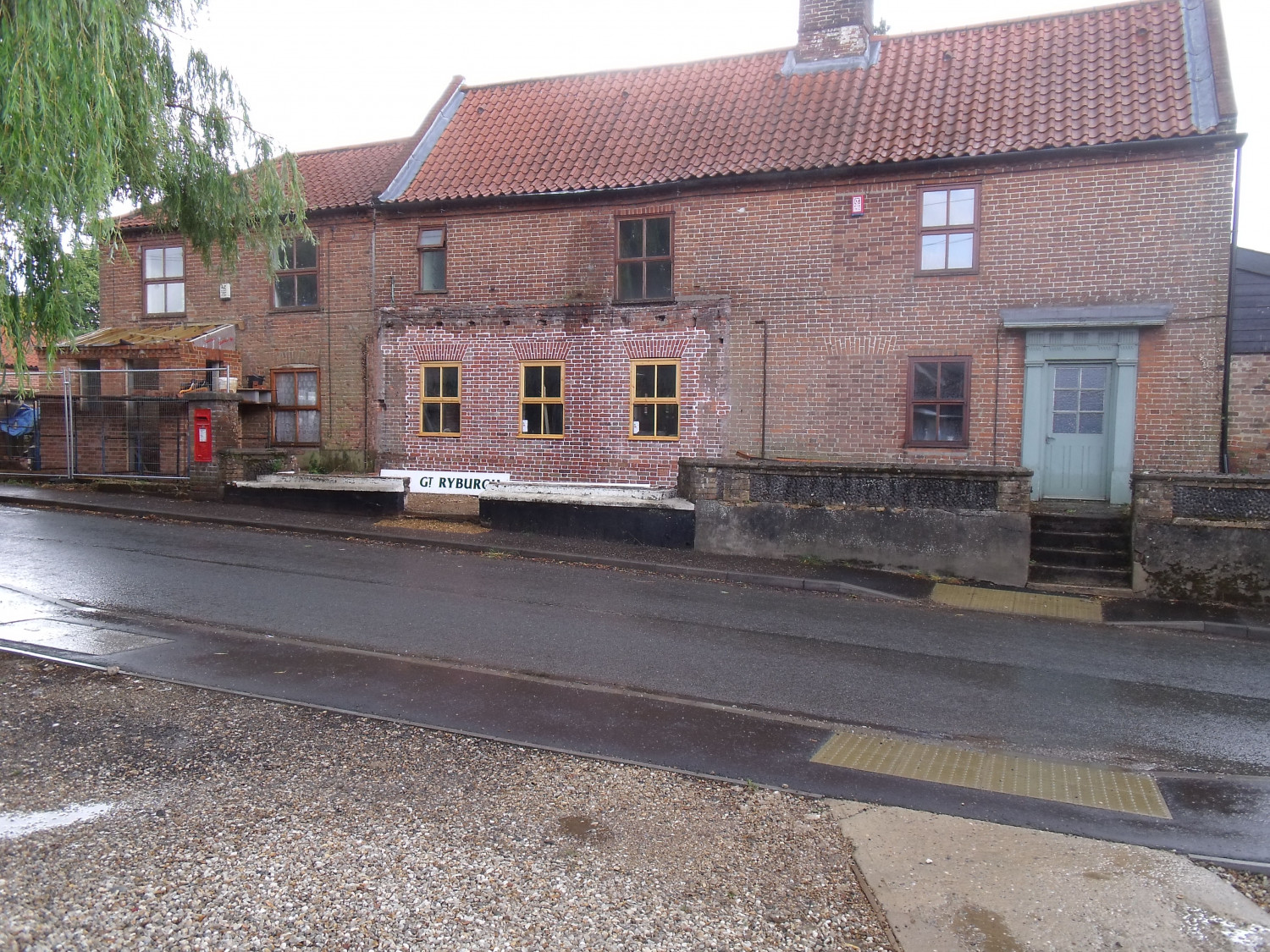 The shop premises June 10th 2012