OUR CHRISTIAN FAITH
We believe that God, our Heavenly Father, created the world for the benefit of all people.
"From the rising of the sun to its setting, the name of the Lord is to be praised." Psalm 113:3-4
The sunrise on Easter morning as seen from Little Ryburgh.
We believe that God loves and cares for us as a parent loves and cares for a child.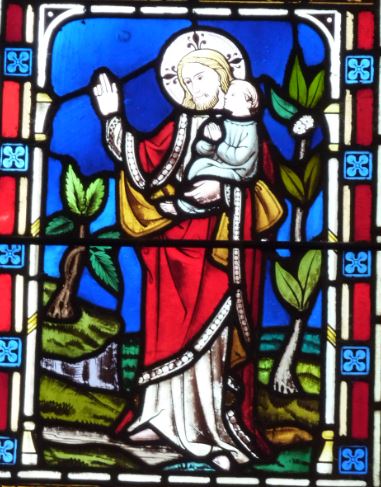 "See what great love the Father has lavished on us, that we should be called children of God! And that is what we are! The reason the world does not know us is that it did not know him." 1 John 3:1
A detail from the St. Mark window in the nave.
We believe that God sent his Son, Jesus, to live on earth as a human, experiencing the highs and lows of everyday life. Jesus came "that we might have life and have it in all its fullness" (John 10:10). He taught us to love one another as He loves us.
His divine nature became apparent through His teaching, through His encounters with other people, through His healing and through bringing the dead back to life as in the case of Lazarus.'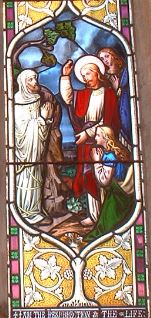 Jesus said to her, "I am the resurrection and the life. The one who believes in me will live, even though they die.' John 11:25.
A detail from an east window in St. Thomas's Chapel.
Jesus taught us how to pray in the familar words of the "Our Father". He often went off on his own to be with His heavenly Father in prayer. On the last evening on earth he spent as a free man, he went with his disciples to the Garden of Gethsemane and prayed, acutely aware of what was ahead of Him.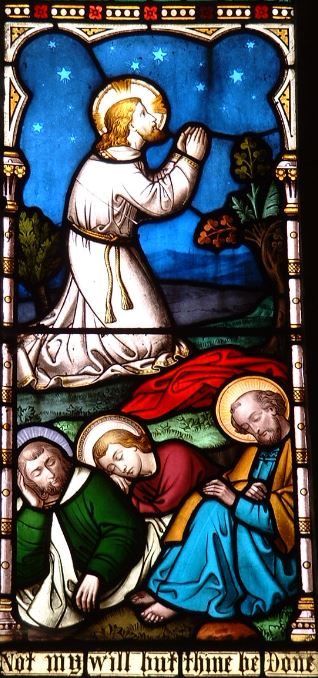 "He fell with his face to the ground and prayed, "My Father, if it is possible, may this cup be taken from me. Yet not as I will, but as you will." Matthew 26:39
A detail from an east window in the North Transept.
Jesus underwent a dreadful death on the cross. He was the Son of God and yet he went through extreme pain and suffering, both physical and mental, to show the depth of His love and the extent of his understanding of what it is to be human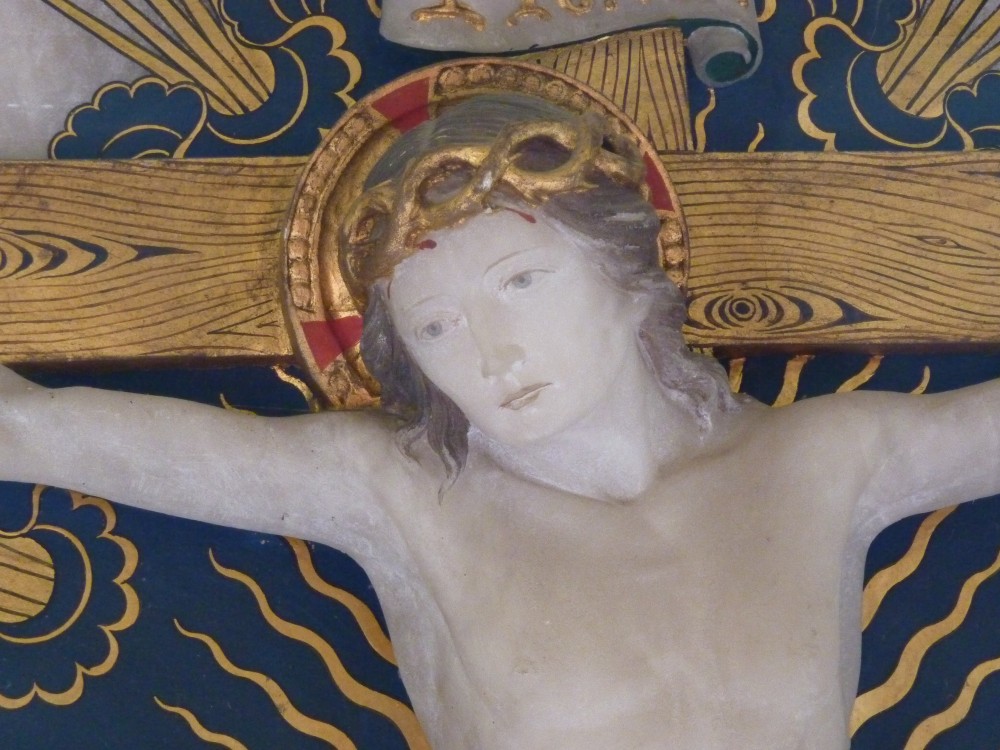 "For God loved the world so much that he gave his one and only Son, so that everyone who believes in him will not perish but have eternal life." John 3:16
The central panel of the reredos designed by Sir Ninian Comper in 1912.
After three days Jesus rose from the dead and before he ascended into Heaven, appeared to a number of people, among them Mary Magdalene: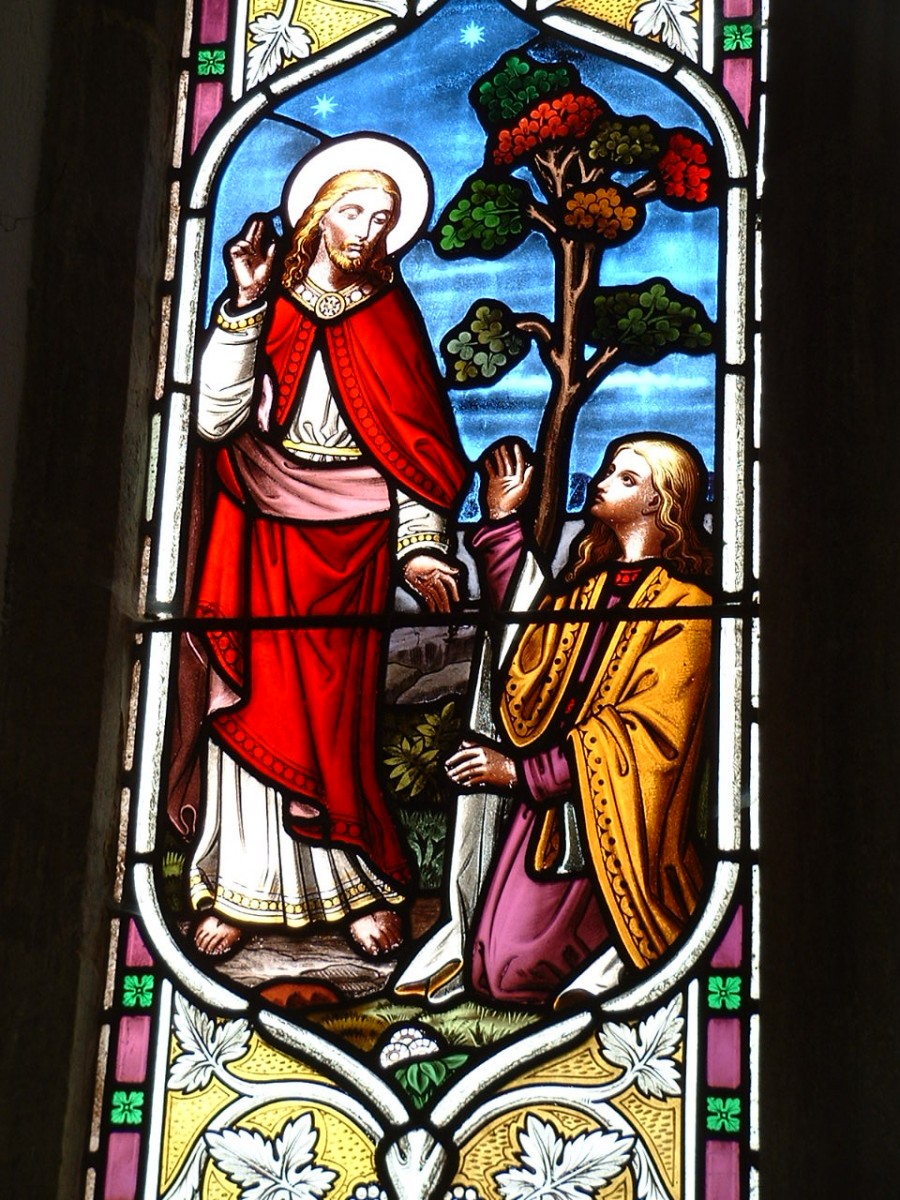 He asked her, "Woman, why are you crying? Who is it you are looking for?" Thinking he was the gardener, she said, "Sir, if you have carried him away, tell me where you have put him, and I will get him." Jesus said to her, "Mary." She turned toward him and cried out in Aramaic, "Rabboni!" (which means "Teacher"). Jesus said, "Do not hold on to me, for I have not yet ascended to the Father. Go instead to my brothers and tell them, 'I am ascending to my Father and your Father, to my God and your God.'"
John 20:15-17
A detail from an east window in St. Thomas's Chapel.
We believe that while we cannot physically see Jesus, the Holy Spirit is always with us, to protect, guide and inspire.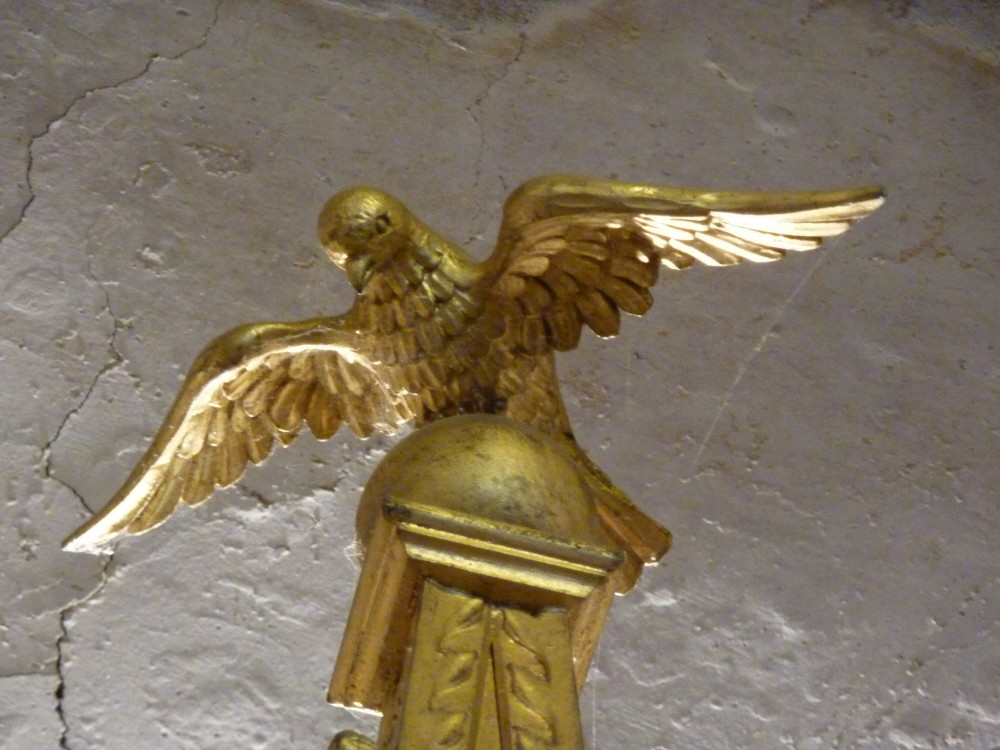 "If you love me, keep my commands. And I will ask the Father, and he will give you another advocate to help you and be with you forever—the Spirit of truth. The world cannot accept him, because it neither sees him nor knows him. But you know him, for he lives with you and will be in you. I will not leave you as orphans; I will come to you. Before long, the world will not see me anymore, but you will see me. Because I live, you also will live. On that day you will realise that I am in my Father, and you are in me, and I am in you.Whoever has my commands and keeps them is the one who loves me. The one who loves me will be loved by my Father, and I too will love them and show myself to them." John 14:15-21
The Holy Spirit is often depicted as a dove. This one hovers above the font at St. Andrew's.