The F. & G. Smith Roll of Honour.
At the start of hostilities in 1914 the names of employees from the 3 Maltings that the company owned and who had gone off to fight that year were recorded on a specially printed and framed Roll of Honour. It would seem, that as the War progressed and further employees were enlisted , the initial list of names was never expanded, nor the names on that list of those who subsequently died, recorded. The Photograph below is really as much as is currently known about this Memorial. It again provides some Ryburgh names not found on the other sites in the village and also confirms the Ryburgh connection of Colkirk's Edgar Huckins depicted here in 1914 aged 35.
Many thanks are due to his descendant David Whiteside for permission to use this photograph. There will is a separate page about Edgar and his family history.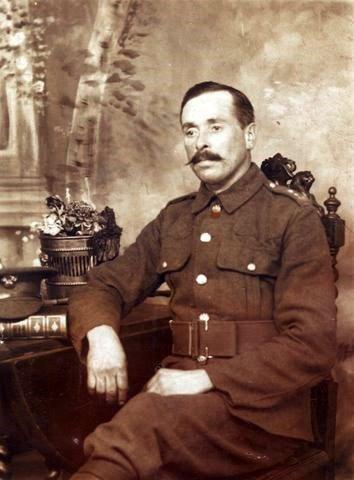 Those others not recorded elswhere are:
A. Clements
J. Gibson
W. Howes
R. Robinson
If anyone has any information about any of these names please do get in touch with us via the Contact Us Form