THE WALSINGHAM WAY
St. Andrew's, Great Ryburgh stands on the recently waymarked walking route between Norwich and Walsingham. The 37 mile path aims to celebrate the tradition of pilgrimage in Norfolk and also to encourage more people to enjoy the peaceful rural landscape of the Wensum Valley.

The Walsingham Way is inspired by a network of pilgrimage routes that once crossed the county as pilgrims from across Europe travelled to north Norfolk's Shrine of Our Lady of Walsingham, which is thought to date back to 1061.

The Walsingham Way route takes about three days to complete on foot and can be started from either Norwich Cathedral or the city's Roman Catholic Cathedral of St John the Baptist.
St. Andrew's is about three hours' leisurely walk from Walsingham and is a good overnight stopping place allowing pilgrims to rest and take stock before embarking on the final leg of the route. We can offer basic overnight facilities for small groups and also a place to camp. Larger groups may prefer to book the village hall. We are only a phone call away if you need more information: 01328 829413.
Bed and Breakfast is available at The Dower House Tel: 01328 829301. (Mention that you are walking the Walsingham Way!)
You can view an interactive map here.
The Walsingham Way - a collection of 3 routes on plotaroute.com (ID: 6263)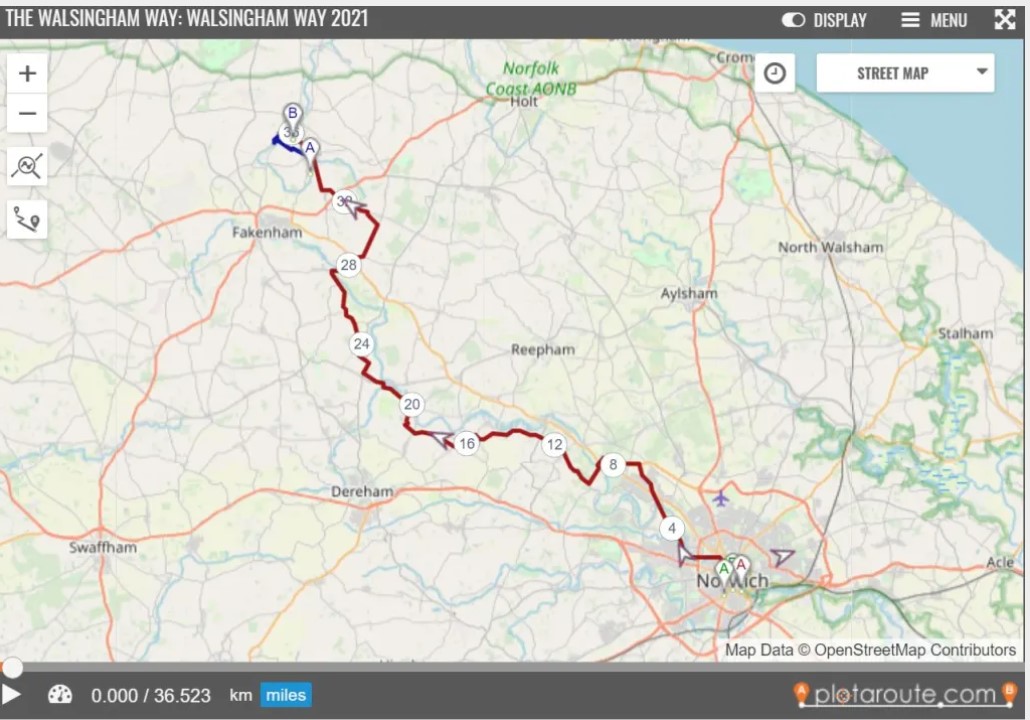 BASIC OVERNIGHT ACCOMMODATION BETWEEN NORWICH and GREAT RYBURGH
(Floor space and washing facilities)
Tel: 01362 637554
Email: villagehallelsing@gmail.com
FACILITIES ALONG THE WAY
https://www.google.com/maps/d/u/0/edit?mid=1wvmskvfp-J39rI-8HBjpkPjpmVhwMmwN&usp=sharing
(paste into browser)