Ryburgh Remembers
Sgt,20055 William James Holman.
2/4 Norfolk Regiment
attached 1stKing's African Rifles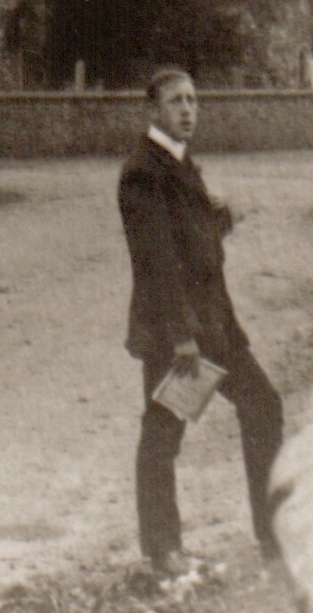 18th. August 1891– January 4thor 5th1919
William was the eldest son and 2ndof 6 children born into the family of Narburgh Hall Gamekeeper, James Holman and his wife Emily. He was baptised in the parish church on September 13th1891 by the Vicar Revd. E.A.B.Betton:

His siblings were:
Emily Edith (baptised Dec 4th.1887), Joseph Edward (born 20thAugust 1894), Dorothy Francis (baptised June 6th. 1897), Philip Reginald (born 26thOctober 1902) and Henry Leslie (born4th.May 1904).
Our thanks go to the current incumbent of Narborough All Saints, Revd. Stuart Nairn for supplying the photograph below of the choir that was taken in 1902. William is to be seen 3rd from the left on the front row and is clearly the boy of the man in the photograph at the top of the page: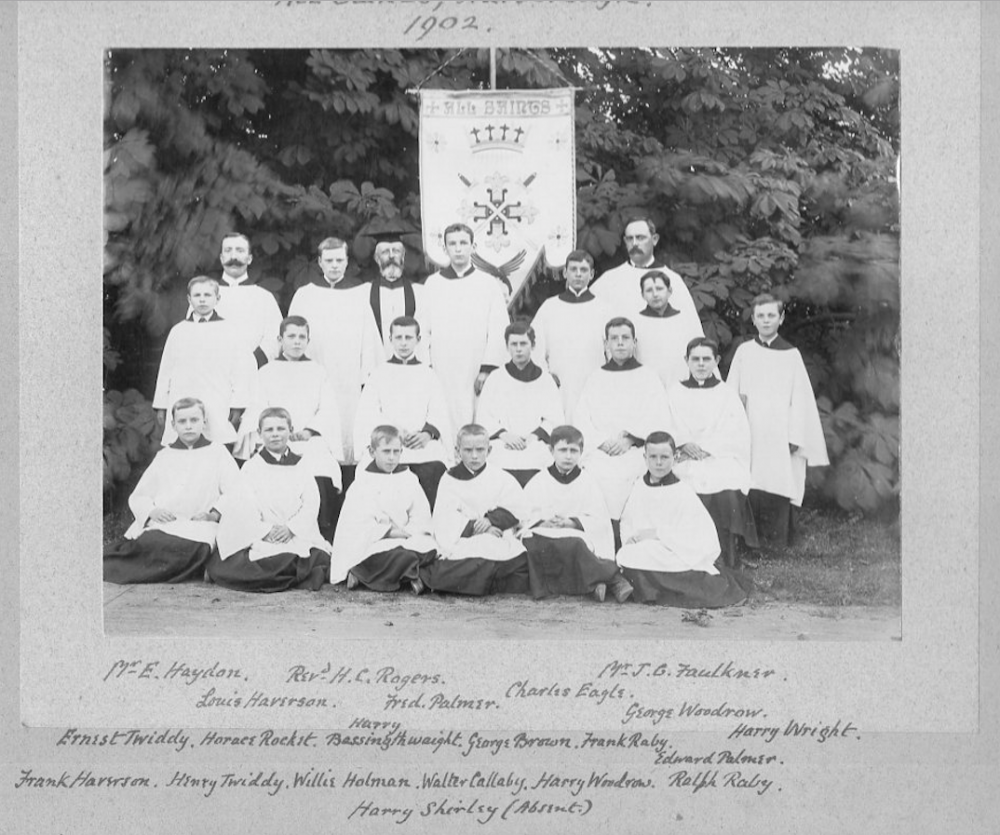 That image has been cropped from a village postcard (below) and was always believed to be William Holman facing his young charges outside Ryburgh School.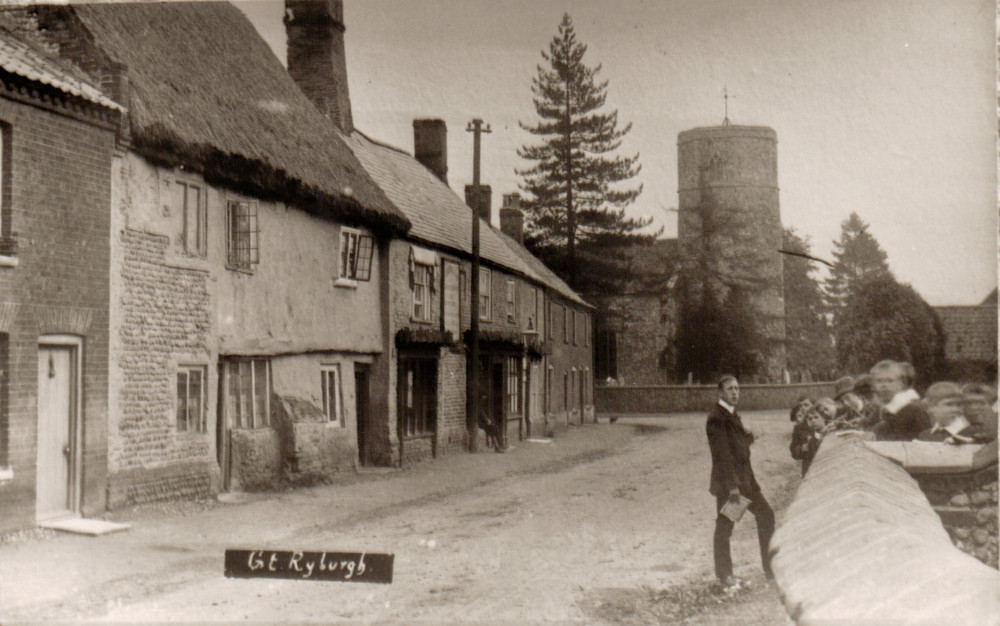 It would have been taken between 1910 and 1913, dates born out by postal dates on other village postcards of this series.
As the 1911 Census return records:
"Assistant School Teacher County Council Elementary School"
(otherwise known as an Article 50 teacher)
The dates are further confirmed by two entries, made by Ryburgh School Head Teacher Albert Foster in the School Log Book.
August 2nd1910: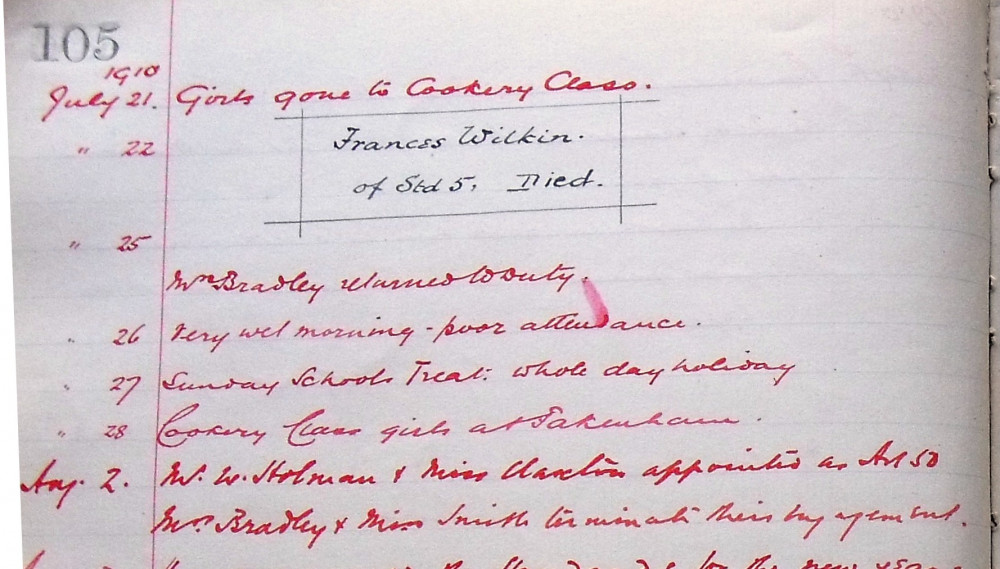 and
July 29th1913:
It was the Parish Magazine for February 1919 that gave us a fuller picture to this one time village teacher:
I feel sure I voice the feelings of us all when I say how grieved we all were when the very sad news came to Ryburgh of the death of Sergt. W.J.Holman, 1st.K.A.R at Langenberg East Africa, and how deeply we sympathise with his widow. He was well known to all because he identified himself with all interests in the parish and was most active in his work as Secretary of the Football, Cricket and Social Clubs, as well as a member of the Choir and a Communicant. Though he had left here before the War began, we often saw him back again and he gave good evidence of his patriotism and pluck by joining up at the earliest opportunity, and he worked so well in his new profession that he soon rose to the rank of Sergt. We may count him as one of our boys as his home at the last was here. May he rest in peace.
From this we learn that he was married, in fact at St Andrew's on November 3rd1917 to a Ryburgh girl, teacher Mabel Ely.
The couple had taught together at the school in the pre-War years, as this list from the log book of staff at the beginning of the 1911-1912 school year shows. Mabel was teaching Standards 1/2 and William Standards 6/7 :

Mabel was the daughter of Henry Ely, foreman/manager of the Ryburgh Farmers' Foundry. Henry was also a sidesman at St Andrew's and then Churchwarden from 1910 until two years before his death in 1936: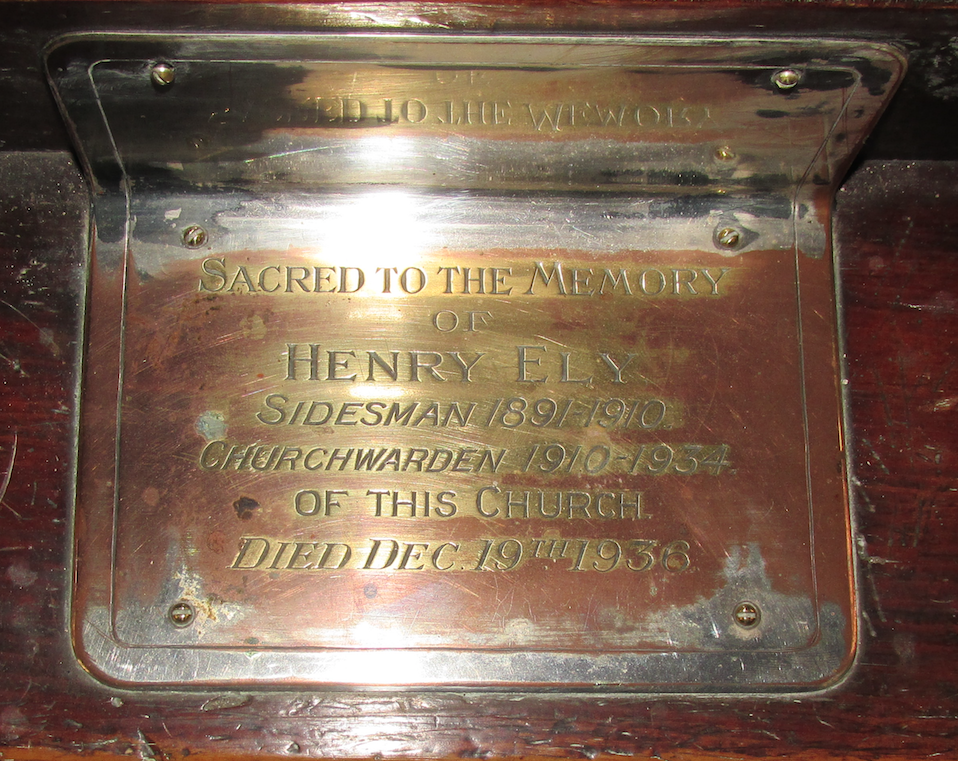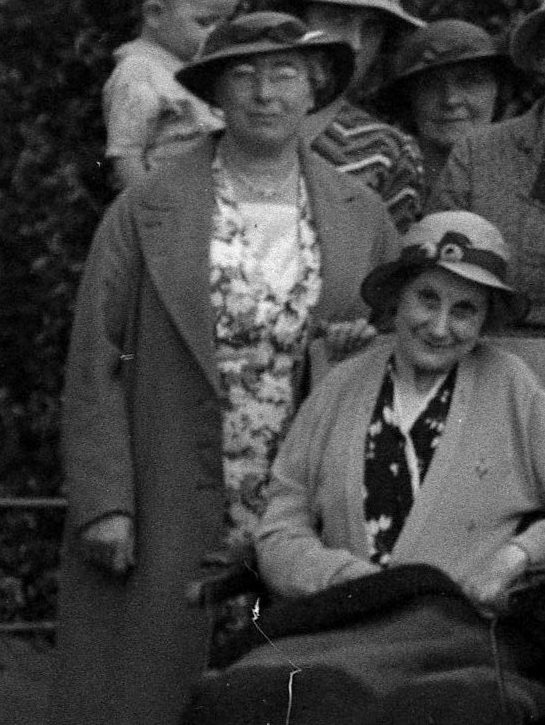 Mabel Holman and her sister Freda Ely pictured in 1938
Mabel returned to the village after William died and remained here for most of the remainder of her life. She spent that time caring for her father and invalid sister, Freda and was church organist here for very many years: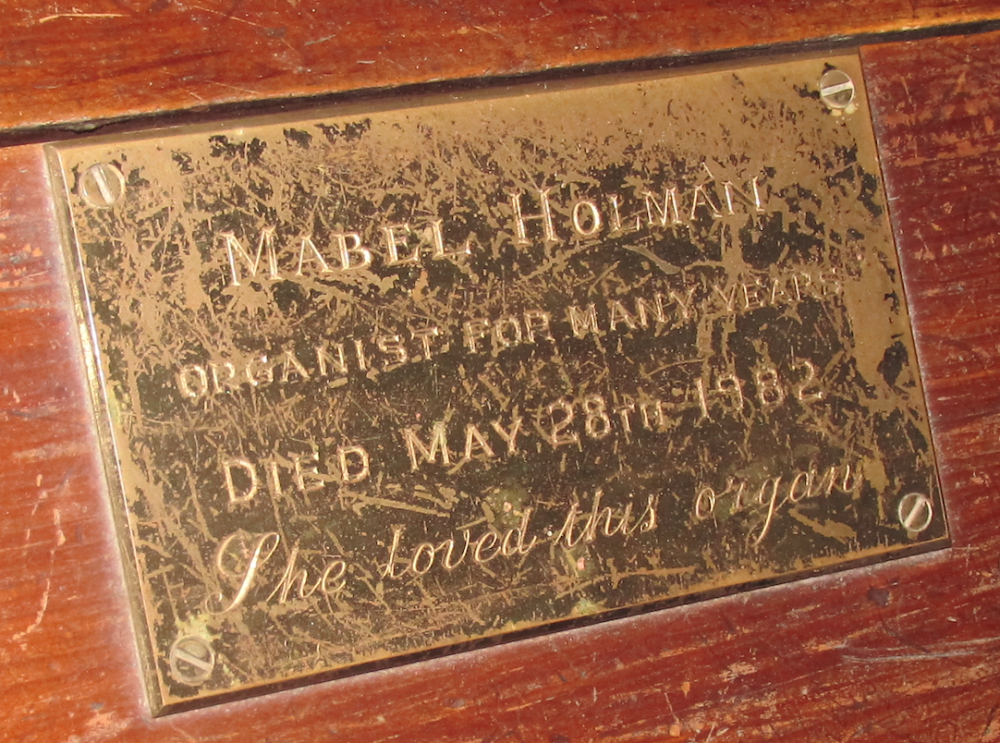 From the Narborough Parish Magazine we learn a little more:
William Holman was married very recently(see below) and is soon to go out to Mombasa. From thence he travels by rail and road many hundreds of miles to Uganda. He tells me he has "been to school again" learning the language of the Sudanese.When he reaches his destination, he is to drill Sudanese troops composed of men of magnificent physique. When "licked into shape" they have the credit of being as smart on parade as are our own Household Troops.
MARRIAGE. - On Nov. 3rd, 1917, at Gt Ryburgh, William Holman and Mabel Ely.,
In the Parish magazine for Dec 1917 F.H.Tatham wrote under the heading:
"Wedding Present to our Organist"
A collection was made for the above person and I am thankful to hear that most active members of the congregation helped either the present from the congregation or from the School Children. Mrs Holman has asked me to say how very much she appreciates the un-expected and kind gift for which she would if possible, liked to have thanked the donors personally, but that being impossible, as she does not know their names, she hopes they will acceot her deepest gratitudde for their kind gift.
In spite of Revd. F.H.Tatham's words in our Parish Mag., William was never included on the Roll of Honour and it was left most likely to his widow to provide a memorial to him in her church in the form of a small oak Credence Table that currently is in place in St Thomas' Chapel in front of the Walsingham Madonna.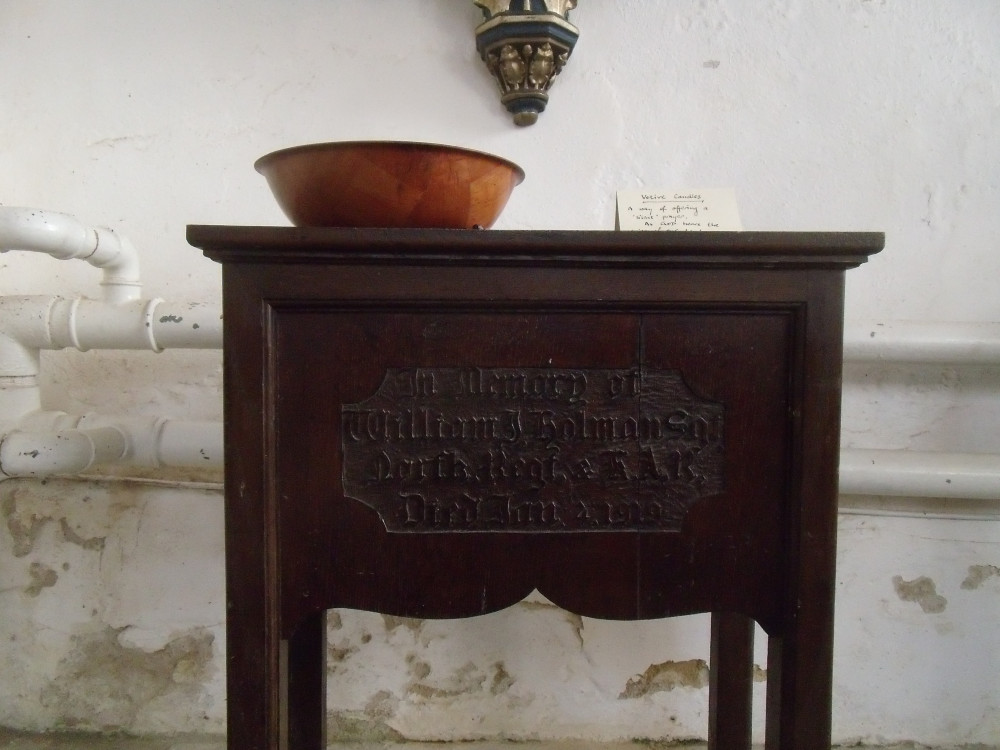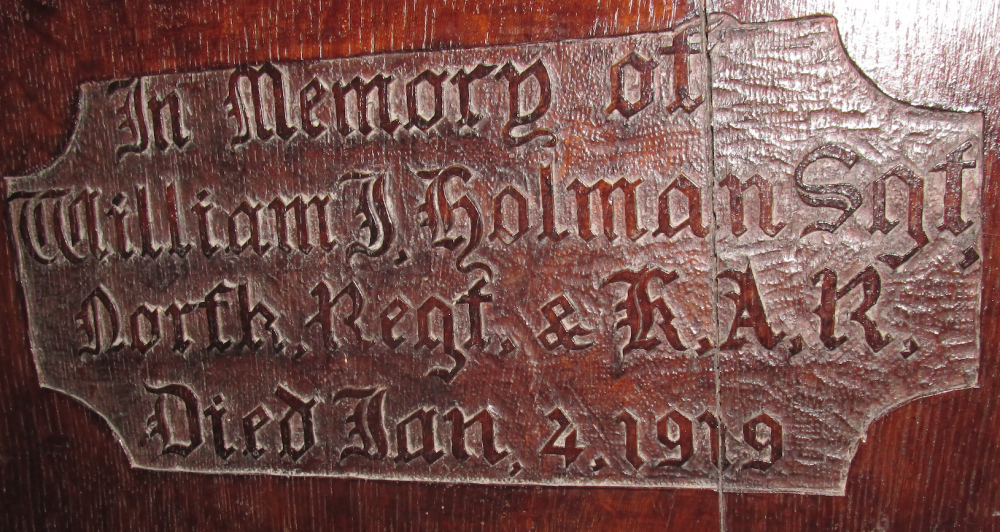 The carved oak inscription records the date January 4th1919 as the day of his death and which coincides with the Register of Soldiers Effects. This register shows that Mabel had been sent £66-1/-10d by December 1920 which was his total back pay and War Gratuity payment.
When searching for the site of his grave however in the Cemetery at Iringa in present day Tanzania, the date of his death is given as January 5th1919. This is also the date entered in the Roll of Individuals entitled to the Victory and British War Medal. This document also states "died" which would indicate that it was through an illness as opposed to "died of wounds". William was buried in Plot 8. Row B. Grave 3. To date we have seen no image of his gravestone and inevitably to her sorrow, Mabel is most unlikely ever to have seen it either.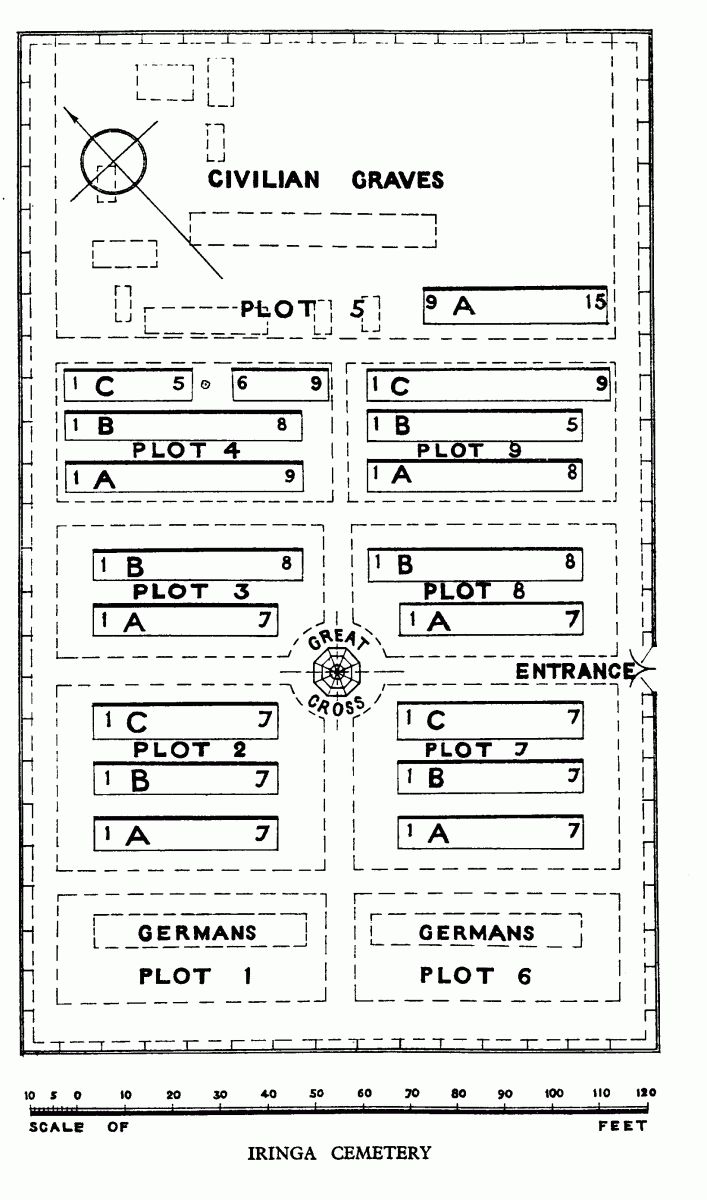 The widowed Mabel may have attended Remembrance Day services at Attleborough where he is commemorated on the War Memorial.
We read the following information on
http://www.roll-of-honour.com/Norfolk/Attleborough.html:
Sergeant 200554 William James Holman originally enlisted in the 2nd/4th Norfolk Regiment on 7th September 1914, then later was attached to the 3rd/1st King's African Rifles. He served in East Africa and died on service on 4th January 1919. He is buried at Iringa Cemetery and is remembered on the Attleborough War Memorial. He was Assistant Scout-master in Attleborough.
More likely she would have been with his family at Narborough where he is commemorated both in the church and in the churchyard: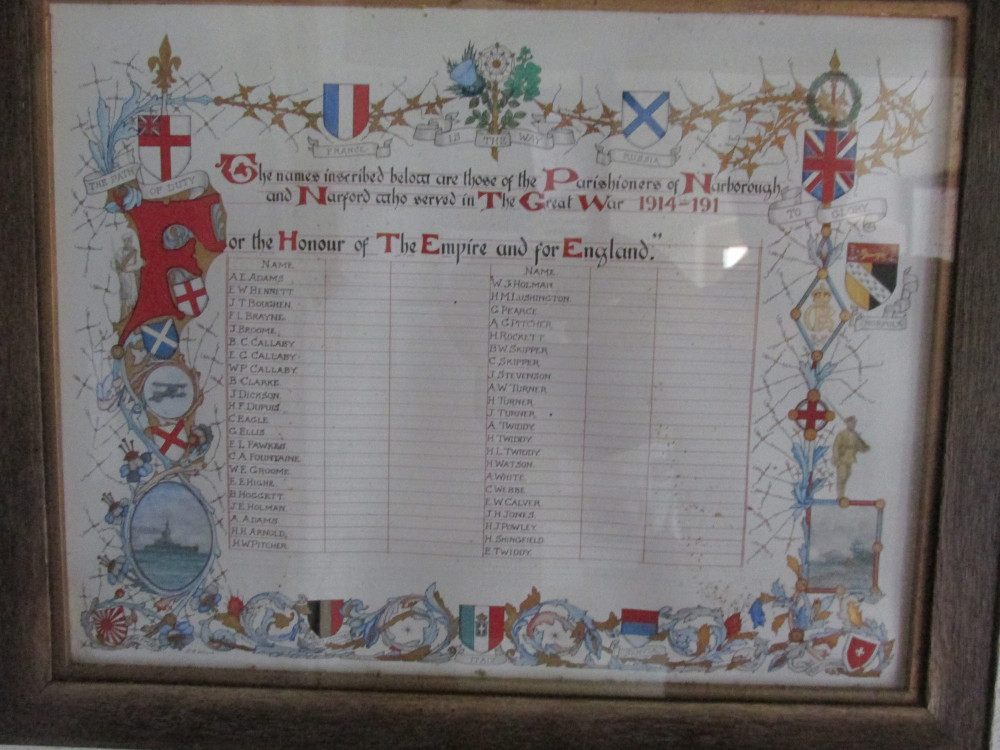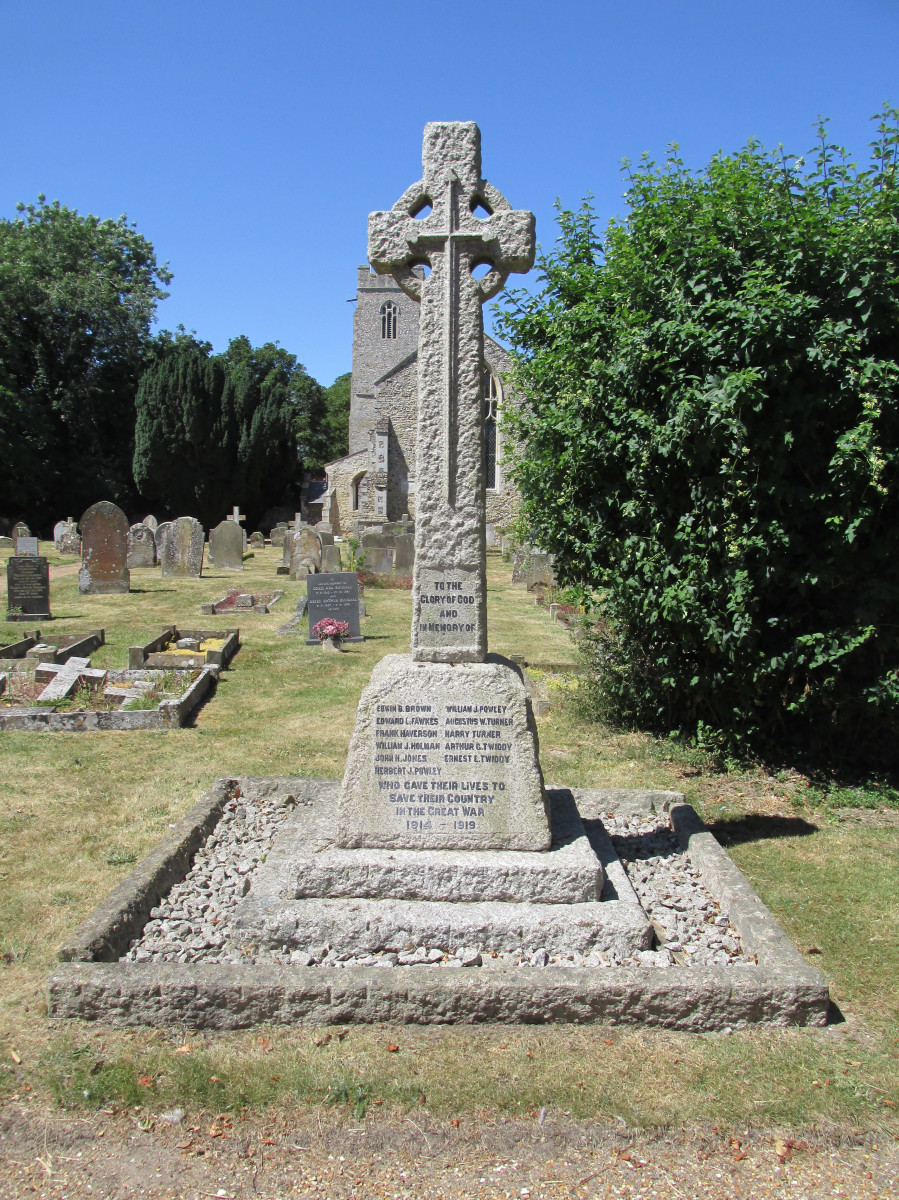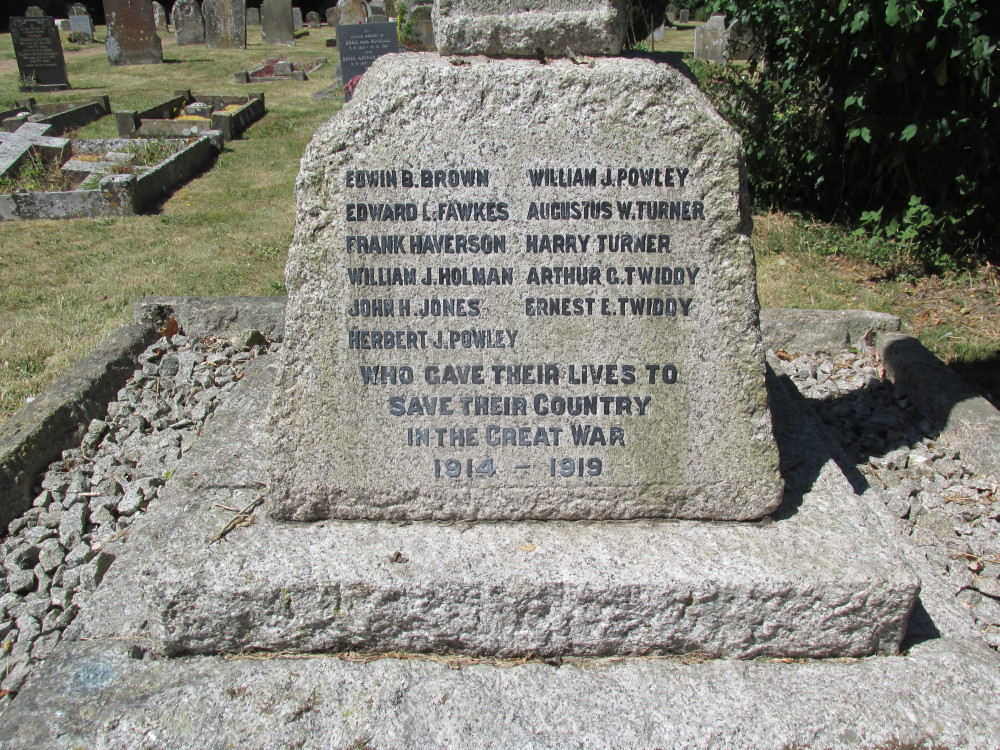 He is also remembered on a wall plaque at County Hall where he is recorded among 15 names of Norfolk teachers who died in WW1.
According to the following blog it is to be found "on the way to the sandwich shop and canteen"
http://elizabethwalne.co.uk/blog/2011/2/15/lest-we-forget-norfolk-teachers-who-died-in-the-great-war.html
As he was entitled to both the British War and Victory Medals, it is assumed that Mabel was in receipt of them and also his death plaque and scroll. Evidence for this assumption lies in the very recent oportunity to obtain the items in the photographs below and with many thanks to Andrew Roofe for making a presentation frame for them and ensuring that they came back to Ryburgh.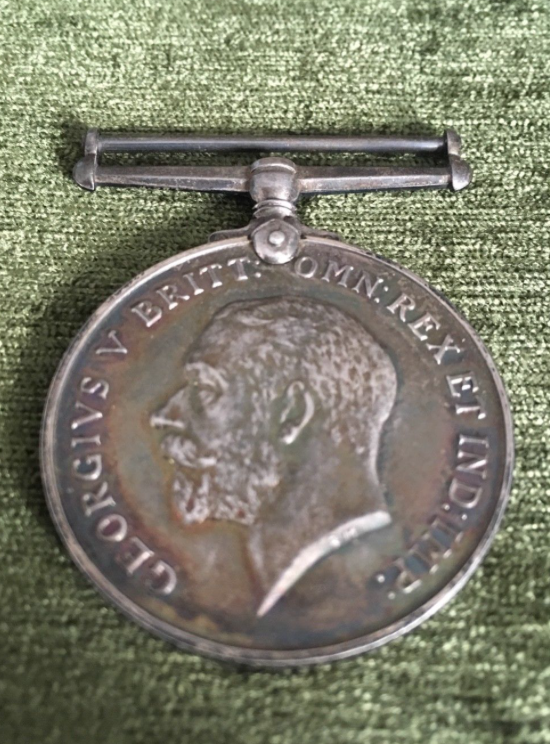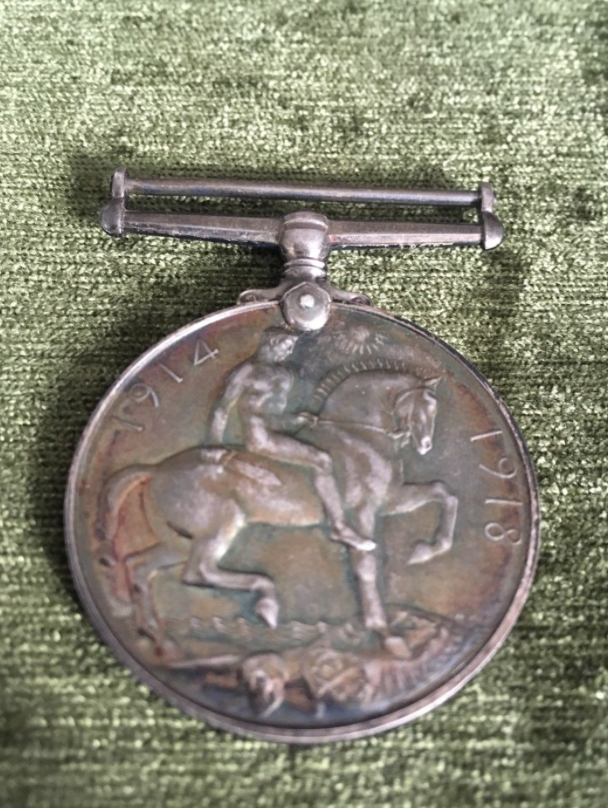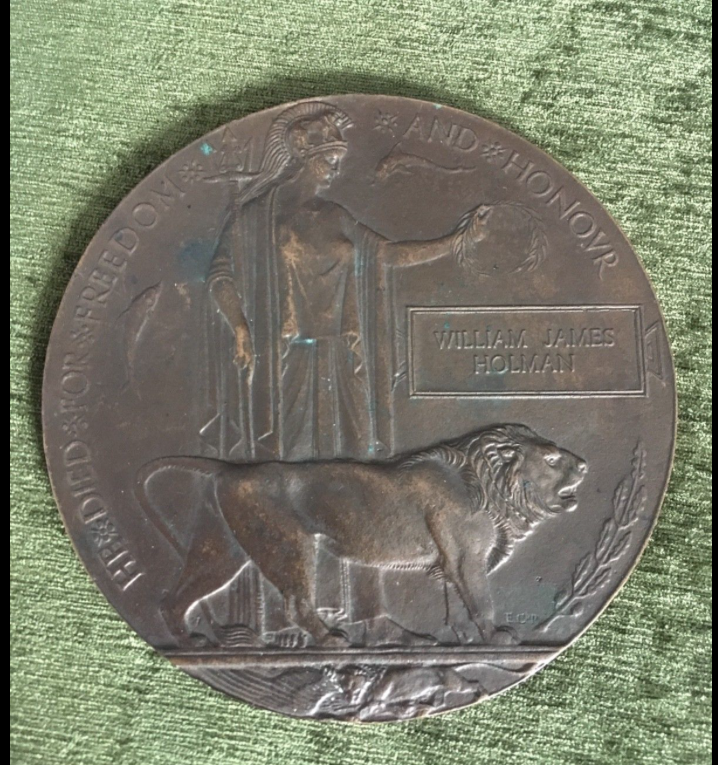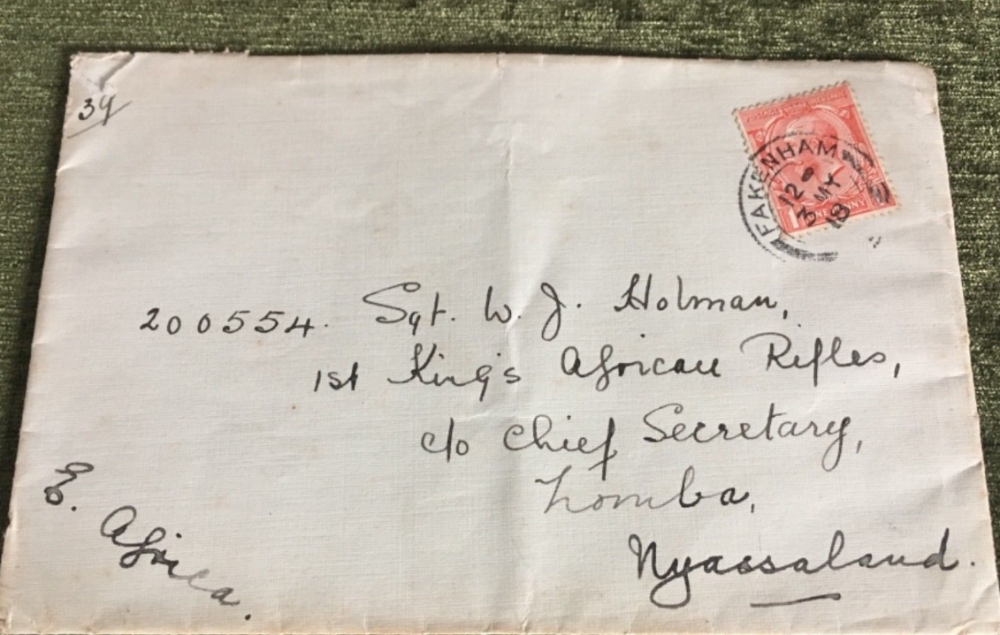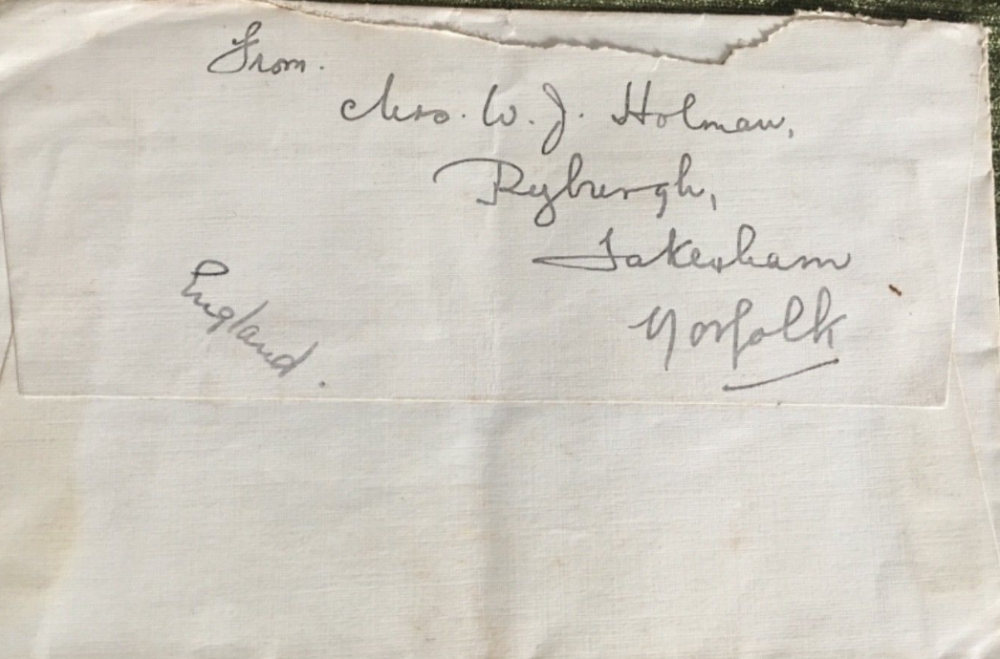 Included with these items was also a school blazer or cap badge for Neatherd School in Dereham. The exact significance of this would seem to be the next thing to follow up: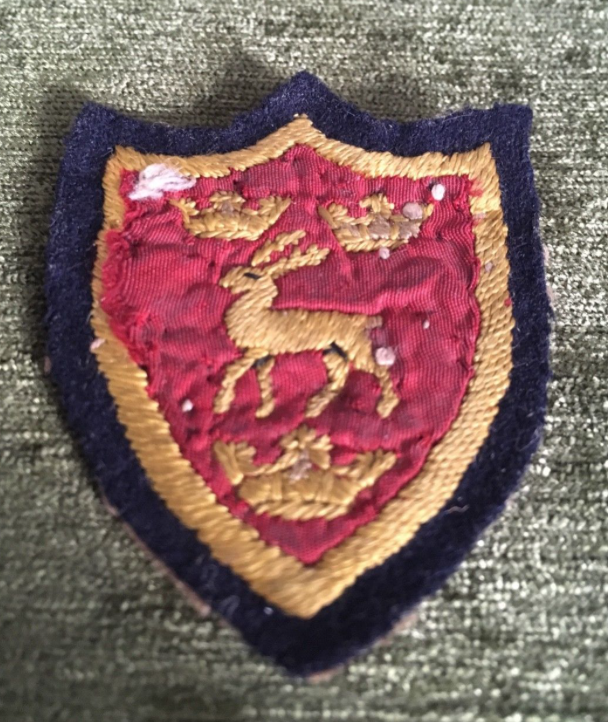 copyright 2018