Ryburgh Remembers
Pte. Ernest Arthur Nelson
23826 Norfolk Regiment,
41606 North Staffordshire Regiment,
50022 10th Essex Regiment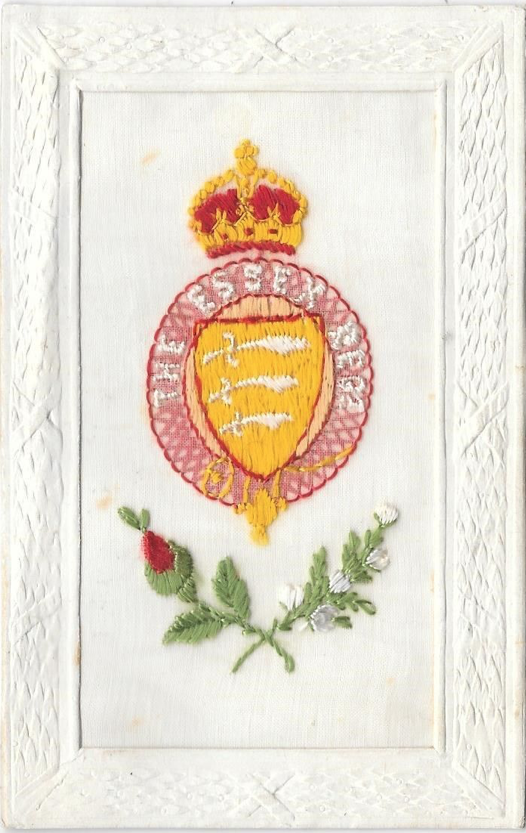 January 1888 - September 21st 1918
Ernest Nelson was the youngest of the 5 surviving children born to Samuel Charles Nelson and Georgianna Doy. He was baptised at St Andrew's by Revd. Morris Fuller on January 25th 1888, the last year of that unpopular cleric's incumbency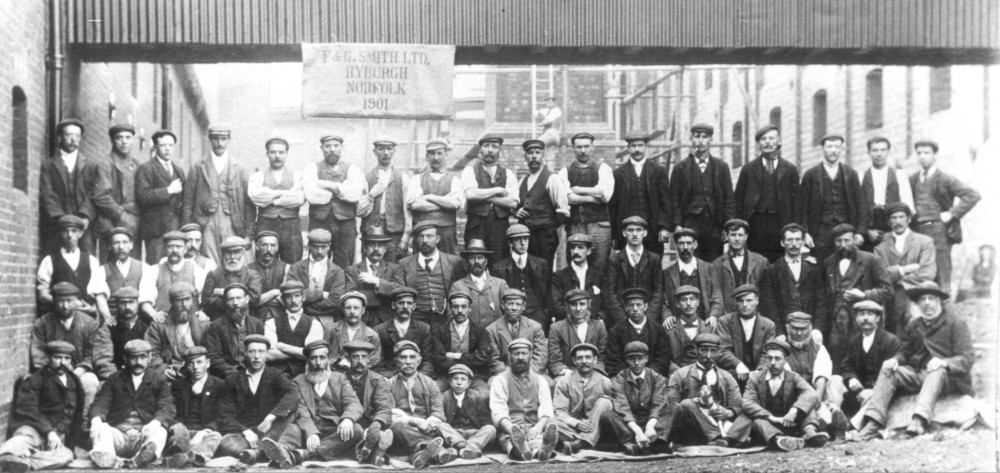 Samuel worked as a Maltster's labourer and we are fortunate in being able to identify him in the back row of the photograph taken of the F & G Smith Maltings workforce in 1901: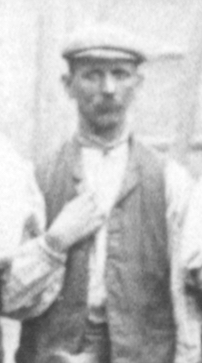 Samuel Charles Nelson 1863- 1932

All we can be sure of from the 1911 Census is, that Ernest worked as a domestic gardener.
From the Parish Magazine we know of his interest in cricket and football and that his village nickname (as so many people had in those days) was "Old Spink" :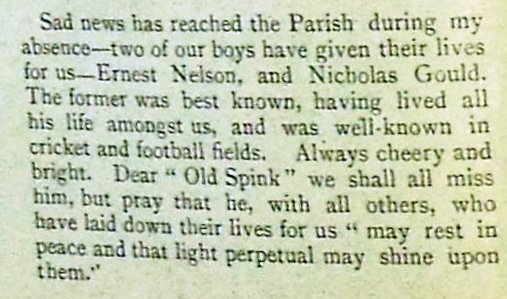 From his medal index card we know he enlisted some time after 1915 in Norwich with the Norfolk Regiment. And then we know nothing until the 10th Essex war diary describes the events of the day that Ernest died.
20th September 1918:
At 1.30 p.m. MAJ. J.C.PARKE. was ordered to proceed to BDR HQrS and interview G.O.C. 53rd Inf Bde. On his return a conference was held with Coy commanders and LT. COL C.W. FRIZELL DSO., MC. information was given that the battn would attack tomorrow 21st at 4.30 p.m. C.O. and Coy commanders went ford to reconnoitre the ground over which the advances was to take place. At 6.30pm the C.O. MAJ. J.C.PARKE was wounded and LT. COL C.W. FRIZELL DSO., MC., assumed command of the battalion. At 9.45pm. 0.0.208 was received from 53rd Inf Bde. and a conference was held with coy commanders. Details of attack were explained.
Coys were to form up as follows. A Coy on LEFT ….. C Coy on RIGHT….. B Coy 200 x in rear of A Coy and D Coy 200 x in rear of C Coy. At ZERO A and C Coys were to advance and capture a line through the EAST edge of FLEECEALL POST and EGG POST . B and D Coys were then to leapfrog A and C Coys and captors the line through TINO SUPPORT, LION TRENCH and KNOLL TR. Seven tanks were to assist in the attack.
21st September 1918:
Bn HQrS moved off at 12 m.n. and the battle HQrS were established at YAK POST At 1 a.m. Coys commented to move to their forming up positions. At 3.30a.m. attacking boys had formed up and dug themselves in. The barrage opened at 5.40a.m. and boys advanced at 6.7 a.m. C&D on the RIGHT reached GRAFTON TR. On the LEFT A & B Coys got without 200x of TOMBOIS FARM. At this point the attack was held up by M.G. fire from the two flanks and from TOMBOIS FARM. Four of the tanks had been out of action and the remaining 3 had got too far in advance of the attacking troops to be of any assistance. By 2.p.m. the baton was in the original front line. At 8p.m. the order was received to withdraw to the area around F.14. centra. This move was completed by 10p.m. A composite platoon und the RSM was left to garrison YAK POST.
22nd September 1918:
Battn remained in area around F14, central. Bn HQrs moved to F.14.c
7.7. The composite platoon still remained at YAK POST
Ernest's mother, Georgianna received his backpay and War Gratuity in 1919 which amounted to £18-18/-5d., small comfort indeed for a woman who lost her son-in-law, Edgar Huckins in 1915 , her nephew, John William Doy in 1917 and now her youngest child.
Ernest was buried with 9 others of his Regiment who died the same day, their graves all marked with official Graves Registration Unit wooden crosses. He was later reburied close by in the Unicorn Cemetery at VENDHUILE in Plot II. A. 15. with his standard issue C.W.G.C. headstone. The headstone bears no extra inscriptions that would otherwise have been added by and at the cost of his family or friends Plot ll. A. is near to the entrance to this relatively small cemetery in the Aisne region of France that holds the remains of 599 men. If anyone reading this happens to visit this cemetery, it would be so good to be able to have a photograph of his last resting place with which to close this page.