Ryburgh Remembers
Pte.15154 Everard Barnard Hipkin 8th Btn.Norfolk Regiment.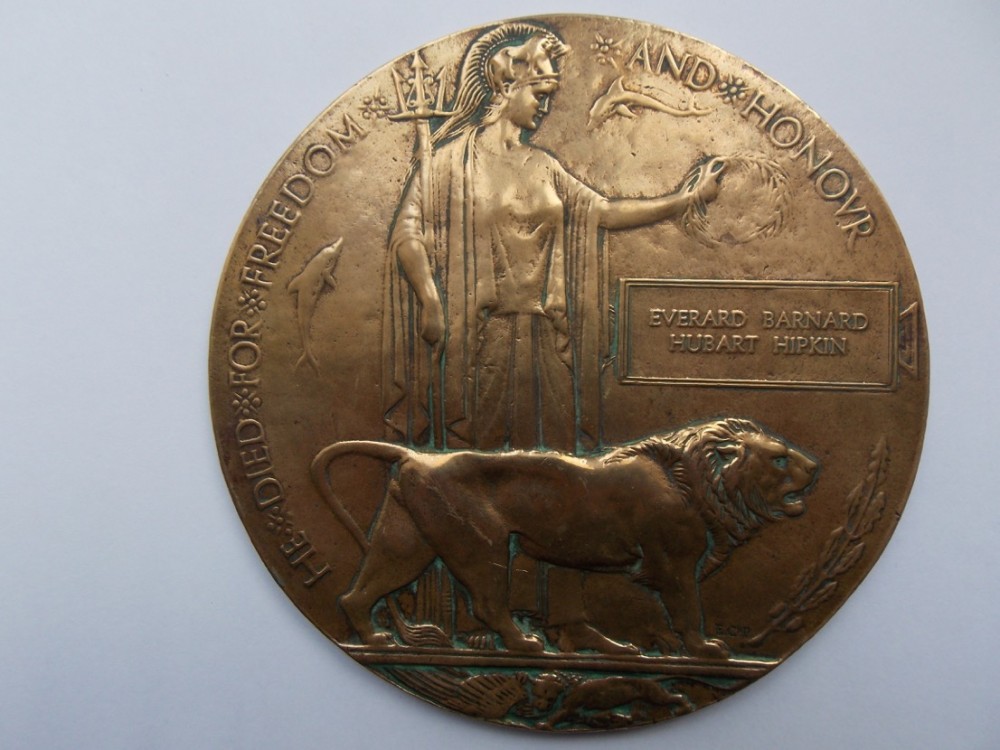 photograph by kind permission of Tim Poole
1893- November 2nd 1916
The Roll of Honour in St Andrews lists four Hipkins names and one wonders just how well the Rector knew the families concerned since their name is spelled without an S.

These names in fact represent two separate families and any connection would seem to be at least two or more generations back:
25415 Pte James Richard Hipkin 2nd.Norfolk Regiment
May 1897 - March 1969
He was the son of William Hipkin b 1862 and Elizabeth Ann Pawley of Fakenham/Hempton. He married Gertrude Elizabeth Marion Curtis in St. Andrew's on September 17th 1919. He is listed on their marriage certificate as Farm Labourer, and she "Land Army"
James was awarded the British War and Victory Medals but there survives no record of when and where he served, though it was probably late 1915 and posted to Mesopotamia.
Gertrude served from July 1918 to November 1919 and was awarded Excellent Milker and Good Service Badges .
*************
George James Hipkin 1883 - 1927
Albert Victor Hipkin 1890 - 1916
Everard Barnard Hipkin 1893 -1916
These were three of the nine children born to George Henry Hipkin of Syderstone and Jane Savage of South Raynham who were married in the Autumn of 1876. at South Raynham. Much of their early life was spent in Mileham and Litcham and they must have moved to Testerton Cottages some time after 1911.
************
George James Hipkin
To date we have found no record of a George James Hipkin or Hipkins serving with the Queen's Royal West Surrey Regiment and the most plausible candidate of that name is Pte. PW/6152 Duke of Cambridge's Own (Middlesex) Regiment also 1st Middlesex and 1/7th Midlesex Regiment. There is no surviving record of when or where he served save a Medal Index Card showing he was awarded the British War and Victory Medals.
************
Pte.15152 Albert Victor Hipkin Norfolk Regiment
Albert's military career lasted but 78 days as this extract from his surviving service record shows: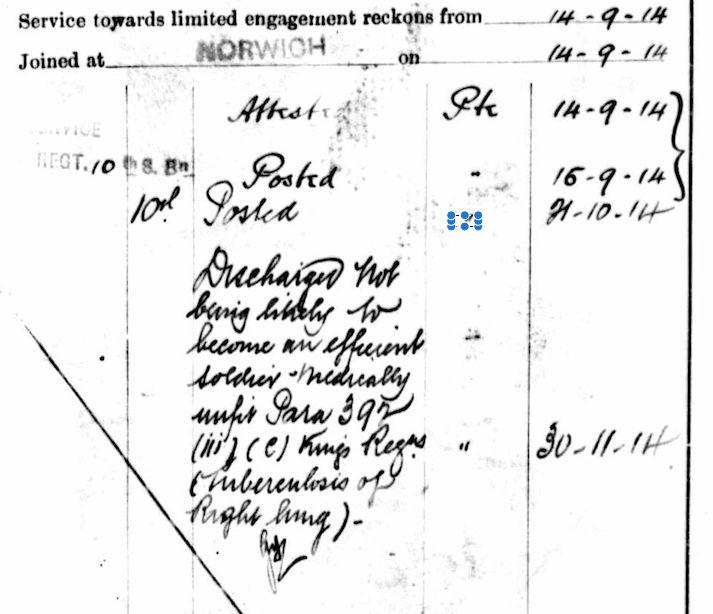 The death of 25 year old Albert Victor Hipkin is registered in the 1st quarter of 1916 in the Walsingham District Registers and he was buried in the New Churchyard at Little Ryburgh on January 22nd 1916.

************
Pte.15154 Everard Barnard Hipkin 8th Btn.Norfolk Regiment.
Everard was the youngest in the family, and like his father and brothers was a farm labourer. No service record has survived but his Medal Index Card shows he was posted to France on 11th. August 1915 and was Killed in Action 2nd. November 1916.The Battalion War diary for 1st and 2nd November 1916 states:
Battalion remained in the trenches north of Pozieres. These two days were quiet and nothing unusual happened.
Everard was one of 9 Other Ranks listed as killed or wounded on those two days
The battalion was relieved the following day by the 11th Btn. Royal Fusiliers
He was awarded the 1915 Star, British War and Victory Medals. He was buried and remembered with honour in the Courcelette British Cemetary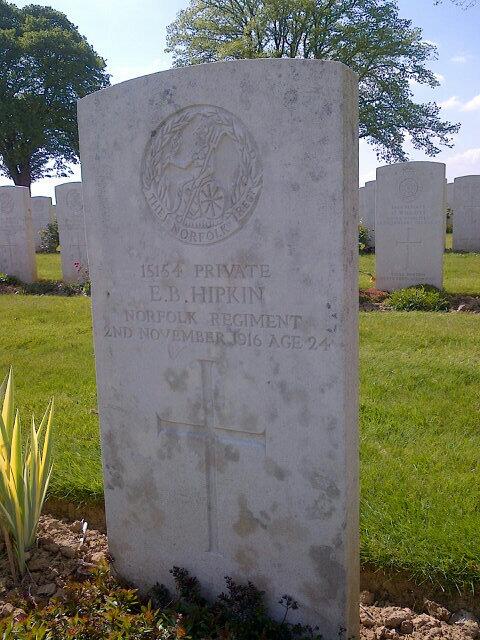 photograph by kind permission of Steve Tipler
His military will, written 5 days before his posting to France is unsurprising and in common with huge numbers of other single soldiers, he leaves everything that he has to his mother: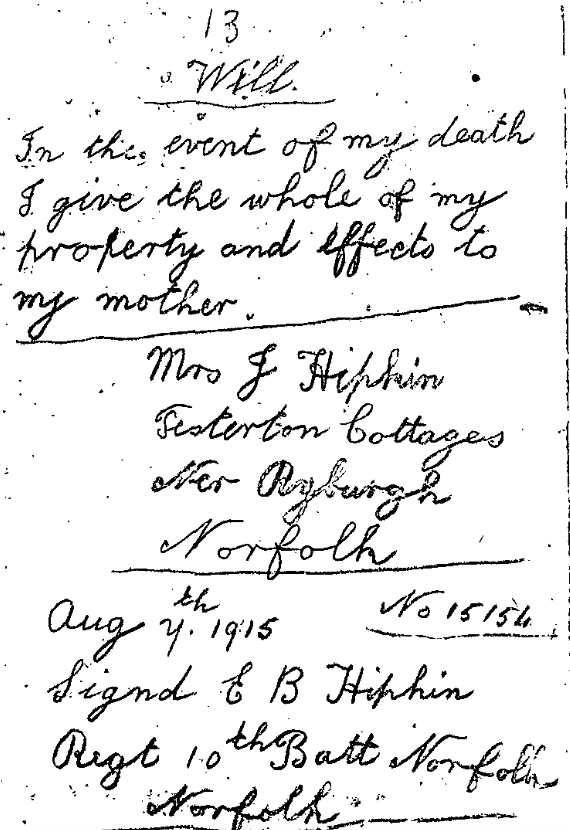 In terms of "compensation" for her loss the Army grants £19-14/-0d to Jane Hipkin.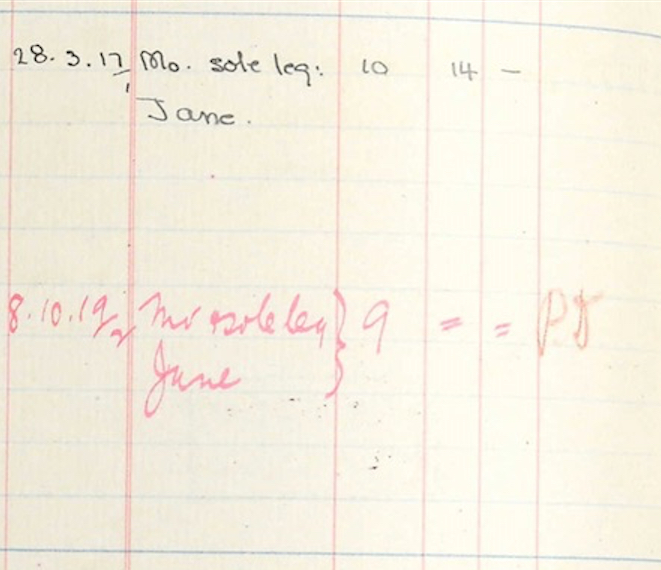 As of August 2018, the memorial scroll has been reunited with the plaque in the possession of Tim Poole thanks to descendants of Ernest Thompson. Tim has kindly provided this photograph: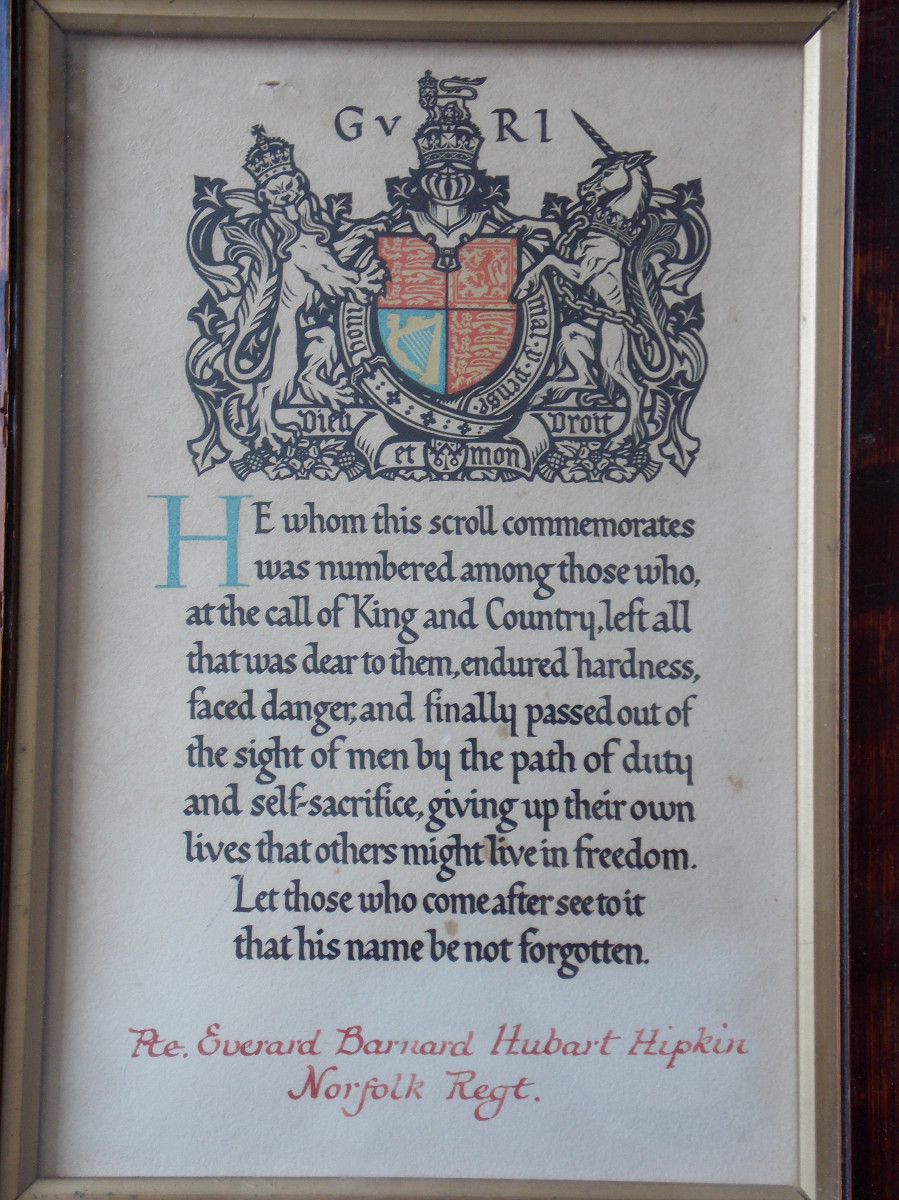 copyright 2015