Ryburgh Remembers
Pte. G/9287 Frederick John Bone
The Queen's Royal West Surrey Regiment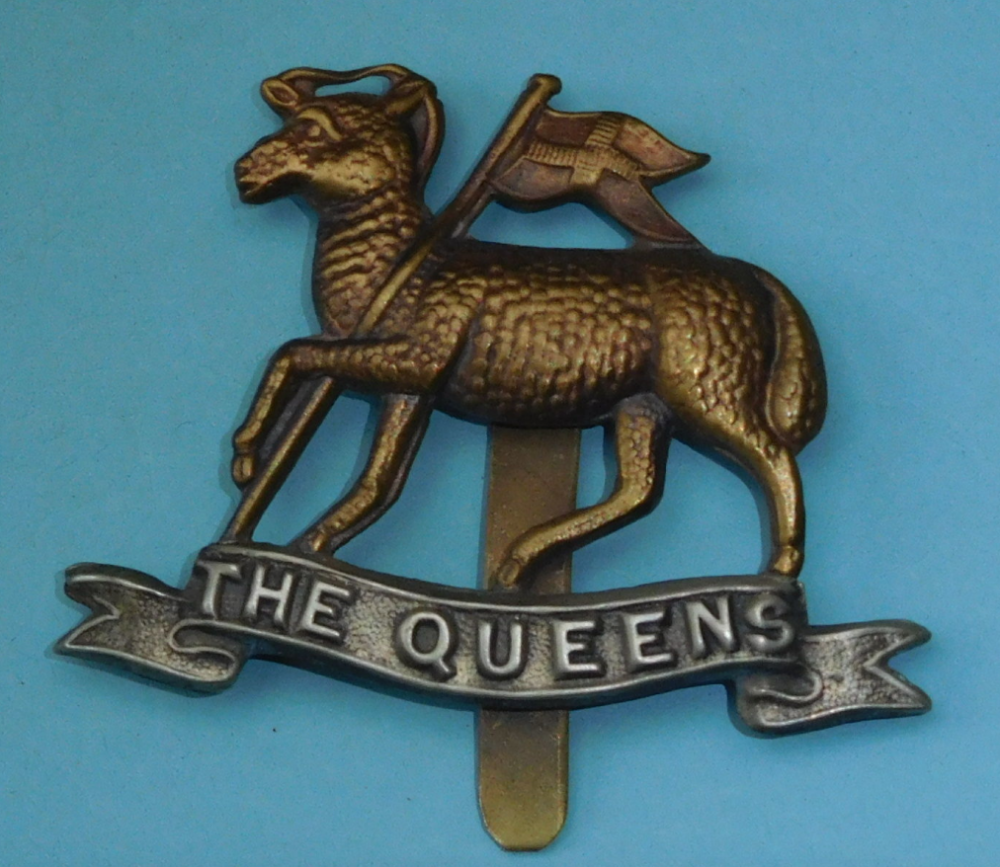 1877 - May 10th. 1917
On may 12th 1917 it was reported in the Thetford and Watton Times
that Frederick John Bone had been wounded:
as can be seen, this also reported the deaths of three others who we now know had died between 30th. March and 23rd. April. This variable time lapse means that, without any other evidence i.e. his Service Record, it is not possible to say exactly when John Bone received his fatal wounds, just that he succumbed to them on May 10th 1917. The fact that the initial report is of wounding suggests that he must have suffered a lingering death that would have lasted at least hours or even days.
Reading the Queens' War Diary from the beginning of the month, tells us that the 6th Btn. took up a position at Arras and that O(ther) R'(anks)s, totaling 77 men, were wounded up to and including the day that John Bone died. This reads as a period of "normal" trench warfare before a large planned operation for the following week during which additionally, Livens Projectors were installed for use in delivering Phosgene gas barrels into the enemy trenches…... provided the wind was in the right direction.
John Bone's parents were Robert Rudd Bone of Little Ryburgh and Mary A Hipkin who were married 17/11 1875 at St Andrew's Great Ryburgh. Mary was born in Syderstone and was the older sister of George Hipkin the father of Everard Barnard Hubart Hipkin who had been killed in November 1916. Mary was in service with Sarah Steward of Little Ryburgh in Fakenham. This would have been an obvious possibility for her meeting with Robert Bone.)
John was the eldest boy in a family of 5.
Older sister, Ethel May born 6th August 1876, then Frederick John,1877 Agnes Edith born Dec 27th 1878, Charles Edward 1881-1910 and Bertha b. 1887
His birth was registered as Frederick John Bone in the 3rd quarter of 1877 but he is referred to as John only in all the Census returns. He was 39 and unmarried when he was killed. No Service Record survives.
John Bone and Everard Hipkin were first cousins and another first cousin found on the Roll of Honour was Edward Charles Bone. He served throughout the war, first as a cyclist and then lorry driver. His father Marshall Bone and Robert Rudd Bone were brothers.
The family had several brushes with the "Authorities" which were reported in the Dereham and Fakenham Times on various occasions.
e.g.
March 1890

June 1900
Oct 1901

Oct 1903

Dec 1904

These seem to be the known facts about John Bone and it feels unfair and discourteous to leave the story in the light of the press clippings above. However, research has brought to light some circumstantial evidence with a possible link to Frederick John Bone.
The following is the result of looking into this link in the form of a few pages of an anonymous photograph album found by Ryburgh resident, Hugh Lanham. It contains amongst other items, views of Ryburgh together with various members of the Howe family.
The particular photos of interest show three separate views of the Ryburgh War Memorials, one taken in the church and the other two of the obelisk in Station Road. They are dated 1923 just 2 years after their creation and say merely:
Gt. RYBURGH CH.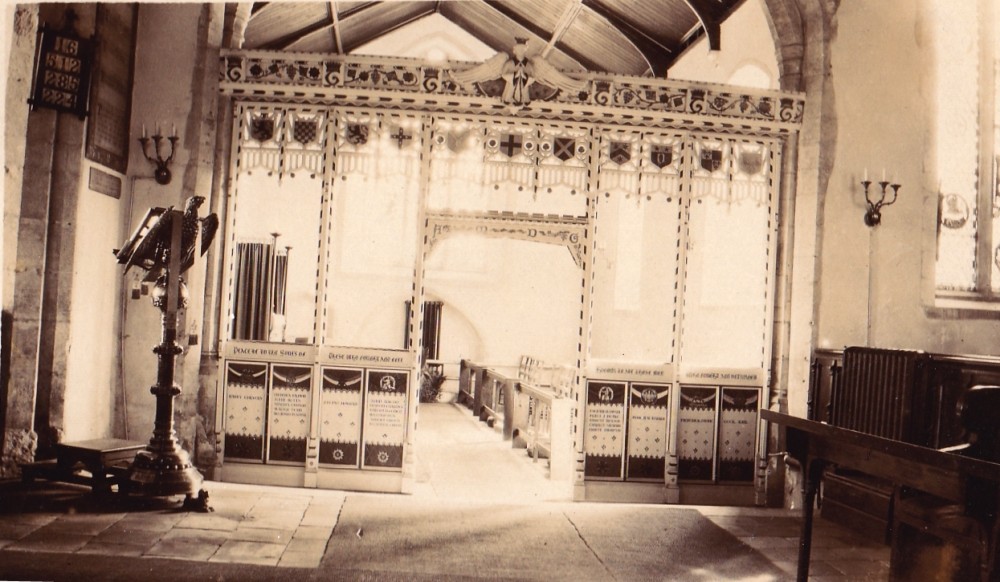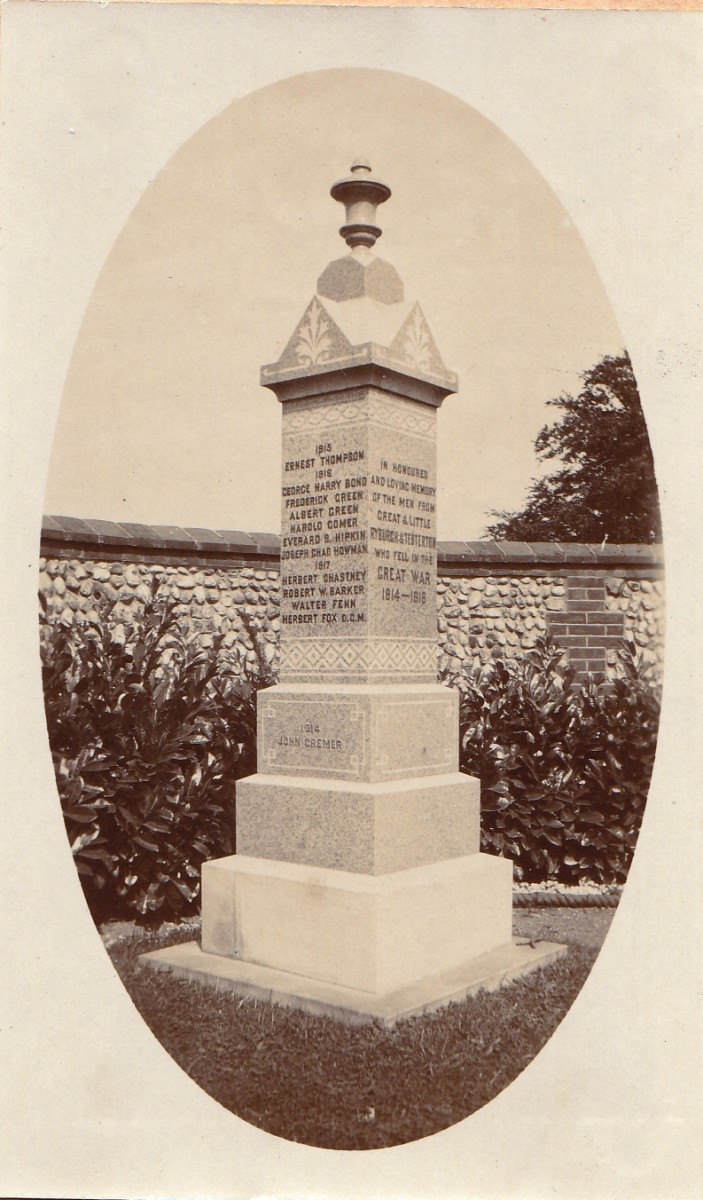 Ryburgh & Testerton
14-18
War Mem.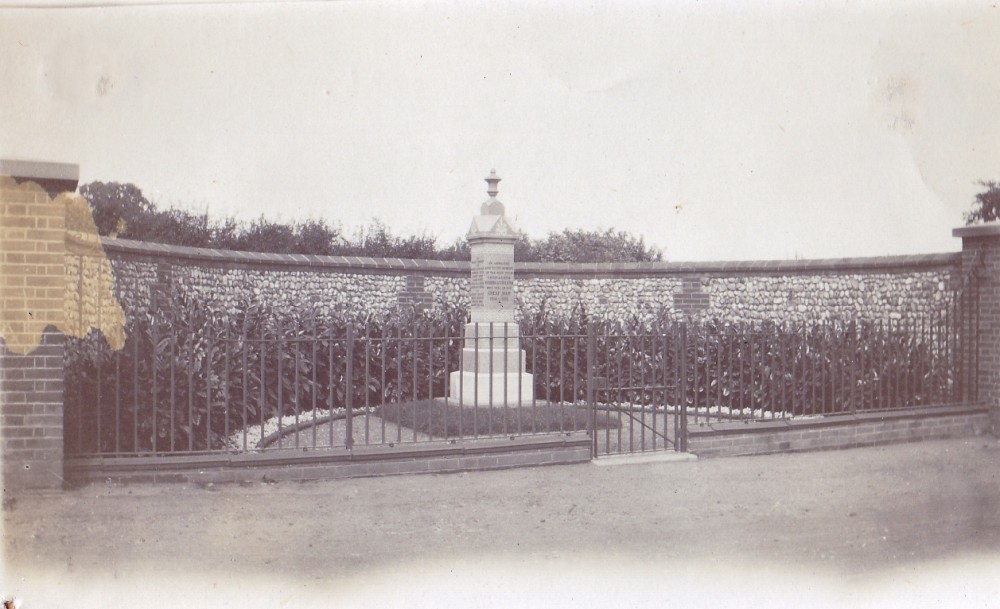 Several of the other photos are also annotated, and depict "Sylvia", "S. Howe" and "E.M.B.".
Sylvia Rose Bone Sadler was born out of wedlock to Ethel May (Howe) Sadler She took her mother's Sadler surname as had Ethel May's father, Samuel (Howe) Sadler as had he, from his mother Mary Ann (Slegg) Sadler. In Sylvia's case we have the additional name of Bone, found in the Ryburgh baptism register and it would not be an unreasonable assumption to suggest that this was the name of Sylvia's father.
However unlike her parents and grand-parents, Ethel May did not go on to, either marry the father or have further children with him, but did go on after the War to marry Joseph John Jeffrey in 1922. The memory of Ethel May's 2nd cousin, June Clarke (nee Hudson) recalled the alleged father having died in WW1 but she never knew his name.
The photos below convincingly and very happily show a mother, daughter and grandfather together. Did Ethel May use the Bone surname as part of a courtesy title and was known by that name to the compiler of the photo album? Although she is living with her father, mother and Sylvia in the 1911 Census, did she ever live together with John Bone? Was this the pictorial record of mother and daughter going their separate ways following her marriage, and remembering Sylvia's father lost in the Great War?
It is believed that Sylvia grew up principally with her grandparents in Ryburgh and went on to marry George Brown in 1928, some 5 years after these photos: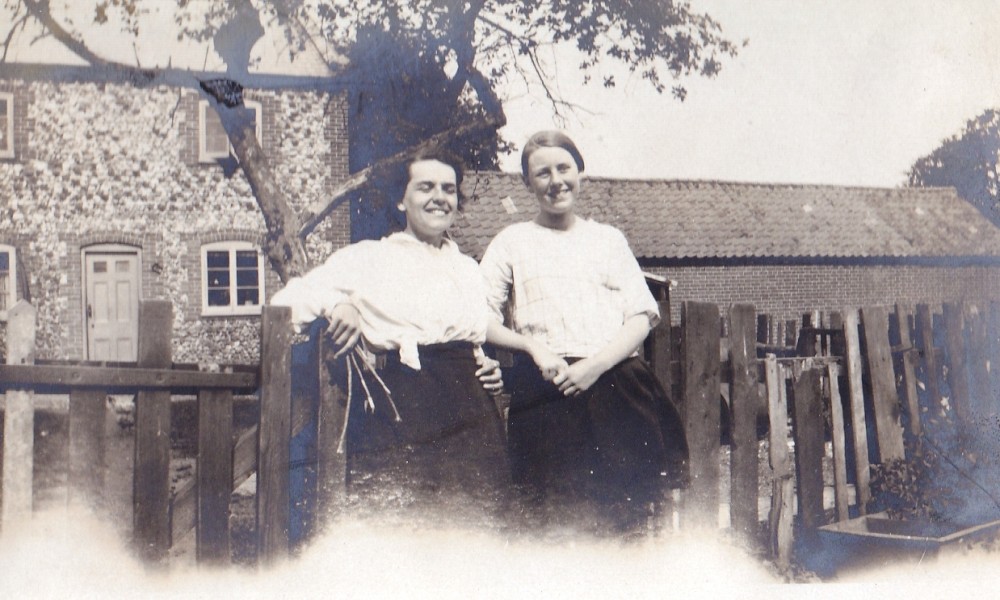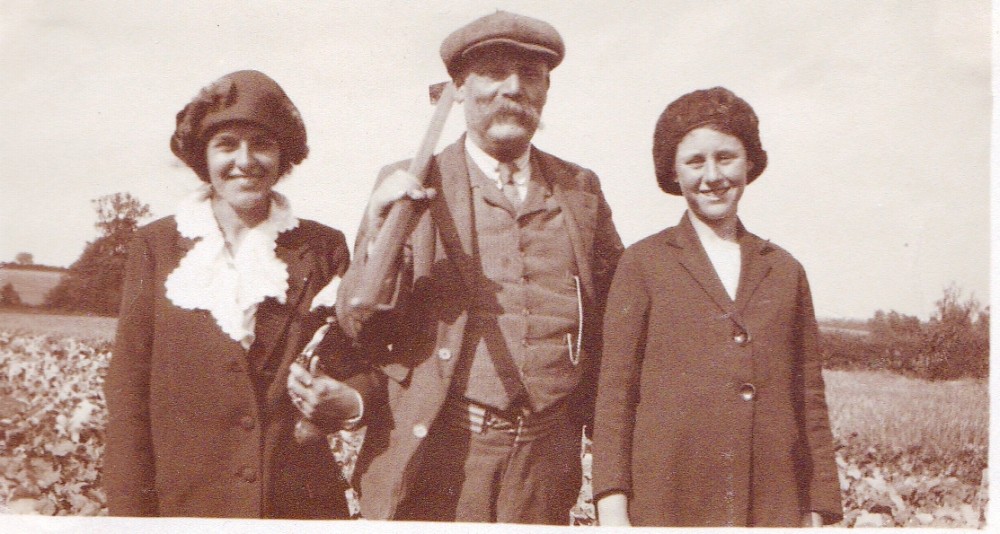 Whilst the above is essentially speculative, it is nevertheless good to think that perhaps Frederick John Bone lived on in the hearts of the next generation after his death. His father Robert however was the one who received his back pay and War Gratuity that totalled £9-17/-4d. and, probably, his British War and Victory Medals too.
He is Remembered with Honour at the Etaples Military Cemetery.
copyright 2017