Ryburgh Remembers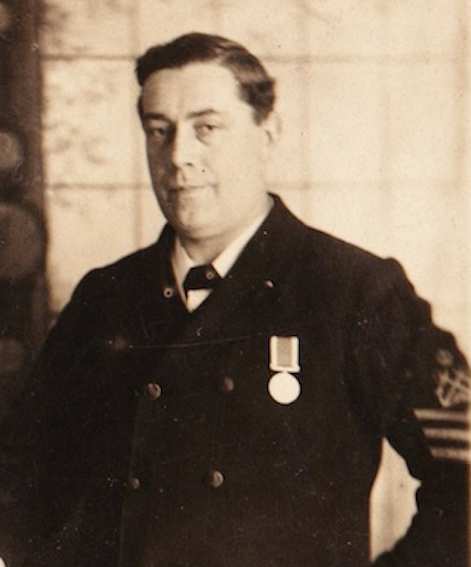 George Harry Bond
26th June 1881 - 5th June 1916
The Bond Family at War
On the Comper Organ Gallery, the panels of the balustrade have recently been hung with a facsimile type of Think and Thank Screen Panel to bring into the church some of the names of those that died and who were not included here in St Andrew's at the time.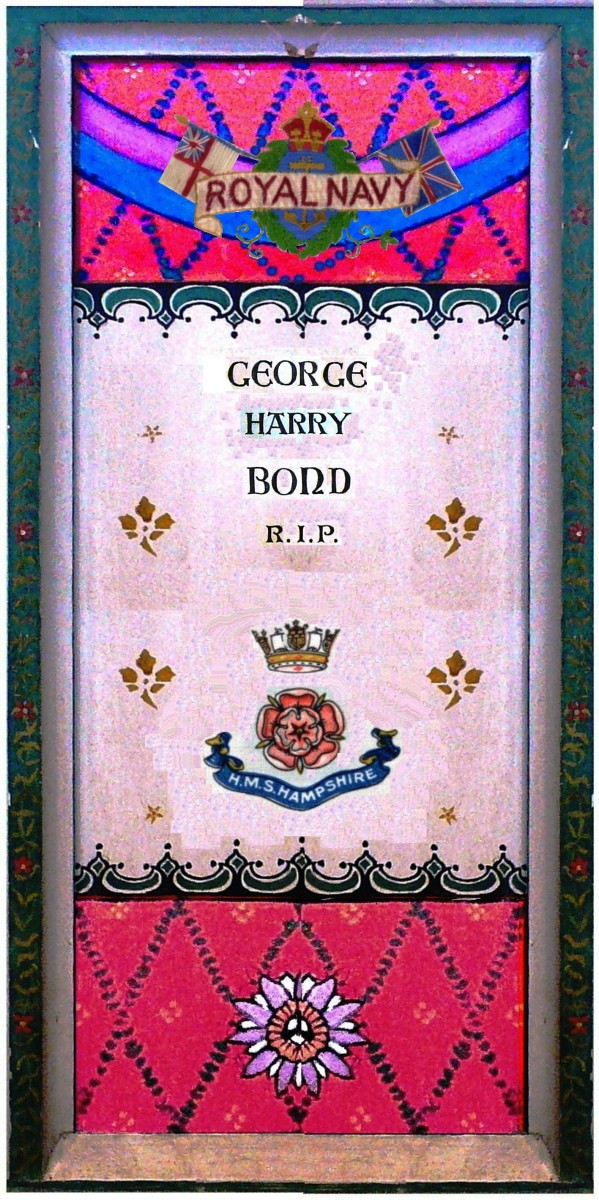 Below is the wider picture that surrounds the death at sea of George Harry Bond who was born in Redenhall on June 26th 1881. He died on June 5th 1916 whilst serving on board H.M.S. Hampshire. The sinking of this ship was a national disaster at the time (though played down for obvious reasons) because it claimed the life of the illustrious British Commander-in-Chief, Lord Kitchener. The Ryburgh School Log Book records the event thus:

The Log Book makes no mention at any time during WW1 of casualties and in this case it is possible that it was not known at the time that Ship's Corporal George Harry Bond was on board. His name is inscribed on the village obelisk in Station Road under 1916. There are no other details and what follows has been gleaned from a wide variety of sources.
The Ryburgh Connection.
We learn from the Director's Minute Book in the archives of F&G Smith and quoted by Betty Wharton in her book "The Smiths of Ryburgh" that in September 1891 it was recorded that:
"The report of Mr C.I. Watts as to engine repairs for the Ryburgh Mill was read and it was decided to put down a first class engine and Galloway Boiler capable of driving a four sack roller plant independent of water power and that Messrs. Riches and Watt, Turner & Son, Holmes and Sons Ltd., and Ransommes, Simms and Jefferies be invited to supply specifications and estimates for the same".
There was a full report in the pages of the "The Miller" for the 6th November 1893 of the inauguration and celebration of the completion of the new roller milling apparatus at Ryburgh's 5 floor Mill (now demolished) on October 20th 1893.
The following extract from "The Miller" gives the technical information of the new stationary engine supplied to replace the old one
Motive Power
The motive power when water is plentiful is principally derived from a Duncan's turbine water wheel, which was put down by Messrs Whitmore & Binyon in 1858, and to assist this wheel when the water is scarce, a horizontal compound condensing engine, built by Messrs Holmes & Sons Ltd., Norwich, with cylinders 10 inches by 17 inches and 22 inches stroke, running at a speed of 98 revolutions per minute, and controlled by a Turner-Hartnell governor, acting on the cut-off valve of high pressure cylinder, is employed. The main shaft of the roller plant is at right angles to the countershaft of the engine, to which it is connected by bevel gearing, and an arrangement is provided for disconnecting the engine when it is not required to drive the mill.
The necessary steam to drive the engine is obtained from a double-flued Galloway boiler, 16 feet long and 6 feet 6 inches in diameter, also put down by the same firm who built the engine.
This new engine is what must have brought Harry Bond to Great Ryburgh with his wife Clara (Chapman) and their family of then 5 children.( A daughter Blanche Victoria, born June 17th 1887 had died o n March 21st 1889.)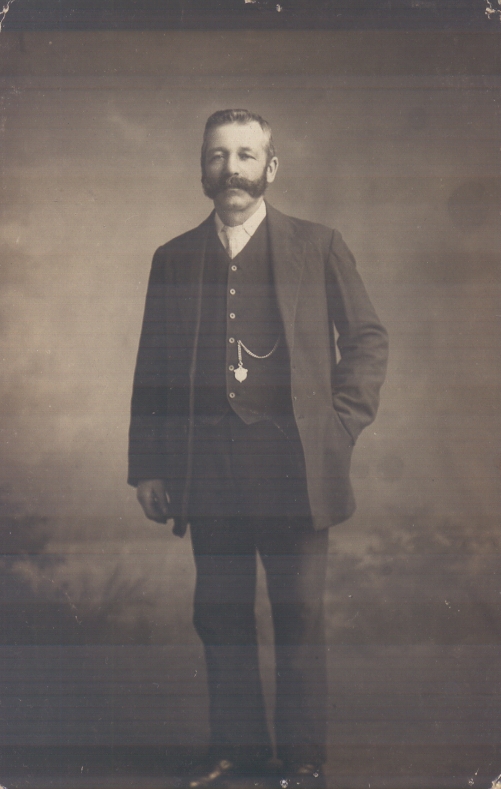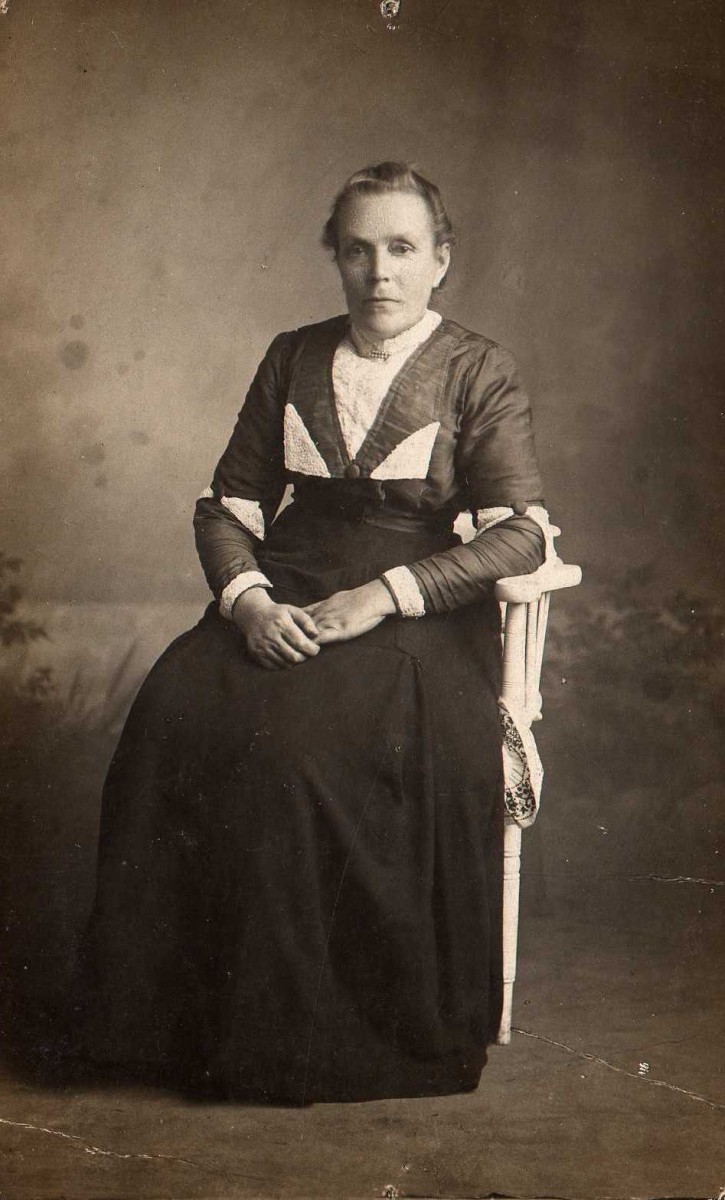 They had two further daughters, twins born in Great Ryburgh on February 27th 1900 and baptized later that year on May 6th (Entries No 184 and 185 in the Register)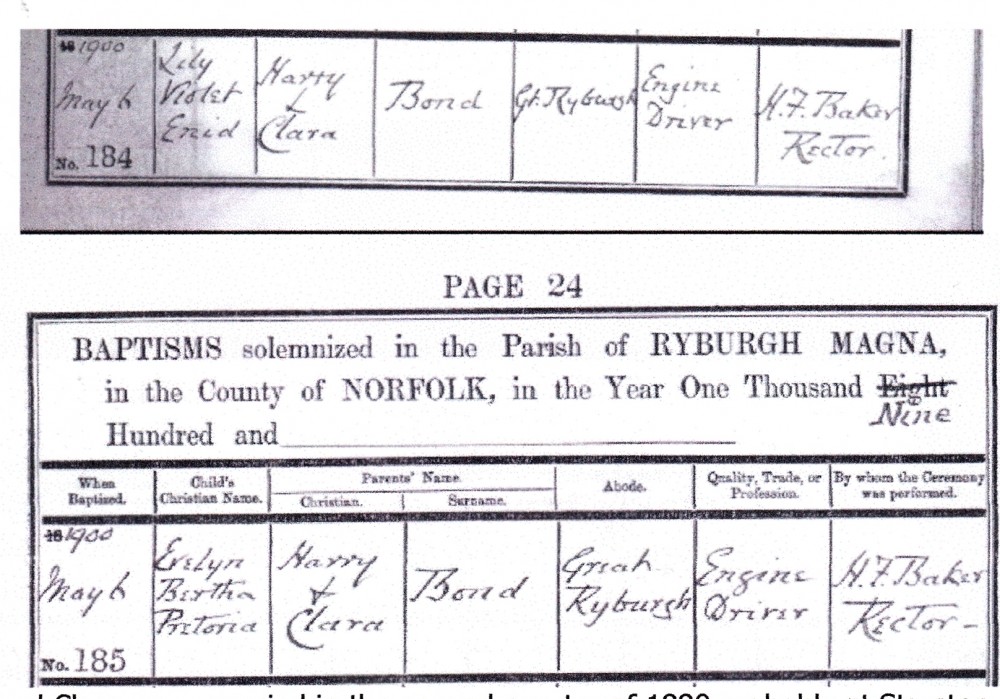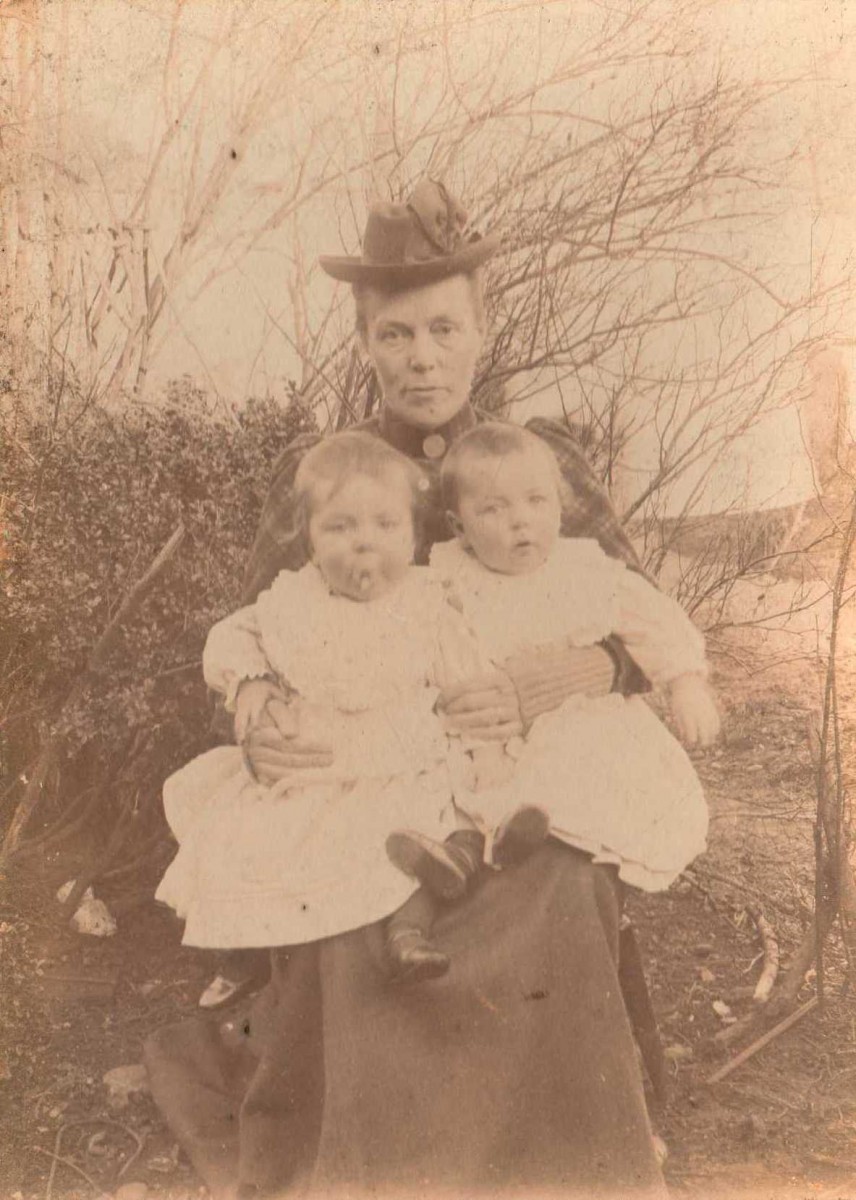 Clara and the twins photographed circa 1901.
Harry and Clara were married on April 12th 1880 at Starston and George Harry Bond was their eldest child born on June 28th 1881. Harriet Beatrice was born 25th February 1883, Charles Edward 17th April 1885, Celia Clara 10th January 1891, Gertrude Ellen 25th July 1892.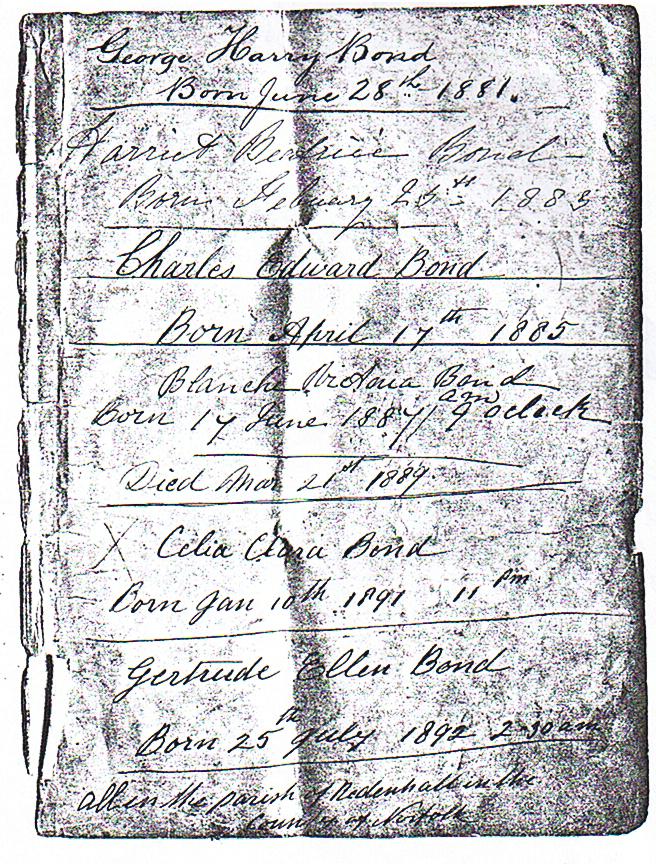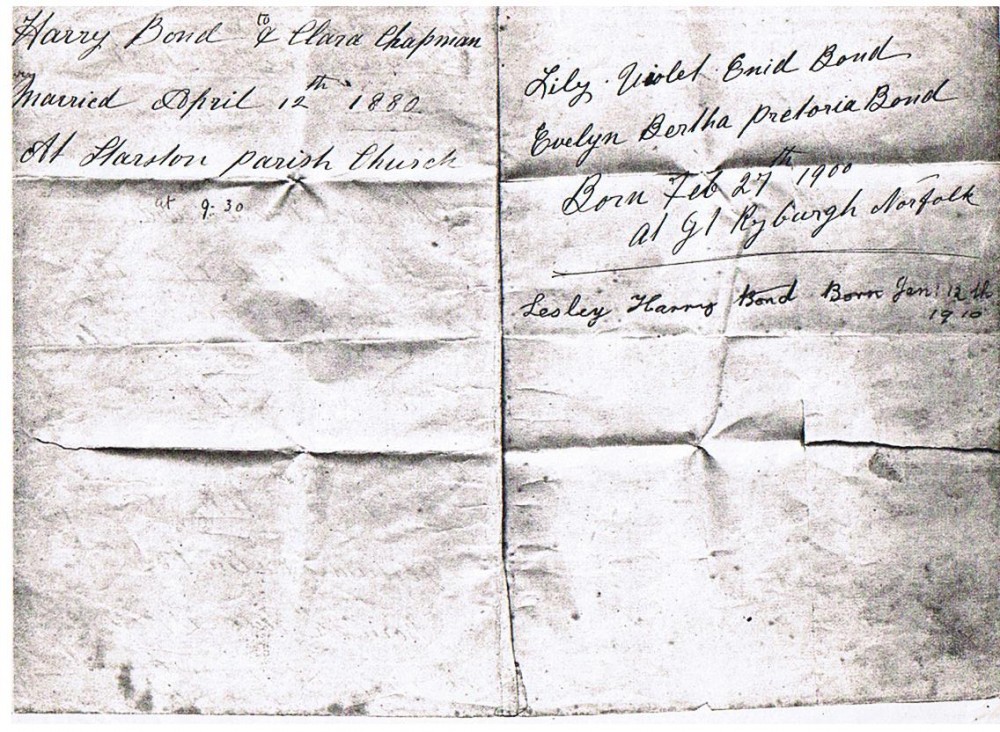 As Gertrude, was the last of their children born at Redenhall, they would seem to have have moved to Ryburgh soon after as the following entries are found in the School Log Book for November 1895. and refers more likely to Charles Edward than George Harry who would have been 14 and of age by then.
Nov 1st:
Dismissed the boy 'Bond' for insubordination & as this is not the first occasion that this has occurred I shall report the matter to the Managers with a view to removing his name from the Registers A.Foster
Nov 4th:
Mr Bond, after interviewing the Managers was allowed to send his boy back to school, conditionally.
Nov 21:
Dismissed the boy Bond for insolence & disobedience by order of the Managers. A. Foster.
The 1901 Ryburgh Census names 4 stationary engine drivers, two without identifying their work place, John Coates and Phillip Platten and two that do, with John Curson at the Maltings and Harry Bond at the flour mill. The foundry also had an engine to power the machine shop. It is not unreasonable to suppose that the new engine at the mill required a new man for the job………….whatever the case, by 1901 Harry Bond was in charge of the new "horizontal compound condensing engine, built by Messrs Holmes & Sons" at the Mill.
In the 1901 Census all the family except George Harry are living in Mill Road. It is difficult to interpret the order in which homes are scheduled but they are described as being Nr. Mill and with reference to known properties and inhabitants my surmise is that they lived in one of this collection between the Mill and the church as seen in the 1906 OS Map detail and the postcard view which is probably the place where the family group was taken circa 1906.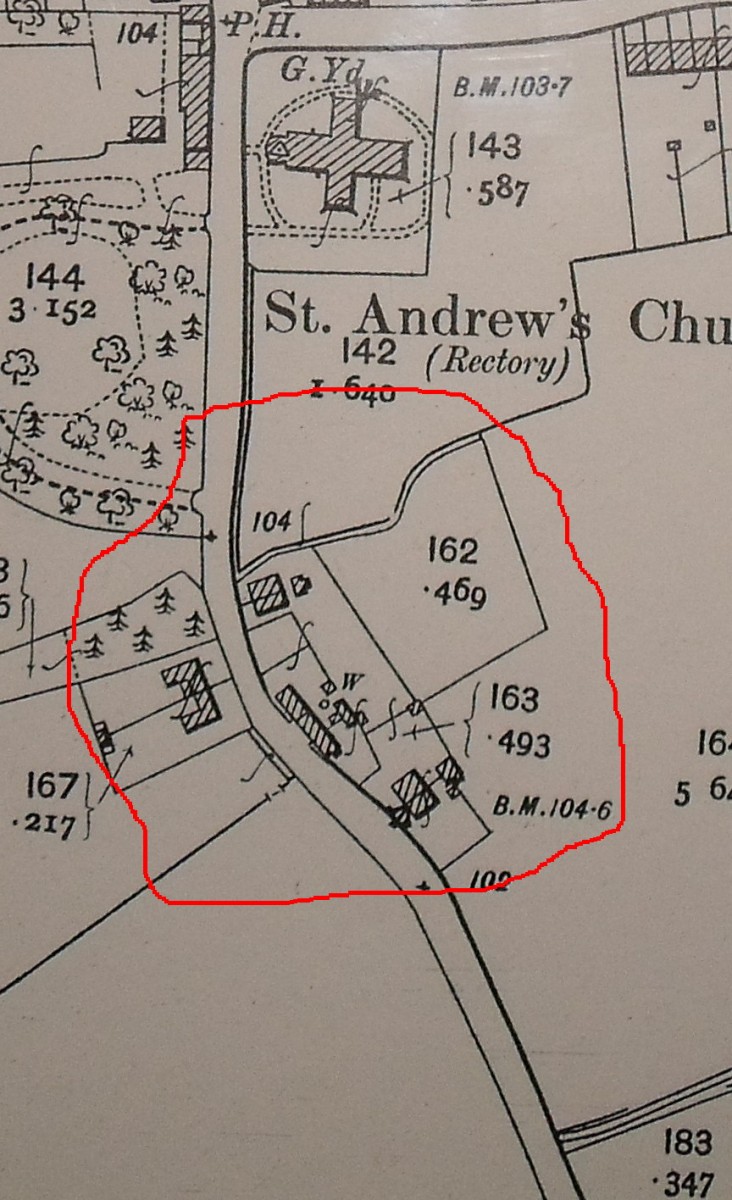 1906 O.S. Map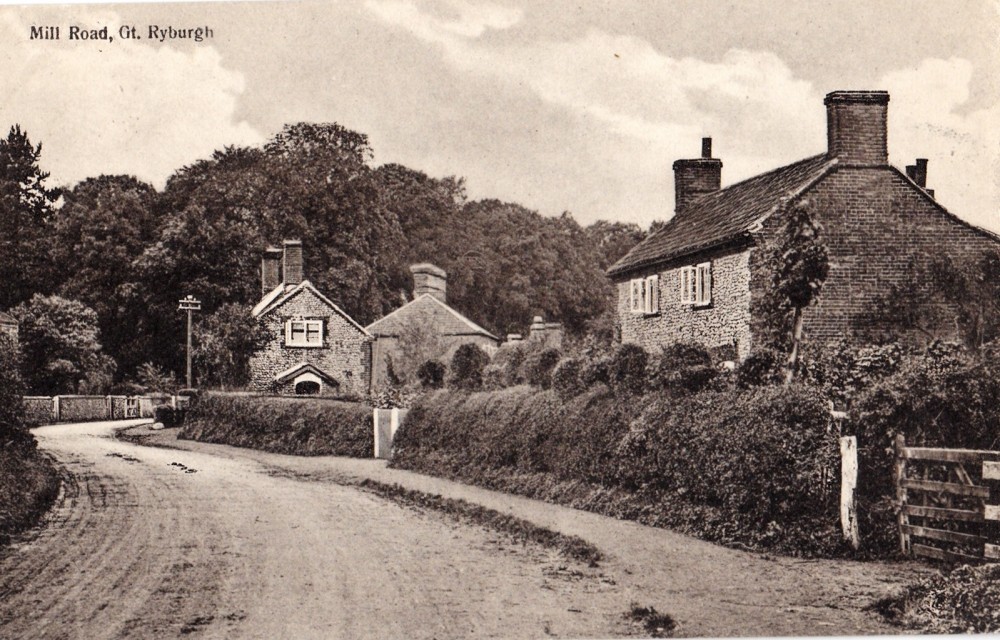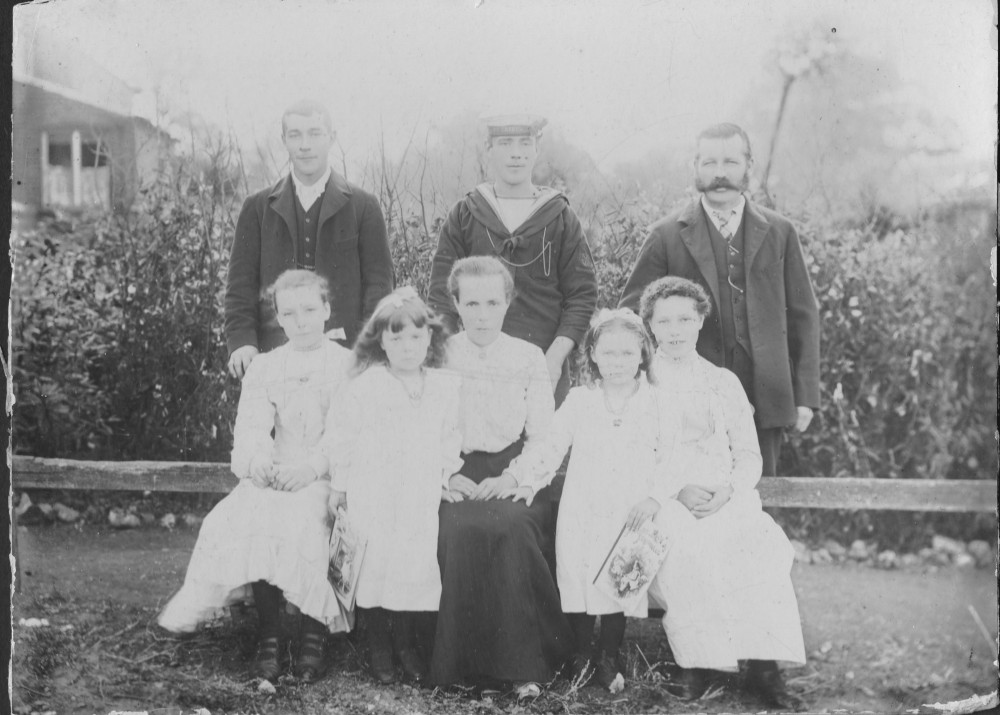 Back Row left to right:
Charles Edward Bond, George Harry Bond and Harry Bond
Front Row left to right:
Gertrude Ellen Bond, Lily Violet Enid Bond? Clara Bond, Evelyn Bertha Praetoria Bond? and Clara Celia Bond
George Bond's hat band reads "HMS Erebus" and his service record shows he was with this vessel between April 19th and October15th 1904 which fairly precisely dates this photo.
***************
George Harry Bond's service record shows that he signed up as Ordinary Seaman 190843 (Po) on H.M.S. Ramillies for 12 years on June 28th 1899 after completing his training which he had begun on September 28th 1896. He was described then as 5'4" and fresh complexion. On joining up he was then 5'8" , dark complexion and tattooed thus: Cross hands with "True Love" on his Right Forearm. The portrait below was described as George aged 16 making the date 1897 in the middle of his period of training.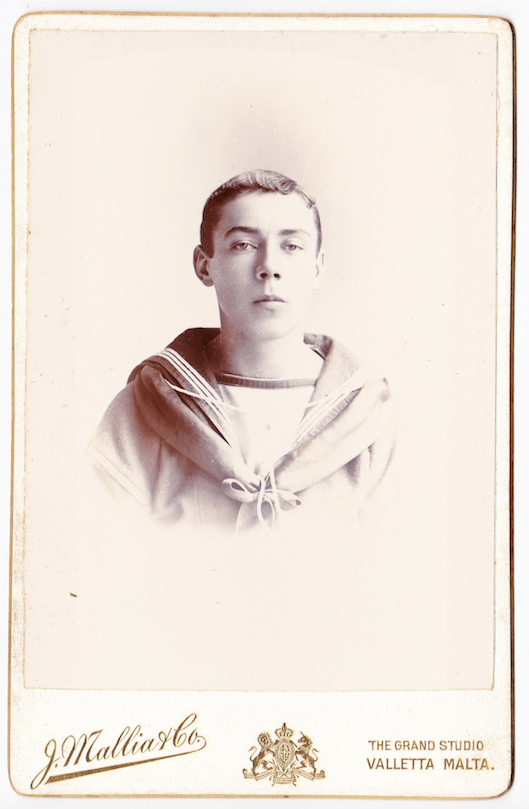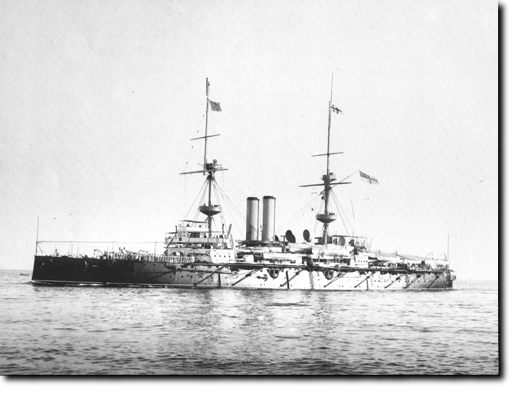 H.M.S. Ramillies.
Displacement: 14,150 tons. Horse power: 13,000. Beam: 75ft. Draught: 27' 6". Armament: four 67 ton guns in armoured barbettes. Armour: partial armour of 18 inches thick. Speed: 17.5 knots. A Royal Sovereign Class Battleship of the Royal Navy. Built by J and G Thomson at Clydebank and launched 1st March 1892. Ramillies cost just over £900,000 to complete. She served her last years in home waters before being scrapped on 7th October 1913.
The 1901 Census finds George Harry, now 19 years old and an Able-Seaman at sea in Valletta, Malta on board H.M.S. Ramillies, He served on a further 14 other vessels before joining H.M.S. Hampshire on January 27th 1914.
During that time he had been promoted Leading Seaman whilst serving onboard Duke of Wellington in 1903 and passed for Ships Corporal in November 1908 and served at that rank for the first time in May the following year first on H.M.S. Victory 1 and then at the end of the month on H.M.S. Illustrious
It was in 1906 (the 3rd quarter of that year) that George married widow Florence Emily Greengrass (nee Sherwin, born Battersea 1876) in Portsmouth. The 1911 Census suggests that she had two children with her first husband but that both had died but this is far more complex than just this brief evidence outlines and the family history tells a tragic story of which a full account will be on this page shortly.
The basic facts are that after emigrating to America, Florence had lost both her two children and her husband and had returned to England pregnant with her third child Arthur. It was after this she met and married George Harry Bond and they went on to have two children together, Florence Celia Dolly and George. Family photos, to which we have recently had access, illustrate a young and carefree woman, photographed possibly before her first marriage:
believed to be Florence Emily Greengrass nee Sherwin
and then later in life after the trauma of her American nightmare, now married to George Harry Bond: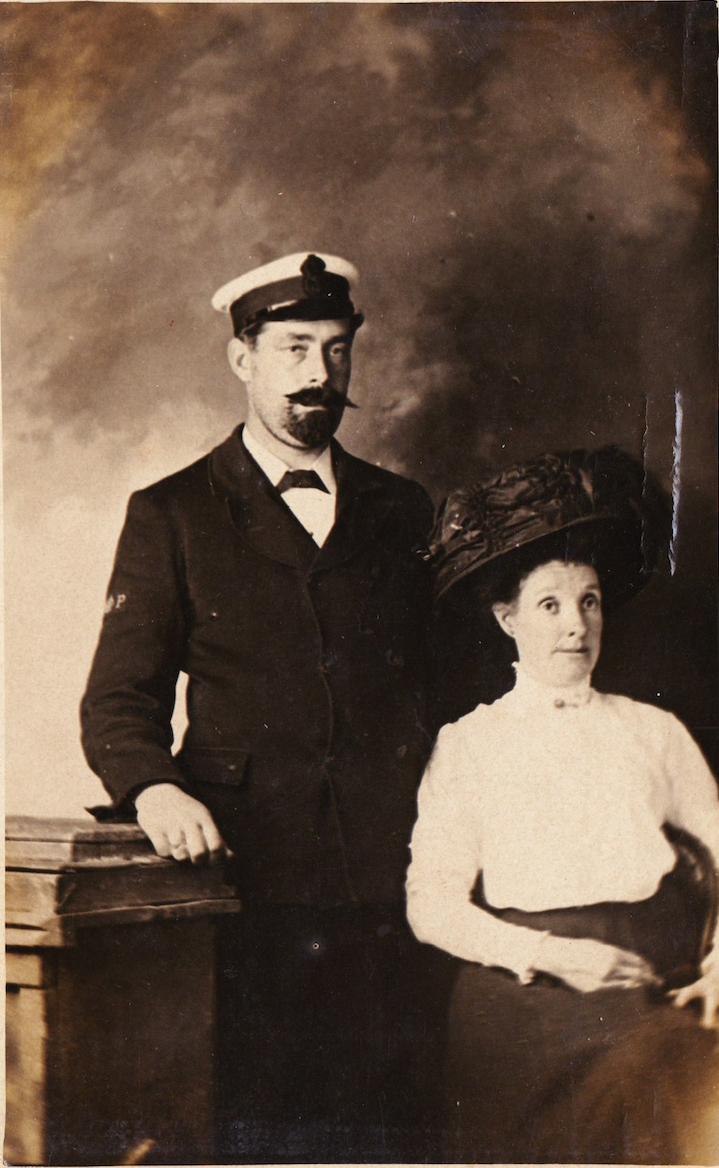 This photgraph was printed in a postcard format and mailed to Harry and Clara Bond in Ryburgh in September 1911.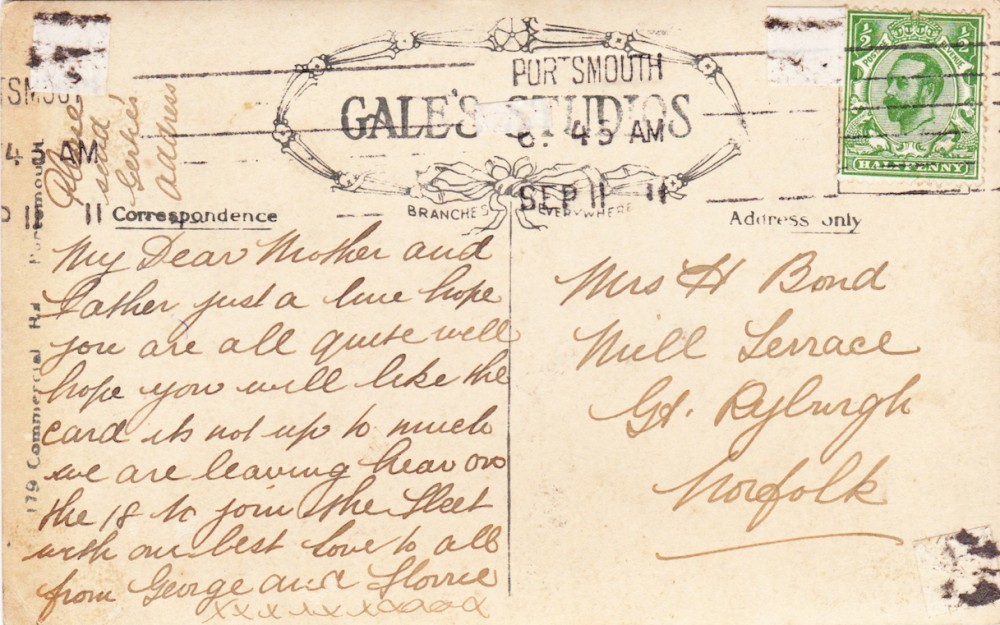 A very similar photo, that at one time was thought to be of George and Florence and the request for Gerte's address on the card above leads one to speculate that he was photographed with his sister Gertrude Ellen on the same occasion?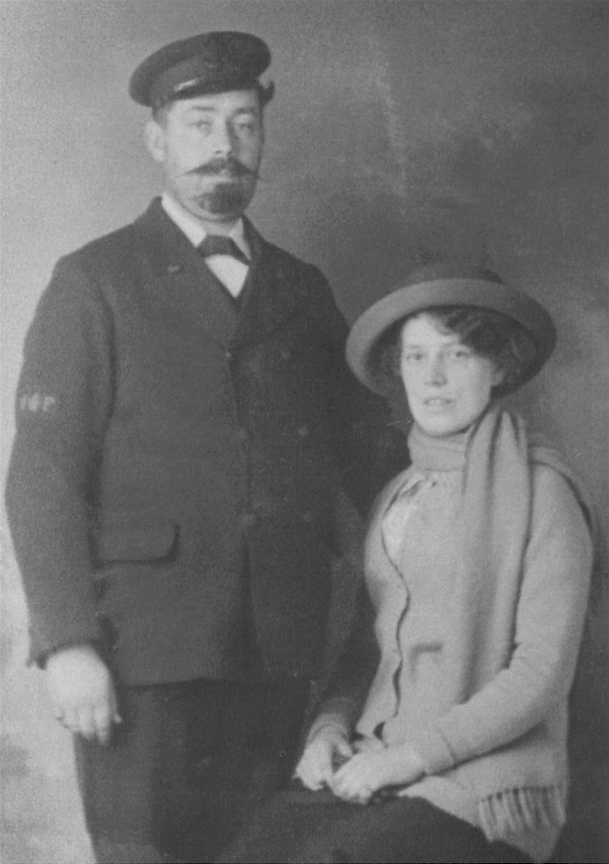 The 1911 Census confirms George's marital status and that he is onboard H.M.S. St Vincent on that night and a Ship's Corporal 1st Class ( Miscellaneous Branch)
The photograph below must have been taken around July 1914 and shows George not wearing a beard but wearing a shiny Long Service and Good Conduct Medal awarded after 15 years. He had been on H.M.S. Hampshire since January 27th. that year: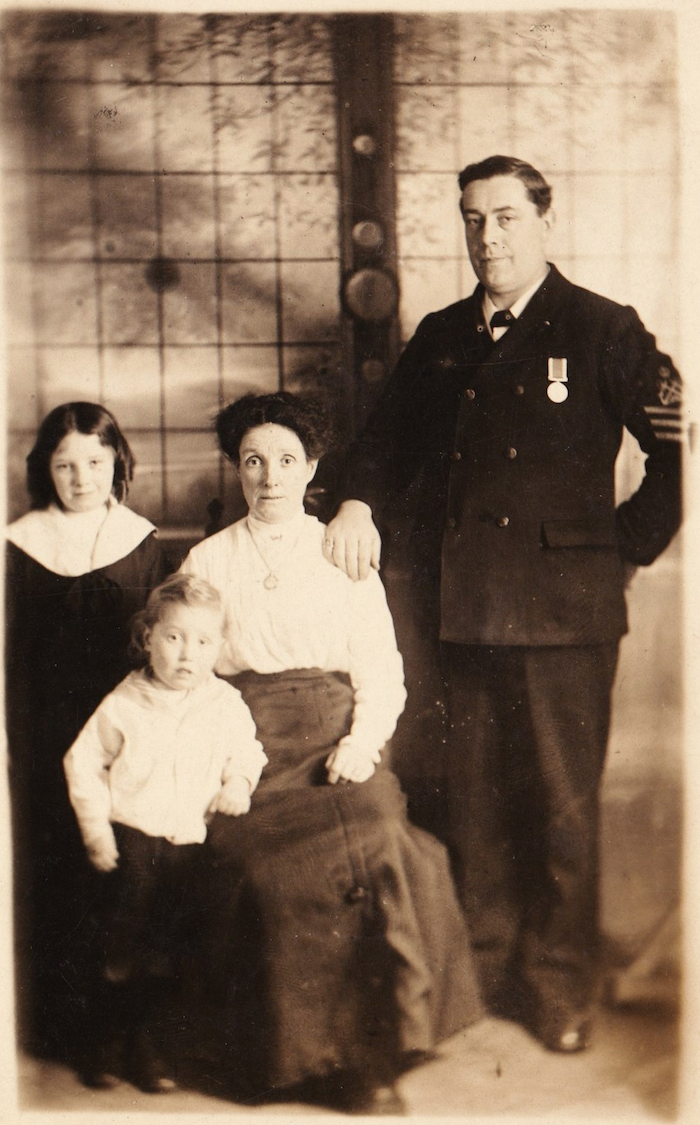 There were two designs of this medal but it is not possible tell which this one is: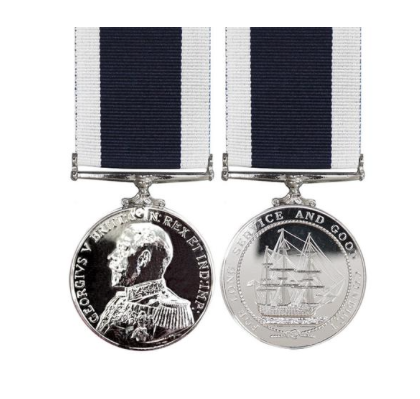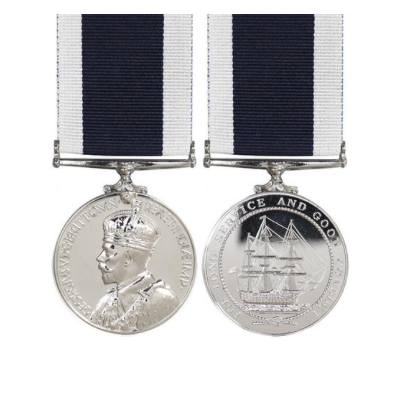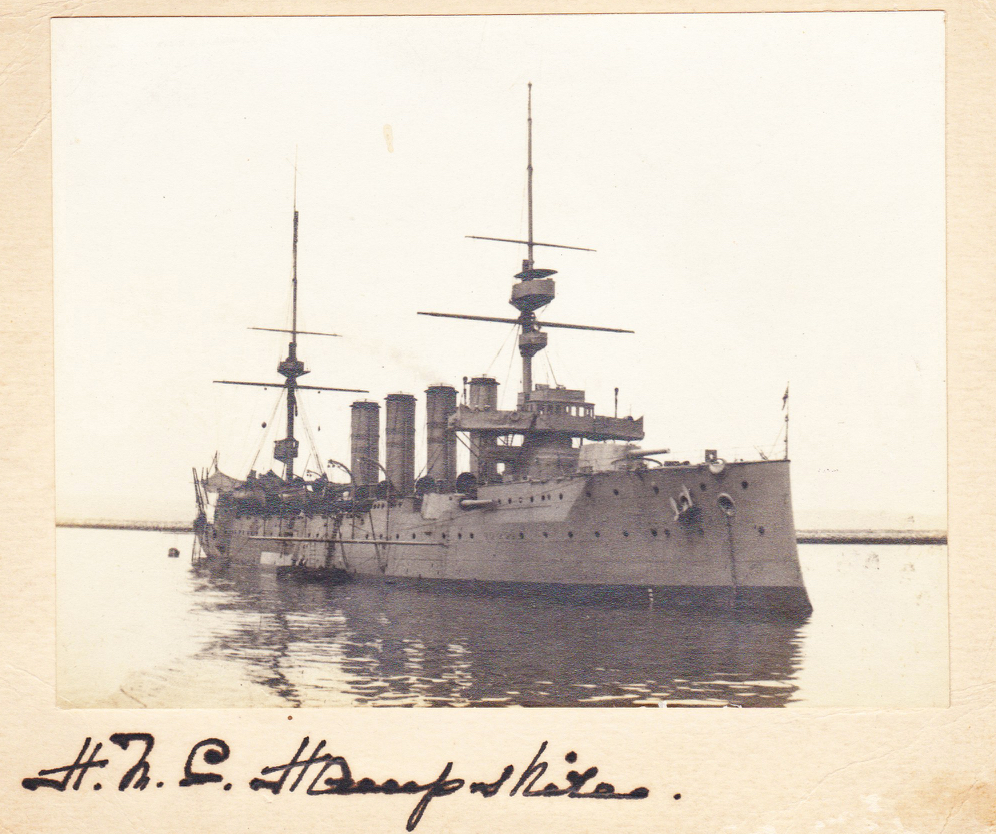 We have been sent a link to a newspaper article about the family's remembrance of him in Portsmouth.
This is not the end of the story for the Bond family and certainly just the start of the wider picture!
Four of George Harry's sisters all married men who fought in the War. Apart from Harriet Beatrice Reeve who remained locally, they all had children baptized in Great Ryburgh, having come home to Ryburgh for the births of their first two children respectively during and after the War.
The grandson of Clara Celia born Jan 10th 1891 writes:
Celia had a son Leslie Harry Bond, born 12/01/1910 and conceived when Celia worked in service at Hawkwood Estate near Chislehurst, Kent - but as Celia was not allowed to keep the child there, he was fostered by Sarah Jane and James Hutcherson (a flour packer at the Mill) after birth - until Celia found new employment with Lord Desborough at Taplow Court, near Windsor, Berks in 1912 - where she was able to keep the baby. She met Arthur Riddy (born in Derby in 1884) when he was with 5th Dragoon Guards stationed at Windsor Castle. He had enlisted in January 1901 and entered the War in October 1914. Celia met Arthur at an army dance at Taplow Court and they were engaged on 17 Jan 1914. They married at Windsor Registry office in July 1915 after Arthur was invalided out of WW1. Arthur Ivo was born at Celia's mother's home in Gt Ryburgh in 1916, and shortly after, the family with Harry and Ivo left Taplow Court for Maidstone, Kent, when Arthur was honourably discharged on 8th. April 1916 under King's regulations: cause "sickness" and awarded in addition to his 3 War Medals the Silver War Badge No 174435. In 1918 they moved to Lindfield, West Sussex.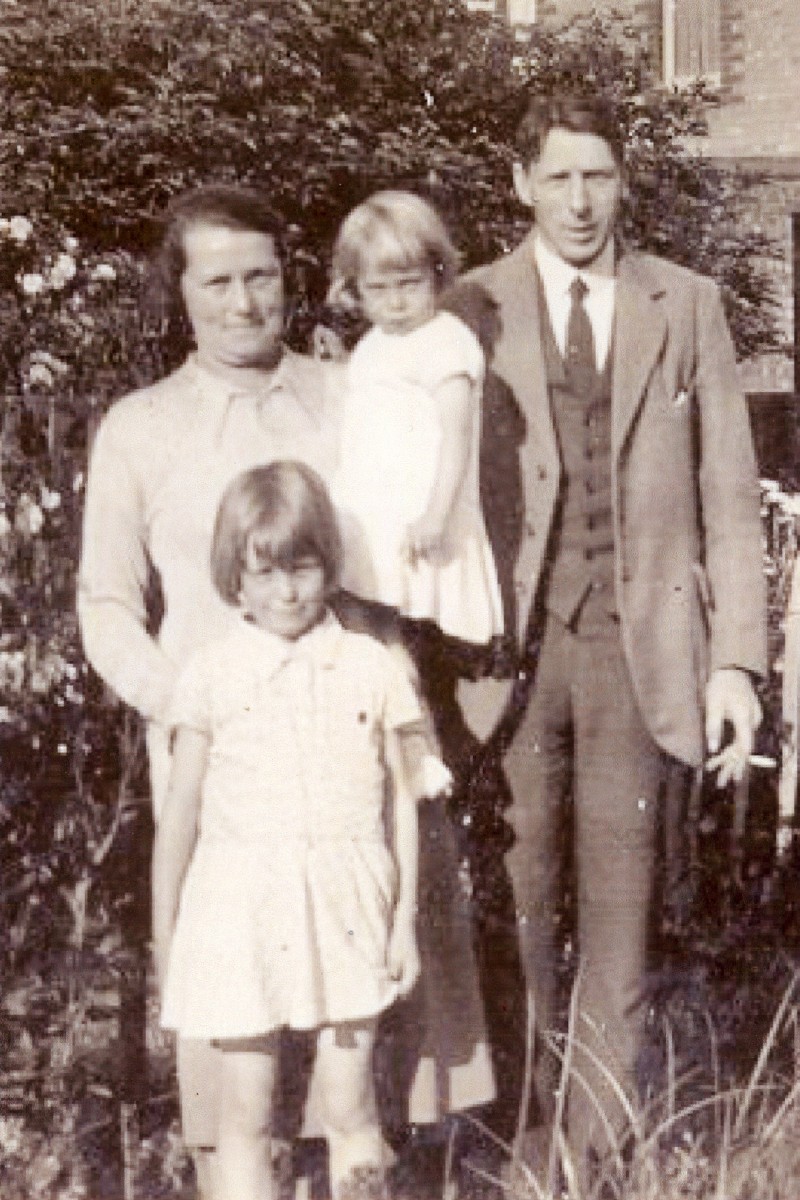 Celia and Arthur Riddy with daughters Una and Nina Margaret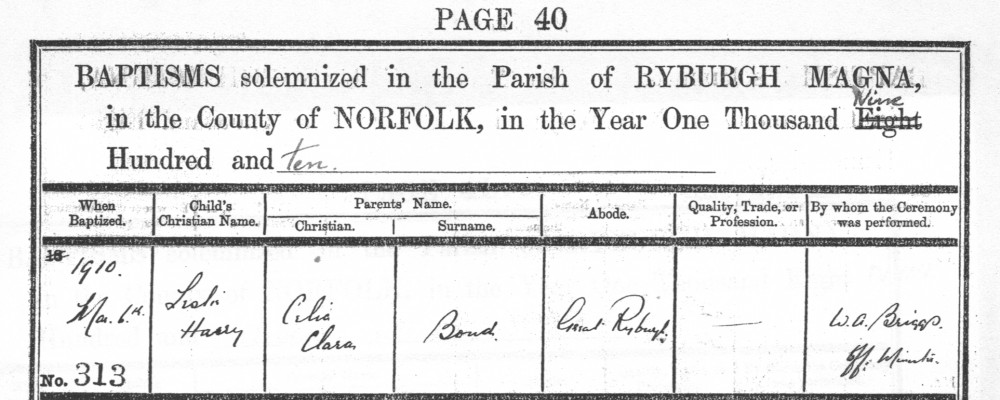 Clara Celia Riddy penned the following verse on the first anniversary of George's death in a scrapbook made during her time at Taplow Court and is reproduced by kind permission of the Riddy Family.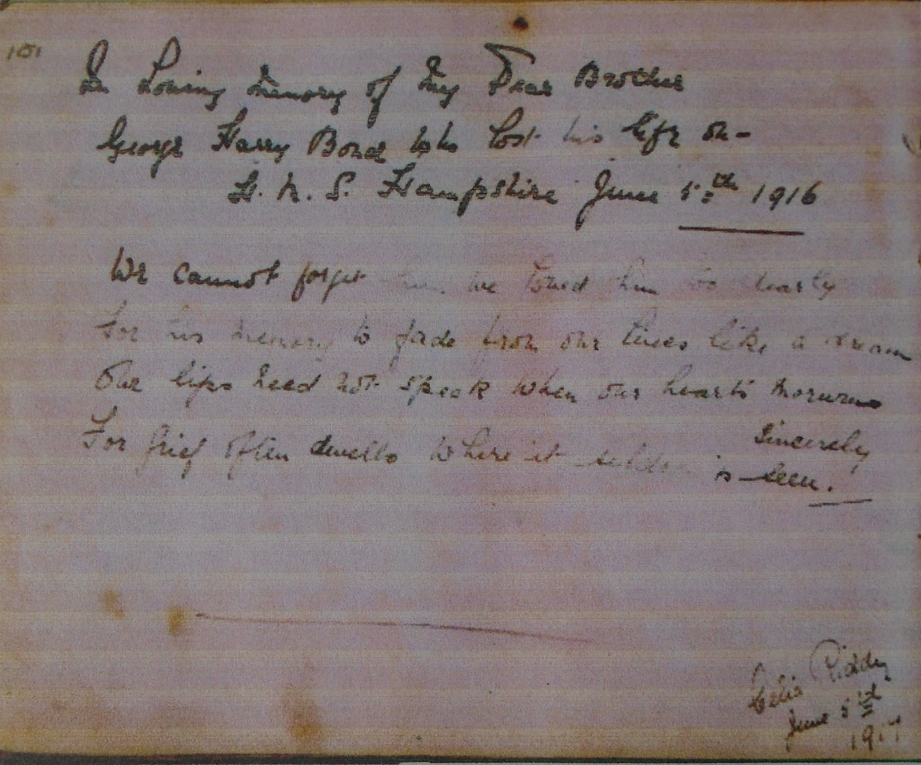 It is signed "Celia Riddy June 5th 1917" and reads:
In loving memory of Dear Brother George Harry Bond who lost his life on H.M.S.Hampshire June 5th 1916.
"We cannot forget him we loved him too dearly
For his memory to fade from our lives like a dream
Our lips need not speak when our hearts mourn sincerely
For grief often dwells where it seldom is seen,
***********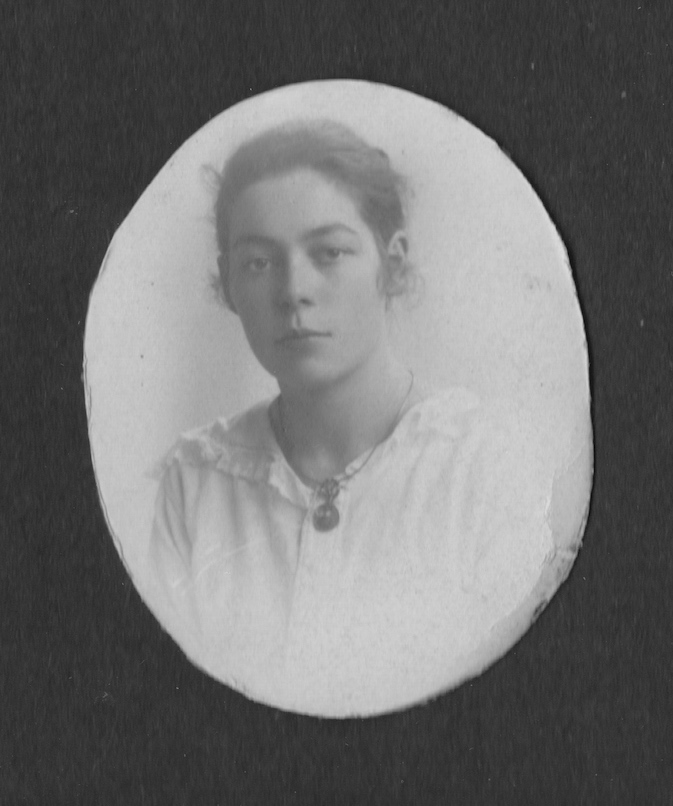 Gertrude Ellen Bond
Gertrude Ellen, born July 1892, married Francis Watson Gazeley a Canadian born plumber on April 5th 1915 at St Andrew's Church.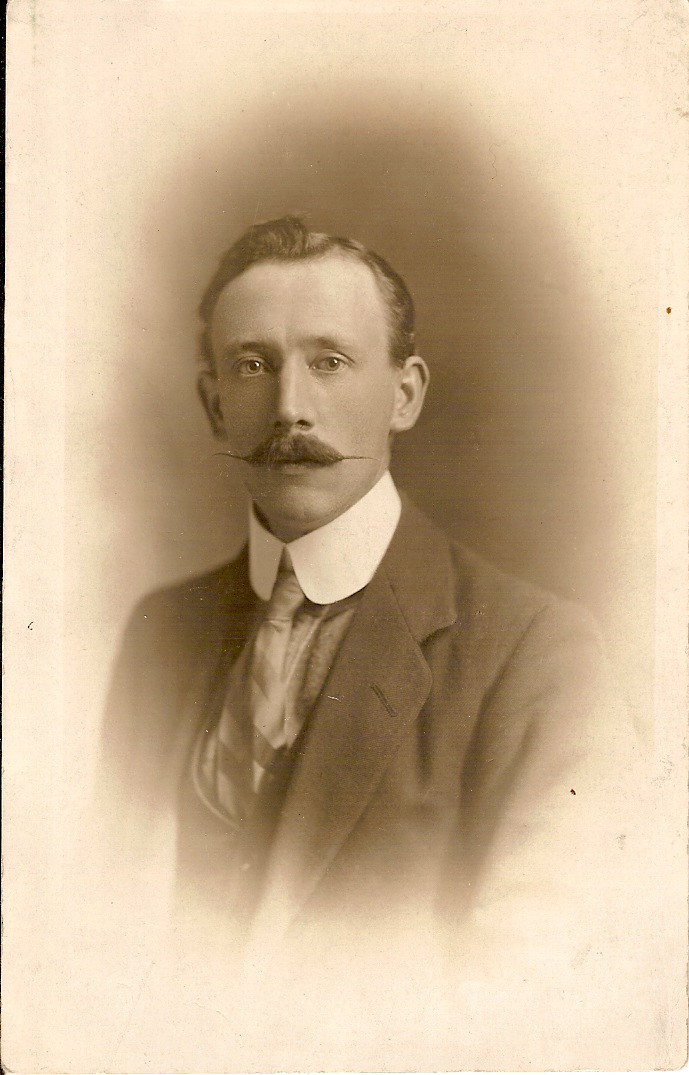 Francis Watson Gazeley
He had been working in Hunstanton in 1911, whilst she was still at home at this time. It seems that the family had now moved to the newer end house of Mill Terrace on the edge of the village in Mill Road on the extreme right of the image below: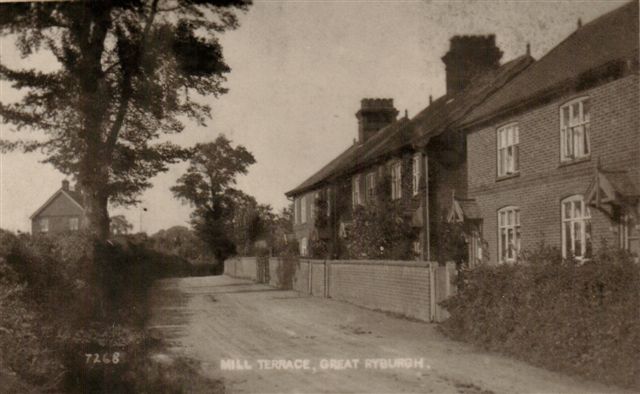 Francis was called up in 1916 and the following extracts from his surviving war record show that he received a short reprieve as he was doing important work at Marham Aerodrome. But as you see from the dates things moved quite quickly in those days: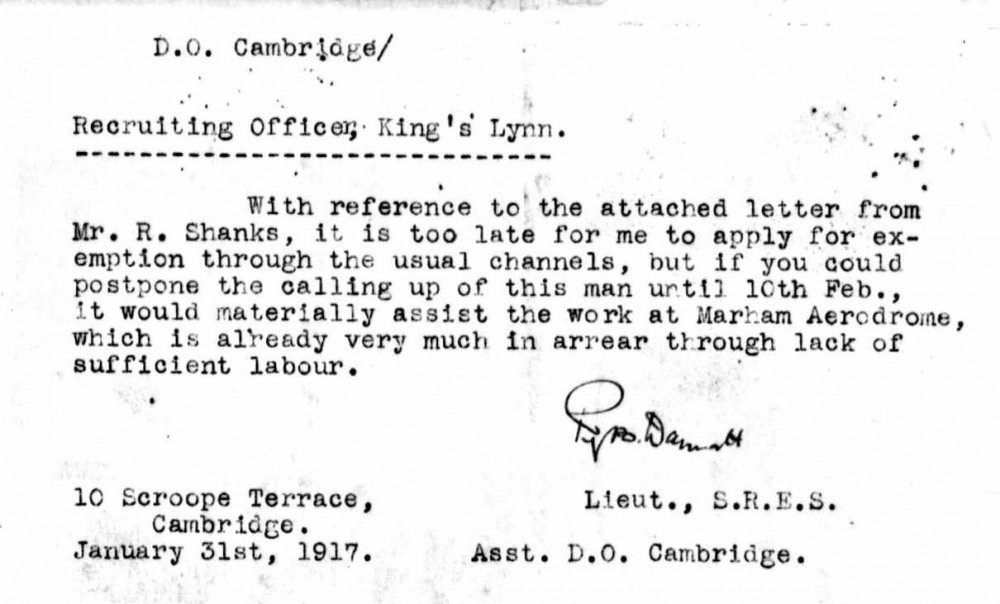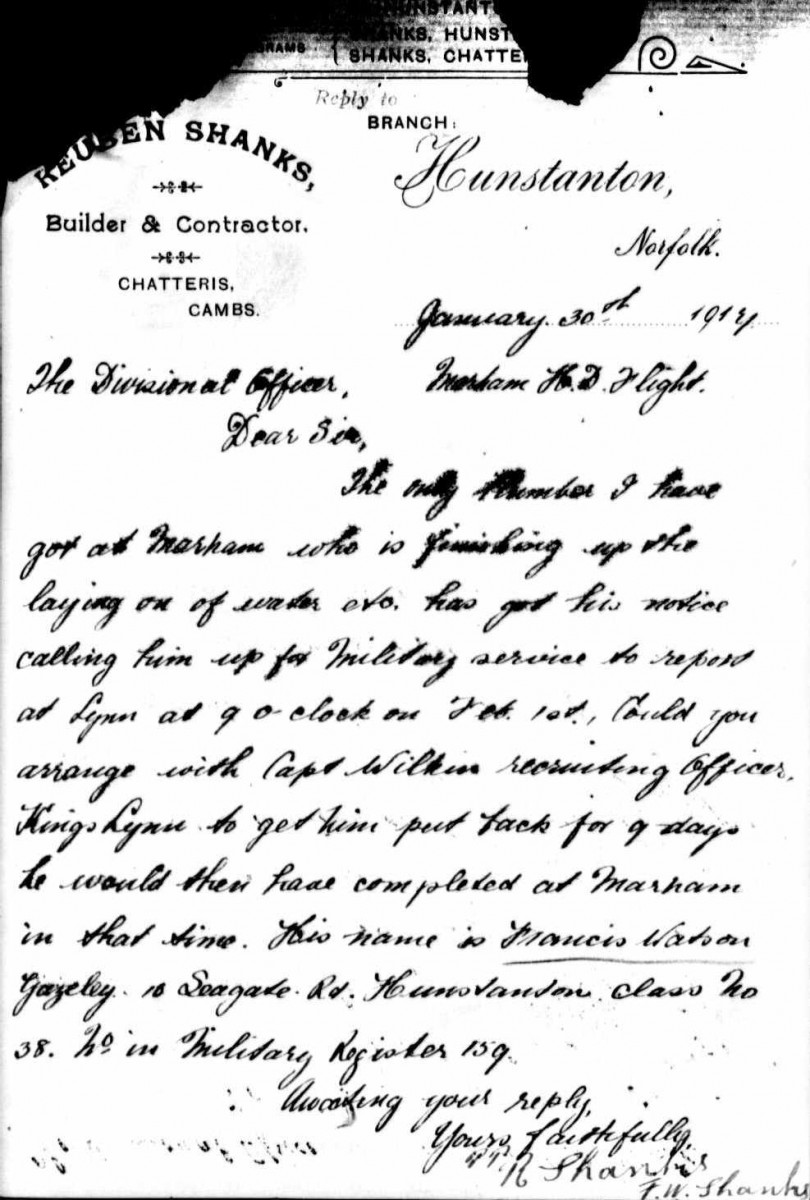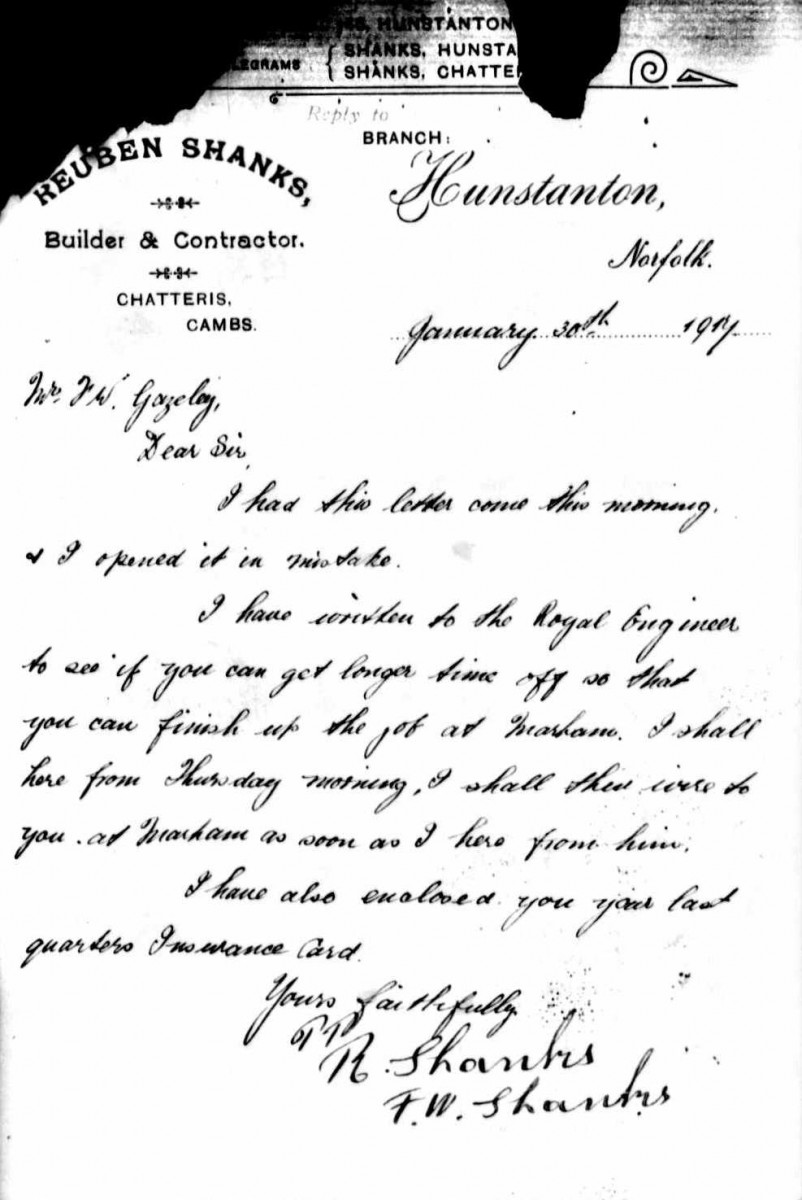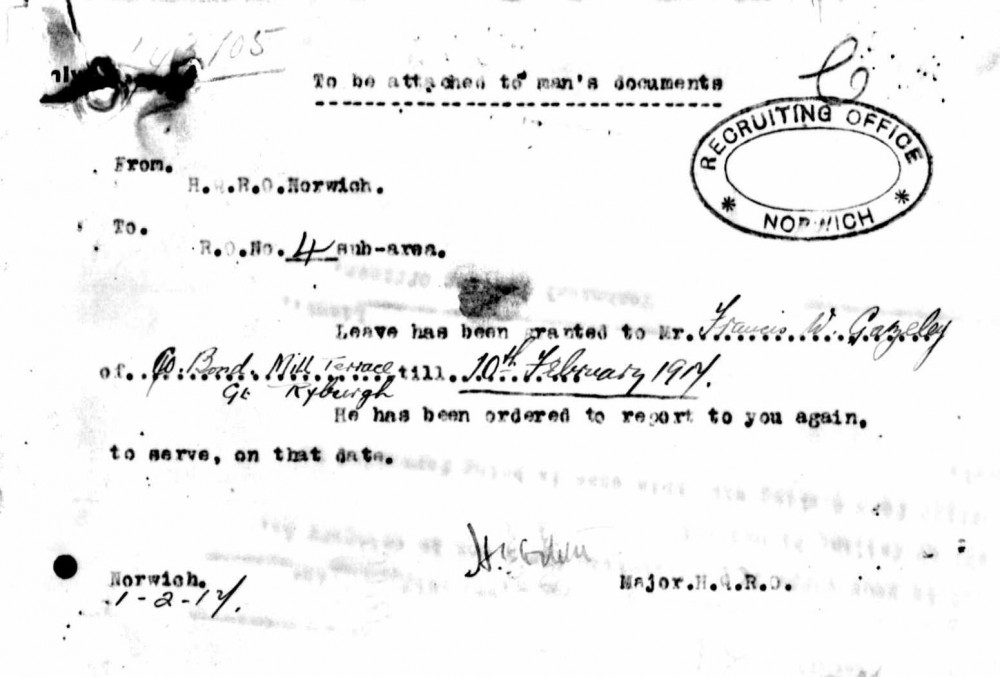 It was deemed that he was physically unsuitable as an engine driver and he went on to gain an army electrician's qualification. He seems to have spent the war on the home front in this technical capacity.
He was discharged in February 1919 to an address in Essex.
Their first two children were baptised in Ryburgh whilst they were living in Hunstanton though the births were registered locally indicating that Gertrude came home to give birth: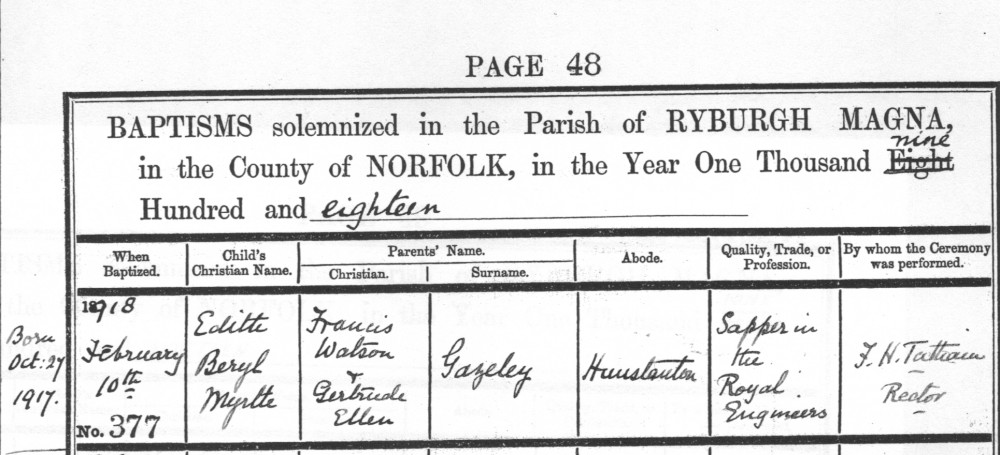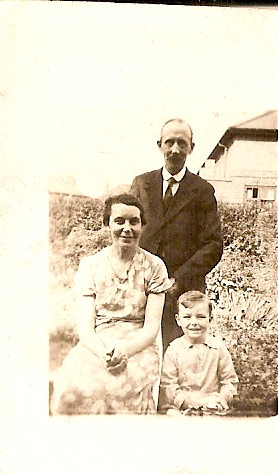 Francis, Gertrude and Ivan Gazeley (born 1931)
***************
George Arthur Wallinger, born 1894 in Rotherham, enlisted at Aldershot in July 1915 and joined the Army Service Corps. His record describes him as "a good packer and loader" He was drafted to Etaples in August 1915 but back in England the following month having been hospitalised with a pre-existing inguinal hernia. He was honourably discharged as "no longer physically fit for War Service" on May 10th 1916. With Silver War Badge 64662 in addition to his 3 War Medals.
It would seem that he re-enlisted and in January1918, he married Lily Violet Enid Bond one of the twins, in Pontefract:

George Wallinger's occupation is given as "soldier", a fact born out by the baptismal entry for their first born daughter, where he is now in the Army Vetinary Corps:

And later in 1920 with their second child: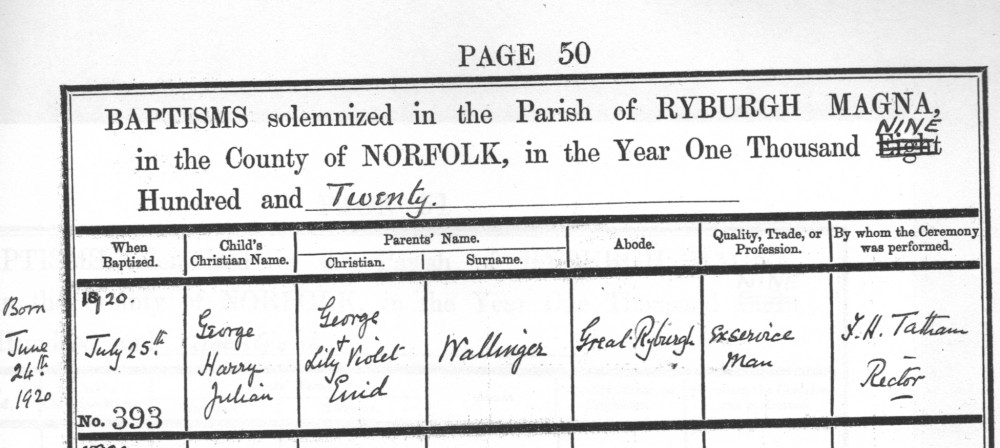 Both births were registered locally indicating that Enid came home to give birth.
************
To date there is no indication as to the War Service of their brother Charles Edward Bond born in 1885., nor have any details of his life come to light except this photo and his appearance in the 1911 Census when he was lodging in Stevenage and is described as a traction engine driver.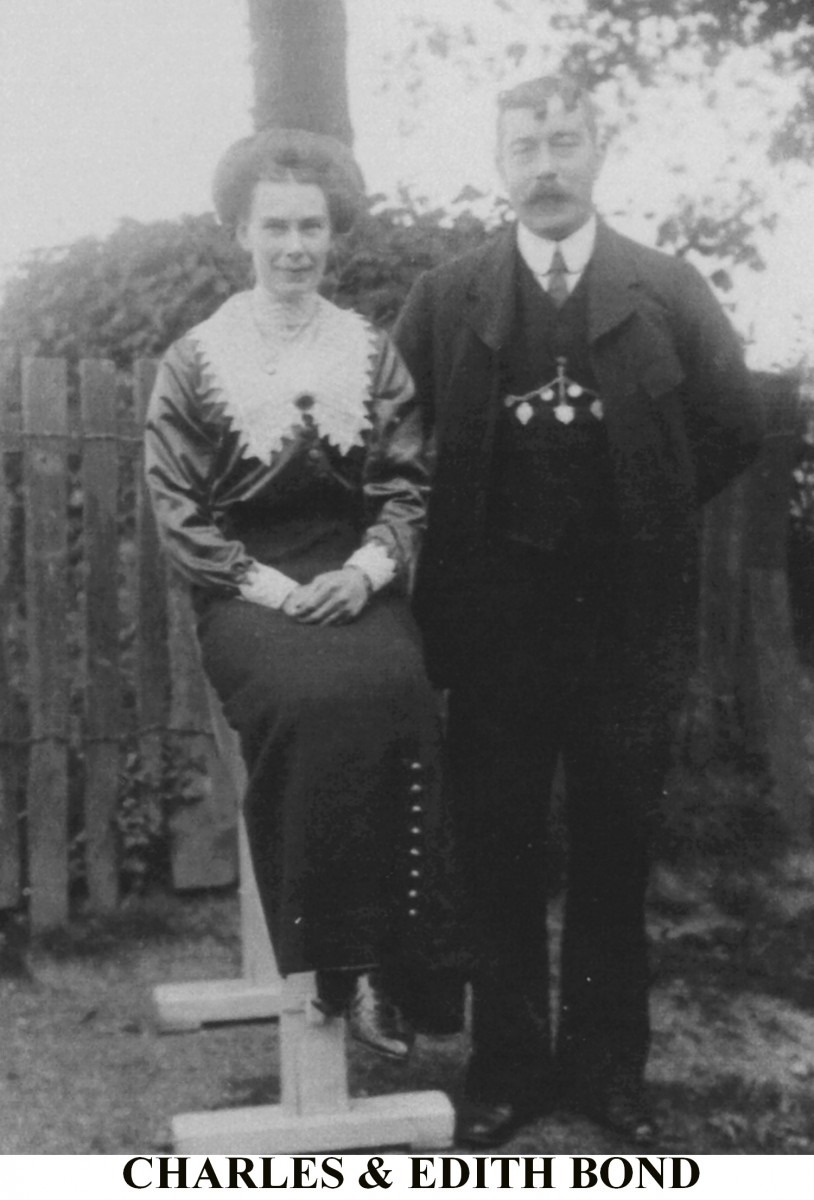 ***************
Harriett Beatrice, the eldest daughter was married in St Andrew's on Christmas Day 1901 to labourer and farm horseman Robert Reeve. Their eldest son Robert Charles George was baptised 3 days earlier at St Andrew's

In the 1901 Census, Robert who was born in Blofield and whose father Henry was a police sergeant, was working as a groom and General Labourer in Alderford Norfolk. The circumstances of how they met are unknown but following their marriage they are found in the 1911 Census living on Gateley Common with 6 children. There were 5 more children to follow.
Robert Reeve had a short-lived Army career. Having been called up in December 1915, he was attested in June 1916 and served with the 37th Btn. Royal Fusiliers in France for 4 months between July and November 1916. He was honourably discharged from Tooting Military Hospital at the end of January 1917 being "permanently unfit for service" and awarded Silver War Badge No 48698 in addition to his British War and Victory Medals.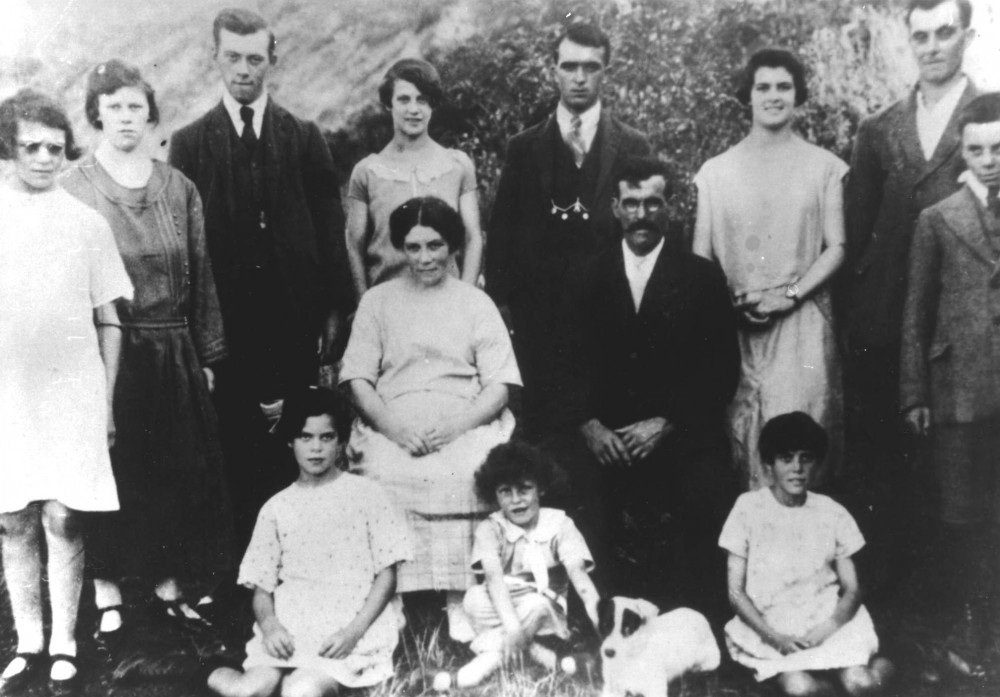 The complete Reeve family anti-clockwise: starting with"Spot" the dog, Roberta, Percy, Robert, Ena, Victor, Lilian, William, Celia, Florence, Miriam and Enid.
Seated: Harriet Bond and Robert Reeve.
A granddaughter of Harriet Bond recently wrote to say:
When Robert Reeve died, he left behind 11 children, 64 grandchildren, and 125 great grandchildren

.
Harry Bond died 16/01/1926 and is buried in plot 50 in the area at the lower level and to the left of the entrance gates in the Lt Ryburgh Cemetery. There does not appear to be a headstone.
Clara Bond died in Hertfordshire on 10/7/1929 apparently after suffering a fractured femur.
The remaining twin Evelyn, pictured below, married William Green in Fakenham in 1956 and died in 1979.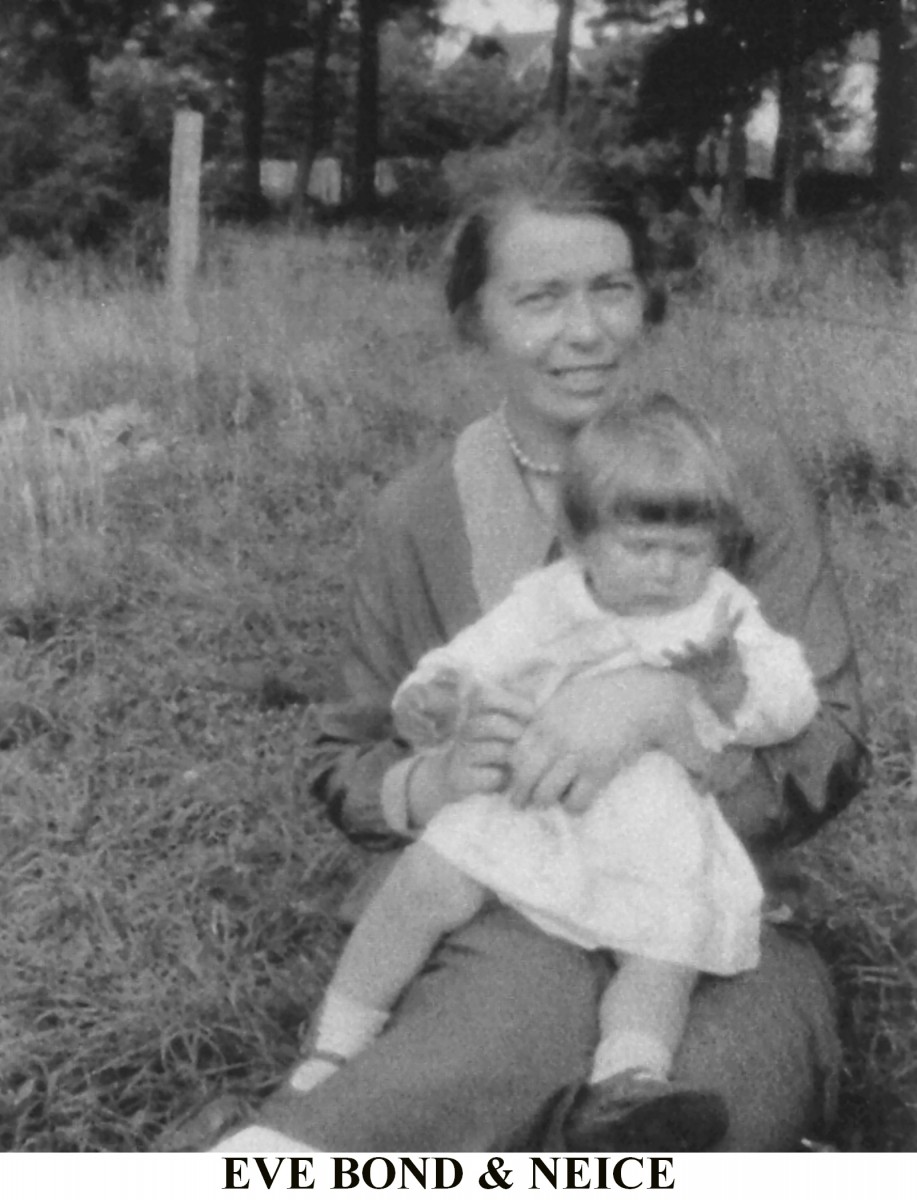 If any reader has anything further to add to this brief history please get in contact via this website.
We are extremely grateful to various members of the extended Bond family for many of the photos on this page.
copyright 2016