Ryburgh Remembers

Cpl. 18985 Harry Victor Chilvers
13th. BATTALION WELSH REGIMENT
December 1873 - 27th August 1918.
When 70 year old widow Caroline Martha Chilvers filled in her Census form in 1911 she left but a few pieces of information to guide the present day researcher into her family's history. By that time none of her surviving four sons lived with her in one of the cottages that stood on the site of the present day telephone exchange buildings on Station Road. She was a tenant of the owners of the Marine Tavern and by then had lived there for at least 20 years and had been living in Ryburgh when she was widowed in April 1889.
As Caroline Martha Brett, she married James Chilvers, a Merchant's Clerk, on November 24 1868 in the Parish church at Wells-next-the-Sea. He was a farmer's son from Burnham and she was a barker's daughter from North Creake.
The 1911 Census tells of 7 children born to the couple but so far only six, all male, have been accounted for. Harry and his twin brother, William Robert were born in December 1873.

William died in January 1875 and another brother, Ernest Edward born 1877 died in the following year. It would seem that all the surviving boys, James, Albert, Harry and Frederick worked at some time as clerks for the Railway.
James William, the eldest, was a ticket collector and married Ryburgh girl, Alice Chastney in 1901 at St George's Hanover Square. Alice had been an Article 68 teacher at Ryburgh School until 1900. Her nephew was Herbert Chastney who died in March 1917 serving with the Essex Regiment. James and Alice had two children and James died in 1924.
Albert Thomas married Maria Scott in Shadwell in 1895 They had three children and he worked as a booking clerk and railway porter in London.
Frederick the youngest married Edith Moore of Briston. They lived in Melton Constable, where he worked as a railway clerk. They had 4 children
Harry, worked as a Railway clerk when living at home in 1891 but by the time of the 1901 Census he was described as a commercial clerk and boarding at 35 Eagle Walk in the parish of Holy Trinity Heigham in Norwich . From there on there are only the military resources to tell of the period up to his death in August 1918.
Harry's medal index card tells us that he first went to France on December 3rd 1915 and that at the time of his death, age 45, he was Corporal 18595 Harry Victor Chilvers of the 13th Btn. Welch Regiment. The Register of Soldiers Effects only names him a Private and accounts for back pay and War Gratuity payments of £31-19/-1d divided equally between his 3 brothers.
His name is to be found on the Vis-en-Artois Memorial Stone No 41.B.indicating that his body was never recovered for burial.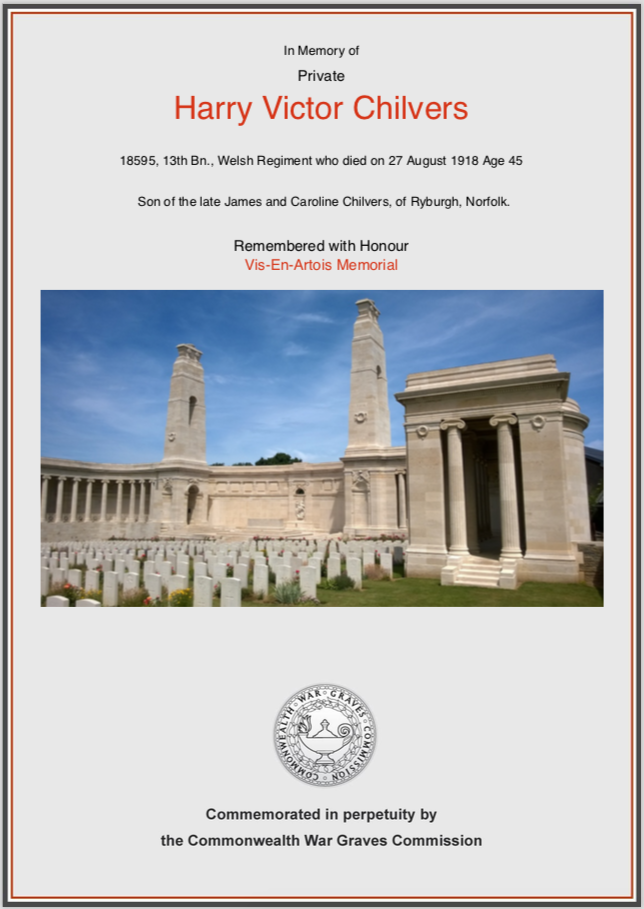 Harry's mother Caroline died in June 1917 and was buried at Little Ryburgh.
Revd. Tatham writes in the August Parish Magazine after writing about the recent death of his own mother:
"In the parish itself death has been close to us. One, viz; Caroline Martha Chilvers, a faithful communicant passed away at the end of June. Those who knew her well knew her stirling qualities and kindliness of heart and her sufferings cheerfully borne."
The photograph at the head of the page is cropped from this image below supplied by courtesy of Picture Norfolk. It is described as "Harry Chilvers amid a group in fancy dress "
It evokes something perhaps of his mother's upbringing as a "barker's" daughter.
"A barker otherwise known as a carnival barker being a person who attempted to attract patrons to entertainment events, such as a circus or funfair, by appealing to the passing public, describing the attractions of show describing variety, novelty, beauty, or some other feature to incite listeners to attend the entertainment."
In the absence of any other context for the photograph one can only speculate if this has any such family connections.
IMAGE COURTESY OF NORFOLK COUNTY COUNCIL LIBRARY AND INFORMATION SERVICE - ENJOY THOUSANDS OF IMAGES OF NORFOLK'S UNIQUE HISTORY AT
copyright 2018