Ryburgh Remembers
Pte. 41648 Herbert Albert Chastney
1st.Btn.Essex Regiment
also
29588 Norfolk Regiment
1888 - March 2nd. 1917
Herbert was the 3rd of the eight children born to Thomas and Sarah Chastney.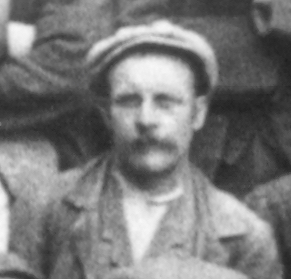 Thomas Chastney photographed in 1901, along with the other F. & G. Smith's employees
Herbert was born in 1888, following twins Thomas and Edith who were born prior to their parents' marriage in 1887. Deborah Nellie b.1889, Agnes b.1893, Alfred b.1894, Charles b 1899 and Letitia b.1900 completed the family. The 1911 Census records 4 other children born to the couple but not surviving and giving no names or dates.
Of Herbert, apart from the photograph (reproduced courtesy of Picture Norfolk) that was taken at the time he was with the Norfolk Regiment, very little is known about him. It doesn't help research when his name is consistently spelt Chestney on the surviving military documents. The various Census returns record him as an Ag. Lab whilst his father was a Maltster's labourer
We learn from several sources that the Chastney family were prominent Primitive Methodists in the village, one of which this Dereham and Fakenham Times cutting from 1894:
His father Thomas Chastney, was in later years a trustee of the Primitive Chapel before it was sold to carpenter Samuel Lambert for conversion to a private house for £75 in 1935. The family address in the 1911 Census is given as near to the Primitive Methodist Chapel, pictured here in a Postcard view: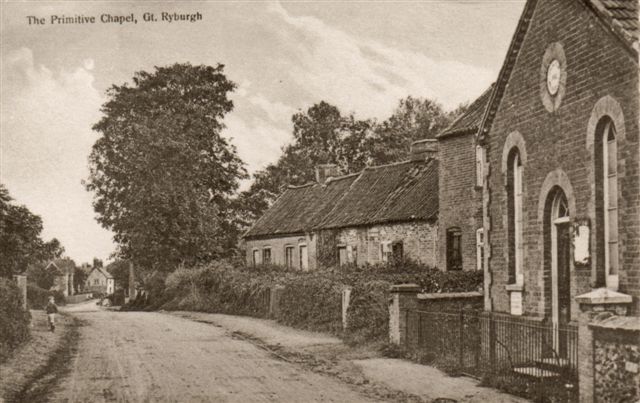 Herbert's two younger brothers, Alfred and Charles enlisted to join the fighting and their names are to be found on the Roll of Honour:
Charles was taken as a prisoner of war on 21st. March 1918 when he was reported as missing. Revd. F. H. Tatham and his sister Deborah were listed as next of kin and contacts on his Red Cross P.O.W. Record Card. News of his capture reached Ryburgh to be reported in the August Parish Magazine, but again according to the Parish Magazine, he would have returned to Ryburgh by December 1919 when Revd. F. H. Tatham writes: "as far as I can remember we have only one who has not yet returned namely Herbert Barnes". (Cowman, Herbert Barnes was also a Trustee of the Primitive Chapel)
The other family member and one of those war contributions that doesn't seem to get much of a mention in Ryburgh, was sister, Agnes. She joined up with the Women's Army Auxiliary Corps, significantly on March 12th1917 and began service in September 1917 as a waitress in canteens at Camberley, Aldershot Wokingham and Pirbright military camps. She was discharged "as surplus to requirements" in August 1919.
Herbert was serving with the Essex Regiment when he was "killed in action" aged 30. The Register of Soldiers' Effects tell us this and also that his father Thomas received back pay and war gratuity of £7-16/-5d. His Medal Index Card and entry in Essex Regiment Medal Rolls shows he was awarded the British War and Victory Medals.
His name is to be found, incorrectly spelt, amongst the 72,246 names inscribed on the Thiepval Memorial indicating that he has no known grave.
copyright 2017