Herbert Walton Fox.
1895 - 9th April 1917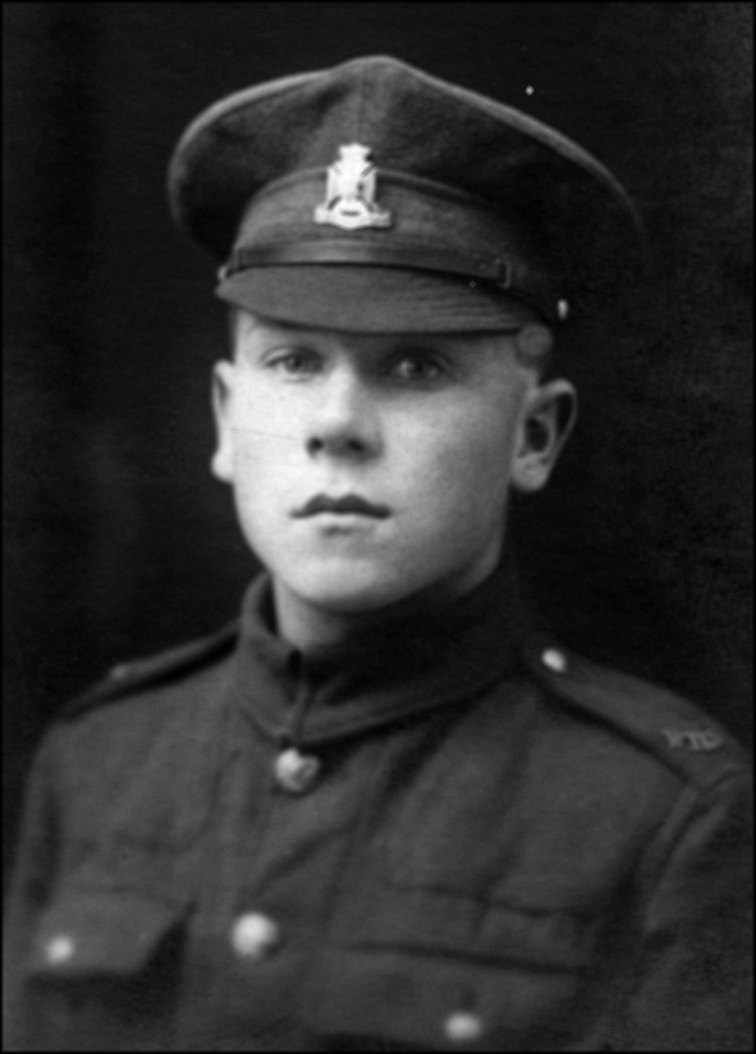 Twice in the last decade the medals and associated items belonging to Herbert Walton Fox have changed hands through the specialist Auction House of Dix, Noonan, Webb Ltd. Fortunately for us they keep a detailed archive of their lots and it is with their kind permission that we can present that information as part of this research. However it is through the diligent searching of the Internet by Steve Bushby that this archive has come to our attention and it represents an extraordinarily full start to his story and so is reproduced in full below:
D.C.M. London Gazette 19 August 1916:
'For conspicuous gallantry and resource as a telephone linesman. On several occasions during bombardments previous to an assault he kept up telephone communications and repaired and maintained lines under the heaviest shell fire. His services were invaluable, and he always performed his work with coolness and courage under the most dangerous circumstances.'
Herbert Walton Fox was born at Great Ryburgh, Fakenham, Norfolk and enlisted at Devizes, Wiltshire. He would appear, however, to have been brought up by his aunt and uncle in Cirencester, although his mother was still living. He first went to France with the 2nd Battalion, Wiltshire Regiment in early October 1914 and was killed in action on 9 April 1917, his mother receiving the following letter from 2nd Lieutenant W. R. Wood, O.C. of 'A' Company, 2nd Wiltshires:
'It is with great regret that I am writing to inform you of the death of your son, No. 8829 Cpl. Fox, H. He was killed in action on 9 April 1917 during an attack on an enemy position. I can hardly express in words the sympathy which I feel for you in your great trouble but I hope that it will comfort you to know that he always did his duty and set a fine example to everyone around him both by his devotion to duty and great courage under fire. His loss will be a great loss to the regiment and I may say the Army ...'
Fox was interred in the Bucquoy Road Cemetery, his original wooden cross bearing the inscription 'Known to be buried in this cemetery'.
Sold with the following original documentation:
(i) Two letters from the head of the Church Lads Brigade at Cirencester to the recipient's uncle, the first, dated 9 September 1916, being a congratulatory message on hearing of the award of his D.C.M. (' ... We forwarded news of his gallant action to our Headquarters in London and they have written requesting us to secure them a copy of Herbert's photograph for reproduction in their official magazine, "The Brigade" ...'), and the second, dated 9 May 1917, a message of condolence.
(ii) Two letters from the Headmaster of Powell's Boys' School at Cirencester, one addressed to his uncle and the other to his aunt, the first, dated 31 August 1916, being a congratulatory message on hearing of the award of his D.C.M., and the second, dated 17 May 1917, a message of condolence (' ... My recollections (which are very distinct) of him as a school boy are that he was steady, industrious and conscientious. His later life - especially as a soldier - fully showed how those qualities had developed. I am proud to have had him in school ...'); and another letter of condolence from a church goer in Cirencester, who clearly knew Fox in his youth, dated 23 April 1917.
(iii) Letter of condolence to his mother from 2nd Lieutenant W. R. Wood, O.C. of 'A' Company, 2nd Wiltshires, as reproduced above, complete in its 'On Active Service' envelope and date stamped 17 April 1917.
(iv) War Office communication, dated 3 August 1917, confirming that the sum of £32 was due to the recipient's mother, Mrs. A. E. Fox, from army funds, '£20 [of it] being a Gratuity attached to the Distinguished Conduct Medal awarded to the late soldier. The Medal will be forwarded to you by the Officer in Charge, Infantry Records Office, Exeter, who has received instructions regarding its disposal ...'
(v) A copy of the Bath Herald of 13 October 1917, which includes a feature regarding the distribution of Honours and Awards at a special ceremony outside the Guildhall by Major-General W. G. B. Western, C.B., the accompanying text confirming that Mrs. Fox received her late son's D.C.M. on the same occasion, and also including an illustration of her actually collecting it from the General - 'she was accompanied by Mr. J. Smith of the Bath Arms, the deceased's uncle, who brought him up.'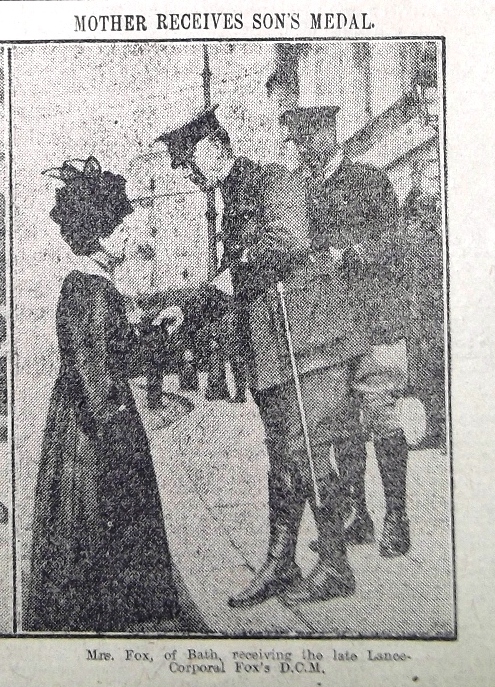 (vi) Two official communications regarding the recipient's burial site, one of them from the Imperial War Graves Commission, with photograph, and the other the Army Record Office at Exeter, dated 9 January 1918, with exact location near Arras.
(vii) Three contemporary photographs, two of them of the recipient in uniform, and the other, poignantly, of his mother wearing his D.C.M. and 1914 Star.
Amy Emma Fox (née Peeling)
Of Herbert Walton Fox, Steve Tipler writes:
Corporal Herbert Walton Fox, 8829 2nd Battalion Wiltshire Regiment.
Killed in Action 9 April1917 at the Battle of Arras, more precisely the first day of the Battle of the Scarpe. He has no known grave and is commemorated on the special memorial in Bucquoy Road cemetery Ficheux near Arras.
Son of Mrs A. E. Fox a widow of Great Ryburgh, he was 22years old when he died. A regular soldier, his regiment was in Gibraltar at the outbreak of the war. His regiment returned to England on September 3rd 1914 landing at Southampton. Attached to the 21st Brigade 7th Division they landed at Zeebrugge on the 6th October 1914 and were involved in the defence of Antwerp and then became entrenched in front of Ypres.
In 1916 at the time of the Battle of the Somme he was in an area known as "Happy Valley" later to be more rightly known as "death valley". This area is where the famed poet Siegfried Sassoon fought with the 38th Welch Regiment and was the scene of many a bloody battle. It was here that Herbert was awarded the Distinguished Conduct Medal for bravery on the 28th July.
Although he had survived some of the most bloody and costly encounters of the war and been decorated for bravery, his luck was not to last. On the 9th April 1917 he was killed in action during the Battle of Arras and his body was never found. It is worth noting that in all this time he had only been home on leave once in nearly 3 years.
Herbert Walton (sometimes spelt Wolton or Walter) Fox is listed on the Village War memorial under 1917 on the West Face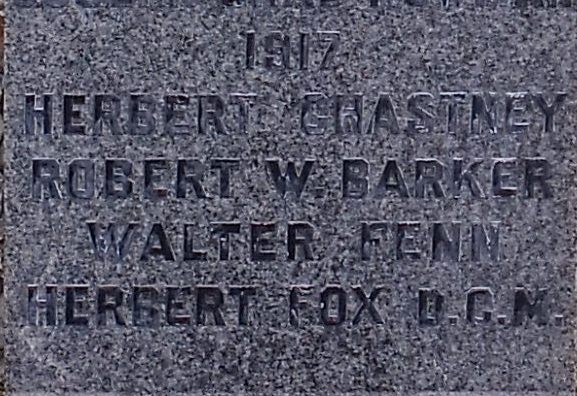 He appears on the Village Hall Memorial that forms the Procenium Arch to the stage.

He does not appear on the Think and Thank Screen but a new composite panel has been included as part of the Comper Gallery display:
He is also named on the Following War Memorials in
Cirencester in Gloucestershire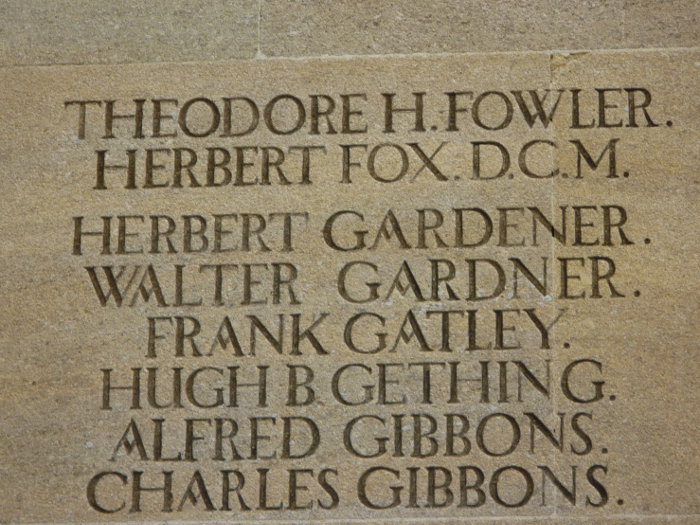 St John the Baptist, The Market Place War Memorial .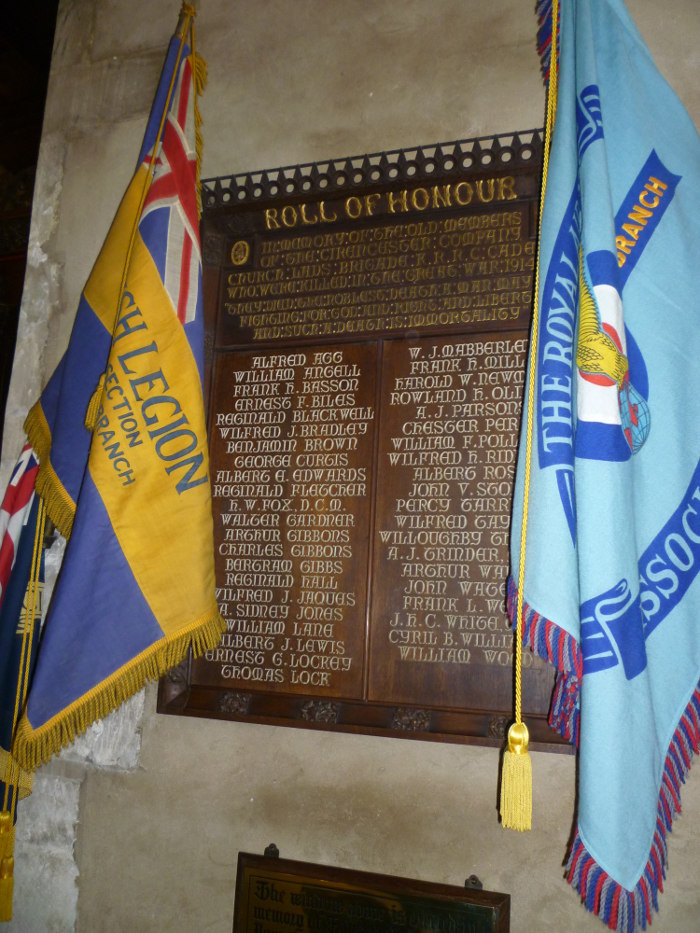 The Church Lads' Brigade Memorial, St John the Baptist Church.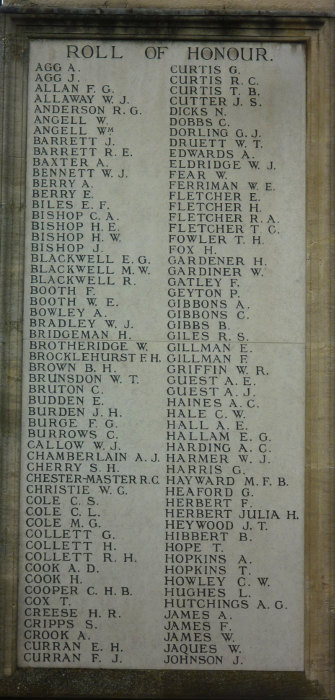 Apsley Hall War Memorial Hospital, Sheep Street.
************
Our thanks are due to members of the
Cirencester Archeological & Historical Society
who supplied the memorial photographs above.
************
Herbert is mentioned twice in the pages of the Dereham and Fakenham Times.
September 2nd. 1916: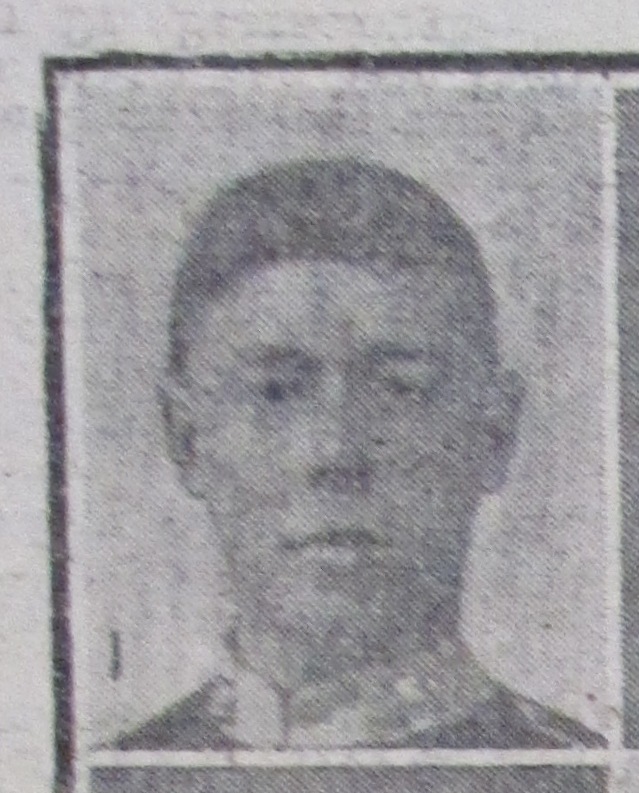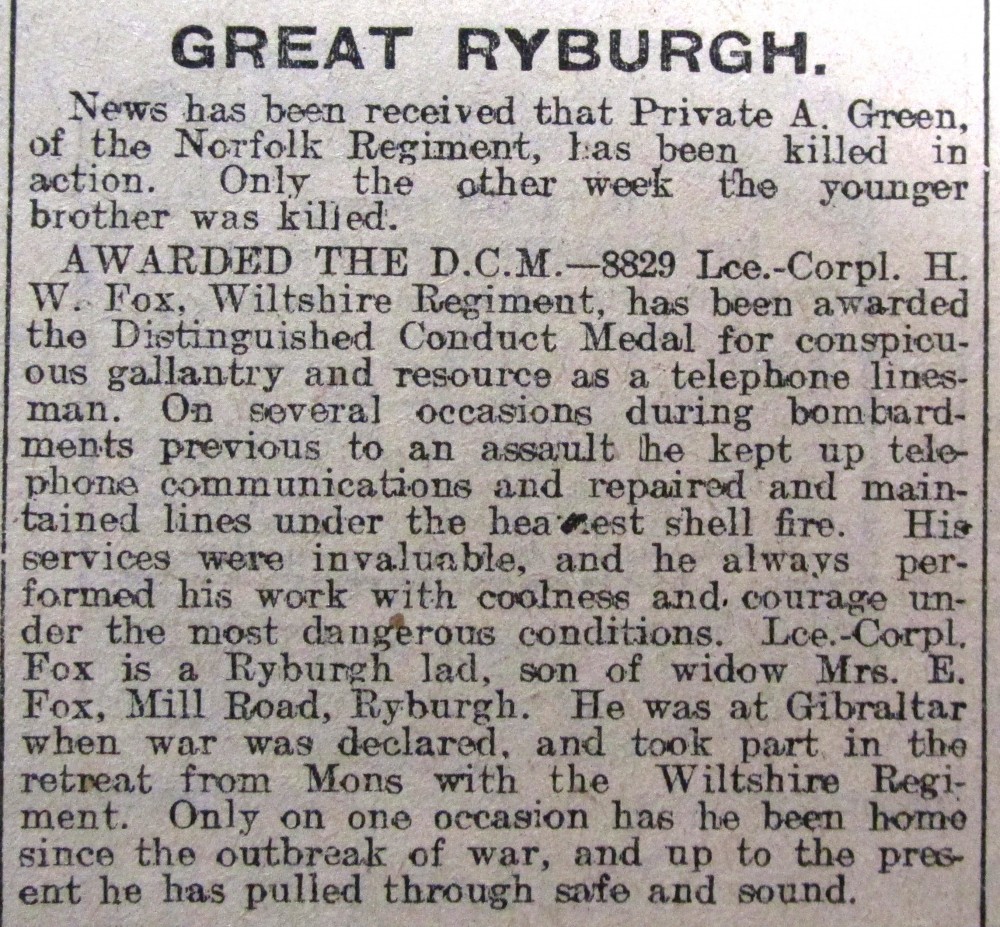 and again on May 12th 1917: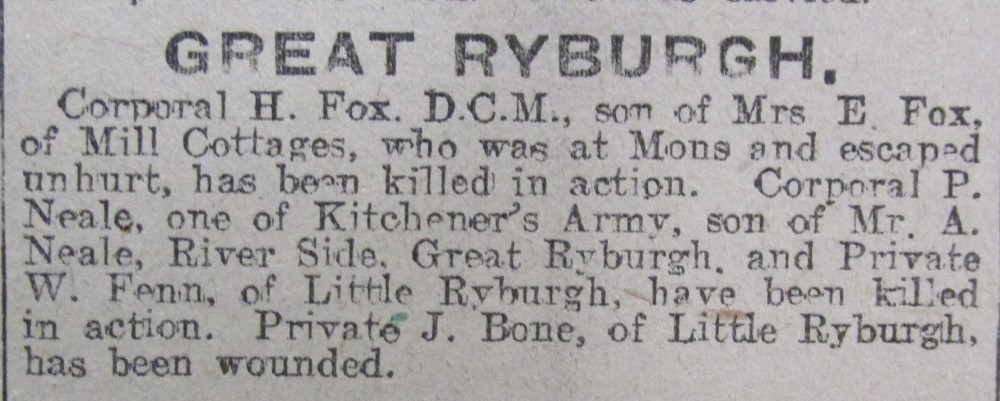 The first question to better explain the Ryburgh connection was why he was living in Wiltshire:
Herbert was the eldest of the 3 children born to Harry Fox and Amy Emma Peeling.
Harry was born in the last quarter of 1865 in Burnham Deepdale .His father Henry was a farm bailiff and his mother, Dinah a dressmaker. Harry was apprenticed to a blacksmith at Great Bircham by the time he was fifteen, but had returned to work on the land with his brother and father in Gateley by 1891.
He married Amy Emma Peeling daughter of Walton Peeling and Amy Howe in the last quarter of 1893.
October 1892 had seen the marriage of Harry's younger sister Clara to a George Nelson at St Andrew's. Amy Peeling was one of the witnesses to sign the Register on that occasion.
By the Census of 1901 Harry and Amy were living in Great Ryburgh (Near School) with their three children. From the Baptism Register we have the following entries:
Herbert Walton born 1895,

May Victoria born 1897,

Cecil Harry born 13th. March1900.

They were next door neighbours of George and Clara Nelson most likely in the three cottages that are now known as The Stone House.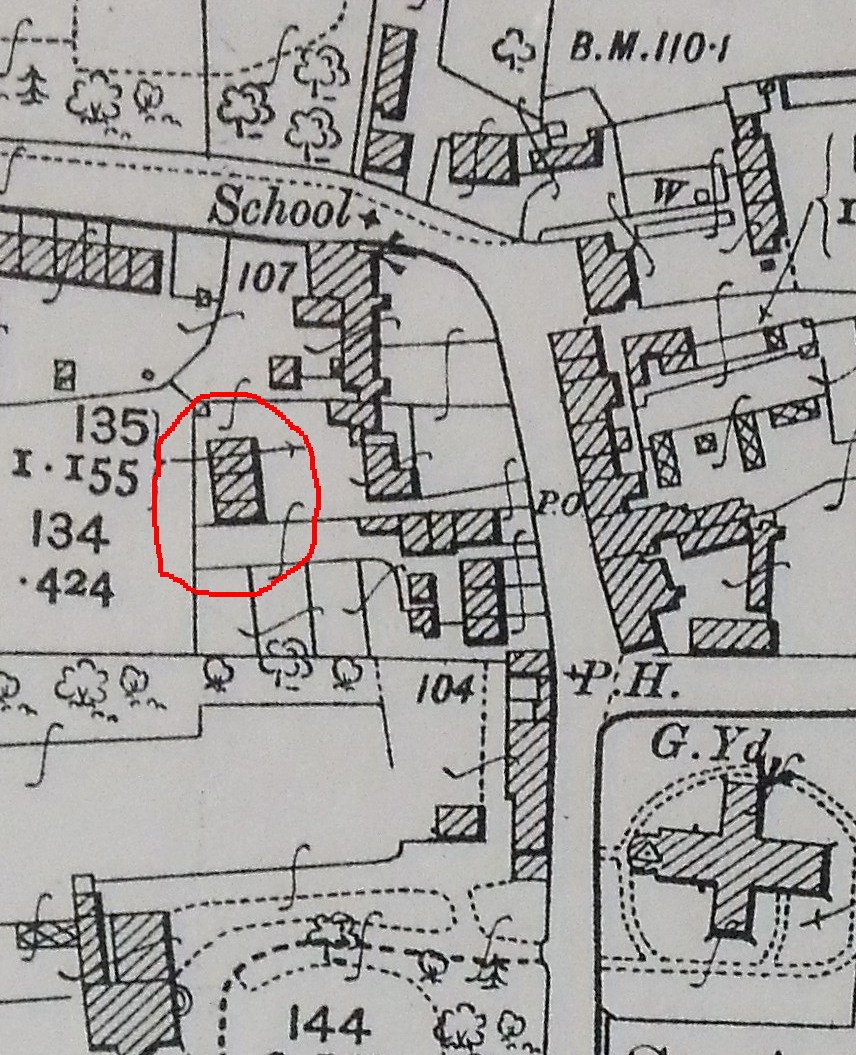 Within months of that 1901 Census, Harry Fox had died and was buried in August of that year:

Further tragedy struck the family six months later when May Victoria died, again from the St Andrew's Burial Register for 1902:

These are undoubtedly the circumstances that occasioned Herbert's move to Wiltshire and into the care of his Uncle George and Aunt Hannah Elizabeth Smith. Hannah was Amy's older sister born in 1861. In 1911 the 16year old Herbert is working as a domestic under gardener.
In 1911 The Census shows Amy widowed and a "Washerwoman " now living in Mill Road in the same area of Mill Road as the Bond family had lived before moving to Mill Terrace. Cecil Harry now 11 is at school. He left in October 1913 and went to be a Farmhand complete with Certificate of Att.
Cecil also enlisted and is recorded on his Medal Index Card as Harry Fox Pte, Regt No.4428 and 202150 following his older brother in the Wiltshire Regiment.
In 1909 Herbert and Cecil have a new half sister,May Maria Fox. There is no record of her father and she was not baptised at Ryburgh possibly due to the change of Rectors at the time.
Tragedy hit the family once again in the 1939-45 War when May's husband, Stibbard Gamekeeper Richard Reginald Harvey died in Malaya in 1942. They had only been married since March 1939.
Reginald is remembered on a draft typescript Roll of Honour for that conflict that seems never to have seen the light of day and was rescued a few years back by Harry Plattin where it was found lining a drawer in the St John's Hall! It is now in the Norfolk Record Office: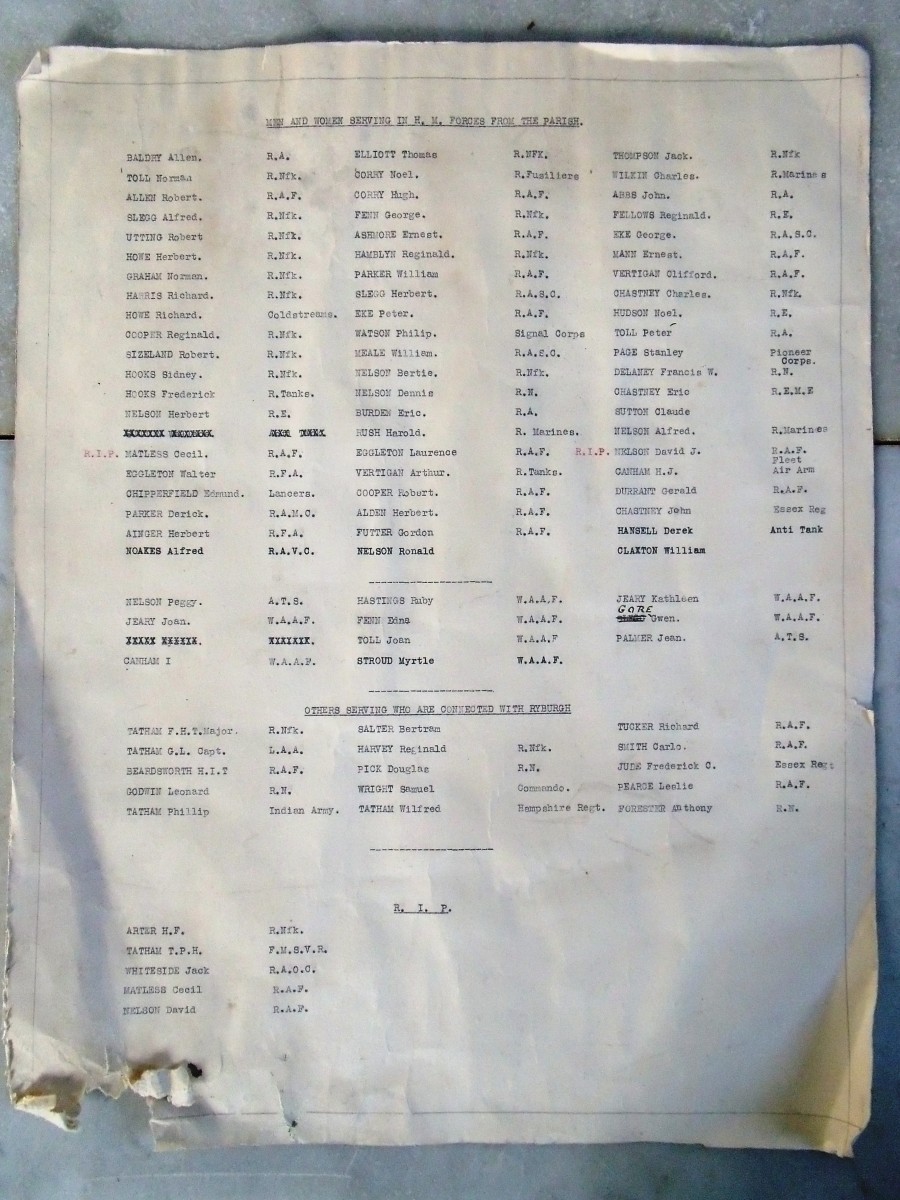 May Harvey, pictured here in the 1950's was a life long church member and lived in one of the cottages that is now part of Melody Terrace. She is herself remembered in the church by the flower stand that is so regularly alive with colour inside the church porch.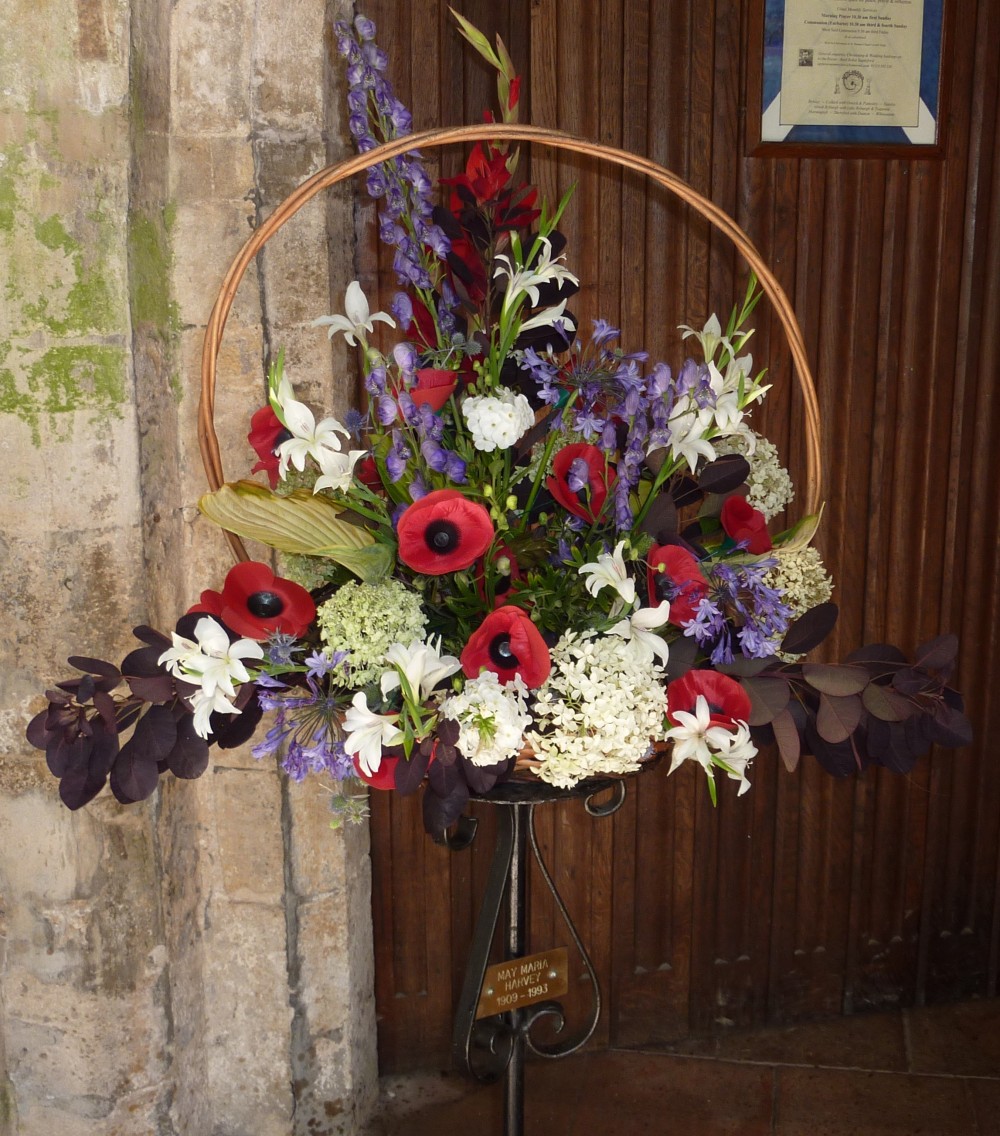 ************
There is a post script to this family history: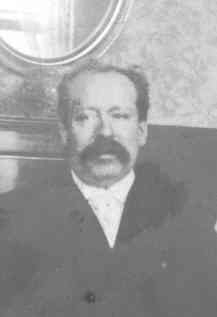 George Wolton Peeling
30 Nov 1863 -1932.
Reproduced with kind permission of Jill Hyams, great-granddaughter of George Peeling
On May 30th 1919 Herbert's Uncle, George Wolton Peeling aged 55, described a labourer then living in Tottenham with his second wife, Catherine Ann, signed up at the Central London Recruiting Depot in Whitehall and joined the Labour Corps as 697904 Pte. Peeling. After 20 days receiving some form of training he joined 69 Labour Coy. and was "Posted Overseas France for Graves Exhumation." After 286 days he was posted to 83 Coy. back in England for discharge. These are the bare facts as found in his surviving service record. He is described thus: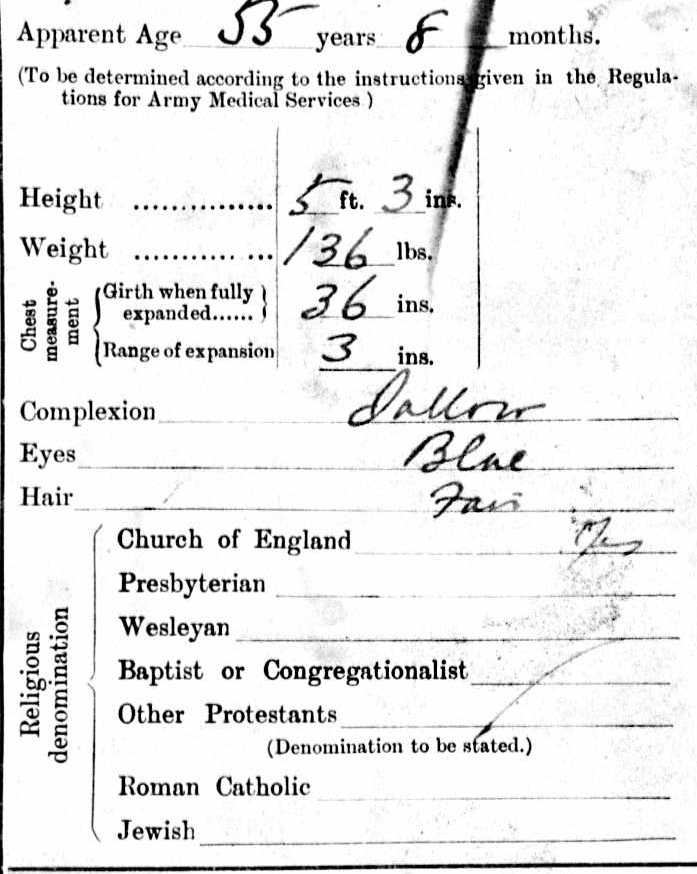 and considered "Fit for the Army" and "Character Good"
Having been too old for the war can't have been easy for George and he must have given much thought to this course of action that allowed him eventually to play his part. There were probably no medals for him despite his grim task.
However, did the thought that he might find the body of his dead nephew and give his sister the chance to come to terms with her loss sustain him throughout those horrendous few months in 1919-20.? One can only hope so.
copyright 2014