Ryburgh Remembers
RICHARD REGINALD PLATTEN.
9th.NORFOLK REGIMENT
1889- 8th October 1918.
Richard Reginald Platten was born acording to Census returns in Little Ryburgh in 1889 to Robert Samuel and Mary Ann Elizabeth Platten. He was for some reason baptised in Edgefield on September 29th 1889 possibly because Morris Fuller would not oblige at Ryburgh? It seems the Platten's were dissenters, in their case Primitive Methodists and we find Reg's youngest brother Percy baptised in 1892 according to the Dereham Circuit Register.
The surviving Ryburgh School registers begin on June 26th1908 and only include admissions retrospectively back to 1898 although it is most likely that he attended the school at Great Ryburgh and would have left by 1904. By the 1911 Census he was still single, living at Hill Farm Little Ryburgh and working as a Journeyman Butcher, i.e. one who had finished an apprenticeship but was not yet a "Master" By 1915, the year that he enlisted, he was living in Church Street, Reepham and is described there as a Butcher's Cattle Dealer.
Fortunately his service record survives and it shows that he was attested in Dec 1915 and appointed to the Norfolk Yeomanry on 31 March 1916 and had his vaccinations and inoculations in April and May that year. He married Ivy Norah Wilson in Salle Church on the 27th April 1916 between his 1st and 2nd set of inoculations!
He doesn't seem to have settled too well into Military life and his disciplinary record during his training at Walton Camp shows him "absent off 5.30 Ptn Parade" on November 21st. and for which he lost "3 days Pay"
By October of 1916 Ivy had moved to White Rails Farm in Great Melton. This was a farm owned by the Evans Lombe family of Marlingford Hall and it was their J.P. landlord, E.H.Evans Lombe who witnessed Ivy's declaration of Reg's living relatives on Army Form W.5080 on June 7th 1919.
His first posting overseas was to the 9th Norfolks on the Western Front on December 16th 1916 and within just a few weeks had again fallen foul of military discipline, this time "In the Field". His record reads:
13/2/17 Awarded 7 days F[ield].P[unishment]. No 2
1 Not complying with a Btn. Order Viz. not wearing equipment in the trenches Names of Witnesses: Capt. Leverett, Sergt. Parlett
Field Punishment Number 2 consisted of the convicted man being shackled in irons but not fixed to anything such as a gun wheel or similar as in the case of F.P. No1. He could only be shackled for up to 2 hours in 24 and not for more than 3 days in 4, or for more than 21 days in his sentence. Punishment was awarded in Reg's case by Lt.Col. R Dyer-Bennet.
On September 6th 1917, he received a G[un] S[hot] W[ound] to his Scapula and was treated on the following day by 17 F[ield] A[mbulance] He was appointed unpaid Lance Corporal in November 1917. By the 5th January 1918 and once more a Private, he was again in the care of 17 F.A. with "I.C.T Chest ". This probably means that his shoulder wound had never properly healed and he was "posted Depot" on 11 Jan 1918. In reality, this meant returning to England and spending the next 66 days in the Red Cross Castle Hospital at Sherborne in Dorset. Here, his "ICT Chest" diagnosis has "Old wound" in parentheses. He was granted a few days home leave from 27th March to April 5th 1918. Again he was in trouble as he failed to report to Ampthill until 8.30 the following day April 6th. His punishment on this occasion was a more lenient "Admonished" and the loss of 1 day's pay, meted out by Col. The Duke of Bedford. He was back at Felixstowe with the 3rd Norfolks on July 4th and posted back to France with the 9th Norfolks on August 16th 1918. He probably knew by then that his Ivy was pregnant with their first child. He was "Killed in Action" on the 8th October 1918 so very near to the end of hostilities. Their daughter Iris Elaine Platten was born on Christmas Eve that year.
A barely readable entry says that he was buried in High Tree British Cemetery 2 miles N W of Fresnoy –Le-Grande. The remainder is illegible. The page ends with a summary of his length of service as being 2 years and 193 days.
High Tree British Cemetery is a small site containing the graves of 44 UK and 4 Australian soldiers. Reginald Platten is buried in Row A 44 along with other comrades from the 9th Norfolks
***************
The activities on the day of his death can be traced through the regimental war diaries of the 9th Norfolks. This transcription is from the opening paragraph from October 8th 1918 and states the proposed objective followed by 3 pages of reports:
SECRET.
It is probable that the 71st .I.B. will have to make an attack tomorrow 9th Oct. '18 to secure the high ground in Sqs. D.19 and 25 (62B.N.E.)
Day 8 of Month Messages and Signals
Make every effort tonight
to reorganize Bri into
Coys. Stations Sections
To Capt. LETTEN
Day 8 of Month
When you have reorganized B,C&D Coys as on Coy you will send a liason first of 1 NCO &six Ptes to get in touch with the Americans at BRANCOURT in G 24 C central.
With the remainder of your Coy you will take up a line of posts from C29 central to C.29.C.7.0.
You will get [in] touch with A Coy 1st Leicester Regt on your right who are taking up a line from C.29.C.7.0. to I.5.G.3.4.
Completion of move to be notified to these H.Q.s
Day 8 of Month
Move up and occupy the BRANCOURT-FRESNOY-ROAD…..
Rations are being dumped at BRANCOURT STATION & will be carried forward by you
***********
Reginald Platten is remembered on the
Think and Thank Screen :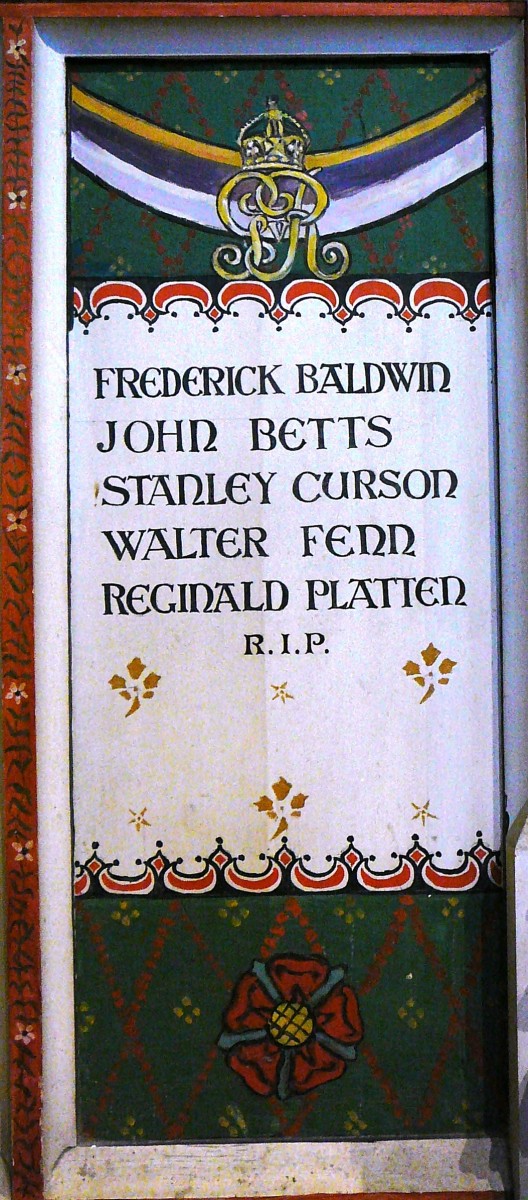 and on the Village obelisk in Station Road: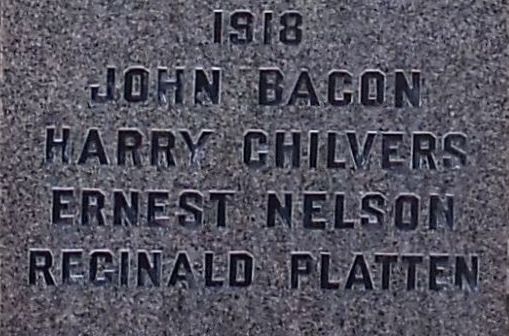 Family History:
John Platten and his wife Lucy kept the Boar in Gt. Ryburgh from1836-1846. When she died, John Platten married again to farmer's widow Sarah Mitchell of (Hill Farm) Lt Ryburgh in February 1847. He was a churchwarden and Overseer of the Poor for Little Ryburgh and kept the Walsingham Union's Receipt and Account book from 1847 intermittently and then continuously from 1859 to 1867 Thereafter the book was used for the farms butter accounts until 1875
It would seem that Hill Farm was left to his Grandson Robert Samuel Platten who lived there with his Uncle Samuel's widow Eliza keeping house before he married. It has not yet been possible to identify which of John's sons was his father but I would suggest Robert born 1826 who seems to be not much in evidence in census records Robert Samuel Platten lived with both his Uncle Philip in Gaywood(a teacher 1861) and then his Uncle Joseph in London (a coach body maker 1871)
He married Mary Ann Elizabeth in 1889 and they had 3 children the eldest being Richard Reginald Platten. He shares John Platten as a Great Grandfather with Robert William Barker
****************
The Roll of Honour in St Andrew's
This has the names of three further Plattens:

From Reg's Service Record Army Form 5080, we learn that in June 1919 his brother, Percy John formerly Lincolnshire Regt. was in India now a 2nd Lieut. with the 4th Suffolk Regiment. His other brother William Ernest not named above, probably did not fight though the reason is not known.
When their father Robert died in 1929 Revd. F.H.Tatham wrote the following in the April issue of the Ryburgh Parish Magazine: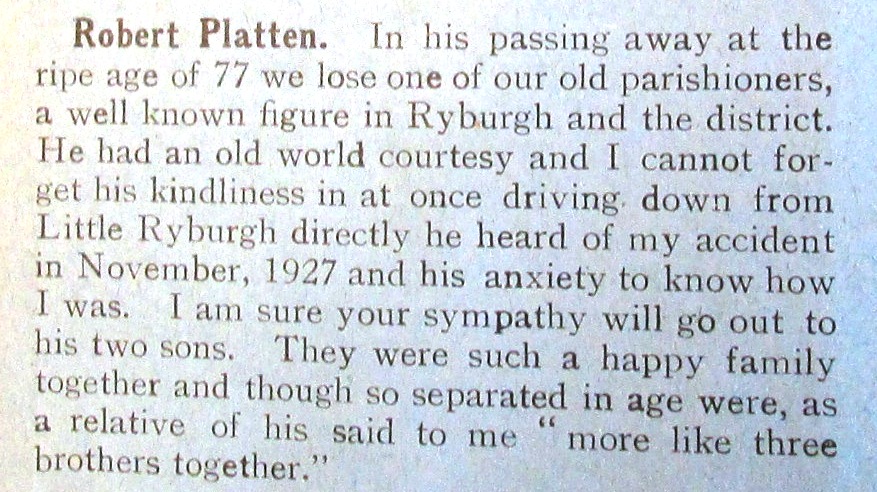 Herbert and P. Percy C. Platten were first cousins, and Bertie is mentioned in the Ryburgh Parish Magazine as follows:
Nov. 1915 Bertie Platten is better and is now in England at a Hospital in Birmingham.
Dec 1915" We were glad to see Bertie Platten safe home,and looking so well in spite of his wound. He had many interesting things to tell about the war in the Dardanelles.
Dec. 1919 Nearly all have now returned home from the various fronts and I feel sure I voice the feelings of the parish in extending a very hearty welcome to Percy and Bertie ("Knock") Platten and ………, all of whom have been absent and have been so far away.
************
If anyone reading this page is a descendant of any of these Platten men and would be willing to share information or images to give a fuller picture we would be very pleased to hear from you . Just use this Contact Us link.
Copyright 2014