Psalm 130
1 Out of the depths have I called to you, O Lord;
Lord, hear my voice; *
let your ears consider well the voice of my supplication.
2 If you, Lord, were to note what is done amiss, *
O Lord, who could stand?
3 For there is forgiveness with you; *
therefore you shall be feared.
4 I wait for the Lord; my soul waits for him; *
in his word is my hope.
5 My soul waits for the Lord,
more than watchmen for the morning, *
more than watchmen for the morning.
6 O Israel, wait for the Lord, *
for with the Lord there is mercy;
7 With him there is plenteous redemption, *
and he shall redeem Israel from all their sins.
The Raising of Lazarus: John 11:1-45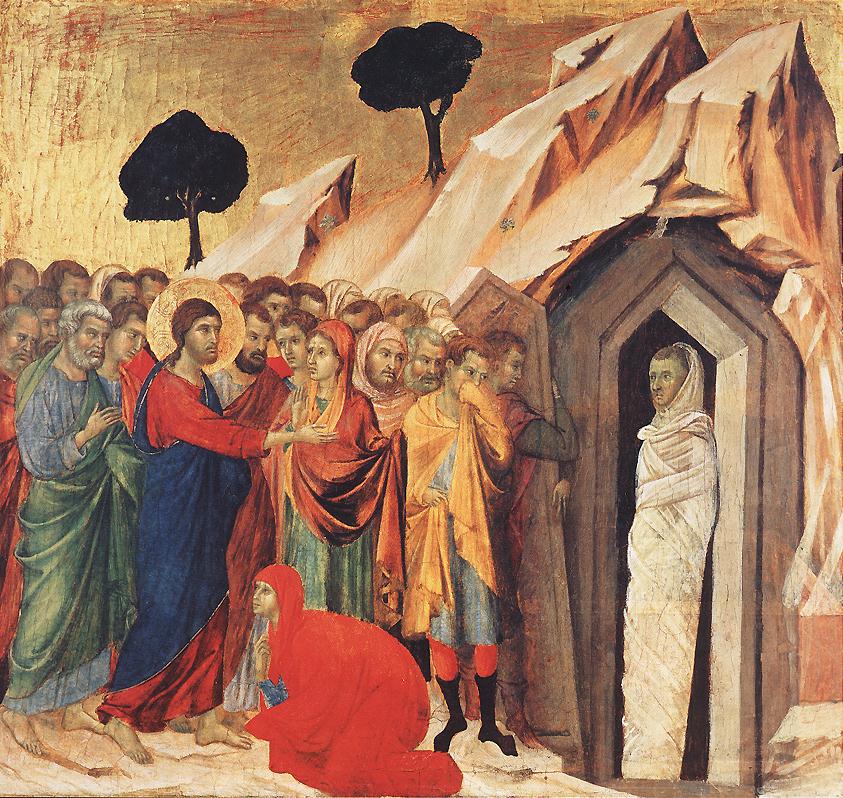 Duccio: The raising of Lazarus
Now a certain man was ill, Lazarus of Bethany, the village of Mary and her sister Martha. Mary was the one who anointed the Lord with perfume and wiped his feet with her hair; her brother Lazarus was ill. So the sisters sent a message to Jesus, "Lord, he whom you love is ill." But when Jesus heard it, he said, "This illness does not lead to death; rather it is for God's glory, so that the Son of God may be glorified through it." Accordingly, though Jesus loved Martha and her sister and Lazarus, after having heard that Lazarus was ill, he stayed two days longer in the place where he was.
Then after this he said to the disciples, "Let us go to Judea again." The disciples said to him, "Rabbi, the Jews were just now trying to stone you, and are you going there again?" Jesus answered, "Are there not twelve hours of daylight? Those who walk during the day do not stumble, because they see the light of this world. But those who walk at night stumble, because the light is not in them." After saying this, he told them, "Our friend Lazarus has fallen asleep, but I am going there to awaken him." The disciples said to him, "Lord, if he has fallen asleep, he will be all right." Jesus, however, had been speaking about his death, but they thought that he was referring merely to sleep. Then Jesus told them plainly, "Lazarus is dead. For your sake I am glad I was not there, so that you may believe. But let us go to him." Thomas, who was called the Twin, said to his fellow disciples, "Let us also go, that we may die with him."
When Jesus arrived, he found that Lazarus had already been in the tomb four days. Now Bethany was near Jerusalem, some two miles away, and many of the Jews had come to Martha and Mary to console them about their brother. When Martha heard that Jesus was coming, she went and met him, while Mary stayed at home. Martha said to Jesus, "Lord, if you had been here, my brother would not have died. But even now I know that God will give you whatever you ask of him." Jesus said to her, "Your brother will rise again." Martha said to him, "I know that he will rise again in the resurrection on the last day." Jesus said to her, "I am the resurrection and the life. Those who believe in me, even though they die, will live, and everyone who lives and believes in me will never die. Do you believe this?" She said to him, "Yes, Lord, I believe that you are the Messiah, the Son of God, the one coming into the world."
When she had said this, she went back and called her sister Mary, and told her privately, "The Teacher is here and is calling for you." And when she heard it, she got up quickly and went to him. Now Jesus had not yet come to the village, but was still at the place where Martha had met him. The Jews who were with her in the house, consoling her, saw Mary get up quickly and go out. They followed her because they thought that she was going to the tomb to weep there. When Mary came where Jesus was and saw him, she knelt at his feet and said to him, "Lord, if you had been here, my brother would not have died." When Jesus saw her weeping, and the Jews who came with her also weeping, he was greatly disturbed in spirit and deeply moved. He said, "Where have you laid him?" They said to him, "Lord, come and see." Jesus began to weep. So the Jews said, "See how he loved him!" But some of them said, "Could not he who opened the eyes of the blind man have kept this man from dying?"
Then Jesus, again greatly disturbed, came to the tomb. It was a cave, and a stone was lying against it. Jesus said, "Take away the stone." Martha, the sister of the dead man, said to him, "Lord, already there is a stench because he has been dead four days." Jesus said to her, "Did I not tell you that if you believed, you would see the glory of God?" So they took away the stone. And Jesus looked upward and said, "Father, I thank you for having heard me. I knew that you always hear me, but I have said this for the sake of the crowd standing here, so that they may believe that you sent me." When he had said this, he cried with a loud voice, "Lazarus, come out!" The dead man came out, his hands and feet bound with strips of cloth, and his face wrapped in a cloth. Jesus said to them, "Unbind him, and let him go."
Many of the Jews therefore, who had come with Mary and had seen what Jesus did, believed in him.
A PRAYER
Keep us, good Lord,
under the shadow of your mercy
in this time of uncertainty and distress.
Sustain and support the anxious and fearful,
and lift up all who are brought low;
that we may rejoice in your comfort
knowing that nothing can separate us from your love
in Christ Jesus our Lord.
Amen.
THE GOSPEL ACCORDING TO ST. LUKE 24: 13-35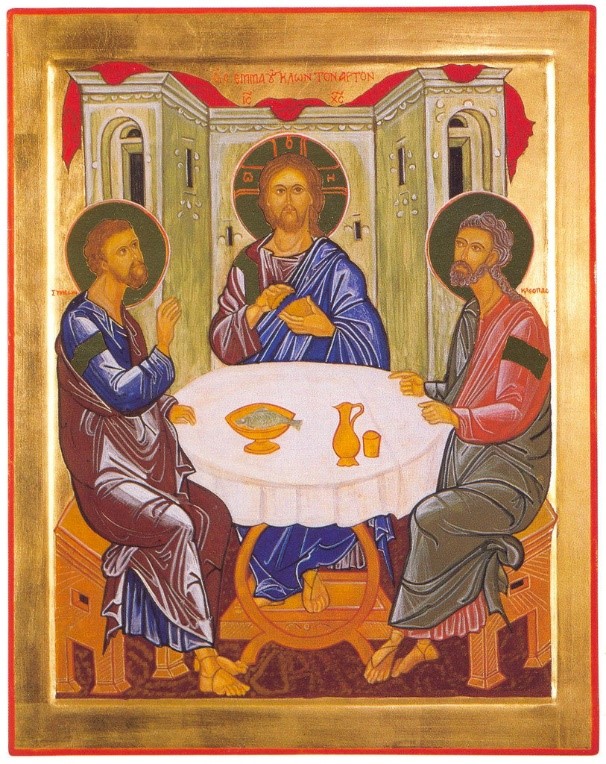 Emmaus icon painted by
Brother Elia, monk of the
Trappist monastery at
Latrun in Israel.
On that same day, two of the disciples were going to a village called Emmaus, about seven miles from Jerusalem, and talking with each other about all these things that had happened. While they were talking and discussing, Jesus himself came near and went with them, but their eyes were kept from recognising him. And he said to them, 'What are you discussing with each other while you walk along?' They stood still, looking sad. Then one of them, whose name was Cleopas, answered him, 'Are you the only stranger in Jerusalem who does not know the things that have taken place there in these days?' Jesus asked them, 'What things?' They replied, 'The things about Jesus of Nazareth, who was a prophet mighty in deed and word before God and all the people, and how our chief priests and leaders handed him over to be condemned to death and crucified him. But we had hoped that he was the one to redeem Israel. Yes, and besides all this, it is now the third day since these things took place. Moreover, some women of our group astounded us. They were at the tomb early this morning, and when they did not find his body there, they came back and told us that they had indeed seen a vision of angels who said that he was alive. Some of those who were with us went to the tomb and found it just as the women had said; but they did not see Jesus.' Then he said to them, 'Oh, how foolish you are, and how slow of heart to believe all that the prophets have declared! Was it not necessary that the Messiah should suffer these things and then enter into his glory?' Then beginning with Moses and all the prophets, he interpreted to them the things about himself in all the scriptures.
As they came near the village to which they were going, he walked ahead as if he were going on. But they urged him strongly, saying, 'Stay with us, because it is almost evening and the day is now nearly over.' So he went in to stay with them. . When he was at the table with them, he took bread, blessed and broke it and gave it to them. Then their eyes were opened and they recognised Jesus, and he vanished from their sight. They said to each other, 'Were not our hearts burning within us while he was talking to us on the road, while he was opening the scriptures to us?' That same hour they got up and returned to Jerusalem; and they found the eleven and their companions gathered together. They were saying, 'The Lord has risen indeed, and he has appeared to Simon!' Then they told what had happened on the road, and how he had been made known to them in the breaking of the bread. NRSV
Psalm 116:1-3, 10-17
1 I love the Lord, because he has heard the voice of my supplication, *
because he has inclined his ear to me whenever I called upon him.
2 The cords of death entangled me; the grip of the grave took hold of me; *
I came to grief and sorrow.
3 Then I called upon the Name of the Lord: *
"O Lord, I pray you, save my life."
10 How shall I repay the Lord *
for all the good things he has done for me?
11 I will lift up the cup of salvation *
and call upon the Name of the Lord.
12 I will fulfill my vows to the Lord *
in the presence of all his people.
13 Precious in the sight of the Lord *
is the death of his servants.
14 O Lord, I am your servant; * I am your servant and the child of your handmaid;
you have freed me from my bonds.
15 I will offer you the sacrifice of thanksgiving *
and call upon the Name of the Lord.
16 I will fulfill my vows to the Lord *
in the presence of all his people,
17 In the courts of the Lord'S house, in the midst of you, O Jerusalem. Hallelujah!
"I came that they may have life, and have it abundantly."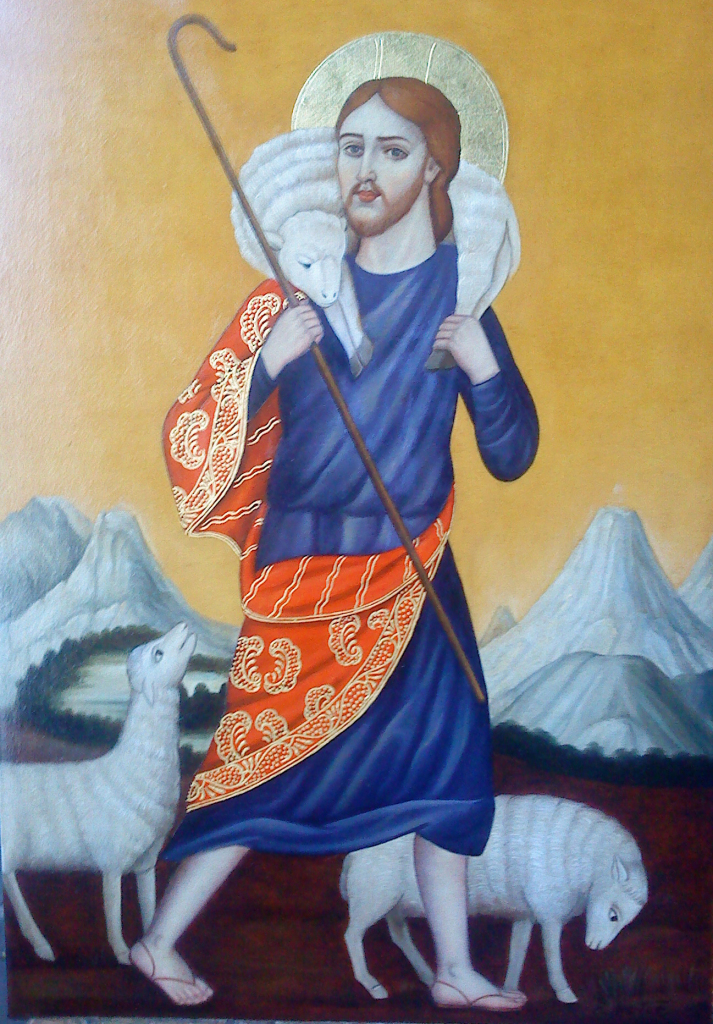 Ruben Aponte, Lima
PSALM 23
The God of love my Shepherd is,
and he that doth me feed;
while he is mine and I am his,
what can I want or need?

He leads me to the tender grass,
where I both feed and rest;
then to the streams that gently pass,
in both I have the best.

Or if I stray, he doth convert,
and bring my mind in frame,
and all this not for my desert,
but for his holy Name.

Yea, in death's shady black abode
well may I walk, not fear;
for thou art with me, and thy rod
to guide, thy staff to bear.

Surely thy sweet and wondrous love
shall measure all my days;
and as it never shall remove
so neither shall my praise. George Herbert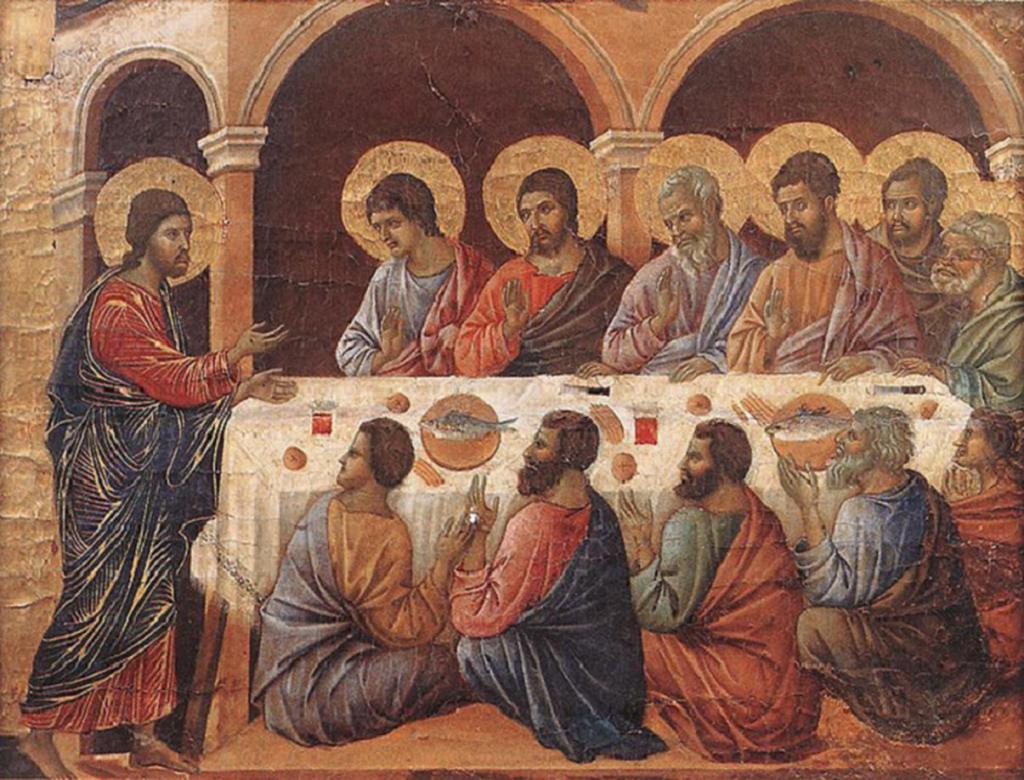 Jesus appears to the disciples: Duccio
Gospel Reading John 14:1-14
Jesus said, "Do not let your hearts be troubled. Believe in God, believe also in me. In my Father's house there are many dwelling places. If it were not so, would I have told you that I go to prepare a place for you? And if I go and prepare a place for you, I will come again and will take you to myself, so that where I am, there you may be also. And you know the way to the place where I am going." Thomas said to him, "Lord, we do not know where you are going. How can we know the way?" Jesus said to him, "I am the way, and the truth, and the life. No one comes to the Father except through me. If you know me, you will know my Father also. From now on you do know him and have seen him."
Philip said to him, "Lord, show us the Father, and we will be satisfied." Jesus said to him, "Have I been with you all this time, Philip, and you still do not know me? Whoever has seen me has seen the Father. How can you say, 'Show us the Father'? Do you not believe that I am in the Father and the Father is in me? The words that I say to you I do not speak on my own; but the Father who dwells in me does his works. Believe me that I am in the Father and the Father is in me; but if you do not, then believe me because of the works themselves. Very truly, I tell you, the one who believes in me will also do the works that I do and, in fact, will do greater works than these, because I am going to the Father. I will do whatever you ask in my name, so that the Father may be glorified in the Son. If in my name you ask me for anything, I will do it." NRSV
Psalm 31: 1-5, 15-16
1 In you, O Lord, have I taken refuge;
let me never be put to shame; *
deliver me in your righteousness.
2 Incline your ear to me; *
make haste to deliver me.
3 Be my strong rock, a castle to keep me safe,
for you are my crag and my stronghold; *
for the sake of your Name, lead me and guide me.
4 Take me out of the net that they have secretly set for me, *
for you are my tower of strength.
5 Into your hands I commend my spirit, *
for you have redeemed me,
O Lord, O God of truth.
15 My times are in your hand; *
rescue me from the hand of my enemies,
and from those who persecute me.
16 Make your face to shine upon your servant, *
and in your loving-kindness save me.