WW1 COMMEMORATION DAY: SUNDAY, 5th JUNE
The two year Lottery Funded "Think and Thank" project came to an end in June 2016. We were delighted that some 35 descendants of George Harry Bond joined the village community on 5th June for our final event as we remembered those who lost their lives 100 years ago during the conflict. George Bond was serving as a sailor on H.M.S. Hampshire when the ship went down.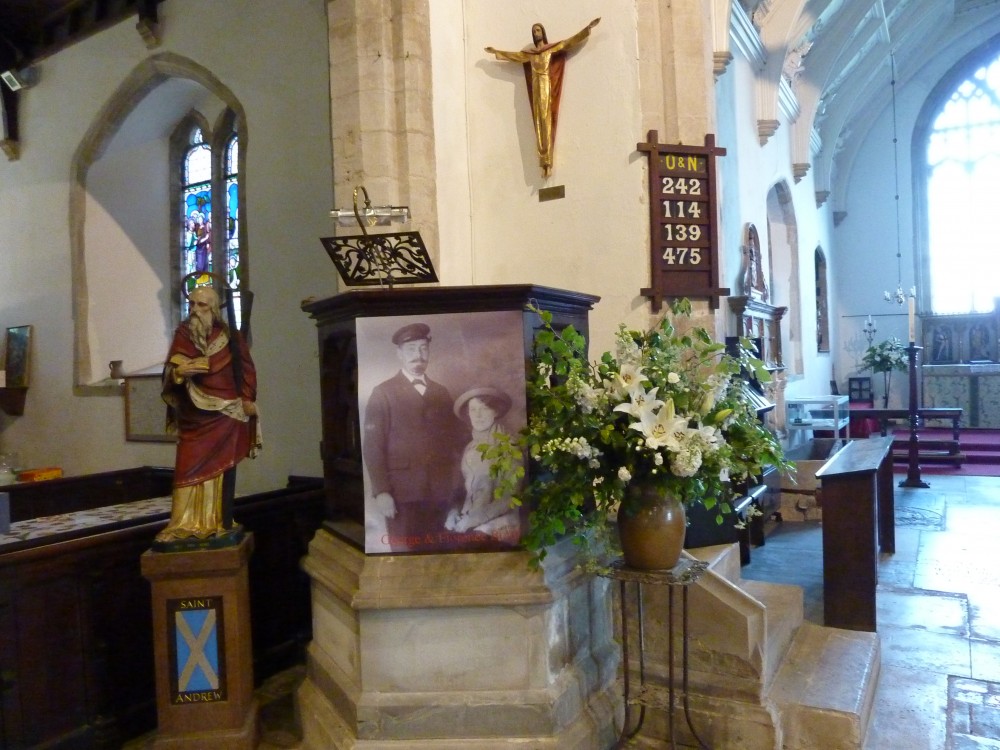 EXTRACT FROM "THE SCOTSMAN"
IN JUNE 1916, Field Marshall Earl Kitchener, the Minister of War, was scheduled to visit Russia for a series of negotiations aimed at ensuring that the Tsar's forces would stay in the war.
Kitchener landed in Orkney where he briefly met Admiral Jellicoe before he joined the cruiser HMS Hampshire and prepared to set sail through Scapa Flow.
HMS Hampshire, with her crew of 643 men as well as Kitchener and his staff, pulled up anchors at 4:40pm on Monday 5 June, 1916. With her were the destroyers HMS Unity and Victor. As they left Scapa Flow they sailed into stormy weather. The two destroyers struggled with the force nine gale and by 6:30pm they had both been signalled to return to base. The Hampshire fought on alone.
Unbeknown to the master and her crew, Scapa Flow had been visited by a German U-boat at the end of May. Undetected, U-75 laid 22 mines off the coast of Orkney. Bad weather at the beginning of June prevented the routine sweep of the area, so all the mines were out there as the Hampshire sailed on.
Struggling against the wind HMS Hampshire could only maintain 13.5 knots and was roughly one and a half miles from shore. At 7:45pm an urgent telegraph message was sent from nearby Birsay Post Office to Kirkwall and Stromness. It read: "Battle cruiser seems in distress between Marwick Head and the brough of Birsay."
A mile and a half out at sea the Hampshire was indeed in difficulties. An explosion had shaken the whole ship, the power had failed and she was unable to radio for assistant. She began to sink.
Read more: http://www.scotsman.com/heritage/people-places/hms-hampshire-lord-kitchener-and-the-deaths-of-650-men-1-465111#ixzz4A8HkbKm3
Thanks to the researches of Peter Trent, Steve Bushby and Benjamin Eaves, descendants from all parts of England and also from Australia, France, the U.S.A. and Canada supported the commemoration. The programme was as follows:
12.30 Meet at the church to welcome our visitors.
1 p.m. WW1 inspired lunch with the theme of "homecoming".
2- 5 p.m. Peal in memory of George Harry Bond.
Visits to the war memorial, the Memorial Hall and the community woodland.
Tea and cake will be available throughout the afternoon.
See the newly cleaned WW1 memorial screen and look at the displays.
6 p.m. Choral Evensong.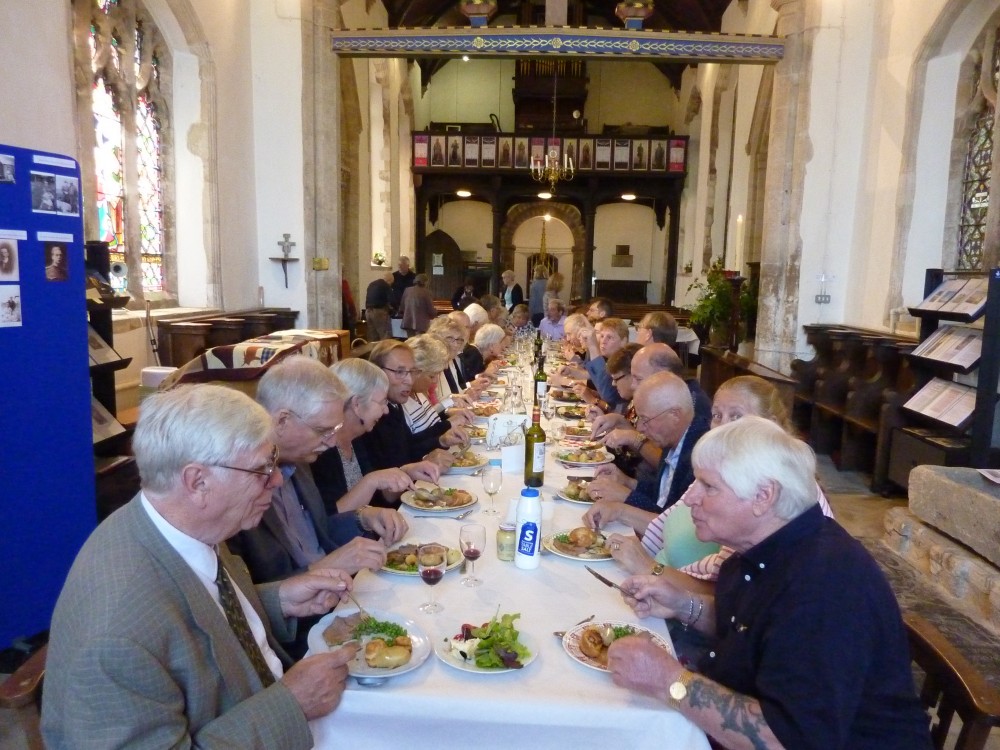 LETTERS RECEIVED FOLLOWING THE COMMEMORATION
Rob and I would like to say how much we enjoyed your generous hospitality and thank you for the warm welcome showed to all the descendants of George Harry Bond who came together at St Andrews Church Great Ryburgh on Sunday 5th June 2016 for this wonderful day of Commemoration. "Homecoming Lunch" was absolutely delicious and it was such treat to listen to the Peal of Bells by such an accomplished group of bell ringers. We really enjoyed our walk through the village up to the Memorial and then onto the playing field where a pear tree was planted in remembrance. If all that wasn't enough we arrived back at the church to find afternoon tea served with a huge assortment of cakes – scrumptious. We are in awe of the painstaking work that Peter Trent, Steve Bushby, Steve Tippler and Benjamin Eaves have done in researching all this who sadly lost their lives. Through the Think and Thank Project 2014 -2016 and Ryburgh Remembers giving a service of commemoration on the actual day that the person died is a wonderfully moving and dignified way of paying tribute to those who sacrificed their lives in the service of their country. A special thanks to everyone involved who worked so hard in making a memorable day that we will never forget.
With our very best wishes to you all.
Rob & Tracey
I am writing to thank you and the entire Think and Thank / Ryburgh Remembers Project Team for the fantastic work you have done. As you know Marion and I travelled from the New South Wales Central Coast area of Australia to be part of the commemoration for my Great Uncle George Harry BOND who was lost at sea when HMS Hampshire went down off the Orkneys on 5th June 1916 with the loss of 655 lives. My father was born in Great Ryburgh so the day was especially poignant for me returning to my father's birth place. My cousin Malcom also travelled some distance from his home on Vancouver Island, Canada to be part of our family group of fifteen which consisted of ten grandchildren of Celia Clara RIDDY, nee BOND, George Harry's sister, with some of our spouses for the commemoration.
I know I speak for the family when I say we were over whelmed by the hospitality and generosity of all the helpers who made this day special for us. The lunch meal of local produce was delicious and quite unexpected. The afternoon tea and cake in the church with all those tasty treats was almost too much but needless to say thoroughly enjoyed by all.
Remembering the fallen and lost sons of Ryburgh with a Peal of Bells, the planting of trees in a forest of remembrance and the service of commemoration on the actual day that the person died is such a wonderful idea and way to honour their sacrifice in the service of their country. I know that the project is still ongoing but the Ryburgh Remembers team are to be commended for their efforts and dedication to the project. I can honestly say that my visit to Great Ryburgh has been the highlight of this trip to the UK and I shall treasure the memory forever as I am sure all of the fifty two members of our extended family who attended will do. I have met so many cousins and family members whom I didn't even know existed until now. A wonderful experience.
In closing, I would once again thank all the project team and helpers for making our day in Great Ryburgh so special but I would also like to thank Peter and Steve for their superb work in researching all the fallen sons of Ryburgh, a fantastic achievement. Thank you all.
With my very best wishes for the future
Yours sincerely
Graham (Australia)


Thank you for giving the Bond descendants such a wonderful day. We enjoyed meeting so many "new" family members; finding out a little about their own family journeys. It was so very interesting. We hope to keep in touch with some. We do have to say a huge thank you to you and everyone else who made this such a memorable occasion. You all worked so hard to make it a really special day for us all. May God bless you all in all your ways. The village of Great Ryburgh is very fortunate to have such a wonderful group of people with huge servant hearts.

Many blessings,
Chrissie and Robin